Best UFC Action Figures and Toys For Collectors And Kids Reviewed
last updated:
Feb 18, 2020
Collectible toys are not everyone's cup of tea. Some people find them silly while others deride them as a waste of money. But those who enjoy collecting miniature representations of their favorite fighters or the rings in which they compete are expressing their appreciation for the sport and for its participants in a way that makes them happy. Where some people see small lumps of plastic, others see the nostalgia and joy that brought them to the UFC fan base in the first place and that is certainly something worth investing in. Some of the toys on this list certainly qualify as in investment and they bear price tags that will boggle any newcomer to the market while seeming perfectly reasonable to seasoned collectors. Others are more affordable, often newer rather than nostalgic collectibles, and reflect some of the newer faces in the UFC.
In a Hurry? The test winner after 4 hrs of research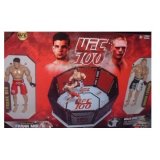 Micro Ring Playset
Why is it better?
Collectors Piece
Full Playset
Highly Articulated Figures
Detailed Depictions
In a
Hurry? Editors choice: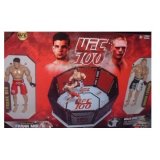 Test Winner: Micro Ring Playset
10 Best UFC Action Figures and Toys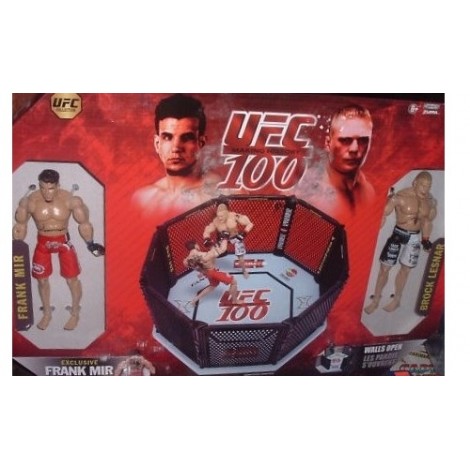 Collectors Piece
Full Playset
Highly Articulated Figures
Detailed Depictions
The first toy on this list is probably one of the hardest to find. New versions are almost unheard of and it is next to impossible to find a boxed version that has not been opened and played with. Jakks Pacific produced the toy around 2012 and it has already become a hard-to-find and high-priced collectible item due to the detail and quality that went into its production.
Read more
Collectible Piece
The Micro Ring Playset started out as an average toy but quality and scarcity combined to make it something of a modern collectible. There's no telling if the product's value will hold up the way that old G.I.Joe playsets have but given its quick rise in value, it's certainly possible.
Highly Detailed
Part of this toy's value is in the detail that went into its production. The fencing around the ring is very clean-cut and the spaces between the mesh were properly cut out. Red designs decorate the white floor of the ring much as they did in the actual UFC 100 ring. The font and styling of the lettering are all the same, creating a relatively faithful reproduction of the actual ring used in the fights.
Cost and Value
The value of collectibles largely depends on the people who want to buy them and that is part of what has driven the price of this item so high. It is in the triple digits, even for the most affordable versions, and most of them have been played with and do not come in mint condition. Collectors will still be willing to pay that price, however, especially if the product continues to increase in nostalgia and value.
2

. Exclusive Series Deluxe Brock Lesnar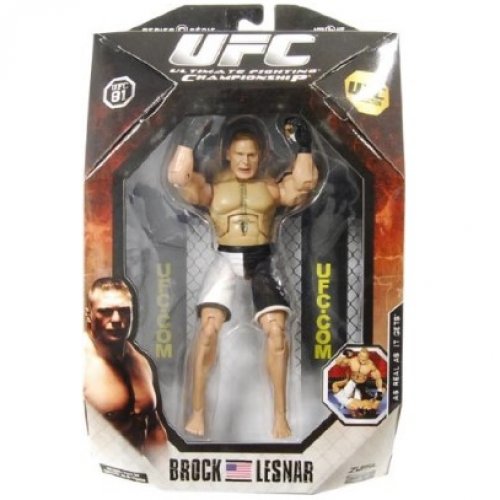 Highly Articulated
Fits Playsets
One of a Series
Detailed Styling
Only the most popular UFC fighters tend to end up with miniature plastic versions of themselves on store shelves, so it is not surprising that Brock Lesnar is one of the UFC's most consistent toy models. This former WWE star. and current UFC fighter has been active in the world of martial arts for nearly twenty years and that kind of investment yields a reputation that lends itself to plastic immortality.
Read more
Highly Articulated
The majority of action figures on the market have around twelve points of articulation. This allows for movement of the head, hands, feet, legs, and arms. The Deluxe Brock Lesnar action figure, however, has more than double that number. Twenty-nine points of articulation allow fans to create any of the moves and positions that have made Lesnar the powerhouse fighter he is today. These include articulation points in the chest and hips to allow the figure to bend and kick more naturally than most other figures can.
Fits Playsets
The UFC might license toy through several different companies, but this particular action figure was produced by Jakks Pacific which is also the company that produces the majority of UFC-themed playsets. This consistency allows Jakks Pacific to ensure that the action figures in one line are more likely to fit the playsets from another line, thereby increasing the amount of use that customers can get from the toy.
Cost and Value
This toy is still a collectible and its price reflects that fact. But it is still a relatively easy-to-find product so the price is still in the reasonable double-digit range. It is likely to increase in price as time passes and other versions - especially versions still in their original packaging - are lost or damaged. It is too expensive for a casual toy at this point but would make an excellent and affordable gift for a collector.
Funko Pop! Quality
UFC Licensed
3 3/4 Inches Tall
Detailed Body Design
Funk Pop seems to have taken over the world in the last few years. They have figurines that cover just about every fandom from canceled shows like Firefly and Buffy to sports teams and huge modern movie franchises like the Marvel Cinematic Universe. The UFC jumped on the Funko Pop bandwagon relatively quickly and licensed several fighter representations, Brazillian MMA fighter Jose Aldo among them.
Read more
3 3/4 Inches Tall
Funko Pop has products in several different sizes, but their most common is the 3 3/4 inch option that they used when creating Aldo's figure. It is tall enough to avoid getting lost on someone's desk or shelf but small enough that it can easily fit in most gift packs, on most cubicle desks, and in lockers.
Funko Pop! Quality
Part of Funko Pop's rapid rise to popularity is the quality of their products. These are not easily-cracked and hollow plastic models. They are heavy plastic and though they won't withstand being thrown against a wall, they can handle the wear and tear of being played with or accidentally knocked off a table. They are also usually fairly faithful to the people or characters that they represent, despite the limited detailing on the figure's face. In the case of Jose Aldo, they got his signature mustache and the tattoo on his should shoulder as well as much of his muscle definition.
Cost and Value
This is the most affordable product on the list. Funko Pop products are still considered collectibles but they are far from rare at the moment and likely won't reach high-value prices for several decades due to the current market saturation. They still make excellent gifts for UFC fans, however, and their prices are very reasonable which allows fans to get more figures for less money in order to build up their "legacy collection" or a collection that can mature in value as time goes on.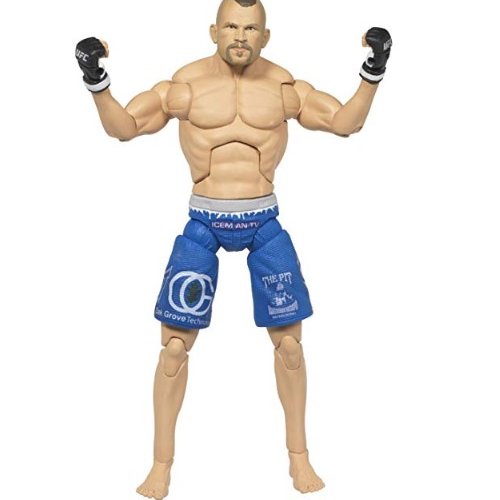 Chuck Liddell is one of the most well-known UFC fighters, hands down. He is often the only MMA fighter that people can name if they are not directly interested in martial arts of the UFC and he has appeared in several movies that helped bring MMA to the attention of mainstream media as well as people who would not have otherwise been interested in martial arts. Known as "The Ice Man" thanks to his stoic pre-fight tendencies, he is on the short list of people that will likely be included in every UFC toy line for years to come, whether or not he is an active fighter at the time.
Read more
Full Articulated
Whereas most action figures have around a dozen points of articulation, this Chuck Liddell figure has twenty-nine. It stands seven inches tall and its height, combined with the number of joints molded into the figure, allow fans to pose this highly-detailed toy into any one of countless positions, poses, and stances that Chuck Liddell actually uses when in the ring.
Affordable Collectible
Most collectibles quicky climb from retail price to triple-digit collectible prices, but this one is a bit of an exception. Some sellers still offer the figure for slightly more than the store price while others have already doubled the product's original price. It is by far one of the most affordable collectibles on this list and is a great starting point for someone who may want to begin a UFC collection or add modern pieces to a collection of classic figures.
Cost and Value
This Chuck Liddell figure occupies a unique and limited space between when a toy is a toy and when it becomes a collectible. At the low end of its current price range, it is a slightly expensive action figure for a young UFC fan. At the higher end of the range, however, it is a low-cost collectible that will likely mature into a highly sought-after item in the years to come.
5

. Georges St-Pierre Deluxe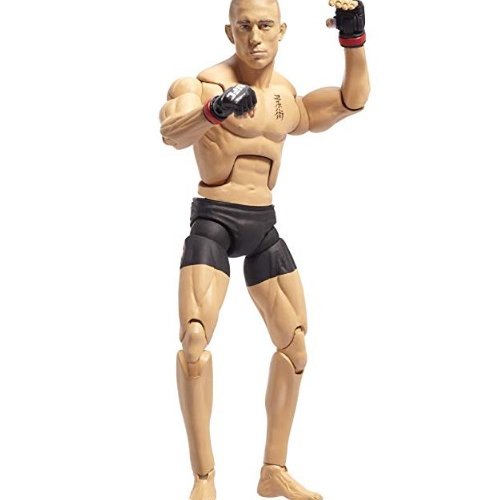 Collectors Item
Fully Articulated
Rare
Detailed
Georges St-Pierre is another of the best-known fighters in the history of the UFC. He is currently on hiatus but that does not stop him from being one of the most popular and recognizable of UFC's champions. He has starred in his own biopic as well as several movies, the most well-known of which of course being Captain America: The Winter Soldier. His popularity has placed him alongside Chuck Liddell as one of the few fighters in the UFC that could never enter the ring again but who will still find themselves reproduced in plastic for years to come.
Read more
Rare
While most fans can go into any big box store and find UFC figures on the shelves, fans of St-Pierre are going to have a slightly harder time tracking down this particular product. It is available online through other collectors but it is increasingly rare and can cost a pretty penny. Its rarity also increases its value, however, particularly in light of St-Pierre's current and indefinite hiatus.
Very Detailed
This is another highly-detailed sculpt, much like the Brock Lesnar and Chuck Liddell offerings. St-Pierre is depicted wearing gloves and shorts, both of which are rendered with a fair amount of detail, down to the raised cuffs of the gloves around the fighter's wrists. His tattoos and muscle definition are also included, as is his signature shaved head. There is no mistaking the quality of this piece or its canny likeness of St-Pierre.
Cost and Value
This is the most expensive single-figure offering on this list and the cost is more than understandable from a collector's point of view. St-Pierre has been on hiatus for more than a year and nobody knows if or when he will be back. This action figure depicts him during one of his championship competitions and is a vital and realistic representation of the legacy that he built for himself among MMA fans. It is still currently listed in the double digits but as the length of his hiatus goes on the value of this figure is likely to increase on the assumption that new championship depictions of St-Pierre won't be coming out any time soon.
6

. Pride Championship Ring
UFC-Licensed
Fully Detailed Ring
Collector Piece
Sized to Fit Many Figures
After that string of action figures, a playset is a good change of pace. The UFC tends to favor action figures over playsets, likely because of the ease with which action figures can transition from toys to collectibles and thereby increase in value. Playsets, on the other hand, have smaller pieces that can more easily be lost. The upside to this, of course, is that fans can often scoop up playsets for a much more affordable price than they were expecting and the Pride Championship Ring set is an excellent example of this.
Read more
Fully Detailed Playset
This playset was released in 2009 and modeled after one of the four-sided rings used in the Pride Championship matches. It is a faithful recreation of that ring, down the painted-on decals on the sides, the colors of the ropes, and the setup that held the ring together.
Fits Most Figures
Jakks Pacific is one of the UFC's main toy producers. They produced this playset as well as most of the detailed action figures licensed by the UFC. This allows them to create product lines that work well together which lets customers and collectibles use the action figures from one line to recreate fights or set up their own dream matches whenever they want to.
Cost and Value
Most playsets this old are either dirt-cheap or priced out so that only collectors would be able to buy them. This set, on the other hand, is still sold at roughly the same price that it was sold at when it first arrived in stores almost a decade ago. This is good in the short-term for anyone who wants the playset but it also calls the future value of the product into question. Collectors should be aware that this stagnation in value inflation may mean that the product will never reach high-level collectible prices.
7

. Ultimate Collector Series George Rush St-Pierre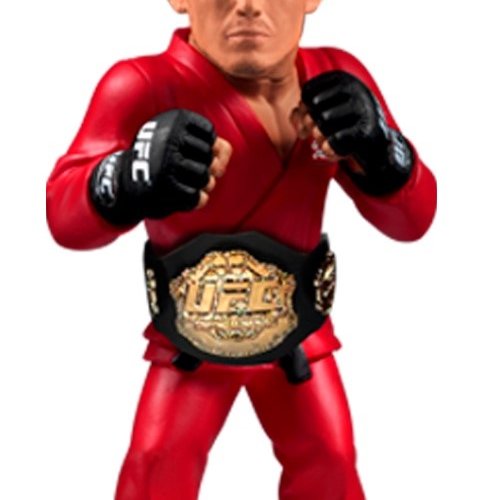 Championship Version
Comes with Belt
Stands 6" Tall
Includes Fighter Bio
Signature Pose
Multiple Articulation Points
It's something of a testament to Georges St-Pierre that he made this list twice while some incredibly popular fighters did not have a chance to appear. It is especially impressive when his hiatus is taken into consideration. Then again, St-Pierre has built the kind of reputation that lets a fighter take years away from the competition circuit and still draw sold-out crowds if they decide to come back. In St-Pierre's case, it also means that his miniature plastic replicas are almost among some of the most popular on the market, whether they are new or sought-after collectibles.
Read more
Championship Version
This depiction of St-Pierre was developed after UFC 83 in which he bested Matt Serra. It is part of a six-inch-tall line that utilized the garments and poses used by the fighters to commemorate the various bouts. The line is considered an official collectible of the UFC. In St-Pierre's case, it also comes with a championship belt and multiple points of articulation.
Includes Bio and Fighter Picture
Fans of the UFC, and of UFC 83 in particular, get more than just an action figure when they purchase this particular toy. The product comes with an official fighter portrait as well as a biography of the fighter in question. St-Pierre's biography has been well-chronicled, including a biopic, but die-hard fans will almost never say no to another reminder of the work that their favorite fighter put in to become the champion.
Cost and Value
This is a surprisingly affordably product. UFC 83 happened almost ten years ago but the products are still being sold at roughly the same prices as they were when they first arrived in stores. This is good news for fans who want to get their hands on these iconic championship celebration figures but it is not a good sign for collectors who want to create a collection that will mature in value over time. There will come a time when these figures are valuable, but it will likely be several decades before that time comes.
8

. Funko Pop! Chris Weidman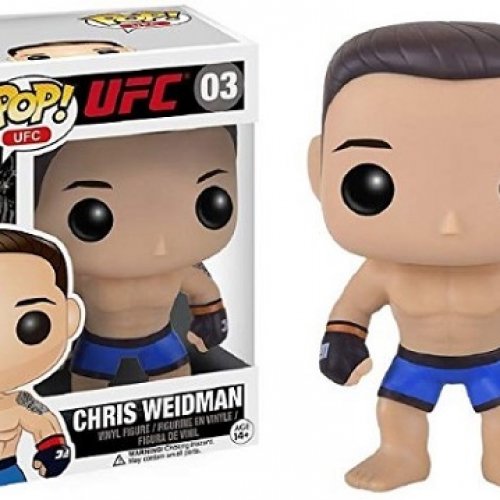 Comes with protector
UFC Licensed
Official Funko Pop! Figure
Detailed Body
If Funko Pop's current popularity was ever called into question, someone would only have to point to the prolific nature of their products to prove that this brand isn't going anywhere. The produced not one but two UFC fighter figures that are very popular among fans and a sub-par product would simply not get the same reaction. As good as the product is, however, these figures are all about the fighters. Chris Weidman is currently #3 in UFC's middleweight division and, if his history is any indication, he has no intention of dropping any lower. It that drive and that fire that has made him so popular with the fans.
Read more
Comes with Protector
Funko Pop figures seem to be a dime a dozen at the moment, but they won't always be so easy to come by. The company is clearly prepared for this and have begun to sell some of their figures with protective cases that are already in use when the customer buys their figure. The clear case is like a second layer of protection within the cardboard box, ensuring that the figure stays in mint condition unless the case is opened.
Detailed Body
As with all Funko Pop figures, Weidman's face is relatively lacking in detail. The company chooses instead to focus their detailing on the body of the figure and in this case that meant getting Weidman's blue shorts, orange-cuffed gloves, and shoulder tattoo correct. They've also managed a fairly faithful representation of his brushed-back hairstyle and the obvious tone of his muscles that are on full display when he is in the ring.
Cost and Value
These figures are still incredibly affordable as far as collectibles go. Nobody is really sure how well they will mature in value, unfortunately, but this figure brings an added level of insurance to the odds of maturation thanks to the inclusion of a clear protective case.
9

. Set of 6 Championship Action Figure Belts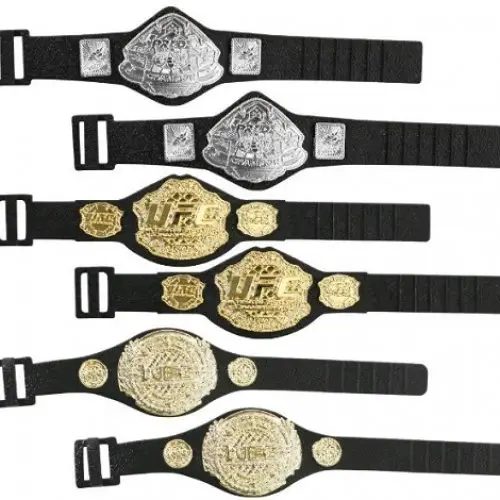 Detailed Accessories
Fits Several Figures
Several Belt Styles
Official UFC Product
The second-to-last product on this list is a deviation from the rest of the products in that it is neither an action figure or a playset. Rather it is a set of accessories that can be used on nearly any UFC-licensed action figure to enhance the level of play and immersion that fans can achieve. This set of six belts is highly adjustable, relatively detailed, and covers several types of belts awarded by the UFC after their championship fights.
Read more
Fits Many Action Figures
These belts imply a two-slot belt closure system and have a very long tongue length. This means that they can be added on the waist of nearly any action figure or fashion doll from Barbie to G.I.Joe and any number of UFC-licensed action figures. There is almost no limit to the ways these belts can enhance creative play for younger fans while allowing older fans to supplement belts missing from older action figures or to adorn favorite figures in their collections.
Includes Several Belts
This set contains three styles of belts and includes two of each for a total of six belts. Extra belts will come in handy in those instances when a younger fan loses one of the other belts or when a collector needs to use the replacement belts on a few different. The set includes two UFC championship belts, two Pride belts, and two WEC belts.
Cost and Value
The value of these belts is a little hard to pin down as they are not a stand-alone toy and they are not collectible pieces, but they are something that a UFC fan - whether young or old - would enjoy receiving. Some customers have found them a little hard to put on, especially when they are brand new. A little practice tends to solve the issue, however, and they are a great addition to the creative play options presented by action figures.
10

. Liberty Imports Mini Wrestling Ring Playset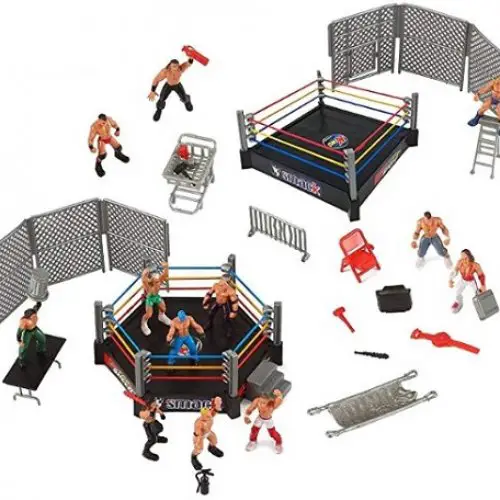 Lots of Accessories
Several Figures Included
Can be Added To
Includes Props
The final product on this list is not technically a UFC product but it is just too well-suited for young UFC fans to pass up. Liberty Imports created an amazingly thorough stand-alone wrestling playset that not only includes the rings and a few action figures, but also includes medical tools, barricades, and chairs. Users can choose to set up a classic wrestling match or to create a WWE-style experience with all the drama that entails.
Read more
Huge Playset
This playset has several dozen pieces including cage walls for the either of the rings, a stretcher, side tables and folding chairs, medical equipment and barricades. There is a ton of room for free-form creative play that will encourage users to not only recreate favorite fights but the set up their own matches and practice their storytelling as they work through the scenarios.
Encourages Free Play
I might sound like a bit of a broken record player on this one, but free play is incredibly important and after a whole series of collectors toys it is nice to get into the meat of what makes toys so great. Playsets like this one not only let people engage with their favorite fighters and recreate matches that they enjoyed but it encourages them to come up with their own matchups. And, as any fan will tell you, the match isn't just about the fight. It's about the drama int he lead-up, the way the fighters interact, and the commentary that hypes up the crowd. It's all storytelling and creative play which is fun - not to mention good for our brains - at any age.
Cost and Value
One might expect a playset this big to be expensive but it's very nearly the most affordable product on this list. It isn't a UFC product exactly but that won't stop UFC fans from enjoying the toy with some of their favorite UFC action figures, not to mention other low-cost additional pieces that can be found on sites like Amazon and eBay. It wouldn't be hard to build this set up into a little fighting empire all their own.
A Few Things To Consider
Accuracy
Part of what distinguishes run-of-the-mill toys from collectible pieces is the detail and accuracy with which they are produced. Details like the style of the fighter's clothing to their tattoos to the definition of their muscles are all taken into account and, in the better products, recreated faithfully. Playsets are given a little more wiggle room as most rings or octagons are similar in appearance. In these cases, the detail of the reproduction rests on things like clean lines between the "wires" of the fencing around the octagon and the realistic details applied to the points where the ropes of a ring meet one another.
Poses: Some fighters have signature poses that they take in every photo op, every biography picture, and at the start of most fights. The pose varies from person to person and not every fighter has one. But some of the best UFC toys on the market are either produced with the figure already in the signature pose or are articulated so that fans can recreate the pose themselves if they open the package.
Articulation: Articulation refers to the points on an action figure where the manufacturer has included a joint or pivot point so that consumers can change the position of the dolls arms, legs, hands, or wrists. Products with a higher level of articulation usually have a pivot point in the center of the chest as well so that the figures can be bent over slightly to recreate some of the more dynamic fight positions that occur during a UFC match. A few of the products on this list have over 20 points of articulation which is well above the average of six or seven with which many toys are produced.
Tattoos: A fighter's tattoos can often be as well-known as their face. No action figure can be complete without a faithful reproduction of the fighter's tattoos, though some exceptions may be made if the images are lewd or contain strong language due to the wider market for the figures including younger people. With those few exceptions, toys that become collectibles tend to reproduce a fighter's tattoos as clearly as they can so that there can be no mistaking one fighter for another in the decades to come.
Uniforms: UFC fighters don't have uniforms per se, but some of them do tend to have a signature pair of shorts or color combination on their equipment to help distinguish them from the rest of the fighters. In these instances, toys that reproduce these unique choices often retain their value at a much higher rate than toys that opt for a more neutral and widely-applicable choice of garments.
Muscles: This might seem like an odd detail to get hung up on, but UFC fighters are very much on display when they compete. Toys that try to give the fighters a "smoother" physique by omitting muscle definition tend not to do as well as toys that try to be as accurate in possible when depicting the physical tone that many UFC fighters possess.
Playset Details: Details on playsets differ from details on action figures. Good-quality playsets tend to have details like small rivets molded into the plastic where real rivets would be on an actual ring or twist texture added to ropes. Certain sets, like the wrestling playset at the end of the list above, has several pieces that add a deeper level of play for anyone using the set and that is what sets it apart from other sets that provide the ring and perhaps one or two other accessories. Additional pieces like a stretcher, a medkit, and barricades allow users to more fully immerse themselves in the world of the sport and that is often the most valuable offering that a toy can bring to the table.
Value
Value does not always refer to the monetary tag attached to a collectible piece. When the topic at hand is toys that are highly sought-after long after they've left store shelves, the value lies in what they mean to collectors, if they are part of a set, and how hard they are to find. A few other things add value, such as the details discussed above and the application of an official license from whatever organization or "fandom" is represented by the collectible.
Collectors Pieces: Collectible pieces are valued more highly than other toys for a variety of reasons, many of which are listed above. But when one is compiling a list of the best UFC toys, collectors options are going to top the list because most recently-released toys are simply not tested enough to have a real rating on them. Collectible pieces are a safer bet, however, because they have proven their worth time and again, and are beloved by – usually – several generations of fans.
Set Pieces: Pieces of a set are often the most heavily sought-after collectibles in any market. People can start a set but there is no guarantee that everyone can finish it, especially if the toys are older. Things get broken or lost and a toy that was once easy to come by becomes a rare find that multiple people need to complete a set they have been working on. This is the reason that many figures on this list are numbered by the manufacturer; so that collectors new and experienced know where in the line the toy falls.
Rare Pieces: As mentioned above, some pieces become rare over time. They can be destroyed, lost, or thrown away which then increases the value of the remaining copies because collectors have no other avenues by which to get the product they want. Scarcity can drive up prices but it also increases the product's inherent value well beyond what a price tag might reflect.
Licensed Merchandise: There might be a million unlicensed versions of any given toy, but collectors and enthusiasts know that there is nothing like the quality of the real deal. One of the best ways to ensure that a collectible will carry on with this quality is by finding a product that was produced using an official license from the company that owns the characters or represents the athletes, such as the UFC in this case. While the UFC does produce their own toys, companies like Jakks Pacific and Funko Pop pay for the rights to use the UFC's name and their fighters' likenesses. This allows for a greater diversity of toys while still supporting the UFC and its fighters.
Bottom Line
Collectors both new and experienced are on the lookout for the products that will expand their collections. Some of the pieces on this list are hard to come by and may be snapped up by collectors as soon as they are spotted. Others are newer and easier to get ahold of, and they may one day be the collectible pieces that everyone is scrambling to find. Action figure collections might seem easy to build but as the prices and scarcity of these product show, it can be a truly intense undertaking. Most people will say that their collection will never be complete but, instead, will be an evolving reflection of their appreciation for whatever they have chosen as their focus. This is especially true for fans of the UFC where every new fighter, new championship, and new venue offers another opportunity for collectibles.
Frequently Asked Questions
q:

Why are some of these so expensive?

a:

Hard-to-find or classic toys will carry a higher price tag because sellers know that buyers are willing to pay more for special products that are no longer carried in stores. The products may have been $5 or $10 brand-new but nostalgia, scarcity, and a viable market of collectors will drive up the price of any collectible toy.
q:

Are these for kids?

a:

Some of them can be, yes. But the collectible pieces on this list should not be given to children as it is unlikely that most kids would keep them in good condition and the toy itself may be very rare and impossible to replace if it is damaged or broken.
q:

Why are some so hard to find?

a:

Most of the toys on this list are older. They were easy to find when they first came out, but time is part of what sets collectibles apart from the rest of the toys on the market. Unfortunately, time also makes the toys more like to be thrown away, damaged, or lost and this reduces the chances of future collectors getting their hands on a product they want.
q:

Where can I find the rest of a set?

a:

Sites like Amazon, eBay, and Mercari are a collector's best friend if they are trying to complete a set of any given toy line.
q:

Are there multiple lines of UFC toys?

a:

Yes there are! The UFC license a new line of toys every other year, though sometimes the lines come out once a year. They differ based on the fighters included, the details on the figures, and the company that the UFC chooses to collaborate with.
q:

Did the UFC give permission for all of these?

a:

All of the toys that bear the UFC name had to be licensed through the UFC or they would have been considered illegally produced toys. This did occur relatively often in the 70's and 80's, but new copyright laws are much tougher on people who produce products without the permission of the company or organization to whom the images or references belong.
q:

Do all fighters have action figures?

a:

Most of the big-name fighters have their own action figures but not all of them agree to be modeled as a toy or have made it "big" enough to be considered. The specific selection of fighters with action figures changes from year to year, however, so it is hard to keep up with who exactly has their own plastic representation and who does not.
Subscribe to our Newsletter