Best UFC Action Figures and Toys For Collectors And Kids Reviewed
last updated:
Feb 18, 2020
Collectible toys are not everyone's cup of tea. Some people find them silly while others deride them as a waste of money. But those who enjoy collecting miniature representations of their favorite fighters or the rings in which they compete are expressing their appreciation for the sport and for its participants in a way that makes them happy. Where some people see small lumps of plastic, others see the nostalgia and joy that brought them to the UFC fan base in the first place and that is certainly something worth investing in. Some of the toys on this list certainly qualify as in investment and they bear price tags that will boggle any newcomer to the market while seeming perfectly reasonable to seasoned collectors. Others are more affordable, often newer rather than nostalgic collectibles, and reflect some of the newer faces in the UFC.
In a Hurry? The test winner after 4 hrs of research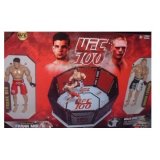 Micro Ring Playset
Why is it better?
Collectors Piece
Full Playset
Highly Articulated Figures
Detailed Depictions
In a
Hurry? Editors choice: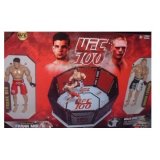 Test Winner: Micro Ring Playset
10 Best UFC Action Figures and Toys
A Few Things To Consider
Accuracy
Part of what distinguishes run-of-the-mill toys from collectible pieces is the detail and accuracy with which they are produced. Details like the style of the fighter's clothing to their tattoos to the definition of their muscles are all taken into account and, in the better products, recreated faithfully. Playsets are given a little more wiggle room as most rings or octagons are similar in appearance. In these cases, the detail of the reproduction rests on things like clean lines between the "wires" of the fencing around the octagon and the realistic details applied to the points where the ropes of a ring meet one another.
Poses: Some fighters have signature poses that they take in every photo op, every biography picture, and at the start of most fights. The pose varies from person to person and not every fighter has one. But some of the best UFC toys on the market are either produced with the figure already in the signature pose or are articulated so that fans can recreate the pose themselves if they open the package.
Articulation: Articulation refers to the points on an action figure where the manufacturer has included a joint or pivot point so that consumers can change the position of the dolls arms, legs, hands, or wrists. Products with a higher level of articulation usually have a pivot point in the center of the chest as well so that the figures can be bent over slightly to recreate some of the more dynamic fight positions that occur during a UFC match. A few of the products on this list have over 20 points of articulation which is well above the average of six or seven with which many toys are produced.
Tattoos: A fighter's tattoos can often be as well-known as their face. No action figure can be complete without a faithful reproduction of the fighter's tattoos, though some exceptions may be made if the images are lewd or contain strong language due to the wider market for the figures including younger people. With those few exceptions, toys that become collectibles tend to reproduce a fighter's tattoos as clearly as they can so that there can be no mistaking one fighter for another in the decades to come.
Uniforms: UFC fighters don't have uniforms per se, but some of them do tend to have a signature pair of shorts or color combination on their equipment to help distinguish them from the rest of the fighters. In these instances, toys that reproduce these unique choices often retain their value at a much higher rate than toys that opt for a more neutral and widely-applicable choice of garments.
Muscles: This might seem like an odd detail to get hung up on, but UFC fighters are very much on display when they compete. Toys that try to give the fighters a "smoother" physique by omitting muscle definition tend not to do as well as toys that try to be as accurate in possible when depicting the physical tone that many UFC fighters possess.
Playset Details: Details on playsets differ from details on action figures. Good-quality playsets tend to have details like small rivets molded into the plastic where real rivets would be on an actual ring or twist texture added to ropes. Certain sets, like the wrestling playset at the end of the list above, has several pieces that add a deeper level of play for anyone using the set and that is what sets it apart from other sets that provide the ring and perhaps one or two other accessories. Additional pieces like a stretcher, a medkit, and barricades allow users to more fully immerse themselves in the world of the sport and that is often the most valuable offering that a toy can bring to the table.
Value
Value does not always refer to the monetary tag attached to a collectible piece. When the topic at hand is toys that are highly sought-after long after they've left store shelves, the value lies in what they mean to collectors, if they are part of a set, and how hard they are to find. A few other things add value, such as the details discussed above and the application of an official license from whatever organization or "fandom" is represented by the collectible.
Collectors Pieces: Collectible pieces are valued more highly than other toys for a variety of reasons, many of which are listed above. But when one is compiling a list of the best UFC toys, collectors options are going to top the list because most recently-released toys are simply not tested enough to have a real rating on them. Collectible pieces are a safer bet, however, because they have proven their worth time and again, and are beloved by – usually – several generations of fans.
Set Pieces: Pieces of a set are often the most heavily sought-after collectibles in any market. People can start a set but there is no guarantee that everyone can finish it, especially if the toys are older. Things get broken or lost and a toy that was once easy to come by becomes a rare find that multiple people need to complete a set they have been working on. This is the reason that many figures on this list are numbered by the manufacturer; so that collectors new and experienced know where in the line the toy falls.
Rare Pieces: As mentioned above, some pieces become rare over time. They can be destroyed, lost, or thrown away which then increases the value of the remaining copies because collectors have no other avenues by which to get the product they want. Scarcity can drive up prices but it also increases the product's inherent value well beyond what a price tag might reflect.
Licensed Merchandise: There might be a million unlicensed versions of any given toy, but collectors and enthusiasts know that there is nothing like the quality of the real deal. One of the best ways to ensure that a collectible will carry on with this quality is by finding a product that was produced using an official license from the company that owns the characters or represents the athletes, such as the UFC in this case. While the UFC does produce their own toys, companies like Jakks Pacific and Funko Pop pay for the rights to use the UFC's name and their fighters' likenesses. This allows for a greater diversity of toys while still supporting the UFC and its fighters.
Bottom Line
Collectors both new and experienced are on the lookout for the products that will expand their collections. Some of the pieces on this list are hard to come by and may be snapped up by collectors as soon as they are spotted. Others are newer and easier to get ahold of, and they may one day be the collectible pieces that everyone is scrambling to find. Action figure collections might seem easy to build but as the prices and scarcity of these product show, it can be a truly intense undertaking. Most people will say that their collection will never be complete but, instead, will be an evolving reflection of their appreciation for whatever they have chosen as their focus. This is especially true for fans of the UFC where every new fighter, new championship, and new venue offers another opportunity for collectibles.
Frequently Asked Questions
q:

Why are some of these so expensive?

a:

Hard-to-find or classic toys will carry a higher price tag because sellers know that buyers are willing to pay more for special products that are no longer carried in stores. The products may have been $5 or $10 brand-new but nostalgia, scarcity, and a viable market of collectors will drive up the price of any collectible toy.
q:

Are these for kids?

a:

Some of them can be, yes. But the collectible pieces on this list should not be given to children as it is unlikely that most kids would keep them in good condition and the toy itself may be very rare and impossible to replace if it is damaged or broken.
q:

Why are some so hard to find?

a:

Most of the toys on this list are older. They were easy to find when they first came out, but time is part of what sets collectibles apart from the rest of the toys on the market. Unfortunately, time also makes the toys more like to be thrown away, damaged, or lost and this reduces the chances of future collectors getting their hands on a product they want.
q:

Where can I find the rest of a set?

a:

Sites like Amazon, eBay, and Mercari are a collector's best friend if they are trying to complete a set of any given toy line.
q:

Are there multiple lines of UFC toys?

a:

Yes there are! The UFC license a new line of toys every other year, though sometimes the lines come out once a year. They differ based on the fighters included, the details on the figures, and the company that the UFC chooses to collaborate with.
q:

Did the UFC give permission for all of these?

a:

All of the toys that bear the UFC name had to be licensed through the UFC or they would have been considered illegally produced toys. This did occur relatively often in the 70's and 80's, but new copyright laws are much tougher on people who produce products without the permission of the company or organization to whom the images or references belong.
q:

Do all fighters have action figures?

a:

Most of the big-name fighters have their own action figures but not all of them agree to be modeled as a toy or have made it "big" enough to be considered. The specific selection of fighters with action figures changes from year to year, however, so it is hard to keep up with who exactly has their own plastic representation and who does not.
Subscribe to our Newsletter