Best Ab Roller Reviewed
last updated:
Dec 03, 2019
Toned abs are the ultimate goal, and seem like they are impossible to attain. Cutting out greasy cheeseburgers and chocolate cakes get you half of the way there, and a good ab roller will take you the rest of the way.
What we love about these kinds of rollers is that they are a very simple device that is incredibly effective and doesn't take up all that much room in your home. Plus, they are pretty fun to use (until those core muscles really start to burn!). For anyone looking for toned abs- this is a great tool to have on hand.
In this guide, we have compiled a list of some of our favorite ab rollers currently out there on the market. With the addition of proper supplements to fuel your workouts, you are incredibly close to the body that you have always wanted!
In a Hurry? The test winner after 7 hrs of research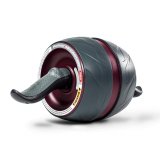 Perfect Fitness
Why is it better?
Curved grips
Knee pads included
Carbon steel spring
In a
Hurry? Editors choice: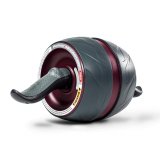 Test Winner: Perfect Fitness
2
Researched Sources
910
Reviews Considered
7
Hours Researching
10
Products Evaluated
Materials
Stability
Effectiveness
Ease of Use
Portability
By Default
Criteria Used for Evaluation
Materials
Quality materials improve comfort and stability.
We wanted to make sure that we selected products that used sturdy materials that will hold up well over time. Below, we have listed the types of materials that we looked for, and the potential benefits they will bring to you workout.
EVA foam: For the handles, EVA foam is one of the best materials to use to ensure a comfortable grip. This type of foam is durable and comfortable, and contours to the shape of your hands while you use it.
Another benefit out EVA foam is that it also works to wick sweat away from your hands. As you start to build up reps, your hands start to get a little wet and slippery. To help keep a steady grip, EVA foam is a great tool to use.
Rubber wheels: It goes without saying that rubber is the preferred material to use for the wheels. The reason rubber is perfect in this instance is because it really grips the surface of the floor. This means that you can use it on carpet, rugs, concrete, or hardwood surfaces.
If you don't like the idea of face-planting on concrete, be sure to select designs with rubber-coated wheels! However, plastics wheels aren't without their benefits. If you intend on working out on a soft surface such as a rug or carpet, plastic wheels glide better than rubber options.
Steel bars: Beneath every layer of rubber or EVA foam lies a strong steel bar. We wanted to make sure that we selected designs that utilized steel for their designs to ensure that they will be stable. You put a lot of weight and tension on these handles, so you want to make sure that they will be able to withstand the pressure!
These devices are pretty simple and straightforward, which means that you need to make sure that the materials used will be able to hold up well over time.
Stability
An unsteady ab roller is a recipe for a painful faceplant!
We want you to work out the muscles in your core, and not get a faceful of the carpet when your device fails to hold your body weight. There were a few things that we looked at to ensure that each and every device will be able to hold up under the pressure.
Materials: The quality of materials used was one of the first indicators of how well a device will fare. While the materials for the wheel are important, the construction of the handles is even more important.
Steel bars are essential to keep you firmly in place. We made sure that each and every design that we selected for our list had handles that were reinforced with steel. There were some designs that used plastic, and that design choice can be downright dangerous. If plastic breaks under tension, you really run the risk of injuring yourself.
Wobble: We wanted to avoid the wobble whenever possible. A little bit of a wobble is sometimes unavoidable and often happens when your core just isn't as strong as it needs to be.
However, sometimes the wobble is a matter of a poor connection between the bars and the handle. If there is too much of a gap where the wheel meets the handles, wobbling can occur.
While a little bit of a wobble doesn't necessarily mean that the device will buckle beneath you, it can be pretty annoying. Plus, it means that you may not be getting an even workout. Your body will naturally work to accommodate uneven traction, which means you run the risk of tweaking a muscle in your back or shoulders.
Effectiveness
Above all else, you want your device to yield results!
If it doesn't help you get the abs you have always dreamed of, then what's the point? We wanted to ensure that we selected designs that were easy to use, but were also effective as well.
One of the very first things that we looked at to ensure that each device was effective was what previous users had to say. In our experience, users are the very first ones to tell you if a product works or not.
We combed through hundreds of user reviews to find the products that users found helped them achieve the body that they have always wanted. If a product was too difficult to use or it put pain on their shoulders, we would move on to the next product.
Another thing that we looked at was the design of the wheel. Thinner wheels that measure to be under 2 inches are made to help tone muscles and work all of those little stabilizing muscles in your core.
Wheels that measure to be over 2 inches in width are made more for building mass. Not only does it engage your core and build muscle, but they work shoulder and lats as well. If you want to build strength, wider wheels are the way to go. If you want to slim down and tone, thinner wheels are your best bet.
Ease of Use
We wanted to make sure that each device that we selected for our list was easy to use.
There were a few things that we took into consideration to get you up and running right out of the box!
The first thing that we looked at was the style of the wheel. To ensure that you will be able to keep in control of each and every moment, you need a wheel that is able to move. However, it is important that the wheel isn't too tight, because it means that you will be shortchanging yourself on your workout.
You want your wheel to be loose and able to move freely so that you can be in total control of your movement. The slower that you take each rep, the more muscles you will engage. When the wheel is tight, you will rely too much on propping yourself up by the device, which isn't as engaging.
Another thing that we considered was the width of the handlebars. We liked handles that were a little bit wider so that you have the option of finding the right width for your frame. If you have a wide shoulder set and the handles are too narrow, this can put undue pressure on your upper back and shoulders.
The last thing that you want when using these devices is to feel any unusual pain. If you find that using an ab roller is painful, it might mean that your grip is either too wide or too narrow. That's why we wanted to select designs that allow you to switch up your grip as needed.
Portability
The beauty of an ab roller is that they work some pretty big muscle groups with a tiny little device.
We love that they are small enough that that will not take up all that much room in your home gym, and they are also easy to store.
If you want to take your show on the road, there are some designs out there on the market that are designed just for that. These devices are able to be taken apart to easily store in a suitcase. For these options, the steel bar is able to be removed from the wheel, so you can set the bar and the wheel flat into your suitcase.
The styles that can be taken apart also make storing them in a closet when not in use a little easier. If you are running short on space or just want to take your geat with you while on the road, we suggest selecting a design that can be easily taken apart and quickly assembled when you need it.
What we love about these devices is that they are a perfect solution for those that are running low on space. Home gym equipment is notoriously bulky and takes up a lot of room. These simple devices are just as beneficial as a larger machine but without the large footprint.
Expert Interviews & Opinions
Most Important Criteria
(According to our experts opinion)
Experts Opinion
Editors Opinion
Users Opinion
By Default
Natural Back Pain Remedy
If you have chronic back pain, it may be due in part to a weak core. Strong core muscles actually help to hold your spine in place and promote good posture. One of the most common reasons for back pain is bad posture, so correcting that issue may clear up your pain completely!
Remember The Kitchen
Washboard abs are 20 percent sweat, and 80 percent food. Be sure that you eat foods that will fuel your workouts and not foods that like to live around your waistline! The most important thing to consider is to make sure that you eat foods rich in protein that help build muscle.
Switch It Up
There is more than one basic movement when it comes to rolling! A forward and backward motion triggers your upper and lower abs, but there are more muscles to hit! If you roll from side to side, this is a great way to hit the sides of your abs, as well as your lats.
Other Factors to Consider
Bottom Line
At the end of the day, you simply want an ab roller that will build muscles in your core. The most important piece of advice that we can give you is to make sure that you select a design that fits your needs.
If you simply want to slim down and tone, a narrow wheel is your best bet. If you want something that will really help you build muscle, a wider wheel is better for your needs.
It's important to note that an ab roller alone will not turn your flab to abs. To get the body you always wanted, 80 percent of your results happen in the kitchen. Be sure that you eat healthy meals, consume enough protein to fuel your muscles, and be sure that you get enough sleep each and every night!
Frequently Asked Questions
q:

Why do I need one an ab roller?

a:

If you have ever looked down at your squishy stomach with a grimace and longed for those classic washboard abs, you could benefit from one of these products.

If you are chasing weight at the gym and wonder why your numbers aren't improving, it could be due in part that your core just isn't as strong as it should be. No matter what type of activity you engage in, whether it is fighting, boxing, running, Crossfit, powerlifting, or even yoga- a strong core is your key to success.

Your core muscles also help to stabilize and protect your spine. With every workout, trainers implore you to tighten your core to stabilize your base. The stronger your core muscles are, the more protection they can offer to your spine.
q:

Does an ab roller just work your abs?

a:

These products don't just stop at your abs. While the basic front and back motion is designed to light up your lower and upper abs like a switchboard, other muscle groups are at work here as well.

If you simply use a shallow motion that stops short, you will only get work out of your abs. The lower to the ground you go., the more you will worth muscle such as your shoulder and upper back.

When you travel so that your body is completely stretched out like you are about to do a pushup, that's when the real worth begins! On the way down you will engage all of your upper and lower core. When you travel upwards, big muscles groups in your shoulder and upper back will light up, while your core works to stabilize and control your movements.
q:

Why is core strength so important?

a:

Think of your body like a tree. Sure, you want to have strong branches (or arms) that can weather any storm, but strong branches are senseless if you have a tiny little trunk (or core).

When you build up strength in your foundation, such as your core, glutes, and legs, every lift that you engage in will benefit. If you bench press for power, you would be surprised just how much you engage your core to push up that heavy barbell.

In fact, most training requires a tight and strong core. No matter if you are training your chest, biceps, shoulders, or back- your core is something that will always be engaged, Due to this simple fact, it is important to maintain a strong and healthy core.

That's why ab work is so important. Many athletes think that they only need to do situps to work in a good ab routine but sit-ups don't hit the full extent of your abs. Crunches only work the upper abs, and full crunches sometimes trigger supplementary back muscles that are strong than your lower abs.
q:

Are they easy to use?

a:

Absolutely! In fact, most are ready to go right out of the box. For those that need to be put together, it may take you as long to put together as it takes you to finish this sentence.

There are two simple components to every roller- a handle and a wheel. To assemble, simply pull the handle through the wheel and you are ready to go. The exercise itself is just as easy to do as it was to put together.

Place your hands on the handles and your knees firmly on the floor. Many designs come with an additional knee pad, but you can always use a simple yoga or exercise mat to protect your knees. With all of your muscles firmly engaged, roll forward and hold for a count, and then roll yourself back.

To make things a little more challenging, and to engage more muscle groups, try rolling it from side to side. Also, try to roll all the way forward so that you are essentially in a plank position, and then roll yourself upwards. This is considered to be an advanced movement and lights up the muscles in your core, shoulders, and lats like a Christmas tree.
q:

Do they really work?

a:

Skeptics may tell you that targeting specific muscle groups is not an effective way to train, and in a sense they are right. If you continue to eat cheeseburgers and chocolate cakes for every meal- a few rounds on a roller isn't going to do anything but mask your muscles under a layer of jiggle.

If you want to be able to actually see your abs, a lot of the work happens in the kitchen. Be sure that you eat balanced meals that are rich in veggies and fiber, and also be sure that you are getting enough protein with every meal.
q:

Can they help with back pain?

a:

The answer to this question depends upon the reason for your back pain. There is a myriad of reasons that you back may be giving you trouble, and a weak core may be one of them.

When your core is strong, it helps keep your spine in alignment. Tight core muscles not only offer your spine support but it is also a way to protect your spine from injury when engaging in complicated lifts or even sitting for hours at a time.

If you have to sit all day for work, a strong core means better posture, and better posture means a happier back!
Subscribe to our Newsletter