Best Adidas Shin Guards Reviewed
last updated:
Oct 15, 2019
If you want to shout words you would never want your mother to hear, a good kick in the shins could make that happen.
The reason that a getting kicked in the shin is something that just seems to shake you to your core is that the tibia isn't really surrounded by a lot of fat or muscle. Most of our bones are protected by cushioning- but the tibia stands alone.
That's why we suggest investing in a great pair of Adidas shin guards. When you are sparring with a partner, a good pair of shin pads not only protects your trembling shins, but it also provides a good deal of ankle protection as well.
In this guide, we have composed a list of some of our very favorite Adidas shin guards so that you may never know the pain of a sharp shin kick!
In a Hurry? The test winner after 7 hrs of research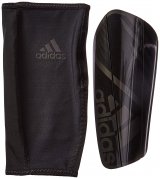 Adidas Performance Ghost Pro
Why is it better?
Slim fit
Lightweight
Slightly pliable
In a
Hurry? Editors choice: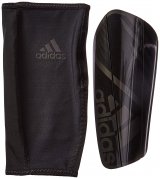 Test Winner: Adidas Performance Ghost Pro
2
Researched Sources
840
Reviews Considered
7
Hours Researching
10
Products Evaluated
Protection
Materials
Comfort
Style
Size
By Default
10 Best Adidas Shin Guards
Criteria Used for Evaluation
Protection
At the end of the day, you simply want to know that your shins are protected.
A hard kick to the shin is something you want to avoid at all costs! That's why we wanted to make sure that we selected Adidas shin guards options that have you covered.
The good news about selecting a product that comes from Adidas means that you are getting the highest quality of materials that are designed to keep you safe and protected. There are a few different levels of protection offered in their line, which we will get into a little more detail below.
If you are okay with the idea of being a little weighed down by bulky gear, you may want to opt for a design that has a little bit of extra padding not only in the plastic shield as well as the padding. There are a few different levels of EVA padding. Those that opted for thicker options are often less likely to dig into their legs when worn for longer periods of time.
Some fighters simply hate the idea of wearing any protective gear at all because they feel that it weighs when down. If you fall into this category, you may want to opt for designs that use a more pliable material that bends when you bend. It may not provide superior protection, but it will prevent injuries without hindering your full range of motion.
At the end of the day, however, whatever style that you select will keep you protected from injury. Nursing an injury is a fact of life but is something that sometimes can be avoided. Thinner designs may sting just a little bit more, but they won't hinder your full range of motion so you can fight at your very best.
Materials
The materials used for each of the designed selected gives you an indication of how much protection they provide.
We wanted to go into a little bit of detail about all of the materials that were used for their products, and the reasons they offer superior protection.
The outside shell for most of the Adidas shin guards is composed of a blend of polypropylene and TPE. The blend of these two materials lives somewhere between rubber and very rigid plastic. While it will offer you the maximum level of protection, it is also a little bit bendable as well. This means that it moves with you as you move so it will not feel as restrictive for quick movements.
For the inside of the shield, there are a few different materials utilized by Adidas. The most common material that is used on the inside is EVA foam. What makes EVA foam perfect is that it forms to the shape of your leg the longer that you wear it. The very last thing that you want is a pointed piece of plastic digging into your shin at you are landing blows!
Other materials are often a little thinner but more breathable. Users often opt for thinner padding which makes it a little less bulky than other options. It may not be as comfortable as EVA foam, but it looks as if you aren't wearing anything at all and it is often a little more breathable.
Comfort
If it isn't comfortable, it is likely to end at the bottom of your closet with the rest of your unwanted gear.
We wanted to make sure that we selected Adidas shin guards that would feel comfortable, and were easy to pop on and off at the beginning and end of your workout.
The very first thing that we considered when looking at comfort was the padding found inside of the shield. Generally, EVA foam is the way to go if you are looking for comfort. EVA foam forms to the shape of your leg over time, which provides the perfect fit for your leg. Plus, the foam also works to absorb a little bit of the momentum of each and every kick to help keep you protected
Another thing to keep into consideration is how the shield is affixed to your leg. There are two different methods to choose from. The first method uses a compression sleeve to hold the loose shield in place on your leg. Many users prefer this method due to the fact that it offers a good deal of compression to your muscles and it also limits potential points of irritation. The downside, however, it that it can get a little hot.
The second choice to opt for is the open design that affixes to your leg with a pair of elastic velcro straps. This design allows for maximum airflow to your leg, and it doesn't get overly hot. The downside to this design is that it can sometimes shift around on your leg, and some users found that the elastic bands have a tendency to dig into your legs.
At the end of the day, the ideal comfort comes from what you prefer most. If you like the idea of a little compression at the risk of airflow, shields with sleeves are the way to go. If you can put up with a little bit of irritation for maximum airflow, you want to select a design that uses elastic bands.
Style
Of course, we also took the style of each Adidas shin guards into consideration because it will be the last thing your sparring partner will see before landing on their butt!
As with any type of gear, we wanted to select designs that offer users a little bit of style. There were a few things that we looked at with each and every model.
We wanted to give you quite a few options to select from. Sure, basic black designs are great if you want to go unnoticed (which is why we included basic options), but some users want to stand out from the pack. We loved models that offered users quite a few different colors to select from.
Wearing shin guards is something that many fighters tend to shy away from. Protective gear has somewhat earned a negative sigma in some gyms because some fighters feel broken bones are a badge of honor. To us, your body is something that you need to honor and respect- and there is no better way to protect your body than with protective gear.
That's why we wanted to select designs that came in quite a few colors and styles to show those judgemental folks at the gym that you are enthusiastic about respecting your body! Shin injuries take upwards of 6 months to heal, so be proud of your gear!
Size
Finding the right side for your body is important to keep protected and comfortable at the same time.
We wanted to makes sure that we selected products that come with a wide variety of sizing options to find the perfect fit for your body type.
Most Adidas designs come in various sizing options that start with youth sizes and run all the way up to an adult extra-large. It is important to consult the sizing chart that is offered with each and every design because it measures a few different key factors.
The first thing that it takes into consideration is the height of your shin. If you select a size that is too short, you run the risk of not being completely protected. On the flip side, if you select a design that is too big it means it will come up over your knee and hinder your range of motion (and make you feel like the Tin Man).
Another thing to take into consideration is the circumference of the sleeve. If you have a larger calf, you need to opt for a larger sleeve. Be sure to consult the sizing chart to get the right size for your leg. If it is too small it will cut off the circulation to your leg. If it is too big, it will not stay in place as you being to move around and attempt to land some kicks with your sparring partner.
Expert Interviews & Opinions
Most Important Criteria
(According to our experts opinion)
Experts Opinion
Editors Opinion
Users Opinion
By Default
The Modern Greave
Shinguards are actually descendants from pieces of ancient armor called greaves. They were originally constructed from materials such as cloth or steel because even ancient humans were terrified of getting hit in the shins. Today, they are worn primarily by athletes and are constructed from far softer materials than steel!
Train Smarter
The first time shin guards showed up on the soccer field was in the late 1800s and they were worn by Sam Weller Widdowson. Initially, the other athletes on the field had ridiculed him for wearing protective gear on his shins. However, as he fought off injuries on the field, fewer people were laughing and more people were wearing similar shin guards!
The Dreaded Tibial Fracture
The last thing in the world you ever want to happen is a fracture in your tibia. This type of injury typically occurs when you take a hard blow to your tibia or successive blows over time to the same idea. Symptoms are often mild at first, but can develop into an injury that can take up to 6 months to heal completely!
Other Factors to Consider
Bottom Line
A broken tibia is the last thing you need when you are training! Your innocent shinbone lies completely exposed to blows that can occur when sparing because it has no muscle or fat to protect it. Healing from a fracture to your tibia can take up to 6 months- which is the last thing that you need!
The good news is that investing in Adidas shin guards is enough to sidestep this nasty injury. Most are incredibly thin and look like you are simply wearing a pair of very tall socks. Plus, they are made from comfortable materials and you may even forget that you are wearing anything at all!
To take your training to the next level, you need to ensure you are getting the right nutrition for your muscles, and that your bones are comforted and protected from some nasty blows.
Frequently Asked Questions
q:

Do I really need to wear shin guards?

a:

Aside from hurting like the dickens, a kick to the shin can actually cause an injury that makes take you out of the game as it recovers.

A shinbone injury can be detected when the skin around your shin begins to swell and the bone feels painful to the touch. It is a type of injury that may leave you off of your feet for a while.

Unlike other injuries that arise from sparring, an injury to the skin actually affects the bone. Other areas of your body are protected from a layer of fat and sometimes muscles, but the shin bone stands alone without any protection. This means it is incredibly important that you protect it with some type of shield and padding.
q:

What makes Adidas shin guard so special?

a:

Adidas is the largest sportswear manufacturer in Europe, and it was founded in 1949 making shoes. Today, they are one of the most recognized names in the sportswear field, and they really shine in gear for the lower body such as shoes and shin guards.

What we really like most about this line of Adidas shin guards is that they are offered in many different styles, sizes, and shapes to accommodate every type of user.

If you need something that is a little bit thicker because you hate the idea of a hard kick to the shin- there is a style offered to provide you with this level of protection. If you hate the idea of wearing any type of gear, there is a style out there that feels like you aren't earing anything at all!

Whether you need a little protection or a lot, there is a design that is composed of quality materials that will help you spar at your very best.
q:

Do I really need ankle guards?

a:

Sure, ankle guards may be beneficial for soccer players, but what about fighters? This answer to this question is absolutely they do! With each and every kick you deliver, there is a small percentage of rolling your ankle.

There are two ways an ankle injury can occur. The first way is if you hit you targe at just the right angle that it bends your ankle in an unnatural way. The second way is if you happen to lose your balance on the grounded ankle as you deliver your kick to your sparring partner.

To ensure that your ankles are strong and protected, selecting Adidas shin guards that come with additional ankle support is a really great idea for novices as well as veterans.
q:

What are the benefits of wearing a guard with a compression sleeve?

a:

As you may have noticed, there are some designs out there on the market that are held in place with the help of compression sleeves. When it comes to any type of physical activity that involves the use of muscles, compression is never a bad idea!

Compression works by squeezing blood into the muscles to help keep them tight and engaged. While the tight fit helps keep the shield firmly in place, the tight and engaged muscles help keep you from injury as well!

However, compression sleeves can get a little hot when worn for long periods of time. If you don't like the idea of wearing hot gear, there are other Adidas skin guards that have a more open and airy design.
q:

Are they easy to clean?

a:

Just like all of your other sparring gear, shinguards can smell a little funky just after one training session! To avoid being the smelliest person at the gym, it is important that you clean them regularly.

Some designs can be simply tossed into the washing machine per the cleaning instruction, however, we feel that isn't necessarily the best course of action. To ensure that you really kill all of the lingering bacteria, there are a few steps that you need to take.

First of all, we suggest using warm water and gentle detergent on the inside of the shields. Using a scrub brush (or an old toothbrush) be sure you get into all of the nooks and crannies where bacteria love to hide.

Once finished, hang them in a well-ventilated area to dry completely. Due to the fact that they are composed of dense materials, it may take them quite a while to dry completely. It can be frustrating waiting for them to dry, but it is important that you never toss them in the drier!
q:

How do I know what size is right for my frame?

a:

It is important that you find a design that covers your entire shin. We suggest that you start your measurements at the bottom of your ankle, and end just below your knee cap. If you opt for a size that is too short, you run the risk of not being completely covered. If you buy a size that is too large, it will shift around on your body as you move.

The good news here is the Adidas shin guards come in a wide range of lengths as well as widths. With the addition of a detailed sizing chart, it is incredibly easy to find the perfect size for your body type!
Subscribe to our Newsletter