Best Back Massagers Reviewed
last updated:
Dec 24, 2019
If you've ever returned from a particularly tough work out session and felt the desire to be thoroughly massaged, to feel that deep relaxation, you should know that there are people out there who thought about you and others like you, and have decided to design the perfect device to help you feel relaxed - the back massager!
A lot of us lead busy lives and do not have the time (or money) to go to a massage therapist every now and then, which is why these devices can be so convenient. You can use them while doing chores around the house, while you relax, or when you drive your car. They are the perfect buddies when you need to give your muscles a break!
In a Hurry? The test winner after 6 hrs of research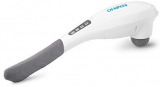 Renpho Cordless
Why is it better?
Cordless Handheld Massager
Powerful Motor
Built-in Li-on Battery
Long Handle
Five Massager Heads
In a
Hurry? Editors choice: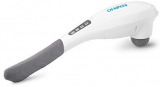 Test Winner: Renpho Cordless
13
Researched Sources
7484
Reviews Considered
6
Hours Researching
10
Products Evaluated
Use
Effectiveness
Advanced Features
Durability
Side Effects
By Default
Criteria Used for Evaluation
Use
Once you glance upon our comprehensive list, it's easy to feel intimidated by the weird gadgets and gimmicks you can see there. Odd pillows? Something that looks like a chair but isn't one? What's with that thing that hangs around your neck? But we're here to inform you that you shouldn't worry about things like that since these devices are pretty straightforward.
When it comes to the little kneading pillows, you can simply turn them on and place them wherever you feel the need to be relaxed. They can rest on your neck, on your shoulders, lumbar area, between the shoulder blades, and they can even work on your buttocks! So they are pretty straightforward, you just turn them on, place them where you need them to be and let them do the rest. The mat is also quite simple to use - just spread it on the floor, on the bed or you can even use it on a chair since it's foldable, and voila, you're good to go! The handheld massagers only need to have the appropriate attachments when you use heating, cooling or vibrating features, and your hands of course! Or the hands of someone willing to help you work on your muscles. The massagers that mimic scarfs are actually quite helpful and handy - by pulling your arms through the loops, you can control the amount of pressure you will feel once you turn it on. You can wrap it around your neck, your arms, legs, and feet and enjoy the relaxing movements. And that's pretty much it! You see they're nothing to fear!
Effectiveness
Chances are that you've visited a masseuse before and that you have used a massaging device as well. But have you ever wondered how effective are they, and what's the difference between the two?
When it comes to manual massage, the effectiveness can vary greatly. Some manual massages offer relaxation and soothe the muscles. But most of them look at the problems deep in the tissues since that is what most of us are after. That type of massage can be very painful at certain points, but in the end, it will offer the most relief. This is why shiatsu and vibrating machines can't really offer that much relief in the long run, since they can't work on those deep points with that much precision, but working on those deep points too much can spell trouble for you as well, but more on that later. Then again, vibration massagers have an advantage over masseuses because they can steadily apply the same amount of pressure all the time. Massage therapists need to apply a lot of pressure, and the more muscles you have the more pressure they need to apply, and that can be very tiring! A machine will never tire (unless the batteries or wires die), and it will always work on your problems with the same amount of dedication. The machines often send vibrations deep into your muscles. These vibrations relax your muscles, and there won't be any of that pressure and pain that can make you tighten up, which is the opposite of what you want. When a massage therapist works on a small deep area, he or she will often use their thumb or finger to cut deeper into your tissues. If the area is larger, an elbow might be used, which can increase the pain even more. The mechanical massager relies on the power of its motor, so it always applies the same amount of "pressure", or vibrations, and you will always feel relaxed.
Powerful professional massagers can penetrate even deeper, and do a better job than the best manual massagers, and in a much shorter time span! What one good mechanical massager can do in 10-15 minutes, a manual masseuse can do in an hour, with pain as an added side effect. Then again, a masseuse is an actual person, and they can feel the difference between your tissues, and they can stop once they deem they've done enough. You can overdo it with machines, especially if you do not what you're doing. Lucky for you, the machines usually have timers, and they will prevent you from overworking your body! You should consult a therapist before using the machine though, and once you have the appropriate information, you can use the machines safely and at your convenience!
Advanced Features
All of these machines do massage you, but they don't do that by simply vibrating or kneading your skin. They often have many additional features which can help you feel even more relaxed and good, and we will now explain what some of them do.
First things first, we've got the vibrations. The vibration is perhaps one of the most important aspects of massagers since they are the ones that do most of the work. Depending on what you need the massager to do, there are many types of vibrations you can look into. When you know the purpose of your massager, you can start looking into them more deeply. Some of the massagers work those deep tissues like champs, while others simply work on the surface. If you don't know exactly what you need and you want to experiment, you can simply get one that offers many different options. More options mean more levels of depth, and the different speed and vibration intensities only help you feel more relaxed. One more way to get out the most from your massager is to make sure that the one you purchased has different modes. These modes activate different areas of your massaging seat, pillow or whichever machine you have chosen. Bu using different modes, you work on different areas of the body, and the purpose is different every time as well, making the machine suitable for most people.
Some massagers offer heat. While you might not think that heat is such an important factor, try to imagine a massage given to you by a therapist. Does the kneading of your skin always feel cold, or does the constant moving and pressure generate heat? This heat helps the muscles relax even further. Of course, you must make sure that the material of the massager is fireproof, so you can avoid accidental fire. Your massager also must have a timer. This timer balances the temperature and helps you avoid potential burns or redness of the skin. And at last, there must be different temperature options, since what works for you may not work for your friends or vise versa! Then again, some massagers have a cooling option! This is achieved with a fan and can help cool you down when the weather is hot.
And last but not least, most of the machines offer shiatsu or kneading. This type of massaging comes from Japan and utilizes the hands and fingers to relax the body. There are many benefits shiatsu massage offers, and the kneading knobs on most of the massagers you can find today do the same thing a masseuse would do. Believe it or not, shiatsu can help relieve constipation, if you place the massager on your abdomen. The stretching and pulling motion can help get things going, and you can find relief even that way. This type of massage is also quite relaxing. Many people report feeling calmer and more relaxed after one session, and they even say it helps them sleep better. Whenever you come back from a training session, chances are you're going to end up with sore muscles and aches. The kneading can help relieve that pressure, and it can stretch and pull your muscles, so you don't feel that much back pain. All in all, if you get a massager that has each and every aspect of massaging put into it, you will end up with a very helpful gadget!
Durability
Since you'll be leaning or sitting on the massagers for most of the time, it's important that they offer comfort and durability. Most of the massagers have surfaces made out of materials that hug the skin and caress it, making the experience more enjoyable. But it's not only the surface that affects the comfort, and we must look into them deeper in order for you to understand that they do offer plenty of coziness.
Most of the massage pillows have an ergonomic construction. This means that their shape follows the shape of your body, allowing you to set yourself into a more comfortable position. This also means that you can fit the pillow around or under many parts of your body since we're quite curvy creatures. The mats have foam padding and cushy pillow-like hills, that can cushion you no matter what surface you are lying on. Truth be told, massagers are made to bring you comfort and to make you relax, so each and every massager that you find has an ultimate combination of materials that help provide you with absolute comfort!
Side Effects
Although a massage has many benefits and helps you relax and feel good if done the wrong way or for more than you should, it can have side effects as well. There is a very small possibility that you'll suffer from anything serious, but minor side effects are quite common! A lot of patients, when asked, reported slight discomfort a day after a massage. This discomfort is usually something that is known as "post-massage soreness and malaise". This just means that you might feel more tired and sore after a massage session. But this seems minor, and not something that should be of concern to you, so why are we mentioning this?
One of the things a massage can do is cause sensory injury. This means that an intense massage can actually change your pain sensitivity. Usually, the people that seek massage therapy are the ones who already suffer from some form of chronic pain, and causing sensory injury can only worsen their condition. These people experience some form of neurology dysfunction, and a painful massage can create a major setback for them.
One more thing excessive pressure can cause is, surprisingly, rhabdomyolysis. This condition happens when your muscles start to leak protein into the blood, essentially poisoning your kidneys and you. This usually happens when a person works out way too much, or by a crush injury to the muscle, but a light massage can release a little bit of those proteins. But this shouldn't worry you unless you suffer from any serious condition since this is a very rare side effect.
A lot of pressure on the nerves can also cause some damage. If you push hard enough in the wrong place, a nerve can be damaged, and you could end up with a week or two of discomfort or even worse. Your neck is quite sturdy, but it too can suffer from a bad massage. Very rare and serious side effects include spinal cord injury or even a stroke! A particularly intense massage can even cause a fracture. If you've got blood clots sitting somewhere inside of your body, a massage can release them, and it can also cause dizziness and vertigo attacks. These are some things you can suffer if you don't follow along with the instructions and use the massagers more than you're supposed to!
Expert Interviews & Opinions
Most Important Criteria
(According to our experts opinion)
Experts Opinion
Editors Opinion
Users Opinion
By Default
Expert Tips
The material a massager is made out of usually affects your comfort. PU Leather is the most common one, and it is an elegant solution to cheap and morally worrying leather. It feels very soft to the touch, it cools down your skin and it doesn't make you heat up. It can also withstand quite a bit, and it won't tear down and be cut that easily. Polyester also graces the uppers of many massagers in the form of a mesh. The mesh helps your skin breathe with ease, and inhibits sweating so you won't end up with a wet massager. Plush is quite common, and it creates a soft and cuddly surface on which you can rest your head or other body parts. If you don't feel like sweating an ocean and feeling stuffy while you use the massager, always check from what the surface is made out of!
Other Factors to Consider
Bottom Line
Finding a good back massager can be a challenging task, and without a handy guide to lead you, you can even fail it. Lucky for you, we have made a thoroughly researched list that helps you better understand the massagers as a whole and the benefits you can get while using them. A good back massager can help heal your back faster, and your muscles won't be as sore as they would be normally. We hope that you managed to find what you're looking for thanks to our guide!
Frequently Asked Questions
q:

Can back massagers do more harm than good?

a:

This is a concern for many new users, and while doing something bad is unlikely, it doesn't mean that it can't happen to you. If you know how to use the massager properly then you will feel nothing but benefits while you use it, but if you use it for too long or if you use it the wrong way, you might experience slight discomfort or maybe even some nerve damage! So before you start to use your new massager, make sure to always check out how you're supposed to use it.
q:

Do back massagers do the same job like massage therapists?

a:

Having a machine do the job a human would can be very concerning, and you might start to distrust your massager. But you should know that most of the times, a machine can do a better job than a human can, and in a shorter period of time! Although you won't have any actual human contact with a massager, you can enjoy it any time you like, and it will apply consistent pressure on your tissues, meaning you will experience less pain and soreness!
q:

Can I use a back massager if I'm pregnant?

a:

This is one of the most common questions about back massagers. While it's highly unlikely you will actually fight or do any kind of sports while you're pregnant, you could still crave the relief a massager can offer, and you might wonder, is it safe to use it while you carry a child? The massagers you can definitely use are the ones that do not require any kind of electricity to be used. Hand held massagers do not produce any type of electrical impulses that can harm your unborn child. You can also use any other product that does not rely on electricity to massage you and provide relief!
q:

How long should I use my back massager for?

a:

The general rule of thumb is that you shouldn't use a massager for more than 10 or 15 minutes, more or less depending on the intensity of the massaging session. You should always look whether the producer has included a guide for how long you should use it for, or if the massager comes with preset modes that last a certain amount of time. If you pay close attention, you really can't make a mistake!
q:

Do I need to buy a quality back massager?

a:

If you care about the safety of your own health, then the answer is yes! You can't have your massager malfunctioning and accidentally hurting you, can you now? Also, an expensive massager isn't always good, and you must always see other reviews and opinions before you actually purchase one, since they can help you figure out which option is the best for you.
Subscribe to our Newsletter