Best Balance Boards Reviewed
last updated:
Dec 03, 2019
Float like a butterfly, sting like a bee.
When training for a fight, strength training is likely your number one goal. While strength is important, balance and agility come in at a close second. You need to be light and steady on your feet, and that's where balance boards come into play.
Balance boards are a great way to strengthen those tiny little muscles in your legs and core that often get neglected during normal strength training. Using balance boards on a regular basis improves your agility, which in turn makes you a little bit harder to knock off of your feet.
This guild is filled with some of our favorite balance boards out there on the market to help slowly improve your balance and agility so the next time you hit the ring you will have mastered floating like a butterfly!
In a Hurry? The test winner after 7 hrs of research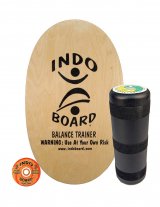 Indo Board
Why is it better?
Easy to use
Carved stoppers
Many design choices
In a
Hurry? Editors choice: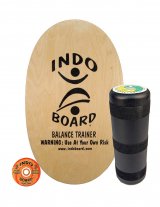 Test Winner: Indo Board
2
Researched Sources
850
Reviews Considered
7
Hours Researching
10
Products Evaluated
Style
Stability
Materials
Adjustability
Features
By Default
Criteria Used for Evaluation
Style
We wanted to make sure that we selected designs that would work for just about anyone.
From our research, we found that these devices generally landed in two camps. The first camp was the rounded design, and the second was the board design. We have broken down the advantages and disadvantages of each style.
Rounded designs: Rounded options are shaped similarly to a top. The base is made from a strong plastic material that often comes to a point at the tip. These designs have a flat base, usually constructed from wood and sometimes ABS plastic. They are a great supplement for basic floor workout routines.
Rounded boards are great for those that are just starting out and need something that is a little bit easier to learn right out of the gate. They are perfect companions for exercise routines that have become a little stale and need to be spiced up a little bit. The downside to these designs is that you cannot up the difficulty as your skill improves.
Board designs: The board option is quite a bit more difficult to learn that the rounded designs. The board designs use a board in conjunction with a roller. You balance the board on the roller that shifts on the floor.
Board designs are great because it allows you to adjust the intensity by alternating the flooring which you work. If you want something easy, set your roller on thick carpet. If you want to increase the challenge, place the roller on a slick surface such as concrete.
Board designs are better at working for more muscle groups because they at quite a bit more challenging to use right out of the box. Plus, you are a little more likely to fall off a few times as you get used to getting your balance.
Stability
Balance boards aren't made to be stable, but they need to have a few safety features to prevent you from faceplanting.
There are two things to take into consideration when selecting a product that is perfect for you. We have broken down the different levels of stability, and the pros and cons of using them.
High stability: a design that is stiff and rigid and sits less than 2 inches off of the ground isn't going to move around as much. Many of the rounded designs are considered to fall under the high stability category.
This design feature means you will not struggle as much trying to catch your balance due to the fact that the board doesn't have all that much movement to it. The good thing about this is that you can use it right out of the box with a short learning curve, and you are less likely to fall off of it as you learn.
The downside to this design is that it just doesn't work for as many muscle groups with the same intensity of a low stability option.
Low stability: Low stability designs are you board and roller options. The rollers typically dit over 2 inches off of the ground, and you balance the board on the top of the cylindrical roller. These designs are often a little more difficult to learn how to use and may take you a few sessions to feel comfortable using it.
Gnarly wipeouts on these designs are more common than those with low stability. We suggest having a spotter around as you learn, or using them with the assistance of something to hold on to.
The good news here is that while it may be more difficult, it really works all of those stability muscles. The harder you need to work to hold your balance means the harder all of those tiny little muscles are working to hold you there!
Materials
Quality materials not only hold up better with continued use, but they also lend a stable surface you can feel confident standing upon.
We wanted to make sure that we selected balance boards that were made from high-quality materials that would hold up well over time. We have broken down some of the most popular materials used, and why they make for great boards.
Wood board: Hands down, wood is the way to go. Whether it is hardwood or particleboard, these designs hold up quite well over time. Plus, the wooden designs out there on the market can hold up quite a bit more weight than their plastic counterparts- sometimes over 500 pounds!
Plastic boards are not ideal in this scenario because they cannot hold as much weight as wood, and they have a tendency to crack with continued used. However, plastic doesn't always mean worse in all scenarios. Designs that sit on the ground and have sizes that curve upwards are made from plastics, and they often hold up well over time.
ABS plastic: While plastic isn't ideal for the board (that suffers the brunt of your weight), it is a perfect material for the roller or central pivot point. ABS plastic is hard and firm, and won't damage your floorings like wood or other hard materials.
Ideally, we selected designs that used a type of wood for the board and elected to use ABS plastic for the roller or pivot point at the base. These two materials are the recipe for a quality product that will hold up well even with daily and continued use.
Adjustability
Just like with any piece of workout gear, you want to increase the difficulty as your skill improves.
While it may feel like you have conquered a difficult mountain the moment you balance yourself on the board like a pro- that doesn't mean the challenge is over.
To build muscle (even those tiny little balancing muscles) you need to constantly change things up to challenge them. If you simply stop when you mastered the basics, you won't grow or build muscles. When you conquer your first hurdle, it is time to move on to the next.
That's why we wanted to make sure that we selected designs that gave you the option to change things up and make them a little bit harder. The Revolution Swell 2.0 is a perfect example of excellent adjustability. The underside has a series of holds where you can move the stoppers, or remove them completely. This allows you to not only use it side to side but front and back as well.
Some of the rounded designs, such as The GABO Board, allow you to make small adjustments by adding or removing air to the base to make things just a little bit harder (or easier).
Many of the rounded options do not have ways to make adjustments, due to the fact that they are designed for beginners or to be used as a supplementary tool for their workout. If you opted for a rounded design, we suggest amping up the difficulty by holding dumbbells or plates as you use it, or doing squats as you use it.
Features
A few key features really made a few brands stand out from the pack.
Everyone loves products that come with additional features, and we are no exception to that rule. We wanted to select products that came with a few extra features or accessories to make things a little bit easier. Below, we have gone into a little bit of detail about our favorite features.
Roller mat: We loved products that included a roller mat because they are specially made to be used with your roller. If you want to use these products in your home gym that is set up in your garage or basement- you may not have the luxury of placing it on a rug or carpet.
That's why we loved the inclusion of a roller mat. It allows you to set up your unit on a perfect surface that we designed especially for your brand of roller.
Stoppers: Stoppers are found on the edges of board designs. As you roll back and forth, a wooden (or sometimes rubber) stopper with prevents the board from slipping out from underneath you. We wanted to make sure that all of the board designs that we selected came with some type of stopper because they reduce the risk of some epic faceplants.
Some balance boards out there on the market even have stoppers that you can move and adjust. If you place the stoppers close together, it limits your range of motion so you can learn how to balance yourself. You even have the option of taking the stoppers of completely when you become an old pro at balancing yourself!
Vibration reduction: As the board glides along with the plastic roller, vibration can occur. While the vibration is minor, it can sometimes make getting your balance a little more difficult. Balancing is a very delicate act, and a gentle summer breeze or a little vibration on the board can cause you to lose balance.
To reduce vibration, many companies add a few strips of felt tape around the roller. This allows the wood to glide along the surface with minimal friction. Reduced friction also reduces the amount of vibration felt on the board.
Handles are also great features for a myriad of reasons. Firstly, it makes it easy to cart from place to place. Secondly, it is perfect for using a great set of resistance bands to fit in some arm work as well.
Expert Interviews & Opinions
Most Important Criteria
(According to our experts opinion)
Experts Opinion
Editors Opinion
Users Opinion
By Default
Be A Wallflower
Learning how to use a balance board is a tricky feat, and it is often a little scary because you don't want to fall. If you don't have a spotter around to catch you when you fall, we suggest workout out near a wall. That way, if you start to lose your balance you can have the wall catch you before you hit the floor.
Keep It On The Carpet
The less resistance you have between the roller and the floor, the faster you will travel. When you are first starting out, you want to create more friction between the roller and the floor. To do this, simply place the roller on a rug or carpet. If you have a good exercise or yoga mate, that will work as well.
Goodbye Back Pain
There are tons of causes for an aching back, but sometimes it's due to a weak core. Strong core muscles actually help to tuck in and support your spinal column. Building muscles in your core a few times a week may mean you can sit in uncomfortable football bleachers without your lower back screaming at you!
Other Factors to Consider
Bottom Line
When you hit the gym, strength training or endurance is likely your number one concern. However, many athletes often forget that balance is an important factor in the recipe as well. Good balance works tiny little muscles that will make you feel more confident on your feet.
Training on balance boards a few days a will greatly increase your balance and stability. If you are training for a fight, balance is one of your more important assets to keep in your back pocket. Plus, there are many ways to increase intensity by incorporating exercises such as squat or dumbell work.
No matter what you are training for, a balance board is a great way to ensure that you are hitting each and every muscle group for increased agility!
Frequently Asked Questions
q:

What exactly is a balance board?

a:

A balance board is typically a large platform with an uneven surface mounted to the base such as a roller or a plastic pivot point. The goal of the board is to be able to hold your balance without the board touching the floor. It may seem simple, but it is deceptively difficult!

These devices are designed to help you improve your balance. The reason that you can hold your entire body upon two legs is due to a series of large muscle groups and small muscle groups working together. As you age, or if you lead a sedentary lifestyle, these muscles start to become weaker. As your balancing muscles grow weaker, you become less steady on your feet.

Training a few times a week with your board is a great way to slowly improve your balance. We suggest that you start your train slowly and carefully, and work up to more difficult routines when you start to feel confident on your feet.
q:

What muscle groups do they work?

a:

To stabilize your body on an unsteady surface, you will work your legs, core, back, and glutes. Depending upon the difficulty of the movement, you may even get some arm work in there as well!

What makes these products so special is that they really trigger all facets of each of your muscle groups. Doing exercises such as squats may trigger the bulk of your hamstrings. However, holding your balance works all of those small little connective muscles that often get overlooked when engaging in common exercises.
q:

Are they difficult to learn?

a:

The end goal is to stand up without falling- which on the surface may seem easy enough. However, even some of the most seasoned athletes have trouble getting the hang of these devices at first. They can prove to be a little tricky.

One piece of advice that we can offer you is to make sure that you set up your board on a soft surface. The softer the floor beneath your roller means the slower it will move. When you get started, try to set it up in a room that has carpet or a very soft rug.

Another way to make sure you don't faceplant on your very first try is to start off working next to a wall. Ideally, you want to have someone around to spot you, but we realize that this may not always be the case. Having something that you can catch if you start to lose your balance is a great way to avoid making painful contact with the floor!
q:

Will it help me learn how to surf?

a:

Everyone has a plan until they get punched in the face. The same thinking can be applied to surfing. You can train on a balance board for years, but things are incredibly different once you step foot into the merciless ocean!

The good news here that training on one of these devices does have its own benefits in terms of surfing. When surfing, core strength and balance are two of your most important asset to ensure you have the strength to take on the ocean.

The great thing about these products is that they offer a great way to build core strength while working on your stability at the same time. It may not make you prepared to face the ocean, but your body will have the strength that it needs to tackle it!
q:

Can I use them on concrete floors?

a:

Yes, you can use them on concrete floors. However, if you opted for a roller and board design, you may want to place something soft under your roller. The downside to concrete is that there isn't much friction between the roller and the floor, which means that will reach some pretty high speeds once you jump on!

If you are just starting out, be sure to place something soft under your roller. It doesn't necessarily need to be carpet, most yoga mats or exercise mats will work out just fine. Plus, many brands out there on the market include a free pad included with purchase.

As your skill level starts to rise, you may be looking for a little bit of a challenge. In those instances, placing the roller on a slick concrete floor is a great way to really put your balancing act to the test!
q:

How will I benefit from better balance?

a:

One of the most important reasons you want to improve your balance is to reduce the risk of injury. A lot of sports or training related injuries such as sprained ankles or pulled hamstrings are simply a result of poor balance.

An unnecessary injury can keep you out of the gym for weeks at a time, which is everyone's worst nightmare. Keeping your body light and agile is a great way to avoid injuries that can really throw a monkey wrench in your training.

Better balance also means that you are lighter on your feet. The feeling of agility is a big boost to training, whether you are a runner, fighter, or lifting weights. Agility leads to confidence on your feet, and confidence when training is something that should never be in short supply.
Subscribe to our Newsletter