Best Bath Bombs For Soothing Your Muscles Reviewed
last updated
Dec 03, 2019
Taking a hot, long bath after a tough session in the gym can be very rewarding. Not only does it feel relaxing, but it also calms down our muscles and helps fight soreness the day after. The warm bath water by itself does the trick quite well, but have you ever felt like you needed to take it a step further, to relax even more?
Why not give bath bombs a try! They are named this way because they literally explode - with colors and smell, of course! They all have beautiful arrays of colors that pop out from them once they reach the water, which is always fun to see. And the calming smell that emanates from them can relax even the most stressed out people! If you don't know where to start from, just scroll down to our handy list and choose a bomb you like most!
In a Hurry? The test winner after 5 hrs of research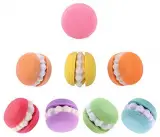 Aroma Bee Macarons
Why is it better?
Shaped Like Macaroons
Natural Ingredients
Solid Bright Colors
Flowery Smell
In a
Hurry? Editors choice: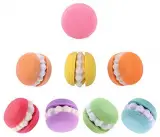 Test Winner: Aroma Bee Macarons
5
Researched Sources
13361
Reviews Considered
5
Hours Researching
10
Products Evaluated
Materials
Use
Effectiveness
Safety Hazards
Features
By Default
Criteria Used for Evaluation
Materials
As soon as you throw your bath bomb into the water, it will start to fizz or dissolve, and the color will start to swirl while you notice a lovely smell filling out the room. But as the bomb reaches the end of its fuse, you may start to wonder - how are these bombs exactly made, and how do they even work?
There are three key ingredients usually present in every bath bomb - baking soda, citric acid, and cornstarch. More often than not, the bombs contain color, fragrances, and even Epsom salt. What makes the bombs fizz so much is the reaction that occurs between the ingredients once they reach the water. Water dissolves baking soda fast, and citric acid also dissolves - then, these two mingle and you see that lovely fizzy reaction erupting from your bath.
The reaction between these two creates carbon dioxide, and that's where the little bubbles come from. If your bomb has any fragrances in, the little bubbles help it escape by bringing it to the surface. But what does cornstarch do here then? It has only one simple job - it slows the reaction down. It binds to both the citric acid and the baking soda, and it slows down the reaction, making the fizziness last for up to four minutes, instead of just a few seconds.
This just means that you can also make the bombs by yourself! These three ingredients are quite easy to find, and you can add in food coloring and fragrances of your choice to the mix. But if you are uncertain and want to leave it to the professionals, you can also do that with ease!
Use
If you never held a bath bomb in your hands, and are gearing up to buy one, you could be confused about how exactly you use one. We are here to tell you that it's quite easy and that there are a few steps you can follow in order to have a great experience!
First things first, you need to choose your fizzy bomb. As you may have already noticed, bath bombs are taking the world by storm, and today we can find many shapes and sizes and colors and smells available. Some bombs contain oils and butter which are great for your skin, and some even have extra items embedded inside, like petals and luster. If you are someone who suffers from dry skin, then you would benefit greatly from buying a bomb which has butter or oil in it, because it will moisturize your skin and keep it well hydrated.
Since many bombs have extra things in them, you may wrap the ball in a fabric cloth to prevent the petals or glitter from getting stuck in your bath or in the drain. The oils, colors, and fragrances will all pass through, while the larger ingredients will stay in, keeping your tub clean. But if you want to see the details explode, you can always just throw the bomb into the water and enjoy the show.
Bath bombs are quite pricey, considering how easy they are made, and you can save some money by cutting yours in half. Using a serrated knife will be the easiest way to do this, and you can save the other half for a different bath. Store the other half properly, by wrapping it in plastic and leaving it in a dry place. You can also place it in an air-tight container - a mason jar will work great here. The bomb must be in a dry place, otherwise, it will start to fizz before time!
All you have to do to begin using your bath bomb is simply filling your tub with the desired amount of water, no matter the temperature. Then simply thrown your bomb in the water, and either watch it fizz from the outside, or get undressed and enter the water while the bomb dances around you. When you're done, you can simply get out of the bathtub and dry off, and that's it. But if your bomb had any color, luster or petals in it, you might want to rinse off in the shower to keep all of that from sticking to your skin! If the bomb stained your tub, wash it right away while it's still damp, because that will make getting the ingredients out much easier. If you prefer to shower, there are shower fizzies as well! They are smaller and contain fewer oils though, to prevent you from slipping around. Just pop it into your shower cabin, turn on the water and let the fizzy fill the air with lovely smells!
Effectiveness
Everyone praises their little bath bombs these days - whether it be for the mesmerizing colors, for the hypnotic fragrances or for the benefits they feel on their skin once they start using them. But how gentle are these bombs towards your skin in the first place, do they really make it smooth and silky?
When it comes to your skin, regular bath bombs really do nothing at all. You could achieve the same thing by adding a splash of color to your tub, and some salt to go along with it. But bath bombs usually have oils or butter in them, and they can moisturize your skin and make it look good. But on the other hand, citric acid and baking soda can be quite harsh to your skin, which is especially true if you have sensitive skin. And not to mention glitter, which can find its way literally anywhere. If you are buying a bomb to enjoy soft skin, then skip the bomb altogether.
If you bought the bomb to enjoy swirly colors and aromatherapy, then by all means indulge! The bombs work perfectly to deliver a full sensory experience and will make any bath instantly more relaxing and enjoyable, just by being there, all fizzy and colorful. To sum it all up, if you want a sensory experience, bath bombs are made for you, but don't expect any added benefits!
Safety Hazards
Although bath bombs are quite amusing, it's only logical to start to wonder whether or not the ingredients found inside are harmful to you and your skin. The outrage started when a little 10-year-old girl developed a rash that resembles one found with meningitis only five days after using her bomb and was rushed to the ER. In the end, it was only a rash caused by the ingredients in the bomb, but it still caused a world of worry for everyone involved. So can we avoid this, or can we all expect to wake up red and itchy one-day thanks to our bomb?
To avoid any mishaps in the future, there are some guidelines you can follow. First things first, read the ingredients list. We already went over the main ingredients and what their role is, and these key elements alone will not cause any harm. When paired with oil or butter, they can even be helpful. But, if you read the label and see something that you do not recognize, always check out what it is, just to be on the safe side!
One more thing many bath bombs will do is make your bathtub really, really slippery, which can be quite dangerous once you start to get in or out. The oil will stick to any dirt or grime found on the bathtub, so ensure your safety by starting your bath journey with a clean tub. You can avoid this by throwing the bomb in hot water, but if you prefer lukewarm water more, stick to bombs that do not have any slippery ingredients!
One more thing you should keep in mind is your allergies. Just like any other beauty product, bath bombs can cause a lot of trouble if you are allergic to anything that can be found in them. By reading the ingredient list and recognizing what you're allergic to, you will save yourself from a very uncomfortable experience!
If your skin is very sensitive, and you find yourself breaking out from minor things, then you should avoid bath bombs completely. Although bath bombs were originally created for people who can't use any other bath products due to sensitivities, they can still be harsh if you've got particularly sensitive skin, or if you are prone to UTIs! Lucky for you, shower fizzies are a thing, and you can enjoy the splash of vibrant colors and charming perfumes just like you would in a bath, without the negative effects.
One more thing you should do is keep it natural. Simple, natural ingredients and mineral-based glitter bombs will definitely not be harmful, and neither will bombs that have food grade dye in them. Once again, read those labels and then you will certainly be safe!
Features
Some of the bombs which can be found are simple, three-ingredient concoctions which do nothing but fizz and make our bathing experience more interesting. But many bombs feature a world of fun, with colors, glitter, luster, oils, and butter to make bathing something to look forward to.
We've all heard how calming and relaxing essential oils and aromatherapy can be, which is why many bombs come packed with them. Lavender, chamomile, and rose are quite common, and they are all gentle towards your skin and make it smoother. Some of them can make you feel more relaxed, while others will make you more awake and alert if that is what you're looking for.
Skin softening agents, like shea butter, almond oil or cocoa butter are often found hidden in these bombs. We already know how gentle they are to our skin, and how smooth and refreshed they can make it feel. By adding it to an already fun experience we make it helpful and sensual, so you get a thrilling bathing session accompanied by moisturizing oils and butter!
If you feel like your bath bomb needs to be even more fun, look out for the ones that contain flower petals, glitter or luster. These are in the bombs only for aesthetic purposes, and won't do anything to help your skin or your hair. They are, however, very fun, and can help set the relaxing mood, and make you feel a million times better, if you like to look at sparkly water and plant matter swirling around the water.
Last but not least, we've got salt and powdered clays. We've all heard about the benefits of clay masks and mud baths, and the exfoliating powers of salt. By adding them to a bath bomb, we go one step further to ensure our skin looks great while keeping it safe and healthy at the same time! None of these ingredients will do you any hurt unless you are particularly sensitive or allergic to any of them!
Expert Interviews & Opinions
Most Important Criteria
(According to our experts opinion)
Experts Opinion
Editors Opinion
Users Opinion
By Default
The Bath Bomb Trailblazer
As the popularity of bath bombs rises, it's only logical to wonder when did this trend even start, and who started it in the first place. Mo Constantine is the person we have to thank for creating the very first bath bomb, and it was way back in 1989! Mo Constantine is also the founder of Lush, a company known for its luxury bath bombs.
How'd She Do It?
She was looking for a different way to bring relaxation and good feeling to our baths, that didn't include bubbles and slimy baths. Bath bombs were actually created by accident, and because they are so simple to make and can be easily tampered with, Mo decided to show the world what she discovered. Soon people realized just how simple they are to make, and so bath bombs gained the favor of the world.
Other Factors to Consider
Durability
Bath bombs may be pretty to look at, but if you want to enjoy the fizz, you better use them fast! They lose their fizziness over time. The fresher they are, the more fizz you will get to see, so it's vital you use them as soon as you can. The smell will also wear off time. If you bought your bomb just to admire the shape and how lovely it looks, then, by all means, you can leave it exposed and just look at it. But if you want to look at it sizzle and feel it smell, then use it in a matter of 20 days or so! They can't go rotten or spoiled, and they will not harm you in any real way, but you might end up frustrated because your bath bomb failed to work!
Bottom Line
Bath bombs are so popular for a reason, and now you know why. They're fun to look at, they make bathing a much more enjoyable process, and they help us relax and unwind thanks to the array of fragrances escaping with the bubbles. You cannot go wrong by trying one, and if you end up not liking it, then you simply don't use it. But believe us when we say, you won't regret giving them a shot! We hope our guide has made you understand just how these marvels work and what they're good for, and that you managed to choose one (or a few more) with ease!
Frequently Asked Questions
q:

How long should I leave my bath bomb in the bath before I get in?

a:

Bath bombs usually fizzle out in a matter of 4-5 minutes. Simple bombs will "explode" faster than ones that are layered and have many exciting bits in. You can, of course, get in the bath as soon as you put the bath bomb in, but then you're missing out on all that colorful action! You will find it most exciting to just chuck it in the water and stand by and observe it swirl and dance all over your tub, while it propels color and fragrances all around itself. Then simply slide in the bath and enjoy the world of hues and odors it left behind!
q:

My bath bomb had glitter, and now it's all over my tub. How do I get it out?

a:

Glitter and luster bath bombs are the most exciting variety because they bring a spark of fun to your relaxing bath. The glitter will dance all around your tub, and as you slide in the water it will follow your every move, and make you feel like a sparkling gem. But, what happens after you've finished your bath, where does the glitter go? All you have to do is wash down your tub while the glitter is still damp, and it will probably go away with ease. If it won't budge, add in shampoo, or soap, or anything that forms bubbles since those attract both the color and the glitter to it, and are then simply washed away!
q:

Can I wash my hair if I used a bath bomb?

a:

All of that color, citric acid, baking soda and everything else in between might make it seem like it's never going to be safe to wash your hair while the bomb is in the tub. While the ingredients will not negatively affect your hair, they might make it smell different, and the essential oils and butter may make it greasier. The citric acid may be slightly drying, and the baking soda may also dry it out as well. If you don't want to wait and see what will happen to your hair once it dries, you can simply wash it with your preferred choices after you've done bathing, and your hair will look and smell just like it always does!
q:

Will bath bombs hurt my skin if it's sensitive?

a:

If you've got slightly sensitive skin, or if regular bubble baths irritate you or cause UTIs, you could still safely use the bath bombs without worrying, of course, if there are no weird ingredients added or ones that you know are damaging to you. If your skin is very sensitive, however, you should probably avoid bath bombs altogether, since they will probably irritate you. You can use the ones that do not have anything in them which will make them bubble like regular soap does because that is what usually makes your skin irritated. But if you worry about these bombs too, then it's better to stay on the safe side!
q:

Are bath bombs environmentally friendly?

a:

If you've got a regular old bath bomb, everything that is found within it will be dissolved by water, and no trace of it will be left behind. But bombs which contain glitter (the kind based on plastic) or dyes that are not tested will definitely end up in our waters and cause issues! You can avoid all of this by buying quality products, that have been checked before, and that use eco-friendly ingredients. Or you can simply make a bath bomb in your own home - that way you definitely know what goes in your tub, and what will end up in the water!