Best Battle Ropes for Undulation Training Reviewed & Rated
Everyone in a martial art knows that keeping your body in top shape is imperative to do your best while performing. In order to keep your body in this top shape, there are a number of changes you will have to make to your lifestyle. They are all important and can not be overlooked, or skirted on if you want the best body output. These things will include changes to your diet, your sleeping schedule, as well as developing a decent workout regimen.
In the matter of working out, there are a great many ways to get your body where you need it to be. Some rely on hitting the bags at a gym, while others rely on swimming to work on many aspects of their body. Weightlifting is a tried and true way to get your strength and endurance levels up to a certain level. However, there are some old ways that still work today that many are starting to turn to for these same outcomes. This workout involves using ropes in many different ways to greatly improve their bodies mass, strength and endurance. One way is known as undulation periodization; a workout using something called a battle rope.
Featured Recommendations
Power Guidance Metabolic

Our rating
Long Lasting
Triple Weave
Price:

See Here
Titan Fitness Heavy

Our rating
Comfortable Grip
Multi - Use
Price:

See Here
Yaheetech Core

Our rating
Durable
Poly Dacron
Price:

See Here
Those that have heard of these, and the different methods of training you can use them for, either already know what to look for or have a decent idea of where to go to find them. However, there are many who have either never heard of them, have no clue where to start to find the right rope for them, or where to find the rope that suits their needs. They may want to know certain things about them, like if they come with an anchor, what length the rope might be, or even what the rope might be made of. For the people that do not know too much about them, we have compiled this buyer's guide. In the buyer's guide, we will go over what we think are the best ropes the internet has to offer, as well as the criteria we used to determine the best among the rest.
10 Best Battle Ropes
1. Power Guidance Metabolic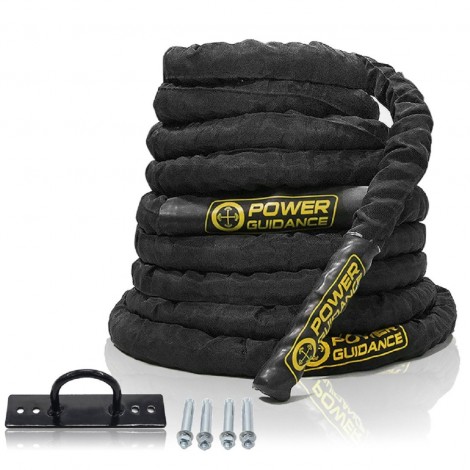 Power Guidance was established in 2015. They are dedicated to making quality products for both avid and casual athletes. Their inventory ranges from simple designs to complete sets for undulation training. Also, they offer the option to sell individually or to completely outfit an affiliate, such as a gym. Their merchandise has been tested to meet the needs of an athlete who works out every day, so quality should be of no concern when it comes to Power Guidance.
Expand to see more
Nylon Sleeve
This particular rope comes sheathed in a nylon sleeve. The nylon sleeve has a number of uses, most benefitting the rope underneath. For starters, the nylon sleeve is sightly, giving the rope a nice and sleek look. Since undulation periodization requires the rope to undergo a lot of friction, the addition of the sleeve will most certainly keep the rope well protected from the wear and tear. Overall, the sleeve will not only keep the rope looking nice, but will also help it stay useful for years to come.

Provides An Anchor
Included with the design is an anchor. Anchors are necessary for undulation periodization otherwise your battle rope flies dangerously all over the place. On top of that, failing to tether it to anything sturdy will prevent proper strength and endurance gains. Although most people use a dumbbell or something heavy to keep the rope down, having an anchor included off the top is a pretty decent deal!

Cost and Value
The Power Guidance design falls into the mid-range of the buyer's guide pricing scale. The inclusion of both the Nylon sleeve, as well as the steel anchor makes this selections value raise greatly. Also, the materials the product itself is made of are of decent quality. Therefore, in this case, spending just a little bit more will most certainly get you something that is of a little more quality that will undoubtedly last you for a while.
Nylon Sleeve
Steel Anchor
Dacron
Durable
2. Titan Fitness Heavy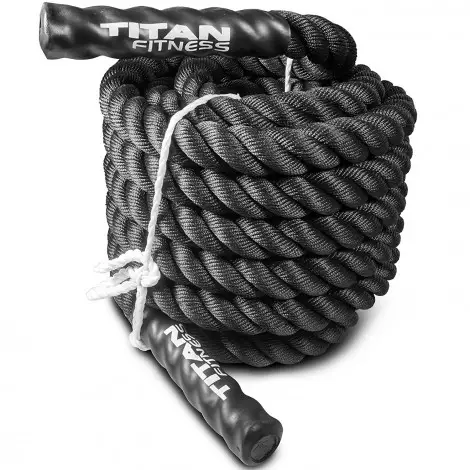 Titan Fitness is a gym equipment and fitness product manufacturer. They also deal in various metal equipment like ramps. They started from the ground up with their business, products, as well as their good name. They are dedicated to maintaining their good reputation by continuing to have high-quality customer service. It all started when one man wanted to buy a metal fire pit and was blown away by how much the bigger companies were charging for them. He then sought out to start his own business with the idea of never being like the big name companies that overcharge for their products. Henceforth, you have Titan.
Expand to see more
Fray Resistant
This product is made up of a durable and fray resistant material. This material is known as Poly Dacron, a specific kind of polymer blend that is used most famously in ropes that have been used in sailboats. Since this specific style of exercise equipment will be used heavily, they will undergo a lot of wear and tear and will need to be durable so you can get the most out of your workout. This particular design will assuredly meet your expectations and will last you a long time thanks to its durable materials.

Comfortable Handles
The Titan Fitness version features a comfortable grip. Having a comfortable handle when it comes to handling this equipment is very important, lest you suffer the dreaded rope burn. At the one end is a heat shrunk rubber fixture that keeps your hand safe from the rough texture. This makes it a perfect option for many different uses, but especially for undulation training, which requires a firm grip from your hand.

Cost and Value
This falls into the low pricing range in our buyer's guide. This means it is a more affordable option than others but does not necessarily mean it lacks in value over the others. It is a good place for beginners to start looking into, or for those who might not have as much to spend. It does not include an anchor, so you will have to find a way to anchor it yourself, which shouldn't be too hard to figure out. All in all, you can not beat the quality for all the more it costs.
Fray Resistant
Choice of Length
Affordable
Great For Beginners
3. Yaheetech Core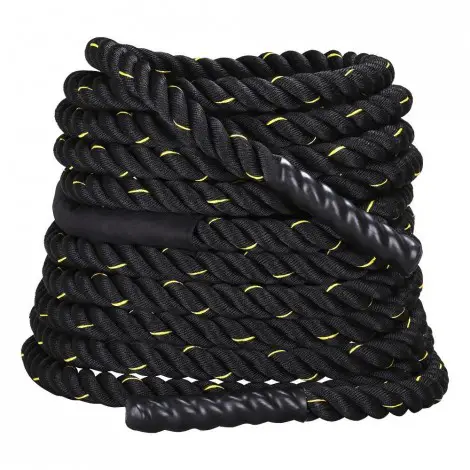 Yaheetech is solely an online vendor. Their inventory is much like what you would find at a thrift store. They sell things from pet cages to lawn chairs. They even sell a selection of fitness supplies, which brings us to why they have made it on to our buyer's guide! They have available to purchase a battle rope that not only made the cut but is the best offer on our buyer's guide.
Expand to see more
Three Strand Twist
This ropes durability is given by several different factors. The material it is made of is the typical Poly Dacron material, which is a durable polymer blend. It is braided in a fashion known as "three strand twist" which is a tried and true method of braiding that is best known for its durability. Ropes of all kinds for all purposes are braided in this fashion, as it is simple but completely effective. Since this design is braided in the same way, you can rest assured knowing it will last you a long time.

Multiple Use
Like most other battle ropes, this one can be used for more than just one style of fitness training. Undulation training is one of the more common practices it can be used for, but you are not limited to only that. Although it does not come with an anchor, you can find ways to properly fix it to a pole or a sturdy fixture. Tieing the rope to a sturdy anchor on a ceiling can allow you to use it for several kinds of climbing exercises.

Cost and Value
Yaheetech's version of this equipment not only sits in the low end of the buyer's guide pricing scale, but it also is our best-valued item on the list! This means it is our most affordable item on the list. It is a great selection for anyone on a budget, or anyone looking to start out and are unsure of where to look first. It does not come with an anchor, which will not be a problem whatsoever with a little bit of ingenuity. Overall, you can not beat the price for the value you get for it.
Comfortable Grip
3-Strand Twist
Affordable
Long-Lasting
4. NexPro Fitness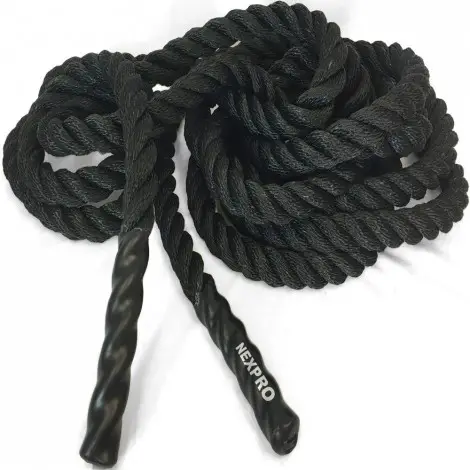 NexPro was founded in 2005. The company is dedicated to providing its customers with the best items on the market for the most affordable prices. They deal mostly with fitness equipment such as balance pods, doorway chin-up bars, and agility ladders. They also have some battle ropes available for purchase on their website, as well as in some of their other online locations. NexPro might have what you are looking for if it is a battle rope you are seeking out.
Expand to see more
Special Blend
This particular battle rope is made up of a unique blend of materials that stands out in relation to most others. The standard battle rope is made up of primarily a Poly Dacron blend. However, this battle ropes construction consists of polypropylene and polyester. The polypropylene provides the rope with durability and also makes the rope lighter in matters of weight. The polyester outer lining protects the rope from the elements and provide the rope with its overall resistance to the wear and tear it was made to withstand.

Choice in Length
With this selection, you get to choose the length of rope you need for your specific training regimen. The lengths vary from 30ft, 40ft, and 50ft. 30ft is a great choice for beginners or any one of a lower weight class. The 40-foot rope is for anyone moving up in the strength field, or for anyone in more of a middleweight class. Naturally, the 50ft rope is reserved for anyone who is much stronger, or whose weight is of a higher caliber than others. As one might guess, the difference in lengths is all about the difference in one's personal weight, or ones personal goals with strength and endurance.

Cost and Value
The battle rope by NexPro falls into the low to mid range of our buyer's guide pricing scale. The price will vary depending on the length of rope you choose, so be wary of price adjustments as you shop. With this in mind, even at the longest length, the ropes are still a more affordable option than others. The ropes construction and the materials it uses are contributors to its low cost, but this can also affect its quality as well since most ropes are made of Dacron. It is a great rope to start off with, or to use lightly but do not expect to get much heavy use out of it.
Affordable
Special Blend
Heat Shrunk Grip
Muli-Use
5. Garage Fit Workout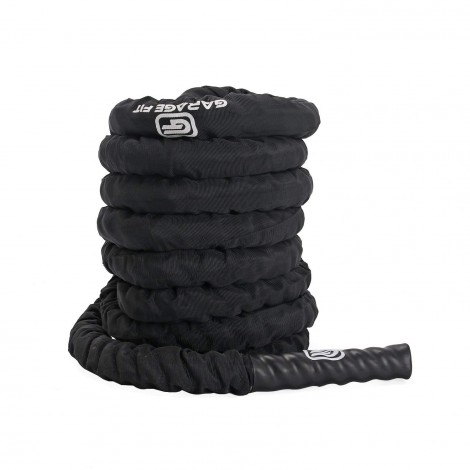 Garage Fit was founded in January 2014. They deal in a variety of fitness equipment such as pull up bands as well as battle ropes. They also have a couple of other businesses under their umbrella that also deal in much of the same type of fitness equipment and apparel. Some of these businesses include Nutribomb, a shaker bottle company, and Extreme Kettlebell, an informational DVD company. Together, they form a quality brand name that aims to be the best in the fitness business.
Expand to see more
Heavy Duty
This battle rope makes for an extremely resilient one. It uses a Poly Dacron blend in its construction. Dacron has seen use in ropes that are found on sailboats and other heavy-duty machinery. The braiding the rope uses is known as a triple strand twisting that most heavy-duty ropes use when they are needed for tough labor. These things can be attributed to the ropes fray resistance and its overall superior durability.

Options
Garage Fit's battle rope not only lets you choose certain aspects of their rope but also includes some very beneficial things that will make training easier. For starters, you can choose what color rope you want, which is great for anyone who prefers one color over another. Additionally, you can choose whether or not you would like a nylon sleeve covering your rope, which will aid in the ropes longevity and should help prevent fraying. Included with all ropes is an anchor, which is an extremely useful item for tethering the rope to whatever you might need to in order to get the most out of your undulation workout. Having options is always a plus!

Cost and Value
This rope falls into the high range of the buyer's guides pricing scale. By shelling out some more money, you end up with a high-quality battle rope, complete with options as well as some additional features that some of the other options on this list do not carry. The rope itself is extremely durable and long lasting and can be made to last even longer with the inclusion of the nylon sleeve. The value of this selection goes up with the addition of the anchor, which allows for it to be tethered to any sturdy surface. If you have the extra money to spend, this is a selection well worth the consideration.
Durable
Long-Lasting
Variety
Anchor Included
6. Zeny Fitness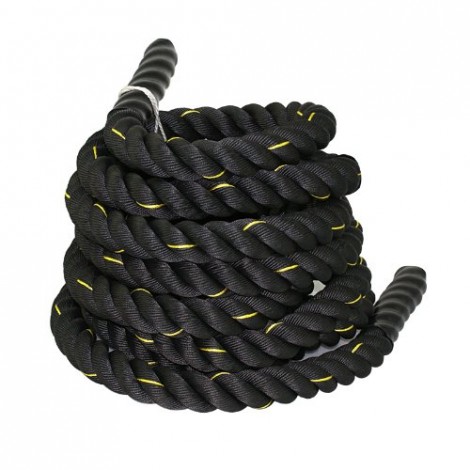 Zeny Products were founded in October 2009. They were originally founded under the name Apple Tree International Corp. They started off small, selling only outdoor canopies and eventually expanded to the very diverse inventory they have today. They sell all manners of things from various children's items, pet supplies, as well as fitness items and equipment. All in all, it's a respectable business that started small and grew to be a household name through its wide and quality inventory.
Expand to see more
Poly Dacron Braid
There are several factors that go into this battle ropes construction, but of the most notable is the presence of Poly Dacron. Polyester Dacron is a synthetic blend of polymers, or plastics, that are woven in such a fashion for the purpose of durability. Dacron is the name given to this specific type of blend and is most commonly found in sails and the ropes that tether the sails to the ships that use them. It is known for being extremely durable in poor weather, so the idea is that it holds up under undulation training.

Choice of Accessory
With this selection of battle rope, you get some options in matters of length, as well as some tethering options. The lengths range from 30, 40 and 50 feet which is an important thing to consider as your workout will depend on it. In addition to choosing the length, you can also choose if you want to purchase an anchor or more alongside the purchase of the rope. These options will come with some price adjustments, so be sure to keep an eye out for that.

Cost and Value
This rope by Zeny sits on the lower end of our pricing scale. This makes it a more of an affordable option for the trainer on a budget, or somebody just looking for a quick and cheap replacement. However, there will be a slight price adjustment depending on the length of rope you choose, or if you wish to have an anchor or two sent along with it. There are definitely more durable options out there, but where this selection shines is it's offering of choice with its anchor and straps. It is definitely worth the consideration if you or someone you know is looking to get into this kind of fitness.
Poly Dacron
Choice In Length
Affordable
Anchor Optional
7. Shogun Sports Poly Dacron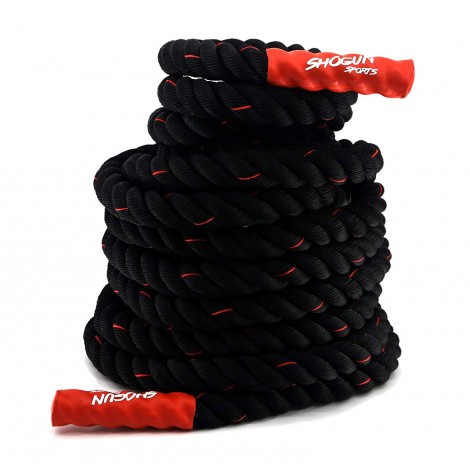 Shogun Sports is a fitness product business originally stationed in Southern California. The team of theirs practices all manners of fitness from Olympic Weightlifting, to overall functional fitness. Since they have a team that practices in this wide array of fitness and athleticism, they are able to have a deep knowledge of many of these fields, especially the items involved with them. As a result of all of this, they have a growing business and might have what you are looking for in matters of battle ropes.
Expand to see more
Preferred Thickness
These battle ropes come standard at 1.5 inches, much like most other standard battle ropes. However, this selection gives you an option for a thickness of 2 inches. A thick battle rope is paramount to your training for several reasons. Without a thickness, your rope won't be of a standard weight and as a result, you will not be able to build strength and endurance. Additionally, a thick rope means a more durable rope, depending on your current strength and energy output. The stronger and experienced crowd can delight in upping the thickness here.

Comfortable Grip
Not unlike most battle ropes, the ends of the rope are comfortable grips that can benefit the user in a number of possible ways. The rubber grips are heat shrunk onto the ends of the ropes which allow them to stay in place. The grips allow the user to not have to wear gloves, as the ropes surface would otherwise be tough on your bare hands. Some still prefer using a hand wrap or a light glove as the grips can become slippery with hand sweat.

Cost and Value
Shogun Sports battle rope sits on the mid pricing range on the buyer's guide pricing scale. This means it is neither the most affordable, or the most costly in terms of money. However, there are price changes for choosing different lengths and thicknesses of rope, which can really drive up the cost to something way more costly than expected. However, the rope is backed by everyday athletes who know what is important in a battle rope so you can expect a quality rope from these guys. It also includes a nylon sleeve, as well as a carabiner anchor and strap at no additional cost, which drives up the value for this item.
Durable
Poly Dacron Blend
Choice in Thickness
Anchor Included
8. Iron Bull Strength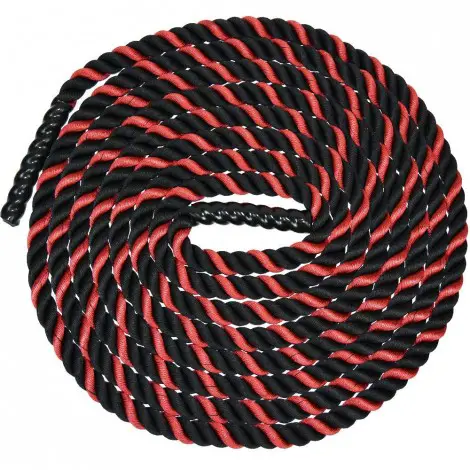 Iron Bull Strength is a bodybuilding and fitness equipment designer, manufacturer and distributor. Headquartered in Quebec, Canada, they are dedicated toward their goal of being the go-to fitness company worldwide. They have a varied selection of fitness inventory that covers all kinds of bodybuilding and conditioning. From personal home use all the way to gym equipment, they have quality items at affordable prices.
Expand to see more
High Quality
Iron Bull Strength's battle rope is made up of high-quality materials and design. It uses a high-grade Polyester Dacron found in ship sails and the ropes that tether them to the ship in its materials build. The material is originally used to withstand the elements and the wear of a shipyard, so it should be able to withstand daily undulation periodization. The rope is additionally woven together in a traditional triple strand weave fashion. This all comes together to make for a strong and long-lasting rope.

Anchor and Strap
Included with each rope purchase is an anchor kit. The anchor comes in the form of a sturdy carabiner and strap that allows you to anchor the rope to whatever sturdy pole or necessary anchor point on the fly. This makes for quick set up and take down between sessions and can also allow you to work out wherever you may need to. Having additional freedom like this can easily make for a great offer.

Cost and Value
This particular battle rope comes in on the higher range on the buyer's guides pricing spectrum. This means it is a more costly option than others on this guide, but do not let the price deter you immediately. Often in the world of fitness, spending a bit more on fitness equipment can make all the difference in how well something serves you as well as how long it lasts. If you have the money to drop on this item, you end up with a high-quality item that is praised by avid athletes all over the globe.
High Quality
Comfotable Grip
Anchor Kit Included
Long Lasting
9. AmazonBasics Training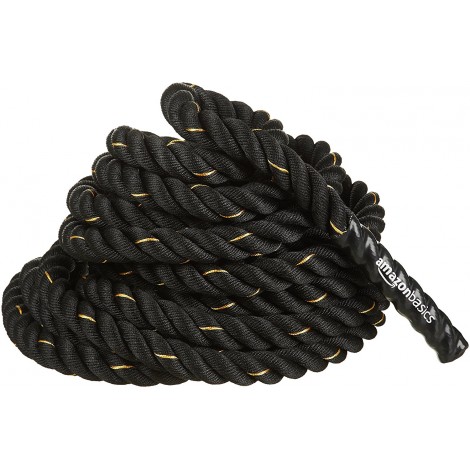 AmazonBasics is Amazon.coms own storefront. Amazon is known for getting other businesses able to have their merchandise seen all over the world and have managed to put themselves in the same market. They have a very large selection of inventory ranging from phone chargers all the way to bedding and even some fitness equipment. In this particular case, they have a battle rope available for purchase for the beginner.
Expand to see more
Choice in Rope
With the AmazonBasics option, you can choose both the thickness as well as the length of rope. The thickness of the rope comes in 1.5-inch thickness, or 2-inch thickness both intended for different skill and strength levels. The length of the ropes come in the typical 30 - 50 ft options all requiring a different skill and strength set as well. Having this level of choice can only mean a great value for you.

Easy to Carry
The rope is rather easy to carry and transport. This is the nature of most free ropes, and this rope is of no exception. The rope can be looped up easily which makes it both easy to transport and just as easy to store. So, if you are hitting up a gym, or going over to a friends house for some backyard training, this easy to employ rope is just the thing for you.

Cost and Value
The battle rope by AmazonBasics sits on the lower end of the pricing scale. This makes it a more affordable option for anyone on a budget. It also makes it a great place for an unsure beginner to start as the price won't set you back too far. Being able to choose both the thickness and length of the rope drives the value of this offer up, but can als drive the cost up as well. Keep in mind with the length and thickness adjustments comes a price adjustment.
Affordable
Comfortable Grip
Great for Beginners
Multi-Use
10. Bonnlo Exercise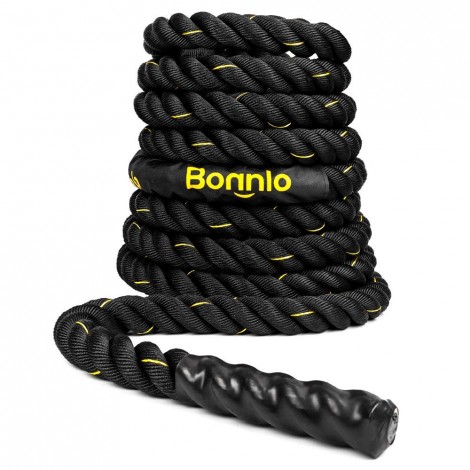 Bonnlo was established in 2015. The company claims to have waited 10 years to establish itself as a business. In that time the founders learned how to do various things such as crafting the woodwork they sell as well as learn how to be lucrative businessmen. They sell a seemingly unthemed arrangement of things from wood worked items such as cabinets and stools as well as various sports equipment like a kayak caddy and - in this case - a battle rope.
Expand to see more
Nylon Sleeve
This battle rope is not made up of the typical Poly Dacron material most ropes on this list use. Instead, Bonnlo makes use of a polypropylene and polyester blend in the construction of its rope. This is not as durable as the known Dacron blend. Therefore, to take on the wear and tear of fitness training, they have included a Nylon Sleeve that covers the rope. This will help prevent fraying of the ropers strands that would otherwise cause this rope to fall apart.

Multi-Use
The rope is not limited to only one kind of use. The ropes are most commonly used for undulation training, which involves making waves with the rope while one end is tethered to a sturdy surface. However, this rope can also be used for climbing exercises, if properly fixed to an anchor point on a ceiling. If all else fails, you can even use this rope for various other gym workouts as well.

Cost and Value
This battle rope by Bonnlo is on the lower end of the buyer's guides pricing scale. This makes it a more than an affordable choice for anyone on a budget. It is suitable for both the unsure beginner as well as the novice needing a quick replacement. Its multi-use and the inclusion of a protective sleeve make enrich its value a little bit, but we would advise saving up the money for something a little more practical.
Nylon Sleeve Included
Easy To Carry
Comfortable Grips
Affordable
What we have presented here are what we think are the best ropes the internet has to offer. We tried to keep affordability in mind for the trainer on a budget, while also including some of the top name brands out there. For some starting out, this information is well enough. However, some might need a deeper look into what went into our decision making. Others may need a deeper understanding of the topic in general. For those curious minds, we will move onto the criteria section, which details a little better what information went into our ideas of what makes a battle rope of better quality than another.
Criteria for Evaluating the Best Battle Ropes
Materials
The materials that go into a battle rope are the most important feature of not just any fitness item, but any item in general. The materials that go into anything can determine not just how something performs, but also how well it performs. The materials can also help determine the quality of an item and can even give you an idea toward a specific price range you are going to be prepared to spend on your next purchase. Once you have an idea of these materials and their properties, you should be able to make an informed decision.
Polypropylene: Polypropylene is a very basic synthetic material used in a lot of different household items like in furniture. It is known for maintaining its shape despite bending and flexing. In the case of ropes, it can be used as a material in the construction of the rope itself, braided in with other synthetic plastics to make for a durable rope. It is very cheap and easy to produce.
Polyester: Polyester is another synthetically made material that is used in a variety of fabrics. Commonly found in clothing. In ropes it can be used in the construction of the rope itself, typically joined with polypropylene to make for a stronger rope construction. It can also be used alongside another material to make up a nylon protective sheath. It is also easy and cheap to produce, like most other plastics.
Poly Dacron: Poly Dacron is a blend of Polypropylene and a different synthetic plastic known as Dacron. Dacron is widely used in shipyards. It is found in the sails of a sailboat, as well as the ropes that tether the sails to the ship itself. It is extremely resilient against the elements and is capable of withstanding heavy wear and tear from the wind, sea, and sun. In ropes, it is often found in the construction of the rope itself, typically alongside another polymer or two, and makes for a very durable rope. It is a little more costly to produce than the aforementioned plastics here.
Rubber: Rubber is a well known, cheap, and easy to produce material that is found in a great number of items across the globe. Even practice weapons are made of rubber sometimes. It is stiff yet flexible and durable. In the case of battle ropes, it is typically found in the handles of the rope itself. It is typically heat shrunk to the ends of the rope to prevent the handles from slipping off the rope. The handles typically provide comfort to your hands as well as proper grip.
Nylon: Nylon is another cheap and easy to produce the synthetic material that is found in various items of clothing as well as household items. It is resilient and is often used to sheath sharp objects or keep other belongings safe. In the case of the battle rope, it is usually found in a protective sheath, an additional protective measure that keeps the rope safe from wear and tear. Not all vendors offer this, but some do. Some even offer this free of charge, while others will charge for it.
Metal: Various metals are used in the production of a ton of fitness gear, like gym equipment and even some weaponry. In battle ropes, metal is used to make the anchoring kit, if at all available. Some make use of a steel anchor plate that has to be bolted to a sturdy surface such as a wall or ceiling. Other anchoring kits come in the form of a carabiner, accompanied with a nylon strap. These come together to make up a simple and easy to use the anchor on the fly.
These are the materials we looked for when considering the 10 best items to go in our buyer's guide. The post data alone may have been enough for some. Others may have needed some more information found in our criteria sections. The post data, as well as the criteria section, should provide the information anyone might need to make their first battle rope purchase. Hopefully, we have provided enough information to meet that end.
Frequently Asked Questions
Q: Am I limited to just undulation training with a battle rope?
A: No. In fact, there are many different kinds of workouts you can use a battle rope for. Many sources offer these different workouts all over the web.
Q: Do battle ropes come in different sizes?
A: Yes. The ropes differ in both length and thickness. Typically the lengths range from 30, 40, and 50ft in length and vary in thickness from 1.5 – 2 inches.
Q: Do all battle ropes come with an anchor?
A: No. Not all vendors include an anchoring kit. In these cases, you will have to tie the rope to a sturdy surface or to something heavy to keep the rope tethered properly.
Q: Is there an affordable rope option for a trainer on a budget?
A: Yes. Some vendors offer ropes at a fraction of the cost but be careful with these options. They tend to be lesser in durability and overall quality as well.