Best Belly Pads Reviewed in Detail
last updated:
Mar 17, 2020
As a boxer, body shots are crucial to your fight success. When your trainer wears a belly pad you will be able to practice strikes more effectively. Hitting pads gives you a great idea of where to land a blow. Hitting your trainer, while they are wearing a belly pad, will give you precision when striking. In all forms of martial arts, body striking is critical. Landing body blows to your opponent wears them out and leads you towards a win. When you are practicing knowing how a combination really feels when executed correctly will up your game. Your trainer will be able to counter correctly and you will know how to react. Opponents will not be hindered during your fight, training with a belly pad will help you know how to react.
In a Hurry? The test winner after 4 hrs of research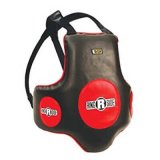 Ringside Super Protector
Why is it better?
Wrap Around Coverage
Comfortable Fit
Great Protection
Superior Impact Distribution
Sweat Wicking Lining
In a
Hurry? Editors choice: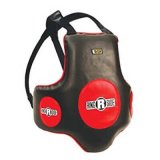 Test Winner: Ringside Super Protector
Weight
Shock Absorption
Protection
By Default
Criteria Used for Evaluation
Weight
Each piece of protective equipment that you put on adds weight. This can be good and help you increase your muscle. The bad part is usually added weight also means added bulkiness in the world of belly pads. While you want to make sure your belly pad provides you enough protection to keep your skin, bones, and organs protected you don't want it weighing you down.
Several factors play into the overall weight of belly pads. Let's start by looking at the outer shell. Most commonly made of leather or a synthetic blend the weight of the outer material plays a big role in the weight of your belly pad. There are other materials you may find on the market but beware of durability and weight.
Leather offers increased durability to ensure your favorite belly pad hangs with you for a ton of training sessions. Part of the problem with genuine leather is the fact that it is heavier than most synthetic blends. The added weight can make your pads slide down and it can definitely weigh you down. It is important to note, leather can also be more burdensome when it comes to cleaning and care.
Synthetic blends are made a number of ways. Offering a lighter weight than genuine leather, this type of outer will stay up more easily. You won't have to worry about your equipment dragging you down. In addition, Synthetic blends tend to be very easy to care for. You can simply clean with soap and water or your favorite antibacterial equipment cleaner. It is important to note, synthetic blends may not offer the same durability as genuine leather products.
Next, when discussing weight we looked at the padding. Almost all belly pads use one form of foam or another. Some offer air pocketing systems that keep them a bit lighter. Overall, foam is exceptionally light and can really take a hit.
The last thing to consider is the coverage area. Minimalist belly pads may only cover the vital areas. This can leave you susceptible to pain, injury, and time away from training. You will find the lightest weight but you may be sacrificing more than that. Fuller coverage belly pads can cover your chest, sides, and abdomen. This may weigh a bit more but it will keep you protected so you can participate in the next tournament.
Shock Absorption
High impact sports require protective gear that can absorb the shock of full force striking. Hence, the need for a top quality belly pad. Crushing blows during practice can put your training to a stop quickly if unprotected. Not wearing a belly pad when you are expecting your partner to be throwing lightweight kicks and they think it's full force, could lead to injury. In addition, if you are a trainer you could be taking time away from your livelihood.
Most belly pads use foam to absorb and disperse impact. Foam is used throughout the equipment you will find in the sports world. From boxing gloves to protective shin guards, foam is trusted to absorb impact and keep you training hard. The lightness of foam is part of the key to its popularity.
If most manufacturers use foam, how do you know which is the best at absorbing shock? That comes down to placement and layering. The makers of belly pads use different laying styles that aid in the ability to absorb shock. It is important to note the more layers the more weight and bulkiness of the belly pad. This may hinder movement and overall performance.
Protection
Keeping yourself protected throughout training is always a top priority. No one wants to be injured in the gym and miss their next event. Belly pads are one type of protection among many that are made to keep you training hard day in and day out.
Investing in advanced boxing protective gear will keep you and your training partner safe. Avoiding bruises, fractures, broken bones, and other injuries will allow you to continue with your training. In addition, belly pads help to ensure your trainer stays safe and can correctly show you simple and advanced defensive moves accurately
Defensive moves can be difficult to learn when holding bulky pads or going half speed. Belly pads allow you to counter the way you really would during a fight. This helps increase your skill and lets your body start to make muscle memory of the blocking move you are currently practicing.
In conclusion, there really isn't a best closure system. It really comes down to personal preference. Some people prefer the ease of use while others are looking for the most durable option. The most important thing is that you have a belly pad that offers great protection and that it will stay where you put it.
Expert Interviews & Opinions
Most Important Criteria
(According to our experts opinion)
Experts Opinion
Editors Opinion
Users Opinion
By Default
Frequently Asked Questions
q:

There seems to be some type of powder coming out of my belly pad when someone strikes it. What is going on?

a:

What is probably happening is the foam in your belly pad is breaking down. As your belly pad gets used, the foam interior will start to break down. Soaking in moisture and constant abuse starts to dry the foam and break it. The dust you see flying out of your belly pads when you are training is that broken down foam. If you are encountering this problem, it is probably time to replace the old with a new, top quality belly pad.
q:

Does a belly pad only protect your stomach area?

a:

This is an excellent question with a fairly simple answer. Yes and no, depending on the style and type of belly pad you buy. Some belly pads offer not only core coverage but also chest, back, and side coverage. Others are more minimalist in their styling offering smaller areas of protection across the belly and hips.

It is important to note, fuller coverage will keep you protected but it may also hinder your movement in training. Opposite of that, less coverage may not protect you as well but you will be able to move easily. We find it is best to go somewhere in the middle. In the beginning stages of training, you may want fuller coverage. As you and your classmates increase in skill, you may be able to lessen the coverage area due to more accurate strikes.
q:

What are the real dangers of practicing without a belly pad?

a:

Without proper protection, there are some very serious real dangers a fighter will face. Even with protection martial arts, boxing, and other high impact sports training can be dangerous. Protecting yourself should always be one of your main priorities when participating in this type of training and activity.

If not wearing protection, a misplaced punch or kick can lead to bruising, burns, or abrasions. This really isn't too bad in the grand scheme of things. However, it could also lead to nerve damage or broken bones. Nerve damage can last forever and broken bones will put you out of training for a while.

In addition, not wearing a belly pad could lead to organ damage. Whether intentionally or not, your practice partner may land a blow with serious force. If they are inexperienced that blow could hit you in your kidney area, leading to bleeding, pain, and possible problems in the future.
q:

What is the best closure system for belly pads?

a:

There certainly is a large variety of options when it comes to the closure of a belly pad. The most common types are:

Velcro – Velcro is for those of you that think easy on and easy off are of the utmost importance. In addition, Velcro has awesome sticking capability. At the beginning of its life, that is. Over time Velcro will get fuzz, hair, string, and other random items stuck in its grip. This causes it to not stick to itself very well. Hence the decreased longevity of use on belly pads that use Velcro closures.

Buckle – Buckles can be great when it comes to durability and prolonged use of your favorite belly pad. Typically made of metal you won't have to worry about it breaking. It is important to note, metal buckles are also quite a bit heavier than other closures. In addition to being heavier, they take more time to put on compared to a Velcro closure.

Quick Release Buckle – Quick release buckles are excellent for those who love simplicity and are looking for something more durable than Velcro. Typically, they are made of plastic and once piece simply slides into the other. To remove them, pinch the sides and they release. While lighter than metal buckles, quick release buckles do tend to be heavier than Velcro or hook and loop type closures. Lastly, quick release buckles have been known to break more easily than others. This will mean you will need to replace the buckle or possibly the entire belly pad.

Hook and Loop – Hook and loop closures are extremely secure. Some find them tedious to put on. If you love simplicity this type of closure may not be for you. In addition, hook and loop closures are very lightweight. As a matter of fact, they are probably the lightest weight option. Typically there are several hooks and loops which give you ultimate security, that your belly pad will stay where you put it.
Subscribe to our Newsletter