Best Belly Pads Reviewed in Detail
last updated:
Mar 17, 2020
As a boxer, body shots are crucial to your fight success. When your trainer wears a belly pad you will be able to practice strikes more effectively. Hitting pads gives you a great idea of where to land a blow. Hitting your trainer, while they are wearing a belly pad, will give you precision when striking. In all forms of martial arts, body striking is critical. Landing body blows to your opponent wears them out and leads you towards a win. When you are practicing knowing how a combination really feels when executed correctly will up your game. Your trainer will be able to counter correctly and you will know how to react. Opponents will not be hindered during your fight, training with a belly pad will help you know how to react.
In a Hurry? The test winner after 4 hrs of research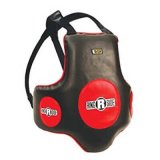 Ringside Super Protector
Why is it better?
Wrap Around Coverage
Comfortable Fit
Great Protection
Superior Impact Distribution
Sweat Wicking Lining
In a
Hurry? Editors choice: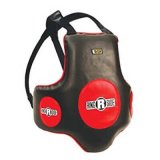 Test Winner: Ringside Super Protector
Weight
Shock Absorption
Protection
By Default
10 Best Belly Pads
1

. Ringside Super Protector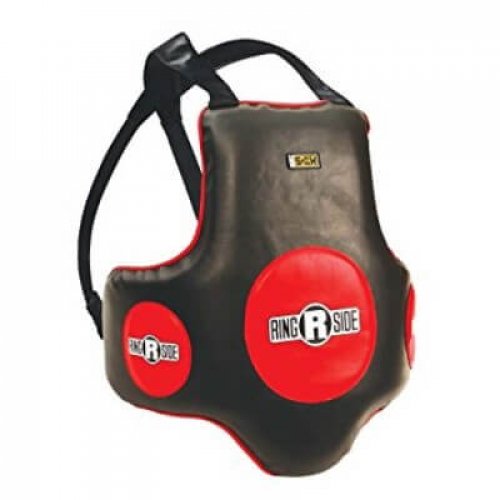 Wrap Around Coverage
Comfortable Fit
Great Protection
Superior Impact Distribution
Sweat Wicking Lining
Ringside knows what wrestlers, boxers, and martial artists need to stay protected. They offer top quality gear, trusted by athletes across the globe. The Ringside Super Protector protects the entire core area. This belly pad protects your bones and organs with durable synthetic leather construction and shock absorbing gel. In addition to the gel, they use several foam layers for maximum protection. Ringside takes protection seriously and so should you. Stay comfortable, protected, and training hard when you try this belly pad.
Read more
Gel Shock Technology
Multiple layers of padding do a pretty good job of absorbing and dispersing shock. The addition of specifically placed pockets of gel and it takes your gear to the next level. The gel is not only awesome at taking a hit it is also comfortable for the wearer. When you want true protection from hits and kicks look towards Ringside for a truly awesome belly pad.
Anatomical Design
A big complaint of many trainers who wear belly pads is the way they feel and fit. The Ringside Super Protector is curved to fit your body. It also features fully adjustable straps. Finding protection that is comfortable and fits well on the first try is hard to find. Adjust this belly pad so it feels exactly how you want. Exceptional comfort comes from the anatomical design.
Cost and Value
Ringside understands that protecting yourself during grueling training sessions is a must. If not priced reasonably, not everyone will have the ability to be protected. The Ringside Super Protector carries an average price tag but offers amazing construction, quality, and ability. If you need great protection and can't make a huge investment, put your trust in ringside.
2

. Contender Fight Sports Body Protector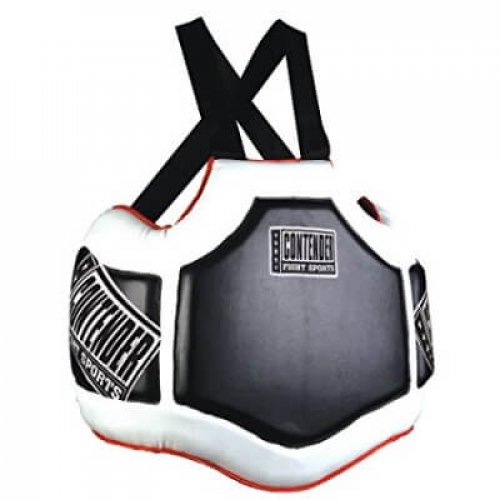 Thick and Solid
Full Punches = No Danger
Super Lightweight
Top Quality
Easy On Easy Off
Sparring full force has never felt so good. Belly pads are not all created equal and should strive to be like the Contender Fight Sports Body Protector. Quick-release closures make taking this belly pad on and off a breeze. Easy to clean and adjust makes maintenance faster keeping you training longer. In addition to keeping it easy, you also get awesome protection. The high-density foam ensures your safety and comfort from the hardest hits and kicks.
Read more
Synthetic Leather + Wide Nylon Straps
The use of synthetic leather in this belly pad offers durability and easy cleaning. It will be able to stand up to blow after blow. The added wide Nylon straps keep this belly pad securely in place while keeping you comfortable. Narrow straps can cause irritation and lead you away from this type of protection. Wide straps won't dig in and tend to not rub as badly. These two things paired together, ensure you will be able to use this belly pad for an extended period of time.
High-Density Foam
High-density foam is used in a variety of protective gear and for good reason. If you take a hard strike and have improper protection you could end up with deep bruising or worse. High-density foam has proven itself to be an excellent source of protection. It offers superior impact absorption and distribution. What does this mean for the wearer? Those heavy hits will feel like small bumps instead of full force pain. Keep your body feeling great with superior protection when you buy this belly pad.
Cost and Value
The Contender Fight Sports Body Protector carries an average price tag. Most budgets will be able to afford great protection, easy cleaning, and long-term use. This belly pad is made to please not only the wearer but also the one purchasing it. Contender Fight Sports is growing in popularity with items like this. Exceptional quality at a price to suit most, what more can we ask for.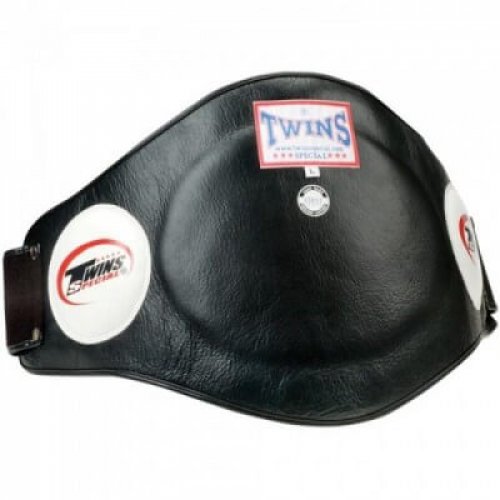 Lighter Than Most
Excellent Fit
Quality Material
Easy On Easy Off
Exceptionally Durable
Giving protection to your midsection, Twins wants to help you reach your training goals. Providing top quality equipment and keeping tradition alive are reasons fighters across the glove use Twins products. When looking for top quality belly pads, you can always trust Twins. Twins Special belly pads offer a genuine leather outer for advanced durability. It also gives this belly pad an excellent and comfortable feel. Cushion the blows from kicks with ease and continue to feel great when you try the Twins Special belly pad.
Read more
Genuine Leather Construction
When looking for material that can really stand up to a fight, leather is a solid choice. Durability at its best is what we get in the Twins Special belly pad. You may have to spend a bit more time cleaning and conditioning this belly pad. The advantage to giving it the attention that it needs is long-term use. Keeping your gear in top shape is important. The genuine leather construction of this belly pad won't let you down. In addition, it will last you for years, saving you research time and money.
Buckle Closure
The Twins Special belly pad was seriously made to last. Not only do you get great leather construction but also a buckle closure. Often times you see Velcro closures in this type of belly pad. The problem with Velcro is over time, it loses its gripping ability. When you are taking brutal strikes you certainly don't want to lose your protection. The use of a buckle closure can set your mind at ease, knowing it will stay in place. It's important to note the buckle closure also helps improve the durability of this belly pad.
Cost and Value
Twins offer traditional, top quality equipment for fighters everywhere. With their superior design and longevity of use, you get a pretty high price tag. Coming in towards the top cost in our guide, you may need to make adjustments in your budget if this is the one you choose. The durability of this belly pad will allow you to use it longer than many others. We feel this helps absorb some of the cost.
4

. Combat Sports Air Protector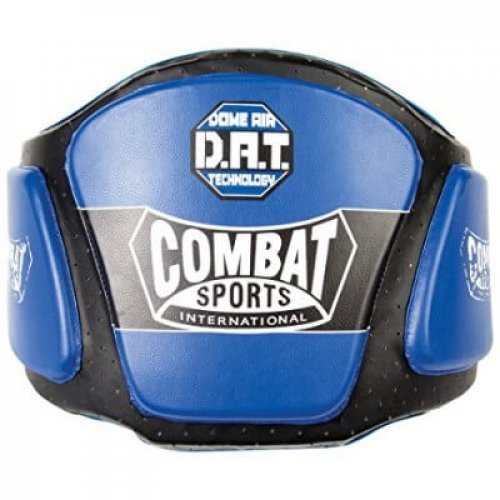 Won't Fall Down
Great Look
Awesome Price
Extremely Strong
Very Comfortable
Combat Sports Air Protector is innovative and awesome in the field of belly pads. It offers synthetic leather design. In addition, this belly pad uses Combat Sports' Dome Air Technology. Absorbing shock at the ultimate level you will love how this belly pad feels. Take punches, kicks, knees, and elbows with ease when you wear the Combat Sports Air Protector belly pad.
Read more
Dome Air Technology
Combat Sports is truly innovative with their use of Dome Air Technology, commonly referred to as D.A.T. This technology combines layers of foam with specially placed air pockets to absorb and disperse serious impact. The air pockets assist the foam in ensuring you don't feel the impact of hard strikes. Dissipating strikes through the air is ingenious and part of why we love this belly pad.
Advanced Breathability
Training and fighting lead to a lot of sweating. When you start putting on gear your heat level goes up. Keeping yourself cool will ensure you can continue training hard. If you get overheated you may have to spend time away. In addition, moisture sitting against your skin for too long may cause skin breakdown and other uncomfortable problems. The Combat Sports Air Protector is perforated between the padding, helping to keep you cool.
Cost and Value
Winning the award for best value, Combat Sports gives us an excellent belly pad at a price everyone can afford. Protecting your skin, bones, and organs is a top priority for fighters. Finding belly pads that are affordable and provide you with all the features that make them stellar can be difficult. Make it easy on yourself and easy on your budget when you purchase a Combat Sports Air Protector belly pad.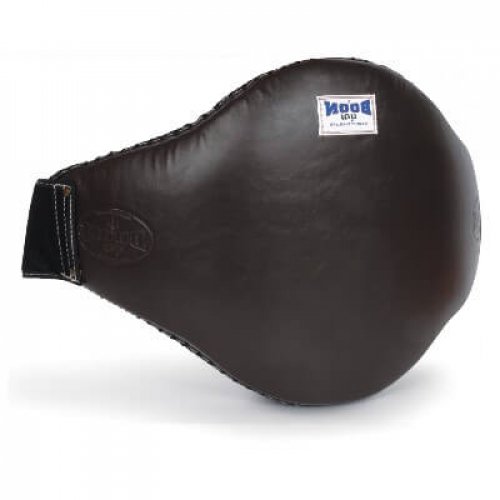 Handmade
High-Quality Leather
Exceptionally Durable
Stays Put
Very Lightweight
Built with durable, genuine leather, the Boon Sport belly pad will stand up to the toughest fighters. In addition to being durable, this belly pad is handmade, for top-quality construction. Boon Sport belly pads are excellent at absorbing impact. All things considered, this belly pad is one of our favorites. Keep your body safe and allow your partner to practice hard when you wear the Boon Sport belly pad.
Read more
Multi Layer Foam Core
New and improved to be lighter and better at distributing the shock from devastating blows, the multilayer foam core will give you superior protection. Using a multilayer foam core for this belly pad takes the shock-absorbing power of foam and multiples it by five, not many others can say that. The Boon Sport belly pad won't weigh you down and will continue to protect you all throughout your training sessions.
Velcro Closure
Some prefer buckles over Velcro because Velcro tends to lose it's sticking power over time. Boon uses a double A graded Velcro that is sure to stick through every session. Tough and easy to take on and off make this Velcro stand above the rest. You can rest assure your belly pad will stay in place and withstand the test of time when you buy the Boon Sport belly pad.
Cost and Value
Superior materials paired with innovative design are two things you get when you buy the Boon Sport belly pad. It ranks at the number one spot when it comes to price. You may need to adjust your budget if you want this advanced belly pad. While the cost is higher than most the durable construction and great shock absorbing power will ensure your safety. It is important to note, this belly pad will last you for a long time which does help ease the burden of its cost.
6

. Fairtex Leather Belly Pad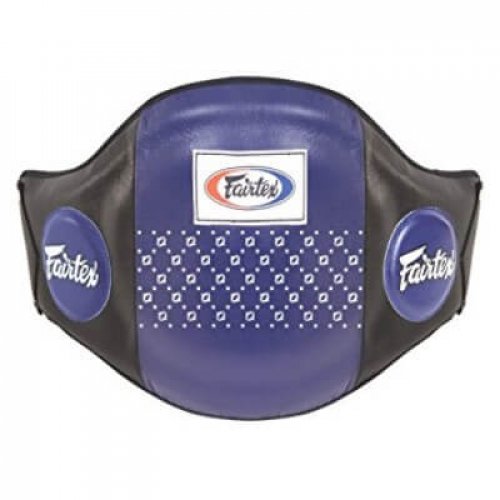 Excellent Strike Absorption
Heavy Duty
Well Made
Superior Protection
Top Quality
Total core protection and superior materials are what you receive when you purchase the Fairtex Leather Belly Pad. A handmade product that ensures quality craftsmanship and excellent durability. The hook and loop closure is secure and makes taking this belly pad on and off simple. Made of genuine leather, you will be able to rely on this belly pad to keep you protected for the long practice hours you put in. Take your training to the next level when you try out the Fairtex Leather Belly Pad.
Read more
Increased Protection
Belly pads offer different areas of coverage. Some cover everything from the chest to the hips, while others barely cover your lower stomach. The Fairtex Leather Belly Pad covers your entire core. It's lightweight like minimalist belts but gives more coverage and increased protection. It is important to note, the protection of this belly pad is due to its high-density foam. Absorbing shock and distributing it evenly will make you feel simple bumps rather than painful blows.
Hook and Loop Closure
Protecting yourself is, of course, important. However, putting protective gear on and taking it off does use valuable training time. The hook and loop closure of this belly pad makes taking it on and off a cinch. Not only is it convenient, it also provides you with a stable closure. Guaranteeing your belly pad will stay where you put it.
Cost and Value
Fairtex's belly pad is durable and exceptionally lightweight. The part that is heavy is the price tag. Ranking towards the top of our guide you may need to make a little room in the budget if purchasing this belly pad. Exceptional quality and craftsmanship will last with you for quite some time making the burden of its price easier to understand. If you need superior protection and a bit better coverage, this may be the belly pad for you.
7

. Title Classic Body Protector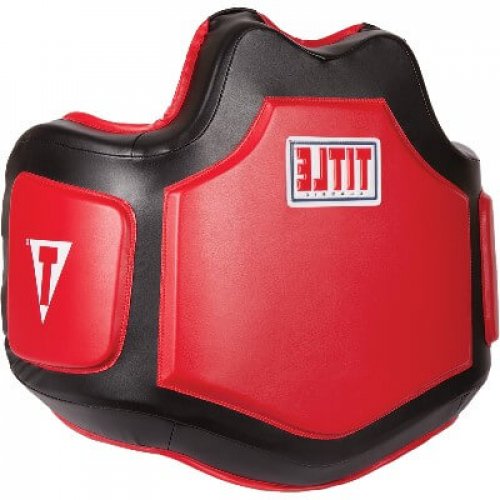 One Size Really Fits All
Easy Maneuvering
Long Lasting
Great for Coaching
Very Comfortable
Stellar Price
Buckle Durability Issues
A Bit Bulky
Title Boxing is loved by not only boxers but also Kickboxers, Wrestlers, and other martial artists. They offer top protection and comfort at affordable prices. The Title Classic Body Protector is lightweight and anatomically designed. Made to withstand the hardest hits and punishing kicks, you won't be let down by this belly pad. With variable shoulder straps and a quick release buckle, this belly pad does not only provide a customized feel but is also easy to take on and off.
Read more
Anatomical Design
Belly pads can fit poorly and hinder you during training. While offering protection you also need it to fit well and move with you. The anatomical design of this belly pad is curved to fit the shape of a body. This adds to the comfort and overall fit. Finding protective gear that feels like it was made for you can be difficult. Make it easy and try the Title Classic Body Protector.
Moisture Wicking Inner Liner
Training, no matter the variety, is sweaty work. When you practice hard and become sweaty, you open yourself up to a variety of problems. While wearing a belly pad, it can lead to skin break down and pain. It may also lead to overheating or dehydration. The moisture-wicking inner liner will help move the moisture away from your body. This will help your overall skin integrity and keep you training hard.
Cost and Value
Superior protection for you and your skin does not have to come as a heavy hit to your wallet. Title Boxing knows all fighters need to be protected and they need quality gear that will last. In addition, they know how difficult it can be to make room in your budget to get what you need. They offer the Title Classic Body Protector at a great price and it is one of the many reasons we love their brand.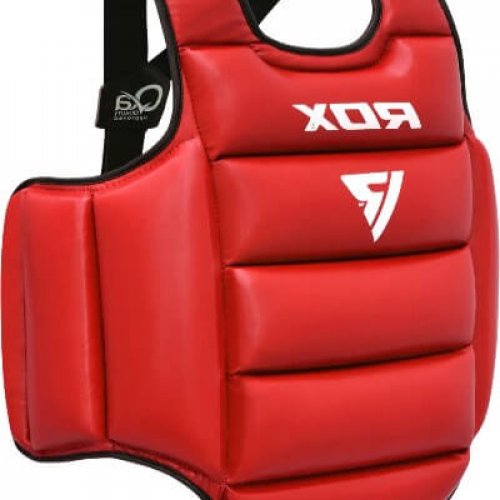 Perfect Snug Fit
Excellent Coverage
Superior Padding
Doesn't Restrict Movement
Durable and Tough
RDX offers a belly pad that is truly awesome. Made of Maya Hide Leather it can take a serious beating for years to come. Offering fuller coverage to include the chest protectors, this belly pad will keep you truly protected. EVA-LUTION technology paired with Supremo Shock foam gives this belly pad unreal shock absorption and distribution abilities. In addition, this belly pad is double sided for extra wear and color choice.
Read more
18MM EVA-LUTION Foam + 8MM Supremo Shock Foam
Shock absorption in your TKD, MMA, or Boxing gear can mean the difference in training tomorrow and staying home for a week nursing bruised ribs. RDX Sports uses not only EVA foam but also their Supremo Shock foam. These two materials pair well in taking the shock and paid out of killer strikes. If you practice with heavy hitters know that the RDX Guard will keep you safe. In addition, you will feel very little at all, which is always welcomed when taking full force kicks and punches.
T-3 Triple Nylon Stitching
You may frequently hear people complain about a seam blowing out of their favorite belly pad because of a lethal hit. When you take tough Maya Hide Leather and add the T-3 Triple Nylon Stitching you can put your blow out worries away. This belly band will truly stand tough with you through the most grueling training sessions. Durable and reliable, the RDX Guard helps pay for itself with its longevity of use.
Cost and Value
RDX Sports offers all types of gear for excellent prices. The RDX Guard is one of those affordable belly pads that will be a great addition to your collection. Excellent coverage and added protections for the long haul does not have to cost a fortune. If you want hard hitting protection for a reasonable cost take a look towards this belly pad, you will be glad that you did.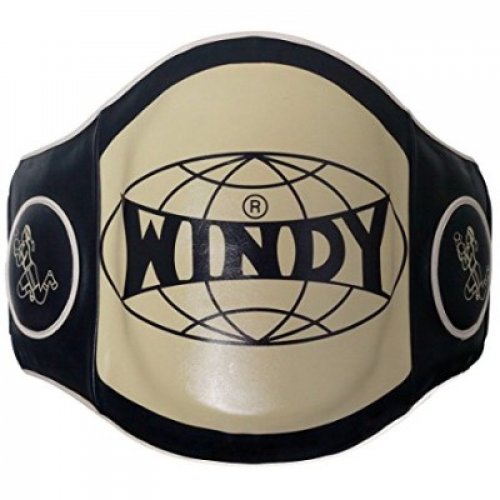 Excellent Quality
Durable Design
Good Coverage
Nice Wide Strap
Awesome Impact Absorption
All disciplines can look towards Windy Belly Protectors to keep their midsection safe from crippling punches and kicks. Easy to clean synthetic leather, is tough and looks great. Windy uses a buckle closure on this belly pad. What does that mean for you? A secure closure that won't ever lose it's sticking capability. Handmade in Thailand and exceptionally durable this belly pad will stay with you through training session after training session.
Read more
Dense Oval Padding
Dense foam is excellent at absorbing shock. Most belly pads use foam as their shock absorption method. The use of dense foam gives more life to your belly pad. You will have to worry less about pad breakdown and have more time to worry about your next big fight. The oval design gives you more coverage than some. Keep your abdomen protected for the duration, when you train in the Windy Belly Protector.
Synthetic Leather
Leather is known to be exceptionally durable and reliable. The problem with leather comes when it is time to clean it. You have to take your time and do it correctly or you may damage your protection. The use of synthetic leather gives you the durability you seek minus the work of cleaning it with specific leather safe cleaners. Simply wipe down with your favorite antimicrobial or simple soap and water. Save yourself time and effort that can be put into training when you wear this awesome belly pad by Windy.
Cost and Value
Windy belly pads are used by fighters all over the world. Their shock absorbing easy to clean belly pad will cost you more than most others in our guide. While costing a bit more, it also provides excellent coverage and a closure system that is built to last. When looking for great quality, handmade, craftsmanship, the Windy Belly Protector is an excellent choice.
10

. Title Platinum Body Protector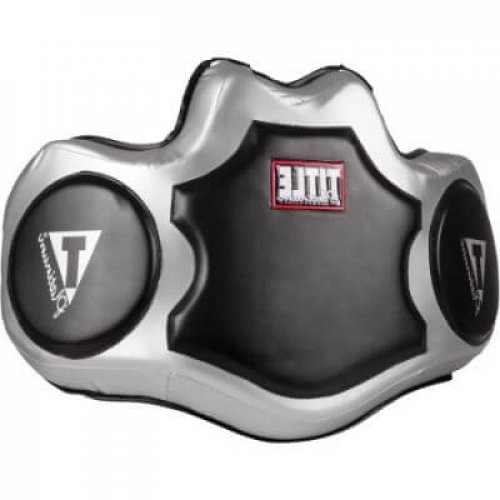 Exceptionally Light
Easy On Easy Off
Great Durability
Simple to Clean
Absorbs 99% Impact
Bulky
Longer Break-In Period
The new design of the Title Platinum Body Protector offers an easy on an easy off system that will keep you extremely comfortable. With nearly three inches of foam padding, you will feel very little when taking serious punches and kicks. This belly pad is exceptionally lightweight and made of durable PVC Nylon. Making it easy to clean and it won't weigh you down.
Read more
Layered Cell Foam
Often we see foam used in belly pads. Think of a nice, firm, memory foam mattress. Similar to that, however denser, the layered cell foam used in the Title Platinum Body Protector will withstand everyday punishment. It will continue to bounce back, blow after blow. This foam will stand tough through the test of time. You will find the hardest hits to be nothing more than a bump with the exceptional impact absorption of this belly pad.
Completely Adjustable
The new design includes complete adjustability. Shoulder straps are great for helping keep your protective equipment where it should be. When those straps are not adjustable, it can make your belly pad unusable. The easily adjustable straps on this belly pad will allow not only you but others to use this belly pad. In addition, keeping your gear where it is supposed to be is essential to the wearer's safety.
Cost and Value
Falling in the middle of the pack when it comes to price, the Title Platinum Body Protector will fit into most budgets. The new design is more comfortable and easily adjustable. While some companies would charge more for improving their item, Title Boxing keeps it real. When looking for superior protection and affordable cost, Title never ceases to amaze us.
Criteria Used for Evaluation
Weight
Each piece of protective equipment that you put on adds weight. This can be good and help you increase your muscle. The bad part is usually added weight also means added bulkiness in the world of belly pads. While you want to make sure your belly pad provides you enough protection to keep your skin, bones, and organs protected you don't want it weighing you down.
Several factors play into the overall weight of belly pads. Let's start by looking at the outer shell. Most commonly made of leather or a synthetic blend the weight of the outer material plays a big role in the weight of your belly pad. There are other materials you may find on the market but beware of durability and weight.
Leather offers increased durability to ensure your favorite belly pad hangs with you for a ton of training sessions. Part of the problem with genuine leather is the fact that it is heavier than most synthetic blends. The added weight can make your pads slide down and it can definitely weigh you down. It is important to note, leather can also be more burdensome when it comes to cleaning and care.
Synthetic blends are made a number of ways. Offering a lighter weight than genuine leather, this type of outer will stay up more easily. You won't have to worry about your equipment dragging you down. In addition, Synthetic blends tend to be very easy to care for. You can simply clean with soap and water or your favorite antibacterial equipment cleaner. It is important to note, synthetic blends may not offer the same durability as genuine leather products.
Next, when discussing weight we looked at the padding. Almost all belly pads use one form of foam or another. Some offer air pocketing systems that keep them a bit lighter. Overall, foam is exceptionally light and can really take a hit.
The last thing to consider is the coverage area. Minimalist belly pads may only cover the vital areas. This can leave you susceptible to pain, injury, and time away from training. You will find the lightest weight but you may be sacrificing more than that. Fuller coverage belly pads can cover your chest, sides, and abdomen. This may weigh a bit more but it will keep you protected so you can participate in the next tournament.
Shock Absorption
High impact sports require protective gear that can absorb the shock of full force striking. Hence, the need for a top quality belly pad. Crushing blows during practice can put your training to a stop quickly if unprotected. Not wearing a belly pad when you are expecting your partner to be throwing lightweight kicks and they think it's full force, could lead to injury. In addition, if you are a trainer you could be taking time away from your livelihood.
Most belly pads use foam to absorb and disperse impact. Foam is used throughout the equipment you will find in the sports world. From boxing gloves to protective shin guards, foam is trusted to absorb impact and keep you training hard. The lightness of foam is part of the key to its popularity.
If most manufacturers use foam, how do you know which is the best at absorbing shock? That comes down to placement and layering. The makers of belly pads use different laying styles that aid in the ability to absorb shock. It is important to note the more layers the more weight and bulkiness of the belly pad. This may hinder movement and overall performance.
Protection
Keeping yourself protected throughout training is always a top priority. No one wants to be injured in the gym and miss their next event. Belly pads are one type of protection among many that are made to keep you training hard day in and day out.
Investing in advanced boxing protective gear will keep you and your training partner safe. Avoiding bruises, fractures, broken bones, and other injuries will allow you to continue with your training. In addition, belly pads help to ensure your trainer stays safe and can correctly show you simple and advanced defensive moves accurately
Defensive moves can be difficult to learn when holding bulky pads or going half speed. Belly pads allow you to counter the way you really would during a fight. This helps increase your skill and lets your body start to make muscle memory of the blocking move you are currently practicing.
In conclusion, there really isn't a best closure system. It really comes down to personal preference. Some people prefer the ease of use while others are looking for the most durable option. The most important thing is that you have a belly pad that offers great protection and that it will stay where you put it.
Expert Interviews & Opinions
Most Important Criteria
(According to our experts opinion)
Experts Opinion
Editors Opinion
Users Opinion
By Default
Frequently Asked Questions
q:

There seems to be some type of powder coming out of my belly pad when someone strikes it. What is going on?

a:

What is probably happening is the foam in your belly pad is breaking down. As your belly pad gets used, the foam interior will start to break down. Soaking in moisture and constant abuse starts to dry the foam and break it. The dust you see flying out of your belly pads when you are training is that broken down foam. If you are encountering this problem, it is probably time to replace the old with a new, top quality belly pad.
q:

Does a belly pad only protect your stomach area?

a:

This is an excellent question with a fairly simple answer. Yes and no, depending on the style and type of belly pad you buy. Some belly pads offer not only core coverage but also chest, back, and side coverage. Others are more minimalist in their styling offering smaller areas of protection across the belly and hips.

It is important to note, fuller coverage will keep you protected but it may also hinder your movement in training. Opposite of that, less coverage may not protect you as well but you will be able to move easily. We find it is best to go somewhere in the middle. In the beginning stages of training, you may want fuller coverage. As you and your classmates increase in skill, you may be able to lessen the coverage area due to more accurate strikes.
q:

What are the real dangers of practicing without a belly pad?

a:

Without proper protection, there are some very serious real dangers a fighter will face. Even with protection martial arts, boxing, and other high impact sports training can be dangerous. Protecting yourself should always be one of your main priorities when participating in this type of training and activity.

If not wearing protection, a misplaced punch or kick can lead to bruising, burns, or abrasions. This really isn't too bad in the grand scheme of things. However, it could also lead to nerve damage or broken bones. Nerve damage can last forever and broken bones will put you out of training for a while.

In addition, not wearing a belly pad could lead to organ damage. Whether intentionally or not, your practice partner may land a blow with serious force. If they are inexperienced that blow could hit you in your kidney area, leading to bleeding, pain, and possible problems in the future.
q:

What is the best closure system for belly pads?

a:

There certainly is a large variety of options when it comes to the closure of a belly pad. The most common types are:

Velcro – Velcro is for those of you that think easy on and easy off are of the utmost importance. In addition, Velcro has awesome sticking capability. At the beginning of its life, that is. Over time Velcro will get fuzz, hair, string, and other random items stuck in its grip. This causes it to not stick to itself very well. Hence the decreased longevity of use on belly pads that use Velcro closures.

Buckle – Buckles can be great when it comes to durability and prolonged use of your favorite belly pad. Typically made of metal you won't have to worry about it breaking. It is important to note, metal buckles are also quite a bit heavier than other closures. In addition to being heavier, they take more time to put on compared to a Velcro closure.

Quick Release Buckle – Quick release buckles are excellent for those who love simplicity and are looking for something more durable than Velcro. Typically, they are made of plastic and once piece simply slides into the other. To remove them, pinch the sides and they release. While lighter than metal buckles, quick release buckles do tend to be heavier than Velcro or hook and loop type closures. Lastly, quick release buckles have been known to break more easily than others. This will mean you will need to replace the buckle or possibly the entire belly pad.

Hook and Loop – Hook and loop closures are extremely secure. Some find them tedious to put on. If you love simplicity this type of closure may not be for you. In addition, hook and loop closures are very lightweight. As a matter of fact, they are probably the lightest weight option. Typically there are several hooks and loops which give you ultimate security, that your belly pad will stay where you put it.
Subscribe to our Newsletter