Best BJJ Belts Reviewed & Rated
last updated:
Mar 10, 2020
BJJ belts are more than just a symbol of your rank. It is important that you select a belt that is incredibly durable, comfortable, and made to fit your unique frame. Just like your BJJ gis, belts take quite a beating so it's important that they are made from high-quality materials.
A good belt should last you at least 2 years of continued use and washing, which is why it should be made from quality materials. Most are made from 100 percent cotton or a blend of cotton and polyester.
We have combed through all of the various brands out there on the market to compile a list of the best BJJ belts out there on the market. Whether you are new to the sport or looking to update your gear, there is a style and brand out there perfect for your specific needs!
This is the best product on our list that is currently in stock: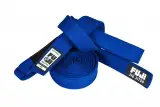 Fuji Premium
Why is it better?
Stays tied
Many colors
100 percent cotton
In a
Hurry? Editors choice: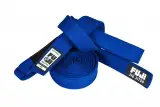 Test Winner: Fuji Premium
3
Researched Sources
920
Reviews Considered
8
Hours Researching
10
Products Evaluated
Materials
Size
Durability
Color
Comfort
By Default
Criteria Used for Evaluation
Materials
It's important to select brands that use the right materials for maximum comfort and durability. Generally, brands use materials such as cotton or polyester for their gear.
So, should you select a design that is composed of 100 percent cotton, or opt for a cotton/poly blend? The answer to this question boils down to a matter of personal preference, and we wanted to go into the pros and cons of both.
Cotton: Cotton is a material that is incredibly lightweight and breathable. The reason that cotton is ideal is that it isn't as stiff, which means that it moves when you move. If you don't like the idea of stiff and bulky gear hindering your movements, cotton is the way to go!
The downside to 100 percent cotton options is that in most cases, the color fades as you wash it. Also, some cotton designs that are not pre-shrunk will lose their shape or even shrink when you wash them. To avoid shrinking and fading, you need to take extra special care when it comes to cleaning it.
Cotton/Poly Blend: Other brands reinforce their gear by including a percentage of polyester in their blends. These options are often a little bit stiffer than their pure cotton counterparts, and some users feel that they just won't stay tied as easily as pure cotton. If you want something a little more stiff and rigid, opting for a blend is a great choice.
The upside to these blends is that they are much more durable than 100 percent cotton designs. With blended fibers, colors are less likely to fade after multiple washes. Plus, you can wash them over and over without the worry that they will lose shape or even shrink in the washing machine. Overall, blended fabrics are far more durable than pure cotton.
Size
For a secure fit, it is important that you select the right side for your body type. Many of the brands out there on the market include a sizing chart to make it a little bit easier to find the right fit. There are a few things to keep in mind before you decide upon the right size for you.
First of all, you need to ensure that it isn't too short or too long. If it is too short, you will have a lot of trouble getting your knot to stay tied without any counterweight from hanging straps. If you select a size that is too long, the straps hanging down may get in your way as you move.
How do you know what size is right for your frame? In almost all cases, brands classify different sizes on a scale that starts at A1 and ends at A5. To determine which size is right for you, you need to know two pieces of information: your height and your weight.
A1 is typically for fighters that measure to be between 5'1''-5'6'' and weigh between 115-150 pounds. At the end of the sizing chart, A5 is for fighters that are between 6'1''-6'4'' and weigh between 200-240 pounds.
Of course, these sizing options may vary from brand to brand. Before you take the plunge, be sure to consult the provided sizing chart to make sure you get the right size for you.
If you are in doubt, or you land in between 2 different sizes, it's always better to go a size larger than smaller. It is easy to trim fabric as needed, but it is more difficult to add fabric if it is too short.
Durability
At the end of the day, you just want something that can hold up to what you throw at it. These belts really go through the wringer. Between their trip on the mats to their travels in the washing machine, you need to select something that can hold its shape no matter what.
There were a few things that we took into consideration to ensure they last you at least a few years of training.
The first thing that we looked at with each of the products that we selected for our list was the quality of the stitching. One of the most common complaints when it comes to these products is that the stitching starts to unravel over time.
Double-stitched designs ensure that even though you wash it frequently and hit the mats more than once a week, the stitching stays firmly in place.
Selecting products that use quality materials is also key to its longevity. If you really want to wrack up the miles on your BJJ gear, selecting products made from pre-shrunk cotton or cotton/poly blends perform longer.
Overall, a good belt should last you about two years of continued use. This includes training, washing, and even competitions. To ensure that your gear makes it to the two-year mark, it is important that you take proper care. Be sure to wash it after every training session, and let it dry in a well-ventilated area before putting it on.
Color
Colors aren't just for show, they also have a special meaning behind them. If you are just starting out, it is important to become familiar with the various ranks, and the belts used when you graduate to the next level in your training.
BJJ ranking is just a little bit different than other fighting methods. White belts are used for those just starting out and reference the clean slate of a new practice. Next up is blue belts, followed by purple, brown, and finally black.
You may have noticed that all of the designs on our list come with a stripe sleeve. This is just another way of showing your opponent how far along you are in your training. When you start out, for instance, you will gain stripes to your white belt as you move through your beginner training. Users can wear up to 4 stripes on their belt before they graduate to a different color belt.
Comfort
There is nothing worse than uncomfortable gear. If you find that your gear tugs at your skin or feel too stiff, your performance will likely suffer. We wanted to make sure that we selected gear that was comfortable and stays put while in use.
There were a few things that we took into consideration to ensure that we selected comfortable gear. We combed through hundreds of user reviews to weed out designs that users found to be incredibly uncomfortable. If we found that there was an overwhelming number of users that felt it was too uncomfortable, we moved on to another product.
Products made from stiff materials (such as 100 percent polyester) are a little less than ideal because they are very stiff and not breathable. That's why we stuck to products that used materials such as cotton because they are lightweight and move right along with you.
One of the biggest complaints when it comes to a BJJ belt is that they just won't stay tied. Your focus needs to be 100 percent on your opponent, and you can't do that if you feel that the tightness of your belt is slipping. To ensure that your focus never shifts, we selected designs that weren't so stiff that they won't stay tied for the duration of your training session.
To keep things comfortable and easy, be sure to select easy materials such as cotton and be sure that you get the right side for your frame.
Use
It's super important to keep all of your gear squeaky clean. When engaging in contact sports, dirty gear is not only rude, it is unsanitary. That's why it is important that you clean your gear after every use!
When entering your first competition, the hosts may actually force you to swap out your belt if they find it to be too ragged and smelly! To avoid this terribly embarrassing encounter, proper cleaning is key. Proper cleaning doesn't just keep you smelling fresh, but it also extends the life of your gear.
Most designs are not only composed of cotton, but some even use foam as well. Cotton and foam are incredibly porous materials, which means that they soak up and hold onto bacteria like a sponge. Even if you didn't sweat a whole lot during your training session, you still may have picked up the sweat from the mats or other opponents.
Cleaning your belts is incredibly easy and can be done with just a press of a button. Simply toss your gear into the washing machine with a little bit of gentle detergent and use cool water to wash it. To avoid shrinkage, stay away from heat! We prefer to toss them into the washing machine with the rest of our gear, and then hang it up to dry in a well-ventilated area out of direct sunlight.
Is daily washing not exactly your thing? If you train a few days a week but the laundry day is only reserved for the weekends, there is a solution! We suggest investing in enough belts to make it through the week.
Stocking up on multiple belts is generally affordable (with the right brands), and it means that you will always have a clean belt waiting for you each day of the week.
Expert Interviews & Opinions
Most Important Criteria
(According to our experts opinion)
Experts Opinion
Editors Opinion
Users Opinion
By Default
The Gentle Art
Jiu-Jitsu is not about domination, but about subduing your opponent. The foundations of this fighting style emphasize that you don't need to have big muscles of a giant frame to take on your opponent. In fact, the word Jiu translates to 'gentleness' and Jitzu translates to 'art'. Hence, it is referred to the Gentle Art.
The Elusive Black Belt
It takes anywhere between 8 to 13 years of serious and dedicated training to become a black belt in this craft. In fact, there are only about 5,000 BJJ black belts in the whole world!
The Gracie Family
The Gracie Family is considered to be the founders of Brazilian Jiu-Jitsu. BJJ focuses primarily on ground techniques, but it goes so much deeper than technique. The Gracie Family philosophy encourages taking proper care of your weapon: your body. This means that you must abstain from tobacco, alcohol, and drugs. It is also important to maintain deep connections with your family and friends to develop a sense of mental strength and dexterity.
Frequently Asked Questions
q:

Why do I need a belt?

a:

First of all, belts serve a practical purpose to keep your gi closed. However, there is more to learn about the meaning behind these belts.

Belts come in a wide variety of colors that include white, blue, purple, brown, and black. Beginners start off wearing a white belt, and as they progress through their training, they will graduate to different colors.

What makes BJJ a little bit different is that level progression is a little more nuanced. In other fighting practices, you display your level progression with the color of your gear and nothing more.

In BJJ, each belt is equipped with a sleeve to place stripes. As you work through your training, you gain up to 4 stripes to indicate just how far you have come.
q:

What material is best?

a:

The type of material boils down to a matter of personal preference. Many designs out there on the market are composed of 100 percent cotton or a blend of cotton and polyester. Each option has its distinct advantages and disadvantages.

Cotton, for instance, is much lighter and far more breathable. For beginners, you may want to opt for designs that are composed of 100 percent cotton because it will not hinder your full range of motion.

The downside to cotton, however, is that you need to take extra care when it comes time to wash it. Cotton is notorious for shrinking once it hits warm water, so be sure to wash it in cool water. It doesn't mean you need to hand wash it, but simply select a cool and gentle cycle on your washing machine.

Cotton/poly blends are far more durable, and resistant to shrinking or losing their shape. The downside to these options is that they are a little more stiff than cotton, and sometimes it's harder to hold a knot.
q:

How do I clean them?

a:

There is no need to hand wash your gear! Many of the designs out there on the market are strong enough to withstand a trip around the washing machine. It is super important that you wash your gear after each and every training session.

Whether you opted for a pure cotton option or a cotton and polyester blend, we suggest skipping any type of heat source. We like to throw our gear into the washing machine with a little bit of gentle detergent and set the machine on cool water with a light cycle.

Be sure to skip the dryer once your wash is finished! High heat can break down the fabric and even cause shrinking. Hang your gear in a well-ventilated area to dry completely. It is also important that you do not hang it in direct sunlight to prevent discoloration or fading.
q:

What do the different colors mean?

a:

If you are just getting started, the white belt is made for beginners. The color progression is just a little bit different than other fighting styles. As you make your way through the ranks, stripes are added to your beginning belt as you approach a new belt color.

After white comes blue, then purple, then blue, and finally black. What we love about the progression system is that 4 stripes indicate that you are right on the cusp of a new color. It also shows all of your hard work as your train at your color level!
q:

How often should I replace them?

a:

If you have selected a durable design from a trusted brand and you treat it well, these products should last at least 2 years of training and competitions. However, this number isn't set in stone. So, when do you know when it's time to replace your belt?

If you notice that the fabric is starting to fray at the edges, or the stitching is coming undone, it may be time to retire your old trusted friend. It may be difficult considering everything you have been through together, but it must be done!

When entering competitions, you may be required to replace your gear if it is too shabby and frayed. To ensure that this doesn't happen to you, always keep spare gear tucked away in your gym bags in case you need it!
q:

What do I do with my old belts?

a:

You finally progressed to the next level and you have to retire a perfectly good belt. It would be considered wasteful (and a slap in the face to all of your hard work!) to simply throw it away or shove it in the back of a closet.

Investing in a belt case or rack is a great way to display all of your hard work and struggles as you make your way through the ranks. Even if your belts are beaten up and frayed, it shows all of the hard work you put into your training!
q:

Can I have them customized?

a:

Absolutely! In fact, many fighters light to have a competition belt that they only bust out for competitions. For a competition belt, you want it to be something special to get you hyped to get out there on the mats!

There are a few companies out there that will personalize your gear, and we feel that their prices are incredibly fair. Plus, most companies only take about 2 days to craft your gear before they ship it back to you!
Subscribe to our Newsletter