Best BOB Punching Bags Reviewed
No matter your chosen martial arts discipline, be it Muay Thai, Boxing, Kung Fu, or other, striking practice is critical. Knowing where and when to strike your opponent can mean the difference in a knockout or being knocked out. The type of punching bag you choose to practice with can play a major role in your overall form and performance.
Heavy bags and speed bags are used regularly in the gym as well as for training at home. They come in all different shapes, sizes, and weights. In addition, you can buy them filled or unfilled, and you even have the choice of filling. So, which is the best and more importantly why?
Featured Recommendations
Century BOB XL

Our rating
Extremely Durable
Price:

See Here
Century Bobby Bully

Our rating
Great for Beginners
Price:

See Here
Ring To Cage Dummy

Our rating
Versatile Use
Price:

See Here
One of the highlights of practicing with a partner or trainer is you get a real-time feel for what it will be like at your next fight or competition. With the use of chest and belly pads, punch mitts, and shin guards you, as the fighter, have the option of practicing against a protected opponent and can hone your skill faster and easier.
10 Best BOB Punching Bags
1. Century BOB XL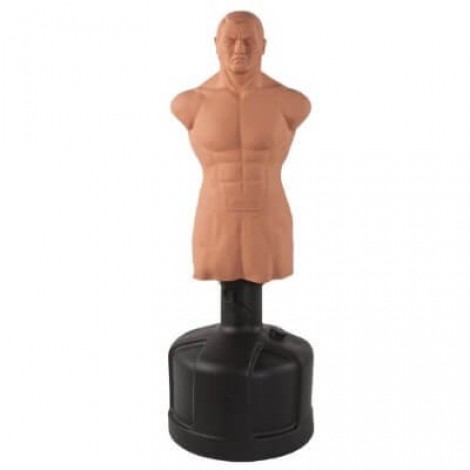 Century Martial Arts have been providing fighters from every category with top quality, affordable gear for decades. They believe that martial arts can save lives and want to help people attain the best equipment to help them along their path. The BOB XL comes with a base unit, making it a free standing bag. This allows you to work all the way around it and perfect your body and headshots. It is exceptionally durable and easy to move when you need to.
Expand to see more
Adjustable Height
With over a foot of adjustability, the Century BOB XL is awesome for fighters over a variety of heights. Perfecting your skill requires the ability to battle against any opponent, regardless of height. If you only practice at one level you will not know how your balance will shift and change while striking at different heights.

Plastisol Outer + Urethane Foam Inner
Naturally, you want your punching bag to be able to withstand a beating. Century uses a Plastisol outer, that is not only exceptionally durable but it is also easy to clean. The Urethane foam inner absorbs the impact of your strike and distributes it easily causing less shock to you. When paired you have a match made for comfort and durability that will last through your most grueling training sessions.

Cost and Value
When you are buying a top quality punching bag you expect to make an investment. The Century BOB XL comes in towards the middle of our guide's price range. Century provides superior products that are built to last. Add to it a cost that doesn't send you into shock and you have the reason it is ranked number one on in our guide.
Improves Striking Accuracy

Removable Torso

Handles Full Force Training

Comfortable With or Without Gloves

Simple Relocation
2. Century Bobby Bully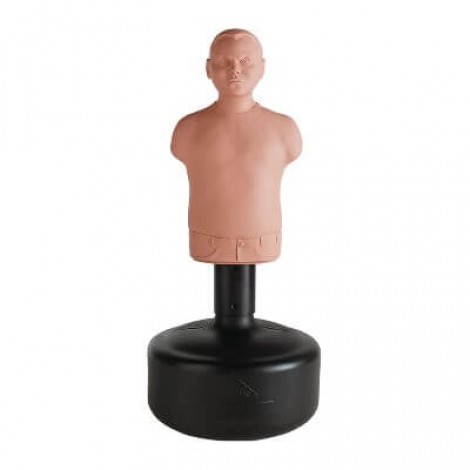 Built with your junior fighter in mind, this lifelike punching bag will help them hone their skills as they start down the path of their chosen martial art. Sized just right, it offers two height adjustments. In addition, it is durable, easy to clean, and easy to store. When looking for truly great equipment you can always rely on Century.
Expand to see more
Easily Moved
Once the base is filled with water this bag weighs about 170 pounds. You would think this would make it difficult to move. On the contrary, Century has designed it so the base is rounded. This allows you to roll it easily to another location. Standard hanging bags are pretty much stuck wherever you have them mounted. The easy move free-standing feature this offers makes training a cinch no matter where you decide you want to practice.

Use With or Without Gloves
Keeping your hands feeling good is crucial in the overall enjoyment of training. While wearing gloves protects your hands they can be hot and cumbersome. The lifelike outer shell and foam inner make this BOB bag suitable for punching with or without gloves. It is important to note, if you have not learned the proper structure for punching and you hit a bag without gloves you could do damage to the skin, muscle, or bones in your hands.

Cost and Value
Century's Bobby Bully is one of the more affordable bags in our guide. Offering great durability and excellent training use this bag could cost significantly more than what Century charges for it. If you have a beginner that you want to have the most realistic training, this may be the BOB punching bag for you.
Adjustable Height

Exceptionally Durable

Great Price

Helps Hone Skills

Lifelike Strike Zones
Movement With Heavy Strikes
3. Ring To Cage Dummy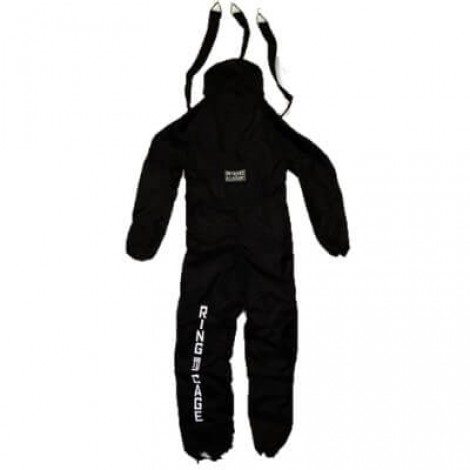 The Ring To Cage Dummy is packed with so many features it is hard to believe it is the best value in our guide. This bag offers not only an option to hang it up but it works great for ground and pound sessions too. The sturdy build is due to the material, which is canvas covered in Vinyl. This combination of materials allows you to abuse this dummy and it will be patiently waiting for more and more. Practicing with full circle strike patterns has never been as easy, no base to trip over and you can hang it where ever you please.
Expand to see more
Unfilled
Most punching bags come filled and a lot of people prefer it that way, but what happens if the filler is too soft or too firm? Add and removing material from pre-filled bags can be difficult and may leave you with lumpy uneven spots. Purchasing an unfilled bag allows you to customize the weight and overall feel of your bag. You can fill this bag with anything from fabric to sand and it will handle it fine.

Realistic Action
Hang this dummy from the rafters and move around it with ease. It will move with your stikes and allow you to practice counters. Your kicks, punches, elbows, and knees will all advance as you gain the ability to practice like you were in a real fight. Tired of that? Pull him down and throw down to practice tricky ground maneuvers and holds. The versatility of this BOB punching bag is fantastic.

Cost and Value
As mentioned before, the Ring To Cage Dummy is the best value within our guide. This is partly because the bag comes unfilled and this always leads to a lower price tag. You will truly get a great realistic experience and at a price that won't take nearly as much adjustment in your budget as some of the others when you decide to take this one to the ring.
Good for All MMA Styles

Exceptionally Durable

Multiple Uses

Great Indoor and Outdoor Use

Superior Price
No Hanging Chain Included
4. Century BOB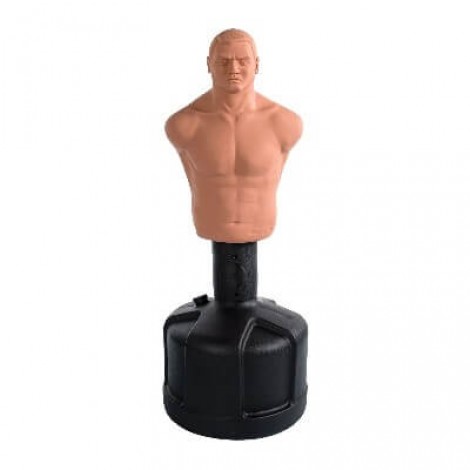 The Century Body Opponent Bag (BOB), has been trusted and loved for quite some time now. With seven height adjustments, it can accommodate a large variety of people. In addition, the realistic weight and feel will allow your skill to advance while you train in your home gym. If all of your training is done at home, this will be the perfect practice partner.
Expand to see more
Low Profile Base
There are a couple of reasons we love the low profile base. First off, a big part of the desire of a free-standing bag is the fact that you can move around it and work all angles. The low profile base makes this easier and there is less chance of tripping over it. In addition, a lower profile makes it easier to fill with water or sand.and helps the bag to better stay in place while taking a daily beating.

7 Adjustment Heights
Ranging between sixty and seventy-eight inches you can practice in a huge range of levels. You never know who you may face the next time you are standing toe to toe with someone. Big or small you will have it covered with the advanced experience you get practicing with the Century BOB.

Cost and Value
Falling into almost the exact middle, the cost of this body opponent bag does not reflect the high-quality craftsmanship and ease of use you will get when you decide to purchase it. A well thought out design and versatile training options make it a superior value and while your budget may need some adjustment, it could be worse.
Helps Improve Targeted Strikes

Easy Height Adjustment

Simple Set Up

Durable Design

Great Stress Relief
5. Aqua Bruiser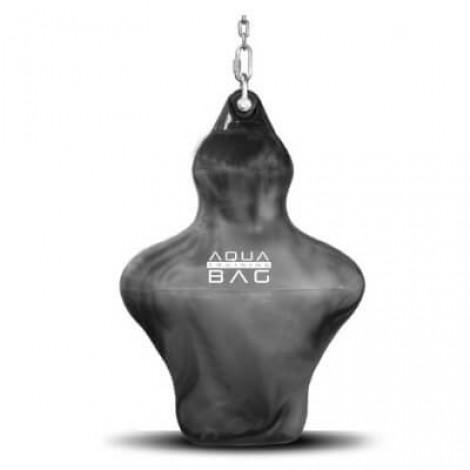 Aqua is known for their water filled speed bags. The Bruiser is a slightly different take on a body opponent bag. While it still allows you to practice more realistic head and body shots it's also portable and comes with everything you need to get started. Excellent for indoor and outdoor use, you can practice where ever inspiration takes you. Feeling less inspired than you thought? That's OK, simply drain it, move to a new spot, and refill to continue your training.
Expand to see more
Realistic Training
Obviously, the whole point of a body opponent bag is the realistic training that it offers. When it comes to the Aqua Bruiser, once filled, this bag gives you the shape of a head and torso but without the base. The base unit can inhibit training, especially when working in close to the dummy. The hanging realistic opportunity this bag gives you is awesome and you won't have to worry about a misplaced foot making you lose your footing.

Shackle + Hose Attachment
Often when we purchase a heavy bag we also have to buy all the hardware to hang it and use it. Sometimes you even have to buy filling mechanisms separately, these things can really increase the overall cost. Aqua makes it easy and supplies what you will need to use your bag as soon as it arrives, saving you time and money.

Cost and Value
The Aqua Bruiser bag offers exceptional durability at an affordable price. This bag is positioned toward the lower end of our price range but certainly isn't lacking in quality or great features. The simple ability to take your heavy bag wherever you want and do it easily, makes the cost seem even less. If you are a mover and shaker this may be the bag for you
Sturdy Chain

Takes Relentless Abuse

Easy to Fill

Transportable
6. Ring To Cage Grappling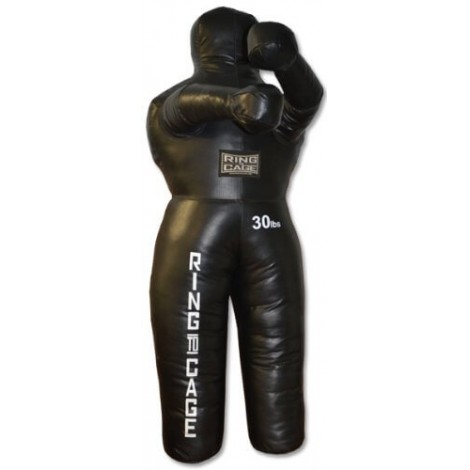 Weighing in at thirty pounds, the Ring To Cage Grappling dummy is perfect for your up and coming martial artist. Training ground and pound plus holds with ease. You won't have to worry about the kids practicing on each other when you buy this dummy. Regardless of if today's practice looks more like a televised wrestling match or a hardcore punch fest, this bag will stand up to the abuse.
Expand to see more
5 Size Varieties
While this dummy is made for junior fighters, the variety of available sizes make it an asset to a variety of users. If you are into self-defence or wrestling this dummy would make a great addition to your training arsenal. The accurate size makes for a realistic feel while the lightweight provides the user with easy maneuverability.

Polyester Coated Vinyl
Polyester coated Vinyl performs a lot like leather. With the same type of durability this dummy is sure to last through infinite grappling practices. Martial Arts equipment needs to be exceptionally resilient due to their intended purpose. This combination of materials won't let you down, no matter what you put it through.

Cost and Value
The Ring To Cage Grappling dummy falls right to the center of our price range. Affordable for most incomes, it is durable, easy to clean, and offers a variety of training uses. If you are looking for an affordable and lightweight body opponent bag this is a great option.
Good for All Ages

Variety of Uses

Lightweight

Easy to Care For

Great Submission Practice Partner
7. Body Action System Deluxe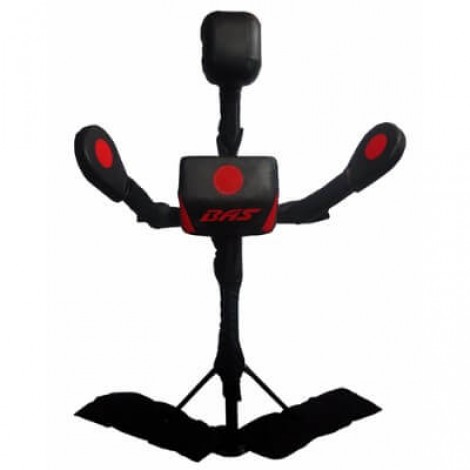 Looking for a realistic sparring partner does not mean you have to purchase a bag that looks like a human. This set of target pads will allow you to practice hooks, kicks, and a variety of chosen combinations. It is easily adjustable and you will find the targeted striking areas will allow you to hone your skills faster then simply training with a heavy bag.
Expand to see more
Fully Adjustable T-Bar
The ability to adjust where you are striking hones your skill in your punches, kicks, elbows, and knees. Many body opponent bags give you a body shape on a base. This does not give you leg accuracy on the lower extremities. The fully adjustable T-Bar will allow you precision in all of your training from bottom to top.

Versatile Workout Uses
While most bags like this are used for martial arts, this one is made with fitness enthusiasts in mind. Whether you love cardio, boxing, or high intensity fitness routines this option will let you do it all. Get the most out of your home gym and really put your skill to the test.

Cost and Value
One of the more expensive options in our guide, this offers great adjustability and will take a serious punch. The longevity of use helps absorb some of the impact of this bags price. You may need to make a bit of an adjustment and this bag may not be easily affordable on all incomes, however, if you do make the investment you are sure to improve your skill and over time the cost will seem less and less and you continue to abuse this opponent.
Minimizes Joint Stress

Work Variety of Angles

Easy Relocation

Super Durable

Versatile Settings

Excellent Daily Use
8. Hawk Combatives Partner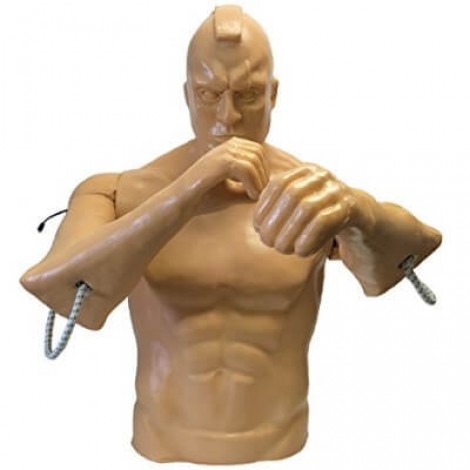 Looking for an exceptionally realistic partner for your home gym? Take a look at the Hawk Combatives Training Partner. This dummy offer biomechanics and adjustability that is unbelievable. In addition, the hands offer the ability to allow your dummy to hold weapons. Realistic training with advanced technology is what we are seeing here. Real feel and look with a variety of training situations. Practice weapons training in an exceptionally safe way with this punching bag.
Expand to see more
Fully Adjustable Arms + Reflex Reaction
Many of the options in our guide are adjustable. This is adjustability at the next level. This dummy has joints in the arms that are easily positioned with no tools needed. Once you position then they will stay in that position until you adjust them. In addition, when you strike the arms they will react correctly and then pop right back to the position you put them in. Feel what it will truly be like with a live opponent when you train with a bag that offers these types of advanced features.

Non-Lethal Weapons Training
There are very few options out there that allow you to practice any sort of weapons training without a partner. This body opponent bag will allow you to practice with your choice of non-lethal weapons. As you advance in skill you will most certainly practice with weapons at some point. Having the ability to practice at home will make your skill soar due to increased ease in training in two places.

Cost and Value
This item will cost you more than any of the others in our guide. It is resilient and undefeatable. As your skill grows you will have a partner to practice every move with. It may be a large investment but the test of time will make it worth the budget adjustment. Advanced technology and weapons training are part of the serious cost but the realistic movement and overall feel makes this dummy stand in a class of it's own.
Good for Evasion Practice

Realistic Simulation Training

Easy to Install

No Tools Required

Reacts to Punches
9. 4Fit Grappling Dummy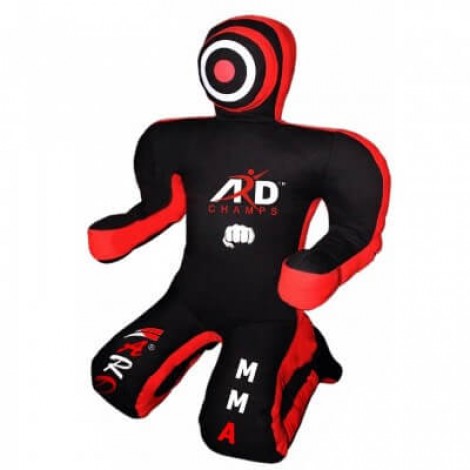 The 4Fit grappling dummy is in a kneeling position and comes unfilled which allows you to adjust not only the weight of it but also customize the feel of your training partner. Great for wrestling and ground technique this dummy will stand up to punishment with it's canvas cover. Practicing submissions, throws, and honing your ground skills becomes easy when you train with the 4Fit option.
Expand to see more
Canvas Cover
Canvas is exceptionally durable and will hand up to daily use. When you are training hard the last thing you want is your bag falling apart. Groundwork bags take a different kind of abuse. This bag will hold up to everything you can think to do to it. Canvas is also easy to clean. Overall, this type of covering is great for what you need to do to become the best you can be in your chosen discipline.

Adjustable Weight
The ability to pack this dummy yourself offers customization to the max. In addition, it gives you a variety of training feels. Adjusting the feel of training by increasing or decreasing weight helps you to understand what it will feel like to take down a variety of people and how a throw is really going to feel. We always want the most realistic training as possible and this is a good way to add to that.

Cost and Value
This is one of the most affordable practice partners in our guide. Body opponent bags can be exceptionally advanced and expensive. 4Fit's model is quite basic yet also efficient for ground training. The lower price tag allows you to add it to your collection without breaking the bank. Most will be able to afford this easily and everyone in your house that likes to participate will increase skill while using this during training.
Head Striking Target

Easy to Fill

Durable Build

Good for All Ages

Excellent for Ground and Pound
Stitching Durability Issues
10. Finer Form Free Standing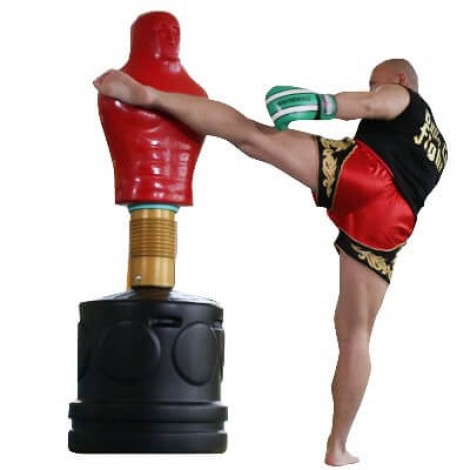 Free standing bags sometimes lack when it comes to the stay put category. The base of this dummy is large and keeps it grounded and still while you train. In addition to height adjustability this option is propped on a spring like fixture that allows the body to take a serious hit and bounce back for more. Excellent for working on all areas and forms you can't go wrong when you go with Finer Form.
Expand to see more
Wear Resistant
The upper of this dummy is made of top grade Urethane Foam. You will be able to give this years of punishment and it will continue to stand up to your grueling strikes. As you naturally get stronger and your skill improves you will know you always have a partner that can handle what you dish out.

Stable Rounded Base
Some of the biggest complaints of freestanding bags is the fact that they move around and the ones that don't are too heavy to easily move around. The base of this option will hold up to four hundred pounds of sand making it stay firmly planted where you put it. With the addition of the rounded base you will still be able to move it around relatively easily. The combination of these things make this a great option in the world of freestanding punching bags.

Cost and Value
As with most body opponent bags this does take an investment on the purchasers behalf. While falling to the middle of our guide in the matter of price this bag is not easily afforded on all budgets. If you can take the impact you will have a practice partner for years. This quality makes the cost seem easier to handle and after purchase you will see what a great addition to your training it really is.
Long Lasting Use

Top Quality Materials

Easy to Clean

Stable Base

360 Degree Training
Standard punching bags will help you improve your form and build strength but are they really helping you hit your target in the correct area? Which part of a bag is the abdomen and which part is the face? These questions are impossible to answer. The solution is, investing in a BOB punching bag. Body shaped bags allow you to improve strike accuracy, practice your ground and pound, and train like you would with a hanging bag.
Criteria for Evaluating the Best BOB Punching Bags
Stability
The stability of your punching bag plays a huge role not only in your training but also for your safety. While it is a great advantage to train with a bag that looks and feels like a person, if you injure yourself you may be out of training for an extended period of time. Ensuring that your practice partner is stable and grounded will ensure superior training and ease of mind that you won't be falling over the base or chasing after it as it starts to tumble over.
Part of stability has to do with what your bag or base is filled with. Freestanding bases may require sandbags or other weights to keep them in place. You have to be careful when doing this. If you aren't paying attention you may trip over the item being used for extra weight. This can lead to broken bones and weeks away from practice.
When using a bag that offers a fillable base, you have a couple options in what to fill it with. While there are many options you can use, there are pros and cons that come with all of them. Let's take a minute and look at your options so you can choose what you feel will work best in your situation.
Sand –


Sand is a very common base and bag filler. It is inexpensive and can be picked up easily at a local store. Sand is exceptionally heavy and settles. In a base, settling isn't much of a problem but when used as a bag filler it can lead to hard lumpy spots. Sand makes moving a freestanding base easy because of the settling that occurs, it allows it to roll smoothly. One of the downsides to sand is the mess that it can make when filling the base.

Water –


Water is probably the second most commonly used item for filling the base of a freestanding bag. People go this route for a variety of reasons, cost certainly plays it's part. After investing in an expensive body opponent bag, spending more on sand is not always in the equation. Water will weight your partner down very well but can lead to mold which is something you want to avoid.

Cat Litter –
Recently discovered, cat litter makes a great filler for the base of your free standing punching bag. It not only absorbs moisture which decreases your worry about mold, it also makes filling easier. The containers that litter comes in are easy to handle and pour. If you are in need of a great filler and you don't want to make a sandy mess this is an excellent alternative and will help ensure your bag stays stable.
Durability
Obviously, overall durability plays a huge role in the choices we make. When you intend on literally beating on something daily, it has to be able to take it. Some material doesn't stand up and others require much more care. You want to spend your time punching and kicking your bag not cleaning it. In addition, you may be making a serious investment, if it falls apart quickly it isn't going to feel very good.
We expect quality items when investing in martial arts practice equipment and gear. You need to be able to rely on your purchase and know it will hang tough as your skill grow. Brands offer a variety of materials in the construction of their bags. Knowing what to look for can aid you in making a smart buy and getting a bag that is in it for the long haul.
Best Materials for Durability

Canvas

Polyurethane Coated Canvas

Synthetic Plastics

Inner of High-Density Foam

Synthetic Leather

Leather

Rubber
It is important to note, these all have different features. Some are great with gloves and some you should not use if you're not wearing gloves. In addition, 100% Genuine Leather bags require more work and upkeep to ensure the Leather stays in good condition but if well maintained offers ridiculous longevity in use. Materials like rubber and synthetic leather can be sprayed and wiped off easily. This is another one of those things that you need to stop and think about what is most important to you.
Adjustability
Deciding to make the investment in a BOB punching bag is a big deal and more often than not martial arts enthusiasts do it for the realistic training. When meeting in competition you will encounter a variety of heights and sizes. If you buy a training bag that is not adjustable you are not receiving the real feel of fighting an opponent.
Adjustability has a lot to do with height. Most of the options in our guide offer height adjustment which is where you will see the biggest variety when fighting a live opponent. Giving yourself the option to train in a variety of heights improves your striking skill. Your body will know how to react to someone tall or short. This can be a major advantage and ultimately lead you to the win.
Not all, but some of our picks also offer adjustability in different ways. Some with adjustable arms not only side to side but also up and down. This allows the realism of striking arms and legs that are in different positions. You will be able to anticipate better and your training will soar when you practice with this type of bag.
Depending on your weight class and fighting style you may be accustomed to fighting people of a certain height. It is important to take your height into consideration when looking at what BOB punching bag to purchase. You want variety in heights but if you are exceptionally tall you don't want to practice with a bag that is four foot tall. Likewise, if you are very short practicing with a bag that is six foot two is probably unnecessary.
Use With a Variety of Styles
Many fighters train in a variety of disciplines. This can even include things like self-defense. We want everyone to get the best bang for their buck. When a practice bag is versatile in uses it saves everyone time and money. You may start with Muay Thai and then find your interest moving towards learning wrestling. When you choose one of our bags you will be able to transition easily between any of the martial arts categories you love.
In addition to the cost-saving aspect, it is also space saving. Using the same option for striking and groundwork is awesome and convenient. If you have space at home for a variety of options that is great, however, many of us have a small space for training at home. Making the most of that space is critical in the overall experience of training. The ability to be easily moved yet stable is key. In addition, many choices featured offer the ability to remove your opponent from it's base for hardcore ground and pound sessions.
Thinking about your particular style, you need to ask yourself some questions when buying a bag.
What do I need to work on?

If you find that speed is your issue, you may want to make your first investment towards a speed bag. Are legs the problem? If so you may want to look at an option that allows you to focus your kicks on smaller targets.

Is groundwork a key point in your discipline?

Obviously, in things like wrestling, this type of training is key. On the contrary, Muay Thai fighters tend to stay on their feet and it is not as critical that they advance ground skill. If this is a key point you will want to make sure you buy a dummy or bag that will allow you to realistically train on the ground.

Do you want to train in other places than your home or gym?

Moving your heavy bag really isn't an option. While training in a gym or at home is fantastic the ability to move around can keep it interesting. Many people who stop training and practicing say that it is due to the boredom of routine. Finding an option that travels well if this is something you struggle with this can keep you focused and keep it exciting.
I'm sure there are many other things to consider and these are just a few of them. Keep in mind you are making an investment in your training future. You want to spend time thinking about the end result and what you want to get out of it. Focusing on one area at a time can prove excellent when fine-tuning your skill. Buying a bag that will let you focus on one area and then change it for focus on another saves you time and money. Overall, finding a bag that will meet a variety of needs and uses is preferable and encourages you to reach for the stars and branch out to try new things.
Frequently Asked Questions
Q: Do BOB punching bags really help with accuracy more than a normal bag?
A: Yes, your heavy bag is a great training tool. However, how do you tell which part is the abdomen and how do you make sure you pick the exact same spot during practice? Training with a bag that is shaped like a human allows you to pinpoint your strikes. Furthermore, with the advanced features in some of these bags, you can even train with non-lethal weapons and easily practice your ground moves.
Q: Is it safe for my young fighter to train with a BOB punching bag?
A: Depending on the skill level of your fighter it may be perfectly OK for them to train on a body opponent bag. When first learning, training with a bag can be dangerous because of poor form and technique. Once your young enthusiast learns proper striking form training with a bag can be a big advantage. You also need to consider the filling in your bag and the weight. When making a purchase you can check manufacturer information for weight and suggested uses.
Q: How should I clean my punching bag?
A: Ultimately this depends on the material of your bag. Most bags are made of material like synthetic leathers and coated canvas. Cleaning these types of materials is simple. Simply spray them down with an antimicrobial spray and wipe them down. It is important to keep your bag clean, the sweat that comes in contact with it can dry out the material, causing cracks or weak spots. In addition, if others train on your bag, it can become a breeding ground for bacteria. Proper cleaning will ensure everyone's health and safety.
Q: What do I do when my free-standing bag won't stay still?
A: A moving punching bag is not only frustrating, it's dangerous. Depending on what you filled the base with will depend on how much movement you have. How full you filled it also plays it's part. If you have not completely filled the base this is a great place to start. If you have you may need to consider a different filling substance. You tend to get a sturdier base when using sand as opposed to water. Some like to use a mix of sand and water. This does weight your bag down nicely but you are opening the option for mold to grow.
Sources