Best Boxing Shoes & Boots Reviewed
last updated:
Feb 18, 2020
Boxing is booming in popularity as time goes on, many people are joining the sport! When you think of boxing, you have to consider all of the equipment that is needed and comes with the sport. One of the pieces of boxing equipment that you will have to consider is the boxing shoes or boots. The benefits of the boxing shoes are that it prevents slipping and sliding in the ring, gives you a better grip for pivot and turn, and allows you to maintain footing at all times. Boxing boots provide great support in the ankle and helps maintain the same as the boxing shoe. Having support in the ring is one of the best things that you can do for performance and comfort, but also safety, which is key in anything that you do.
In a Hurry? The test winner after 4 hrs of research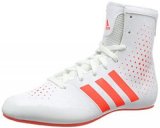 Adidas KO Legend
Why is it better?
High collar for ankle support
Grooved pivot point on sole
Single piece synthetic upper
In a
Hurry? Editors choice: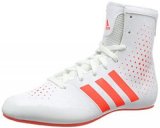 Test Winner: Adidas KO Legend
Materials
Support
Traction
By Default
10 Best Boxing Shoes
High collar for ankle support
Grooved pivot point on sole
Single piece synthetic upper
Adidas is predominantly seen as a fashion brand these days, but their range of boxing shoes is a strong reminder of their athletic roots. The KO brings the same high Adidas quality as the company's previous offerings on this list with a slight twist. White and peach replace darker colors and the sole features a unique grooved pivot point.
Read more
Single Piece Synthetic Upper
When shoes begin to fall apart, it is usually around the seams and structural stitches. This is because the seams are strained by the push and pull that walking causes. Sports tend to wear seams out even faster, usually leading to a blow-out within a year of purchase. Adidas takes a unique approach to this problem by producing their KO Legend boxing boots with a single-piece upper constructed of synthetic materials. This reduces the chance of a seam blowing out and extends the life of the boot.
Pivot Point Sole
Most people associate boxing with hooks and jabs, but boxers and boxing fans know that the footwork can be just as important. The KO Legend boxing boots feature a grooved pivot sole for just this reason. A grooved pivot sole is designed to shift the boot against the ground more fluidly, easing the boxer's motions and making the movement of the sole more intuitive.
Cost and Value
These shoes carry a fairly high price tag, but the pivot sole, Adidas quality, and solid construction may make them worth the extra cost.
Lower profile with ankle support

Padded insole and ankle collar

Stitched Detailing
Lonsdale's second appearance on this list is another strong offering. Unlike the first Lonsdale entry, however, these boxing trainers have a low profile perfect for circuit work and a synthetic upper that can take hours of use with minimal upkeep. The price tag is marginally higher, but the uses are more varied.
Read more
Low Profile Ankle Support
Most boxing boots favor calf-high profiles. They help keep the boxer's ankle stable. Lonsdale also favors that look with their other boots. But they chose a lower, more streamlined look for their lace-up trainer. This trainer still provides the necessary ankle support to prevent injuries during training or boots, but it features a more modern high-top profile.
Padded Ankle Collar
The emphasis with boxing boots is, by and large, ankle support. Despite this focus on ankles, however, many boxing boots ignore the potential for chafing, bruises, or other topical ankle ailments. Rival Boxing addresses these issues head-on with a padded ankle collar that will help prevent damage to the skin of the ankle while providing the joint with the support it needs.
Cost and Value
Lonsdale is among the more affordable boxing brands, though they pack a lot of quality into the shoes for the price.
Cushioned arch support

Ventilated mesh upper

High profile for ankle support
Rival Boxing makes its second appearance on our list with a pair of stylish black and yellow trainers. Microfiber and suede ventilated uppers and thin, flexible outsoles make these trainers ideal for practice rounds at the gym or for working the circuit during training. The ergonomic insoles and high top profile are added the icing on the cake, making their relatively high price tag understandable.
Read more
Cushioned Arch Support
Most boxing shoes favor neutral insoles, which means they have little to no arch support. This is likely because thin insoles allow the boxer to have a better sense of their grip on the ground, letting them move with more confidence. Not everyone can use neutral insoles, however. Rival provides variety to boxing insole options by designing their boxing boots with cushioned arch support for those boxers who need a little more structure
Ventilated Mesh Upper
Rival knows the business of boxing, especially their designers. They are well aware of the effect that boxing has on a person's feet just as well as they know the effect of uncomfortable feet can have on a boxer. This nasty cycle is stopped before it even starts with the use of ventilated mesh and microfiber uppers. They keep feet cool and dry so that the wearer doesn't end up losing their footing halfway through a match.
Cost and Value
Rivals cost a fair amount, but the padded ankle collars and cushioned arch supports bring a lot of value for the price.
Leather

Lightweight

Wide Upper
Leather may require more care than synthetic materials
Cleto Reyes in another brand that caters very specifically to boxers. Not only is it a company for boxers, but they do it in classic boxing style. These boxing boots would not be out of place on the great boxers a hundred years ago if it weren't for the inseam zippers and the rubber outsole that will grip the mat during practice or competition.
Read more
Wide Calf
The boxing boots aren't just lightweight and sturdy. They are also designed to keep the wearer comfortable. This particular model is designed with somewhat wide calves. Such a feature is most helpful to boxers with a little more calf muscle than most, but the utility does not stop there. Any boxer can put the design aspect to use if they find themselves moving quickly around the ring. Loose boot tops may lead to an ankle injury, however. It all just depends on the particular boxer in question.
Leather and Lightweight
This is not your average boot design. While most boxing shoes today are made of predominantly synthetic materials, Cleto Reyes boxing boot as stuck to classic supple black leather. This means the boots might require more care and keep than their synthetic counterparts, they will likely last longer because of that care. The leather is also lightweight, ensuring that the boots won't weigh the boxer down.
Cost and Value
Cleto Reyes is one of the most expensive brands on our list. But the solid leather construction and comfortable design make the price tag more understandable.
Cushioned Arch Support

Ventilated Mesh Upper

High Profile Ankle Support
Rival, also known as Rival Boxing, is dedicated to one thing and that is the sale of quality boxing supplies. Their products garner almost uniformly high ratings and that is almost certainly because Rival's products are designed with boxers in mind. Their RSX model is an excellent example of this with uppers comprised of cowhide suede and ventilated mesh, ergonomic insoles with cushioned arch support, and a thin outsole to maximize a boxer's grip on the mat. These boots are lightweight, weighing in at only 390 grams, but they are also durable enough to stand up to heavy use in the ring.
Read more
Ventilated Mesh Upper and Sock Liner
Athletes will tell you that uncomfortable feet are one of the nastiest side effects of a long practice or an intense competition. Boxing is no exception to this and may, in fact, be one of the worst sports out there in terms of foot comfort. Rival took this challenge on when they designed their RSX boots and the result is suede and meshes upper coupled with a mesh sock liner to allow maximum airflow that can cool a boxer's foot from nearly every angle.
Cuchioned Arch Support
The RSX is like many boxing boots in that it features a thin, gripping sole to maximize a boxer's confidence in their footing. It differs, however, in that the boots also boast ergonomic insoles and cushioned arch support. This makes the boots ideal for boxers who may suffer from flat feet, plantar fasciitis, or another foot-related issue that requires their shoes to have supportive arch structures.
Cost and Value
Rivals cost a fair amount, but the ventilated uppers and cushioned arch supports bring a lot of value for the price.
6

. Ringside Undefeated High Top
Breathable Upper

Sport Specific

High Profile Ankle Support
Sizing Requires Conversion
Ringside is a company that focuses exclusively on martial arts, particularly boxing. They sell everything from punching bags to shoes to boxing and wrestling supplies. Their products are generally highly rated and if their Undefeated wrestling boots are any indicator, their reputation is well deserved. Ringside boxing boots are sort specific, constructed of synthetic materials with a high-top profile for built-in ankle support.
Read more
Breathable and Stylish
Synthetic uppers make these shoes light and breathable. That is the magic combination of athletic shoes and Ringside delivers it in style. The undefeated is available in two color options, both styled with an aggressive profile and alternating sections of nylon mesh to keep the boxers feel cool and well ventilated.
Ankle Stabilizing Support
Ringside's designers know their business when it comes to boxing. They know that boxers' ankles are prone to injury and damage unless they are properly supported. The Undefeated has a high-top profile that laces from the toes to the top so that they provide a snug fit for every boxer.
Cost and Value
Ringside's boots come in a range of prices from the very affordable to the moderately high. The lower the price, the better, but even the higher cost copies are worth the price tag.
Padded Ankle Collar

Gripped Sole

Affordable Price
Lonsdale is a company that focuses on selling quality clothes and sports equipment. Their Contender boxing boot is a fully laced boot from the top of the foot to the top of the high profile ankle collar, which is both padded and quilted. With a gripped sole to help boxers keep their footing and an upper that is built for support and comfort, it is hard to go wrong with a Lonsdale.
Read more
Gripped Sole
Any boxer will tell you that boxing has a heavy emphasis on footwork. That means that a good connection between the boxer's feet and the ring is key. Lonsdale's designers were very aware of this and designed their boxing boot with a gripped sole to ensure that even fancy footwork will not trip up the wearer.
Ankle Collar Comfort
Boxing is one of those sports that can easily cause blisters and chafing before the boxer even knows it's happening. Lonsdale's designers tried to help their customers avoid this by ensuring that the ankle collar is as comfortable as possible. The Contender's ankle collar is both padded and quilted, ensuring that the wearer's ankles can take more practice before any discomfort sets in.
Cost and Value
Lonsdale is the most affordable brand on this list and the quality of their products make them an excellent value purchase.
Synthetic Leather

Ankle Strap

Foam Midsole
Reebok is another company that thrives by matching quality with style. The high-top design of their boxing boot provides ankle support and the synthetic leather materials will be easy to clean and maintain. The sole is also synthetic, giving it a slightly longer life. An ankle strap provides additional ankle support while a foam midsole provides comfort. Reebok also offers the boot in several color combinations, though there is a somewhat limited range of sizes.
Read more
Synthetic Leather Upper
Synthetic leather has a long life and requires very little upkeep, The material gives enough to let the boxer move but will not compromise the safety of the boxer's ankle. It also breathes well, which will help keep a boxer's feet cool during tough matches and long practices.
Ankle Support
Ankle support is vitally important for boxers and Reebok is keenly aware of this. They have designed their boxing boot with a high-top profile to provide a support structure for the ankle as well as an ankle strap to ensure that the boot does not slip on the boxer's foot.
Cost and Value
These Reebok boxing boots come at a range of prices, but even the lowest price is at the high end of the spectrum. At their most expensive the price is in the triple digits, though fans of the brand may not mind the cost.
High Ankle Support

Adidas Quality

Gum Rubber Outsole
For those who want Adidas with them in the ring but are in search of a more classic style than the Combat Speed 4, this is the boxing boot for you. Box Hog 2 is a classic boxing shoe in the iconic Adidas style. With a high-top style for ankle support and gum rubber outsoles, the Box Hog 2 is a perfect candidate for any boxer in training.
Read more
High-Top Ankle Support
Boxers are prone to ankle injuries because of how their weight is distributed and moved during a match or practice round. High-top shoes help avoid these injuries by stabilizing the ankle without being so rigid that they hamper a boxer's ability to move.
Gum Rubber Outsole
The Box Hog 2 boots are designed to make sure the boxer has the steadiest footing possible. A thin outsole and minimal insole allow the boxer to feel the mat more firmly beneath their feet. A sturdy gum rubber sole provides a solid grip that won't prevent the boxer from moving or making the turn they need to stay in the match.
Cost and Value
These boxing boots come with a relatively high price tag, though Adidas fans aren't likely to mind the price.
10

. Adidas Combat Speed 4
Soft Leather Uppers

Available in a range of styles

Adidas Quality
Sizes Sell Out Frequently
Adidas has been making a name for themselves since 1949. Their reputation is built on styles and quality that have been sold hand in hand for nearly seventy years. The Adidas Combat 4 has all the style that fans of the brand have come to expect from Adidas, as well as the features necessary to help keep a boxer in the ring. Finding the right size might take some work because certain sizes sell out fairly often. But with soft leather uppers, ankle support, and a range of styles, the wait would be worth it.
Read more
Soft Leather Uppers
These hightops blend the best traits of rigid ankle support and a soft leather upper that allow for some give when the boxer moves but does not compromise their safety. Leather uppers are traditional to boxing and, though they might require a little more care, they are long-lasting and have just enough given to allow the boxer freedom of movement without giving the ankle too much room to move or become injured.
Available in a Range of Styles
Adidas is a brand known for style and this reputation extends to their wrestling shoes. Most gyms don't want street shoes in their boxing ring for a whole host of reasons, but these boxing shoes look so good that they might tempt someone to put that policy to the test. The Combat Speed 4 comes in a range of colors and color combinations to fit every boxer's personal style, both in and out of the ring.
Cost and Value
These boots come at the widest range of prices on this list. At the low end, they are the most affordable boots, but at the high end, they are the second most expensive boots on this list. The features might make the cost worth it, however.
Criteria Used for Evaluation
Materials
Leather
Leather, and to a lesser extent suede, are the traditional materials for boxing boots. Many companies still use these materials today, including several that are featured on this list. Leather is often lightweight and easy to clean, though it should be cared for and conditioned fairly regularly. With proper care, the uppers of these boots will last long after their soles or synthetic boots have worn out.
Synthetic
Synthetic materials allow for lightweight and highly breathable boots, particularly when a  nylon mesh is worked into the design. Synthetic heels are also useful, allowing for non-marking and high traction soles.
Support
High-Top Profile
Every boot on this list features a high-top profile. Some are higher than others, but all of them are designed to support the wearer's ankle and reduce injury during boxing practice and matches. This is a key difference between boxing boots and other sports shoes, as most sports shoes do not provide the kind of ankle support needed by boxers.
Ankle Strap
Several of the boots on this list feature additional ankle support in the form of a strap that goes around the ankle and provides a stronger structural foundation for the ankle to rely on during practice and matches.
Padded Ankle Collar and Other Supports
Topical comfort is another important factor and some of the boxing shoes on this list take it very seriously. Padded or quilted ankle collars, microfiber or mesh uppers, and arch support to prevent strain on the rest of the foot are all features that can be found on several of the boots on this list.
Boots have a very high profile in regards to where they rest on the boxer's leg. A high profile means a better grip on the boxer's leg and less shoe slippage, but more than that it means more support for a boxer's ankle. Because of the body positions and motion styles specific to boxing, the sport can be hard on an athlete's ankles and injuries to those particular joints are entirely too common. The modern boxing boot was born to combat this issue while providing other forms of support and comfort for boxers.
Traction
Grooved soles allow boxers to move more quickly and some are specifically designed to allow for faster turns by incorporating a pivot point. Many boots on this list feature such heels, giving the boxer who wears them a little edge over their opponents.
Expert Interviews & Opinions
Most Important Criteria
(According to our experts opinion)
Experts Opinion
Editors Opinion
Users Opinion
By Default
Is lighter, better?
When you start the search for the best boxing shoes, one thing to consider is the actual weight of the shoe. The lighter and thinner the shoe, the better. With lighter shoes, it allows you to feel everything beneath your feet and gives you more power in the ring.
Other Factors to Consider
Size
Several boots on this list are designed to accommodate boxers with wide calves. High-top boots can be difficult for people with smaller feet or wider calves. A high profile is important for boxing boots which can make finding the right fit difficult. Now there are options that make the search a little easier.
Frequently Asked Questions
q:

Are lace-up or zippered boots better?

a:

Lace-up boots are recommended over zippered boots, primarily to avoid agitation of the skin from chafing against the zipper. Laces also allow the wearer to adjust for swelling, which zippers do not allow for.
q:

Can I wear cross trainers or wrestling shoes?

a:

It is recommended that only boxing shoes be worn because wrestling shoes do not have the proper ankle support or sole structure for boxing.
q:

Can I wear my boxing shoes for daily wear?

a:

Boxing shoes have a generally thin insole which makes them ill-suited for daily wear.  Many gyms also have a rule against wearing outside shoes into the ring because debris on the bottom of the shoes can dirty or damage the ring, so it is advised that your boxing boots be used solely in the ring.
q:

Can I cross train in my boxing boots?

a:

A minimal amount of cross-training can be done in the shoes but running or other similar exercises are best done in proper cross-trainers. Some weight training or bodyweight work can be done in boxing shoes, however.
q:

Why are boxing boots all so tall?

a:

The height of boxing boots is intended to provide structural support for the boxer's ankle and prevent injury.
q:

Why are boxing shoes mostly leather or synthetic materials?

a:

Leather is traditional and lightweight while synthetic materials are breathable and easy to clean.
q:

Is there anything special I have to do to care for my leather boxing boots?

a:

Any leather goods have to treated properly. Cleaning and conditioning the leather regularly will extend the life of the item and improve the value of their purchase.
q:

What other boxing equipment will I need?

a:

Boxing doesn't require as much specialty equipment like most other sports. The basic recommended equipment are boxing gloves, boxing shorts, and tape. Other additional equipment may include such things as mouthguards and similar safety items. This will conclude your boxing or kickboxing uniforms for any match or training.
Subscribe to our Newsletter