Best Boxing Gloves Reviewed and Rated
last updated:
Oct 28, 2021
Boxing is a competitive fighting sport that primarily relies on fist strikes to defeat an opponent. However, the bones in the hand cannot handle a large amount of strain from training. Since it relies primarily on fist strikes, unlike Muay Thai and Kickboxing, those who participate will most particularly have need of hand protection. Boxing gloves loves will aid in the protection of your hands and your opponent's body. Therefore, those who are interested in taking it up as a new hobby are going to want to start looking for proper hand protection.
The importance of finding a glove that fits properly cannot be understated. Anything that is of improper size and weight can end up causing injury to you or your opponent. Additionally, those who train frequently will want something that can hold up against the constant strain of training over a cheaper option that might fall apart quickly.
In a Hurry? The test winner after 4 hrs of research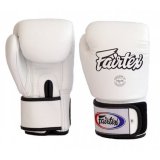 Fairtex Boxing
Why is it better?
Premium Leather
Very Durable
Great Longevity
Light and Comfortable
In a
Hurry? Editors choice: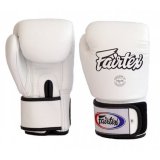 Test Winner: Fairtex Boxing
10 Top Rated Boxing Gloves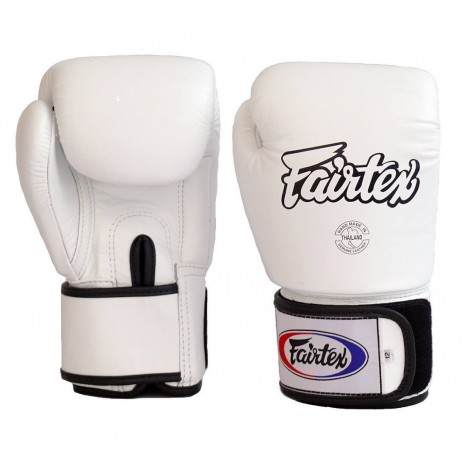 Premium Leather
Very Durable
Great Longevity
Light and Comfortable
Fairtex was founded in 1971 by Mr. Philip Wong. A practitioner of Muay Thai, he started a Muay Thai camp in Bangplee, just outside of Bangkok. The camp yielded great results, such as keeping the youth off of the streets, away from drugs, and free of a life of crime. Mr. Wong felt training youth for a life dedicated to Muay Thai was his way to give back to his community. His experience in Muay Thai is vast and has helped in his development of high-quality fight protection. Fairtex has received awards for its products, which should speak volumes about their quality.
Read more
Durability
These are very durable and have great longevity. The outside is made of premium leather, which contributes to it being able to withstand the beating a professional will give them over an average of a couple of years. The padding is made of Fairtex signature three-layered foam, which makes them light, without sacrificing any hand protection. Lastly, the velcro is extremely resilient and will withstand years of strain. Sewn together with high-quality stitching, you get a model that packs a punch that will not damage you or your sparring partner.
Professionally Handcrafted
All Fairtex gloves are handcrafted in Thailand. They were conceived by Mr. Phillip Wong, a well-versed practitioner of Muay Thai, who put his knowledge into the development of the gear. Passing said knowledge over to the handcrafters, Fairtex achieves high quality and widely recognized brand.
Cost and Value
Fairtex models are not cheap in any sense of the word; the high-quality materials and the great craftsmanship drive up the cost. However, these end up lasting an amount of time that will justify its cost. Essentially, spending a little bit more money will end up saving you some money in the next couple of years.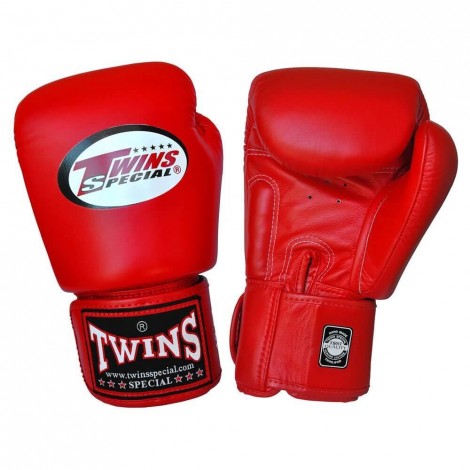 Trusted Name

High Quality

Durable

Great Longevity
Twins one of the most recognized and decorated developers of professional fighting gear. Used widely by professionals, they are the only ones accepted in Thailand's official Muay Thai stadium in Lumpini. Over the course of their current 60 years of existence, they have received a number of awards for not only their gear but for their companies' work ethics as well. Twins regularly offer superior fight protection, as evidenced by the trusted recognition.
Read more
High-Quality
The second entry on the guide is essentially a competent competitor to Fairtex. Therefore, Twins offers a product that holds up to the abuse a boxer will inevitably dish out to it. Using genuine leather and a three-layered PU foam system for its padding, the result is a durable model that offers superb hand protection and great longevity. Great for heavy hitters and light trainers alike.
Trusted Brand
Twins have been in the fighting world for about 60 years. This amount of experience is unrivaled and contributes to products that improve even today. Having both international and professional recognition, all thanks to the great quality of particularly the Twins Special. It is unlikely that this will disappoint.
Cost and Value
The Twins Special is yet another that ranks higher up on the price range. Again, this is the case of getting what you pay for. By spending more money, you end up with a high-quality product that will last a great amount of time. This can potentially save you money in the future, should you decide to get serious.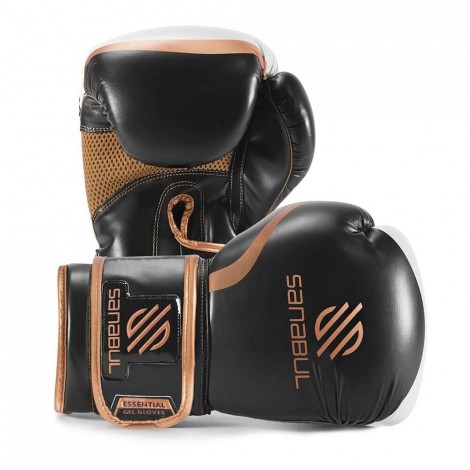 Affordable

Odorless

Easy Cleaning

Great for Beginners
Sanabul hasn't been in the world of fight gear for long but already they have attained great recognition. They are in the business to offer a quality product that is completely affordable. Furthermore, Sanabul focus is greatly on their R&D department, so they can constantly improve the quality of their fight gear while keeping it affordable.
Read more
Hybrid Quality
The Sanabul Essential is great for just what it brings. The palm surface is made up of a sweat-wicking mesh that gives great hand breathing and also absorbs perspiration. The back is made of synthetic leather. Synthetic leather provides less durability than genuine leather but does offer other benefits, such as they become easier to sanitize and are virtually odorless. The choice of materials does not necessarily reduce the quality, but more so offer a different set of benefits.
Great for Beginners
Those just starting, or have become interested in wanting to start out, can find great value in these. The low cost makes them an easy choice for the unsure beginner. Having sizes made for training, they will provide sufficient protection for those interested in starting, or even for those only interested in light fitness sessions. Even if you decide these just aren't for you, the money spent will not be much of a loss. This model also offers great kickboxing gloves.
Cost and Value
The Sanabul Essential gel gloves is the best value on our list. It is an extremely affordable model, making it a great choice for a fighter on a budget. Additionally, these are a good choice for the fighter who prefers to have variety in his or her arsenal. You can not beat the price for the quality you end up with.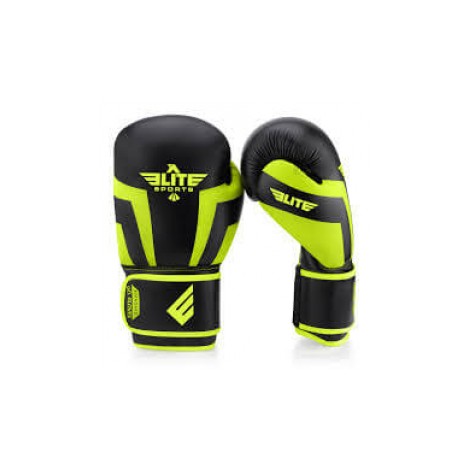 Vegan Friendly

Affordable

Lightweight and Durable

Great Ventilation
Lining may cause irritation
Elite Sports aims to specifically make a product that contends with the likes of Fairtex and Twins, and sell it for a fraction of the cost. This ideology led to the development of affordable fight gear aimed to impress beginners and professionals alike. Among the gear is the Elite Sports Standard.
Read more
Maya Hide Leather
Maya Hide Leather is a higher quality synthetic leather made with polyurethane. Although it is not as durable as genuine leather, it can still handle some wear before it wears completely out. It is also easier to maintain than genuine leather, as it only requires a simple wipe down and sanitation every so often. Maya Hide Leather is also vegan-friendly, as it does not make use of animal by-products in its production.
Padding
The Elite Sports Standard makes use of a triple-density gel and impact foam for protection. The gel makes for a lighter option without sacrificing adequate protection. Nor does it sacrifice performance. Rest assured that you and your sparring partner are safe with these.
Cost and Value
These are extremely affordable. They fall in the lower tier of cost on the guide. The lower cost typically denotes lower quality but in the case of these, it means that they are for lighter training or novice practitioners. Since they are lightweight they can be great kids boxing gloves, so if you considered getting your child a pair of boxing mitts this brand is the best choice. Do not make the mistake of always assuming the cost denotes quality. You might end up missing out on a decent thing.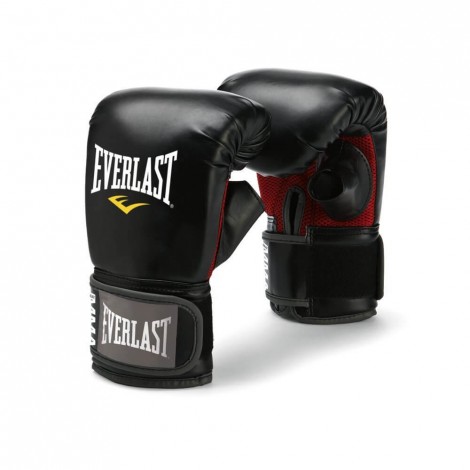 Vegan Friendly

Durable

Great for Training

Affordable

Odorless
Everlast was founded in 1910 by Jacob Golomb in the Bronx. Originally marketing swimwear that could last much longer than what was around at that time, they eventually branched into general sportswear. In 1919, after making protective headgear and gloves for a friend in Boxing, who went on to win a big match, Everlast was put on the map for sports gear. The company claims they are the leading manufacturer of sports gear worldwide, and additionally boasts having some professional fighters in their history as well as even today in their sponsored line up.
Read more
Great for Training
This option is recommended for bag and sparring training. This means you can either end up wearing them quickly should you use them heavily for all kinds of training and performance. Always make sure the model you are interested in is meeting your training regimen too. Otherwise, you'll find yourself injured, or broke, replacing them frequently. This is one of the most popular choices when it comes to boxing gloves for women.
Synthetic Leather
The hull uses synthetic leather. In this case, it is PU or polyurethane leather. Like other synthetic leathers, it is designed to look like real leather without having to rely on the animal hide for its production. This makes these a good choice for vegans and possibly even environmentalists. Also, PU leather is easier to clean and maintain and is less likely to develop lingering odors as quickly. It isn't as durable as leather, but it does have its benefits.
Cost and Value
These also make the lower end of the cost category. Being around the same price as our other lower end entries, they make a great choice for the unsure novice, as well as someone needing a cheap and quick replacement. Recommended only for training, you will still likely get your money worth from these even if you only train once a week.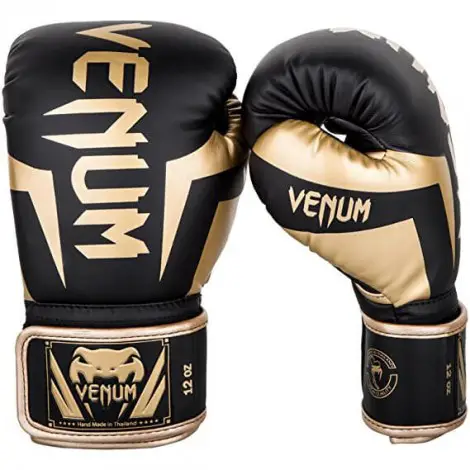 Skintex Leather

Great Padding

Durable

Known name in Boxing
Venum was founded in 2006, in Thailand. Venum makes fight gear for several different disciplines such as Muay Thai but is better known for their boxing gear. Dedicated to crafting high-quality fight protection, they have gained notoriety from professional athletes. They have also been known to sponsor a few famous professional fighters like Wanderlei Silva.
Read more
Synthetic Leather
These make use of high-quality synthetic leather. Known as Skintex Leather, it tends to hold up a little better under much impact than other synthetic leathers. They may end up lasting you for a couple of years. As always, synthetic leather produces less of an odor and is easier to clean, sanitize and maintain. Vegans can take a safe interest in these without worrying about their effect on animals or the environment as well.
Padding and Protection
The Elite uses a triple-layered foam for its padding. The foam provides superb shock absorption and evenly dispersing the energy to your opponent. Therefore, the padding properly protects yourself and your partner from improper injury. The velcro strap is nice and wide and when tightly strapped, not only protects the wrist but additionally aids in the proper shock absorption and disbursement.
Cost and Value
Venum is a trusted brand name, and the Elite is a high-end model. The materials, despite one of them being a synthetic leather, are of good quality and drive the cost up to a little. Skintex leather is among the pricier types of synthetic leather. If you have the extra money to spend and are getting serious, this pair may be the right choice for you, and could even save you some money in the long run.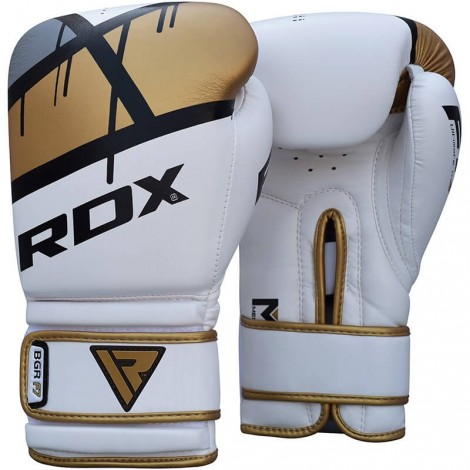 Synthetic Leather

All Original

Vegan Friendly

Extremely Affordable
RDX was founded in the UK, in 1999. Stationed primarily in the UK, they have their hands in international trade and are well known throughout the world. Their goal is to be the international leader of general and original fight gear. Having only been around for a short time, they have garnered proper recognition for their quality and originality. Professionals and intermediates alike claim RDX to be a trusted name in fight protection.
Read more
Maya Hide Leather
The RDX Ego makes use of a kind of Maya Hide leather. The hull was crafted using RDX's own Quad Dome technology, which incorporates its signature padding into its model. This not only adds to its durability but makes specific use space, leaving no inch wasted or too much. With utilization as its goal, you end up with an extremely durable model, for all the material its made out of. Again, Vegans can benefit from this option. Also, as always, Synthetic leather is easier to maintain and clean than genuine leather.
Original Patented Protection
RDX developed its own padding system as well. Known as the Tri-Slab Shell-Shock Gel, it is run into its hull to complete the Quad Dome technology previously mentioned. Layers of the gel are infused in between layers of the Maya Hide Leather to create a unique, but effective durable product that not only holds up against the abuse but adequately protects and augments performance. Their patented Quick - EZ hook and loop wrist strap system provides proper wrist support as well as promotes proper fist strikes. So much originality comes together to makes a very balanced model.
Cost and Value
Falling into our Low - Mid-range in matters of cost, this is very fairly priced. RDX developed a totally original model that offers superb protection and performance, all at a low cost. No matter if you're a beginner or a professional, Not only will these last you a very reasonable amount of time, but the price guarantees your wallet will not suffer either way. A great pick for starters and veterans alike.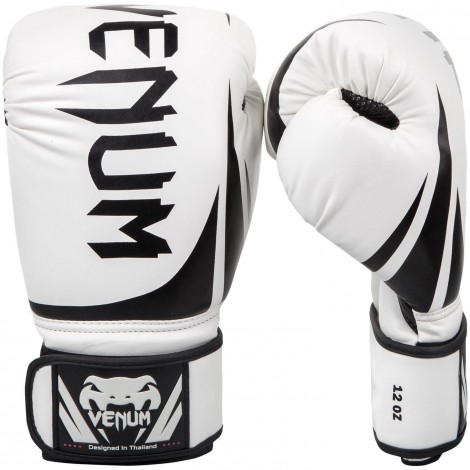 Synthetic Leather

Great for Beginners

Durable

Vegan Friendly

Affordable
Venum makes the list again. This time for one designed specifically for bag and fitness training and light sparring. Anyone looking to get started, or just looking to do some general light training can benefit from this model. With fewer features than the Elite, the Challenger 2.0 still features the spirit that makes a Venum glove, a Venum glove.
Read more
Skintex Leather
The Challenger 2.0 uses Venum"s preferred Skintex leather to build its hull. Skintex leather is a kind of PU leather that is on the higher end of synthetic leather. Designed to resemble real leather, it still holds up well under strain, even if not as well as genuine leather. It is Vegan-friendly, as it is not of an animal by-product. Additionally, as always, synthetic leather requires less frequent washing and sanitation and is rather odorless.
Lightweight
Still using Venum's triple-layered foam system for its padding, your hands and partner still receive the standard of proper protection. However, certain additional features found on the Elite model have been removed, as this is only aimed for light general training. Utilizing this for more strenuous training tasks may result in injuring yourself, or wearing them out quicker, thus injuring your wallet. Always use as suggested!
Cost and Value
The Challenger 2.0 was based on the Elite with modifications to appeal to the less interested and beginner crowd. Removing certain features of the latter creates a more affordable product so that beginners and light trainers can get some solid use of a quality name while getting a taste for it in the even the crowd becomes more interested and serious. This glove is a good place to start, but be careful, you might find you want more of what Venum has to offer afterward.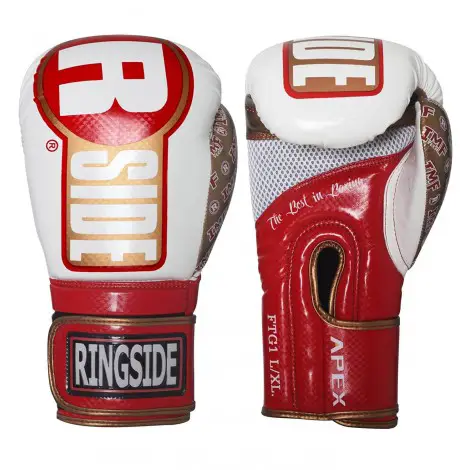 Synthetic Leather

Sufficient protection

Vegan Friendly

Affordable



Ringside has been established for over 30 years in the world of fight protection. They claim to be one among the world of leaders in fight gear. They boast a great varying line of fighting gear and apparel but are most known for their boxing gloves and bags. Also, they have developed their own kind of technology from padding to cooling. Being a trusted brand for about three decades should serve as a testament to the quality of their products. Ringside might have what you're looking for no matter what level of fighter you are.
Read more
PU Leather
The Ringside Apex uses a leather-like PU synthetic leather to make up its hull. It's fashioned in a way to force your hand to curve, promoting proper fist posing and striking. Vegans will love knowing these makes no use of animal by-products, allowing them to enter the world of fighting without sacrificing their morals. Also, synthetic leather is not only easy to maintain, clean and sanitize than genuine leather, it is also less like to cause odors.
Padding and Protection
This option makes use of its own trademarked IMF padding. IMF stands for "Injection Molded Foam" and is a technology that Ringside claims is superior to triple layering foam that most other companies rely on. The foam is part of what helps the hull have the hand curve it has. The padding either way properly protects you and your partner in sparring, so rest assured that the difference makes no sacrifice to either. The wrist uses both a wrap-around strap feature literally over an additional hook and loop system that provides maximum support and protection to your wrist as well as promoting proper punching technique. This was built with safety truly in mind.
Cost and Value
The Ringside Apex falls on the midrange cost on our buyer's guide. It is an affordable option, only costing little more than the low tier and having just crossed into the mid-range. This model can be great for those who have decided to take their boxing game a little more seriously, and those who are just starting out. Furthermore, both parties may find that this is their preferred brand through their curiosity.
Full Grain Leather

Durable

Great Longevity

Affordable
The Title was established in 1998. Starting with a focus only on Boxing, it became recognized as an authority in the world of fight gear. In 2007, they entered the world of MMA and now offer fight protection for various disciplines of self-defense and martial arts. Amateur and professional fighters both recognize Title as a trusted and dependable brand. Look no further than Title, should this sport pique your interest.
Read more
Full Grain Leather
The Pro Styles Hull is made of top full-grain leather. Top grain leather is another way to say genuine leather. Genuine leather construction immediately means durable and long-lasting. It holds up under heavy use for a long period of time and is hands down much more tough than any synthetic leather. However, leather requires a bit of preventative maintenance, such as oiling and types of cleaning to avoid the leather drying to the point of cracking. Leather often means the cost goes up as well. However, do not let higher costs prevent you from choosing durability and longevity.
Padding and Protection
Title uses a multi-layered foam for its padding. The padding is located throughout the hull, filling the front, knuckle area, and the back of the hand parts. Absorbing shock and equally disbursing impact is the job of any padding and the Pro Style is of no exception. The wrist strap is made up of a two-ply style leather build. Not only does this provide proper wrist support, but it's leather build guarantees added hand protection. Proper self-protection is achieved.
Cost and Value
The Title Pro Style is in the Mid Range of cost. Spending only a tiny bit more gets you a model that can last throughout many a training session. Not only a great option for a beginner, but some professionals have taken a liking to this model and brand as well. You can beat the price for the quality Title has to offer.
Criteria Used for Evaluation
Materials
Every glove consists of more than one material. The hull is made up of a kind of leather or more. The padding is almost always a type of foam; separate material from the hull. The ventilation often is made of a threaded mesh of some kind, and the inside is sometimes lined with that same material or a different one entirely.
Knowing what kind you need is made known through the materials found within as each material performs differently, and can even change its function depending on where it might be located. In this section, we will be going over the various materials found in the interior and just what their purposes are.
Leather
Leather is an animal by-product, consisting of the animals hide. The hide typically belongs to a cow or bull, but sometimes can be of a buffalo or another like animal. The hide goes through a stretching process where it is also treated and made more durable and fit to adorn clothing or various forms of protective gear. Leather is believed to be the most durable of materials that make the hull, withstanding years of abuse before wearing out. Leather requires certain specific preventative maintenance to ensure its longevity. Leather also is known to create a less than pleasant odor, as it breaks down and decays if proper preventative maintenance is not frequently achieved.
Synthetic Leather
Synthetic leather is made to look and feel like real leather with the exception of relying on animals as its source. It is durable enough for being man-made but does not hold up as well as genuine leather. There are many different synthetic types of leather, as there are many different ways to make them. Among the most notable types are Maya Hide, Skintex, and PU Leather. Synthetic leather requires fewer sanitation periods and is known to be rather odorless. Synthetic leather also appeals to the vegan fighter, as vegans wish not to partake of anything animal-related.
Padding
Most use a kind of polyurethane foam in its padding. Some use other forms of it in its creation. However, it's more so how the foam is put into it that determines its functions. Some aim only to protect your hand, while others aim to promote proper fist position, allowing you to strike efficiently. Even yet, some paddings foam is made to contour to your hand for added comfort, among other aforementioned functions. In a very unique case, the RDX has it's foam injected while the hull is crafted to enhance the durability.
Fit
Wrist Straps
The cuffs and the wrist straps as a standard have several functions. They serve to provide both wrist protection and support, as well as keep everything snug and keep it on your hand. Since wrist sizes vary, some have more need for other forms of wrist straps. Some offer laces as a means of keeping them fixed. Others typically offer a classic hook and loop style, sometimes with an added wrap-around Velcro boxing gloves cover over the top of that for additional support. Others are happy enough just using hand wraps to make up for any looseness. However, be forewarned that the inverse having it too tight without wraps is a bad thing and can't be reversed.
Features
Venting Mesh
Venting Mesh is normally located in the palm. This mesh is different than sweat-wicking mesh, as it only serves to allow the palm to breathe better. Those who do not sweat as much as others can make use of this but finding a sweat-wicking mesh is more practical.
Sweat-Wicking Mesh
Sweat-wicking mesh normally takes place of simple mesh. It primarily functions to displace sweat, an added measure aimed to keep your hands free of sweat. It usually doubles to allow hand breathing, making it a more practical choice, as many brands use this method of ventilation.
Antimicrobial and antifungal lining
Some include a lining along the inside that promotes sanitation. Boxing is a sport that normally makes you sweat buckets. Sweat creates bacteria that can create odors and even become fungal over time. All gloves require a period of sanitation after so many sessions and cleaning after every session, but these linings help keep them even cleaner by prohibited the growth of a lot of bacteria. It's not a necessary feature, but some might find it more useful than others.
Expert Interviews & Opinions
Most Important Criteria
(According to our experts opinion)
Experts Opinion
Editors Opinion
Users Opinion
By Default
Other Factors to Consider
Use
Type of Training
Taking your boxing intentions into an account can also improve your search for the option that best suits your needs. Are you aiming to improve your strike power, speed, or endurance? Maybe you are just starting out and want to break in easily, or only looking to hit a punching bag? There is a design for each of these scenarios. As such, we will be going over these scenarios.
Fitness and Wellness
There are those who prefer only to hit the punching bag for cardio. This crowd is only going to have need of very minimal hand protection. They are going to want something that provides sufficient hand and wrist support for short periods of time. This gives them the benefit of spending a small amount of money and being able to hold on to a less durable glove for a longer amount of time. It would be rather unwise for anyone in this category to seek anything higher than a low-cost option unless the two costs truly do not suit your preference.
The Beginner
The beginner is the person who is curious about boxing and the one who just joined a gym and has even done a couple of training sessions. This group is defined by having minimal knowledge of boxing and particularly the proper gear. Those on a budget and have the money can both benefit from starting slowly, on the lower cost range on the guide, just to get a feel for what they prefer.
The Intermediate
The Intermediate fighter has committed a fraction of his time to train. They typically seek to improve their striking power, speed, and accuracy. In order to improve these things, they will need to spend much time striking to hone these aspects. They are going to benefit more from a more durable product and consider a mid to higher end glove with good ventilation.
The Professional
The professional is neither reserved for or restricted to those who have made a name for themselves. This category is for those who have dedicated a larger fraction of their lives to training. This involves a lot of training, whether its sever times a week, to several times a day. This group often competes regularly as well. This group will easily benefit from nothing less than a high-end glove. They are the only ones that can withstand very frequent and very heavy use, saving anyone of that caliber a lot of money. Fairtex, Venum, Twins, and Title are likely going to have what this boxer requires.
Frequently Asked Questions
q:

Can I use these for other Martial Art Disciplines?

a:

Yes. Although they were made primarily for the fist strikes boxing focuses on, some brands offer universal options.
q:

Do all products require that I use hand and wrist wraps with them?

a:

No. Some will fit perfectly and will not require wrist wraps. However, if yours is a little loose or has the room for it, wrist wraps are an added defense against injury.
q:

Do they have different sizes?

a:

Yes. While some brands offer sizes marked in S, M, L, and XL, other brands represent sizes in the form of weight. In ounces, they range from 8 oz all the way to 18 oz, typically.
q:

Can I use any weight?

a:

No. Technically, you can, but it is extremely inadvisable to wander too far from your weight zone, as you run the risk of injuring yourself or your partner. It is best to stick with your determined weight.
q:

Can I find anything that can tell me what weight I should use?

a:

Yes. Often, brands will have made a diagram easily available on their site that suggests what weight you should use, which is determined by what weight you are. There are exceptions and it would prove useful to consult a fitness or personal trainer for better advice.
q:

Should I clean mine regularly?

a:

Yes. It is advised you wipe yours down after every training session, whether you've trained with another or not. Public gym equipment, like punching bags, can have others sweat on it. Post-session cleaning will reduce the risk of bacteria spreading. Never soak them in water, as it will destroy them.
q:

Should I sanitize?

a:

Yes. No matter what you have that may feature, be it an antimicrobial feature or not, frequent sanitation is necessary. It will reduce odor and fungus buildup inside left behind by your own sweat.
Subscribe to our Newsletter