Best Boxing Headgears With a Face Bar Reviewed
last updated:
Jan 21, 2020
The most important part of any training, whether it's boxing, MMA, or any other sport, is to have high-quality protection to keep you safe from strong hits. It is especially important that your head and face are taken care of and well protected to ensure that you will not be seriously hurt. The most common type of head protection comes as boxing headgear.
Thankfully, finding such equipment is not hard at all. We have found the best ones currently on the market with the thickest padding and maximum protection. You can be confident and feel safe as long as you are sparring because you will stay safe the entire time with this boxing protective gear, leaving you free to focus on important things.
In a Hurry? The test winner after 6 hrs of research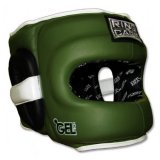 Ring to Cage Headgear
Why is it better?
High-quality leather
Quick-drying lining
Great visibility
Two color options
Comfortable
Absorbs impact
In a
Hurry? Editors choice: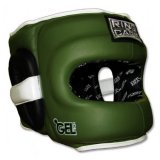 Test Winner: Ring to Cage Headgear
5
Researched Sources
7896
Reviews Considered
6
Hours Researching
10
Products Evaluated
Comfort
Effectiveness
Overall Fit
Durability
Materials
By Default
The 10 Best Boxing Headgear Reviews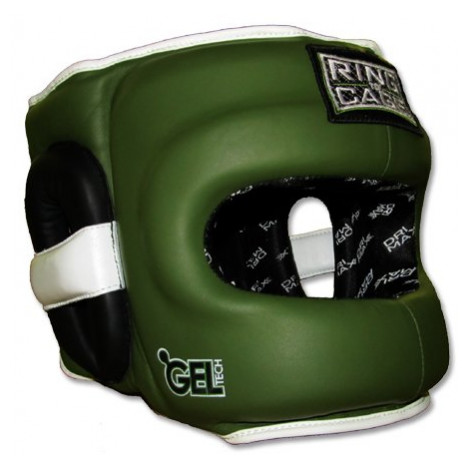 High-quality leather
Quick-drying lining
Great visibility
Two color options
Comfortable
Absorbs impact
Are you looking for something more than regular headgear? Whether you are just starting out or are an expert, this one can be the one for you. It scores 9.5/10 on the Sherdog Gear and Equipment forum reviews. Available in two colors, Marine Green and black, it gives off a very professional look.
Read more
Other than looking great, it is also easy to use. It provides great visibility while also offering amazing protection. It is always important to see the exact position and location of your opponent, so it is crucial that nothing is blocking your field of vision.
Lined with GelTeck, it provides great protection against strong and direct impact, by absorbing most of it before it even reaches your head. The product is very comfortable to wear and it should last for a long time even with extended use and numerous impacts.
The outer shell is made from high-quality leather and thick layered foam padding lined with gel provides maximum comfort and safety. Inside, the lining is made of durable polyester and nylon blend that provides quick drying so that you do not have to be soaked while sparring.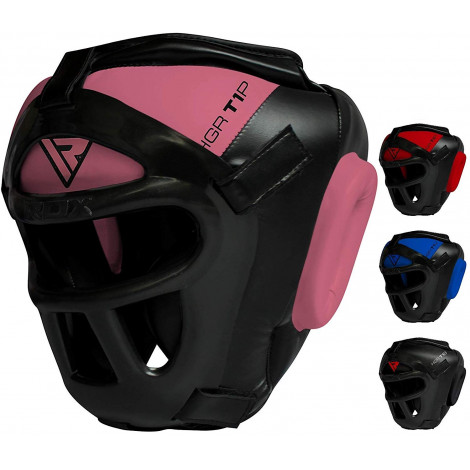 Removable grill
Gel padding
Kid's sizes
Four color options
Affordable
Visibility is not great
Not enough jaw padding
If you would like something that is of great quality, that looks amazing and works as it should, but do not want to spend a lot of money on it, we present this great product that offers more than it costs. It is available in four colors, for men and women. Heavily padded, it absorbs most of the shock and impact provided by your opponent.
Read more
The padding on this boxing headgear is made of heavy, Shell-Shock based foam that can absorb any punch, no matter how strong. It is easy to use, put on and take off, which is important for the overall comfort of the user. It has an adjustable Quick-Ez hook and loop that is easily used and provide a great fit.
The overall construction is made of durable leather and there is an optional strong plastic face-grill for your maximum protection. It is removable and it can be used comfortably and safely without one. With the gel padding inside, this product offers great protection. Available in four sizes, it can be used by children and adults.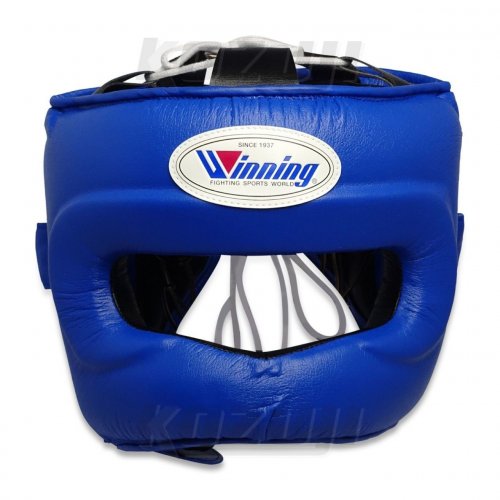 Excellent padding
Made in Japan
Light
Easy to put on
Great fit
Great visibility
No padding in the back
Faux leather
This is a new and improved version of the same product. If you loved the previous one then you will love this one even more. It is able to save your face from even the strongest punches and you will almost not be able to feel them at all. This company is well known and loved for their amazing and high-quality boxing equipment. Whichever product you decide to buy from them, it will certainly be a great investment.
Read more
It is so important to invest in your health and safety, especially if your head is on the line. Hard hits can really hurt you, as we know that you know all too well. This one has very impressive padding that will be able to protect your face at any cost and at any moment.
It is extremely comfortable and made to hug your face, leaving no parts out of place. Above all, it offers great visibility which you know is so important in order to always see your opponent and not get surprised at any moment. It even provides a good peripheral vision that so many similar products fail to.
The boxing headgear is easy to put on and secure on your head by using a buckle in the back and there is a clip-in attachment on the chin strap that makes it stand out from all others and that makes it easy and quick to put on and take off. It is made from faux-leather and is 33% lighter than the previous model.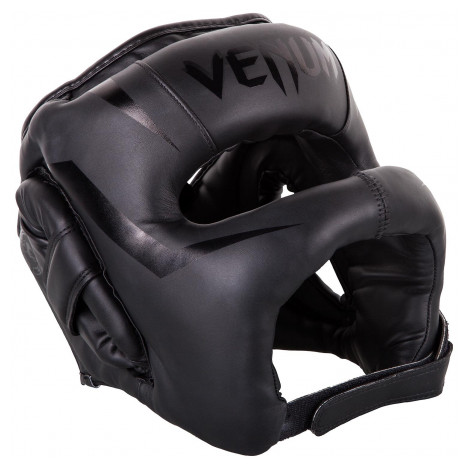 Ear protection
Great fit
Lightweight
Two layers of foam
Color options
Synthetic leather
No padding on chin strap
It is very hard to look good while wearing boxing headgear, but that is not the case with this one. It has a great and professional look and the shiny fabric makes it and you look even better while providing amazing shock absorption. It is available in five different colors which makes it perfect for everyone regardless of gender and taste.
Read more
This company is very well-known for its quality equipment. Although pricey, you can never go wrong with one of their products. It provides great support for your head and a great fit, easy to put on and adjust and quick to take off. It is made from synthetic leather, but you would never know just by looking at it.
Despite that, it has sturdy exterior and two layers of foam padding that is hard on the outside to save you from strong impacts, but soft on the inside to provide you with the best comfort. It is lightweight so that it will not cause any problems while you are sparring. It will not impede your movement or your vision.
On the back, there are big velcro pads that make it easy to tighten to your liking and needs and there is also a strap on the top in order to help it stay in place for as long as you need it to. The velcro strap on the chin is not padded and may be uncomfortable, but it serves its purpose without a doubt.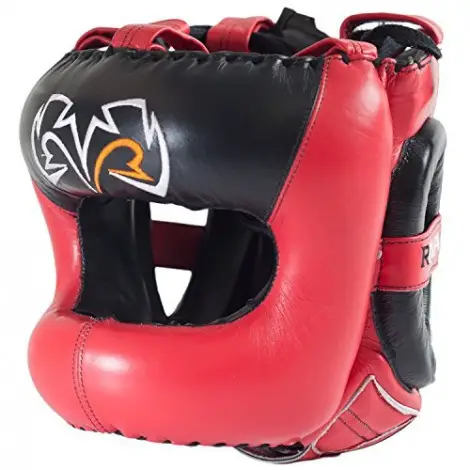 Strong frame
Chin padding
Great visibility
Easy fit
Durable
This product offers great visibility at an affordable price. It is made of plastic construction and padded for your safety. It features some padding that others may not have, such as on the back of the head for any accidental blows and on the chin, which makes it extra comfortable. The opening is a bit wider in order to provide better visibility at all times. There are two color options and it comes in four sizes, available for children as well as adults.
Read more
While receiving heavy blows to the head, it is crucial that the padding on your boxing headgear is able to withstand extended use. It is also important that all parts of it are padded for your comfort and protection. This one has it all. It will protect every part of your head and face while providing great visibility.
The frame is made from plastic and the construction is leather with the synthetic leather interior. Even though the frame is plastic, it makes for better visibility and it is very strong, of great quality and sturdy. Easy and quick to put on and adjust, it features dual straps on the back that can be easily adjusted, and the top part has a circular lace top that makes it easy to fit perfectly on your head.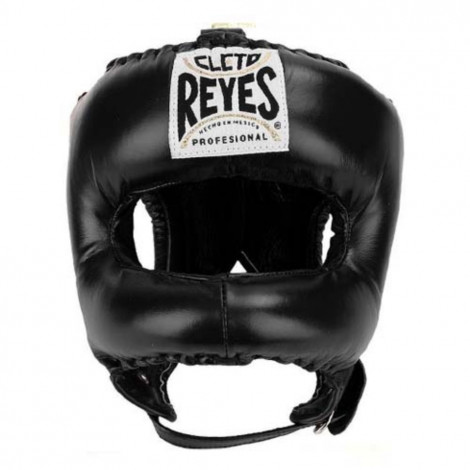 Natural leather
Thick padding
Velcro straps
Great visibility
Easy to adjust
Expensive
Strong leather smell
This handmade and quality product comes to us all the way from Mexico. It is made from durable leather and is extremely easy to put on, secure, and adjust. The visibility is excellent thanks to the wide opening and it will not block or obstruct your peripheral vision, so that you will always know where the next punch is coming from and prepare accordingly.
Read more
Available in a wide variety of colors, this boxing headgear is perfect for everyday use. It will keep its shape no matter how many times it receives an impact. It is easy to put on and secure with two large velcro straps on the back and a lace crown at the top of the head. There is also an adjustable chin strap that has a metal buckle.
The stitching used to make this product is professional, of great quality, and paired with authentic leather it gives it great durability. The entire thing is very lightweight and will not get in the way of your sparring.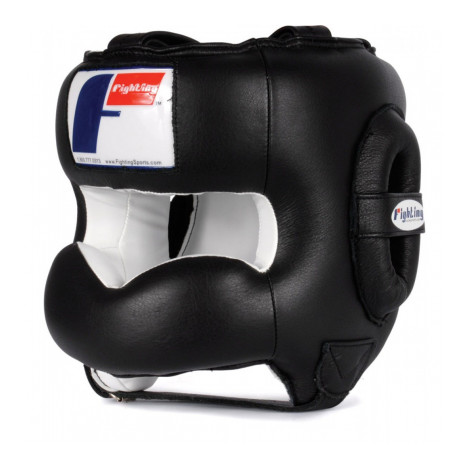 Great fit
Full-grain leather
Durable
Two layers of padding
This great and well-known company offers you perfect protection for your entire head and face. The face bar is made of sturdy plastic, covered with heavy, high-density foam padding and leather exterior. There are multiple layers of padding for extra protection. it does a great job at cushioning even the hardest blows without hurting you so you can be relaxed and train without fear of getting hurt.
Read more
The face bar this product has is larger than the others which makes for better coverage and protection but may slightly impede visibility. As we mentioned, there are several layers of foam padding. The exterior layer made from dense and strong foam for the best impact absorption and the interior layer is slightly thinner.
The full-grain leather that it is made from makes it extra durable and able to withstand many impacts and years of use. After the impact, the foam will return into its original shape and will not lose any of its qualities. All of these things make the entire product very valuable and worth every price.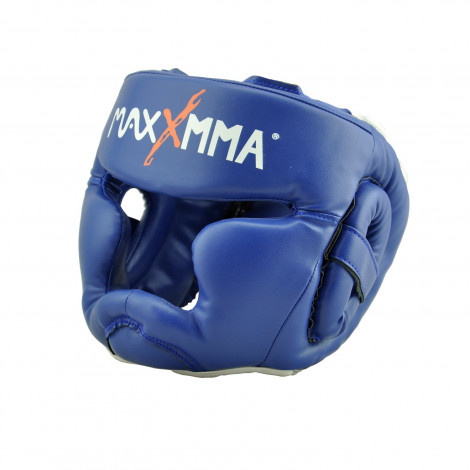 Padded on the back
Ear protection
Thick padding
Highly affordable
Color options
May slide down
No additional straps
This awesome product provides an entire face coverage while at the same time offering great visibility. It is thickly padded for maximum comfort and protection from strong blows. It has a molded face bar to protect your face. With multilayered padding, you can feel and be safe at all times during your practice and always know what your opponent is up to.
Read more
The foam is thick and shock reducing, absorbing the impact before it ever reaches your head. it has multiple layers and covers your forehead, cheeks, chin, ears, and even the back of your head that so many others fail to. it is available in two sizes and two color options, red and blue.
Overall, the product looks great and is very easy to put on and secure. At this amazing price, this may be one of the best boxing headgear you can get for yourself or as a gift for your friends and family.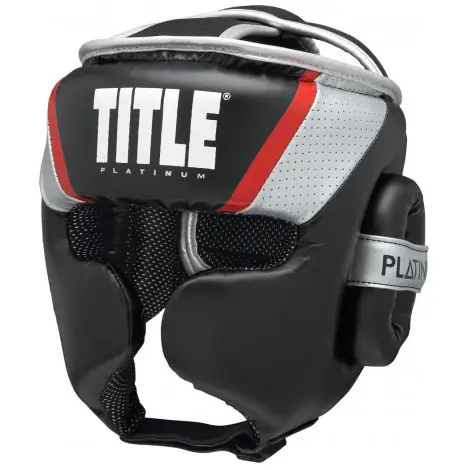 Durable
Thick padding
Adjustable straps
Lightweight
Wicks moisture
No padding on the back
No chin padding
This awesome product is made from synthetic leather and reinforced and padded in all the right places. Apart from keeping you safe from heavy blows, it also looks amazing and sleek. It is made from lightweight materials so that it does not feel heavy even when using it for an extended period of time. Able to be easily and quickly adjusted, it will sit comfortably on your head without moving or slipping.
Read more
Although the cover is made from synthetic leather it is able to last for a long time thanks to the quality of the material and the quality of stitching. It is what helps it be as light as possible. The padding can be found on the exterior as well as the interior. They are also lightweight but able to absorb and suppress any impact, no matter how strong, and leave your head and face intact.
It can be fastened easily thanks to the hook and loop system on the back and under the chin and adjusted to fit you perfectly. The material is great at wicking moisture and sweat so that you can stay as comfortable as possible and not feel sweaty and hot during your sparring session.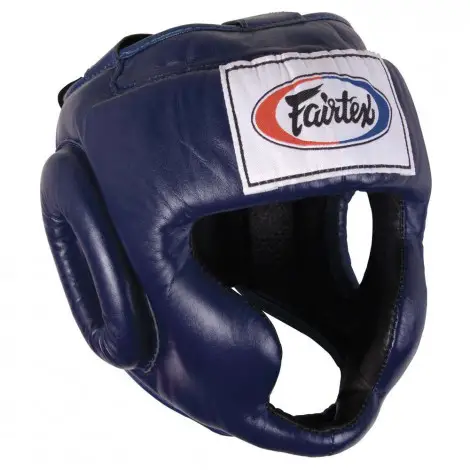 Lightweight
Color options
Size options
Easy to adjust
Leather construction
Expensive
Lighter padding on cheeks
Fairtex is a well known, respected and trusted brand on the market. The company has been in business for a long time and knows just how to satisfy its customers. This awesome product is made from quality and durable leather and is available in two colors, blue and red, for boys and girls of any age. There are three sizes to choose from to ensure it will fit correctly and snuggly on your head and not move around during sparring sessions.
Read more
The product is padded in all the right places, except for the chin area. It has a bigger opening than most of the products on this list which provides for better visibility even when looking down. There is a padded bar that protects your jaw.
Even if it is not the perfect fit, it can be adjusted by using the laces on the top so that it does not slip or move. The padding is thick, but not as thick as on some other products. Either way, it provides adequate protection to your face. Since it is lightweight you will hardly feel that you are wearing it. It is able to last a long time thanks to its high-quality materials and excellent craftsmanship.
Criteria Used for Evaluation
Comfort
How comfortable your boxing headgear is will depend on a variety of factors. Firstly, it depends on the materials, construction and the lining inside. Then, there is a question of how it fits, and lastly, the amount and thickness of the padding.
The materials that the product is made of will have a great impact on your comfort. They are usually made from real, natural leather or faux leather, with nylon and polyester lining inside so that it will feel soft against your skin. The best one is certainly real leather, which gives it the best durability, but it can also be a bit heavy when the training is long. The natural aspects of leather will help you cool, it will stop overheating and it will not absorb sweat and moisture.
There are benefits to synthetic leather also. It is lighter, easy to clean, but may not last very long. The lining inside needs to be soft and resistant to sweat so that you will feel comfortable and not drenched in sweat and hot, which can be dangerous in the long run.
The amount of padding is the most important one of all. The thicker it is, the more comfortable you will be while wearing it. It needs to be able to protect you at all times and absorb even the strongest impact. You should not be able to feel pain or get hurt. The overall construction needs to be as light as possible so that your head does not feel heavy which can impede your progress and divert your attention from the training.
Effectiveness
The effectiveness of something like this means that it is able to protect your head and face perfectly so that you do not suffer any injuries that can be very serious. The padding should be as thick as possible, absorbent and cover as much of the surface.
Some of the best boxing headgear products are the ones that offer coverage and padding to the entire face area, the ears and the back of the head. It may not seem important right now, but the padding in the back will be very useful if you get hit by accident or if you fall down. Either way, it can not hurt to be extra careful, just in case.
Overall Fit
How it fits on and around your head is also important for your comfort, as well as your safety. Many products come in different sizes, but some only come in one. Those that come in one size offer great adjustability so that you can tighten or loosen them as much as you like.
If the product does not fit you well, we recommend that you do not use it and find another one that will fit much better. It can be uncomfortable, and not to mention dangerous. If it slips up during sparring or a competition, it can seriously impair your vision and leave you vulnerable to your opponent's punches. Pay close attention when purchasing, to the sizes and the adjustability, and if it does not fit do not take the risk of getting hurt.
Durability
None of us want to buy another boxing headgear in a few months or a year. In the perfect scenario, it should be able to last many years, even when being used often and receives a lot of impacts. In order to make that happen, the construction needs to be sturdy, the materials need to be of high-quality and the padding thick and durable.
The most durable ones will definitely be those made from natural leather thanks to its inherent quality and strength. It is easy to take care of and clean and will not show signs of wear and tear for a long time.
When choosing a product for yourself, pay attention to the construction. It can be made from plastic or metal. Normally, the metal one will be much sturdier and last much longer, but it will certainly be a bit heavier to wear.
The padding also needs to be able to withstand a lot of hits, kicks, and punches. If it is made of high-quality, thick foam or even gel, it will be able to go back to its original shape every time it is hit. It should be able to absorb most of that impact while also not losing its thickness while also not losing its thickness and properties.
Materials
The materials that these products are made of will be responsible for your overall comfort and for the durability of the product itself. Not many materials are used for these pieces of equipment. They are made from natural leather, synthetic leather, and polyester and nylon.
Real leather is the best one without a doubt. It gives the entire thing a great and sleek look and makes you look and feel awesome. On the other hand, faux or synthetic leather is much lighter, but it will certainly show signs of wear before the real one does. Overall, both materials are comfortable and will keep you from overheating thanks to their natural sweat-wicking properties.
Polyester and nylon are a slightly different story. Since they are much cheaper to produce, the entire headgear will have a lower price, but it is much easier to damage. It will not be able to last very long and you may need to replace it soon enough. Overall, it is very easy to clean but may prove to be a bit hot while you are wearing it.
Expert Interviews & Opinions
Most Important Criteria
(According to our experts opinion)
Experts Opinion
Editors Opinion
Users Opinion
By Default
The fit is very important!
Finding the right fit may not be easy, but it is of great importance for your comfort and safety. If your headgear is too big for you, it may end up slipping or moving at the wrong moment which can limit your visibility. It will also be hard to concentrate on your opponent and techniques since you will be too busy always correcting it which can seriously impede your progress.
The thicker the padding, the safer the head
As far as the padding is concerned, it is one of if maybe the most important aspect of these products. Ideally, it should be as thick as possible and made of heavy-duty foam or gel so that it will be able to absorb most of the impact before it ever gets to you. It also needs to be durable and retain its shape for future uses.
Other Factors to Consider
Shock Absorption
Do we even need to say why this is so important,? We do not think so, but we will anyway. The padding on the inside, as well as on the outside, needs to be able to absorb as much of the impact as possible, leaving you to only feel a fraction of it. It should be able to keep you safe from any injury to your head and to your face.
The best and safest products are those that offer protection even to the back of your head, just in case, and to your chin, covering your entire head except for the eyes. The padding needs to be thick, durable and able to retain its shape so that it can be used over and over again.
Adjustability
The ability to adjust your headgear is as important as any other aspect. If a product is made in one size, it should offer straps and laces for easy and good adjustment to your head size and shape. If it does not and it does not fit as it should, it renders the entire thing useless.
It is up to you to choose what will work best for you. Some of them have actual sizes, while others only offer the ability to be adjusted, which may not be so bad. By adjusting it you can find that perfect position that keeps it on your head without slipping, being too tight or being uncomfortable.
Bottom Line
Protective headgear is used in any sport that requires kicks and punches to the head and the face. It was made to protect athletes from a concussion or any other serious injury, as well as the mild ones. It may just be the most important piece of boxing equipment you can have.
The boxing headgear absorbs most of the impact inflicted by your opponent. leaving you to feel just a small fraction of it. It needs to have thick and heavy duty-sponge or gel padding in order to protect you completely and the best that it can.
There are a lot of products like this on the market today, from many different companies. It may be challenging to pick the right one, but with our list, you may find it somewhat easier to do that. There are many sizes and color options available so it should be no problem to find the one that is perfect for you.
Frequently Asked Questions
q:

What if i get the wrong size?

a:

There is no need to worry. You can always contact the seller and ask for a smaller or bigger one. If it is not too big or small, try adjusting it with velcro or laces if they are available, and maybe you will not need a different size after all.
q:

Are they for adults only?

a:

No, these products can be used by children as well as adults. Look for the ones that have more sizes available because if you get a universal one it may prove to be too large.
q:

Do these boxing headgears have ear protection?

a:

That depends on the model. Some of these offer great ear protection while others have very light padding in that area. If this is important to you, read carefully the product description or contact the seller to make sure that it provides you with everything that you need.
q:

Are they adjustable?

a:

There are some products that do not have the option to be adjusted. Those are the ones that come in different sizes, so there is no need for making further adjustments. Those that can be, come in only one size and they offer different adjustment options, such as laces and velcro straps.
q:

Do they offer nose protection?

a:

Most of boxing headgear do, as they are designed to cover your entire face except for your eyes. On the other hand, there are those that have the nose part open to provide better visibility. Although it is impossible to receive a blow to the nose from the side thanks to the padded cheek protectors, your opponent will be able to hurt you if they hit you there from the front.
Subscribe to our Newsletter