Best Boxing Shorts and Trunks Reviewed and Rated
last updated:
Mar 03, 2020
Making sure you have the right gear for training and competitions is important no matter if you love Boxing, Wrestling, Muay Thai, or any other Martial Arts discipline. Boxing shorts come in a wide variety of sizes, colors, styles, and they offer different features. A lot of what goes into buying this type of gear is personal preference.
The ability to move comfortably in your trunks will keep you at the top of your performance level whether you find yourself in the gym with a sparring partner or in the ring for a big fight. In addition to comfortability, the best boxing shorts will be put together with the best materials and design as possible. Let's take a look at some of our favorites
In a Hurry? The test winner after 4 hrs of research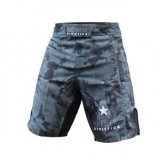 Anthem Athletics Resilience
Why is it better?
Quick Dry Fabric
Tear Resistant
Versatile Wear
Not Restrictive
Lightweight
In a
Hurry? Editors choice: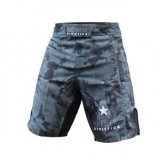 Test Winner: Anthem Athletics Resilience
Adjustability
Flexibility
Materials
Breathability
Size
By Default
Top 10 Picks
1

. Anthem Athletics Resilience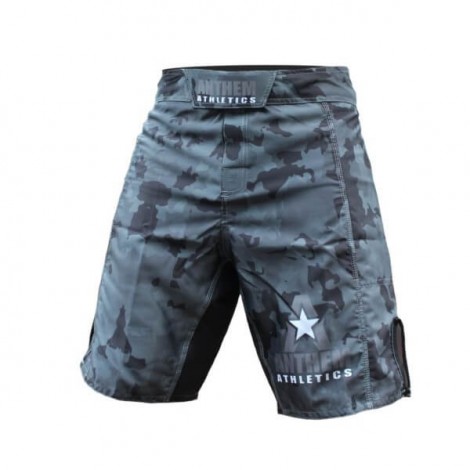 Quick Dry Fabric
Tear Resistant
Versatile Wear
Not Restrictive
Lightweight
Confusing Sizing
Higher Cost
Anthem Athletics is known for its top-quality clothing and gear. They offer options for just about anyone interested in a variety of impact sports including Boxing, Muay Thai, Krav Maga, and many others. Their Resilience trunks are made of premium materials that are tear-proof and fit a bit closer to the body than others. They also have a non-chafing dual closure and stretchy patches that allow them to truly move with you regardless of your sport.
Read more
Dual Closure Waist Band
The use of a drawstring in these shorts allows you to cinch them as tight as you need them or loosen them a bit if you decide a little more room is needed. When you add to this a 2 fold Velcro closure you get a pair of trunks that fit perfectly. The Velcro helps secure the drawstring and helps keep your shorts in place and reduce chafing.
Side Slits + Stretch
These shorts have a fairly high slit cut up each of the legs on the outside. This is reinforced and allows easy movement when dancing around the ring. When this is paired with stretch panels located on the inner thighs of the shorts you have an option that is truly built to move. Don't worry about restriction when you decide to give these a try.
Cost and Value
Chocked full of the features you need in a pair of Boxing trunks, these will cost you more than most others in our guide. Durable and very comfortable they are made to last through tough use and in a variety of non-Gi situations. Anthem Athletics shines in the world of apparel and these will be a great addition to any wardrobe.
2

. Anthem Athletics Infinity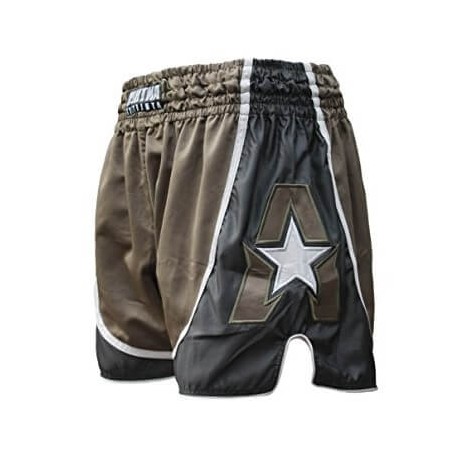 Rip Resistant
Drawstring = Easy Adjustment
Simple to Care For
Money Back Guarantee
Affordable
As a leader in the world of Boxing gear and apparel, naturally, we are seeing Anthem Athletics again. Their Infinity trunks offer the best materials and range of motion you will find in a pair of trunks. They are made of soft microfibre which will not only keep you comfortable but also help keep moisture away from your skin. In addition to all of this, they have an elastic waistband with a drawstring for an awesome fit that is sure to be comfortable.
Read more
Performance Microfibre
The material used in this option is supremely lightweight. This will help keep you cool through tough training. In addition, they are exceptionally simple to care for. Throw them in the washer then throw them in the dryer and know they will be ready to go the next time you are Gi free.
Wide Leg Opening
Preference plays a big part in the trunks you decide to buy. The wider leg opening on the Infinity shorts lets them move easily and will fit a larger variety of people. If you don't like the feeling of your shorts sitting close to your body these may be the perfect option.
Cost and Value
This option by Anthem Athletics is more affordable than the previous pair. Falling to the middle of the pack in terms of price, these trunks are a great choice and value for those on a budget. Most will be able to afford them easily and they will hold up through countless washes and wears.
3

. Elite Sports Black Jack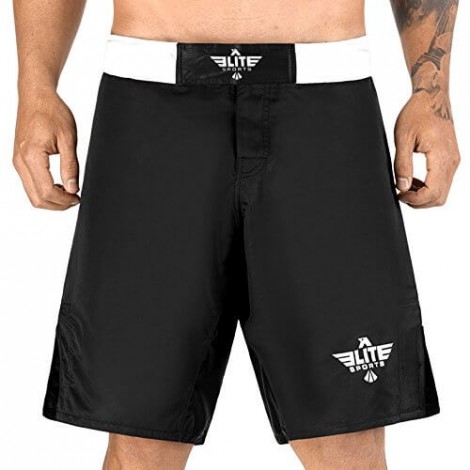 Versatile Use
Easy Care
Superior Price
Quite Flexible
Secure Dual Closure
Elite Sports is known for offering top quality options for anyone in the high-impact fighting world. Recently they have added the Black Jack shorts to their line and they offer a ton of features that we love. With a non-chafing closure and anti-microbial material, these shorts help keep you healthy and feeling great. They are quite durable with reinforced stitching. In addition, side slits allow them to move with you through your entire training session or bout.
Read more
Excellent Range of Motion
When your footwork has improved and you find yourself floating across the ring, you don't want your shorts to hinder you. Reinforced slits are cut into the sides of this option. They allow your legs to move easily and you will also find your movement is not hindered.
Stops Bacteria
The material of these drys so quickly that removing moisture from your body is no problem. When you find yourself training hard wet shorts can lead to a plethora of problems. The ultra-light material will help you stay dry and comfortable even during the most grueling sparring sessions.
Cost and Value
Choosing the Elite Sports Black Jack trunks is choosing the best value in our guide. With an exceptional price and a comfortable fit, you can't seem to go wrong here. In addition, they will last thorough decently tough use and move with you as you move around the ring.
4

. Elite Sports Star Series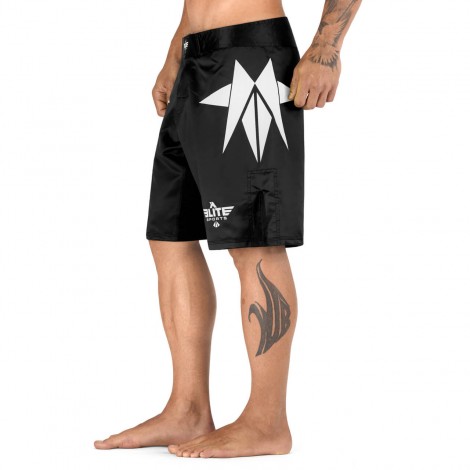 Double Stitched Closure
Great Durability in Materials
Soft Feel
Move With You
Good Price
Elite Sports has used years of testing and refining and what they offer is the Star Series Boxing Shorts. Made of 100% Polyester they will stand up to tough use. While caring for them may be a bit more difficult, you will love the fact that they will look great throughout years of use. In addition, they are tear resistant, comfortable, and offer a secure closure which consists of double layer Velcro and a drawstring. Their classic style appeals to many and we can see why.
Read more
Aggressive Side Cuts
You will find slits on the sides of most if not all Boxing Shorts. They will be in a variety of lengths and you will find that if they are short they are going to restrict your movement. The high slits in these shorts allow you to duck easily out of the way of an oncoming blow.
Polyester Build
If you are looking for a pair of trunks that will last the duration, these may be your perfect choice. With the fact they are made of polyester, come some great bonuses, not only will you find them extra durable you will also see they are exceptionally comfortable.
Cost and Value
Elite Sports offers us affordable choices and these are one of them. One of the more affordable pair of shorts in our guide they are sure to keep you comfortable and cool. Polyester will wear well and look great for sessions and fights to come.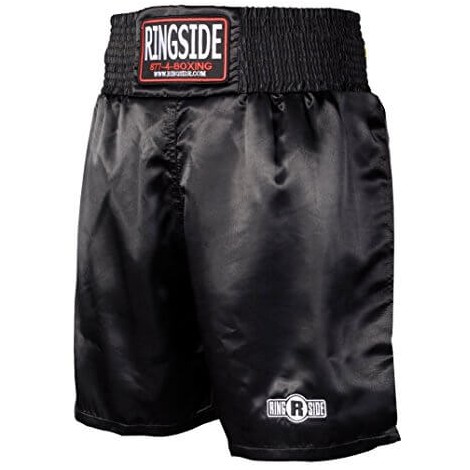 Great Mobility
Silky & Soft
Nice Length
Excellent Fit
Awesome Look
The Ringside Pro Style Boxing Shorts are supremely light, affordable, and built to last. The satin material moves beautifully and provides exceptional comfort. You won't have to worry about peeling designs as the logo is embroidered onto them. Attention to detail can be seen throughout this option. The wide waistband features an internal drawstring giving you a great fit and comfortable secure closure.
Read more
Style
In this category, these trunks simply look classier than most. The smooth satin finish looks as good as it feels. The material is quite thick and therefore does a good job of keeping moisture away yet taking your style to the next level. Looking good in the ring can help your performance as it is a confidence booster.
Fit
Groin protection is a common need among athletes that participate in contact sports. This includes Boxers, Wrestlers, and Martial Arts Enthusiasts alike. These trunks offer a roomy fit which will allow you to comfortably wear groin protection.
Cost and Value
The cost of this option falls in the middle of our price range. They are affordable on most budgets and offer features slightly different from several of our other options. If you are looking for great style as well as functionality these could be your perfect fit.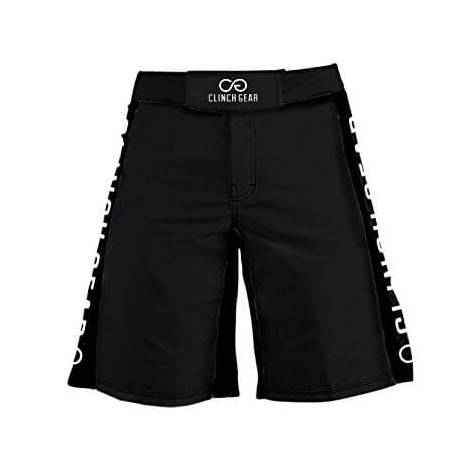 Excellent Stitching
Best Material 
Breath Easily
Awesome Stretch Panels
Very Comfortable Wear
Clinch Gear is making a name for themselves and part of the reason why is the fact that they offer products like the Performance Premium trunks. They have side panels that are made to stretch and move. In addition, the polyester suede microfibre material is exceptionally durable and comfortable. Adding to the overall durability is triple stitching and their hook and loop closure system. Elite athletes across the globe trust these shorts for a variety of uses and in Boxing, you are sure to love them too.
Read more
Double Grip Waist Band
We often see drawstrings and Velcro as the closure systems for Boxing Trunks. Clinch uses a hook and loop system that offers a secure closure that is supremely easy to use and adjust. As you practice and spar you may find the need to adjust your waistband. This can be very difficult, especially in gloves. The hook and loop closure is easy to manipulate and will make adjustments on the fly simple.
Durability
The material used to make this option is military grade. This means it will stand up through years of punishment. No one wants to waste time and money with the need for purchasing new shorts every few weeks. When you invest in these you won't have that worry, regardless of what you put them through.
Cost and Value
Clinch offers a pair of shorts that are very well made and will keep you comfortable and dry through training session after training session. With that, they do carry one of the highest price tags in our guide. They are truly comfortable and offer advanced sweat-wicking ability. You may need to adjust your gear budget to afford them but you will not be disappointed.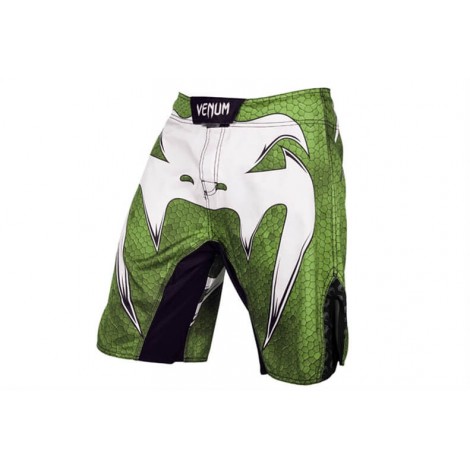 Superior Stitching
Exceptionally Breathable
Great Movement
Unique Style
Stay Put Fit
The fourth edition in the Amazonia line by Venum features an anatomical fit with a supremely breathable material. In addition, they offer a 3-way vault closure that uses a pocket to ensure you don't get scratched by the Velcro. They also offer a flex system that will keep you moving with ease and your shorts moving with you. You are sure to stay cool as they are also thermo-regulated. Is there anything these shorts don't have?
Read more
V-Shape Fit
Part of the problem with the fit of Boxing shorts is due to the fact that they aren't shaped like we are. The anatomical design of these is sure to please you in the way of fit. The V-shape sits on your body correctly and when you pair the secure velcro closure you have a match made in heaven.
Flex System
We have discussed your shorts moving with you a lot because it is very important in the overall performance of your gear. While boxing focuses on the hands and how they move keeping your feet and legs moving is just as important. You will not be restricted due to the flexible panels that are sewn into these trunks.
Cost and Value
The amazing fit and innovation found in these shorts are two reasons they carry such a high price tag. Leading the pack in comfort, durability, and cost you may need to adjust your budget if you want to make them yours. You will have a great pair of shorts that will last through any training session for years to come.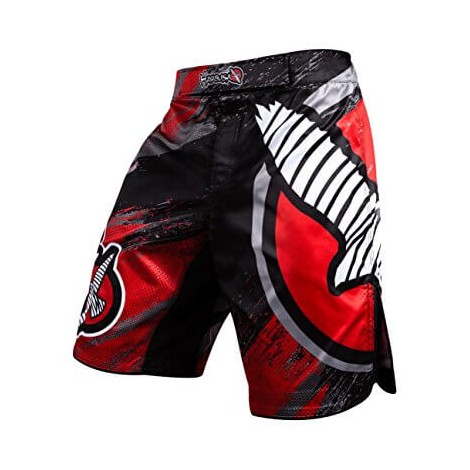 Super Flexible
Durable Material
Non-Slip Waistband
Triple Layer Velcro
Nice Feel
Sizing Runs Large
Higher Cost
Hayabusa gives us a solid option for whatever we decide we want to use them for. Boxing shorts can be found in many shapes and sizes yet some really just perform better than others. With superior materials and innovative construction, these shorts are durable and comfortable. They flex with you and you will find any movement to be a breeze. The GuardLock waistband ensures they will stay right where you put them. These are a truly awesome set of trunks and would go well in any athlete's wardrobe.
Read more
GuardLock Waistband
The inside of the waistband features something not seen anywhere else, silicone. What does this do for you? It ensures your shorts stay where you put them in the most comfortable way possible. In addition, it helps them from sliding left to right which can lead to painful rubbed areas.
Stretch Panels
No matter how you move, these shorts will move with you. The stretch panels ensure you can duck and squat without restricted movement while dancing around the ring. Traditional Boxing shorts can be very restricting and even cut into your legs. With the use of stretch panels that will be a worry of the past.
Cost and Value
Wanting the Hyabusa option will cost you more than most of the others on our list. They offer some amazing features and material that is tried and true when looking at the area of longevity. You may need to adjust your budget to afford this choice but they will last with you for years and keep you cool and comfortable. We believe these things help make them a great value.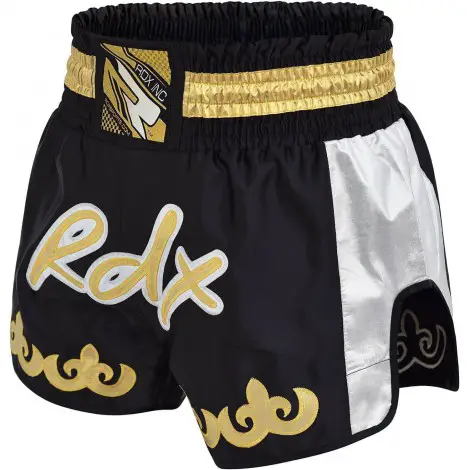 Shorter Style
Reinforced Stitching & Seams
Well Built
Excellent Fit
Great Mobility
RDX is a brand that is trusted by a plethora of fighters. The Pro Boxing Shorts are a bit shorter than several other options which makes them cooler and more breathable. In addition, they are made with moisture-wicking Satin materials that will help keep your skin dry and in great condition. The waistband is four inches wide to ensure a stay-put fit. Along with all of this are their amazing look and overall feel.
Read more
100% Satin
Satin is king when it comes to removing moisture from your body. These shorts will wick your sweat away which means you no longer have to worry about chafing or raw red areas on your legs and waist. Satin is also exceptionally durable and comfortable. Overall this material is excellent when looking for fighting trunks.
4" Elastic Waistband
The last thing you want to worry about when in the ring is your pants coming down. The four-inch elastic waistband will ensure that is a worry of the past. Not only does it give you a secure fit, but it also aids in the overall comfort of these trunks.
Cost and Value
When it comes to actual cost this option falls to the middle of the pack. However, when you are looking at value these are an excellent choice. You will have a comfortable and well-fitting set of trunks that will last through years of abuse. They are a bit tougher to care for but all in all a solid choice when looking for Boxing Shorts.
10

. Ring to Cage Traditional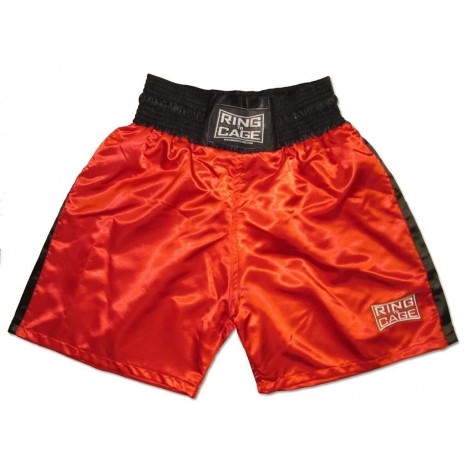 Hidden Drawstring
Embroidered Logo = No Scratching
Amazing Feel
Classic Style
Sometimes sticking with tradition is the best way to go. The Ring to Cage Traditional trunks are made of satin and sport a thick waistband and shorter length. The full-cut makes wearing a cup easy and comfortable while the elastic waist will keep them comfortably where they belong, around your waist. They are easy to care for and will not break the bank which makes them a great addition to your fight apparel.
Read more
Classic Style
From the cut to the look everything about this option screams Boxing. Many of the fighting shorts in our guide are exceptionally versatile and can be worn for a variety of impact sports. You may transition these as well but when looking for something that truly says boxing these sure do fit the bill.
Machine Washable
No one wants to deal with hand wash only, nor do most of us feel like running to the dry cleaner. These shorts won't make you do either of those things, simply throw them in the washer and you are good to go. Easy to maintain with great durability will simplify life and keep expenses down.
Cost and Value
When looking for an affordable and traditional option, this is a great choice. Owning these won't break the bank as their cost falls towards the low end of our guide. Carrying a price tag that will keep everyone happy, will be a great addition for young and old alike and they will be able to rely upon time and time again.
Criteria Used for Evaluation
Adjustability
In a hard-hitting, fast-paced competition like Boxing, the last thing you need to be worrying about is your shorts falling down. There are a variety of closure systems used and seen in this category but they are not all created equal. Often you will find exposed Velcro. This can lead to painful rubbing and scratching making it impossible to focus on your training or fight. Other times, less than superior products are used which leads to stretching or an overall poor fit. Let's take a few minutes and look at the best types of closure for your trunks.
Elastic Waist
A standard elastic waist is always an option and one that is relied upon by many fighters. As long as you order the correct size, elastic will do a fairly decent job at keeping your shorts where you put them. You may, however, face movement through the waistband that can lead to raw rubbed areas if your skin is moist with sweat.
Elastic + Drawstring
A step up from just elastic, the addition of a drawstring will allow you to adjust your shorts as needed and it will also help you rest easy that they are going to stay where you put them. If your elastic starts to wear you won't need to worry because of the backup of the drawstring.
Velcro
Velcro is also a very common closure style. It is fairly secure and durable. One of the major problems with Velcro is the fact that it is scratchy, so, if left uncovered it could lead to skin irritation and damage. Many brands offer fabric pieces that cover the Velcro, thus ensuring it doesn't cause any damage or cause you any irritation. Velcro does tend to lose its power to stick over time and eventually will degrade to the point that it needs to be replaced or you will need to buy an entirely new pair of shorts.
Velcro + Drawstring
Elastic paired with a drawstring is awesome but Velcro paired with a drawstring is even better. Elastic wears more quickly than Velcro and has a tendency to stretch out, giving you a poor fit as time goes on. Velcro may lose a bit of its stickiness but when backed up with a drawstring you won't ever have to worry about losing your shorts. This system will keep you in comfortable shorts for extended periods of time and will help you get the best bang for your buck.
Hook and Loop
Less commonly seen are the hook and loop closure types. Still using Velcro to keep it secure this type of closure is very easy to manipulate. While wearing boxing gloves loosening or tightening your trunks can seem impossible. With the hook and loop closure, you will find it easier than ever. The Velcro may still wear leaving you in the need of new shorts but that will take some time. In the meantime, you will have an easily adjustable set of trunks you aren't always fighting with.
Flexibility
When you find yourself in the gym training with a bag or with a partner you want to make sure your clothing moves with you and doesn't inhibit your range of motion. This becomes even more crucial when you step into the ring. Boxing doesn't require you to kick like Muay Thai, however, you are still going to be moving and that movement needs to be fluid. Shorts that are too tight or don't have any give will not allow you to avoid crippling blows. In addition, a deep squat could lead to splitting seams.
Flexibility through the waist is important to make sure as you bob and weave your airflow is not restricted. This also helps to ensure your overall skin integrity stays at top level. When we are thinking about flexibility it really isn't the waist that we think of though is it? We more commonly think of it in the legs of our trunks as that is where we really see restricted movement. There are a variety of ways that manufacturers work in some give to ensure you get all the movement you need.
Stretch Panels
Taking stretch panels and adding them to Boxing shorts is something that has improved the overall fit and comfort. This type of design will make moving a breeze no matter what the step is that you are attempting to make. You won't have to worry about ripped seams or restricted movement at all when you wear trunks that offer panels that are made to move.
Materials
The material of your Boxing shorts is probably the main component in flexibility. While Satin looks and feels great, it does not stretch at all. It can be quite comfortable and many Boxer's don't find it to be a problem when wearing Satin. Many prefer something made of Polyester because of the natural flex of it. In addition, cotton and blends do a great job of moving with you. When you add slits to the sides you will also acquire greater flexibility.
Breathability
Cut Ventilation
Cuts in the sides of your shorts not only allow for better airflow but they allow for better movement. Venum offers styles that have this feature and fighters seem to really like it. Your shorts will move with ease and you will also gain a little room for added protection. This type of flexibility may make your trunks a bit looser and flowier which may get in the way.
Size
The length of your trunks also plays a role in flexibility. Shorts that come to your knees, naturally become more restrictive than shorter options. The shorter options don't provide great coverage but will allow your legs free range of motion, especially when the leg opening is also wide. This comes down to your comfort level and preference. You can buy a great pair of longer shorts with flex panels that will move just as well and give you the coverage you are looking for.
Expert Interviews & Opinions
Most Important Criteria
(According to our experts opinion)
Experts Opinion
Editors Opinion
Users Opinion
By Default
Style or Function?
If you find that you enjoy a variety of fighting styles and you use your legs a lot, finding trunks that will keep you free to move as you please is imperative. Boxing shorts will still need to be flexible but if you simply love how Satin looks and feels, you will be able to sacrifice a bit of flexibility for style.
Frequently Asked Questions
q:

Is there a difference in Boxing and Martial Arts Shorts?

a:

Originally, Boxing shorts were all made of Satin and they basically all looked the same. As MMA has become more popular we see brands veering away from tradition and making shorts that transition well between all disciplines.

In today's market, there is not much difference between these two types of trunks.
Realistically, it comes down to what you are most comfortable in and what performs best for you. With varying lengths and features, you can choose either Boxing or MMA trunks and find comfort with whatever you decide to do for the day.
q:

Can I wear the same trunks for sparring and competitions?

a:

This will depend on the type of competition you are attending. You may need to find a pair that matches the corner you will be in or there may be a certain style that is required. The best way to know for sure is to speak with the person in charge of the fight. They will be able to provide you with specific details regarding your boxing and kickboxing uniforms and boxing protective gear requirements.
q:

I pulled the drawstring out of my Boxing shorts, HELP!

a:

Pulling the drawstring out of your favorite pants or shorts can be very frustrating. Don't fear that this is the end of your item, with a couple of minutes and some easy to follow instructions you will have it reinserted in no time.

- First, you want to attach a safety pin into the drawstring at the end.
- Next, put it into the hole where it came out. Put it in as far as it will go.
Now you are going to feel for the safety pin and put pressure at the end closest to the opening. Push material over the front of the safety pin and then apply pressure to the front of it and pull the material towards the opening which will move the safety pin and cord farther into the fabric.
- Continue to inch fabric over the front and pull towards the string. Eventually, you will make your way all the way around and be able to pull the safety pin through the other hole.
- Remove the pin and tie knots in the ends of your cord that are larger than the openings on the shorts. this will ensure you don't lose your string again.
q:

Do I need to wear a cup or groin protector with my shorts?

a:

You should absolutely wear protection with your shorts. The type of protection is totally up to you. A cup is worn under your shorts and offers protection to sensitive areas, however, it will not give you any hip protection.

Groin protectors will give you more protection including the hip area but is bulkier than a cup. Ultimately they will both keep you protected and it comes to your preference in coverage and comfort. There is a large variety of and it can ensure you don't suffer an unnecessary injury during practice, sparring, and competitions.
Subscribe to our Newsletter