Best Cheap Gloves for Boxing Reviewed & Rated
last updated:
Feb 04, 2020
There are many reasons why people choose to box, one of them being that they like combat sport. It is one of those exercises that actively work all your muscles at once, allow you to save time to do other things. The workout is complete and will ensure you hit every single muscle group during your time spent in the gym and can greatly increase your fitness levels. Not many other sports will combine cardio with strength and speed. Boxing also helps you practice your agility and your footwork will become quicker which gives you an advantage over your opponent. The sport can also improve your reaction time and reflexes by training how quickly you deliver your blows. Your muscles become stronger and more powerful when you are not fighting an opponent as well because boxing requires bag practice.
In a Hurry? The test winner after 4 hrs of research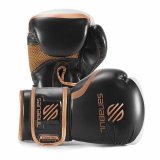 Sanabul Essential Gel
Why is it better?
Variety of colors
Sizes ranging from child to adult
Gel padding
Bacteria prevention
Affordable
In a
Hurry? Editors choice: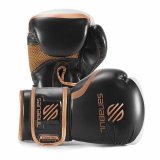 Test Winner: Sanabul Essential Gel
Fit
Protection
Style
By Default
10 Best Cheap Boxing Gloves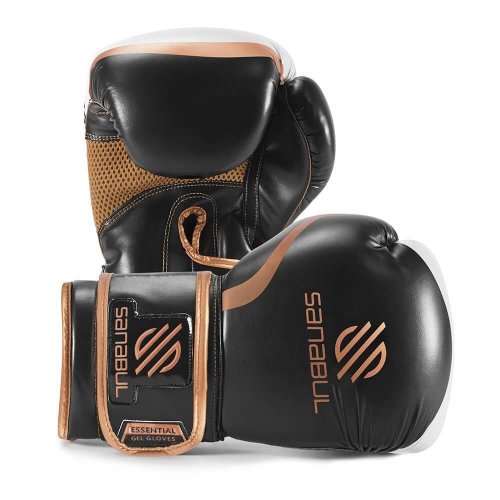 Variety of colors
Sizes ranging from child to adult
Gel padding
Bacteria prevention
Affordable
Requires time to break-in
Sanabul is a brand that is popular amongst athletes as they produce high-quality products. These have many colors to choose from, ensuring you'll find the perfect pair for you. They are sturdy and durable enough to use on daily passes with a thickened padding that will protect you from injury.
Read more
Quality
This product is made from an upgraded version of leather which is constructed for a longer lifespan. It makes the exterior much more durable and long-lasting compared to other products. The padding also contains a gel core which will be better protection against injury when you deliver a hit.
Breathability
In order to prevent the spread of germs and diseases, this product has taken extra steps to improve the ventilation within the glove. The palm of this item is made with mesh which allows for heat to escape your hot palm and allows for air to enter through the mesh to cool down the interior of your product.
Cost and Value
These are very affordable and can be easily purchased. It is surprising they can offer it at such low prices considering the amount of technology put into the product. Every element of this affordable boxing glove is designed to cater to the person using it, allowing for a more comfortable experience.
2

. Ringside Classic Gloves
Upgraded technology
Long-lasting
Thick padding
Variety of sizes
Premium leather
Ringside is a brand that is known for being the best in the business. They are daring to take on new technology to improve their product and have heavily invested in their research. This particular item comes with an improved foam padding that will give your knuckles some extra protection.
Read more
Technology
Unlike other brands, this product is created with injected molded foam which is much more effective than traditional ways of insulating a glove. The foam expands within the product to create a complete fill, pushing out all the air bubbles it may find. This can guarantee your hand is one hundred percent protected when it is inside the glove.
Support
This product comes with an extra stiff wrap to secure the glove tightly against your wrist. It will hold your wrist in place and prevent it from crumbling when you deliver a hit. Having a secure glove will reduce the chances of the mitt spinning and potentially causing injury to both yourself and your opponent.
Cost and Value
These come at a reasonable price point and also come in a variety of sizes. Due to the way they are constructed, they will last a very long time and be able to withstand daily practice. These cheap boxing gloves have a design that allows you to naturally hold a tighter grip, making for a better punch.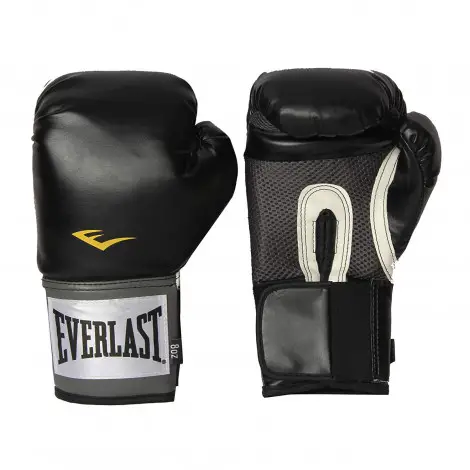 Slip on slip off
Reliable brand
High quality materials
Durable
Thickened padding
Everlast is a well-known brand in the world of combat sports. They produce equipment that gets the job done. This product is no different and can easily match up to many competing brands. They are able to withstand the stresses of daily use and come in a large range of sizes, guaranteeing something that will fit you for sure.
Read more
Evercool
Many people complain about how uncomfortable their hands can get inside a glove. Most of the time it is from the sweat that accumulates in the mitt that causes it to become moist and smelly. This product uses a series of mesh panels that are built into the underside of the glove in order to help relieve some of the heat.
Customizable
This product uses Velcro to secure the mitt onto your hand. This is incredibly beneficial as you can adjust it to a specific tightness that you want. Other gloves that don't have the velcro closure can either be too loose or too tight, giving you an uncomfortable combat experience.
Cost and Value
This product is popular as it is not too expensive and it is known as one of the best affordable boxing gloves. Most people can afford them and choose to use them as basic gloves. This product can also withstand heavy bag practice, meaning that they are tougher than your average glove.
Versatile
Sandbag training
Durable
Thick padding
Machine washable
This product is popular as it can withstand very harsh training conditions. There are many different kinds of training a boxer must endure in order to become better. This product is constructed to only cover half your fingers, ensuring you can improve your speed and strength while protecting your knuckles.
Read more
Synthetic Leather
This product is made of a synthetic leather that is a popular item to use when constructing a glove. Each strand of leather is woven with synthetic fiber that makes the leather twice as strong. This can prevent the bursting of gloves and fight the signs of early wear and tear, thus increase the lifespan of your item significantly.
Sandbag Training
There are not many products that can stand up to sandbag training because it is one of the most grueling and tough training out there. This product was constructed in a way that enables it to withstand the harsh training conditions while protecting your hands. The half fingers will also give you an ability to hold a tighter fist.
Cost and Value
This product comes at a low price point that allows most people to buy it. They work as great daily training gloves while being able to withstand stresses of tougher exercise regimes. Since they can be used in multiple ways, it can save you money by purchasing a pair of these rather than specific gloves for specific purposes.
Affordable
Shock absorbant
Protective
Long lasting
Large range of sizes
These cheap boxing gloves have the look of a classic mitt. It is classy while maintaining the traditional look. This mitt is constructed with a vinyl exterior that lends its extra tough properties to keep your hands and knuckles safe.
Read more
Ergonomic
Holding a fist can be very difficult as it is not a normal motion we hold for long periods of time. To make it more comfortable, this product is ergonomically designed so that the curvature follows your hand. This allows you to grip for long periods of time without feeling tired.
Shock Absorbent
This product is able to absorb the shock of delivering a hit. It is constructed with a heavy-duty foam that the layers collapse together to absorb the energy from the hit. The foam then expands and goes back to its original shape, ready to take a hit again.
Cost and Value
This product is a great item for beginners because of both the price and value. It is an affordable glove that can take a lot of beating before needing to be replaced. It comes in a wide range of sizes and is suitable for boxing and heavy bag training.
Gel Pad
Better protection
Ventilation
Durable
Machine washable
This is a product that is popular due to the new technology it has. The product utilizes gel within their padding to give you better protection and less shock. The glove can also ventilate itself, allowing for a cooler and more comfortable wear.
Read more
Gel Padding
As technology improved, most brands have come to realize that gel is a better shock absorber than foam. This product utilizes gel within its foam padding and gives it a better ability to dissipate the energy from a hit. The gel uses small vibrations to remove the initial shock of energy through the glove.
Pinhole Palm
There are large pinholes in the palm of this product to act as ventilation routes. These holes are large enough to allow for hot air to escape the glove and cold air to enter. This will greatly help in maintaining your body temperature within the glove.
Cost and Value
This product is worth every penny you spend. It comes jam-packed with the newest technology and can give your performance a boost. It is versatile as it can be used for both bag training and in combat against other opponents.
Durable
Synthetic Leather
Protective Shell
Specialty Foam
Lace gloves have been around for centuries. Most people prefer them as they are the most traditional style of gloves. They can be adjusted to the perfect fit that you want and can also be tied in different ways that it gives you different benefits of wearing it.
Read more
Absorbs Shock
This product has great properties when it comes to absorbing shock from a hit. The foam is made of small little air bubbles that collapse to dissipate the energy that comes with the hit. The energy is released throughout the glove so that it is shared amongst the entire fist versus just the contact point. This can help reduce the number of injuries or shattered bones.
Comfortable
When you are holding a glove, it should be comfortable. Using an uncomfortable glove can really affect your performance and bring down your endurance. This product is comfortable to wear as the interior of it is very soft. It also contours with your hand naturally to allow for a more organic grip.
Cost and Value
This item comes at a reasonable price point and offers a lot more value. They are certified to be used in professional boxing tournaments and can also be a good companion for training. They are tough and will last a long time even if you are using them every day.
Wrist support
Improved performance
Affordable
Grip
Long Lasting
May have a few loose stitches
This is a popular budget boxing glove among people that do multiple combat sports. They are versatile enough to be worn in different sports while offering you the support and protection you need. This product comes with an extra stuff wrist to provide your joint with the support it needs to prevent injury.
Read more
Wrist Support
Many injuries happen because the wrist is unsupported. It is the first place that will stress and break under pressure. They are also excellent boxing gloves to practice on speed bags. This item has an extra thick strap that goes around the wrist to hold it in place. With the extra support, the wrist cannot overextend or move in a direction where it can be sprained.
Grip
This product can keep your hand dries better due to the finger openings. Because it is a half finger glove, more air can travel into it to keep your palm dry. This directly translates to better performance as you can hold a tighter fist for longer periods of time.
Cost and Value
This product is in an affordable price range and is a must get for training. While it cannot be used in boxing competitions, it can be used in all forms of combat sports. Due to the exposed fingers, they are also great for grappling. Being able to use the same glove in different sports will save you money in the long run.
Durable
Odor decreasing
Ventilation
Thick padding
Beginner glove
This product is popular among many beginners as it is a great starter glove. It has thick padding that can protect your fist while also having a low enough price point to protect your wallet. It is also made with materials that can decrease the chances of bacterial growth, thus increasing the lifespan of it.
Read more
Improved Focus
This product is constructed so that it follows the way your hand curves. This is incredibly beneficial during combat as it increases your endurance and your hand is not required to exert extra energy trying to bend a specific way. When your fist is able to close naturally, it will allow you to focus your energy on your fight rather than how comfortable you are.
Breathable
Most people complain that after multiple uses, and odor starts to emit from their glove. This is because the sweat has absorbed into the glove and bacteria have started to form. This particular product has a mesh palm area, allowing for hand to stay dry which can decrease the number of bacteria that grows.
Cost and Value
This is a product that is worth all the money you will invest in. There are not many boxing gloves that can decrease the odor or bacteria that grow within the glove. This will allow for an increased lifespan on your product and allow you to save money by replacing your gloves less frequently.
Machine washable
Affordable
Chic
Comfortable
Long lasting
This product is full of technology that not many brands have thought of. Careful thought has been put into designing and constructing this product, even the most minute details are not missed. It offers the ultimate protection while using high-quality materials to ensure they last longer.
Read more
High Quality Materials
This product is made with high-quality materials inside and out. The outside of it is made with synthetic leather which is proven to be much more durable than any other fabric. The inside is made with a super dense foam that can be really difficult to punch through, thus providing you with more protection.
Thumb Protection
Many people do not realize that you can easily break your thumb in boxing. This is because your thumb is what is holding your fist together and in a split second, your thumb can be caught on the other glove or clothing and be injured. This glove comes with a completely attached thumb on the glove to decrease the chance of spraining.
Cost and Value
This product is worth every dime you spend as it has so many benefits. It is a glove that can do the job while looking great. It is a product that is suitable for any level of boxing and is a great addition to your training gear.
Criteria Used for Evaluation
Fit
There is not enough stress put on how important the size of a glove is. Too tight of a glove will cut off your blood circulation while too loose of a glove can slip and cause injury to yourself or your opponent. Have a glove that is the right size is not only more comfortable and will protect you from injury, but it will also allow you to have a better grip to deliver a better punch.
Gloves are not fitted like clothing where they are labeled with small, medium, and large. Instead, they are placed into weight categories that go by ounces. Commonly, sizes range from eight ounces to sixteen ounces which each increment being two ounces. Be careful to not let the numbers fool you as the glove also physically gets bigger in size, so despite you being able to handle twelve ounces, your hand may only fit into an eight-ounce glove.
A recommendation would be to do some research prior to purchasing the affordable boxing gloves to find out what type of glove you will need for the kind of boxing you want to do. When you decide to go physically try on a pair of best cheap boxing gloves, make sure you bring hand wraps to ensure they will fit inside the glove as well. If you have yet to invest in hand wraps, you can also bring a roll of quarters to use as a substitute. Simply hold the roll of quarters in your hand when you put on the mitts.
Protection
Boxing is a combat sport that has all these different kinds of protective gear. Due to the specific nature of boxing, most mitts are constructed in a way where they can only be used for one purpose. This can lead to an increase in investment for the sport, but you can always speak with the trainers at your gym to determine what you will really need when you initially start.
A pair of gloves you will definitely need to invest in is a pair of heavy bag gloves. Just like the same, these are used for practicing on the punching bags, speed bags, and other training aids. The bag gloves are meant to protect your hands from the harsh and abrasive materials of these training tools. Because these items are almost always stationary, your knuckles take a huge beating when you hit them repeatedly. Bag gloves help to prevent you from breaking any bones but also allow you to get used to the sensation and soreness that may come from repetitive impact against your knuckles.
There are two types of bag gloves: Classic and Modern. Classic gloves have much lighter padding and less wrist support. They are not meant to offer protection and cannot withstand many impacts. As a result, your joints will have to do a lot of the shock absorbing. However, these are great if you are trying to improve the speed of your blows as they are lightweight and thin. They are ideal for shadow boxing and no-contact sparring. Do not try to use these on a bag as you can damage your hand with just one blow.
A modern bag glove has much more insulation than even a regular glove and is constructed to be denser. Due to the amount of insulation and density, these gloves tend to be heavier and tire you out quicker. They do a good job to protect your hands and knuckles and come with a stiff strap to support your wrist. Despite the bulky and awkward sizing, modern bag gloves are the comfiest type of gloves on the market.
After purchasing a pair of bag gloves, the next gloves to consider are sparring gloves. These gloves have to be constructed in a way where they protect both you and your opponent. Sparring is not just for you to beat up or hurt your opponent, it is a technique used to hone your skills and develop your moves. Sparring gloves must be balanced with the weight distribution being even from your knuckles to your wrist. It is recommended that you look for a pair of sparring mitts that have enough insulation while being lightweight enough to help increase your endurance when practising quick punches.
Style
Most studies have proven that colors make a difference in your brain and eyes. Boxing is a sport where color actually makes a difference. Whether we wanted to or not, our brains are actually trained to pick up certain colors quicker. This can be detrimental in a fight as it can mean a win or loss for you.
Science has proven that if you want an advantage, choose a pair of red gloves. This is also why most gloves are made in red and most actors in movies are wearing red. This dominant color is a color that our brains are slow to detect because it is very low on the color spectrum. This increases the chance that your opponent will miss the sudden flash of color, allowing you to deal with another blow.
Expert Interviews & Opinions
Most Important Criteria
(According to our experts opinion)
Experts Opinion
Editors Opinion
Users Opinion
By Default
Other Factors to Consider
Bottom Line
Gloves can come in a wide variety of options. It is fully customizable when it comes to color, design, sizing and even the cost. Depending on what you are looking for there, there will be something that definitely suits your needs. It is a recommendation that ultimately you consider what the gloves will be used for and how suited they are to the job rather than just looking at the design.
While boxing is a great way to relieve stress and learn to fight, it also trains your brain and helps you in your daily life. As adults, we tend to forget how to be part of a team and how to motivate ourselves. Boxing is a type of sport that anyone can be really good at through their mental strength and tenacity. All it takes is a little bit of determination and practice to excel and become a good fighter.
Frequently Asked Questions
q:

What age can you start boxing?

a:

Boxing is suitable for any age. There are many classes that children can join and there are also adult or senior classes available as well. Depending on the type you're looking to do, there's something for everyone.
q:

Do I have to buy all the different kinds of gloves?

a:

You don't have to buy all of them to start. As a beginner, a pair of training gloves will do everything for you. As you become better and look to start fighting more or in tournaments, then you may need to start investing in different pairs of gloves.
q:

How can I increase the lifespan of my best budget boxing gloves?

a:

Depending on how you maintain them, gloves can last a long time. The most important thing is to always dry your gloves out after each session you use them. Keeping them in your bag will allow for bacteria and germs to grow inside. This will eventually lead to odors that stay on your hands each time you use them and eventually stink up your bag. Store your gloves in a cool and dry place that has ample air flow.
q:

How can I increase the lifespan of my best budget boxing gloves?

a:

If your gloves are leather, it's a recommendation to use a leather conditioner on it. Otherwise, you can wipe the exterior of the glove down with some warm water and dish soap.
Subscribe to our Newsletter