Best Chest Protectors & Padded Compression Shirts
last updated:
Mar 17, 2020
Protective equipment has always been heavily emphasized as something that is crucial for the survival of athletes. Safety equipment is not specific to athletes but also for many people in their area of work. Anything that protects a person from harm can be considered as safety equipment. It is especially important for combat fighters to purchase this sort of gear as there is physical contact involved in the sport.
In a Hurry? The test winner after 14 hrs of research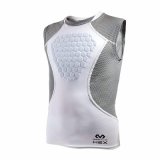 Mcdavid Hex
Why is it better?
One of a kind
Patented technology
Increased ventilation
Not bulky
Great price
In a
Hurry? Editors choice: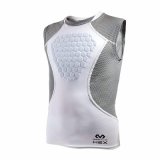 Test Winner: Mcdavid Hex
18
Researched Sources
1350
Reviews Considered
14
Hours Researching
20
Products Evaluated
Shock Absorption
Support
Features
Value
By Default
Top 10 Picks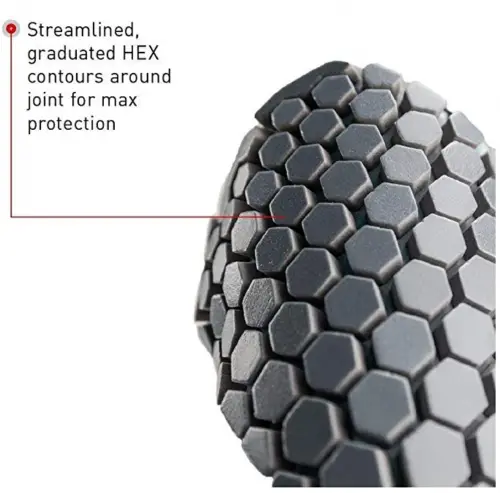 One of a kind
Patented technology
Increased ventilation
Not bulky
Great price
Does not cover your rib area
This padded compression shirt is unique in its kind and unlike any product on the market. This company has cleverly created a product that is both space and weight-efficient. This item can be worn without feeling uncomfortable or bogged down. Many companies have tried to reproduce the HEX technology that comes in this product, it is not recommended to purchase those as they do not have the science or knowledge backing the item.
Read more
Mesh
Wearing such a large and bulky piece of equipment can get really hot. Not many people know that one of the reasons why you become fatigued more quickly is because your body is going into overdrive and working hard to keep cool. The energy that was meant for you to partake in your sport is suddenly redirected to maintaining your body temperature. Apart from its protective areas, this padded compression shirt is made with mesh cloth for maximum ventilation for your body.
HEX Technology
To minimize the amount of weight and to reduce the bulkiness of this product, the chest protector has strategically placed the foam padding. Using interlocking hexagons, the product wastes no space or material to create a lightweight product that can provide insulation to your chest and heart. The padding perfectly covers the areas where your heart and sternum reside, allowing you an extra layer of protection.
Cost and Value
This is a fantastic product that comes with an even better price tag. HEX technology is one of a kind and often mimicked with no success. By purchasing one of these padded compression shirts, you are guaranteed the safety of your chest area. The patented technology is ideal for training and sparring but is not suitable to be used as the only protection to your chest during competitions and fights.
workhorse product
Unrestricted mobility
Durable and strong
Fully customizable
Perfect fit
This protector was designed to be simple and a workhorse. It does not include fancy technology or cool patterns but is durable and does the job of safeguarding your torso. This protector is built to offer insulation on most hits but like all the other products on the market, it will not protect you from Commotio Cordis; which is a sudden and direct impact to the heart.
Read more
Customizable
It can be really frustrating to purchase a chest guard only to realize that it is too big or too small. This product eliminates that concern as it is fully adjustable. The item is held against the body by a series of velcro straps which can be altered for the perfect fit. The key when wearing this item is to be as comfortable, therefore the straps do not have to be even or balanced on both sides.
Unrestricted mobility
Chest guards can get really big and really bulky. Wearing one gives you a lot of extra padding and will take some time for you to get used to the sudden increase in your size. This particular product has large areas where your arms can fit through, which greatly improves your ability to move. While your torso may be significantly bigger and harder to maneuver, this product offers your arms unrestricted freedom.
Cost and Value
This product is very affordable and is a great training tool. It is suitable for people who are just getting into fighting sports and do not want to break their bank. This guard is a reasonably priced investment for people that are unsure if they want to commit to a combat sport in the long run. Even if it is only used for a month or two, the product easily pays for itself.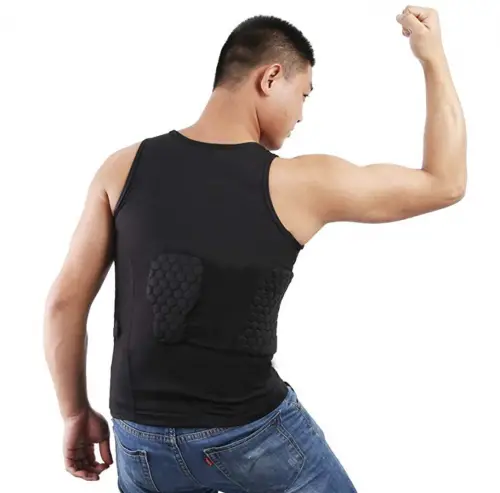 Smart design
Lightweight and comfortable
Targeted insulation
Affordable pricing
Rash guard
Cannot be used for competitions
This product uses the hexagon theory when it comes to designing their product. There are targeted parts on the body that need extra protection and this company has created a rash guard that has padding sewn into it. The hexagon is the most effective and efficient shape as it can be joined on multiple sides with no space wasted, providing seamless protection across the board.
Read more
Rash Guard
Whether you are sparring or in a competition, combat fighting can be dangerous. Your adrenaline is pumping so a lot of the pain is deferred until a later time. This padded compression shirt serves also as a rash guard, which is great for preventing cuts and scratches on your body. While these nicks may not seem like a big deal, there can still be an opportunity for infection.
All Around Protection
This is a product that has been very well designed. It has enhanced safety materials that can keep you out of harm's way while keeping the bulkiness to a minimum. Rather than having a large pad of insulation, this product has targeted areas where there is a thick layer of foam. The protective material can be found on the sides of your ribs, shoulders, chest, and kidneys, giving you complete three hundred sixty degrees protection.
Cost and Value
This is a wonderful product that has an innovative design. It is surprising that with all the technology packed into this one guard, the company has managed to keep the price relatively affordable. Not many products can give you all-around protection like the way this padded compression shirt can. While it is not something that can be taken out to competitions, it is a great way to get some protection while sparring and training.
Multipurpose
Detachable pieces
Thick chest plate
Well known brand
Adjustable for fitting
This is a product that is well known for making clothing products. They got their start with motocross racing gear and expanded into apparel and other ventures. While this product was intended for racing purposes, it is actually a fantastic piece of gear for combat sports. The item features a harder plastic like chest plate that can be easily installed onto a padded vest as added protection.
Read more
Versatile
When you partake in combat sports, one of the things that are most time consuming is training and sparring. While these are great ways to help you improve and be better, it can be long and tedious. During these situations, it does not make sense to break out your heavy and high-quality competition equipment. This product is great training gear that can function as an all-around body shield or the chest piece can be popped out to function just like a chest guard.
Multi purpose
For someone who partakes in many sports, your safety equipment stash can grow to become quite big. During these times, it is important to find pieces that can function and be used in multiple sports. This will save a significant amount of space in your home and closet and also reduce the amount of time spent cleaning it. This product is ideal for combat sports, bike racing, and baseball.
Cost and Value
While this product is more expensive than most, it is worth the investment especially if you play more than one sport. Purchasing this one piece of equipment can save you a lot of money as it eliminates the need for you to buy another one. It is crucial to have pieces in your safety equipment that can work for multiple sports as it saves you significant time and money and reduces your shopping time.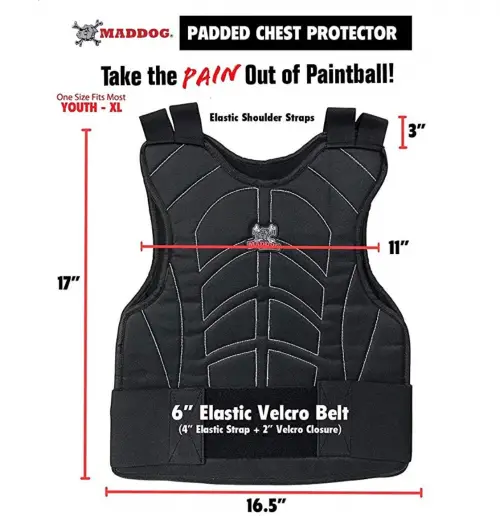 Light and flexible
Ideal training tool
Very affordable
Multisport usage
Padded with foam
Cannot be used for competitions
This product is a fantastic guard for training purposes and sparring. It is not meant to go into competitions as the materials are too light to protect against heavy damage. Having more movement and flexibility during your training will allow you to perfect maneuvers or specific fighting moves while letting you get used to wearing thick padding.
Read more
Maneuverability
There is no point in using a chest guard if you can barely move with it on. All that will do is give your opponents an easy win. This product has low sides that give your arms unrestricted movement and the ability to block incoming strikes. The flexibility of the foam padding will also allow you to move and cover your blind spots easily.
Comfortable
One of the most important factors when choosing a chest guard is how comfortable it will be. If it is uncomfortable, it will become a great distraction during your sparring. This product uses flexible foam padding which can conform to your body and is also very lightweight. This will greatly reduce the amount of discomfort of wearing one and not make you feel like there is something constantly pressed on your chest.
Cost and Value
This product is both very affordable and fits well. There can be a bit of apprehensiveness when purchasing a chest guard as everyone is built and sized differently. That is something you do not have to worry about with this particular product. The shoulder straps are elastic allowing for longer or shorter torsos and there is a velcro that secures on both sides at the bottom. This will ensure it is a perfect fit every time.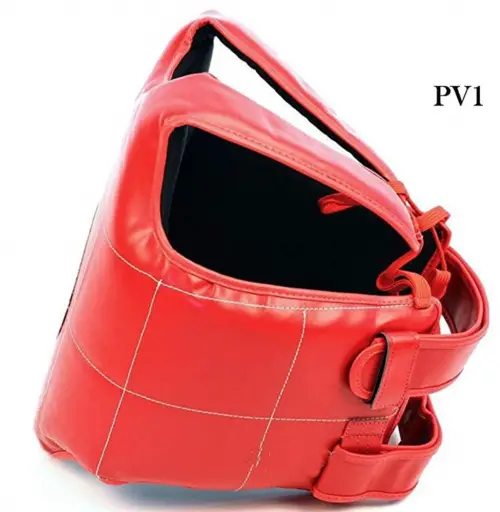 Ideal for competitions
Rib cage protection
Gel insulation
Reduces impact
Synthetic leather
Straps to adjust are in the back
This product has been produced using top-notch technology. Unlike most competitors, this brand uses a gel insert to help absorb the impact of your opponent's attacks. Using gel technology allows you to fight with confidence, knowing that it is better and more durable technology. Coupled with the fact that it also has protection on your side, this is a product you cannot miss!
Read more
Shock Absorbent
Rather than foam, this product uses a gel insert to absorb the shock. Gel technology has evolved to a point where it is actually much better than using foam for insulation. When being dealt with a particularly hard hit, the gel will absorb the energy of that impact and completely keep the user out of harm. Using a series of tiny movements, the gel vibrates to dissipate the energy in the kick or punch.
Rib Protection
While people are concerned about protecting their chest from harm, a forgotten area is your ribs. Because they are long and thin, they can be easily snapped or damaged. This chest guard has flaps on the side that extend past your side. This can give an extra layer of padding to your ribs and prevent you from being injured.
Cost and Value
While this product is on the more expensive side, it is well worth this investment. This is an ideal competition gear for people who are serious in their sports. It uses the state of the art technology to keep your body from harm and safe from pain. By protecting the sides of your body as well, it greatly reduces the chance of a trip to the hospital and a hefty medical bill.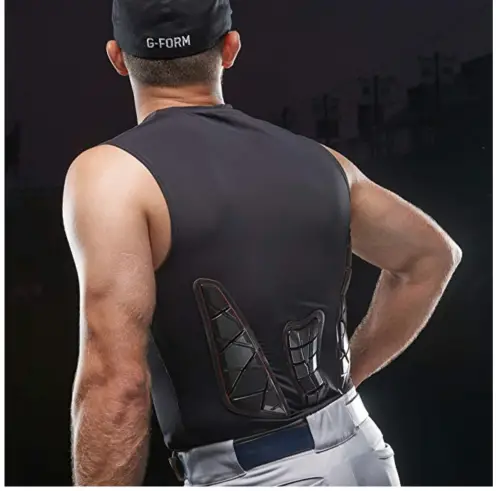 Great training aid
Range of prices
Multiple sizes
Easy to maintain
Flexible and comfortable
This product is a great training tool for sparring and other singular training sessions. Multiple pieces of insulation are sewn into a compression shirt to offer your body more protection. This is a fantastic way of being able to take advance of the improved performance from the compression while staying safe. These pads are cleverly designed so that they cover your heart at all times.
Read more
Breathable
It is a common occurrence that your body produces a lot of sweat when you workout. Sweating occurs because it is a natural way for your body to try to reduce the amount of heat that is being generated. This product is made from a highly breathable fabric that can help bring in cool air to cool down your skin. The hot air will also be able to escape through the fabric and thus bringing your body temperature down.
Compression Fabric
Wearing compression fabric when partaking in a sport can work wonders for your body. Compression material has many healing benefits used on or off the battlefield. The light constriction of the material encourages better blood circulation by pushing oxygenated blood through your bloodstream. This will allow nutrients to get to where they need to and converted into usable energy.
Cost and Value
Depending on the size you wear, products range from a reasonable price to become more expensive. Although this padded compression shirt is ideally used for baseball, it is a great piece of training gear for sparring. The insulation is thick enough to provide your chest with protection while still being able to let you maneuver around easily. The shape of this product will allow ensure it padded foam stays in place.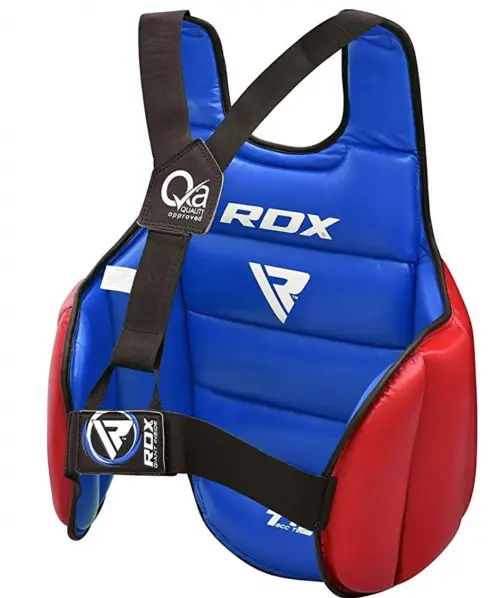 Shock absorbent
Incredibly durable
Reversible colors
High quality material
Average price range
Adjustments must be made prior to wearing the gear
If you are looking for a generic chest guard that works for most sports, then look no further. This is a great product that can product your entire torso with the high quality foam it is made of. The guard is fully reversible so that if the color of your team has changed, you have another color to use. This product was built to last and is meant to last as long as your entire tenure of playing your combat sport.
Read more
Durable
One of the most important things people care about when it comes to their protective equipment is how long it will last. It can be quite costly and annoying to be replacing pieces of your gear all the time. This product is made using a triple stitching technique that can take more beating than any other chest guard. This will ensure that the item will last for almost your entire career in combat sports.
Shock Consumption
This product is made with a powerful foam absorbent. Within the foam, there are microscopic air bubbles that collapse every time your opponent hits you. The energy from the hit is absorbed in these pockets and neutralized, preventing you from getting hurt. After each hit, these pockets of air inflate and work as if they were never hit. This prevents the energy of the impact ever reaching you, allowing you to focus on the fight.
Cost and Value
This product comes with a reasonable price tag as it can protect you in more ways than one. Along with the great shock absorbing properties, it also offers an additional layer of ribcage protection by having the chest guard extend out past the chest. There is a nylon system in the back where it can comfortably tighten flush against your body with just one pull, making it incredibly user-friendly.
9

. Contender Fight Sports
Great for competitions
Durable and sturdy
High quality material
Shock absorbent
Easy to wear
If you are looking for a good chest shield that can handle heavy hits and any damage dealt, then look no further. This product was designed specifically for competitions and hard fights and will serve you well. It is made of reinforced leather with thick durable straps that will not break midway through a fight. This is a product that will allow you and your opponent to go full force.
Read more
Dense
When it comes to finding something to safeguard your chest, it is important that it is thick and durable. This product is made of a dense foam that can protect the hardest hits your opponent can deal. It consists of multiple layers of high-quality foam that are pressed and condensed to become a thick brick before it is put into play. This will give you the confidence to fight back just as hard knowing you are completely protected.
Easy to Use
Putting on a chest guard can be one of the hardest things on the planet, simply because of its awkward shape and size. Most people use these products when they are sparring, so there is almost always someone around to give you a hand. The main concern is removing it after training because by that time you are tired and just want the thing off. This product comes with quick release bucks that you can easily reach and do it yourself.
Cost and Value
While this is on the slightly more expensive side, it is worth every penny. Combat sports are fun, but they can also become very dangerous. Investing in a more expensive product can guarantee the integrity and durability of the item. As this product has a direct correlation to your health, it is beneficial that you do not buy something of low quality in order to save a few dollars.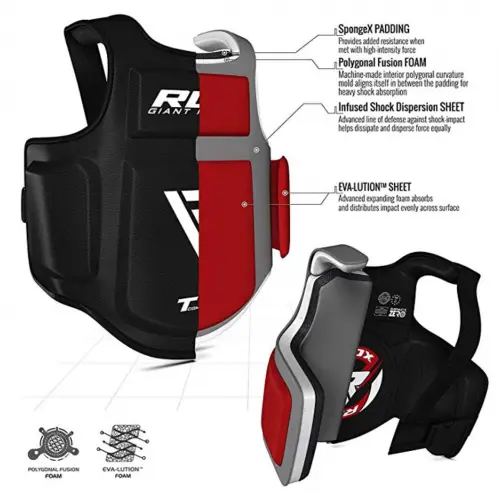 High quality material
Shock dispersal
Rib cage protection
Perfect fit
Synthetic leather
Confusing to use in the beginning
This company has been in the protective equipment market for years. They are known for manufacturing reliable and durable products. This particular chest guard has the abilities to also protect your ribs. The company sourced the highest available materials on the market to produce a chest guard that can work well during competitions and large fights.
Read more
Synthetic Leather
There is no point in purchasing safety equipment that does not have a good exterior. When the exterior is compromised, it can affect the durability of your guard. This particular product is made with maya leather, which is the highest quality synthetic leather available. The leather fibers are reinforced with synthetic fibers to make it nearly impossible to break.
Shock dispersing
This product is made with a foam that is good at dispersing the energy from a hit. With each punch and kick delivered, there is a lot of energy that arrives with the impact. The foam insulation on this product absorbs the intensity and releases the pent up energy via tiny vibrations. These vibrations disperse the impact over a large area on your body, rather than let the spot that your opponent hit take the impact.
Cost and Value
For a product that is made with high-quality materials, this product has a surprisingly low price tag. There are two thick nylon straps that can be adjusted so that it fits the right length of your torso. The side of the guard is manipulated using two velcros so that the guard wraps around your body for the perfect fit. This product was designed so it is a perfect fit every time you wear it.
Criteria Used for Evaluation
Shock Absorption
One of the main things that a chest protector guards against are something known as the agitation of the heart. In order to maintain a fully functioning body, your heart needs to beat to a specific rhythm. This is why a pacemaker needs to be installed when your body is no longer able to do that on its own. An agitation is known as an interruption or disruption which can be fatal. While people may not think one missed beat is a big deal, it literally means the difference between life and death. The impact does not necessarily have to be hard if it's in the right spot even a light tap will do. This is why chest guards are emphasized for most to all contact sports, as a way to reduce the possibility of an accidental impact to the heart.
Support
Most chest guards are made with two types of padding and insulation. They both have advantages and disadvantages. The most common type of protection is made of Polyurethane Foam. This foam is similar to memory foam pillows and is much sturdier. Chest guards are made by layering this foam multiple times to create a thick dense sheet. Then the sheet is compressed and cut into the correct size. The foam is great and is used because it softens impact while maintaining flexibility. As a result, this sort of foam is used in safety equipment but also punching bags and strike shields. The downfall of using this type of foam is how large and bulky it is. Despite the condensation of the foam, it still takes a decent amount to be enough to offer protection.
Value
For most sports, chest protectors are a must. Unfortunately, technology has not advanced to a stage where they can be made to be less bulky. This is where choosing the right guard can make a huge difference. Depending on your choice, the guard may not protect your body fully or it may be too big for you to move properly. At that point, you'll just become a large object in a fight ring that people can take advantage of. The key is to do the proper research to find something that will fit your body stature and meet your needs.
Features
The other type of padding used is usually a silicone gel. This is a newer technology that most brands incorporate in their higher-end products. This is because the gel can be spread thinly to offer the same amount of protection as a large chunk of foam. Because gel has properties that are similar to liquids, it can deaden a lot of energy from the impact of hits. When a hit is delivered, the liquid in the gel vibrates to dissolve the energy. Because of the liquid properties, the gel does not break and can take hits over and over again. Unfortunately, because this technology is so new, it is still quite expensive. One can only hope that as the technology becomes more mainstream, there will be ways found to decrease the cost.
Expert Interviews & Opinions
Most Important Criteria
(According to our experts opinion)
Experts Opinion
Editors Opinion
Users Opinion
By Default
Unisex
Most protectors are unisex unless stated otherwise, but if you're cut short on time or money and need to save both women and men can use the same protectors.
Sizing
Protectors generally run big, but be sure to check sizing if you're opting into buying a shirt with pad protectors.
Other Factors to Consider
Bottom Line
Mainstream media has given the misconception that combat fighters do not wear any gear. When you think of people who are engaging in boxing or muay thai, they are usually shirtless and just in a pair of socks. However, not many people realize that most of them are required to wear chest protectors during training sessions.
A chest guard can make a huge difference when it comes to how well you are protected. The core of your body has a lot of sensitive systems that cannot take any extreme hits or be bent out of shape. This is partially why your ribs exist, is so that they help soften the impact when damage is done to your torso. It is also why people can survive without an arm or a leg, but cannot function if their torso has been compromised.
Frequently Asked Questions
q:

How do I keep my chest guard clean?

a:

Unfortunately, because of the size and awkward shape of most chest guards, they are usually not washable in your machine. The best way to keep them clean is to store them in a cool and dry place. Avoid direct sunlight as it can affect the integrity of the item. Depending on how often you use it, wipe down the gear with some warm soapy water and let it hang dry. Until it is completely dry, avoid putting it back in your gear bag.
q:

Can my child wear a chest guard?

a:

It is an absolute must for children to be wearing chest guards when they partake in combat sports. There are sizes for children and youth guards which you can purchase.
q:

Where can I buy a chest guard or padded compression shirts?

a:

Most large sporting goods stores will carry a few selections, if you are looking for something more specific, it is recommended you purchase from an online retailer.
Subscribe to our Newsletter