Best Cooling Towels for Post Workout Reviewed
last updated:
Dec 03, 2019
If most people were asked to describe the parts of exercising that most frustrate them, they are likely to mention the sensation of feeling hot and sweaty during the workout. And while feeling hot and sweating are important cues from our body that we need to make sure we're not getting hot and that we're taking in enough water, the warnings are generally not appreciated while we're trying to get through a cardio class or extend the limits of our weightlifting capabilities. Some gyms counteract this problem through the use of air conditioning or fans on each station that users can turn on when the need arises. Other gyms trust that their members can figure out a personal solution that will let each person find the temperature level that best suits their personal and fitness needs.
In a Hurry? The test winner after 15 hrs of research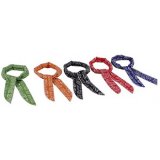 Coolcycling Bandana 5-Pack
Why is it better?
Unique Style
No Snapping Necessary
Crystalline Polymer Boosted
Easy to Use
In a
Hurry? Editors choice: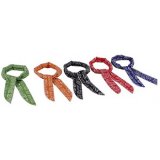 Test Winner: Coolcycling Bandana 5-Pack
29
Researched Sources
3400
Reviews Considered
15
Hours Researching
20
Products Evaluated
Materials
Style
Size
Ease of Use
By Default
Top 10 Picks
1

. Coolcycling Bandana 5-Pack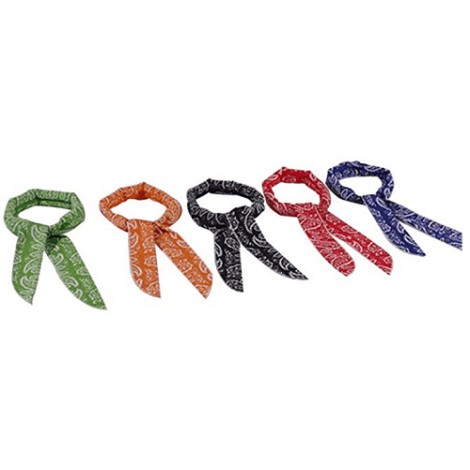 Unique Style
No Snapping Necessary
Crystalline Polymer Boosted
Easy to Use
Coolcycling has an oddly diverse inventory for a company whose name is so specific. And, ironically, the majority of their products have nothing to do with bicycles! This discrepancy aside, they seem to make quality products regardless of the niche market to which they belong. Their five-pack of cooling bandanas is an excellent example of this. And while they're not technically towels, they are a fantastic addition to the cooling gear market and certainly deserve a mention on this list.
Read more
Crystalline Polymer Boosted
Coolcycling is absolutely unique among the products on this list in that their products do not rely solely on the natural cooling capability of evaporation. Their product's cooling powers are boosted by a crystalline polymer that is added to the customary synthetic fabric. The company is tight-lipped about the specifics of this polymer's specific effects, but it seems to relate to the way that the towel draws heat away from the wearer's skin.
No Snapping Necessary
CoolCycling is also unusual in that their product does not need to be snapped in order to "activate". Only one other company on this list offers a product that only needs to be shaken out in order to provide a cooling service to its wearer. And while most people do not have any trouble snapping their towels, there are demographics for whom it is a problem. Coolcycling has them covered.
Cost and Value
This product's price is about average for similar products on the market. Its real value comes in the addition of the crystalline polymer, its unique design, and the fact that it does not have to be snapped to be activated. It can simply be shaken out which is a much easier method that allows more people to use the product.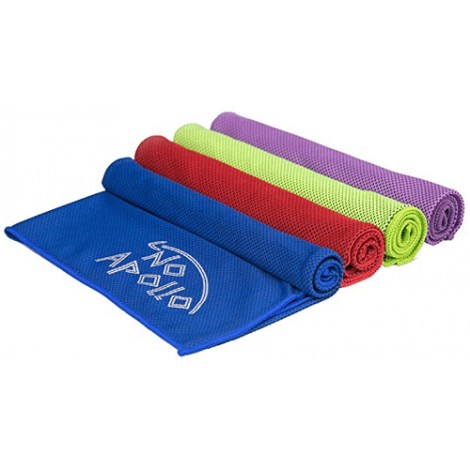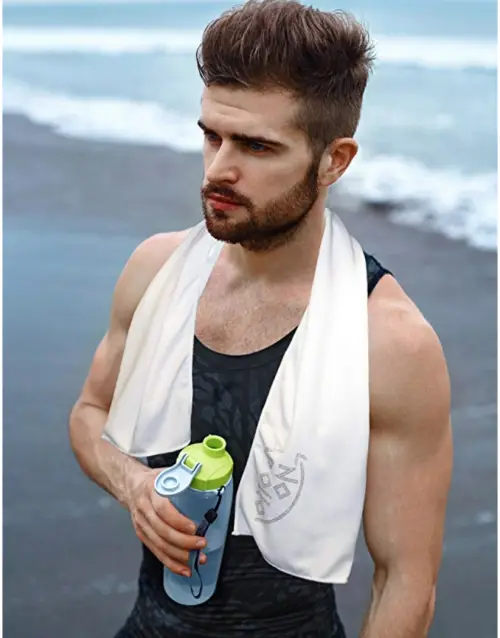 Lasts Three Hours
100% Money-Back Guarantee
UPF 50
Chemical-Free Manufacturing
NoApollo joins a growing list of companies who only offer one product that they do very, very well. Their cooling towel not only stays chilled for up to three hours and is produced using a chemical-free process that has a lighter ecological footprint than most products. The material also offers UV protection up to UPF 50, which may be where the company got their name from! And if the product fails in any way, customers are covered by a 100% money-back guarantee.
Read more
Chemical-Free Manufacturing
More and more people are keeping one eye on the environmental impact of their purchases when they go shopping. NoApollo is clearly aware of this and makes it very clear that their products are produced using a "chemical free" process that they state is ecologically sound.
100% Money-Back Guarantee
Guarantees are relatively rare in both the athletic and garment markets. They are doubly unusual for products that straddle the divide between the two markets such as this four-pack. NoApollo bucks the trend, however, and offers a 100% money-back guarantee for their products. This not only speaks to their commitment to customer satisfaction but also to the confidence they have in their own products. And that should make any customer feel a little more confident in their purchase.
Cost and Value
Much like U-Pick, NoApollo's prices seem unusually high when compared at face value. The price is actually a great bargain, however, because they sell their products in packs of four rather than one at a time. This allows customers to get enough cooling gear for a small family or hiking group without spending more than a few dollars what each would have paid for an individual product from most other companies.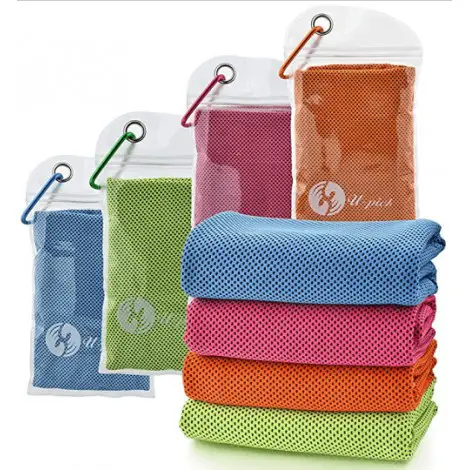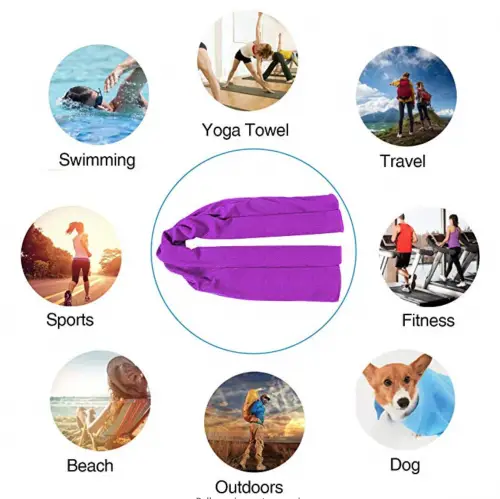 100% Polyester
Ultra-Soft
No Snapping Necessary
10 Wearing Options
U-Pick is a small company that offers only a handful of products. Their small size only seems to spur them on, however, because their four-pack of cooling towels is one of the best towel sets on the market. The material is ultra-soft and can be cooled without needing to be snapped. They are 100% polyester and machine washable on the delicate cycle, though they should be line dried.
Read more
Ultra-Soft
U-Pick uses the same materials as most of the other companies on this list to make their cooling towel but they processed the components a little bit differently and came up with an ultra-soft material. It still has the same absorbency and cooling capabilities as a coarser fabric of the same nature, but it is gentler on the skin and more pleasant to the touch.
No Snapping Necessary
The majority of cooling products state that the item must be "snapped" in order to "activate" the cooling process. Many people do not have any trouble snapping a towel but the very young, very old, or those with motor function differences may not be able to snap a towel with the same ease. U-Pick provides a solution with the towels in this four-pack, all of which can be "activated" by shaking them out rather than snapping them.
Cost and Value
The face-value price tag for the U-Pick four-pack lands it at the very top of this list's price range, but a closer look reveals that they are very affordable. For less than double the price of one unit from another company, U-Pick offers four products which amounts to each unit's price being chopped roughly in half when compared to their competitors. It's a fantastic value for an easy-to-use and ultra-soft product.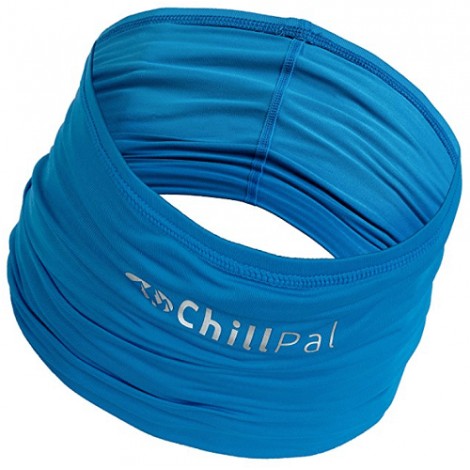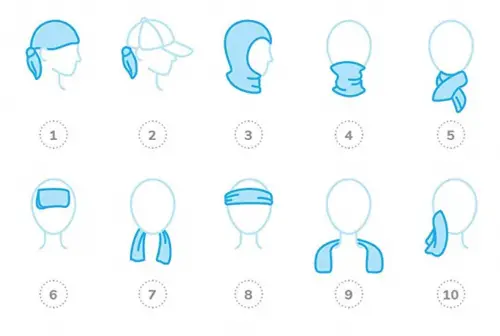 Sealed Loop Design
12 Ways to Wear
Great Customer Service
Machine Washable Options
Chill Pal's second product is an evolution of the original offering the breaks form the rest of the market by taking a shape other than a flat sheet of material. This self-contained loop comes with the same carrying pouch and customer care as The Original and can be more easily worn in certain styles though it is capable of being styled twelve different ways.
Read more
Sealed Loop Design
Chill Pal's second offering is unique not only when compared to their first product but when compared to the cooling gear market in general. The majority of products on the market are flat sheets of material, including Chill Pal's original product. The Loop, however, is a circlet that is ideal for wearing as a headband or easily looping around a person's neck or arms. It requires no folding or tying in order to be worn in these styles and will stay in place better than many flat products will.
Great Customer Service
Chill Pal was one of the first companies to break into the cooling gear market and that put them ahead of the competition. They stayed ahead of most of their competitors through a combination of innovation and strong customer service, the latter of which has become something of a calling card for the company.
Cost and Value
The Loop is the same price as The Original, which allows customers who prefer Chill Pal to choose their product based on what is best for them rather than which fits their budget better. This product comes with the same great customer service and washing options as all other Chill Pal products and can more easily be worn in certain styles.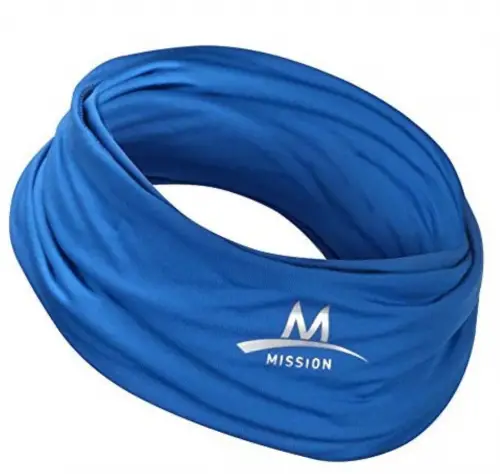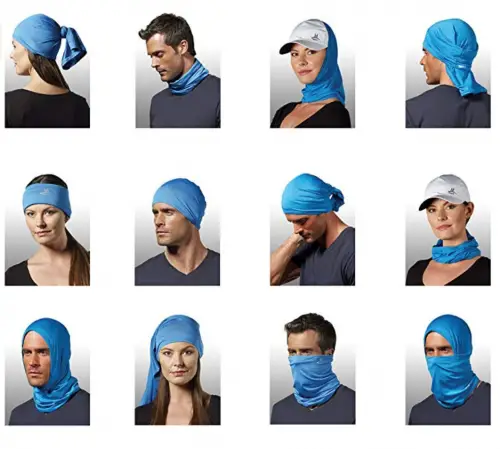 Machine Washable
UPF 50
Highly Absorbent
Chemical-Free
Mission is one of the few companies on this list that has a solid enough reputation that people may recognize their name on sight. Their products are endorsed by several athletes as well as the pop singer Hailee Steinfeld who is an avid fitness enthusiast and the daughter of a certified trainer. Their products have appeared in several music videos recently, including their Enduracool cooling towel, but that shouldn't fool anyone into thinking that these products are only for the stars. They are affordable and durable, machine washable and UV protective up to UPF 50.
Read more
Machine Washable
These products are not the sort of thing that you want to leave lying around, unwashed, after a day of use. They are incredibly absorbent and when a person gets hot, perspiration tends to be the fluid most readily absorbed. Mission, thankfully, understands the need for easy-to-clean fitness equipment. Most - if not all - of their products are machine washable so that customers don't have to worry about budgeting out time for both a workout and the extra clean up afterward.
Highly Absorbant
Any material used to help keep someone cool needs to be highly absorbent because of the way that most products actually help their wearers stay cool. The more liquid stored int he material, the better, and Mission is not a company to skimp on their products. They made sure that their towels were super absorbent so that their customers stayed comfortable as long as possible.
Cost and Value
Mission's products are certainly some of the more affordable on this list. The company could charge more, given that they are endorsed by athletes and pop stars alike. But they choose to keep their products affordable and their customers happy. Their products are also UV-resistant up to UPF 50 and are chemical-free. They are also a little on the small side, unfortunately, but they still get the job done.
6

. Frogg Toggs Original Chilly Pad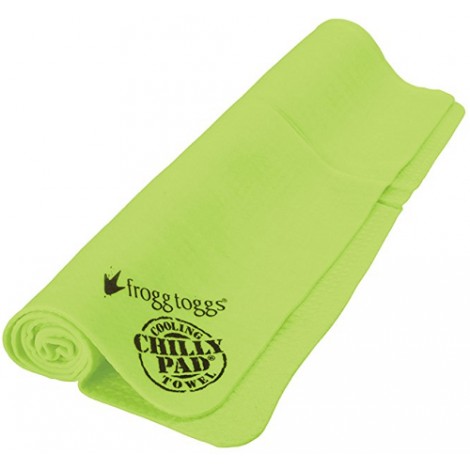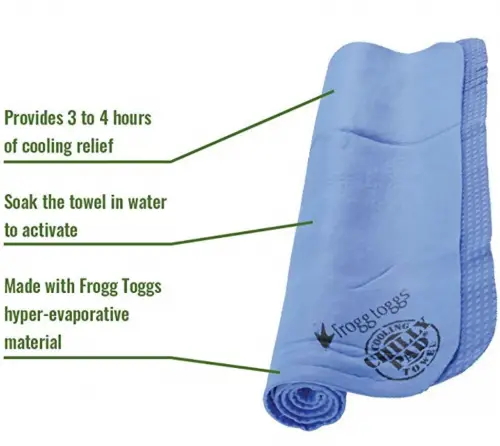 Cools up to 30 Degrees
UPF 50+
Unique Prints
Reinforced Mesh Material
Limited Evaporation Conditions
Frog Toggs is an all-around outdoorsy company that specializes in products that help people stay cool and products that help them stay dry in wet environments. Some of their products range from general cool-weather outdoors gear to waders of all shapes and sizes. Their Original Chilly Pad is a product that plays with this image and is the company's first foray into the cooling gear market. The product offers UV protection up to UPF 50 and it made of a reinforced mesh material that is less likely to rip or tear than most of its competitors.
Read more
UPF 50+
These towels are meant to help people keep cool while they're outdoors. It makes sense, then, that a company looking to set themselves apart would include additional protection from the elements in the design of their product. Frogg Toggs' angle on this is to include UV protection in the construction of their product up to UPF 50. This gives a basic level of protection against harmful UV exposure that can be augmented and enhanced by the wearer's use of sunscreen and a hat.
Reinforced Mesh Material
These sort of towels are designed to absorb large amounts of water and then release it slowly since most of their cooling potential is tied to how well water evaporates from the material. This often leads to a mesh-like material as it is one of the best weave structures to hold and release water in a regular way. Reinforced mesh, such as the kind used by Frogg Toggs is a stronger variant of this material. Reinforcements make it harder to fray and often more rip-resistant than the fabric otherwise would be.
Cost and Value
Frogg Toggs falls along the center line of this list's price spread. They are still affordable on most budgets and offer some interesting prints that can't be found with other companies. Their towels are reinforced which should increase their lifespan as well as the investment potential from customers.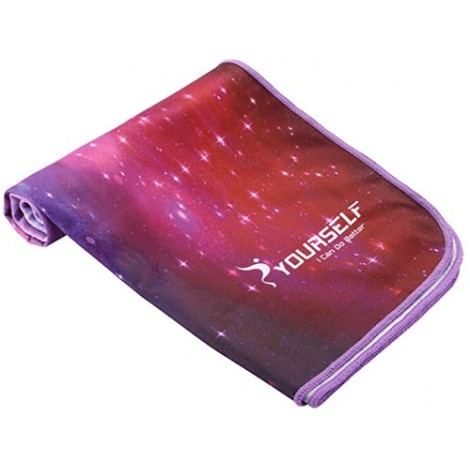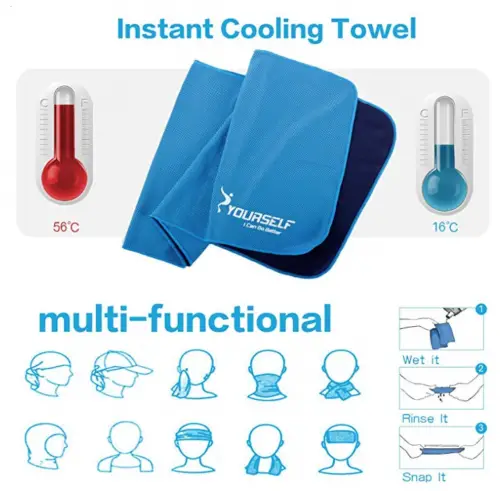 Unique Prints
Waterproof Pouch Included
Smooth Finished Edges
RoHS Compliant
SYOURSELF is something of a unique company in that the vast majority of their products are towels for various uses. Beach, yoga, and cooling towels all have representative products in their inventory as well as a few types of water bottles. It is the inventory of a company that wants people up and moving as often and as safely as well-hydrated as possible. Their basic cooling towels are some of their most popular products and for good reason. They come in a variety of colors and prints, some of them not seen anywhere else. The product is RoHS-compliant and has smooth, finished edges for a more polished look.
Read more
Unique Prints
Outdoor activities aren't known for their glamour but that doesn't mean that people don't want to look good when they are outside or on the go. Many of the companies on this list offer their products in several colors but SYOURSELF is unique in that they offer several patterns and prints in addition to solid colors. One of their most unique prints is a galaxy print, which has been an incredibly popular pattern for about five years now and shows up on everything from cupcakes to backpacks to leggings.
Smooth Finished Edges
A common issue that some people raise with the idea of these products is that they appear to be rough-made and look like they will unravel or fray over time. And for some products this is true. SYOURSELF, however, stands a little apart from the rest of the market in that they take the time to ensure that every finished product has smooth, finished edges that they are certain will not fray or unravel.
Cost and Value
SYOURSELF is the second most affordable company on this list, only a smidge more expensive than the company rated as "Best Value". A lot of value is packed into that low price such as the included carrying pouch, smoothly finished edges, and the RoHS-compliant manufacturing process. Customers should be aware that the company advises against machine drying this product, but it is otherwise well-made and easy to care for.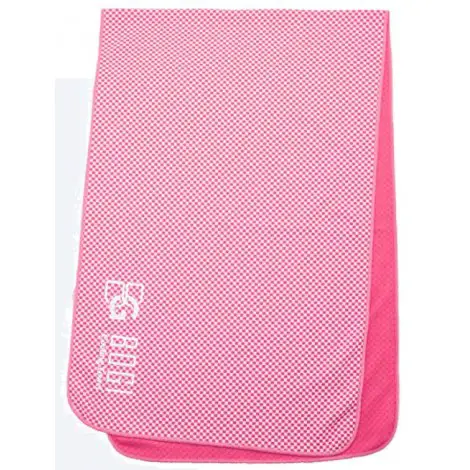 100% Bamboo Towel
Recyclable Carrying Bottle
RoHS-Compliant
Multiple Sizes Available
BOGI is a company focused on the outdoors and self-care. They have one or two products that don't immediately relate to the outdoors and those are firmly in the self-care category. Their dedication to the outdoors has resulted in several products that are well-loved by the company's customers, many of which are produced with a low-level ecological impact in mind. Their towel is made of 100% bamboo fibers through processes that are RoHS-compliant. The product is also shipped in a reusable and recyclable plastic bottle that can be put to several uses in addition to carrying the towel.
Read more
100% Bamboo
The vast majority of products on the cooling market are made of synthetic materials. This doesn't bother some people but other people have sensitivities to certain kinds of synthetic materials and other people simply don't want to increase the level of microplastics currently in circulation. Consumers in either of these groups will be pleased to know that this product is made of 100% bamboo, one of the most renewable manufacturing resources currently available.
Recyclable Carrying Bottle
Many companies offer carrying containers for their towels but BOGI has taken it a step further with their reusable plastic bottle. It is produced from post-consumer plastic and is fully recyclable so that it can be put back into the manufacturing cycle if it breaks or if the product is no longer needed.
Cost and Value
Not only is this product the most ecologically sound product on this list but it is also the most affordable. Bamboo dries a little faster than its synthetic counterparts but that is a small trade-off for the affordability and sustainability of this product. It comes in several colors and multiple sizes, all of which are RoHS compliant.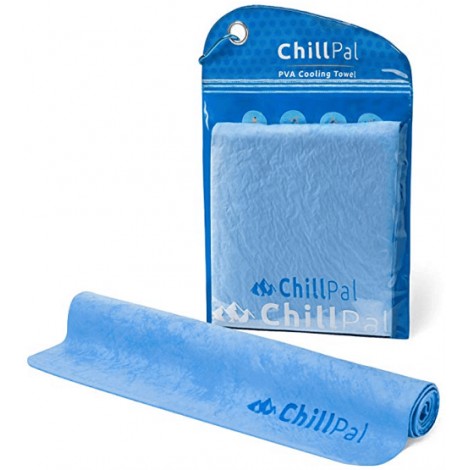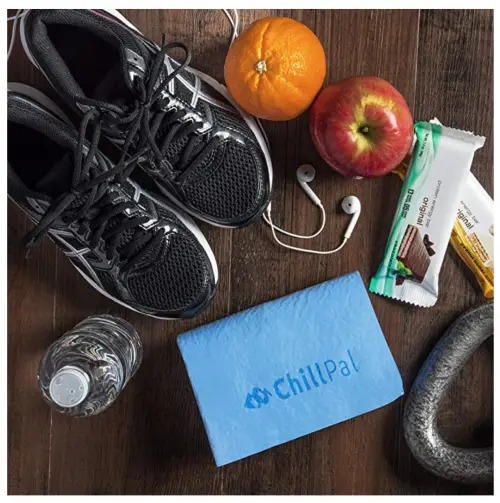 Extra Thick PVA
Can Cut to Size
Multiple Wrap Options
Comes with Pouch
Chill Pal is the name under which the larger company Go Active sells their cooling products. Go Active is a fantastic company that has been featured on several previous lists and it is clear that they've brought their talent for excellence to the cooling gear market with their Chill Pal line. It was one of the first company names to break onto the cooling gear scene and their popularity hasn't waned since they first debuted their original product. This towel is made of extra-thick PVA and can be cut into any necessary size. It comes with its own carrying pouch and can be worn in a variety of styles depending on the wearer's needs.
Read more
Extra Thick PVA
PVA is a synthetic material that is often used in cooling products due to its highly-absorbent nature. Proponents of the material claim that it holds onto water much longer than natural fibers do, thereby extending the amount of time that a PVA product will help someone stay cool. The biggest issue that fans of PVA have is that tends to be a thinner material and does not offer much tactile comfort. Chill Pal avoided this issue by using a super-thick form of PVA that is softer to the touch than most of its synthetic competitors.
Comes With Pouch
Every Chill Pal product comes with their new resealable pouch. This pouch comes in handy not only when the towel has dried and is no longer useful but when it is clean between uses and must be stored with other outdoor equipment. Chill Pal's pouch also allows users to put a small amount of water into the towel and seal it into the pouch before they head out so that the product is more readily applied when needed.
Cost and Value
These products are generally priced to fit well into most budgets but Chill Pal is one of the more expensive ones on the market. Part of the cost can be attributed to the company's brand since they were one of the first to break into this particular market. The rest of the cost can easily be attributed to the product's popularity and extra-thick texture.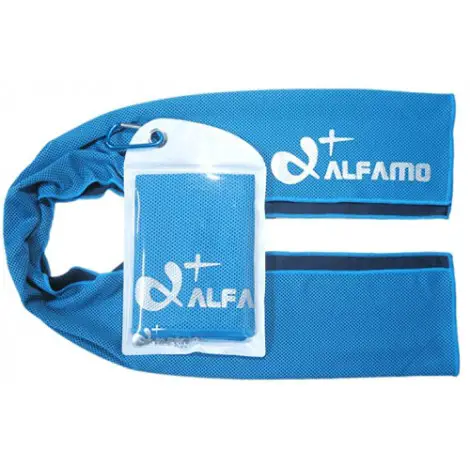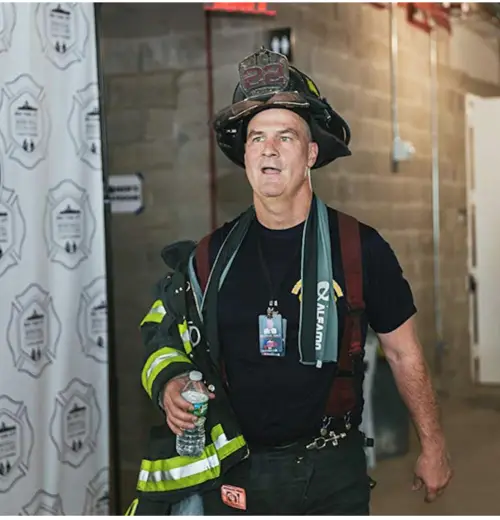 Hyper-Evaporative Mesh Material
Multiple Sizes Available
Extra Long
Lifetime Money-Back Guarantee
Alfamo has exactly one product on the market and this cooling towel is the one. They have clearly taken their commitment to their flagship product very seriously and want to take their commitment to their customers even more seriously. Their towel is available in a range of sizes, the largest of which is considered "extra long" by industry standards. It is constructed from a hyper-evaporative mesh material that should help to cool the wearer faster than the average material would. And though some users complain of an unpleasant smell when the product is wet, there are already countless happy customers that are all protected by Alfamo's lifetime money-back guarantee.
Read more
Extra Long
Many cooling towels come in the same general size which is dictated mostly by the ease with which the material can be worn by the majority of people. The normal towel length can limit the ways in which it can be worn, however, and Alfamo knew this when they designed their flagship cooling product. They opted for an extra-long length so that their product could be worn in more ways by more people while retaining more water for a slightly longer cooling period.
Lifetime Money-Back Guarantee
There is always a bit of a risk when trying new products, particularly products that haven't been fully vetted by testing and public experience. Cooling towels are one such product and although the towels might new, Alfamo showcases their classic dedication to their customers through the use of a lifetime money-back guarantee. Their customers are covered for the life of their product and more than one customer has already raved about the company's excellent customer service.
Cost and Value
Alfamo is very nearly the most affordable company on this list which is part of why they earned the top spot. Their products are available at a variety of prices and the actual value of the product depends somewhat on where along the price spectrum a customer can get the product for. The biggest drawback to the product seems to be that it emits an unpleasant odor when wet, at least according to some users. Other customers report no smell or that any smell given off by the towel fades after a few uses.
Criteria Used for Evaluation
Materials
Natural
Natural fibers have long dominated the linens market. They tend to be softer, more absorbent, and easier to care for than their synthetic counterparts. They also require less processing on their way from plant to cloth which can help keep the cost low and the environmental impact even lower. Natural fibers are rare among cooling towels but they offer a greener option for anyone who wants a cooling towel but does not want to use one made of synthetic material.
Synthetic
Most cooling towels are made from synthetic fabrics. The market seems split on whether single fiber or synthetic blends make better products, as each has its own particular benefits. Synthetics also have a few drawbacks such as an inability to be frozen for fear of breaking as well as relatively specific care instructions.
Single-Fiber: Roughly half of the cooling towel market is made up of single-fiber synthetic towels. These are most often made of polyester as it is the most absorbent synthetic fibers that are also soft-to-the-touch. Polyester still has a lingering bad reputation from the '70s and '80s, but the material has come a long way from the scratchy stuff that melted like wax when it became too warm.
Blend: Half of the synthetic cooling towel market may be made up of single-fiber material but the other half is made up of blends. There are several possible combinations that manufacturers may turn to, but all of them favor absorbent materials that won't scratch or otherwise irritate their customers' skin.
Style
There are many ways to wear cooling rag. Most companies suggest twelve possible ways that their product may be worn, usually with instructions or pictures detailing each specific style. The more styles a product can be worked into, the more versatile it is for different hair types which is why this particular trait was specifically considered when this list was drafted.
Size
These products are available in a range of sizes, the smallest of which is only about as bag as a hand towel while others are two or three times as long. Different sizes dictate the ways in which the product can be worn which is a factor that some users are very specific about.
Resizing Options
A popular trait of cooling towels is that many can be cut down to smaller sizes to fit the specific needs of their users. There are a few towels on the market that cannot be cut but these were left off due to the regularity with which customers seem to ask about whether they can resize their purchase.
Ease of Use
Care Instructions
Because of the variety of materials used to make cooling towels, the care instructions vary widely. Some can be machine washed and dried while others must be hand washed and then laid out to dry. Most people don't have the time or desire to hand wash their clothes and the products on this list were chosen because they most often require machine washing and line drying.
Storage and Carrying Cases
A popular accessory to include with cooling towels are pouches, tubes, and bottles that can be used to store the towel between uses or carry it when it is no longer wet but has not yet been cleaned. Not all companies offer this small add-on and those that do were given a higher level of consideration than those that did not.
Expert Interviews & Opinions
Most Important Criteria
(According to our experts opinion)
Experts Opinion
Editors Opinion
Users Opinion
By Default
sleeping
It is not recommended because this will limit the amount of water that can evaporate from the towel which is a key component to helping people stay cool.
Wearing with hats
This works best on hot days because hats will limit how much water can evaporate from the towel which is part of how it keeps people cool.
Other Factors to Consider
Effectiveness
Cooling towels aren't just useful during someone's workout, of course. They can speed recovery during a cooldown period, keep someone from overheating while working outside, and make long hikes more enjoyable by removing the distraction of increasing body temperature. As long as the towels can be wetted whenever they dry, they can do their job indefinitely. Studies are still being done on how effective cooling towels are when compared to standard multi-use towels, unfortunately, but there is no denying that these towels will help keep their wearers cool and are often easier to wear than most towels. And when someone is on the move, a product that can stay in place is important!
Frequently Asked Questions
q:

Can I freeze my towel?

a:

Nearly every company on the market advises against freezing a cooling towel. Most of the products become very brittle when frozen and may snap into pieces if a customer buys and then freezes it. Companies that offer warranties for their products will often not honor them if a customer goes against this guideline and freezes their towel, thereby damaging the product.
q:

Can these products be cut up?

a:

Yes they can be! It is important to check the specific guideline for any product, but nearly every company on this list has asserted that their towels can be cut up without losing any efficacy
q:

Do they really cool by 30 degrees or more?

a:

This claim is still up for debate. Few studies have been done on the topic and the results are varied on the studies that have been done. Some people feel that regular towels cool just as well while other insist that cooling towels really do drop to a lower temperature.
q:

Are these safe for all ages?

a:

These towels shouldn't be placed over the mouths of people who cannot remove them and very small babies could become too chilled so it is important to keep a close eye on anyone using a towel that is non-verbal or may be unable to remove it if it becomes uncomfortable. With this in mind, the towels are safe for just about everyone.
Subscribe to our Newsletter