Best Countdown Timers & Clocks Reviewed
last updated:
Dec 20, 2019
Gone are the days of the burly gentleman crouched at the edge of the mat with a clock in one hand and the other hand perched on the bell to signal the end of the round. Gym timing technology has come a long way since then, so if you are planning to upgrade your equipment you will want to research to find the best countdown timers for your needs.
Timers have many uses, both in the gym and in your daily workout. You will find them useful when going through interval training, practice matches in the gym and even for teaching purposes. Instead of having one hand constantly engaged in holding a clock or constantly having to check your watch, it is nice to have one watch everyone in the room can see or something you can easily read while working out without having to stop and check it.
Featured Recommendations
Gym Next Flex Timer

Our rating
Easy to use
Price:

See Here
Chihai Electronic Co. clock

Our rating
Ultra Bright Display
Price:

See Here
BTBSIGN Countdown Clock

Our rating
Easy to Program
Price:

See Here
Modern timers are mostly digital with multiple styles and features. The numbers come in different sizes and colors. The new designs are capable of many different types of timing. Remember to keep in mind exactly what features you need for your specific discipline. Will you be doing interval training? Will you be having practice matches with timed rounds? Are you working in a huge gym or a smaller room? Will you be doing laps on a track or in a pool? Will you be strictly indoors? All of these are questions which will be helpful in your choice. There are lots of timers on the market so we have listed ten of our favorites.
10 Best Countdown Timers
1. Gym Next Flex Timer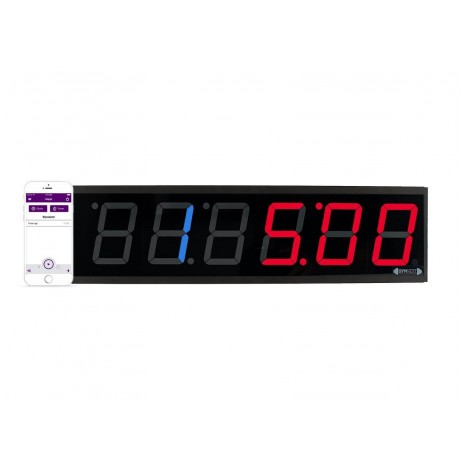 GymNext is dedicated to developing technology which will enhance your workout. The Flex Timer is perfect for CrossFit, 7-Minute Workout, or fitness boot camp. It has 2.3-inch LED in a crystal clear display. It will also signal you with an 85db buzzer and help you keep your workout on track.This timer saves an unlimited amount of custom workouts.
Expand to see more
Convenient Control
The timer is convenient to control because you can connect it to your smartphone, tablet, or a smartwatch. You can set up the timer from the app on your phone.

Bluetooth Range
The Bluetooth range on this timer is over 100 feet. It adds a wonderful convenience of not being tethered to the clock or an awkward remote. You are free to focus on your workout.

Cost and Value
The price for this timer is one of the higher on our list, but the features included are almost too many to name so it is well worth the cost.
Mounts on the wall

2.3-inch display

Free mobile app

Great for a home gym

85db buzzer
Cannot turn down the volume
2. Chihai Electronic Co. clock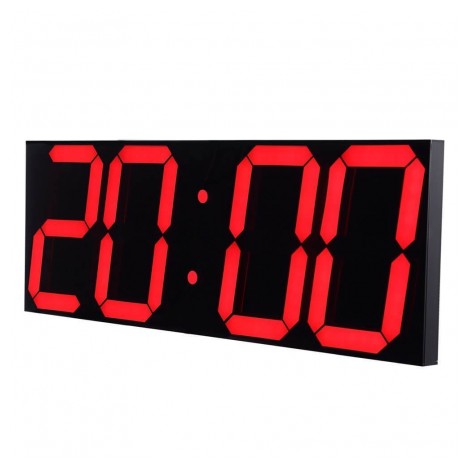 The Chkosda specialized in clocks of all shapes and sizes. This model is perfect for a good-sized gym. The numbers are jumbo and are readable even long distance and come in a choice of three colors. It is nice and modern looking and is easy to install. You can put it up high on the wall and use the remote to run it, which works at up to 30 meters.

Expand to see more
Multiple Display
The timer has lots of display options. You can display the time, a calendar, or the temperature when you are not using it for countdown. The remote control makes it easy to toggle between them.

Brightness Adjustment
This clock has eight levels of brightness adjustment. The brightness is nice and clear and can be seen throughout the whole building.

Cost and Value
This is the most inexpensive timer on our list but with all the options it includes this is a great value.
Controller works within 30 meters

Supports countdown

6-inch tall numbers

Supports 16 groups with a snooze alarm

3-meter cord
Directions are complicated
3. BTBSIGN Countdown Clock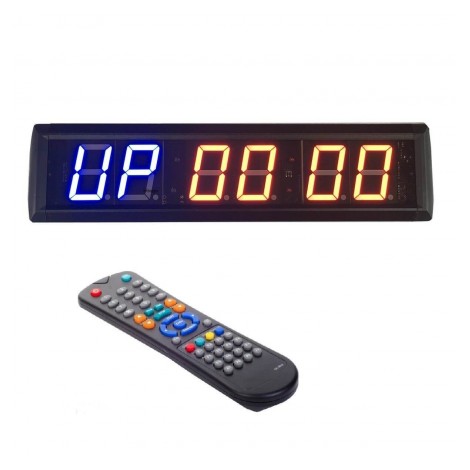 This clock is perfect for your MMA workout in a gym, at home or even in the office. It works for Tabata, MMA, boxing, and EMOM training. The clock comes with a bracket and screws to mount it on the wall and an AC/DC adapter. Once it is up there, you can use the handy remote to control it.
Expand to see more
Multi-functional
There are lots of different options with this timer. It can be used to countdown or count up. You can use it as a stopwatch or for interval timing, and when you are not using it you can display the time.

Good LED Display
The BTBSIGN specializes in LED signs so you can be assured the display on this sign is crisp and clear. The LED has a ten-year lifespan so you will get long use from it.

Cost and Value
This timer is inexpensive and a good value with multiple features. You will be able to rely on it time and time again. Easily programmed and simple to care for you are sure to find what you need in this option.
12/24 hour display

Easy remote control

2.3-inch tall numbers

Comes with bracket and screws

AC/DC adapter
4. EU Electronic Clock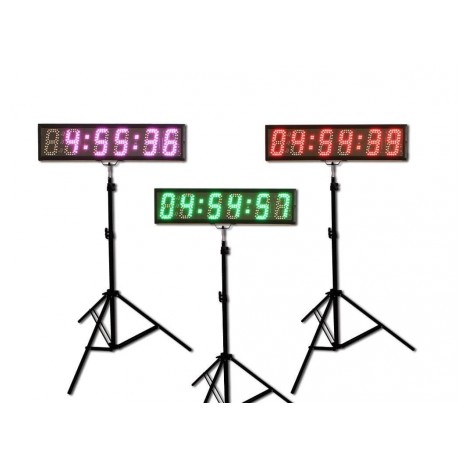 This clock is the most perfect for racing events or sparring matches. It comes with a tripod that is from 27 to 63 inches tall. The display can be set to clock countdown or up or stopwatch. It comes with instructions and a remote which reaches 5-10 meters or you can control it with a smartphone.

Expand to see more
Easy to See
The design of this timer makes it easy to see at a distance. The numbers are five inches tall so they stand out. The timer also comes with a nice tripod which holds it up high and at a good angle.

Lots of Colors
There is a nice choice of colors for the display. You can pick the one that seems to stand out the best for your situation. Choose from red, green, blue, yellow, fuchsia, aqua, or white. Use your smartphone or IR remote to toggle through them.

Cost and Value
The cost is about average for the products reviewed on our list which makes it a good value because the timer is good quality and convenient to use.
Includes tripod

5-inch tall numbers

Choice of 7 colors

Stopwatch available

Works with iPhone or Android
12V 18A battery not included

Needs sandbags
5. Leadleds Digital Timer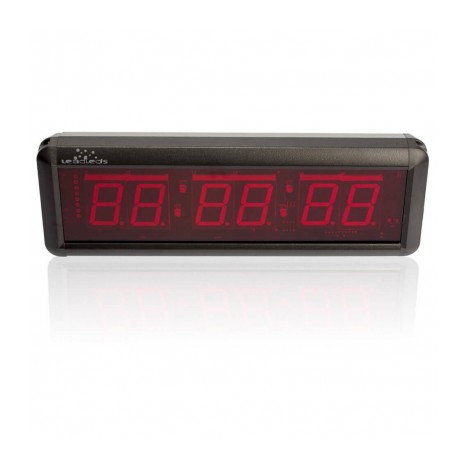 Leadleds is a company which specializes in LED lighting. They designed this multifunction LED display as a digital clock with countdown, count up and stopwatch functions. The numbers are clean and bright. This is a clock you can either hang up or leave on a tabletop. The clock can be programmed with the remote which reaches approximately thirty feet.

Expand to see more
Sturdy Make
This timer is made with a durable aluminum frame and metal brackets. The practical design fits in anywhere either on the wall or just left on a counter or tabletop.

Convenient Sound Control
There is an adjustable mute and prompt tone. The alarm can be turned on and off. You can also program it using the remote which is especially convenient if you have the timer mounted high on a wall.

Cost and Value
This is the cheapest timer on the list which may be because of its size, but that just means you will get a timer perfect for your personal needs which will be easier on your wallet.
Numbers come in red and blue

4-inch tall display

Easy to read

10 brightness levels

2 clock modes
Remote keypad could be laid out better

Very short cord
6. BESTLED Race Timing Clock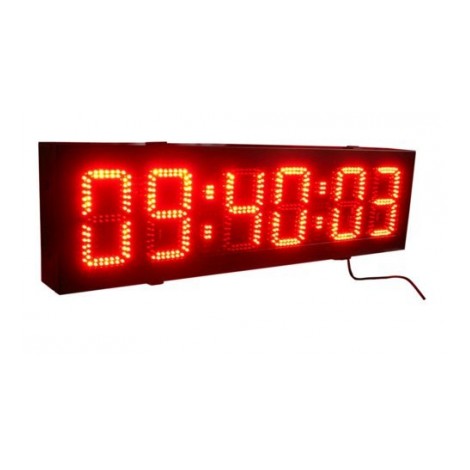 This is an excellent race timing clock which was made for the outdoors but could be used in a large indoor gym as well, maybe to time sparring matches. The numbers stand eight inches tall with bright red colors. It also comes with a tripod and a convenient wireless RF remote. The remote is convenient for editing, pausing or stopping the timer from up to twenty meters away. It is also waterproof.
Expand to see more
Double Sided and Bright
The side can be viewed from both sides and is made of high-quality ultra brightness LEDs. The numbers are clearly visible at eight inches tall.

Sturdy Design
The cabinet is made of metal with anti-rust painting. The whole clock is weatherproofed to work outdoors and weighs about 50 pounds.

Cost and Value
This timer is the most expensive model on the list. It is easy to see the reason. The clock is durable, waterproof, and huge. It also has a tripod and remote.
Digits are 8 inches tall

Bright red digits

Comes with tripod and remote

12/24 hour display

IP64 cabinet
7. Microframe Corp. Timer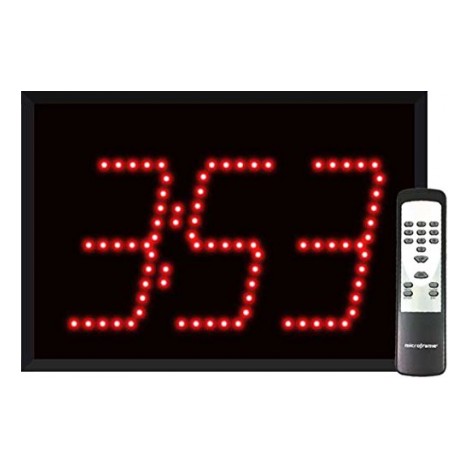 Microframe Corp. designed this smaller, more personal sized timer. The 3-digit display numbers are 5 ½ inches tall. It has an internal audio chime. This timer comes with a wireless remote. There is a 24vac power adapter with a 20-foot cord and the unit also comes with battery backup in case you lose power.
Expand to see more
Versatile
This clock is simple with an easy 3-digit timer but it is set up for many uses. You can use it for a special event timer, a countdown timer, or a clock to use for interval training. It is pretty handy.

Good Visibility
This clock has nice 5 ½ inch tall numbers. The numbers are designed to be visible from up to 125 feet away.

Cost and Value
The cost of this timer is about average which makes it quite an economical choice. You can get the job done without breaking your wallet.
Internal audio chime

Battery back up

24vac power aMicroframe Corp.

Countdown Timerdapter

Brass push buttons

Includes wireless remote
8. Ledgital Large Clock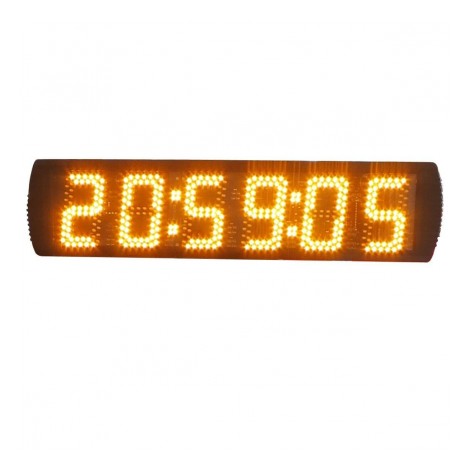 Ledgital designed this countdown clock to be what they call "semi-outdoor". In other words, it works great outdoors but is not weatherproof. You can use it as a countdown/up timer or a stopwatch and display a regular clock when it is not in use. The yellow LED numbers are five inches tall and stand out in a crowd.
Expand to see more
Strong Remote Control
This timer comes with an IR remote control which uses two AAA batteries. The remote will operate within twenty meters which is useful when the clock cabinet is mounted out of reach.

Wall Mounted
This kit includes brackets for mounting the clock on the wall where it can be easily seen from at least 100 feet away. It also works self-standing.

Cost and Value
The cost of this clock/timer is about the medium which makes it a cost-effective addition to your gym. It is durable and trustworthy to ensure all your times are accurate.
5-inch tall numbers

IR remote control

Easy to edit settings

Durable and lightweight

Semi-outdoor use
9. BESTLED Countdown Timer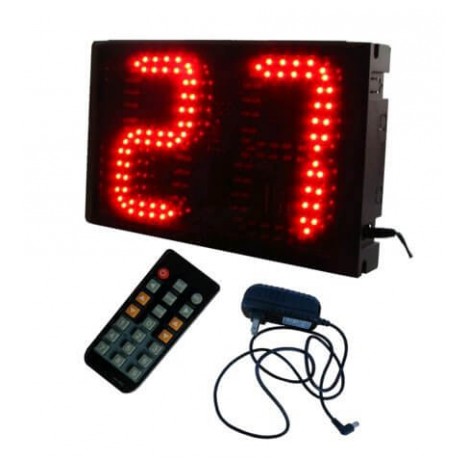 BESTLED designed this timer which is simple and easy to read. It is built in a sturdy aluminum case and sharp two-digit numbering. It is operated with an IR remote control. The LED have a nice, long lifespan of 100,000 hours.

Expand to see more
Simple Edit and Start
Control this timer completely remotely with the IR remote control. You can set the timer for any amount up to 99 seconds and the display is simple to edit at any time, as well as start.

Nice Coloring
This timer is especially easy to read. The digits are six inches tall and colored bright red for clear visibility.

Cost and Value
A simple price for a simple set up complete with everything you need for timing in your gym.
2 digits

Red digits

Aluminum case

Comes with cord

IR remote control
Remote needs a CR2025 3V battery 
10. HongHao Gym Timer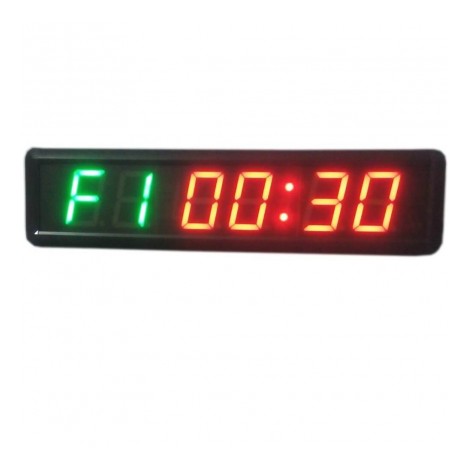 HongHao has created this timer with quality personal fitness in mind. It is designed to help with Crossfit training and timed interval training. It is easy to read with two colors on the display. Green shows the mode that the timer is in, and red is for the timer itself. When not in use, the clock displays 12/24 hour.
Expand to see more
Made Sturdy
This clock is made from high-quality aluminum alloy, perfect for the wear and tear of being carried around in your gym bag.

Lots of Uses
The HongHao timer is set up to do countdown or count up, interval timing, or a stopwatch. When you are not using it, the timer becomes a regular clock.

Cost and Value
This is one of the less expensive timers. Since it is more compact than a lot on the list the cost will be worth having a personal timer to help with your training.
12/24 hour display

More compact size

Made of aluminum alloy

Two color display

Buzzer sounds at end of training
Does not come with a battery
Having the right timer is crucial in your gym workout. That extra second can mean one more rep, one more jab to take down your opponent, or holding your workout one more second to get the full benefit. Fitness timers should be an integral part of your workout routine. They are helpful with a continuous workout or with interval training. You can also use them to time sparring matches.
Interval training has been around since the 1970s but has gained popularity more recently, including being used by world-renowned athletes like Lance Armstrong. You can also use it for Crossfit training or sparring matches or even something as simple as measuring how long you are working out. If you have 30 minutes every other day planned, the timer can help you stay on track. Always be sure to double-check with your doctor though before starting any new fitness regimen. The timers can also be great fitness or boxing gifts.
Criteria for Evaluating the Best Countdown Timers & Clocks
Multiple Functionality
The first thing to consider when choosing a timer for your fitness routine is exactly what activities you are planning for your workout or at your gym. The timer is a huge part of conditioning, training, and development. Most of the better models have multiple timing choices. So you can use it for many different types of activities.
Countdown Timer –
The timer counts from your goal time down to zero. This feature would be used for something like a sparring match where you put the timer on three minutes and spar until the timer goes off. It also comes handy for weightlifting and cardio.
Count Up Timer –
A count-up timer can be used to develop endurance. For example, if a boxer is sparring in the ring for three-minute rounds you could raise the time to four and five minutes to help them slowly build up.
Interval Timer –
The interval timer is used for many different types of workouts. There is HIIT (high-intensity training) which alternates high-intensity exercise with a period of rest. This feature also works well with Crossfit training.
Digital Clock –
When you are not in the middle of a workout it is handy to have a digital clock up on the way. A lot of these timer clocks can be set to display in 12-hour or 24-hour times.
Visibility
Another important feature to consider when choosing your gym timer is visibility. Your decision will depend mostly on what you will primarily be using it for. Is this a clock you will be adding to your gym bag or a small timer for your home gym? Or are you a gym owner who will need a large clock mounted up on the gym which the whole room full of people will be able to see? Check the size of the digits on each clock.
A lot of the models list how far away the visibility is as well which will be helpful. Look for clocks that have nice, clear LED lights. What colors are more easily visible for you? There are a lot of choices along that line as well. Some of the timers have multiple choices so you can switch the colors for different activities.
Convenience
Consider the other miscellaneous features which make the timer most convenient for your needs. Today's market has plenty of options out there so you will easily find the perfect model for you. Here are a few to keep in mind:
Remote Control:
It is nice to have a remote control if you are planning to mount your clock high up on a wall so you can easily start or edit it. 
Power Options:
Is the clock battery powered by a battery that is easy to obtain? Is it electric with a backup battery? If it has a cord, is the cord heavy duty and long enough to easily reach an outlet? 
Weather-Proof:
If you are using the clock indoors this will not really factor into your decision, but if you plan to use it outdoors, be sure your choice is marked as being weatherproofed and water resistant.
Now you have lots of options to think about, we hope you will find the list helpful in choosing the gym timer that is the very best for your gym or workout.
Frequently Asked Questions
Q:  What is the difference between HIIT training and Tabata training?
A:  HIIT is high-intensity interval training where an intense workout is alternated with a brief rest period. Tabata training is a form of that HIIT workout. It is four minutes of HIIT, with 20 seconds of workout and 10 seconds of rest for eight total rounds.
Q:  What is an IP rating on a cabinet?
A:  It is a two-digit number used to rate how strong the cabinet seal is to protect against outside elements. The first number indicates the protection against solids like dust or sand. The second number is the protection against liquids.
Q:  What is Crossfit training?
A:  Crossfit training is a regiment based on combining a variety of movements for a more complete workout. It includes gymnastics, weightlifting, running, and more.
Q:  What is the boot camp workout?
A:  Fitness boot camps help you build your strength and endurance. They offer a challenging workout. The camp builds great camaraderie among the participants. It sounds like a great way to make your workout and getting into shape much more fun.
Q:  Is MIIT training good for you?
A:  This type of training is a huge trend for 2018. It slows aging and boosts metabolism. It is good for you but, as with everything, you need to make sure you pay attention to doing it correctly. Make sure you warm up properly and exercise with the proper form.
Sources
Subscribe to our Newsletter