Best Deodorant For Men Reviewed
last updated:
Dec 04, 2019
No one wants to be the smelliest person in the gym! A great deodorant for men is the best way to smell fresh and clean even as you work up a sweat. What we loved about the different brands out there on the market is that they come in fresh and clean scents without the use of any harsh chemicals.
To train at your very best, you pay extra close attention to what goes into your body. You should pay equally close attention to what goes on your skin as well. We wanted to make sure that we selected products that were made from ingredients that you could feel good about, but that we stop odor in its tracks as well.
In the guide, we have listed some of our favorite deodorant for men to ensure that you smell as fresh all day long.
In a Hurry? The test winner after 7 hrs of research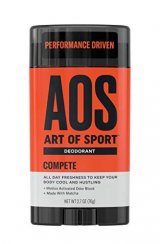 Art Of Sport
Why is it better?
Trusted brand
No harmful chemicals
Smoothe
In a
Hurry? Editors choice: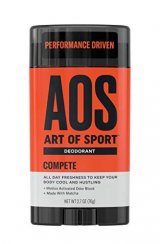 Test Winner: Art Of Sport
2
Researched Sources
920
Reviews Considered
7
Hours Researching
10
Products Evaluated
Product Purity
Effectiveness
Brand
Features
Side Effects
By Default
Out Top Deodorant for Men Picks
Criteria Used for Evaluation
Product Purity
Clean ingredients are the best way to take care of your skin.
If you care about what you are putting into your body, you need to look at the ingredients that you are putting on your skin. There were a few ingredients out there on the market that we tried to avoid. Below, we have listed those ingredients and the reasons why we did not want to use them in the majority of products on our list.
Aluminum: Over the years, aluminum has taken a big hit in the deodorant market. Some users feel that prolonged exposure to aluminum can cause cancer over time. The research isn't definitive on this account, because it is hard to tell how much aluminum is actually absorbed into the skin. Many users avoid aluminum to be safe rather than sorry.
However, there is a more concrete reason as to why we skipped out on aluminum. Those that sweat heavily love products with aluminum because it actually blocks the sweat glands in your armpits to prevent you from sweating in the first place. Over time, this will make your sweat glands larger than normal. This means that if you accidentally forget to put it on one day, be prepared to sit alone on the subway.
Parabens: Just like aluminum, there is just not enough research to definitely state whether or not parabens actually cause cancer. It is used as a to increase self-life. What we do know is that they are absorbed into the skin- and they stay there. Some research indicates that prolonged exposure can cause tumors in breast tissue and cause reproductive issues.
However, if you are reading this- you are most likely a man! This means you don't need to worry about parabens in your body. Parabens don't just affect humans, sadly, but they affect wildlife as well. There was a study conducted by Tom's that found the run-off from the sewers into the ocean causes parabens to become present in ocean life.
We also wanted to select products that contained ingredients that you could pronounce, as well as options that were free of dyes and fragrances. An added bonus was when we found companies that did not test their products on animals (such as Tom's)!
Effectiveness
At the end of the day, you just want something that works!
No one likes the idea of being the smelliest person in the room, which is why we made sure we selected products that were effective! There were a few things that we took into consideration to ensure that every product we selected would keep you from smelling.
Bacteria-fighting ingredients were one of the very first things that we looked for when scanning each and every ingredient label. Perspiration itself isn't the reason that you smell. You also sweat from your head, but it only smells like salt.
It is actually the bacteria that live under your arms that create that classic unpleasant smell. When perspiration comes into contact with the bacteria under your arms, that where things get a little bit smelly. Killing bacteria is the key to cutting out the funk.
There are a few natural remedies that will help kill bacteria while wicking away moisture. Ingredients such as baking soda, talc, and arrowroot powder were a few of the heavy hitters that work quite well.
Alcohol is another great option to help kill bacteria. Some users tend to shy away from alcohol because they feel it dries out their skin (which is true). If you opt for a formula that uses alcohol, be sure that there are soothing ingredients such as aloe vera or coconut oil to add in some moisture to your skin.
If you are incredibly paranoid about your funk and don't care about what you put on your body, selecting an option that uses aluminum may be better suited for your needs. aluminum has it's specific drawbacks and may not be ideal in the long run. However, we cannot argue with its effectiveness. Not only does it keep you high and dry, but it prevents you from smelling bad as well.
Brand
There are some brands out there that have been in business for decades, and for a very good reason.
We wanted to select brands that have a history of thoughtful ingredients as well as taking care of your body inside and out. Some brands on this list are household names, while others may fly under the radar.
We did our research with each and every brand to make sure that they were trusted brands that took care of their products. Tom's of Maine, for instance, has been in business for almost 50 years. They were founded in 1970 and wanted to make quality products that were free and natural. Their products are free of unwanted chemicals and dye, they never ever test on animals, and they use recycled packaging when possible.
Jack Black, on the other hand, is one of the leading names in the skincare world. Many users often don't consider their underarms to have skin that needs to be protected and care for as well. Jack Black places ingredients in their skincare line that help nourish and soothe irritated skin. We liked their line of deodorant for men because they help fight odor while keeping your skin happy.
Whether it is a brand you have bought before, a brand you have heard of, or a brand that you have never heard about- we did our research on all brands. We want to make sure that the products that you use on your body come from trusted companies that care about keeping you happy and smelling fresh!
Features
You probably didn't think that we would be talking about deodorant features!
When selecting a product to make our list, we wanted it to bring a little something extra to the table. Sure, effectiveness and product purity are our most important goal, but a little something extra never hurt.
The very first thing that we looked at when considering extra features was the scent. The goal of any effective deodorant for men is to kill the bacteria that causes odor, and not just cover it up with a pine tree. We made sure that it had all of the ingredients to kill odor, and them we considered the scent.
The most popular scents when it comes to deodorant for men are scents that smell a little bit spicy. Essential oils such as black pepper and sage are among some of the most popular fragrances. They give you that classic masculine smell without the musk that reminds you of your grandpa.
Another popular scent option was citrus scents. Using essential oils such as lemon, lime, grapefruit, and orange, you can smell fresh and clean without smelling too feminine.
If you don't like the idea of any additional scent, there are also many brands that offer unscented options. The goal of deodorant is to kill bacteria that cause odors, not cover it up with a fragrance. Additional fragrances are just a wonderful added bonus!
Side Effects
Side effects are often minor but can pose to be a real problem.
Depending on the formula used, side effects can start as something as simple as embarrassing white marks on your clothes, but also escalate to rashes under your arms. Below, we have listed some possible side effects and the best ways to avoid them.
White marks: Anyone that has lived on planet Earth and used deodorant before is familiar with white marks on their clothing. You never seem to notice them until you are standing in a crowded meeting in the early morning hours. There are two ways to avoid this embarrassing occurrence.
The first way to avoid this is to skip out on the white stick altogether. There are quite a few brands that opt for the clear gel stick to side-step that annoying little problem. The downside to gel sticks is that they can often feel a little bit sticky, and they go on wet so that your underarms always feel wet throughout the course of the day.
However, if you don't want to give up your white sticks because you like how they feel, there are some ways to save your clothes. The first thing to do it to make sure that you only put on a singular layer. When it comes to deodorant, less is more. Also, make sure it completely dries before putting on your clothes.
Rashes: Rashes are rare, but they can happen. Everyone's skin is different, and it reacts to chemicals and ingredients in different ways. If you have notoriously sensitive skin, be on the lookout for brands that are dermatologist approved.
Another thing to look at to avoid skin irritation is the number of ingredients on the label. Simple math dictates that the new ingredients mean the fewer change that you will have a bad reaction to one.
Expert Interviews & Opinions
Most Important Criteria
(According to our experts opinion)
Experts Opinion
Editors Opinion
Users Opinion
By Default
Check Your Ears First!
We know it sounds a little odd, but you can tell a lot about your body odor by checking out your ear wax. If your earwax is clear or white- it means that your body does not produce the bacteria that causes body odor. If this pertains to you, you are one of the lucky ones that do not need to wear deodorant for men!
Let Your Body Do Its Thing
Sweating is your body's way of naturally cooling itself down when the pressure is on. When you wear an antiperspirant, you are keeping your body from doing what it needs to do. Deodorant allows your body to get to business as usual without running everyone out of the room by your funk!
When To See A Doctor
Don't worry, excessive sweating isn't the cause of a much larger problem, and it's quite common. However, excessive sweating can really affect your self-confidence and can be a real nuisance. If you find that you have had enough, your doctor can prescribe a strong topical solution to mitigate excess sweating.
Other Factors to Consider
Bottom Line
Staying fresh even when under some pretty intense circumstances has a myriad of benefits. That's why selecting a great deodorant for men is super important.
First, you feel more confident when you aren't worried about being the smelliest guy in the room. Secondly, people will want to be around you more when you smell fresh and clean.
Selecting a deodorant that is right for your needs is half the battle. Take into consideration what you are looking for before taking the plunge. If you have incredibly sensitive skin, you want to select a product that has as few ingredients as possible. If you hate white marks, a gel stick may be right for you. If you want to stop sweating completely and don't care how you do it, throw caution to the wind and opt for a brand that uses aluminum!
If you hit the gym to train at least once a week, opting for a great deodorant to toss into your gym bag will be greatly appreciated by those that are sharing machines with you!
Frequently Asked Questions
q:

What makes a deodorant for men different?

a:

All humans sweat under their arms, but there are just slight differences in men and women that require different needs. While women actually have more sweat glands under their arms than men, men sweat more than women. This means that deodorant for men is just a little bit stronger than deodorant for women.

Another difference between the two boils down to something as simple as scent. Women are generally drawn to sweeter scents like coconut, powder, and floral scents. Men, generally speaking, like warmer and spicy scents such as sage, black pepper, and pine.
q:

What's the difference between antiperspirant and deodorant?

a:

They may sound like they are the same there, but there are quite a few differences between the two. Antiperspirants work by blocking the glands under your arms from sweating at all. Odors happen when the sweat interacts with the bacteria under your arm, If you stop the perspiration from happening, you stop the odor from even happening.

However, many feel that antiperspirants are considered to be unnatural, and sometimes even a little unhealthy. You should allow your body to function as normal, but you don't want to smell. That's where deodorant comes in.

Deodorant does not stop you from sweating. Instead, it works by killing the bacteria that live under your arms so that you won't smell. Most brands use natural remedies such as talc, baking powder, or arrowroot.
q:

How do I avoid the white marks on my clothes?

a:

We have all been there, and it is very frustrating. You love your white stick because it goes on smooth and feels silky against your skin without feeling gloopy or wet. However, you go to slip on your sharp black shirt only to find your deodorant left white streaks all the way down the side.

One way to avoid this issue is to opt for a clear gel stick. However, if you don't want to give up your white stick, there are some things you can try.

First of all, most men put on way too much deodorant than they need. One or two thin swipes across your skin is more than enough. This way, you avoid heavy marks on your clothes. Another thing you should do is to make sure that your application is completely dry before putting on your clothes!
q:

What should I do if I am constantly sweating buckets under my arms?

a:

If you are tired of trying to dry your pits under the hand drier at work after ever meeting, there are some things that you can do.

First of all, ditch your deodorant. Deodorants are designed to help mitigate odors- not to keep you from sweating. If you want to stop sweating, you need an antiperspirant. The bad news here is that most antiperspirants on the market use aluminum, which could actually make the problem worse.

If excessive sweating becomes a problem and really affects your self-confidence, you could always pay your doctor a visit. Excessive sweating affects about 3% of the population, and there are prescription topical solutions that can help mitigate your soggy condition. We know it may be an uncomfortable issue to discuss, but it is better than getting caught trying to dry your pits with the hand dryer!
q:

Does my all-natural deodorant for men formulas actually work?

a:

The term 'all-natural' is often considered to not be effective. That couldn't be farther from the truth in this case! Ingredients such as arrowroot powder, talc, and baking soda are great ways of killing bacteria. You probably use baking soda to kill bacteria in your kitchen and bathroom, so why not use it under your arms as well?

Taking the time to put good foods in your body is incredibly important. However, many people don't use this same level of thinking when it comes to the products that they place on their skin. Chemicals such as parabens actually absorb into your skin- and stay there!

Natural products are good for your body, and they are also better for the environment. At some point every, you will wash off your layer of deodorant down the drain only to repeat the process every day. These chemicals wind up in the water supply and can affect the wildlife in surrounding areas.
Subscribe to our Newsletter