Best Desktop Punching Bags for Stress Relief Reviewed
last updated:
Dec 22, 2019
I have done several lists on punching bags. Heavy bags, free standing bags. and water bags. I didn't think there was a type of punching bag that I hadn't laid eyes on. And then someone introduced me to the desktop punching bag. For the most part, it is a silly novelty toy but it seems to have the same effect when used often and in small doses that a larger punching bag has in more spaced-out and longer-lasting boxing sessions. These desk toppers help relieve stress on the job, whether an invoice isn't adding up, a piece of coding won't work or, just maybe, an article is proving harder to research than the writer expected it to be. As an example, of course.
This is the best product on our list that is currently in stock: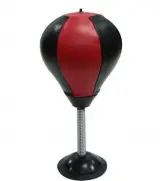 Trademark
Why is it better?
High-quality Synthetic Leather
Heavy-duty Spring
Inflator Included
Strong Suction Base
Unique Color Scheme
In a
Hurry? Editors choice: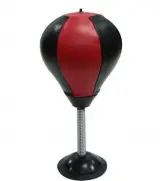 Test Winner: Trademark
15
Researched Sources
3400
Reviews Considered
15
Hours Researching
30
Products Evaluated
Materials
Durability
Features
Value
By Default
Criteria Used for Evaluation
Materials
The secret to a good desktop punching bag is that it springs back when it is hit. The best bag designs achieve this through the use of a heavy-duty spring that takes the force of the punch and then channels the energy into a recoil that brings the bag back up to its center point. The springs cannot be so heavy that they are hard to hit but they also cannot be so weak that they become bent after a limited amount of use.
Durability
Most products in this niche market are finished in synthetic leather which is a durable and easy-to-clean alternative to natural leather which is the traditional material for boxing equipment. Synthetic leather does not have to be conditioned and carefully cleaned. And while older versions of the material had a reputation for splitting or shredding, newer variations are supple and durable which allows them to retain their texture longer.
he most common base style for these bags is a large suction cup that keeps the bag upright on a flat surface. In most cases, these cups will do their jobs and hold fast when the bag is hit but there is a chance that strikes with some force behind them will knock break the suction seal and send the bag flying. It is important to check these sorts of bases from time to time and ensure that they are still solidly affixed to the surface beneath them.
Clamp Base: A very unique base type is the clamp base. This base style is ideal for anyone who has their own desk or table to which they can affix their bag. It is less likely to slip since it can be tightened down until the clamp no longer shifts. It also carries the unfortunate risk of marking the table which is a factor that must be taken into consideration before using it on a company desk or a family table.
Features
Inflation Tools: The most common accessory that comes with these products is the pump necessary to inflate them. These bags almost all use a slim need-tipped pump to fill the air sac inside the bag and such pumps are not commonly kept in most houses. Rather than make their customers purchase additional equipment, the companies on this list include the pump in with the kit and allow their customers to get started with the punching bag almost as soon as it arrives.
Wrist Wraps: Wrist wraps are common among boxers though most martial artists would find the idea of using them with these lightweight bags fairly amusing. If the bag is going to be used frequently, however, the wraps included by one or two of the companies featured on this list will help prevent wrist strain and injury.
Additional Bases: This accessory is very rare not because the companies listed above are unwilling to include it but because few of the companies on this list designed their bag with more than one base style in mind. In the rare instance that the bag was designed to use more than one type of base, both base types were included in the kit, adding a special burst of value to that particular product.
Value
Customers will probably want to check with their bosses before bringing one of these bags into their cubicle, especially if the cubicle happens to be a shared space. With the right go-ahead, however, these bags can easily become a fun talking point around the office. More than one customer reviewed the product has helped a tense workspace become a little more relaxed because it was easier for everyone to admit they were frustrated when their target was an inflated leather ball on a heavy-duty spring. Not every office will appreciate the change to knock around a punching bag when things get rough, but it's certainly worth a try if someone's job is particularly stressful. Or, of course, if their office happens to be at home where they can knock around the punching bag whenever they feel like it.
Warranties or guarantees are generally rare and most people would be hard-pressed to find a novelty company that adds a warranty to their product. The fact that one company actually offered a warranty is shocking and it brought a huge amount of value to their product.
Expert Interviews & Opinions
Most Important Criteria
(According to our experts opinion)
Experts Opinion
Editors Opinion
Users Opinion
By Default
Using in office
It is not okay to use in all offices, no. They may be unprofessional in some settings and inappropriate in others. It is best to ask a manager or HR staff member prior to setting one up.
Children
Very small children may get their fingers caught in the spring and should be monitored to avoid this. Otherwise, the bag is largely harmless and should be okay for most older kids and adults to use.
Other Factors to Consider
Accessories
The majority of desktop punching bags look the same. They are most often made of red synthetic leather and mounted on a heavy-duty spring so that it will bounce back when hit. A few exceptions exist in the form of unique punching bag exteriors and different mounting methods, but all of the designs boil down to the same key focus. These are not intended to take a real beating but rather to be swatted at or knocked a few times when someone's stress level peaks a little too high before they can head home for the day or it can be one of the best gifts for boxers. An ideal workday would never lead to the need for an on-call punching bag but those days are often outweighed by days where deadlines loom and work doesn't come together as it should. And these bags are here to help us through those trying times.
Frequently Asked Questions
q:

How hard can these be hit?

a:

These products are designed to take light slaps, swats, and knocks. They will likely fall over or dislodge from the desk if hit full-force by either a child or an adult.
q:

How do I clean these?

a:

All of the products on this list were made from synthetic leather and should be easy to clean. Their exteriors can be wiped down with a damp washcloth and then wiped dry without any ill effect on the bag.
q:

Will these leave a mark on my desk?

a:

It is possible. It would be best to test the clamp or suction cup on the underside of the desk or on an out-of-the-way portion before setting it up for long-term use.
q:

Do these really help relieve stress?

a:

Most customers report that they do, though some chalk it up to the silliness of hitting a novelty punching bag when they get frustrated rather than the act of hitting something.
Subscribe to our Newsletter