Best Desktop Punching Bags for Stress Relief Reviewed
last updated:
Dec 22, 2019
I have done several lists on punching bags. Heavy bags, free standing bags. and water bags. I didn't think there was a type of punching bag that I hadn't laid eyes on. And then someone introduced me to the desktop punching bag. For the most part, it is a silly novelty toy but it seems to have the same effect when used often and in small doses that a larger punching bag has in more spaced-out and longer-lasting boxing sessions. These desk toppers help relieve stress on the job, whether an invoice isn't adding up, a piece of coding won't work or, just maybe, an article is proving harder to research than the writer expected it to be. As an example, of course.
This is the best product on our list that is currently in stock: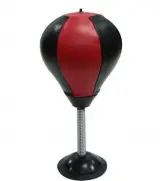 Trademark
Why is it better?
High-quality Synthetic Leather
Heavy-duty Spring
Inflator Included
Strong Suction Base
Unique Color Scheme
In a
Hurry? Editors choice: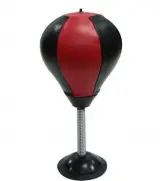 Test Winner: Trademark
15
Researched Sources
3400
Reviews Considered
15
Hours Researching
30
Products Evaluated
Materials
Durability
Features
Value
By Default
Top 10 Picks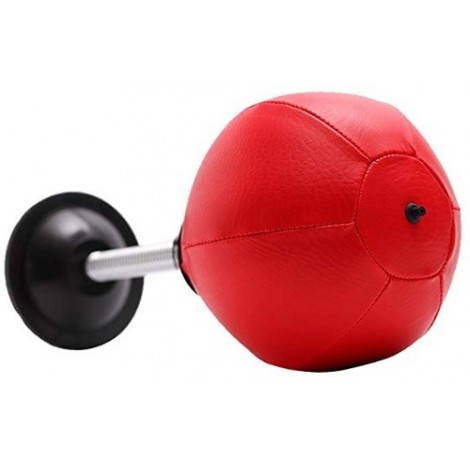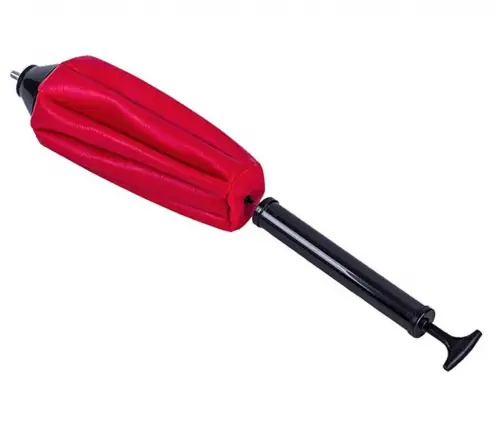 Lightweight
Strong Suction Base
PVC Exterior
Pump Included
Changping only gas a few products on the market, all but one of which are related to shoes and footwear. The one product that doesn't fall into this category is their desktop punching bag but that has hardly stopped it from being one of the more popular versions on the market. It is a very traditional product that features a red PVC exterior and lightweight construction to help it stay standing after a long and stressful day.
Read more
Lightweight
Changping's bag is much like the others on this list in that it is inflatable and lightweight. This reduces shipping costs and also helps ensure that the bag will remain upright and not bow the heavy-duty spring that keeps it standing and ready to help its user alleviate some of their daily stress. The inflation point is at the top of the bag and should be relatively hard to hit for most people, though it does stand up out of the bag a little which may present a catching hazard if anyone swipes at the top of it.
PVC Exterior
This product's PVC exterior makes it easy to clean and easy to care for. It is also a very durable material that should last for several years, giving Changping's customers a solid return on their modest investment. PVC is also unlikely to fade as fast as some other materials when left out in the sun which will keep the red exterior vibrant and enticing long after other colors may have faded out.
Cost and Value
This is one of the more expensive bags on the list though only by a small margin. The bag is solidly built and is likely worth the price tag but there are comparable bags for slightly less that offer a little more value on the dollar if buyers can get their hands on them. This bag is an excellent secondary option, however, as some of the more affordable bags tend to sell out quickly.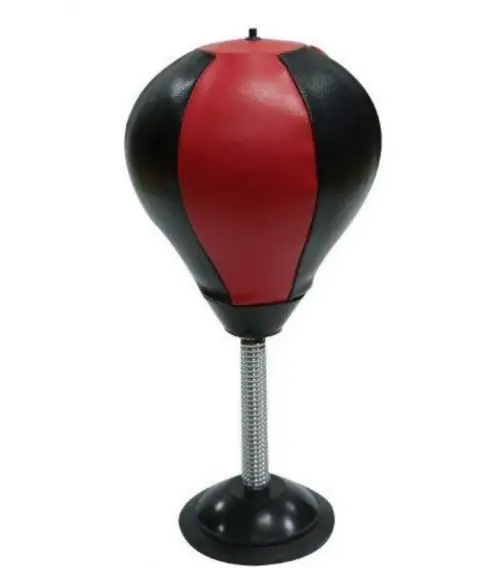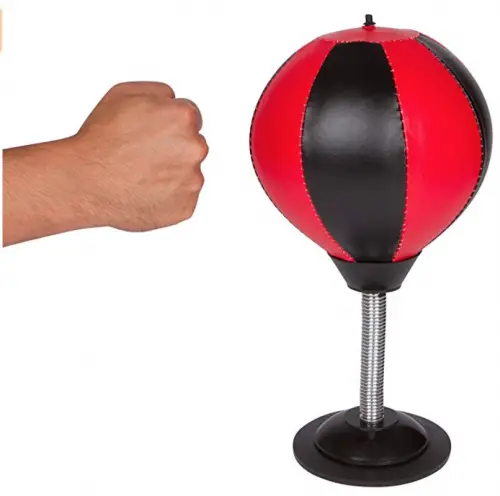 High-quality Synthetic Leather
Heavy-duty Spring
Inflator Included
Strong Suction Base
Unique Color Scheme
the most unique products of any company on this list, some of which include memorial and vinyl record cleaner. It seems like an odd company to offer a novelty punching bag but their product is well-made and popular enough to be one of the best sellers on the market at the moment. It is covered in high-quality synthetic leather and has a strong suction cup base to keep it from popping free during particularly bad days. The necessary pump is also included so that the kit can be assembled and used as soon as it arrives.
Read more
High-Quality Synthetic Leather
Starton is a company that clearly doesn't skimp on quality despite the fact that a punching bag is not their usual type of product. The exterior of their bag is constructed from white and blue synthetic leather. It provides a unique color pattern as well as an easy-to-clean surface that doesn't require the conditioning and special treatment that natural leather does.
Strong Suction Base
The product was also designed with a strong base to keep it tight to its mounting surface while in use. It still won't stand up to a full-force punch from an angry adult, but the irritated swipes and slaps that most people feel the urge to let fly during the day could have no better target than this resilient and well-mounted bag.
Cost and Value
Starton's price falls in line with several of the slightly higher-priced products on this list but it seems worth the investment. The product has a unique color combination, particularly with the use of blue instead of red. It also has a strong base that will keep it fast to its position during the day and, given the company's reputation, the spring and bag should last even longer than the suction cup does.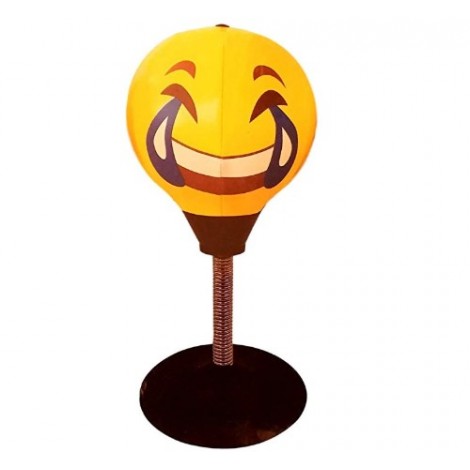 Multiple Face Options
Unique Exterior
Heavy Duty Spring
PU Exterior
Suction Cup Base
Everyone has received an emoji-heavy text and had the urge to take a swing at the silly tongue-waving faces. Well, not everyone. But certainly most people I've met! The urge usually passes within a few seconds but sometimes frustration can get the best of us and in those moments Relaxus' product is the answer. Their desktop bag is not covered in red synthetic leather but rather one of three possible emoji faces from which the customer can choose. It adds a level of whimsy and an oddly gratifying modern twist to this class stress-relieving tactic.
Read more
Unique Exterior
Tech Tools' soccer ball exterior was unique but Relaxus really knocked the idea of a unique punching bag out of the park with their emoji faces. There are three faces to choose from so that users can pick the one that best suits their needs. One of them, the one pictured above, is a laughing face. The other two are a winking face and a confused face, each one perfect for its own unique purpose.
Extra-Widre Base
Relaxus wants to make their customers laugh but they also want to help them relieve stress in as many ways as possible. One way that they help their customers achieve a calmer state of mind is by designing their bag with an ultra-wide base that is mostly flat. This allows the cup to lay closer to the surface of the desk while providing more surface area. It would take a serious blow to knock this face over and that is exactly what Relaxus was going for.
Cost and Value
This product is, by far, the most expensive on this ist but it seems worth it. The faces are both adorable and vaguely creepy which makes them ideal for a product that is supposed to take a hit and keep coming back for more. Customers get the same high-density spring and easy-to-clean exterior provided by other bags but there is just something about these emojis that really elevate Relaxus' bags to another level.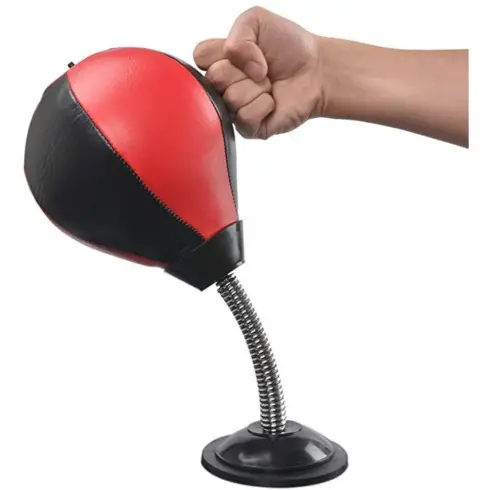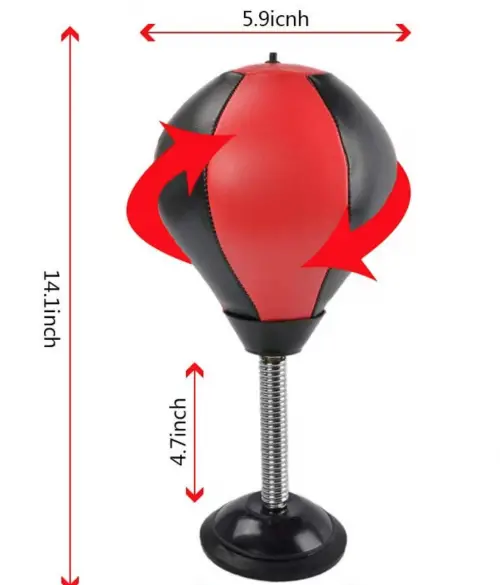 Pump Included
Discreet Inflation Point
Classic Red
Synthetic Leather Exterior
Heavy-Duty Spring
Milky is the kind of company that makes all the small odds and ends that people end up needing at some point. Nobody knows the name of the company that makes their birthday balloons or the foil curtains that hang at proms but everyone has seen these products at least once. Companies like Niuber are the answer and one of their most popular products is their desktop punching bag. It is an absolutely classic example of the type of products that are on the market and is produced with an eye on quality and durability.
Read more
Heavy-Duty Spring
The bag is mounted to a heavy-duty spring that can take a beating and keep bring the bag back for more. The base on this bag is more likely to lose suction before the spring stops returning the bag to its upright position which means that the user can take out years of frustration without having to worry about breaking the pivot point and rendering the bag useless.
Discreet Inflation Point
Like many other companies, Niuber designed their bag to be lightweight. This is the reason that desktop bags are all inflatable, though the method by which they are inflated is not always the same. Among the companies that opted for a discreet needle-tipped inflation valve that won't get in the way of anyone's hands when they are using the product. This also reduces the risk of the bag being knocked off its base and causing further frustration rather than relieving it.
Cost and Value
their bag is a little higher priced than other bags that offer more to their customers. Its price is not wholly unreasonable since the price range for these products is very limited. There are other bags that cost less and offer the same value, however. If customers cannot get their hands on those bags, this kit is a good backup option.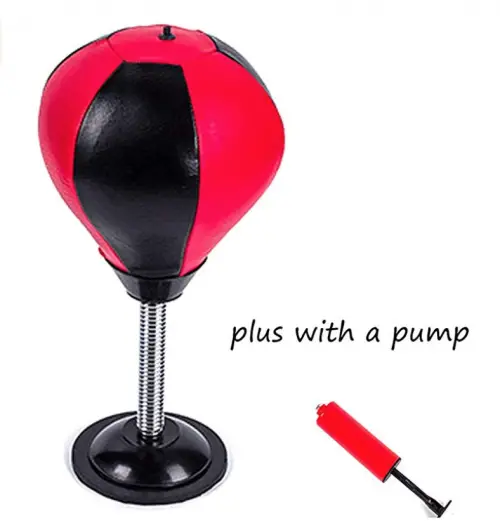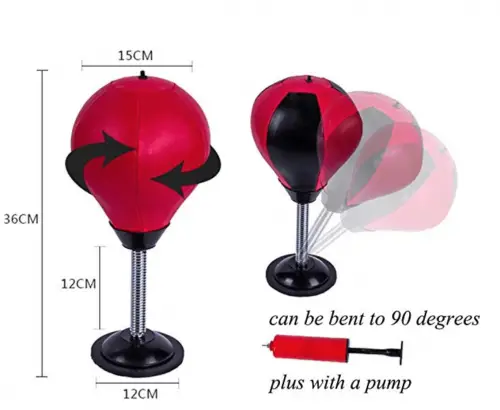 Two Color Options
Pump Included
Discreet Inflation Point
Classic Red
Easy-to-Clean Exterior
Heavy-Duty Spring
Bioamy has a relatively small inventory that is focused more or less on helping people get active. They offer a few other odds and ends but for the most part, their products are intended to help people train harder and improve their fitness. Their desktop punching bag kit falls a little bit into this category and a little bit into the "odds and ends" category. It can certainly help someone stay fit by reducing stress and encouraging movements but it is most certainly a novelty item rather than the real deal.
Read more
Classc Red
Bioamy didn't put on any airs when they designed this product. They went for the classic red exterior atop an ultra-wide base. Other companies developed different exterior options but Biomay stuck with tradition and expended their energy on other details such as the base, the discreet inflation point, and the product's durability.
Easy-to-clean Exterior
Cowhide leather might be the most traditional material for boxing equipment, but Bioamy's decision to go with a synthetic alternative provides two-fold benefits to their customers. It is a durable yet affordable material that helps to keep the costs low. And it is easy to clean without having to worry about applying the conditioners and special cleaners that real leather does best with. If this bag gets dirty, users simply have to wipe it down with soap and water before it is good to go again.
Cost and Value
Bioamy's price tag is a little higher than seems reasonable for the product, though some would argue that the ultra-wide base is enough reason in and of itself. And, to a degree, they would be right. The base on this bag makes it less likely that the product will be knocked over but there are a few other bags on this list with similar bases and lower price tags. Unless the company's other products spark interest, customers might get marginally better value from another bag, though this one is certainly in the normal price range for the market.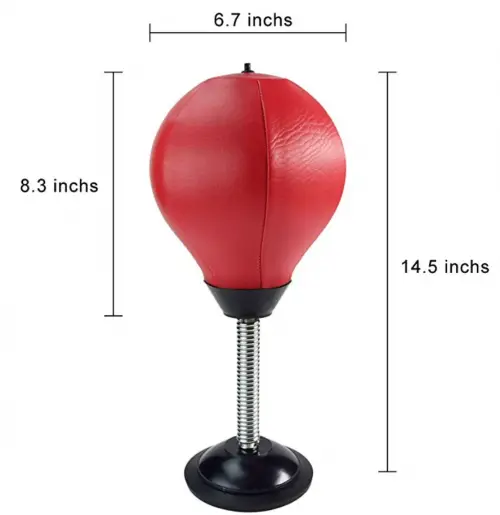 Pump Included
Discreet Inflation Point
Classic Red
Synthetic Leather Exterior
Heavy-Duty Spring
Improves Hand-Eye Coordination
AIPP's inventory is a bit all over the map but most of their products, including the one featured here, could be described as products that can fill those small niche needs that occasionally pop up in office settings. Sign holders and banner mounts are useful, but their desktop bag kit is certainly one of their better products. This stress-buster comes with its own pump and is listed as being a capable tool in the improvement of hand-eye coordination which is something a lot of people who spend their days behind a desk want and need to improve upon. Having such a tool to-hand makes the endeavor much easier.
Read more
Pump Included
Unlike traditional punching bags, this bag is an air sac covered by synthetic leather. It requires a needle-tipped pump in order to be inflated and those aren't the sort of things most people have lying around their homes. AIPP has it covered, however. They include the pump with every purchase so that their kit can be assembled and put to use as quickly as possible
Improves Hand-Eye Coordination
One of the best ways to improve hand-eye coordination, oddly, is to hit something. A moving target such as a tennis ball is ideal, but that isn't always a viable option. Improving hand-eye coordination is especially tricky for people who have to spend the majority of their days in an office setting, so having a tool like this attached to their desk makes their breaks a little more effective and their hand-eye coordination a little bit better every day.
Cost and Value
AIPP's price falls right in the center of the price range for this list. They are iconic of the marketplace with their bright red synthetic leather exterior and suction-cup base. The difference, however, lies in their focus on improving hand-eye coordination. Hitting any desktop bag should improve coordination in the same way, but AIPP is the only company to directly mention it and that may have an impact on the way the ball reacts. It also highlights an additional value for these products that would otherwise be overlooked. And it is is one that should not be underestimated.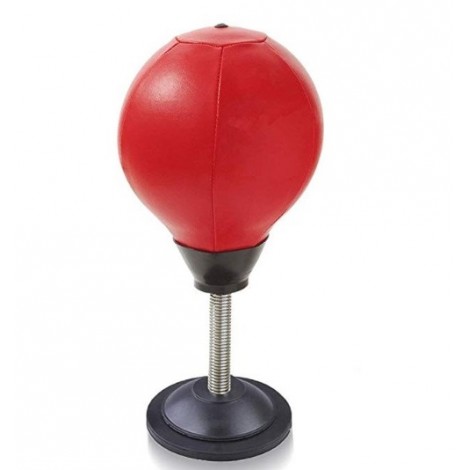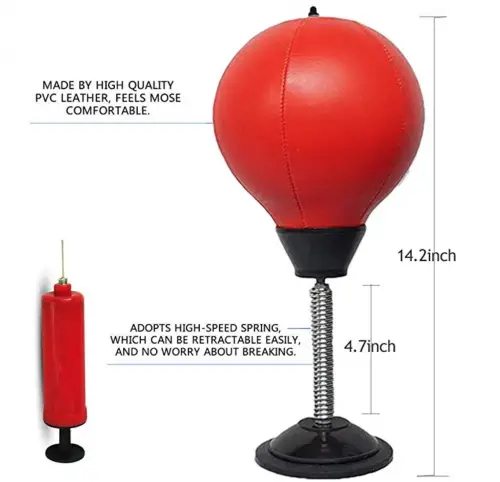 Multiple Positions
Easy-to-Find Inflation Point
Wrist Wraps Included
Pump Included
Keytas is much like the other companies on this list in that their products touch on a range of markets. Unlike the other companies featured so far, however, they do seem to have a bit of a focus to their inventory. The majority of their products are toys and cleaning products with their desktop bag being a bit of an exception since it is a novelty toy. Exception or not, it is one of their more highly-rated products and is a perfect example of what most desktop bags look like. The traditional red exterior ball is inflated through an entry point on the top and a heavy-duty spring helps it rebound while the suction cup base keeps the product in firmly in place.
Read more
Multiple Positions
Keytas is the only company on this list to suggest that their product can be mounted in any position other than on to the top of a flat surface. They suggest that their customers use the suction cup to place the bag upside down in a door frame or sticking straight out from a wall. This certainly increases the diversity of uses that the bag has to offer and sets their product apart from the rest, in spite of their similar appearances.
Wrist Wraps Included
This company also sets themselves apart by including the bag and its inflation pump with every purchase. Their customers will also receive a pair of wrist wraps to help protect their wrists from any possible strain in the event that they choose to put the bag to consistent use. Few people seem inclined to go a few rounds with a bag of this design, but Keytas wants their customers to be ready if they give it a try.
Cost and Value
Keytas's price tag is a little higher than the average price for this list. That price tag gets their customers some unique perks, however. Buyers who choose to go with Keytas get a set of wrist wraps in addition to the bag, which is apparently designed to be mounted in more than one possible location. It's a refreshing level of versatility for the marketplace and brings a large amount of value to the product.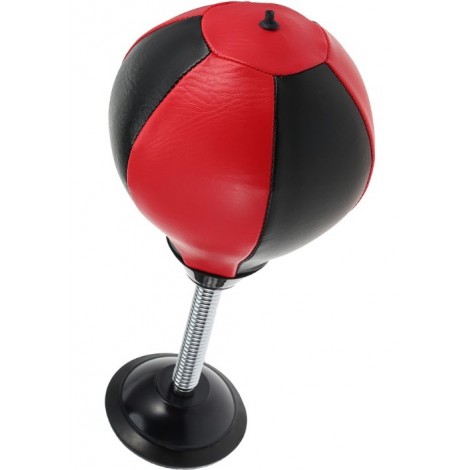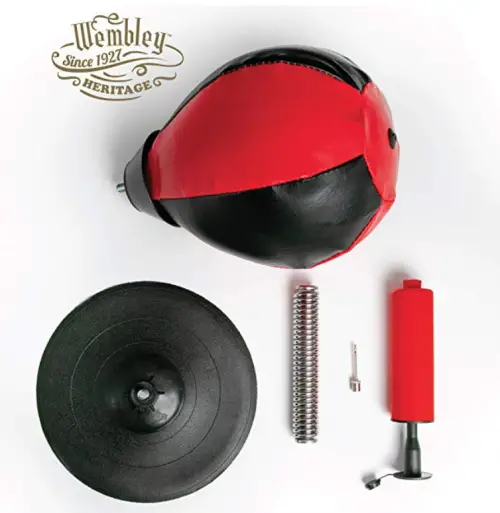 Affordable
Large Base
Two-Tone Color Scheme
100% Satisfaction Guarantee
1-Year Warranty
Webb Locke is a hard company to pin down, largely because they don't have many products available. The two products they do have - their desktop bag and a smartwatch replacement band - don't exactly go together. They do, however, both hear high ratings and give the impression that despite Webb Locke's limited online presence, they are a company that wants to provide durable and visually appealing products without charging an arm and a leg for them. Their products are not only highly rated by affordable as well, with their desktop bag backed up by a one-year manufacturer's warranty.
Read more
Two-Tone Color Scheme
Rather than go with the customary all-red exterior, Webb Locke opted for a slightly more unique red-and-black paneled combination. The colors give the product a more somber look instead of the intensity that solid, vibrant red usually suggests. It is a classic color combination that still harkens back to traditional boxing equipment without being too stuffy or severe.
1-Year Warranty
Webb Locke products are a little hard to get ahold of but they are worth a little extra leg-work, especially because the products are covered by a one-year manufacturer's warranty. This kind of coverage is rare among punching bags and almost unheard of among novelty products which makes Webb Locke's offer that much more impressive.
Cost and Value
This is the most affordable product on this list and has been labeled as the "Best Value" product. It is a uniquely decorated product that is also protected by an almost unheard-of manufacturer's warranty so that customers can rest easy and know that they are covered if something happens to their purchase.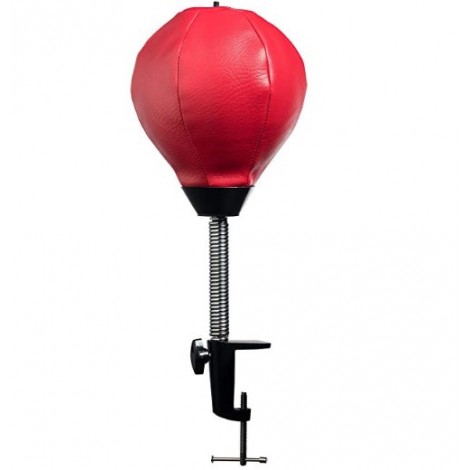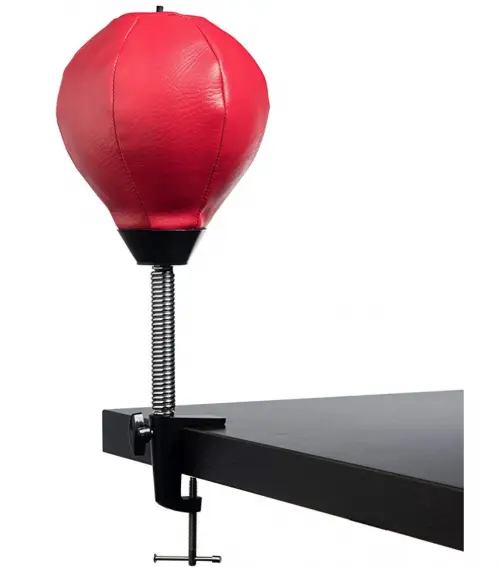 Unique Clamp Base
Extra-Tough Bag
High-Density Spring
Easy to Inflate
Also Includes Suction Base
Glacial has a very small and very diverse inventory. Their products range from ergonomic backrests to water coolers to light bulbs. Of all these varied products, however, their most popular is their desktop punching bag. Not only is it one of the most popular on the market it is also one of the most unique thanks to its clamp-style base that can be swapped out for a more common suction-cup base if the customer so chooses.
Read more
Unique Clamp Base
These bags are not meant to take any real hits and part of the reason for that is their tendency to fall over if hit too hard. Suction cups are useful but few products bother with cups that create enough suction to withstand a serious blow from an irritated adult. Glacier might not be a company that believes in niche marketing but they are a company that believes in making their products stand out and to that end they designed their bag with a clamp-style base. So long as there is a table edge nearby, the bag can be mounted and then tightened into place so that it can take a more serious hit than other less-secure bags could withstand.
Suction Base Also Included
The bag might start out with a clamp-style base but Glacial didn't want to risk losing customers if someone needed to put this product on a desk where they couldn't attach something to the edge. Their solution was to include a suction cup base as well as a clamp base, giving their customers the freedom to choose which style of base best suited their specific space and needs.
Cost and Value
The price range for these products isn't very large but Glacial's bag still comes in as the most expensive of the products on this list. The price is more than justified, however. Their customers get not one but two bases when they buy this product, which is easy-to-inflate and designed to last even through years of daily stress relief. The bag is only available in the classic red color option but that isn't that large of a drawback since most of the bags on the market are also plain red.
10

. Tech Tools Stress Buster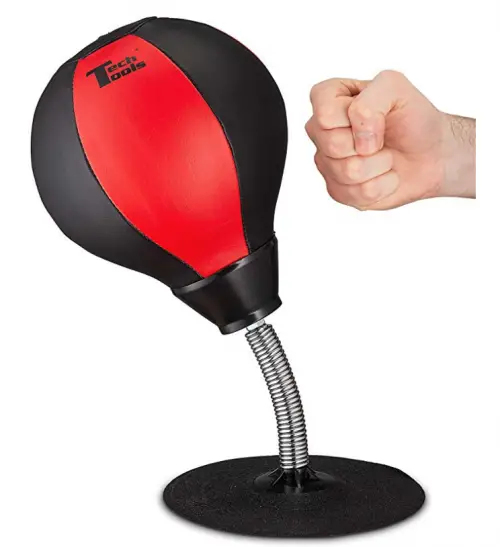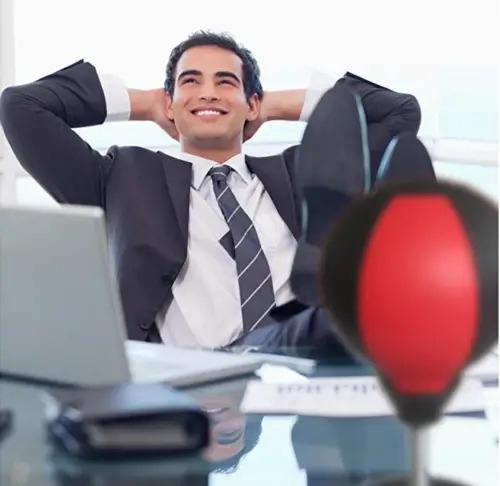 Wide Base
Multiple Color Options
Heavy-Duty Bag
Discreet Inflation Point
Includes Pump
Suction Cup Slightly Weak
Tech Tools is exactly the kind of novelty company that one would assume would be selling a desktop punch bag. They do have some actual tools to be used in technical situations such as adaptor cables and power strips. The majority of their inventory, however, are small novelty items that are right in line with their Stress Buster. Their products are almost uniformly given high ratings and that applies to their Stress Buster as well. The product also stands out from other items on this list thanks to its unique exterior design and super-wide suction-cup base
Read more
Unique Color Options
The majority of products in this niche market were designed to resemble the classic red leather speed bags that still pop up in gyms from time to time. Tech Tools chose to take a different route, however, and the result is a unique exterior design that is not found with any other company. They do offer the traditional red exterior but they also offer a soccer ball print that is a little more low-key.
Discreet Inflation Point
Most desktop bags like this one have to be inflated, unlike their more durable counterparts that often come pre-filled with materials that allow the bag to keep its shape. This lightweight version won't hold up to the same level of use but it will be easier to swat around and Tech Tools took care to make sure that the inflation point was able to pop down and become low-lying enough to be discreet.
Cost and Value
This product falls towards the high end of this list's price range but the higher price tag gets the buyer a unique product that is built to last and easy to inflate. It also comes with its own pump and the inflation point is low-lying so as not to get caught on anyone's hand and potentially damage the bag.
Criteria Used for Evaluation
Materials
The secret to a good desktop punching bag is that it springs back when it is hit. The best bag designs achieve this through the use of a heavy-duty spring that takes the force of the punch and then channels the energy into a recoil that brings the bag back up to its center point. The springs cannot be so heavy that they are hard to hit but they also cannot be so weak that they become bent after a limited amount of use.
Durability
Most products in this niche market are finished in synthetic leather which is a durable and easy-to-clean alternative to natural leather which is the traditional material for boxing equipment. Synthetic leather does not have to be conditioned and carefully cleaned. And while older versions of the material had a reputation for splitting or shredding, newer variations are supple and durable which allows them to retain their texture longer.
he most common base style for these bags is a large suction cup that keeps the bag upright on a flat surface. In most cases, these cups will do their jobs and hold fast when the bag is hit but there is a chance that strikes with some force behind them will knock break the suction seal and send the bag flying. It is important to check these sorts of bases from time to time and ensure that they are still solidly affixed to the surface beneath them.
Clamp Base: A very unique base type is the clamp base. This base style is ideal for anyone who has their own desk or table to which they can affix their bag. It is less likely to slip since it can be tightened down until the clamp no longer shifts. It also carries the unfortunate risk of marking the table which is a factor that must be taken into consideration before using it on a company desk or a family table.
Features
Inflation Tools: The most common accessory that comes with these products is the pump necessary to inflate them. These bags almost all use a slim need-tipped pump to fill the air sac inside the bag and such pumps are not commonly kept in most houses. Rather than make their customers purchase additional equipment, the companies on this list include the pump in with the kit and allow their customers to get started with the punching bag almost as soon as it arrives.
Wrist Wraps: Wrist wraps are common among boxers though most martial artists would find the idea of using them with these lightweight bags fairly amusing. If the bag is going to be used frequently, however, the wraps included by one or two of the companies featured on this list will help prevent wrist strain and injury.
Additional Bases: This accessory is very rare not because the companies listed above are unwilling to include it but because few of the companies on this list designed their bag with more than one base style in mind. In the rare instance that the bag was designed to use more than one type of base, both base types were included in the kit, adding a special burst of value to that particular product.
Value
Customers will probably want to check with their bosses before bringing one of these bags into their cubicle, especially if the cubicle happens to be a shared space. With the right go-ahead, however, these bags can easily become a fun talking point around the office. More than one customer reviewed the product has helped a tense workspace become a little more relaxed because it was easier for everyone to admit they were frustrated when their target was an inflated leather ball on a heavy-duty spring. Not every office will appreciate the change to knock around a punching bag when things get rough, but it's certainly worth a try if someone's job is particularly stressful. Or, of course, if their office happens to be at home where they can knock around the punching bag whenever they feel like it.
Warranties or guarantees are generally rare and most people would be hard-pressed to find a novelty company that adds a warranty to their product. The fact that one company actually offered a warranty is shocking and it brought a huge amount of value to their product.
Expert Interviews & Opinions
Most Important Criteria
(According to our experts opinion)
Experts Opinion
Editors Opinion
Users Opinion
By Default
Using in office
It is not okay to use in all offices, no. They may be unprofessional in some settings and inappropriate in others. It is best to ask a manager or HR staff member prior to setting one up.
Children
Very small children may get their fingers caught in the spring and should be monitored to avoid this. Otherwise, the bag is largely harmless and should be okay for most older kids and adults to use.
Other Factors to Consider
Accessories
The majority of desktop punching bags look the same. They are most often made of red synthetic leather and mounted on a heavy-duty spring so that it will bounce back when hit. A few exceptions exist in the form of unique punching bag exteriors and different mounting methods, but all of the designs boil down to the same key focus. These are not intended to take a real beating but rather to be swatted at or knocked a few times when someone's stress level peaks a little too high before they can head home for the day or it can be one of the best gifts for boxers. An ideal workday would never lead to the need for an on-call punching bag but those days are often outweighed by days where deadlines loom and work doesn't come together as it should. And these bags are here to help us through those trying times.
Frequently Asked Questions
q:

How hard can these be hit?

a:

These products are designed to take light slaps, swats, and knocks. They will likely fall over or dislodge from the desk if hit full-force by either a child or an adult.
q:

How do I clean these?

a:

All of the products on this list were made from synthetic leather and should be easy to clean. Their exteriors can be wiped down with a damp washcloth and then wiped dry without any ill effect on the bag.
q:

Will these leave a mark on my desk?

a:

It is possible. It would be best to test the clamp or suction cup on the underside of the desk or on an out-of-the-way portion before setting it up for long-term use.
q:

Do these really help relieve stress?

a:

Most customers report that they do, though some chalk it up to the silliness of hitting a novelty punching bag when they get frustrated rather than the act of hitting something.
Subscribe to our Newsletter