Best Dumbbells for Home Use & Gym Reviewed
last updated:
Apr 27, 2020
Weights are, without a doubt, one of the absolute key components to any type of strength training. With any heavyweights come dumbbells; they are a basic tool and are a part of almost every trainer's regimen for gaining muscle and strength. Weights are imperative for a vast number of reasons. They are a great choice for weights because they come in a variety of different increments, so you correctly stay on form during your exercises while also having the right amount of endurance.
They allow you to control the motion and improve your endurance to engage more muscle groups and see faster improvements. This is called functional movement, as opposed to the isolated movement you get from a machine. They also allow you to develop functional strength and balance, even if you're working on completely different muscle areas.  Several muscle groups are also engaged simultaneously, making them one of the best choices for your strength workout.
Featured Recommendations
Bowflex SelectTech 552

Our rating
Easy-to-Use Dial System
Durable Molding
Price:

See Here
CAP Barbell Hex

Our rating
Hexagon Shape
Highly Durable Solid Cast
Price:

See Here
Yes4All Adjustable

Our rating
Diamond Knurled Chrome Handles
Solid Cast Iron Plates
Price:

See Here
Although using them is simple, the buying process is certainly not. With the amount of growing technology in the industry, buying the right set of weights can be a monumental challenge before the real challenge has even begun. That's why it's important to know everything you can about buying weight sets as well as which options can get you the best product for the price.
10 Best Dumbbells for Home & Gym Use
1. Bowflex SelectTech 552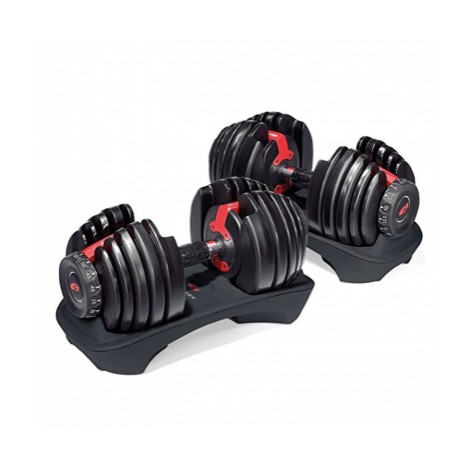 Our first product is the Bowflex SelectTech 552—truly something special. The SelectTech 552 is an adjustable option, which means that instead of buying an entire set of weights, the Bowflex allows you to buy only one that lets you exercise weight ranges from heavy to light. Among all adjustable, the Bowflex SelectTech 552 comes out on top. It's equipped with a premium design and features that include durable moulding, 15 sets of dialed weights, and performance tracking with the free Bowflex App. The Bowflex SelectTech 552 is not only easy to use but is one of the most innovated and well-designed items on the market, which is why it ranks first on our list.
Expand to see more
Easy-to-Use Dial System
Set your weights with an effortless turn of a dial. The Bowflex SelectTech 552 incorporates one of the most efficient adjustable dumbbells by incorporating an easy-to-use dial that lets you change your weights (which range from 5 to 52) swiftly and easily. The SelectTech not only prevents a cluttered workout space but also provides efficiency so you can rapidly change your weight between exercises. With the Bowflex SelectTech 552, you eliminate both hassle and clutter during your workout.

Durable Molding
With such an innovated piece of equipment, the general worry is its fragility compared to traditional ones—which are very durable. Fear not, however, because the Bowflex SelectTech 552 comes with durable molding around the metal plates that not only prevents damage but reduces the noise during reps—enhancing a quieter and more focus-driven workout.

Cost and Value
With the Bowflex SelectTech 552's prestigious look and vast amounts of invaluable features, it comes to be expected that its price becomes heavy—especially when it's only for one set. It needs to considered—however—that the one set accounts for 15 different weight sets, which makes the price completely justifiable. When placing everything into perspective, the Bowflex SelectTech 552 is not only the best performing adjustable dumbbell on the market, it is also one that is completely worth its cost and will be a purchase you will never regret.
15 Adjustable Weights

Easy-to-Use Dial System

Warranty on Plates and Parts

App Performance Tracking
2. CAP Barbell Hex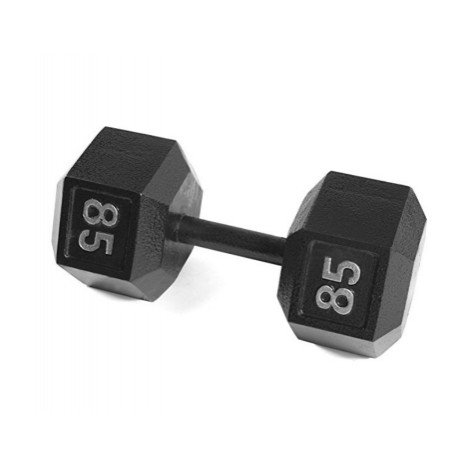 Our second product on this list is the CAP Barbell Hex. This fundamental shape on this fixed Hex is uniquely made so the dumbbell is extremely sturdy and won't roll over. In addition, the CAP Barbell Hex is made of solid cast iron and coated with black enamel design. One of the prime features of the CAP Barbell Hex is its reliable durability and performance. These are simple and reliable products that will never cause you trouble in the gym.
Expand to see more
Hexagon Shape
Not only does the Hexagon design of the CAP Barbell prevent the Barbell from rolling, but it also makes it so that these are easier to store and can be easily picked up or put down. This is advantageous for any floor-based circuits where you are constantly switching weights. With the Hexagon design, you won't ever have to worry about damaging them.

Highly Durable Solid Cast
The CAP Barbell Hex ranks high on our list because it is a highly durable and reliable piece of equipment. This is because of its outer being made of solid cast iron, which is both cheaper and sturdier than urethane or rubber counterparts. What makes the CAP Barbell Hex unique is its use of high-quality material that gives it an edge over the competition.

Cost and Value
Although the CAP Barbell Hex may look expensive, buying in pairs or sets can reduce the price exponentially. In addition, with the reliable design and durability, these are potentially lifetime items. The price is certainly worth it if you're looking for dependable, well-founded products that won't disrupt your performance in any way.
Solid Cast Iron

Hexagonal Design

No Rack Needed

Highly Durable
3. Yes4All Adjustable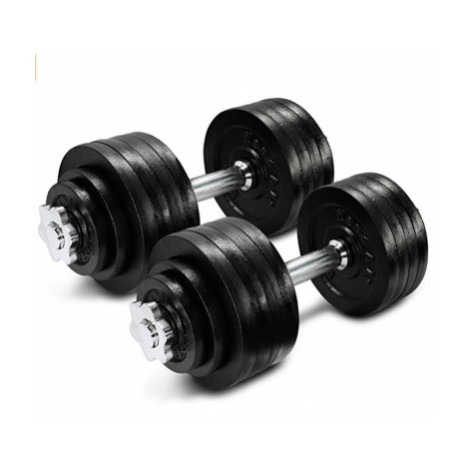 The third item on our list is the Yes4All Adjustable. This great value product is an all-in-one adjustable set that lets you add and remove weights easily between your sets. Unlike the Bowflex SelectTech 552, however, this adjustable item requires manual changing of weights instead of using Dial System technology, but the low cost and calibre features still rank the Yes4All Adjustable as one of the best on our list. With its Cast Iron composition and Diamond Chrome Handles, the Yes4All offers everything you need for training and more.
Expand to see more
Diamond Knurled Chrome Handles
The handles on the Yes4All adjustable are constructed with safety and quality in mind. The textured chrome handle allows for strength trainers to never have to worry about a slippery grip—enhancing safety and performance. Their priority for safety is also demonstrated with their use of spin-lock star collars for a safe, secure workout.

Solid Cast Iron Plates
Another prominent feature of the Yes4All Adjustable is its use of Solid Cast Iron for its plates. These "lifetime" plates are highly durable and rust-resistant because of their high-caliber material precise design. With the Yes4All Adjustable, lack of durability is one problem that will never be on your mind.

Cost and Value
The Yes4All is our best value item because it not only provides a high-performing adjustable weight but at a cheap and affordable price for anyone looking for quality equipment. The simple and sleek dumbbell employs a quality Cast Iron in its plates and uses textured Diamond Chrome handles. Without a doubt, the Yes4All Adjustable is one of your cheapest and best options for adjustable dumbbells on the market.
Solid Cast Iron Plates

Diamond Knurled Textured Handles

Star-lock Collars

Loose-resistant Rubber Trims

Durable and Secure
Thin Paint

Sizes can Vary
4. PowerBlock Elite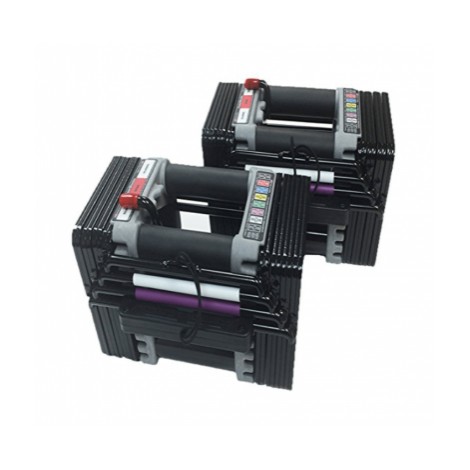 The PowerBlock Elite is certainly a sleek-designed, unorthodox-looking set. Despite its first appearance, you will soon be blown away by the performance and versatility of the PowerBlock Elite. Not only is the Power Block Elite one of the most trusted sets in the fitness industry, PowerBlock had been one of the original companies to invent adjustables. Their experience and expertise in the field have certainly shown with its new line of PowerBlock Elites, as they've had almost 25 years to refine and perfect their design.
Expand to see more
Adjustability
As far as adjustability goes, the PowerBlock Elite hits all the important points. Its "stack" feature incorporates color-coded weights that are easy to change between exercises. By using the "U-shaped Selector Pin" to slide the weight selections in and out, changing the weight of the PowerBlock Elite takes only two seconds. This pin is also magnetic and secure, so you don't have to worry about it coming out.

Durability and Quality
Since PowerBlock has been one of the first innovators, it's not surprising that their Elite series is one of the most durable and high-quality models in the industry. Because of their smart and viable design, the PowerBlock Elite is extremely sturdy and can withstand even heavy collisions without breaking. Although it isn't the greatest idea to drop them in the gym, knowing you have one durable enough to withstand the hit is a great ease to the mind.

Cost and Value
The cost for the PowerBlock Elite isn't surprising for its fantastic durability, quality, and versatility. The moderate-to-heavy price range is completely justifiable as you always get an entire set for the price of one. One main worry, however, is how fragile they can be—but the PowerBlock Elite throws that worry out the window as it holds its claim as being one of the "most durable adjustable dumbbells" on the market.
Easy Adjustability

Ten-Year Home Warranty

Extremely Durable

Unique and Economic Design

Expandable Weight Ranges
Unorthodox Appearance

Selector Pin Sticks
5. Bayou Fitness Adjustable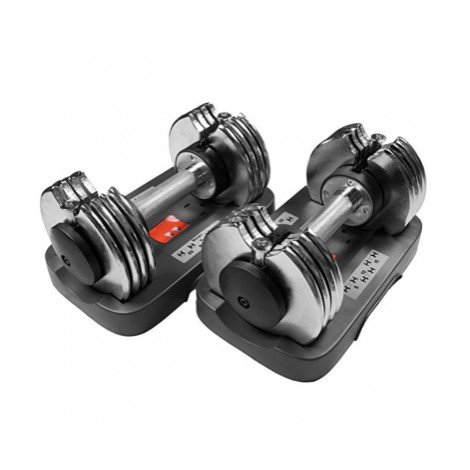 Once again, we have another high-performing adjustable dumbbell that has been one of the most popular and widely used for home workout enthusiasts. The Bayou Fitness Adjustable comes with plenty of great features such as its heavy chrome-plated steel construction and efficient functionality in limited space. Since the adjustability feature is crucial, Bayou successfully incorporates easy-to-use 5 lbs. increments that make the process of changing weights easy and one that doesn't interrupt your workout.
Expand to see more
Heavy Chrome-Plated Steel
Unlike other adjustable products, Bayou incorporates the use of Heavy Chrome-Plated Steel in its construction. By using this high-grade material, the Bayou Fitness Adjustable relieves a lot of durability problems that other adjustables might encounter.

Ease of Adjustability
The mechanical pin-switch design allows for adjustments to be made flawlessly. A vast majority of customers are most impressed with how easy it is to adjust the weight in the Bayou Fitness Adjustable.

Cost and Value
The Bayou Fitness Adjustable can be seen as one of the cheaper variants of adjustables. The lower price doesn't sacrifice quality, however, as Bayou still incorporates a fundamentally efficient and durable design to its Fitness Adjustable model. With these few key components, it's no surprise that the Bayou Fitness Adjustable is one of the most widely used for home gyms.
Durable and Compact

Innovative Design

No Rack Needed

Highly Durable
Plates Can Rattle

Slides May Stick
6. Ironmaster Adjustable
Although Ironmaster incorporates the newly innovated adjustable designs, there are still many out there who prefer the feel of traditional weights that have Cast Iron Plates and Knurled Steel Grips. Luckily, Ironmaster allows you to have both the feel of traditional options and the efficiency and functionality of adjustable ones. Like PowerBlock, Ironmaster was also one of the pioneers of adjustable dumbbells, which is part of the reason as to why they've stuck to their traditional feel and look. With their prominent features, however, there is still far more than meets the eye with the Ironmaster Adjustable.
Expand to see more
Heavy Duty Construction with Welded Steel
There's often a common trend with top-performing adjustable models, and that's durability! All the adjustable ones we've seen thus far have incorporated quality material that enhances durability and performance, and the Ironmaster is no different. The welded-steel and chrome-plated handles are great additions to a quality adjustable dumbbell that can last a lifetime.

Square Design
One of the many benefits of the square head design of the Ironmaster is that you can easily add extra weight expansion kits. The square design also allows you to easily stack and store your Ironmaster when not in use.

Cost and Value
The Ironmaster Adjustable certainly ranks higher than average in terms of price. The excellent quality, seamless and efficient design, and phenomenal durability makes it so this purchase—although pricey—will never be one to regret. The Ironmaster can also come with a lifetime warranty, which enhances its value even further as buying the product can make it last forever.
Quick-Lock Design

Heavy-duty Construction

Chrome Plated Handles

Efficient Square Head Design

High Durability
Slower Adjustability

Can Be Unbalanced
7. PowerBlock GF-SPDBLK24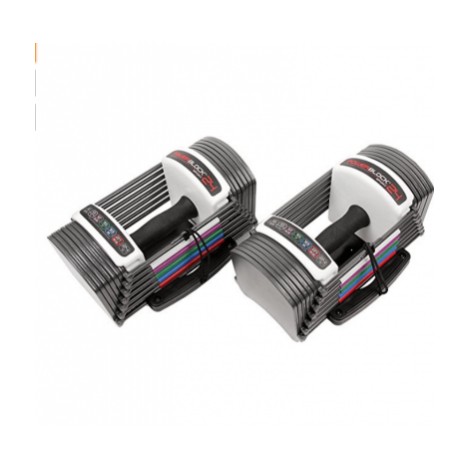 PowerBlock reemerges on our list with their edition of the GF-SPDBLK24 Adjustable SpeedBlock. The SpeedBlock is another easy-to-use, uniquely designed adjustable dumbbell that feels compact and safe. The difference between the SpeedBlock and the Elite series is that the SpeedBlock incorporates far lighter weight ranges (from 3 lbs to 24 lbs) while still in the form of an adjustable weight block. The adjustability in the system is also efficient and well-designed as the PowerBlock Elite, making it a great counterpart for those looking for lighter weights.
Expand to see more
More Compact & Balanced
One of the advantages of PowerBlock is that the design emphasizes balance and durability above all other criteria. With the lighter weight of the SpeedBlock, the balance portion can be easily noticed as lighter-weight exercises are often more balance oriented than strength, making the component crucial.

Rubberized Handles
Handles are one of the most underrated parts. The rubberized handles incorporated by PowerBlock shows their attention to detail as offers a secure and non-slip grip for effortless workouts.

Cost and Value
For lighter weight variants, the PowerBlock GF-SPDBLK24 Adjustable SpeedBlock can actually be more costly, despite its cheaper price compared to the PowerBlock Elite. The SpeedBlock still is, however, unmatched for its compactness and balance that it offers, making it a solid choice for anyone looking for a lighter variant of adjustable weights.
Comfortable Grip

Compact Design

Excellent Balance

Fast & Easy Adjustability
8. BalanceFrom GoFit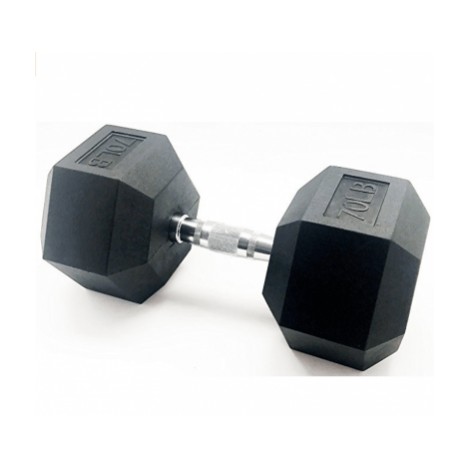 This rubber-coated dumbbell from BalanceFrom is go-to for anyone looking for something standard and reliable that gets the job done. The Rubber Coating allows it to be immune to drops and gym-abuse while the contoured handles employ non-slip design. This is a stable in the rubber hex design and should be a part of anyone's traditional gym.
Expand to see more
Hexagon Shaped
The use of a Hex Design means that these were made to prevent rolling and allow efficient storing. The rubber neoprene coating is also softer and can prevent harmful damages from gym mishaps, while also preventing floor damages when dropped.

Contoured Handles
The solid metal chrome finish is complemented by the contoured ergonomic handles that are designed for ease-of-use and safe handling. Although they don't look at it, the contoured handles are much better and comfortable than standard straight bars and can really enhance any workout.

Cost and Value
The BalanceFrom GoFits is a moderately priced option that provides anything you could ever need for strength training. These won't break your budget but also won't surprise you like some of the other adjustable options. The BalanceFrom GoFit will always be a safe and reliable buy.
Neoprene Cover

Hex Shape Design

Contoured Ergonomic Handles

Highly Durable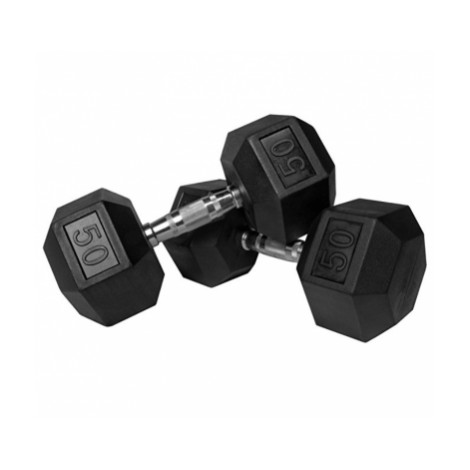 The XMark Premium is another exceptional choice for traditional strength weights. The tough and durable casing is actually made from recycled rubber covers and the chrome-plated handles are specially designed to fit in the palm of your hand. XMark does everything they can to ensure that their products are high-performing during your full-body workout routine.
Expand to see more
Rubber Coated Hex Cast
The rubber-coated cast is not only durable but have been welded and pressed into the handles, making them secure and safe for any type of workout. The rubber casing is also made from recycled rubber, emphasizing an economically friendly standpoint from XMark.

Non-Slip & Non-Abrasive Handle
The ergonomically designed handles are specifically made to be non-slip and non-abrasive so your workouts can be easier and more enjoyable. The precise design of the handles is another way XMark pays attention to detail in order to make a high-performing product.

Cost and Value
The cost of an entire set of XMark Heavy Duty Premium comes with a moderate price tag. Although you can get the same amount of weight variants for less with an adjustable set, having tradition models has its benefits in any home or training gym. With its attention to detail and quality rubber coating, the XMark Heavy Duty Premium is a purchase you will never regret.
Rubber Coating

Hex Design

Recycled Rubber

Ergonomic Handles

Safe & Compact
10. SPRI Deluxe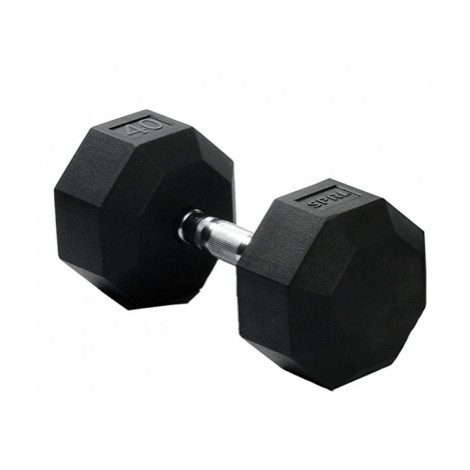 The final item on our list is the compact and reliable SPRI Deluxe rubber. This premium and the quality-engineered set is built to last and incorporates chrome-textured handles and a hex design—a common trend with many top-performing traditional options. The black rubber casing also increases durability and enhances the appearance of this sleek-looking weight. The SPRI Deluxe is truly a comfortable product from a company that pioneered the rubber resistant technology found on so many today.
Expand to see more
Black Rubber Casing
The outer coating of black rubber in the SPRI Deluxe not only protects flooring and damage but also enhances the overall appearance of the Deluxe. This appearance compliments the chrome-contoured handles that fit perfectly in the palm of your hand.

Hex Design
The popular Hex design is also employed by SPRI in their Deluxe to not only prevent damage and increase durability but also to allow trainers to stack them easily in the gym. The 8-sided Hex (as opposed to 6) allows the ends to be overall more balanced and compact.

Cost and Value
The SPRI Deluxe is one of the cheapest and safest buys on the market in terms of traditional non-adjustable models. The nice and sleek black option can be in your gym for half of the cost compared to other leading brands. You can never go wrong with the SPRI Deluxe in terms of price.
Professional Grade Quality Engineering

Chrome-contoured Handles

Black Rubber Encasing

Easy to Clean

Built to Last
Nowadays, there are far more options than your traditional weights or barbell. There are fixed, adjustable, and studio options that are made of rubber, urethane, or hex designs. Go to any fitness store and you will certainly be overwhelmed by the amounts of choices and varieties given for such a simple tool, emphasizing its significance. The primary thing you need to know is which type suits your workout the best. Luckily, our list and guide have everything you need to begin your journey and find your optimal piece of equipment.
Criteria for Evaluating Best Dumbbells
1. Types 
When trying to build muscle to get stronger through strength training, these are the absolute most valuable piece of equipment. They're easy to use and you can do a wide range of exercises and movements with them, as opposed to machines. They are also much cheaper than most machines, making them the superior equipment for any type of strength training. Although they are a simple training tool, you'd be surprised at the varying amounts of types there are. Having so many options can definitely be intimidating when walking in the store or buying online, so it is imperative that you know the basics of the different types.
Essentially, there are two main types—the fixed weight and the adjustable
Fixed Weight –
Simply put, a fixed weight is a single weight. You cannot change the weight and have a proper set requires many, sometimes up to twenty or thirty, different weights. This can be a hassle when looking for space to store your weights, but fixed weights are extremely advantageous in public gyms where many people share equipment. They are also better in that you don't have to adjust the weight between exercises like you do with adjustable options.
Adjustable Weight –
These are an innovative product that lets you have a vast amount of weight ranges within a single dumbbell. Adjustable options have different designs and technology, but all of them incorporate a system where the weight can be easily switched between exercises. Adjustable options can be advantageous in a home gym setting, where you aren't sharing your equipment and space is limited. It's also important to note that most adjustable ones won't support weights that are too heavy, so if you're looking for a 100 lb dumbbell, you're more likely to be buying a fixed weight than an adjustable weight.
So, which type is the better option? It's quite clear that if you are looking for equipment for a home gym or for your own personal workout, an adjustable one is far superior in terms of usage of space and cheaper price. With an adjustable model, you often get at least fourteen different weight variants in one, making the purchase that much more valuable. It is, however, important to note how fragile some adjustable models can be. That's why durability and long-term usage is more highly emphasized than in traditional ones.
If you're looking for equipment that will be shared, however, like in a public gym setting, it is always better to go with fixed weights that can be used by many people simultaneously. There are also those, however, that prefer traditional fixed-weights for their feel and balance. If you don't mind the hefty price for a complete set, and you have space, a fixed weight set is also a good option for your personal strength training.
Within these two main types are several subtypes which vary from design, shape, and material that they are composed of.
Rubber –
This is a coating used in the head cast. These are robust and can often be dropped without the worry of flooring damage. The rubber offers a protective outer coating that can also prevent scratches and chips from damaging it. Rubber can also often have a better, sleeker appearance and be more attractive for public gyms.
Urethane –
These are another popular variation that is similar to rubber models. The difference is that Urethane is stronger than rubber which is why it often comes with a heftier price tag. Another advantage is that Urethane doesn't produce the "rubbery" smell that rubber is known for.
Hex –
Buying these are often cheaper than standard rubber or urethane options and are known for their unique non-rolling shape. They are often made of solid cast iron or similar materials. They are also known to be excellent for floor-based workout circuits because they don't roll or slide when dropped, making switching weights easier to do. They are, however, more vulnerable to impact damage and are known to rust and wear out. The Hex design is also easier to store if you're missing a weight rack.
A third and final type is the studio model. Studio sets are extremely light-resistant that are cheap to buy in large quantities and are easy to store. They are also often colour-coded and are made fully of textured rubber or neoprene. Studio sets are extremely durable and are perfect for low-weight exercises during your warm-up or cool-down. Although they don't seem like something you'd use for intense strength training, having studio sets as a part of your workout program can certainly help you develop weaker muscles or simply warm up safely.
Shape and Grip
We've already covered that the two main shapes are the round and hex-shaped heads in fixed weights. It's important, however, to know which one you should choose and why.
Hex –
A hexagonal shape prevents your weights from rolling. If the floor of your workout area has even the slightest of slopes (which is common for home workout gyms) you'd know that chasing your weights around after setting them down isn't fun and interrupts your workout. Rolling can also be a huge hazard for anyone trying to get a good workout session in. Having hexagonal shapes are an easy way to avoid this problem. The hexagonal shape also makes it easier to store, making them ideal for home gyms where storing a set of round-shaped ones are a nightmare. Hexagonal shaped ones are great for home gyms because of their functionality, price, and easy storing.
Round –
A round-shaped model is better for public gyms because of their versatility, durability, and protection. Round shaped sets are often "rubberized" in their coating so they can be dropped easily without damaging the floor. Having hex or cast iron in a public gym can be difficult as it's impossible to ensure that no one damages them or the floors with a heavy drop. Round rubber ones are also better in that they often have more handle options—such as chrome or diamond knurled handles. Round ones equipped with these types of features are also more expensive—making them an even harder choice for personal gyms.
Some important things to consider when choosing a shape is:
How much space do I have for storage?
How even is my floor?
Do I prioritize quality and durability over price?
Do I tend to drop my weights when switching?
The grip is also an important part that often goes underestimated. The grip is imperative because it determines how you handle the weight and how a weight feels in your hand. If the grip hurts your hand, this can be a crucial problem for future workouts. It isn't just the material of the grip but also the design. Some grips have ergonomic designs that are meant to fit perfectly in the palm of your hand while others are textured with a contour to prevent slip for secure performance. The cross-hatch design you often see is called knurling. It helps you maintain a firm grip even when your hands are soaked with sweat. Vinyl won't have knurling because vinyl grips themselves act as non-slip material.
If you absolutely cannot find a comfortable grip, and your hands are always throbbing in pain from your reps, it might be time to resort to weight gloves.
Despite what you think, it isn't that uncommon for hands to get blisters, calluses, and other things from lifting weights. Even if the grip is textured for better grip, the texture can very easily tear your hands and leave you with an unpleasant injury. Having weight gloves solves this problem, as you will no longer need to worry about blisters and can focus on your performance. Workout gloves not only provide you with hand protection but can also:
Give you a better grip advantage so they don't slip.
Be more comfortable so your hands aren't damaged.
Provide wrist support that optimizes your performance with various exercises.
As you can see, there are many reasons to wear weight or workout gloves for more than the sake of hand protection. Just like how we don't go jogging without running shoes, strength training can be thought of the same way—and gloves can definitely be an addition on the list.
Weight
Whether you're considering buying fixed weight or adjustable, one of the most crucial points to consider before checkout is what weights suit you and your training the best. You never want to buy the perfect set just to realize the weights are too heavy or too light for a proper workout program. In order to know the optimal weight, you also need to put into consideration your strength and what you hope to gain through workouts with these.
Beginner –
If you're a complete beginner, the general recommendation is 2 x 20 lb that can be used for a variety of exercises. From there, it's easy to work up to 30 lb and eventual 40 lb.
Moderate –
For moderate trainers that are enthusiastic about improving, the best weights are between 20 lb and 50 lb, making adjustable models perfect as their weight range is often around that area. Anything lighter or heavier would require fixed-weight dumbbells.
Experienced –
For experienced strength trainers, the general recommendation is 50 lb to 70 lb weights, which are required for many heavy endurance strength exercises. These are usually out of the range of adjustable options, though there are still some with add-on expansion kits to increase weight.
It's also important to think about what your budget is and plan ahead prior to ordering. They aren't cheap, however being smart about what you buy can save you hundreds, sometimes thousands of dollars. Although you generally always want to work up to a higher weight, if budget constraints are your problem then there's no shame in buying lighter weights and increasing the rep or endurance of the exercise. It is also highly recommended to buy adjustable ones over an entire set as they are often far cheaper than individual selections. Hex models can also be a great budget option as they are made of less durable material but are often cheaper in comparison to premium rubber or urethane.
Frequently Asked Questions
Q: How many days a week should I do strength workouts?
A: The best number to shoot for is 3 days a week, taking a break between each strength day to let your muscles rest and recuperate.  Some choose to do it more or less often depending on their routine. Starting slow and working your way up is always the best way to go so you don't injure yourself.
Q: What weight should I use?
A: The weight completely depends on your experience with strength training. With beginners, around the 20 lb range is often recommended for a variety of exercises. For moderate trainers, the 20 lb to 50 lb range is recommended. And for experts, 70 lb or more is the general amount.
Q: What does a good strength workout look like?
A: A good workout uses movements that engage as many muscles as possible. They are such a versatile tool because they can be used for leg exercises, push exercises, pull exercises, and many more!
Q: What are the differences between dumbbells and barbells?
A: A barbell is a long straight bar with weights on both sides held in place while a dumbbell is simply a shorter version of the barbell with welded weights. A barbell is better for heavier weights and exercises involving the upper chest and lower body, while dumbbells are better for exercises involving the arms and biceps.
Q: How do adjustable models work?
A: Adjustable sets often come with a switch or selector pin that allows you to easily change the weight setting in between exercises.
Q: What exercises are the best?
A: Bench presses and bicep curls are generally among the most popular exercises for developing upper body strength. Training has come a long way and there are many different exercises that will impact your muscles so deciding the best is difficult to do.
Q: Are workout gloves necessary?
A: Workout gloves are in no way necessary but they do provide unmatched comfort and protection to your hands. Above this, they also give you a better grip and offer wrist support.
Q: What's the difference between free weights and machines?
A: Free weights allow a resistance through a wide range of motion, while machines only allow one plane of motion, limiting the muscle groups engaged.
Q: What is the risk of injury when strength training?
A: With the correct form, safe equipment, and knowing limitations, there is almost no risk in strength training. Even so, it's always safest to have someone spot you when doing heavy resistance exercises just in case.
Q: What's the best tip for strength training?
A: A very important component to remember is the phrase "form follows function", meaning that proper form is a priority and incorrect posture could mean injuries or worse. Make sure you have a proper form before worrying about the reps of an exercise.
Q: Who can benefit from strength training?
A: Everyone can benefit from developmental strength training, no matter the age, gender, or fitness level. If you stick to a routine and use the right equipment, you will see results. It is important to note that when working with young children and inexperienced lifters injury can occur. So take it slow with inexperience and check with your doctor if working with a young child.
Sources
Subscribe to our Newsletter