Best Earplugs Reviewed
last updated:
Sep 10, 2019
To train at your best, getting a good night's sleep is important. It is hard to sleep when your neighbor likes to practice their trombone at 11 at night. Investing in a good pair of earplugs on hand can save you from that very frustrating situation.
Not only can they help you sleep, but it's good to have on hand when you encounter a noisy situation. Incredibly loud and persistent noises can cause irreversible damage to your hearing. You only get one pair of ears (unless you are a robot), so you better make sure you take good care of them.
No matter what you want to block out, there is a good pair of earplugs that are perfect for you. In this guide, we have compiled a list of some of our favorite plugs currently out there on the market.
This is the best product on our list that is currently in stock: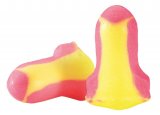 Howard Leight
Why is it better?
In a
Hurry? Editors choice: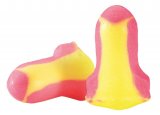 Test Winner: Howard Leight
3
Researched Sources
890
Reviews Considered
7
Hours Researching
10
Products Evaluated
Materials
Effectiveness
Portability
Comfort
Size
By Default
Criteria Used for Evaluation
Materials
You want to make sure that anything that you stick in your ear is made from quality materials!
Your mother always told you not to stick stuff in your ears because you don't know where it has been. The same sentiment can be applied to earplugs as well.
We wanted to make sure that we selected designs that were made from materials that were hypoallergenic, safe, comfortable, and effective. This allows them to stay in place even while you are engaging in a brutal workout! From our research, we discovered that most designs fall into two camps: silicone and foam. Below, we have gone into a little bit of detail on the benefits and disadvantages of both options.
Silicone: Many of the reusable options are constructed from silicone. Silicone a type of plastic that is very bendy and pliable. This makes for a great plug due to the fact that it bends to fit the shape of your ear to cut out the noise.
One of the downsides to silicone is that it often isn't as comfortable as their foam counterparts. While it can bend, it just will not form to the shape of your ear as you wear it. This means that if you purchase a pair that doesn't quite fit right, it will never form to the inside of your ear.
The benefits of silicone are that it is reusable. When you are finished using it, run it under some warm water to clean it and let it air dry, and you are ready for your next concert. However, this means that you need to be extra careful not to lose them!
Foam: If you want something that is comfortable, foam is the way to go. Foam designs often come in a box of 25 or more and are made to be thrown away once you are done using it. The great thing about foam is that it forms to the shape of your ear as you wear them. That means that the longer you wear them, the more comfortable they become.
The downside about foam is that you will need to replace them when you reach the bottom of the container. Plus, they cannot be worm while swimming. Silicone options are great for swimming because they wick away water, but foam options actually absorb water- which is far from ideal!
Effectiveness
If they don't cut down on the noise, then what's the point?
We wanted to make sure that that the styles that we selected actually worked at cutting down the noise. There were a few things that we took into consideration when selecting designs that actually worked.
First of all, it's important to note that none of the options out there on the market are able to cut out noise completely. If you want to slip into a sound sensory deprivation chamber, you will need expensive noise cancellation headphones that use a low-frequency noise that cancels the sound around you.
In the case of earplugs, it's a matter of blocking out loud noises or absorbing a percentage of sound around you. For concerts, you will want to select something that blocks out around 35 decibels of sound to protect your hearing. This means that if 100 decibels of sound is being pumped out by the speakers, your plugs will absorb about 35 decibels of sounds, which means you will hear about 65 decibels of sound. This is a safe level of sound that will not hurt your hearing or your eardrums.
Another thing that we took into consideration to make sure that they were effective was to ensure that they fit into your ear well. Foam designs are made to fit into most size ears because they form to fit into every shape of the ear canal. For silicone options, we wanted to make sure that we selected designs that were bendy and pliable, or that offered different sizes of plugs for different shapes of ears.
Before you take the plunge, take into consideration what is more important to you. If you are constantly going to concerts, a higher decibel level will be more beneficial to you. If you are simply traveling and need to cut out excessive noise, a lover 15-25 level decibel level reduction will be better for your needs.
Portability
Earbuds are small and are a cinch to carry around- but the real trick is not to lose them!
When we talk about portability, we are talking about how easy they are to take with you without losing them. There are a few brands out there that include a few extra accessories to ensure that you won't lose them.
Carrying case: A good carrying case is a great way to ensure that you won't lose them. In fact, a lot of the carrying cases out there on the market are small and compact and come with a metal loop. This metal loop allows you to hook it onto your backpack, purse, or even on your car keys.
Sure, you can toss them into your pack when you need it, but that can become problematic. In the same way that your drier always seems to make one sock disappear after every wash, your tote works the same way with loose earplugs!
Lanyard: These little devices have a history of popping our of your ear and trying to escape when you least expect it. Brands that offer a lanyard that hooks to each plug is a great way to ensure that they don't go anywhere. This option is great for those training with a lot of movement and needs something to stay in place.
While the lanyard option may not look discreet, it ensures that you never lose just one plug. When it comes to disposable foam options, this loss isn't that big of a deal. However, if you opt for reusable silicone options, one missing plug means that you will need to take another trip to the store for a replacement (which no one wants to do).
Comfort
If it's not comfortable, you won't wear them.
Whether you are simply trying to sleep, or at a concert, the last thing that you want is a pain in your ears. We have all been there, whether it is a poor-fitting pair of earbuds or plugs, it is a pain that is incredibly annoying.
We wanted to make sure that we selected designs that fit well, and they were also very comfortable. Those that have larger ear canals don't have the same problems as those with smaller canals. That's why we made sure to include a few options that were designed for those that have smaller ear canals.
When it comes to foam designs, comfort isn't as much of a problem. If comfort is your number one concern, foam is the way to go! Soft and squishy foam is great because there is no hard edge to dig into the outside of your ear. Plus, the soft material forms to fit the shape of your ear as you wear it. Due to the fact that foam also absorbs heat, it will also adjust to your body temperature as well!
While silicone is also comfortable, it doesn't hold a candle to foam options. However, if you wish to select silicone due to the fact that they are reusable, we suggest selecting a design that has various sizes of plugs. This will ensure that you select a design that will not dig into your ear, and will fit comfortably.
Size
The size determines how easy they are to get in and out of your ear.
Smaller sizes may seem ideal because they won't be noticed by others and they won't feel like they are in the way, but there are some disadvantages.
First of all, you need to consider that at some point you need to remove them. There is nothing scarier than trying to remove something from your ear and having trouble! We tried to avoid that feeling as much as possible.
There were a few things that we considered to side-step that potentially terrifying situation. The first thing that we looked at for each design was length. The longer the unit the easier it will be to take out of your ear. We also liked silicon options that had a long arm to pull for easy removal.
The downside to larger options is that they have a tendency to get snagged on things that can cause them to pop out of your ear. If you want something that will stay put, smaller designs may be better for your needs.
Before you take the plunge, take into consideration how terrified you are to get something stuck in your ear. If you land low on the terror scale, a smaller option may be more ideal for your needs.
Expert Interviews & Opinions
Most Important Criteria
(According to our experts opinion)
Experts Opinion
Editors Opinion
Users Opinion
By Default
Protect Your Ears
Loud concerts are great, but they do a lot of damage to your ears over time. Simply muffling out 35 decibels can make all of the difference in the world. If you don't like the idea of being the only one at the Metallica concert with earplugs, we suggest opting for a clear or neutral color so that no one will be able to tell!
Wax: The Original Plug
The first documented instance of people plugging their ears was found in Homer's The Oddessey. Oddesseyous instructed his travelers to use beeswax to block their ears from the sirens. It wasn't until the 1960's that the first silicone option was invented by Ray and Cecelia Benner.
Be Proactive
About 1/3rd of US residents experience some degree of hearing loss between the ages of 65 and 75. By being proactive and protecting your hearing with earplugs, you can work to mitigate this loss throughout the course of your lifetime.
Other Factors to Consider
Bottom Line
Sound is an amazing sense that can conjure up old memories, and make you feel at peace with the world. Other times, you just want everyone to shut up! When those moments creep up on you, a good pair of earplugs is a great tool to have on hand.
A good pair of plugs can help you sleep, help you focus on your training without outside distractions at the gym, calm your nerves as you travel, help you focus while studying, or dimish loud noises that could cause hearing loss over time. They are a great tool to have if you work around loud machinery, ride motorcycles, or go to a lot of concerts.
Hearing is one of our most precious senses, so it is in your best interest to protect it whenever possible! The good news here is the earplugs are small, and easy to keep with you at all times when you need them!
Frequently Asked Questions
q:

Why do I need them?

a:

There is a myriad of scenarios that call for earplugs! If you are trying to sleep as your neighbor practices their trombone in the middle of the night, they can help you get some Zs without screaming out the window at your neighbor. It's also a great tool to help cut out distracting noise as you study, or even as you train at the gym.

They can also help protect your hearing from loud noises. Users love to bring them along to loud concerts, or when working with heavy machinery. Due to the fact that they are so small, you can simply mount them to your keychain for the moment in which you need them.
q:

How loud is too loud?

a:

Everyone loves loud concerts, but at what decibel range damages your hearing? Persistent and prolonged exposure to noises that are over 85 decibels run the risk of damaging your hearing.

To put it into perspective, 85 decibels is about as loud as a powerful lawnmower. Your average concert pumps out music at a decibel level of about 110, so it is super important that you come to the event center with your plugs in hand!
q:

Can I wear them when swimming?

a:

If you are simply wearing them while during laps in the pool, reusable silicone options are considered to be safe to wear in the pool. If you wear them diving, they will more than likely pop out of your ears the moment that you hit the water.

If you opt for the foam options, you cannot wear them while in the pool. Due to the fact that foam is very porous, it will absorb water while you swim, which increases the risk of an ear infection.

If you intend on wearing when while you swim, we suggest opting for a silicone design. There are also a lot of plugs out there on the market that is designed specifically for swimming to help keep your ears protected.
q:

Are they safe to wear for long periods of time?

a:

Yes, they are safe to wear while you sleep for prolonged periods of time. However, there are a few side effects to keep in mind if you intend on wearing them to bed every night.

When you pop plugs into your ears, you push earwax to the back of your ear which can cause buildup which can actually cause hearing loss or tinnitus. This can be easily cleared up with eardrops that serve to soften the wax.

Another thing to consider is that using the same plugs night after night can cause bacteria growing on the plug to cause an infection. To avoid an infection, be sure to wash your silicone plugs each and every night.

If you don't want to bother with washing them every night, we suggest opting for a box of disposable foam plugs so that you use a clean pair each and every night. It may seem needlessly expensive, but it sure beats an expensive trip to the doctor for an uncomfortable ear infection!
q:

Will they block out noise completely?

a:

No, they will not block out noise completely. While some advertise as noise-canceling options, they only block out a set amount of decibels. These decibels range anywhere from 10-25 decibels on average and are enough to protect against hearing loss from loud noises.

This makes them ideal to take along with you if you want some peace and quiet as you travel. They will block out just enough noise to help to get some rest, but not so much so that you miss the snack cart as it travels down the aisle of the airplane!

It's also a great option for concerts. You paid good money for your tickets, you don't want to miss a single note. However, prolonged exposure to 110+ decibels can cause tinnitus and temporary hearing loss. With a good pair of plugs, you can dampen the sound to a safe level without missing a single beat.
q:

Will they help me sleep?

a:

If you have trouble sleeping because you simply cannot seem to drip off to the sounds that are coming from outside (or your sleeping partner that snores like weedeater), this is a great tool. It muffles out noises such as snoring, dripping faucets, and distant street noises.

The great thing is that they won't block out important noises such as fire alarms, heavy storms, or late-night phone calls.
Subscribe to our Newsletter