Best Fencing Books To Help You Learn The Art Reviewed
last updated:
Jan 28, 2020
Fencing is one of the most ancient and noble of the Western fighting arts. The earliest surviving written work on western swordsmanship is dated to the year to around the year 1300. Modern fencing came about due to a revival of the sport during the Rennaissance, predominantly in France and Spain. Some people, when they hear the name of the sport, imagine nobility from 18th century Europe dueling with swords to defend their honor. Still, other people imagine theatrical swashbuckling where the main characters dash about the stage and thrust and perry at each other with whip-thin blades.
In a Hurry? The test winner after 15 hrs of research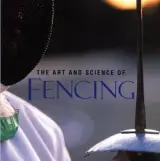 Art and Science of Fencing
Why is it better?
In a
Hurry? Editors choice: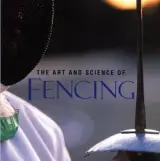 Test Winner: Art and Science of Fencing
Top 10 Picks
1

. Art and Science of Fencing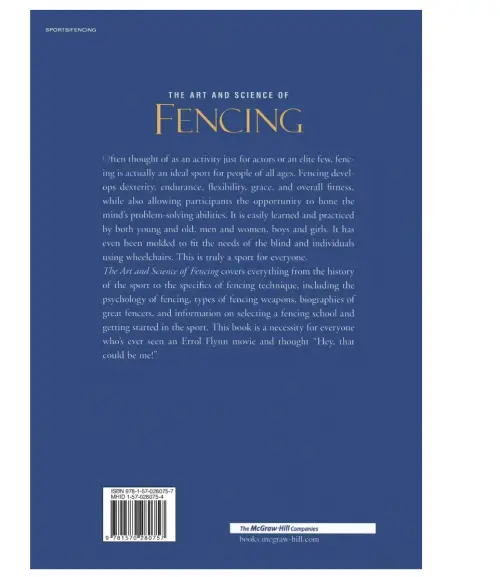 The Art and Science of Fencing was written by Nick Evangelista. His early days began by taking lessons at the famous Falcon Studios in Hollywood in the year 1970. He has now been involved in the sport for more than 40 years. His master was former Olympian fencer Ralph Faulkner. Evangelista taught at his alma mater for almost a decade before he opened his own practice, the Evangelista School of Fencing. He has taught privately, both traditional and theatric styles. He has also served as a consultant in the film industry. He has brought more than four decades of knowledge to his book.
Read more
Terminology Section
For the absolute beginner, one of the most daunting aspects of taking up any new sport or skill can be the terminology. Evangelista understands this and has included a handy terminology section to help overcome this obstacle.
The Philosophy
It's one thing to learn the how-to of a sport, the techniques, attacks, and counterattacks. However, the "Why?" of a sport is often where deeper understanding and comprehension come from. By including a section on the philosophy, Evangelista has ensured that you can get a deeper grasp of this sport.
Cost and Value
This book is one of the least expensive included on our list. Despite its low cost, it has plenty of features that make it chock-full of value. Its pages contain information about everything from history to philosophy to attacks and counterattacks to terminology. Overall, this product's price is too good to pass up.
Richard Cohen is not only a noted fencer but also an accomplished author as well. He is the former director of publishing for the Hutchinson and Hodder & Stoughton; is also the founder of Richard Cohen Books. He was the U.K national saber champion five times running. He was selected for the British Olympic fencing team in 1972, 1976, 1980, and 1984. His other accomplishments include authoring "Chasing the Sun" and "How To Write Like Tolstoy". Cohen has also written for the Guardian, the New York Times, the Daily Telegraph, the Daily Telegraph, the New York Times Book Review. Cohen has also appeared on BBC radio and television. His expertise in fencing is only matched by his expertise in writing.
Read more
10th Anniversary edition
This book was so popular the first time around that they had to publish it again, this time in an expanded and edited 10th anniversary edition. This version also contains a new foreword. This updated edition is even better than the original.
Origins of swordplay in Egypt
Sometimes it can be difficult to get excited about a sport, especially if it seems uninteresting and stuffy. However, Cohen makes fencing come alive by detailing the origins of swordplay back in ancient Egypt. The detailed information Cohen provides will be sure to inspire you to take your fencing skills to the next level.
Cost and Value
This product has a price on the lower end of the range when compared to other books on this list. Considering the accolades of the author though, and the quality of the information present, this item is hard to pass up.
3

. Cutting with Medieval Sword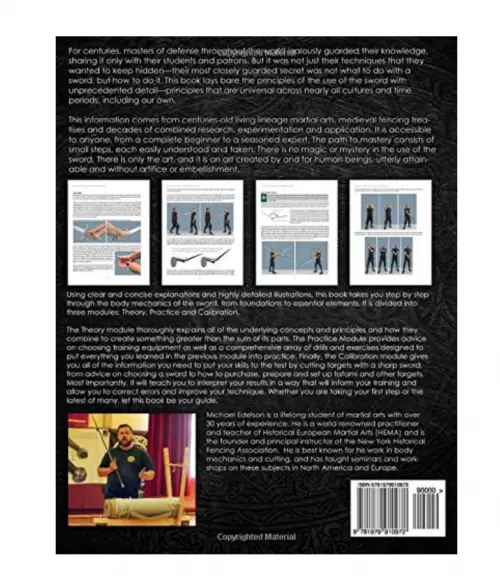 Michael Edelson is a part-time writer and fencing enthusiast, though he makes his full-time living as a firefighter with the Andes Fire Department. He lives in upstate New York with his wife, with whom he has two children and a large number of pets. Edelson teaches historical fencing as well, and in his free time writes books. His expertise in historical fencing is obvious in this hefty compendium of knowledge. Besides containing valuable and detailed information about medieval fencing, this book also contains a healthy dose of modern techniques. Cutting with the Medieval Sword also contains well-written, concise explanations as well as detailed illustrations.
Read more
Medieval Techniques
If you're looking to get the edge over an opponent, what better place to look than to the wisdom of the ancient masters? The techniques detailed in these pages are straight from the medieval era when fencing was more often do or die.
Theory, Practice, Calibration Sections
Some books are heavy on theory, some focus solely on technique and form. This book brings the best of both worlds to bear by providing information on both topics. Not only this, but the calibration section also allows you to fine-tune the use of the information to your personal style.
Cost and Value
This is by far the most expensive product on our list, at least when the physical copy of the book is considered. However, it is also available in eBook format, which is much more reasonably priced and accessible. If you do choose the eBook format, you will lose some of the crispness of the illustrations; if the visual aspect is important to you, you should consider paying more for the print version.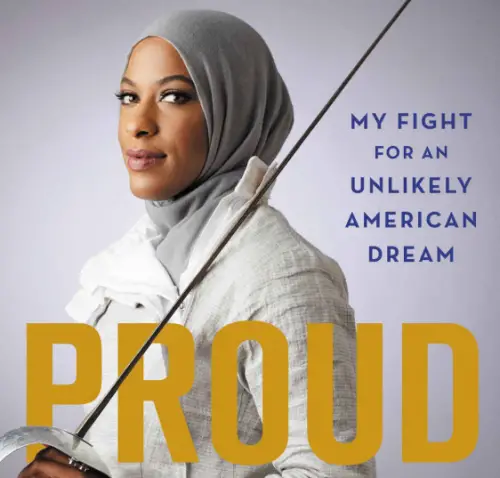 Ibtihaj Muhammad is perhaps the most unexpected addition to this list. She grew up in New Jersey, the only African American Muslim at her school. This difference ensured that she typically had to find her own way. Then she discovered fencing--a sport traditionally taken up only by the white and wealthy. Muhammad set out to defy expectations and find her own way in the sport she had come to love. She won state championships and three-time All-America selections at Duke University. Her difference set her apart, and she had to carve out her own path to success in the world of fencing. In this coming-of-age story, she finds her way from New Jersey to the Olympics.
Read more
Time's Top 100 Most Influential People
This author could hardly be more decorated. Named one of Time's Top 100 Most Influential People, this medal-winning Olympian is incredibly astute and competent not only in the sport of fencing but also in her life.
Autobiographical Story
Most of the books you will find on this list are how-to guides to various aspects of the sport. However, this is one of the very few autobiographical books included. If you want to know what it takes to break into this sport, this book will give you a front-row view.
Cost and Value
This book has a mid-range price when compared to other items on this list. However, unlike other items on this list, this book is an autobiography. If you're looking for a story rather than a manual, this work stands alone.
5

. Self-Defense for Gentlemen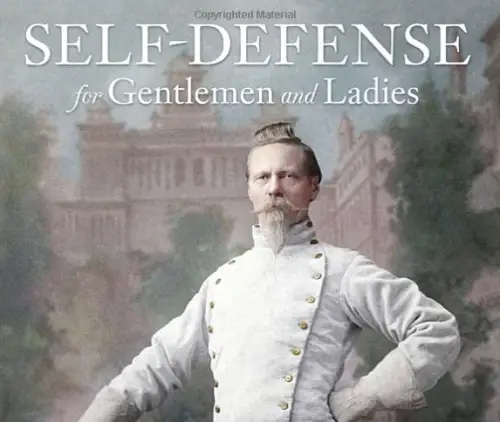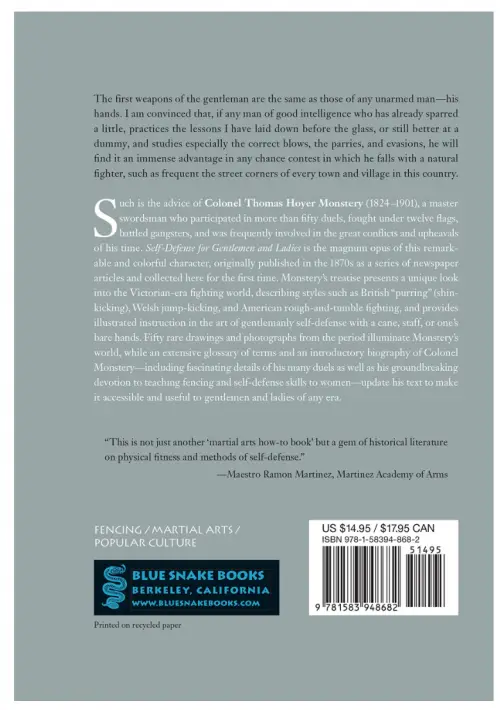 Thomas Hoyer Monstery was born in 1824 and was a Danish-American fencing and boxing instructor. He was also a duelist and soldier, fighting in several conflicts in Central and South American. He was temporarily blinded prior to his fencing career. However, upon the return of his sight he enrolled at the Military College at Copenhagen. After a year there, he attended at the Central Institute of Physical Culture in Stockholm, where he excelled in fencing, among other aspects of physical training. He studied for four years at the Central Institute and then graduated a master-of-arms. He discovered his passion for various aspects of close physical combat and traveled to England and the larger European continent looking for teachers for the various forms of fencing, which includes knife fighting in Spain and Italy.
Read more
Historical drawings and sketches
This book is not only written by a duel-winning author but includes various historical sketches and drawings. These drawings will not only give you an insight into correct form, but will act as window into history.
Variety of Weapons Included
While most books on this list focus exclusively on the sword, this book includes a variety of weapons, of which the quarterstaff is one. Why settle for one when you can have several? In this case, there is quality as well as quantity.
Cost and Value
This book has a low to mid-range price when compared to other items on this list. It does have a few attributes that set it apart, however. Among them are the fact that this is a historical document, written by a duel-winning master over a hundred years ago. Overall, its uniqueness makes it worth its moderate price.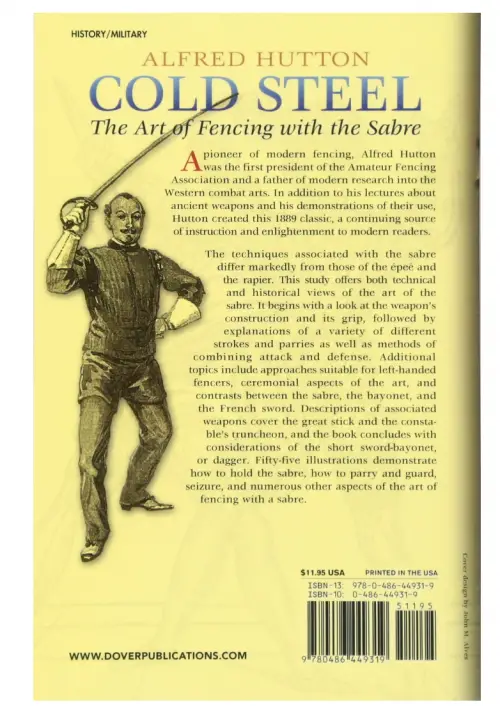 Alfred Hutton, FSA, was born in March of 1839. He began his fencing journey at the age of 12 when he began to learn the art at fencing school. He grew up to become an officer King's Dragoon Guards, as well as a writer, antiquarian and swordsman. He was at the helm of the first English revival of historical fencing and was in many ways a father of the movement. To speak to his skill, upon joining the military, he defeated his commanding officer in a duel and was invited to lead a fencing class for his fellow officers and non-officers alike, greatly improving their swordsmanship. Hutton had a great influence upon stage fencing in the theatrical world.
Read more
Father of Western Combat Arts
Hutton was at the helm of the first English revival of fencing. In many ways, he is the forerunner to the modern sport. His seminal work contains vital points of his groundbreaking knowledge. For the student looking to improve his skills, there are fewer more highly-qualified authors from which to read.
Variety of Strokes and Parries
This book contains a wide range of strokes and parries to help the dedicated student improve their skills. These techniques are vital to success, and only the most effective movements were included by the man who is widely considered to be the father of Western combat arts.
Cost and Value
Despite its extensive pedigree, this book is tied for the place of least expensive product on our list. It contains a great deal of knowledge, offering it up to you at a great low price. It is worth every cent.
Timothy Frank "Tim" Morehouse, born in 1978 is an impressive contemporary fencer. In college, he was placed into the top 10 within the NCAA's Division I men's saber category, once during each of his final three years of school. He was also labeled as an NCAA All-American three times as well and in 2000 was voted as NCAA's men's saber fencer of the year by his coaches and fellow athletes. He is still active in the sport of fencing and is coached by Yury Gelman. Morehouse is also the founder of the Fencing in Schools Foundation.
Read more
Industry-insider Take
For the athlete looking to learn just what it takes to break into the world of professional fencing, they need look no further than Morehouse's book. It is not only a great story and compelling read, but can give you an accurate picture of the dedication, sacrifice, and mental conditioning necessary to succeed in this sport.
Unconventional Techniques
Perhaps what Morehouse is most famous for in his fencing career are his unpredictability and unconventional techniques. For the fencer looking to learn of alternative techniques that could them the edge in a duel, this man's story could be a great starting point.
Cost and Value
This book has a higher-range price when compared to other items on this list for the print version. However, the eBook version is much more accessibly priced, though still a tad high when compared other electronic books. Despite this, there are many pearls of wisdom in this work that you will not find anywhere else, gleaned from a man with an unconventional fencing style and an unconventional life.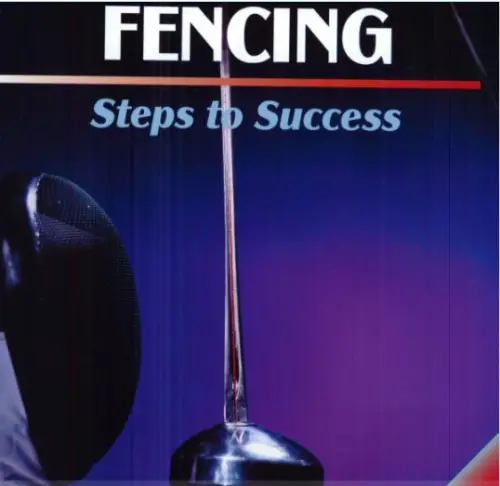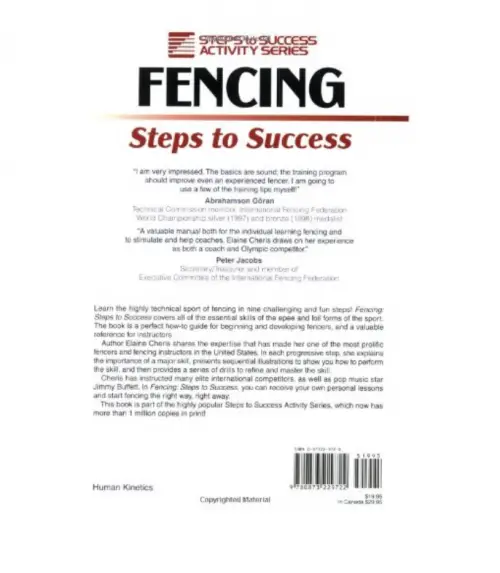 Elaine Cheris, born in 1946, was a relative latecomer to the sport of fencing. She did not begin fencing until 29 years old. At the time, she worked at a Jewish community center as an assistant athletic director; she put together a fencing program and jumped into the sport on a whim. She quit her job in 1979 in order to train for the upcoming Olympic tryouts. She qualified for the 1980 US Olympic team, competed in 1988 for the Summer Olympics in Seoul, and again in the 1996 Summer Olympics in Atlanta in epee. She accomplished this at 50 years old, the second-oldest woman US Olympic fencer ever. Over the course of her decorated career, she won many medals and competitions. One of the most lasting aspects of her legacy is the fencing club, named the Cheyenne Fencing Society and Modern Pentathlon Center of Denver.
Read more
Perfect for Beginners
Many books can be intimidating for the beginner to pick up. This book was specifically designed to be friendly to the fencer who is just starting out. From its 150 illustrations to its many included drills, you can get a lot out of this book no matter your skill level.
Epee and Foil Forms
There are many forms of fencing, including the saber, epee, and foil. For the fencer specializing in one of the three distinct forms, it can be frustrating to locate books dedicated to their area of specialty. For those focusing on epee and foil, this book is designed specifically for you.
Cost and Value
This book has a low-end cost when compared to other items included on our list. The author is an extremely decorated Olympian who has decades of experience, written in a way that is accessible specialties. The specialty in epee and foil makes it especially useful for those focused into these forms. Overall, this low cost is a steal, especially if you're just getting started.
9

. Skills, Tactics, Training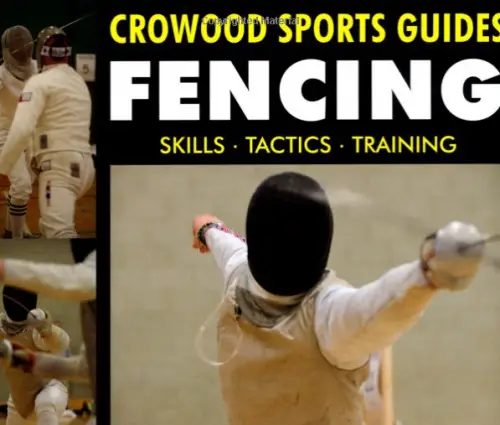 Andrew Sowerby began his fencing career in the year of 1982 with the Norfolk Fencing Club. After joining, he won many medals when he represented the NFC at regional events in not only foil but also epee and saber. After these successes, be began to serve as a full-time fencing coach in 1988 in an extremely versatile practice for all levels of fencers in all variety of fencing weapons. His students compete at the local, national, and international levels. He is the director and head coach at several locations and is a decorated coach in foil, epee, and saber. Though he no longer competes due to focusing on his coaching, he teaches as different schools, clubs, universities and more, and is the head of coaching at Centre Parcs resort in Thetford.
Read more
Competition Scenarios
This book provides you not only with basic practical know-how, such as different kinds of perries and thrusts, but also more advanced information, such as scenarios you may encounter during competitions. This advanced information is unique here.
Great for Coaches
Many books on this list are designed for use by the student. This book is written by a coach and is designed to be especially useful to other fencing coaches. Though an individual student may still pick it up and learn from it, coaches will appreciate this book's knowledge directed towards helping them.
Cost and Value
This book has a mid-range price when compared to other items on this list for the print version. However, when you take into account the eBook version, it is the least expensive item on this list. However, if you order the eBook version, you will have a harder time viewing and appreciating the included illustrations. Overall this book is of tremendous value to the right audience and has several formats fitting multiple budget brackets.
10

. A Basic Foil Companion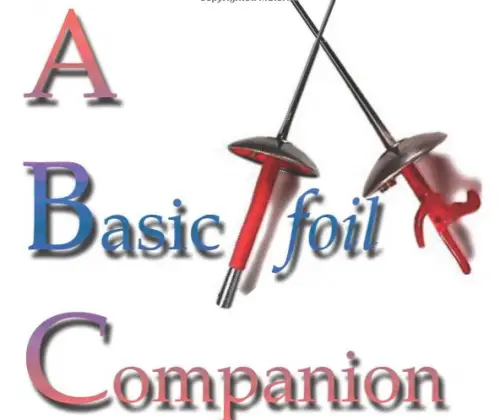 Paul Sise is a tested and certified fencing master. He is a teacher of beginning through advanced classes and one-on-one sessions in foil, epee, and saber. Many of his students have become international medalists, and several have earned fencing coaching and referee certifications. He is the author of several other fencing books, including A Basic Fencing Companion, published by SKA Swordplay Press. As his thesis for Fencing Master Certification, he wrote "Height Differences in Epee Fencing and Strategies for the Shorter Fencer" as his thesis. He was written many other books on the subject.
Read more
Textbook Layout
This book is designed as a textbook. This means it is well-laid-out, completely illustrated, and easy to navigate. The textbook-style design also means that it is extremely useful for coaches looking for resources to provide to their students.
Drills, Footwork, and More
This book is the complete package when it comes to knowledge. It contains drills, information on footwork, tips on form, and other building blocks of the fencing game. Overall, this is a great ground-level book to help you understand the full range of fencing knowledge.
Cost and Value
This book has a price that sits on the low end of the range when compared to other items on this list. But don't let its low cost fool you. It is a book designed to help you learn, containing all the basics of knowledge one would expect to see in a work written by a certified Fencing Master.
Criteria Used for Evaluation
Style
Hardcover: Hardcover books have the benefit of having sturdy boards on the front and back. This allows them to stand up to more wear and tear than their more delicate formats. However, the downside of hardback books is that they are usually significantly more expensive than paperback or eBook formats.
Paperback: Paperbacks are usually the most accessibly priced physical books you can purchase. For the person who enjoys reading out of a physical book, hard copies just can't be beaten. However, if you can't afford a hardcover, paperbacks are a great choice. The only downside is that they are less sturdy and more susceptible to damage.
Materials
Teachers: When purchasing a book, you'll want to make sure that you're buying a work written by an author who actually knows what they're talking about. Taking a peek at their bio can reveal this information. If they've been involved in this sport a short amount of time, odds are that they don't have the skills necessary to be teaching. However, if they have decades worth of experience and teaching under their belt, odds are that they are qualified to be writing informational books.
Olympians: Another kind of author that write books are the US and international Olympians. Persons who have made it all the way to the Olympics to be a part of their various countries' teams have proven themselves to be at the height of ability, knowledge, and skill. Through intense conditioning and training, they have formed their body and mind to succeed in this sport; because of this fact, you can usually trust their word.

Historic Masters: There are a few books out there written in the 19th and early 20th century by masters who have since died. These books are usually a bit more difficult to read due to antiquated language. However, these are usually persons who are considered forerunners of the sport and are widely regarded as the greatest masters.
Features
instructional: For the student who is looking to acquire actual practical skills, the kind of book they are going to want will be of the instructional variety. This kind of book has sections on perries, thrusts, and counterattacks. This variety of books is also usually heavily illustrated and have lots of diagrams to show you how to do a particular series of movements. These books may be a bit dry and be formatted like textbooks but are packed with information.
Autobiographical: These kinds of books are usually easier to read and tell a great story. The downside is that they are extremely light on practical information that you can apply to your own practice. However, these books are a great option for someone who wants an insider's take on what exactly it takes to succeed in the world of professional fencers. These engaging stories tell various tales of triumph, defeat, loss, and success.
Ease of Use
eBook: Electronic books, or eBook, are convenient because they can be read wherever you have an electronic device. Whether you're on your phone, tablet, laptop, or eReader, your book can follow you around. These digital format books are also very inexpensive, usually cheaper to purchase than paperbacks. The only downside is that for some people staring at a screen for long periods of time can strain their eyes.
Audiobook: For the person who is an audio learner, or who spends a lot of time in the car, you may want to consider an audiobook format. As a forewarning, this format works best for autobiographies and biographical books. Instructional books are usually not best acquired through audiobook format because they contain instructional pictures and diagrams that do not translate well to the audible format.
Why these books are necessary
Typical Videos are a lot of people's go to's but the information in books, down to the proper name, technique and reasons why are super important. Those who read
It's for the beginner or more seasoned
The journey of a thousand miles begins with a single step–and sometimes that step is buying a book. As you begin or continue down your journey of swordsmanship, you will want to test your limits and expand your body of knowledge.
Other Factors to Consider
Bottom Line
The question is, where do you begin? To the raw beginner of any sports, it can be intimidating to figure out where how to break into such a prestigious sport with such a set of time-honored traditions. Not everyone wants to schedule lessons with an instructor right off the bat. Sometimes you want to gather knowledge so that you can get a better idea about what you're getting yourself into. We live in the information age, and knowledge is available at the stroke of a key or the click of a mouse. However, we also live in the age of misinformation; figuring out which source you can trust can be a headache.
Luckily there are many trusted, vetted authors out there who have committed their knowledge to write in many different kinds of books. There are several different kinds of books available, depending on your skill level and intention. There are many great autobiographies that have been written by Olympic fencers that can give you a look at how fencing changed their lives and the effort and skills the learned from the sport. There are also how-to manuals and guides to teach you different drills, perries, thrusts, and more. No matter your need, a book has been written that can help you learn what you want to learn. If you are interested in fencing equipment and fencing shoes, be sure to read our other buying guides.
Frequently Asked Questions
q:

How do I know I can trust this author?

a:

You will have to do some research to figure out if an author has the credentials to be writing a book in the first place, and if they know who they are talking about. Generally, historic books are a good source of information because they are written by the ancient masters. Contemporary books written my Olympians are also excellent sources of information. Finally, look at how long someone has been fencing and/or teaching for. Most reputable authors have been with the sport for at least several decades.
q:

What format should I buy?

a:

This will depend largely on the recipient. Do they want a weighty, solid book? Then you're most likely going to want to go with hardcover. Do they want to be able to listen to a great story in the car on their commute? Then you'll want to gift them an audiobook. Do they want to be able to take it with them and read it on their devices? An eBook is definitely the way to go.
q:

Can I return an eBook?

a:

It is a little-known fact, but yes, eBooks can be returned. Specifically, through platforms such as Amazon, they must be returned within seven business days of purchase in order to get a refund.
Subscribe to our Newsletter