Best Fencing Masks Reviewed and Rated
last updated:
Feb 13, 2020
With so many different options of just masks alone, there is a lot to go over. To make it more complicated, an equally large amount of vendors offer this gear. For a beginner just starting out this can be quite overwhelming right off of the top. For that specific reason, we offer you our buyer's guide. We take the time and resources to review and rate a selection of what we believe is the best among the rest of what the internet has to offer. We then go over the criteria that we used to evaluate these selections to give a deeper understanding of the topic at hand.
In a Hurry? The test winner after 4 hrs of research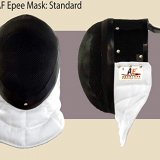 Absolute Fencing Epee
Why is it better?
Adjustable
Non Electric
Durable
Decent Quality
In a
Hurry? Editors choice: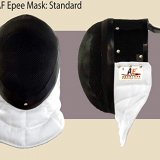 Test Winner: Absolute Fencing Epee
Protection
Versatility
By Default
Criteria Used for Evaluation
Protection
There are several distinct features to every mask used in fencing. Some of these features are present in all of the helmets, whereas some features are very unique to one mask. Some have electric bibs, and electric screens, while some are not electrical at all. There are some that feature comfortability that none other feature at all. Going over these features in-depth will surely give you an idea of what you are looking for, or at least what commodities are necessary.
Screen
The screen is a standard feature of any fencing mask and is found in every fencing mask. They cover the entirety of the face and keep the face safe from sword strikes. The high-quality FIE Masks screens are made of stainless steel, whereas non-FIE masks are made of carbon steel. Some squeeze the screen to adjust the size of the masks slightly.
Inside Lining
The inside lining is what makes the mask comfortable to the sides and top of your face. Since the outside screen is made of metal, an inside lining is necessary to keep from hurting your face or added discomfort. This is usually stitched in and cannot be removed on cheaper masks. However, in higher-end masks, this lining is designed to removable. In masks that it can not be removed, the entirety of the mask needs to be washed together which can create some issues, which is why the mask is stainless steel in cheaper masks.
Bib
The Bib is the material that hangs down over the neck and lines the bottom of the steel screen. This piece is meant to keep your neck safe from stabs from a sword. This is normally attached by a series of snap buttons which means it can be removed and washed separately. In some cases it is just naturally fixed there, unable to be removed. In electric fencing, a lame is added to the bib, making electronic tallying a possibility. When a screen is electric, it plugs into the lame attached to the bib.
Tongue
The tongue is a metal slip found extending from the back top of the screen. It is designed to be bent down to prevent the mask from falling off when looking down. This is but one measure used to fine-tune your masks fitting in the event that the mask is slightly too large. There are other manual ways, such as squeezing the screen, but this way is both a way to keep the mask on as well as slight resizing.
Versatility
Schools of Fencing
The three schools of fencing are as follows: Foil, Epee, and Sabre. They are named after the swords they use and have varying rules, scoring, and target areas. They all employ the use of fencing masks, despite one of the schools doesn't use the head as a valid way to get a point. However, since there are differences in the schools themselves, there are also differences in the masks they use. Going over the schools a little more in-depth will improve one's understanding of fencing in general.
Epee
Epee is like other fencing swords but this one is heavier. In Epee, the entire body is a valid target for scoring points. The Epee has a circular hand guard that keeps the hand, a valid scoring target, from getting hit by an opponent. Only the tip of the sword counts as a valid strike as opposed to slashing strikes, like in Sabre. However, these non-valid hits do not stop the action. Epee also does not use the right of way when moments like a double touch happens.
Foil
A foil is much lighter than the epee and weighs at maximum about the same as a saber. The only valid target for accumulating points in foil is the torso, with the exclusion of the arms, legs, and head. The hand guard on the weapon is used primarily for protection since the hands are not valid targets for scoring. It relies only on thrust attacks and not strikes or slashes. If a strike is landed it will not stop the action, however, hitting a spot that is not a valid target will stop the action.
Sabre
Sabre is a lighter sword than the epee, weighing about the same as a foil. The valid target area for points in saber is the entire upper body, including the arms, chest, and head. However, this excludes the hands and does not at all include the legs. (Hence the upper body statement.) Off-target touches will stop the action, and no points will be awarded when this happens. Unlike all the others, in saber slashes and strikes to valid target areas will net you points.
Other Factors to Consider
Bottom Line
Now that we have shown you what we believe the best the internet has to offer, you might have a better idea of what some of your options are. For some who are just starting off in fencing, this is sufficient enough. However, there are those that need further explanation and are looking to have a much deeper understanding of the topic at hand. For those wanting to know more, we offer to you the criteria section of the buyer's guide. In it, we outline the criteria we used to evaluate what we believe to be the best of the best in detail. Between the first and second sections, you should be able to make an informed decision on your own.
This concludes our buyer's guide. Between the post data as well as the criteria section, you should have the majority of important information one would need to make a self-motivated and informed decision. We understand that your dollar is as precious as your time. As a result, we hope we have saved you both of those things by presenting this guide to you. We have done the studying and reviewing to augment your study and understanding of this fencing topic.
Frequently Asked Questions
q:

Is Fencing a martial art?

a:

No. Although it started as a combat style, it was developed into a competitive sport way early on in the 18th century. It isn't a very practical fighting style but makes a great competitive sport.
q:

Do masks come in different sizes?

a:

Yes. Most commonly, masks are sold in the standard Small, Medium, and Large Sizes. Some masks have different methods of sizing, but this is the standard you are going to see.
q:

Will I have to adjust my mask when I receive it?

a:

Yes. More than likely you will have to fine-tune the size of your mask so it fits comfortably. There are videos and tutorials online that will tell you how to do this.
q:

Are there any electric versions of masks?

a:

Yes. Although some masks are what is called "dry" fencing, which means non-electric, there are some masks that come standard with the ability to be plugged in for electronic scoring.
Subscribe to our Newsletter