Best Foam Rollers Reviewed & Rated
last updated:
Jan 19, 2020
Every few years there seems to be a new trendy piece of exercise equipment. Thigh Masters, Shake Weights, the Bodyblade, and the Bowflex were all the "must have" pieces of equipment at one time or another. Foam rollers seemed to be another link in this trendy chain, but it turns out that they are actually effective tools for both fitness and physical therapy. Helpful as they are, though, the market is a little saturated at the moment as more and more companies try to provide consumers with quality products. Lucky for you, we have compiled the ten best rollers on Amazon.
Experts are still looking into why rolling does what it does. Even without knowing the specific "how", many experts can agree that it helps relieve muscle soreness and stiffness, relieve stress, and reduce the post-workout tension that many athletes and gym-goers are so familiar with.
Featured Recommendations
TriggerPoint GRID

Our rating
Closed-Cell Foam
Price:

See Here
LuxFit Premium

Our rating
Warranty Included
Price:

See Here
Master of Muscle

Our rating
Exceptionally Durable
Price:

See Here
Some companies promote their products as a way to perform SMR, also known as Self-Myofascial Release. This is a form of massage that helps to prevent soreness by putting pressure on the surface of the muscle until the tension reaction fades, causing the muscle to relax in response. Not all experts support the idea that they are effective for SMR, but fans of the product are adamant that it does the job!
10 Best Foam Rollers
1. TriggerPoint GRID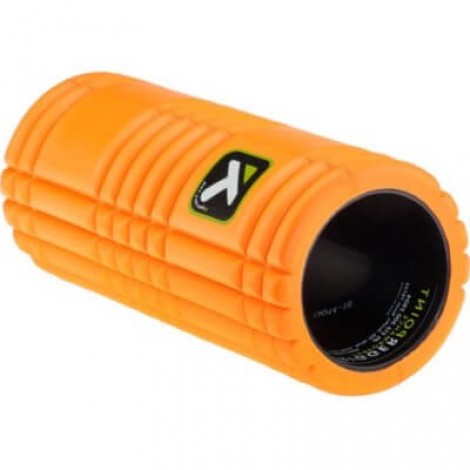 TirggerPoint GRID seems to be THE name in patterned products. The hollow-core design means that it will keep its shape over time while providing a handy storage space for gym clothes or shoes while on the go. Each purchase includes free tutorials as well as a complimentary ebook to help guide new users, and it is closed-cell which means it is more water resistant so it can hold up to sweat and spills.
Expand to see more
Hollw Core and Closed-Cell Design
The TriggerPoint GRID is constructed with a hollow-core construction and closed-cell material. This combination means that it is lightweight but will keep its shape over time while standing up to contact with water and sweat without taking on moisture.

Complimentary Ebook and Tutorials
Foam rolling can look daunting to newcomers. TriggerPoint addresses this issue by including a free ebook and several free tutorials with the purchase of their product. Such videos are widely available online, but the included tutorials and book were created specifically to accompany the TriggerPoint GRID roller.

Cost and Value
The TriggerPoint price tag may seem a little high, but the customer reviews speak for themselves. If you want something that is lightweight but durable, versatile and well-backed by its company, then you want a TriggerPoint.
Lightweight
Hollow-Core Construction
Closed-Cell
Excellent Durability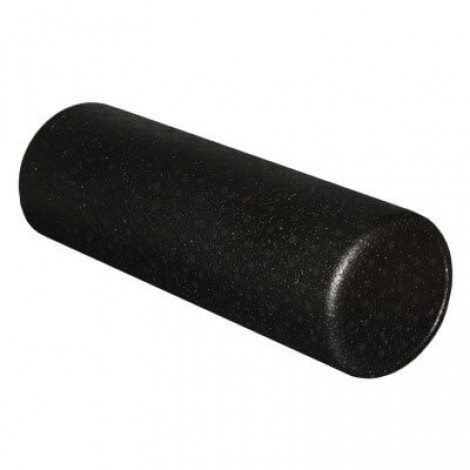 LuxFit is a company that focuses on the comfort of their users. Their products range from EMS electropulse massagers to seat cushions and heating pads. They sell several products, but their high-density black one seems to be the favorite on the market. Black rollers tend to be the densest and therefore put the most pressure on the user's muscles. Newcomers might find the foam too hard and uncomfortable, but for those who enjoy the high-pressure effect, LuxFit offers the best on the market.
Expand to see more
1-Year Warranty
This option offers both a 3-year and a 1-year warranty, the difference likely depending on what size is ordered or which seller the product comes from. Either warranty is a good deal, though most reviewers insist that the warranty is not needed!

High-Density
The denser the foam is, the more pressure it puts on the muscle being rolled over it. High-density options can be too hard and cause pain for some users while other users swear by the intense results that get from the use of one.

Cost and Value
These come in a range of prices, but even at the top end, they are incredibly affordable. Durable and firm it will last with you throughout years of use. Most budgets will be able to afford this option and it will keep your muscles feeling great.
Durable Design

High-Density Foam

Multiple Sizes Available

Affordable
Easy to Maintain
3. Master of Muscle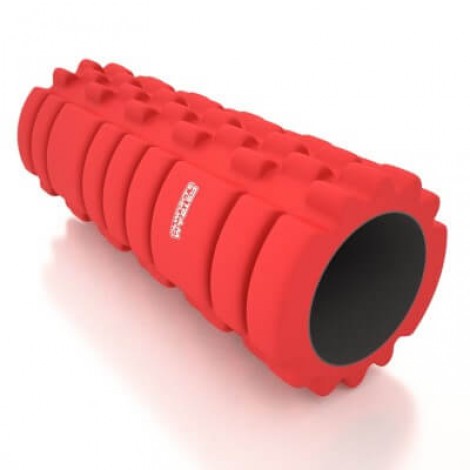 Master of Muscle is a go-to company for all things muscle related. Tension bands, foot massagers, hand chalk,
jump rope
, supplements. You name it and there is a good chance that Master of Muscle sells a variation of whatever you are on the market for. Their foam roller seems to be a continuation of their commitment to excellence as shown in the consistently high ratings for most of their products. With its unique massaging pattern, included ebook, and reasonable price point this is a great purchase.
Expand to see more
Unique Massaging Pattern
Master of Muscle's high-density option is designed using a unique dual pattern. Massaging tips cover half of it while smoothe sections cover the other half, giving the user more options when in use.

Ebook Included
The purchase of this item also includes an ebook detailing the use and effectiveness of it. Videos and books are, of course, available online, but the ebook included is designed specifically for this product and its unique massaging design.

Cost and Value
This is among the most affordable on our list. It is only 13 inches long, which may be too short for some. But if this bag-friendly length works for you, then this is an affordable and highly versatile option. Adding this to your equipment room is easy and is a handy go to when in need of muscle recovery.
Easily Portable

Versatile Use

Simple Instructions

Stellar Price
4. 321 STRONG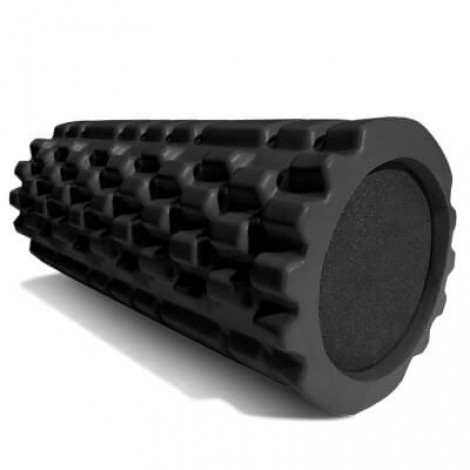 Backed by a lifetime warranty, 321 STRONG gives you a trusted model that will tend to your sore muscles as often as you like without breaking down. Excellent for getting deep down knots and releasing those commonly tense areas over your entire body this option is a step ahead. Increase your flexibility while you watch the daily swelling disappear.
Expand to see more
Custom Massage Feeling
Targeting specific zones and digging deep you will feel like you are getting a massage done by a professional. Wherever your tension lies target it and roll your way to release. You are sure to hit all the areas you need and your body will thank you for it.

500 lb Rating
Humans come in all shapes and sizes. When making a purchase like this you don't want it to arrive just to find it instantly crushes with your weight on it. The rating on this option will handle flawlessly with anyone up to five hundred pounds ensuring you get the relief you need.

Cost and Value
If you are in the market for an affordable product that is durable and will work deep into your muscles this may be a perfect choice. Budget friendly and rave reviews are two of the many reasons we love this choice. Give it a chance and you are sure to love it too.
Double Textured
Light or Deep Massage
Target Painful Areas
Excellent Price
5. Rumbleroller Deep-Tissue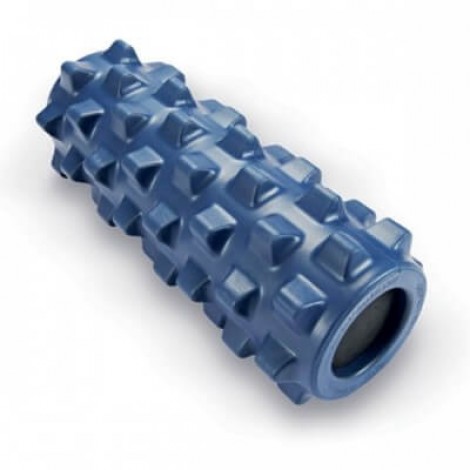 Rumbleroller is a company that focuses on one thing and one thing only, SMR devices. Their entire range of products is dedicated to helping users seeking SMR relief. These deep-tissue massage sticks are available in two sizes and two different densities, giving users four options to choose from.
Expand to see more
Massaging Knob Design
Some people prefer theirs to be smooth for a more gentle pressure. Then there are those people who want a deep-tissue pressure treatment and for those people, there is Rumbleroller. Their unique knob design puts pressure points into the muscle, massaging and kneading to achieve relaxation and pain reduction.

Two Sizes and Two Densities Available
Rumbleroller's is available in two sizes so that users can best choose the size to fit the kind of use it is put towards. It is also available in original and high-density so that varying pressure levels can be achieved.

Cost and Value
These have a hefty price tag but they are the best on the market if you are in search of a deep-tissue option. This is going to push into your muscles and you will feel complete relaxation when done.
Massaging Knobs

Two Densities Offered

Waterproof

Increases Flexibility

Trusted by Millions
6. Product Stop Exercise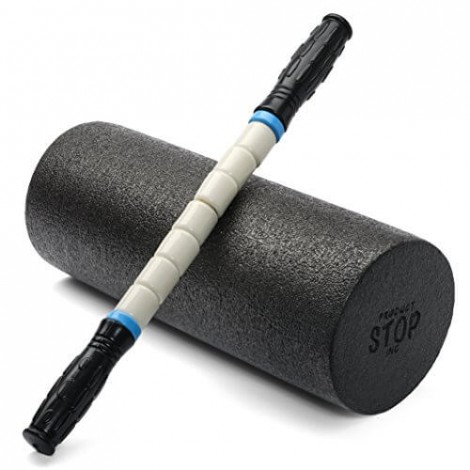 Product Stop Inc. offers goods across a range of markets, but they all have one thing in common and that is positive reviews. Whether it is a weight exercise hoop, a cast cover, or one of their foam rollers, Product Stop knows how to provide quality products. This medium-density option is travel sized and comes with a rolling stick for added SMR stimulation.
Expand to see more
Medium-Density
Most of our list fall into one of two categories: low-density or high-density. Product Stop offers a medium-density option that won't have quite such an aggressive effect as high-density but will provide more pressure than a low-density product.

Two Products Included
Product Stop's comes with a rolling stick. This hard plastic stick is another device used by those who practice SMR and can be a very handy additional piece of equipment to have on hand.

Cost and Value
Product Stop's price tag is very reasonable, particularly for a set of two products. This is a little on the short side, but if that is not an issue, then this purchase may be ideal.
Easy Convenient Use
Money Back Guarantee
Great for Legs
Great Texture
Works Deep
7. Bodhivana 2-In-1 Set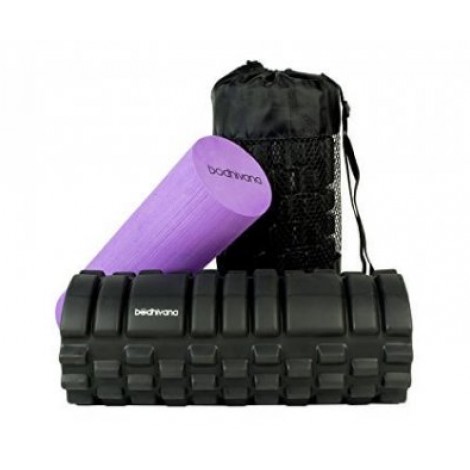 The Bodhivana 2-in-1 set is more than just two rollers sold together. The purple roller is a soft-density option that is designed with a smaller circumference than the black one. This is because the purple one fits inside the black roller, which is high-density and textured for a deeper massaging effect. These two are travel sized and come with a storage bag, making them perfect for versatility on the go.
Expand to see more
Two Products In One
Several products on this list feature added extras, but the Bodhivana 2-in-1 set is unique in that the smoothe soft-density purple roller literally fits inside of the hollow-core high-density knobbed roller. These products then fit into the included carrying bag, making them easily portable and perfect for users who need versatility on the go.

Includes Videos and Ebook
This product set also includes an ebook and several training videos so that users can get the full range of benefits from this dual-density 2-in-1 combination.

Cost and Value
This roller set has a midline price tag. The dual-density and dual-texture setup, however, make it a great value even before the carrying case and training materials are factored in.
Easily Transported
Convenient Carrying Bag
Good Support
Strong Material
Great for Beginners
8. Nordic Lifting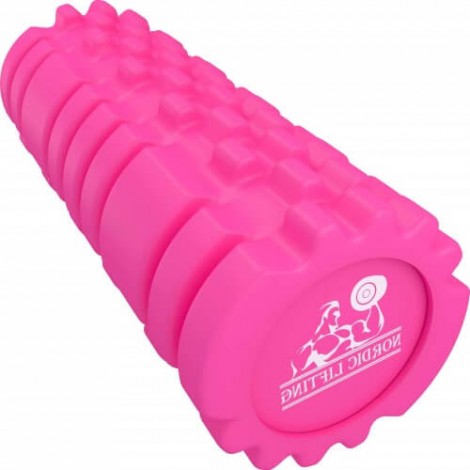 Nordic Lifting is a company with consistently high reviews in a market that has a notoriously low rate of ratings: small exercise equipment. They cover every need a lifter or gym-goer might have from gloves and shoes to compression socks and weights. Theirs are another product in this line of quality, featuring a one year warranty and a solid construction that is built to last.
Expand to see more
Medium-Density
This medium-density roller is a little easier to use than its high-density cousins without being too soft to apply consistent pressure across the user's muscle. WIth a variable massaging design, this is ideal for those who have graduated from low-density and want a more deep-tissue effect but are not yet ready or interested in high-density yet.

Can Handle Up to 500 Pound
Nordic Lifting is very specific in their product construction. This contains no inner tubing that can break and is instead made entirely of medium-density foam that can handle up to 500 pounds, which is made even more impressive by the fact that this is travel sized!

Cost and Value
The midline price tag on this product might seem a little high, but the solid construction and company reputation make it a product that will last and last, giving more life to the purchase.
Excellent for Back Pain
Great for Knots
Durable Construction
Looser In One Use
Not for Very Tender Areas
9. ProSource Sports Medicine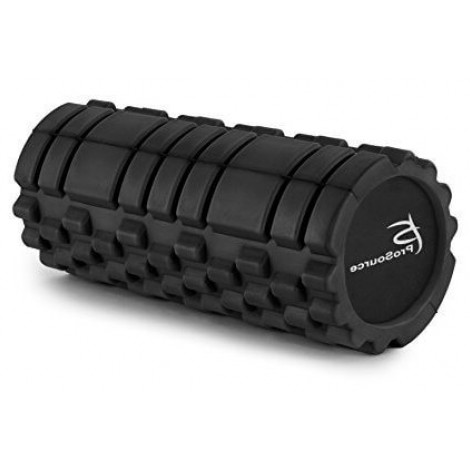 ProSource offers products across a range of markets, but that does not seem to stop them from creating and selling high-quality products. Their item features two density zones and a variable pattern design so that one travel-sized roller can have a little more utility. With an affordable price tag and a high rating, ProSource proves they can be a pro without being a one-trick pony.
Expand to see more
Dual Density Zones
ProSource's roller is unique in that it features two different densities on one roller. This allows the user to choose the best density for their needs based on how they feel during each session without having to invest in multiple rollers.

Several Styles Available
Not only is the roller produced with a dual-density zone design, but it is available in a range of sizes and colors so that users can choose the size and style that best suits their needs, and preferences.

Cost and Value
This is the most affordable option on our list. It might be a little short for some but if travel-sized is ideal, then this is the lowest price point with quality guaranteed, including a limited warranty.
Results After First Use
Variety In Size
Easily Releases Trigger Points
Rolls Smoothly
10. OPTP PRO-ROLLER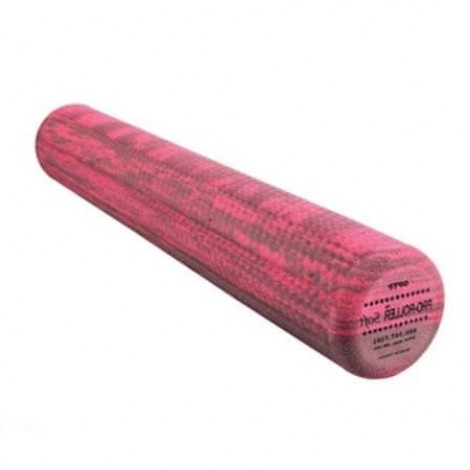 OPTP is a company focused on dealing with muscle tension. All of their products focus on relieving tension or preventing it in the first place, and their products garner generally high reviews. Their low-density option is another product in a line of solid offerings, featuring closed-cell foam and professional quality construction.
Expand to see more
Closed-Cell
Closed-cell is ideal for any foam that will be used during exercise or around any kind of water. Closed-cell is more water resistant than open-cell, allowing it to shed moisture such as sweat, water, or cleaning solution instead of absorbing the fluid.

Professional Quality
OPTP makes their products at professional quality levels. This makes them ideal for gym inventory, physical therapists, or people who intend to use theirs frequently and for an extended period of time.

Cost and Value
OPTP's is one of the most expensive on our list. The closed-cell professional construction might make the price point worth it, however.
Exercise Book Included
Excellent for Smaller People
Perfect for Frequent Use
Easy to Care For
Newcomers to the practice should go for a softer option while those with experience can go for a harder product or one with a pattern. Patterns allow the muscle to relax differently against the roller, causing different points of pressure that can be realigned for maximum effect and comfort. A word of caution, however, is that spikier, hard foam can cause bruising which is essentially the opposite of relaxation! No matter your activity, be it wrestling, Boxing, Muay Thai, or Yoga this product can be helpful for all of life's pains. Our list contains the best of each category, allowing you to see the top offers and choose the roller that best fits your needs and experience level whether new to the thought or an old-time fan.
Criteria Used for Evaluating the Best Foam Rollers
Density
Different densities will have different effects on the user's muscles. The options on our list cover a range of densities so that everybody can choose from among the best to find the one that best fits their needs.
Low-Density –
Low-density is softer than all the rest. It puts less pressure on the muscle when rolled because it will give a little under the weight and applied force of the muscle. Low-density options are ideal for those who are in physical therapy or are new to the use of foam rollers. Seasoned users who are used to putting more pressure on their rollers may want to consider a denser option.
Medium-Density –
Medium-density is exactly what it sounds like. It provides more pressure than a low-density option while being a little more gentle to use than a high-density roller. These weigh a little more than low-density, so even travel sizes are going to add a little more weight to a user's gym bag or luggage. This is important to note for those who need one on the go, though users who keep theirs at home or at the gym will not see any issues.
High-Density –
High-density rollers are for those who are accustomed to foam rolling and SMR in general. They put a considerable amount of pressure in stiff or sore muscles and, for some, can be too uncomfortable to use. It is important to work your way up to a high-density roller unless the product is recommended by a physical therapist or other medical professionals. Those who are already accustomed to high-density rollers should also take care when changing patterns or trying a patterned roller for the first time, as the strong ridges and points can be particularly painful for stiff muscles.
Variable-Density –
A few products on this list have areas of differing density. This allows a user to choose which portion of the roller to use depending on the stiffness of their muscles and the general level of their familiarity. Variable density options can be tricky to use, however, as you may switch from one density zone to another without realizing it depending on the style used.
Construction Type
Hollow Core –
Hollow-core products are typically lighter than the solid-core variety and have the added bonus of allowing a band to pass through the center or to act as storage points for shoes or gym clothes during transport. They are not as structurally sound, however, and the inner plastic core ring may be subject to breaking.
Solid Core –
Solid cores are either solid foam or have a hard core surrounded by foam of whichever density the product is produced with. These may be heavier than hollow-core options, but many do not have inner plastic portions that can potentially break and shorten the lifespan.
Smooth Surface –
A smooth surface offers consistent pressure when the muscle and roller move across one another. These may be easier to roll on some surfaces but slippier on others without the textured surface acting as catch points to assist in rolling.
Textured Surface –
Textured surfaces dig deeper into the muscles, some more than others. This creates pressure points that may help relieve muscle pain faster, though the more aggressive points may cause bruising if used too often and with too much force.
Frequently Asked Questions
Q: What exactly are the benefits?
A: It eases muscle tension, aids in relaxation, and stimulates blood flow to muscles that may be experiencing a lack thereof. Several studies have also shown an increase in flexibility and some users reports a reduction in the frequency of, and pain from, adhesions.
Q: How long should I use it for?
A: They must be used to apply pressure across a muscle for no less than 30 seconds. 90-second intervals are more effective, but it is important not to focus on one area much longer than that as it can cause bruising. For questions like these, it is important to check with a doctor or certified trainer to get answers that suit your specific needs.
Q: Are there classes?
A: Some gyms do offer classes while others may incorporate it into their routines for other classes. If you're interested in classes, you could always ask the front desk at your gym if they could look into starting one. For training, it is possible to find videos and tutorials online, though it is always best to consult medical professional before beginning any exercise program.
Q: Can I use mine at the gym?
A: As long as your gym allows outside equipment, you should be able to bring your own in. It makes an excellent wrap up to other exercises as well as an excellent workout on its own. If your gym does not allow outside equipment, you could always ask if they are willing to provide you with one.
Q: Is there any age limit?
A: Questions about age and health are best directed at medical professionals. There are books for children and senior citizens, however, indicating that it may be beneficial to people across the age range.
Sources
Subscribe to our Newsletter