Best Foot Protection for Taekwondo Reviewed & Rated
last updated:
Apr 06, 2021
Taekwondo incorporates both kicks and punches but kicks take precedence. This means that practitioners run a higher risk of injuring the many muscles and small bones. It is these muscles and small bones that allow the human foot to balance us so well and any injury to them is enough to put most people on the bench for weeks if not longer. For martial artists, particularly those who compete, a few weeks on the bench could mean falling so far behind their class that they struggle to catch back up as they lose their competitive edge. The easiest way to avoid these sorts of injuries, then, is by using a protector. It is such a specialized piece of equipment, in fact, that there are only a handful of designs on the market.
In a Hurry? The test winner after 4 hrs of research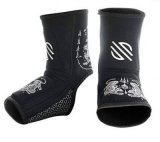 Sanabul Battleforged
Why is it better?
Gel Protection
Grip on the Bottom of the Foot
Offers Ankle Compression
In a
Hurry? Editors choice: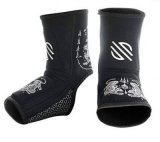 Test Winner: Sanabul Battleforged
Protection
Adjustability
Features
By Default
10 Best Foot Protection Options
Criteria Used for Evaluation
Protection
Boot Style
Roughly half of the options on the market are designed in what can loosely be called a "boot style". These protectors resemble taekwondo shoes or boots from the top and often feature open bottoms and elastic bands across the underside and around the ankle. Boot style protectors are made of a dense and absorbent foam that is its main line of protection for the wearer.
Form Fitting Style
If they are not designed the "boot style", they are often designed almost like gloves. They are form fitting and often have individual sleeves for each toe. Gel, foam, or fluffy padding is often put between the layers of these protectors, offering a slimmer profile but less aggressive protection.
Additional Coverage
Most models are designed to protect the small bones in the body of the foot and the toes but little else. Some protectors, however, protect the ankle as well. A few even go up onto the shin and offer protection for the sensitive bone there, but that area is most often given its own separate piece of protective gear.
Adjustability
Hook and Loop
The most common closure style for sports equipment, in general, is the hook-and-loop closure style. This style is characterized by one soft piece of material covered in loops and a corresponding piece of material covered in small plastic hooks. If this sounds familiar it is likely due to a very popular brand of this material that can be found on many products and sold alone in many stores, but not all products on this list feature that particular brand. For this reason, the general term "hook and loop" is used instead.
Elastic Body
A rare few feature an entirely elastic body. This causes it to compress snugly against the skin and keeps it in place throughout competitions and practices. These protectors are not merely elastic in a ring around the top and bottom of the protector but have elastic throughout so that the fit stays snug and the protector does not move.
Elastic Strap
One of the other most common forms of closure systems is elastic straps. These straps are often combined with hook and loop closure systems in certain places to allow the wearer a customizable fit as well as an easier route for putting the protector on. The adjust strap is typically around the ankle while a second strap underneath is non-adjustable but instead serves to force the sides of the protector close together. When work, the band stretches only as wide as the wearer and keeps the sides snug to the wearer regardless of width.
Features
World Taekwondo Federation Approved
Several of the protectors on this list have World Taekwondo Federation approval. This means that the protectors can be worn in almost any competition or class governed by the rules of the Federation. There are several governing bodies that manage taekwondo competitions and classes, however, so it is important to ensure that the WTF is the group under which the protectors might be used. It is also prudent to double check with a teacher or official prior to entering the competition area.
Multiple piece Sets
While most of the protectors on this list are sold as individual pieces, several entries are in fact sets of protectors. The sets might only be a few pieces or they might be an entire protective suit offered in pieces, but they offer the same buy-in-bulk value. Sets carry higher price tags than individual pieces but, when the price is divided piece by piece, the overall cost is lower than it would be if the pieces were bought separately.
Expert Interviews & Opinions
Most Important Criteria
(According to our experts opinion)
Experts Opinion
Editors Opinion
Users Opinion
By Default
Frequently Asked Questions
q:

Do I wear the protectors inside or outside of my uniform?

a:

Most of the protectors on this list are not tall enough to fall beneath the scope of your best taekwondo uniforms. Those that rise up onto the shin, however, will be worn under the leg of the doboks.
q:

Can I wear shoes under the protectors?

a:

Taekwondo models are designed to be worn barefoot. It is not recommended that they are worn with shoes, particularly as shoes can damage the protectors, the wearer, or their opponent.
q:

Are all the listed protectors approved by the World Taekwondo Federation?

a:

Many, but not all, of the protectors, have been approved by the World Taekwondo Federation. Those with approval have had it noted in their "pros" section. If the desired protector does not have a mark of approval, it is still possible that it is allowed. Asking an instructor or representative of the competition or class' governing body is the best way to ensure the purchased protector is allowed.
q:

How do I keep it clean?

a:

The best way to clean small martial arts gear pieces is to hand clean them. A little bit of dish soap or laundry detergent in the kitchen sink can remove most odors and stains before they permanently impact the protector.
q:

How do they stay on?

a:

The closure method varies from one protector to another. Generally speaking, however, they stay on by using elastic to create a compression effect.
q:

Can I wear mine inside my shoes?

a:

Many of the protectors on this list are too bulky to be worn inside of a shoe and those that could technically fit would make walking in shoes either incredibly difficult or somewhat painful. Anyone who plans on driving is particularly advised against wearing them inside their shoes.
q:

Can I wear mine outside?

a:

If the wearer's competition or class is held outside then there is no reason to leave it at home. They should not be worn casually outside, however, such as walking to another class location or going to the wearer's car. This opens them up to damage and staining which could potentially prevent them from being acceptable for further competition or class use.
Subscribe to our Newsletter