Best Foot Protection for Taekwondo Reviewed & Rated
last updated:
Apr 06, 2021
Taekwondo incorporates both kicks and punches but kicks take precedence. This means that practitioners run a higher risk of injuring the many muscles and small bones. It is these muscles and small bones that allow the human foot to balance us so well and any injury to them is enough to put most people on the bench for weeks if not longer. For martial artists, particularly those who compete, a few weeks on the bench could mean falling so far behind their class that they struggle to catch back up as they lose their competitive edge. The easiest way to avoid these sorts of injuries, then, is by using a protector. It is such a specialized piece of equipment, in fact, that there are only a handful of designs on the market.
In a Hurry? The test winner after 4 hrs of research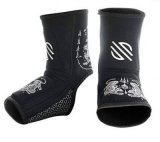 Sanabul Battleforged
Why is it better?
Gel Protection
Grip on the Bottom of the Foot
Offers Ankle Compression
In a
Hurry? Editors choice: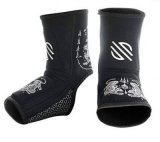 Test Winner: Sanabul Battleforged
Protection
Adjustability
Features
By Default
10 Best Foot Protection Options
Gel Protection
Grip on the Bottom of the Foot
Offers Ankle Compression
Sanabul makes frequent appearances on martial arts buying guides and frequent readers will not be surprised to find them at the top of this one. Their products are designed with safety and comfort in mind. They excel at providing both without cleaning out their customers' pockets. Sanabul's foot protectors are a perfect example of this trend. They are among the most affordable on this list and the value only gets better from there.
Read more
Gel Protection
Sanabul is a frequent favorite on these lists and it is features like their gel protection system that land them a spot time and again. Most of the protectors on this list feature foam or other soft, solid padding to keep the fine bones of the feet and toes safe during practice or competition. Sanabul chose to use gel instead, a substance quickly gaining popularity among gear makers for its impact absorption and its tendency to conform to each individual wearer.
Offers Ankle Compression
Some buyers might be worried about these foot protectors falling down on the job, given their lack of visible straps. But they need not fear. Sanabul's foot protectors hug tight to the ankle and calf, using mild compression instead of straps to keep the protector firmly in place.
Cost and Value
Not only does Sanabul offer quality products with unique features, but they often do so at prices intended to fit nearly any budget. Their price tag is a just a touch high to be considered the absolute lowest on this list but it certainly falls at the low end of average for this list and for the wider market in general.
2

. ProForce Lightning Kicks
Elastic Strap Closure
Boot Style
Open on Bottom for Better Grip
ProForce is a company that aims to keep people moving. Whether that motion is martial arts, camping, or hiking, they're not picky. They just want their customers to get up and get going. ProForce offers protective gear for nearly every part of the body, and their foot protectors are a prime example of the affordable quality they put into their inventory.
Read more
Open Bottom
ProForce opted for an open-bottom design, regardless of the solid structure that covers the rest of the foot. This design choice is largely to allow the wearer's foot as much contact with the ground as possible. Since taekwondo uses kicks more than arm strikes, a solid foot is important for practitioners who need to keep their balance while their weight is shifting and one foot is supporting their whole weight
Elastic Strap Closure
The elastic straps on this set of foot protectors offer a one-two punch of security. One strap holds the sides of each protector close together which causes them to hug tightly to the foot when worn. The second strap wraps tightly around the ankle, providing an added layer of protection to the ankle and ensuring that the protector stays in place throughout practice or competition.
Cost and Value
It is hard to place these foot protectors on this list's price range because they are offered at a broad range of prices all on their own. The lowest price tag is the lowest this list has to offer while the highest price tag is one of the highest for a single pair of protectors. Buyers might have to look around a bit to find the best deal on this set, but the snug fit and balance-centric design might make the effort worth their time.
World Taekwondo Federation Approved
Antimicrobial Material
Ventilated Design
Mooto is another company that carries a very focused inventory of martial arts supplies. They make frequent appearances on our buying guides, usually occupying positions higher up the list thanks to their quality and affordability. Theirs carry special certification from the World Taekwondo Federation and have been designed to keep their wearer comfortable through long practices and intense competitions.
Read more
World Taekwondo Federation Approved
New pieces of martial arts gear always carry the risk of being barred from whatever competition or class they are intended for. So long as the class or competition follows World Taekwondo Federation guidelines, however, one is usually safe so long as the equipment in question has the Federation's approval. Mooto's foot protectors are among this group, bearing the Federation's approval for use in nearly any event run through them.
Antimicrobial Material
There's no use in pretending that martial artists don't sweat. And, as any athlete will tell you, sweat can quickly cause unpleasant odors if left alone. This buildup of odor is caused by bacterial microbes that get into the weave of the material and settle there, eventually becoming numerous enough that they produce a smell. Mooto's foot protector's however, cut this problem off at the source. Their protectors are made from an antimicrobial material that destroys odor-causing bacteria before they have a chance to settle into the fabric.
Cost and Value
The price for Mooto's climbs towards the high end of average, from certain sellers in particular. The price tag is justified, however. Few, if any, other foot protectors on the market are made of antimicrobial material. Fewer still are made of this material and bear the World Taekwondo Federation's stamp of approval.
4

. Star Sports Protection Set
Large Set of Protectors
Breathable Design
Internal Venting Material
Star Sport's focus is martial arts supplies. Whether those supplies are pieces of protective gear, rank belt displays, or uniforms, they try to provide their customers with a full range of products that offer value on the dollar. To this end, they offer theirs as part of a set that would protect nearly the whole body and that is designed not only for protection but comfort as well.
Read more
Large Set
Star Sport's protection set includes protective gear for the hands, feet, forearms, and shins. These are some of the most frequently damaged areas during martial arts practices and competitions, particularly because of the thin natural padding most people have over the bones in the forearms and shins. While not all the pieces in the set may be allowed in all competitions and classes, buying them as a unit is more cost-effective than buying the equipment one piece at a time.
Internal Venting Material
Physical activity is one of the quickest ways to drive up a person's body temperature, as any athlete will agree. Protective gear often makes this temperature spike come on faster and with more intensity. And while some people might enjoy the sensation, many find it uncomfortable and distracting which could mean missing a block in practice or losing points in a competition. Star Sports addresses this issue through the use of venting material throughout the structure of each piece of gear. These vents allow heat to escape while allowing cooler air to enter.
Cost and Value
These would be some of the most expensive on the list if they were being sold on their own. Since they are part of a set, however, their cost is actually lower than nearly any other offering on this list. The whole kit may not be in everyone's budget but, if possible, the kit as a whole is a solid financial choice over buying the pieces one at a time.
High-Quality Synthetic Leather
Breathable Design
Moisture Absorbing Lining
Wonzone's inventory is a unique blend of diversity and focus. They carry much more than martial arts supplies, but all of their items fall under the broader theme of physical activity. Whether the item in question is a pair of ski goggles, a cross-body bicycling bag, or protectors that are designed for use across multiple martial arts disciplines, Wonzone carries it.
Read more
Moisture-Absorbing Lining
Wonzone's is designed with a moisture-absorbing lining. This may sound like a simple design element but it is incredibly important for both the comfort and health of the wearer. Physical activity increases body heat and wearing protective gear only adds to this rise in temperature. Perspiration occurs and can cause issues if left untended. With a moisture-absorbing lining, however, these protectors help keep the wearer's feet dry and comfortable.
Breathable Design
Wonzone didn't stop at moisture-absorbing lining in their question to design a comfortable model. Their open design allows most of the foot to breathe and cool itself, further supporting the wearer's comfort.
Cost and Value
Wonzone has a mildly higher price tag that most on this list. It is far from the most expensive, however. And when such elements as the high-quality synthetic leather and moisture-absorbing lining used in its construction are taken into account, the price is absolutely reasonable.
6

. Masterline Vinyl Kicks
Ankle Protection
Quality Vinyl Exterior
Adjustable Ankle Strap
Uncomfortable When Worn Barefoot
Masterline is a uniquely diverse company. Their products range from furniture dollies to paint to martial arts gear. Some companies would cut corners on their product quality in order to cover such a range of markets but Masterline's reviews suggest they took a different route. Their Vinyl Kicks are an excellent example of this, featuring a shole-foot design and several key comfort features.
Read more
Ankle Protection
Not only does Masterline's Vinyl Kicks soften blows, but it serves to support and protect the ankle as well. Ankle injuries are some of the most feared among athletes because they so often mean that the athlete cannot compete or train until it is healed. Masterline's Vinyl Kicks help avoid this problem before it happens, offering an added boost of protection for their customers.
Elastic Strap Closure
The Vinyl Kicks' design might look loose, but don't be fooled. An elastic band around the ankle closes in the back with a hook and loop closure system, allowing for a customized fit that will stay snug around the ankle all through practice. Another elastic band on the bottom holds the sides tight together. This causes them to hug tightly to the fit when the protector is worn, all without impeding the contact of the wearer with the floor.
Cost and Value
Masterline's are a little more expensive than most of the protectors on this list. They are not at the very top of this list's price range, falling somewhere towards the high end of average. Their snug fit and quality vinyl exterior, however, bring a lot of value to the table that helps soften some of the sting of the moderately higher price tag.
Protects Shins and Feet
Hook and Loop Leg Closure
Fully Elastic Body
Nearly every item in Jayefo's inventory is a variation on a theme. That theme is offering unobtrusive protection to martial artists during practice and competitions. Their products have largely gone untested but most of those that have been put to the test have come out the other side with glowing reviews. The Jayefo's are an excellent example of this, with few reviews but an overall glowing reputation.
Read more
Protects Shins and Feet
One of the most attractive features of Jayefo's is that they protect not only the feet but the shin as well. The padding extends up the leg and protects the sensitive front of the shin from the majority of force from a shin strike. This may not be allowed in some competitions or schools, however, so it is important that the rules are confirmed prior to ordering.
Fully Elastic Body
Some garments that go up over the shin feature an elastic band at the top and bottom with non-elastic fabric in between. This design most often causes the items to fall down. Jayefo's designers must have been well aware of this issue when they designed these because the protector is elastic throughout the entire body. This means that the protector compresses tight to the calf and stays in place.
Cost and Value
Jayefo is one of the most affordable brands on this list. Their protectors offer a huge amount of value on the dollar, a ratio that is even sweeter when the low price of the protectors is taken into account.
Barefoot Design
Lining Pads on Insteps and Toes
Designed to Improve Grip
Sinolofty is all about helping active people stay active. They offer everything from resistance bands to back rollers to gymnastics gloves. Not all of their products are home runs, but this certainly is. Not many people have given it a try yet, likely due to the fact that most people have never heard of Sinolofty. But those who have given these a try gave them rave reviews.
Read more
Instep and Toe Protection
The designers at Sinolofty were very specific when they designed their product. They wanted the best model possible and this care shows in the specifically protected areas around the insteps and toes. These areas are often the most easily injured and additional padding in the area offers more protection.
Barefoot Design
These fit like a glove, with the exception of the heel, ball of the foot, and toes. Those areas are left uncovered to that the practitioner can keep their footing solid during practice or competition without sacrificing protection where it is needed most. There are individual sleeves for the toes which come find difficult to put on but all agree add another layer of protection for the wearer.
Cost and Value
These aren't the most affordable pair on this list but they certainly come close. Most budgets can find the room to fit these protectors in and, properly cared for, they will last for quite some time before they must be replaced.
Premium Synthetic Leather
Moisture-Absorbing Lining
Large Range of Sizes
Most of the companies on this list are dedicated to providing quality martial arts supplies. Lorsoul is a bit more varied than that. They carry everything from protective goggles to yoga gear. Their products are all moderately popular, but their model is their diamond in the rough. It hasn't had many reviews but it has been soundly approved of by those who have put it to the test.
Read more
Moisture-Absorbing Lining
Most are meant to be worn barefoot. The added padding can make a practitioner's feet particularly warm and the resulting perspiration can lead to chafing among other more uncomfortable issues. Lorsoul's try to reduce the chances of this through the use of a moisture-absorbing lining that will help keep the wearer's feet dry.
Premium Synthetic Leather
Some may think that "premium synthetic leather" is an oxymoron but the material has progressed by leaps and bounds over the last few decades. Goo synthetic leather can be hard to tell apart from the real thing but it is usually more affordable, requires less care, and is friendly to those who avoid animal products.
Cost and Value
Lorsoul's fall roughly in the middle of this list's price range. They're not prohibitively expensive but they're not the most affordable pair on the list either. Their moisture-absorbing lining gives them a lead on the competition, however, and can help give their wearers a little piece of mind in their own competitions.
Huge Range of Pieces
Adidas Quality
World Taekwondo Federation Approved
Very High Price Point
Beware of Fakes
Adidas is probably the biggest name on this list. The brand name is synonymous with quality and reliable customer service. It is also, unfortunately, the frequent victim of fakes and knock-offs. So long as buyers are cautious, however, Adidas is one of the best bang-for-your-buck companies in the sports market today. They landed at the bottom of this list, however, because their quality models are only sold in this huge - if expensive - set.
Read more
Huge Set
This set goes far beyond just the basics. There is protection for nearly every part of the body in this set, making it ideal for people who compete frequently, train others, or will be sharing the gear among a group of people who may have different protection needs. From the head guard to the toes, Adidas' high-quality products will help prevent most common injuries sustained during martial arts practice and competition.
World Taekwondo Federation Approved
No matter how good it is or how much extra gear it comes with, it will be useless to a taekwondo practitioner in most competitions if it is not approved for use in World Taekwondo Federation events. Adidas' protective gear, however, has the Federation's approval. This means that it can be used in most taekwondo schools at the teacher's discretion and most national or international competitions.
Cost and Value
This set does not come cheap which is only to be expected. The brand quality alone is impressive and the range of protective gear in this set could cover a practitioner from head to toe. The set does suffer from limited availability and buyers must beware of fakes. But if foot protectors are only the beginning of someone's protection needs, this may be the ideal set.
Criteria Used for Evaluation
Protection
Boot Style
Roughly half of the options on the market are designed in what can loosely be called a "boot style". These protectors resemble taekwondo shoes or boots from the top and often feature open bottoms and elastic bands across the underside and around the ankle. Boot style protectors are made of a dense and absorbent foam that is its main line of protection for the wearer.
Form Fitting Style
If they are not designed the "boot style", they are often designed almost like gloves. They are form fitting and often have individual sleeves for each toe. Gel, foam, or fluffy padding is often put between the layers of these protectors, offering a slimmer profile but less aggressive protection.
Additional Coverage
Most models are designed to protect the small bones in the body of the foot and the toes but little else. Some protectors, however, protect the ankle as well. A few even go up onto the shin and offer protection for the sensitive bone there, but that area is most often given its own separate piece of protective gear.
Adjustability
Hook and Loop
The most common closure style for sports equipment, in general, is the hook-and-loop closure style. This style is characterized by one soft piece of material covered in loops and a corresponding piece of material covered in small plastic hooks. If this sounds familiar it is likely due to a very popular brand of this material that can be found on many products and sold alone in many stores, but not all products on this list feature that particular brand. For this reason, the general term "hook and loop" is used instead.
Elastic Body
A rare few feature an entirely elastic body. This causes it to compress snugly against the skin and keeps it in place throughout competitions and practices. These protectors are not merely elastic in a ring around the top and bottom of the protector but have elastic throughout so that the fit stays snug and the protector does not move.
Elastic Strap
One of the other most common forms of closure systems is elastic straps. These straps are often combined with hook and loop closure systems in certain places to allow the wearer a customizable fit as well as an easier route for putting the protector on. The adjust strap is typically around the ankle while a second strap underneath is non-adjustable but instead serves to force the sides of the protector close together. When work, the band stretches only as wide as the wearer and keeps the sides snug to the wearer regardless of width.
Features
World Taekwondo Federation Approved
Several of the protectors on this list have World Taekwondo Federation approval. This means that the protectors can be worn in almost any competition or class governed by the rules of the Federation. There are several governing bodies that manage taekwondo competitions and classes, however, so it is important to ensure that the WTF is the group under which the protectors might be used. It is also prudent to double check with a teacher or official prior to entering the competition area.
Multiple piece Sets
While most of the protectors on this list are sold as individual pieces, several entries are in fact sets of protectors. The sets might only be a few pieces or they might be an entire protective suit offered in pieces, but they offer the same buy-in-bulk value. Sets carry higher price tags than individual pieces but, when the price is divided piece by piece, the overall cost is lower than it would be if the pieces were bought separately.
Expert Interviews & Opinions
Most Important Criteria
(According to our experts opinion)
Experts Opinion
Editors Opinion
Users Opinion
By Default
Frequently Asked Questions
q:

Do I wear the protectors inside or outside of my uniform?

a:

Most of the protectors on this list are not tall enough to fall beneath the scope of your best taekwondo uniforms. Those that rise up onto the shin, however, will be worn under the leg of the doboks.
q:

Can I wear shoes under the protectors?

a:

Taekwondo models are designed to be worn barefoot. It is not recommended that they are worn with shoes, particularly as shoes can damage the protectors, the wearer, or their opponent.
q:

Are all the listed protectors approved by the World Taekwondo Federation?

a:

Many, but not all, of the protectors, have been approved by the World Taekwondo Federation. Those with approval have had it noted in their "pros" section. If the desired protector does not have a mark of approval, it is still possible that it is allowed. Asking an instructor or representative of the competition or class' governing body is the best way to ensure the purchased protector is allowed.
q:

How do I keep it clean?

a:

The best way to clean small martial arts gear pieces is to hand clean them. A little bit of dish soap or laundry detergent in the kitchen sink can remove most odors and stains before they permanently impact the protector.
q:

How do they stay on?

a:

The closure method varies from one protector to another. Generally speaking, however, they stay on by using elastic to create a compression effect.
q:

Can I wear mine inside my shoes?

a:

Many of the protectors on this list are too bulky to be worn inside of a shoe and those that could technically fit would make walking in shoes either incredibly difficult or somewhat painful. Anyone who plans on driving is particularly advised against wearing them inside their shoes.
q:

Can I wear mine outside?

a:

If the wearer's competition or class is held outside then there is no reason to leave it at home. They should not be worn casually outside, however, such as walking to another class location or going to the wearer's car. This opens them up to damage and staining which could potentially prevent them from being acceptable for further competition or class use.
Subscribe to our Newsletter