Best Gifts for the Boxer in Your Life Reviewed
last updated:
Mar 16, 2020
There's always some gift-giving holiday around the corner. If it's not the festivities of the winter season, then it's a birthday. Sometimes it can be hard to think of gift ideas, especially ones that are thoughtful and personalized rather than generic duds. When it comes to loved ones who are involved in boxing, the gift-giving process can be daunting for both boxers and non-boxers alike. The process of purchasing boxing gifts is always a mental exercise, not only because of the worry that they won't like what you get them, but also because it can get extremely expensive. Not to mention the fact that sometimes you don't even know where to start.
In a Hurry? The test winner after 12 hrs of research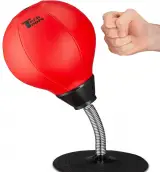 Tech Tools Stress Buster
Why is it better?
In a
Hurry? Editors choice: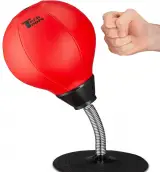 Test Winner: Tech Tools Stress Buster
Top 10 Boxing Gifts
1

. Tech Tools Stress Buster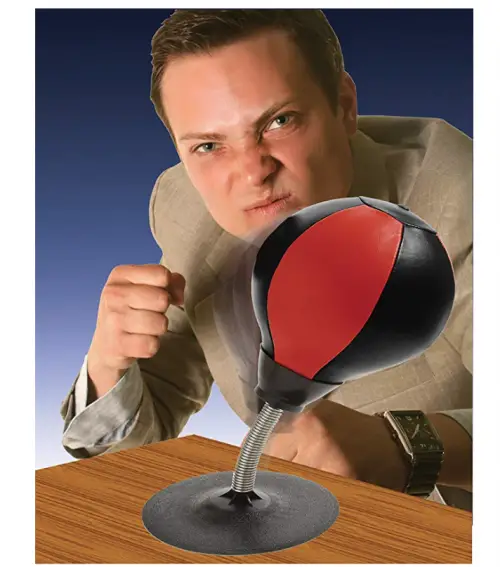 Tech Tools is a small company with a specialized product line that revolves around innovative gadgets, desktop technology, and style. Some of the products in their lineup include a miniature desktop filing cabinet, fashionable bookends, wearable, vibrating personal alarm clocks, and an automated pill box with built-in timers and alarms, among others. The Tech Tools Stress Buster Desktop Punching Bag fits right into this lineup with several standout features, such as its heavy-duty construction and resilient spring.
Read more
Great for stress relief
We all encounter a lot of stress in our day-to-day lives. Even boxers get tense. This product is an excellent gift that offers two benefits wrapped into one: not only is it a fun decoration for a boxer to have in their office or other space, but it also provides the benefit of convenient stress relief.
Included pump
Any item that contains air will deflate. Whether it's an air mattress or a beach ball, this is just a fact of life. However, to save your lungs the stress of blowing air, this product includes a convenient pump. This will save your breath and keep this product full.
Cost and Value
This product has a mid to low range cost when compared to other items on our list. Though it is not as big or flashy as some other gifts, it is thoughtful and unique. Its convenient design and capability for stress relief make it a unique and endearing present. Overall, this item is well worth its price.
2

. Ali vs Liston First Minute
Pyramid America, in its current incarnation, took shape in June of 2006. Three major players in the poster, print, and image industry joined forces to become one standout company. The three main partners hailed from the heights of their respective industries. Together, they have decades of experience in all aspects of production, separately managing manufacturing plants, distribution centers, and a publishing house. The Muhammad Ali vs Liston First Minute is a testament to that collaboration. This iconic photograph is monographed and comes in a classic black and white style.
Read more
Iconic photograph
Few images can capture the soul of a moment or the soul of a man. This image manages to accomplish both. For the boxer in your life, this image stands as a reminder of an iconic moment in boxing history. Its subject, arguably the most famous boxer in the history of the sport, stands victorious and triumphant over his opponent.
5 Sizes available
No matter the amount of wall space you have available, this poster comes in a size that will fit. It has no fewer than five different dimensions available, customizable to your individual needs. Whether you're looking for a small image to put above your desk or a large poster to frame and put on your wall, the Muhammad Ali vs Liston First Minute has you covered.
Cost and Value
This product is by far the least expensive item on our list. It is iconic, visually appealing, and comes in a variety of sizes. Honestly, the price is too good to pass up, especially if you've got some bare walls that need covering.
Meister was founded in 2006 and is headquartered in Minneapolis, Minnesota. They have been designing, producing, and refining their specialized product line of mixed martial arts and fitness products for over a decade. Their gear is designed and produced in-house, and can't be found anywhere else. Their gloves have been used by several prestigious fighting organizations, and some of their products have been featured on MTV's show 'Caged'. The Meister Adult 180" hand wraps for MMA & Boxing are a welcome addition to their product line.
Read more
Cotton-spandex blend
The unique blend of cotton and spandex in this product gives it a synergistic blend of attributes. It is stretchy but gives you support. It is durable but breathable. It is thick enough to provide knuckle protection but thin enough to not be cumbersome.
3-pack
This product is made with superior quality, and what's better than receiving one item? Well, how about three. This product allows you to get three times the amount of product for your money, coming in three distinct colors so you can tell your various sets apart. They are also machine washable.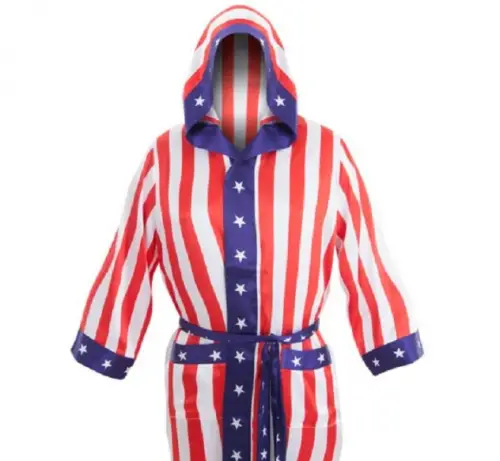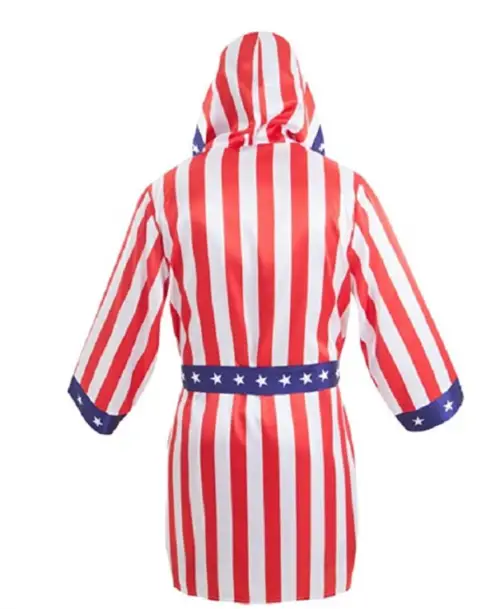 Rocky is an apparel and boxing memorabilia company that is focused on the online marketplace. Though a small company, they have a surprisingly robust product line. They have numerous apparel items, such as long underwear, shoes, boots, and thermal shirts. They also produce items of boxing memorabilia, such as a Tony Guzzardo Loan Shark action figure, and a combined box set of all the Rocky films. The Rocky Balboa Apollo Movie Boxing American Flag robe is a fitting addition to their product line.
Read more
Iconic design
Any boxer will recognize this the design of this robe. Straight from the film Rocky, this officially-licensed product is sure to delight and amuse the boxer in your life.
One-size-fits-all
Aside from just being iconic, this product is also functional. Made with a one-size-fits-all design, it is truly versatile and can be worn by persons of almost any height or body shape. It operates with a simple belt tie closure and has a hood for comfort.
Cost and Value
This product has a low to mid-range price when compared to the other products we've assembled on our list. One would expect that an officially licensed product straight out of an incredibly popular film would be much more expensive; not so. You can have the joy of owning a movie-identical product for a very low price.
5

. Meister Glove Deodorizers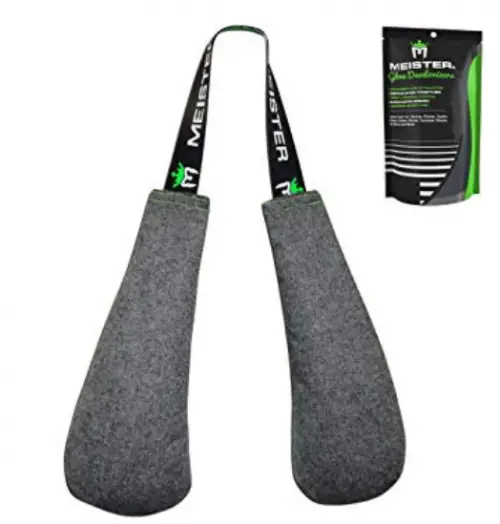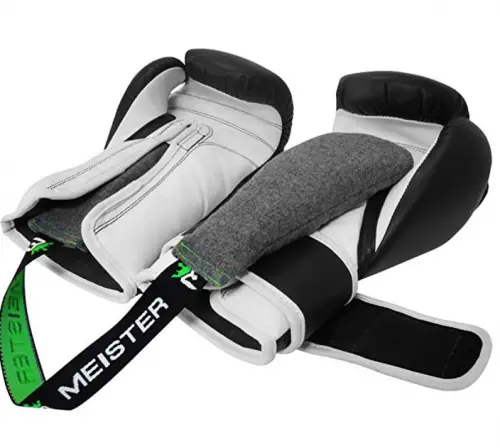 Meister is a high-quality company, bringing a second product to our list, though of a different variety than its counterpart. They have been bringing their custom line of MMA and fitness gear to the marketplace since 2006, and have been refining their products for over a decade. The Meister Glove Deodorizers are an excellent addition to this signature product line. This product has many standout features, such as the high-quality, long-lasting flannel from which it is constructed, to the unique nunchuck design to keep your gloves together while the deodorizing action takes place.
Read more
Increase Glove Lifespan
Gloves tend to absorb smell and moisture, it's true. As moisture gets absorbed, not only does the smell begin to sour, but the moisture also begins to break down the components of the glove. This will lead to deterioration and the eventual need for replacement. This product can radically lengthen the lifespan of your gloves by preventing this breakdown.
Four Scents
Few things are more unpleasant to a fighter than the over-ripe smell of sweat-soaked training equipment. To help you prevent this smell in your gloves, this product comes with four scent options. You can choose the calming scent of lavender, the crisp scent of cedar, the smooth scent of cologne, or the clean smell of fresh linens.
Cost and Value
This product has a low price when compared to other items on our list. It is also extremely reasonably priced when compared to other items in its category. This product is really a two-for-one, because not only does it give the gift of fresh scent, it also lengthens the lifespan of the glove into which it's put, preventing the receiver from needing to buy another pair.
6

. Everlast Heavy Bag Kit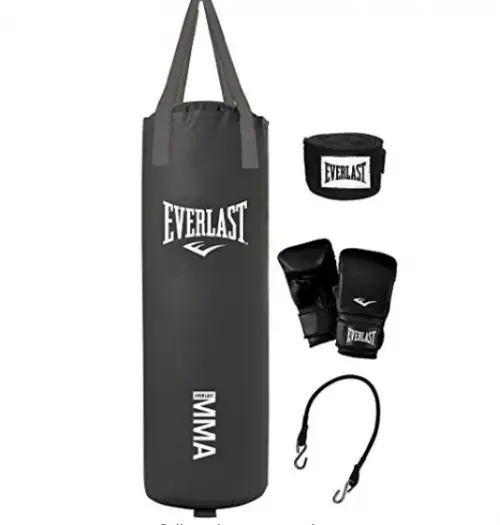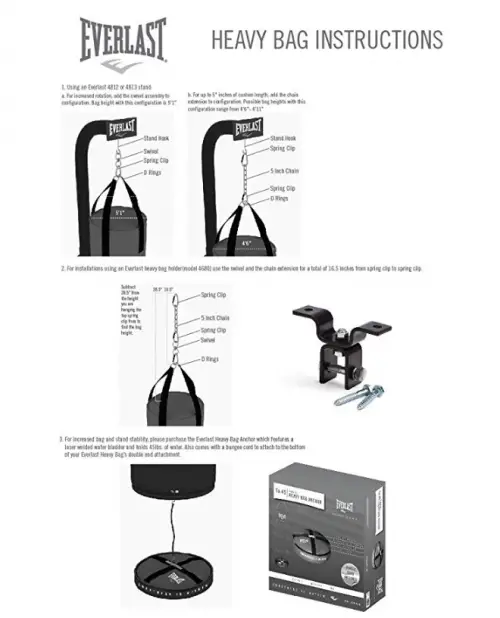 Everlast was founded in the year 1910 by 17-year-old Jacob Golomb, the son of a tailor and swimming enthusiast. He started the company as a manufacturer of swimwear, specifically designed to be longer lasting than other swimsuits on the market. By guaranteeing that his swimwear would last longer than others he named them "Everlast". The company, after this, expanded to produce a wide range of sports equipment. Today, they produce boxing, mixed martial arts, and fitness-related equipment. This includes clothing, footwear, and accessories.
Read more
Included accessories
When you purchase an item, what's better than receiving a satisfactory, high-quality product? How about getting two more thrown in for free? Aside from the seventy-pound heavy bag, this product also includes several other accessories. Among these accessories are the heavy bag gloves, and the 108-inch hand wraps.
Adjustable height chain
Sometimes it can be difficult for very tall or very short people to use conventional punching bags. The problems experienced by these people are a common issue, one solved by the Everlast Traditional Heavy Bag kit's adjustable height chain. Simply change the bag to the desired height and start punching.
Cost and Value
This is one of the most expensive products on our list. However, it is arguably one of the most practical. Though it may seem pricey, when compared to other punching bags, this product is actually a steal. Its value is compounded by the free accessories that come with your purchase.
7

. Poagl Workout Training Gear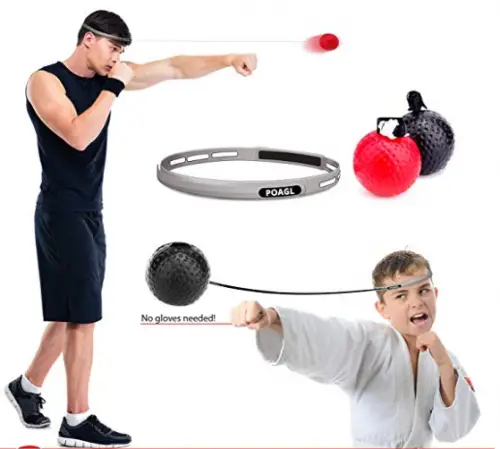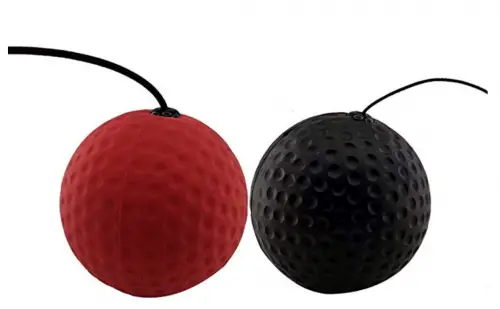 PAOGL is an extremely small company with an intensely focused product line. They exist solely in the online marketplace, and their product line consists entirely of various kinds of headband products with elastic attachments for boxing training and increasing accuracy. Well, this company has a specialty, and knows how to make this niche product. The POAGL Workout Training Gear comes with two difficulty levels that you can use to increase speed and get a calorie-burning cardio workout.
Read more
Soft and safe
One might be afraid that a ball attached to an elastic band rocketing back at their face would be a recipe for pain. This is not the case with the POAGL Workout Training Gear. The ball component is designed to be both soft and safe so that there is no danger of pain or injury if you miss a punch.
Improves agility
This product is a surefire way of increasing your aim and agility. Being able to get in fast repetitions and to consistently hit a moving target is the kind of practice all boxer's face, but this kind of practice can be hard to come by short of stepping into the ring for a practice sparring match. Now it's available wherever you go.
Cost and Value
This is one of the least expensive products on the list. Despite this, it is also one of the most highly rated. Considering its huge array of benefits, such as increased agility and speed, getting a great cardio workout, and its incredible portability, this product is stuffed to the brim with value.
8

. Sanabul Essential Gel Gloves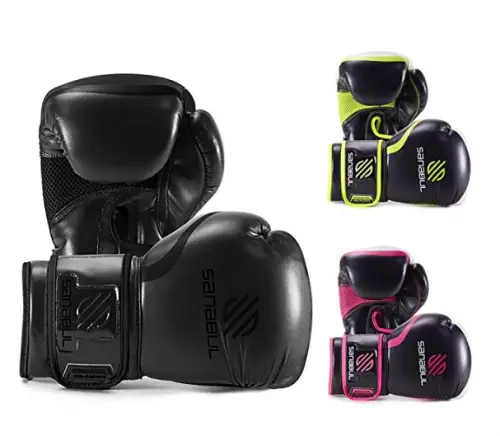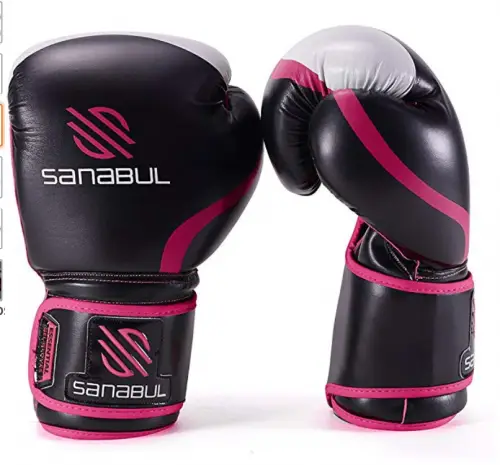 Sanabul is a company based around its multidisciplinary team of experts. This team directs an incredible degree of focus on the design, details, features, and performance of their products. Their dedication to providing high-quality products is matched only by their desire to provide that product at the best price possible. From the outset, this company's goal has been to make great combat gear affordable. With a track record of innovation, they bring the Sanabul Essential Gel Boxing Gloves to the table.
Read more
Easy-clean
One of the biggest problems that workout gear has is that it accumulates moisture and eventually begins to smell. This product is made from leather that is both durable and incredibly easy to clean. When you're done working out, simply wipe it down and get on with your day.
Impact protection foam
Boxing gloves need to be designed to be able to take shock. This prevents damage to the hands and knuckles and ensures your hands stay undamaged. This product is designed with impact protection foam to keep your joints and hands protected and undamaged.
Cost and Value
This product has a mid-range cost when compared to other items on our list. When compared to other items in its class, it is extremely reasonably priced, especially when you consider other aspects, such as its superior design, and easy-clean material. The value of this product is tangible.
9

. Pro Impact Mini Boxing Gloves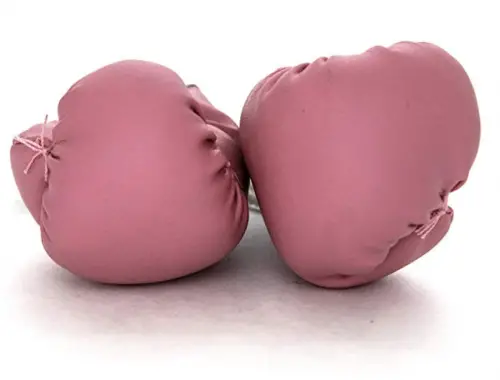 Pro Impact is a company founded on the principle of providing excellent customer service ans superior quality products. They have a huge product range that spans every niche in the sports industry. If you can think of a sport, they have a product in that niche. Their specalties range from lacrosse to ping pong to cricket to rugby to boxing. Though their line may seem eclectic, their products are of exceedingly high quality. The Pro Impact Mini Boxing Gloves are no exception.
Read more
7 colors
When you're looking for the perfect gift, nothing says thoughtfulness like paying attention to the gift receiver's favorite color. This product comes in no fewer than seven different colors to give this gift an extra pop of personality, and to delight the recipient.
Perfect for cars or cubicles
The included hanging cord that comes with this product makes it ideal for the person looking to spice up their environment. Whether they're looking for a knickknack to brighten up their cubicle or something to hang from their rearview mirror that will make them smile when they're in traffic, this product can be hung anywhere.
Cost and Value
This is the second least expensive product on our list, but it is by no means the least in terms of quality or craftsmanship. With its genuine logo and durable construction, it has the make and feel of a full-sized boxing glove in a fun-sized shape. It will delight the receiver and is worth every penny.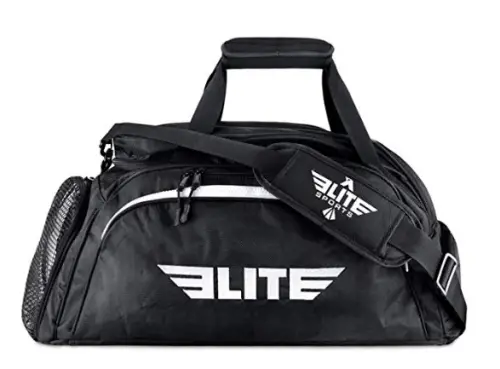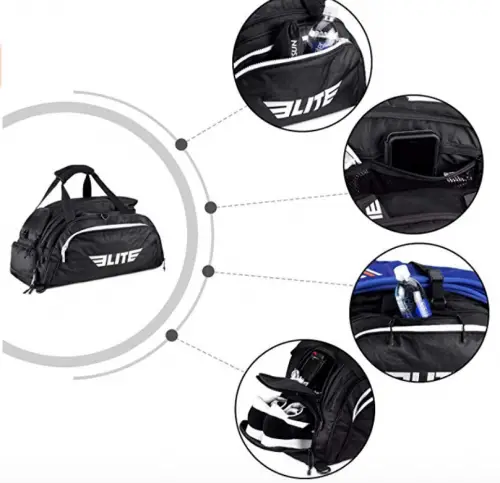 Elite Sports was born when a dedicated band of athletes and MMA fighters noticed that there was a surprising lack of high-quality equipment and sportswear available on the market. Then they banded together and decided to do something about it. Over a decade later, this company has grown to be one of the most recognizable brands in the industry. The Elite Sports Warrior Boxing MMA BJJ Gear Gym Duffel Backpack Bag is a testament to their success, coming in a large variety of colors and being big enough to contain all your gear.
Read more
Variety of Pockets
This product has a variety of pockets so that you can stow your gear separately. Its breathable mesh compartment for the more moisture-drenched items prevents the growth of microbes and ensures that you can keep all your items stored appropriately.
Machine Washable
Gym bags will begin to smell after a while; this is just the nature of the product and the items you store in them. However, with this gym bag, you can do something about it. Being fully machine-washable, you can simply toss it in the washer and quickly and conveniently remove any offensive odors.
Cost and Value
This product is second-most expensive on our list. Despite its high cost, it blends quality with functionality. When compared with other items in its class, it is moderately priced, but of exceptional construction. For the boxer in your life who needs a way to get his gear to and from practice, this bag will prove a thoughtful purchase.
Criteria Used for Evaluation
Ease of Use
Some gifts are made to be used. If you have a boxer in your life that is in need of practical boxing gifts that they can use either in or out of the ring, you're most likely going to be purchasing some kind of sports gear. This may be a gym bag, a mouth guard, or a training dummy, that they can use to hone their skills. Either way, boxing gifts ideas of this nature are definitely something that will get a lot of use. You'll want to consider spending a bit extra for the highest-quality items you can find, because they are going to be taking a beating, and you want to make sure they stand the test of time.
Accessories
Some gifts are made for decoration. Just because boxing is done in the ring doesn't mean that their love of boxing stays there. They're more than likely bringing it home with them wherever they go. You can show the boxer in your life that you appreciate their passion by purchasing decorations for them to place in their home, car, or cubicle. Items that fall into this category include rearview mirror hangings, wall posters, and novelty items they can use to brighten up their workspace.
Durability
Boxers use all different varieties of training gear. It is a sport with a lot of accouterments. These pieces of equipment range from the simple, such as hand wraps, all the way up to the complex and expensive, such as a full-sized training dummy. Items like this are used to help boxers improve their skill and to help them take their practice to the next level. If there is a particular piece of equipment that you know they need, but have not gotten around to purchasing, you can use this as an opportunity to purchase a useful and thoughtful boxing gift.
Features
The Holidays
Different kinds of gifts are given at different times of the year. During the winter season we have a lot of gifts to buy for a lot of people, so going over the top with anyone item may put you over budget. You'll want to consider the appropriateness of the gifts for boxers during this time. You won't want to purchase an outrageously expensive item for one person and a moderately-priced item for another, especially if they will be opening them up in front of each other. This could lead to an embarrassing social faux-pas.
Birthdays
Birthdays are all about one particular person, so you can stand to spend a little more, especially when you're not buying gifts for ten other people at the same time. This is even truer if you are purchasing a gift for a milestone birthday, such as someone turning 21, 30, 40, etc. Showing someone you care by getting them a valuable gift on their special day can strengthen the bond between you and make a lasting impression.
Budget
This will depend largely on your relationship with the person for which you're buying the gift. If you're purchasing an item for an acquaintance at the office, most likely you're not going to need to go overboard in terms of spending. If it's for a close family member and you really want to show them you care, you can consider spending a higher amount.
Picking the right Gift
This is where research and investigation come in handy. Well before the gift-giving day approaches, you'll want to casually ask questions to figure out what the receiver is in need of, or would enjoy. If time is running short, however, you can always visit their home or space and attempt to get a better idea of their personality.
Frequently Asked Questions
q:

What kind of protective gear do they need?

a:

The kind of protective gear that the boxer in your life needs will largely depend on what they already have. As a general rule, all boxers need a few basic pieces of gear, which include mouthguards, hand wraps, boxing gloves, and head protection. You'll need to do some snooping to figure out what they already have and what they still need.
q:

How do I get a gift receipt?

a:

This will depend largely on the vendor that you go to. Some online vendors offer gift receipts; you will need to contact them directly and make sure of exactly what their policy is.
q:

What do I do if they don't like it?

a:

The best thing to do is to do a thorough amount of research and ensure that you're buying something that they're going to like. However, if it turns out that the gift is a dud, you'll want to make sure you've researched the vendor's return policy ahead of time. As long as it's within a certain time window, most vendors will accept returns.
Subscribe to our Newsletter