Best Grappling Dummies Reviewed & Rated
last updated:
Apr 02, 2020
Every martial arts system, at its core, requires two people for both practice and practical application. The ideal method of martial arts practice would be two students working together to learn the positions and maneuvers from both an offensive and a defensive position. If a live sparring partner is not available, however, a grappling dummy is the next best option. Grappling dummies come in a range of sizes, styles, and weights. When purchasing a dummy there are a few decisions to make in addition to choosing the style that best fits the student's needs. It is important to weigh each of the factors in this buyer's guide when going through our list of the best grappling dummies.
In a Hurry? The test winner after 4 hrs of research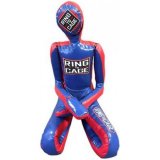 Ring to Cage with Extremities
Why is it better?
Designed with hands and feet
Comes in youth and adult sizes
Good for almost all martial arts styles
In a
Hurry? Editors choice: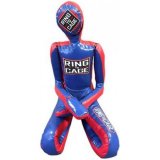 Test Winner: Ring to Cage with Extremities
Versatility
Adjustability
Materials
By Default
10 Top Rated Dummies For Grappling
1

. Ring to Cage with Extremities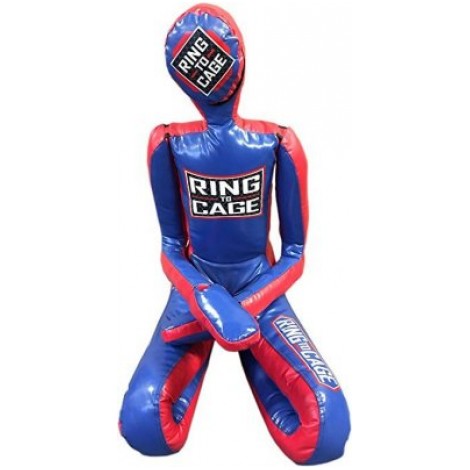 Designed with hands and feet
Comes in youth and adult sizes
Good for almost all martial arts styles
Ring to Cage is one of the most common grappling dummy providers. Their dummies are marketed primarily for mixed martial arts, but they are just as effective for students of single style martial arts. Ring to Cage makes several appearances on this list with dummies that come in at a variety of price points.
Read more
Designed with Hands and Feet
This variant of Ring to Cage's grappling dummy is designed with hands and feet. A design like this allows the student to practice locks at all major joints in addition to the basic groundwork that dummies are most effective for.
Youth and Adult Sizes
This dummy comes in sizes appropriate for both adults and youths as well as in a variety of weights. Students or buyers can choose the size that best suits their skill level and preferred partner size.
Cost and Value
This is one of the most expensive dummies on this list but it is also one of the highest rated and one of the most versatile designs. The investment is worth it for serious students or buyers who want a durable and versatile dummy for their school.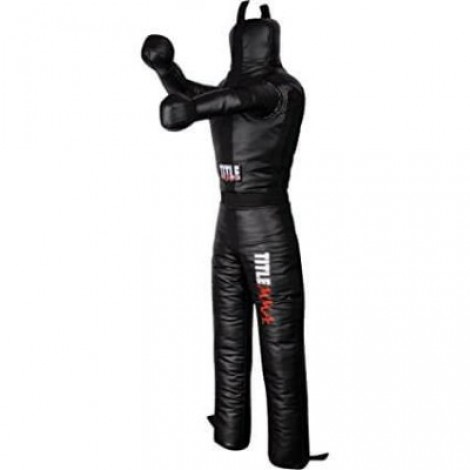 Highly durable
Comes with mounting chain
Good for throwing drills
Title is another company that produces high-quality grappling dummies. Their standing grappling dummy is available in two versions: with or without pre-assembly. Neither option is inexpensive but the base price listed is the un-assembled price, which is important to note before ordering one.
Read more
Highly Durable
Grappling dummies take a lot of abuse. The Title Standing Dummy is made of highly durable triple-ply synthetic leather. This dense material will stand up to hours upon hours of grappling practice, either in a private home or in a martial arts school.
Comes with Mounting Chain
Title includes a mounting chain, which is a feature unique to this grappling dummy. This feature allows the dummy to be used for upright work such as standing kicks and hand strikes, in addition to the groundwork that most grappling dummies are designed for.
Cost and Value
This dummy is available in two prices, one for an assembled dummy and one for an unassembled dummy. Neither one is inexpensive but the cost may be worth it for those who want the added utility provided by the mounting chain.
3

. Celebrita Unfilled Sitting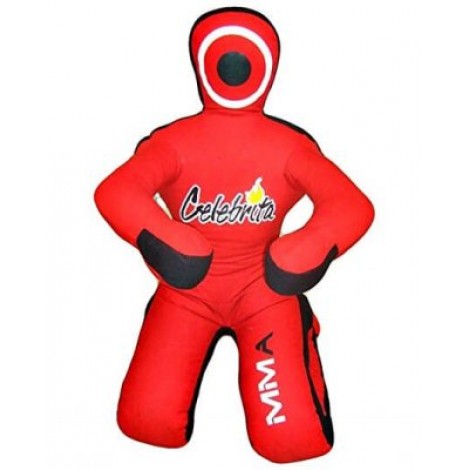 Designed with hands and feet
Light shipping weight
Good for almost any form of martial arts
Celebrita is among the more affordable companies on this list but they do not sacrifice quality to lower their costs. It is sold unfilled which allows the buyer or student to fill it themselves. This gives the user the choice to alter the weight and density of the dummy to suit their particular needs.
Read more
Designed with Hands and Feet
Most dummies at the same price point as Celebrita's are less versatile, often featuring arms and legs but not hands and feet. Hands and feet on a dummy allow the student to practice wrist and ankle locks, which increases the dummy's utility.
Good for Most Martial Arts
Celebrita's grappling dummy is useful for all variety of martial arts, whether they focus on takedowns and groundwork or are more focused on kicks and strikes. Though the dummy does not come with its own mounting chain, it would be easy to create one at home and use the dummy for upright drills as well.
Cost and Value
Celebrita runs the middle of the price range and, with a low shipping rate for their unfilled dummy, they are a good value option.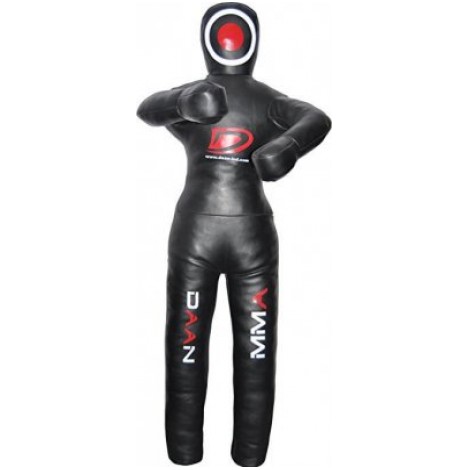 Made of artificial leather
Designed for groundwork
Relatively inexpensive
Not designed for upright techniques
Daan's entry on this list is unique in that it is constructed from artificial leather, yet affordable. It is perfectly designed for groundwork and throws, though it is less suited to practicing locks and blocks than other comparable dummies with limbs. This may affect the branches of martial arts that the dummy is effective for, though that depends on the student who will be grappling with the dummy.
Read more
Made of Artificial Leather
The dummies on this list are constructed from a variety of materials. Celebrita chose artificial leather which not only gives the dummy an added layer of durability but also makes the dummy easy to clean after each practice.
Designed for Groundwork
Though this dummy has limbs, they do not bend very well. This makes the dummy ideal for throws and pins. Some maneuvers such as locks and blocks will be more difficult as the arms will not move, but this also makes the dummy easier to retrofit for upright work as well.
Cost and Value
This dummy is a relatively low cost, making it a good option for students who don't mind stiffer limbs.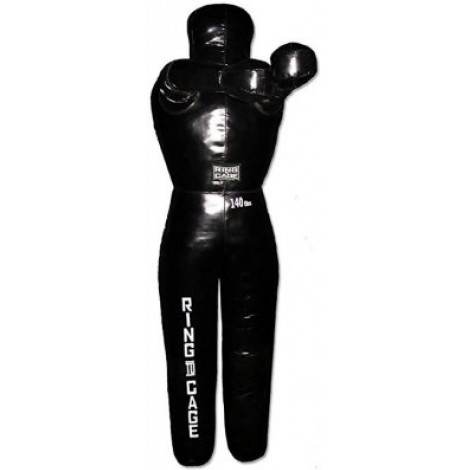 Sold pre-filled
Designed for upright and ground techniques
Very durable
Ring to Cage's second appearance on this list is a slightly more affordable and slightly less versatile dummy than the first. It is ideal for rigid prone groundwork as well as throws and upright work. The dummy comes prefilled and is rigid enough to lean against a wall or to rig with an upright mounting system for kicks and strikes.
Read more
Sold Pre-Filled
Prefilled dummies allow the buyer or student to begin practice as soon as the dummy arrives, saving them the time that is needed to prepare unfilled dummies. Filled dummies also tend to be more regular in their density which may affect the way that throws and takedowns work.
Designed for Upright and Ground Techniques
The rigidity of this dummy makes it ideal for ground techniques because it gives a more realistic sense of grappling. It also allows the dummy to handle upright work more effectively, whether it is mounted upright or leaned against a wall.
Cost and Value
Unless the buyer or student is in the market for a prefilled and rigid dummy, it might be better to go for the slightly more expensive Ring to Cage dummy. If rigidity is needed, however, this dummy is the better option.
Built for Durability
Designed with Hands and Feet
Designed with Semi-Realistic Shoulder Joints
Daan MMA is a company that almost exclusively sells grappling dummies. The dummies are intended for mixed martial arts practice, but they are versatile enough that students from any branch of martial arts would find their dummies to be effective training tools. Daan's dummies are among the most affordable on the list and this one, in particular, comes with the unique feature of a semi-realistic shoulder joint.
Read more
Built for Durability
Daan builds their grappling dummies to last. They use durable materials, solid stitching, and high-quality construction to ensure that their dummies will hold up under the wear and tear of grappling practice.
Designed with Semi-Realistic Shoulder Joint
Many of the dummies on this list are designed with arms and legs, but none of them are advertised with a semi-realistic shoulder joint. This is an important feature for martial arts students whose styles focus on arm locks and blocks as this will give the student a greater sense of what the maneuvers will do to a shoulder joint.
Cost and Value
Daan MMA's grappling dummies are some of the most affordable on this list. They come unfilled, which cuts down on shipping costs, and they have features that not many other dummies have. They are a good option for students whose styles focus heavily on arms as well as students who are comfortable filling their own dummy.
7

. Celebrita Unfilled Standing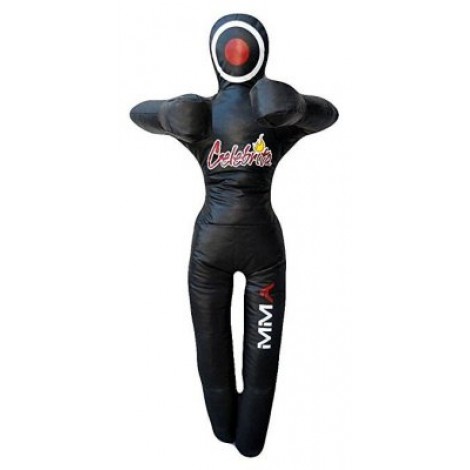 Can be hoisted upright
Available in a variety of colors
Relatively low cost
Celebrita is one of the most affordable brands of grappling dummies available on Amazon. They have multiple styles available. Their standing grappling dummy is available in a range of colors, can be hoisted upright, and is perfect for standing drills as well as rigid takedown drills. It is an affordable option for students across multiple disciplines from a company that has a track record of high ratings and quality products.
Read more
Can Be Hoisted Upright
The dummy's rigid form makes it easy to hoist upright for standing drills that can include hand strikes, kicks, and takedowns. Once the dummy is down, the rigidity gives a slightly more realistic experience when practicing groundwork.
Available in a Range of Colors
A feature unique to this dummy alone is the range of colors it can be purchased in. The color of the dummy is not the most important feature, but if the dummy is being purchased for a school or multiples are being purchased for one home, a specific color might be preferred over the standard black or red that grappling dummies are often sold in.
Cost and Value
Celebrita is generally an affordable company and this dummy is no exception. It is an excellent option for those getting in to grappling or seeking an affordable dummy with a basic range of usability.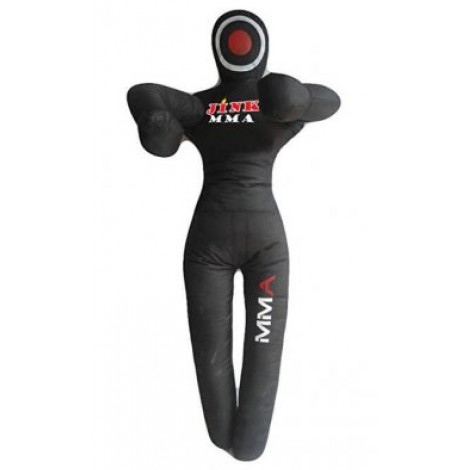 Built for durability
Designed with arms and legs
Second most affordable dummy on the list
Jink is a relatively unique company in that they only sell grappling dummies and umbrellas. As odd as this mix may sound, their products are built for quality and affordability. Their standing grappling dummy is the second most affordable dummy on this list and has several features that are usually only found on more expensive grappling dummies.
Read more
Built for Durability
Jink has several grappling dummies and all of them are built to last with durable materials, solid stitching, and construction that is both versatile and long-lasting.
Designed with Arms and Legs
Dummies with arms and legs tend to be more versatile, allowing the user to practice arm and leg locks as well as limb to limb grappling and takedowns. It can be used upright or prone, opening up the option for the student to practice kicks, strikes, and groundwork.
Cost and Value
This dummy is the second more affordable dummy on our list. With its durable construction and versatile design, it is an excellent value for someone looking for an affordable, quality grappling dummy.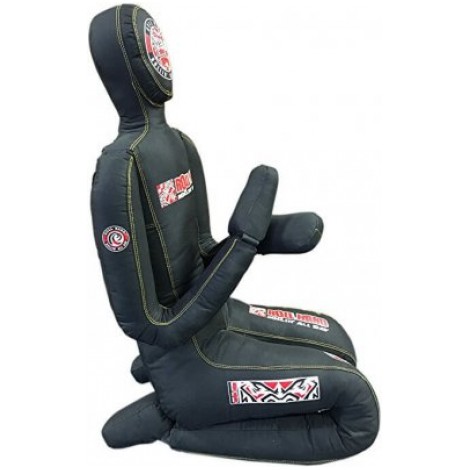 Available filled or unfilled
Designed with hands and feet
Built for durability
Only available in one size
Roll Hard sells a variety of products that span multiple martial arts styles. They have several grappling dummies in their inventory but the sitting version is the best rated of them all. It is available in an adult size and either filled or unfilled, giving the buyer a little more control over the dummy they purchase.
Read more
Available Filled or Unfilled
This adult-sized dummy, which measures at right around six feet tall, is available either filled or unfilled. The buyer or student can determine which is best for the budget and needs, giving Roll Hard an edge on similar dummies.
Designed with Hands and Feet
Dummies with hands and feet give the student more options during grappling drills. Because of their dummy's design, it can be used to practice ankle and wrist locks as well as arm and leg locks, throws, strikes, kicks, and takedowns.
Cost and Value
Roll Hard's dummies do not come cheap, but their design options and company reputation may make the investment worth it for serious martial arts students.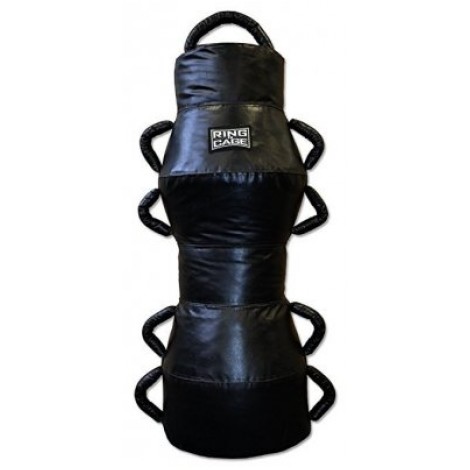 Affordable
Can double as a punching bag
Designed for throws
Ring to Cage makes its third and final appearance on our list with a unique offering that is also the most affordable dummy on our list. Their dummy bag has a simple design with a solid punching bag-like core and a series of handles all around the exterior to assist in learning throws and similar maneuvers.
Read more
Most Affordable Dummy
This dummy is the most affordable on our list, coming in under $100. Its simple design and relatively low cost make it an ideal starter dummy for students who are trying to figure out if a dummy would be an effective training tool in their practice.
Great for Throws
The dense and sturdy core of this bag and the handles that edge the perimeter make it ideal for helping martial arts students learn throws. It can also assist in learning takedowns if there is someone available to hold the bag while the student maneuvers it to the mat.
Cost and Value
Ring to Cage is a quality martial arts supply brand and their most affordable bag is a great option for students just getting into grappling who may not be able or willing to drop the money for more complex dummies until they know if dummies work well in their practice.
Criteria Used for Evaluation
Versatility
Usable Positions
Prone

The majority of grappling dummies are designed to be used in a prone or lying down position. Such a position allows the student to practice groundwork as well as throws without a live practice partner. Dummies that are equipped with arms and legs give the student the opportunity to practice knee and elbow locks while even more detailed dummies with hands and feet allow for the practice of wrist and ankle locks.
Upright

Some dummies on this list are designed to be used in upright positions in addition to prone positions. This is most often achieved using chains or ropes to hoist the dummy upright as opposed to firm frames within the dummy itself. Upright dummies are ideal for practicing strikes and kicks as well as blocks and takedowns.
Effects of Design on Usability
Core Bag with Handles

One or two dummies listed above are unique in that they are essentially punching bags with multiple handles in key locations. These bags are predominantly for practicing throws or drops in addition to punches and kicks. They are typically less expensive than more complicated dummies, but they also do not assist in practicing blocks, locks, or wrestling maneuvers.
Humanoid with Limbs

The most common dummy design is a humanoid shape with arms and legs, most often with the arms in front and the legs bent in a seated position. These dummies are ideal for groundwork and wrestling. Some of them can be mounted in an upright position, allowing for the practice of kicks and strikes against a standing opponent. Certain locks can also be tried on these dummies, such as knee and shoulder locks. Wrist and ankle locks, however, cannot be effectively practiced as these dummies do not have hands or feet.
Humanoid with Limbs and Hands

Dummies with limbs, hands, and feet are the most expensive but also the most versatile grappling dummies. They can be used to practice locks, blocks, strikes, and any type of groundwork. Most of the dummies listed above can also be arranged in standing positions so that students can practice upright drills as well. This kind of versatility allows the dummy to be used when training for nearly any style of martial arts, including mixed martial arts. Such dummies are an investment in the student's education and will be a useful tool as the student grows in skill or even tries their hand with a new form of martial arts.
Materials
Filled or Unfilled
Grappling dummies are sold either filled or unfilled. Each has its benefits and downsides. It is important to determine which option is best for the buyer and the student prior to purchase, or a return might be looming in the future.
Filled

Filled grappling dummies are heavier than unfilled dummies and this may increase the cost of shipping. Some companies may have taken this consideration and offer free shipping for filled dummies at a slightly higher cost. Despite the higher potential cost, however, filled dummies do have their benefits. The filling is often uniform and solid, giving the student a uniformly dense dummy to work with. Filled dummies also have the advantage of a face-value cost. Unfilled dummies, on the other hand, cost more than the initial investment because the buyer also has to find materials to stuff the dummy with. Such costs are not only monetary but also consume the buyer's or student's time which should also be taken into consideration.
Unfilled

Some students or buyers might prefer to purchase unfilled dummies. These dummies will typically have lower shipping costs as they weigh considerably less. Unstuffed dummies also allow the student or buyer to stuff the dummy themselves which, for some students may be an important lesson in the stewardship of their possessions. Unfilled dummies can be filled with nearly anything on hand, but they may not end up as dense or evenly weighted as dummies that are sold with the filling already inside.
Use
What Type Of Grappling Dummies You Need
Whether the student prefers a martial arts that focuses on fist strikes like boxing, a system that is more focused on kicks such as Taekwondo, or a mix of multiple styles, the best grappling dummy for them is on this list. Most of the dummies will stand up to years of use and may last longer with minor patching or additional filling. The initial investment might seem unreasonably high for most of the dummies listed above, but the upfront cost is more than made up for in the value the dummy provides as a grappling partner that is always available for practice. To get the best training for your particular field of martial arts, be sure to choose the right dummy for that field.
Throwing and Striking Dummy
This type of dummy is made for exactly what it sounds like, tossing around and repeated striking. The durability of this kind should be as good as you can afford, since you'll undoubtedly be putting the thing through its paces, slamming, dropping, and hitting over and over again. Choose wisely and be prepared to spend some money on this one.
MMA Dummy
This kind of dummy will also need to be super durable, as you will most likely be practicing several different teachings of martial arts on it. It should be good for grappling, as well as strong enough to survive repeated strikes and throws. A dummy will never replace a live opponent, but it can aid in perfecting your art of transitioning between different styles if used correctly.
Brazilian Jiu Jitsu Dummy (BJJ Dummy)
As the name suggests, these dummies are intended for BJJ. You'll want to be sure that the seams and stitching are put together well, as you will be applying potentially limb punishing holds which will quickly test the dummy's durability. Don't be afraid to up your budget if possible, as it would be a wiser move to buy as good of a dummy you can afford the first time.
Wrestling Dummy
Another one that will need to be durable enough to withstand a lot of twisting, pulling, and dropping. Wrestling seems to be underrated by some, but the practice and use can be super successful in combination with other practices on the mat. This kind of dummy, while also not being able to replace a live match up, is an excellent training tool for perfecting holds in theory.
Expert Interviews & Opinions
Most Important Criteria
(According to our experts opinion)
Experts Opinion
Editors Opinion
Users Opinion
By Default
Other Factors to Consider
Adjustability
Youth or Adult Heights
Many of the dummies on this list are offered in either youth or adult sizes. These sizes typically differ in length and weight, though unfilled dummies can be filled to varying weights. It is important to ensure the proper size is ordered as an adult grappling dummy may be oversized for younger martial arts students while youth dummies may prove to be too light or short to be effective learning tools.
Frequently Asked Questions
q:

How do I use a grappling dummy?

a:

The best way to use a grappling dummy depends on what position the dummy is used in. Many of the dummies listed above can be posed lying flat, kneeling, or even upright. Once the best position has been determined, using the dummy is just a matter of reenacting whatever was practiced with a live partner during class.
q:

What weight grappling dummy should I get?

a:

The ideal weight for a grappling dummy depends on how much weight the student can lift and throw without injuring themselves. Unfilled dummies are ideal for students who feel that their weight threshold will change over time, as different materials can be used to fill the dummy.
q:

Where do I learn grappling drills?

a:

It is ideal for a martial arts student to learn grappling drills in an official martial arts class. Online sources such as YouTube are another source of education, but there is a greater risk of getting the form wrong which can lead to injury for the student or any live grappling partners they have.
q:

What is the difference between a filled and unfilled dummy?

a:

The main difference between filled and unfilled dummies is the shipping weight of the item and the density of filling. No grappling dummy should be used prior to filling as it is essentially an empty bag prior to being filled. Dummies that are sold prefilled are generally dense in filling while the density of unfilled dummies depends entirely on whatever the buyer or student chooses to fill them with.
q:

If I buy an unfilled dummy, what should I fill it with?

a:

Most unfilled dummies come with instructions and suggestions for filling materials. Many of these materials include scrap fabric, cotton batting, punching bag stuffing, and sand. One reviewer got creative and used pool noodles in addition to stuffing to give the arms and legs more structure during grappling practice.
q:

Can my kids use the same dummy I do?

a:

This depends on how heavy the dummy is and what size dummy was purchased as well as the age and skill level of the children. It is best to ere on the side of caution as serious injury could occur if a child tries to throw a dummy that is too heavy or is pinned beneath a dummy that is too large.
q:

What is the benefit of a standing dummy?

a:

Standing dummies allow students to practice various strikes as well as kicks in addition to the groundwork that prone dummies offer.
q:

What is the functional difference between a dummy with limbs and one without?

a:

Dummies with limbs allow the user to practice pins and blocks as well as wrist and knee locks. Dummies with hands and feet have the added bonus of allowing the student to practice wrist and ankle locks. These maneuvers are impossible to practice on dummies without limbs.
Subscribe to our Newsletter