Best Boxing Groin Protectors & Jockstraps Reviewed
last updated:
Jan 21, 2020
Many people greatly dislike wearing a jockstrap or a groin guard, mainly because an ill-fitting groin protector will hinder your performance greatly. The elastic straps may cut off circulation or restrict movement in a certain direction, and they may feel bulky and uncomfortable as many people are simply not used to how it feels to wear something there.
However, it is extremely important to protect your groin area as you need these muscles more than you think. Groin muscles are categorized as muscles that run from your knee to your pelvic area. They play a big part in supporting your body and aiding your movement, so it is extremely important that they are well protected when playing impact sports. They are also suitable for martial arts. By finding a high-quality groin protector that fits properly, you will be able to enjoy your sports safely and comfortably.
In a Hurry? The test winner after 4 hrs of research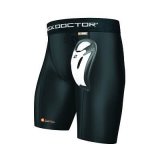 Shock Doctor Core Bio-Flex
Why is it better?
Flexible cup

High quality Synthetic Fabric

Soft waistband

Removable Cup

Maximum Comfort
In a
Hurry? Editors choice: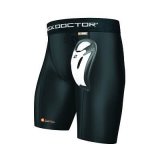 Test Winner: Shock Doctor Core Bio-Flex
Protection
Comfort
Fit
Size
Weight
By Default
10 Best Boxing Groin Protectors & Cups
Criteria Used for Evaluation
Protection
Ultimately, all that one is looking for in groin protection is that it will actually work when the time comes. A good groin guard will be able to withstand harder impacts as the materials they are made of are better quality. Regardless of quality, different brands will offer a different scale of protection and it is important to find out which one is best for you. Jockstraps are often adaptable and do not have different types. They all will support a groin cup and hold it in place.
The thing to consider is what type of athletic cup you would need. There are two different types of cups that offer a different level of protection.
Hard Cup
A hard cup is made of rigid plastic and is designed to protect. They are usually used in contact sports such as boxing, baseball, and hockey. They can be quite uncomfortable and will take some time to get used to one. Many people have difficulties adjusting to using a hard cup as it is bulky and hard to control. However, contact sports and martial arts can get quite rough and you will need something that can offer one hundred percent protection.
As mentioned previously, hard cups are made from strong materials that will be able to absorb most of the impact and protect against injury and that is something no other protective gear can do. An important fact to take note is that due to its rigidity, it will not stay in place unless your jockstrap is properly tightened to hold it in place. As the cup itself is not flexible, it will move around and slip if it is not secured properly.
Soft Cup
A soft cup is a cup that is made of gel wrapped in silicone for extra padding. These cups are very flexible and versatile, allowing you to bend and move freely. They do not restrict movement and are much lighter in comparison to a hard cup. Because the gel cup is thin, it is very comfortable and most users forget they are wearing it. They are suitable for martial arts and other sports that have less contact.
They are often used for extra protection from an unexpected hit and are not meant to go directly into competitions where multiple blows are delivered. They are merely meant for protection against an accidental or unexpected hit and will not be able to absorb all the shock of a hard hit. Regardless of cup type, it is important to remember that a jockstrap will need to be used to hold it in place.
Fit
Apart from being able to protect your muscles and groin area, wearing comfortable and fitting sports equipment is just as important. People that use incorrectly sized protective gear can see a decrease in their abilities and it may also cause significant discomfort during training. To find something comfortable, you must first understand how your body and build type can affect the way a groin protector does its job.
As mentioned previously, a groin protector is broken down into three main parts.
Compression shorts
Compression shorts come in different lengths and can also be sold as compression briefs. These almost function as a second skin and are very form-fitting. They have a pocket in the front where you can easily slip in an athletic cup. The pocket is usually designed to have the cup sit comfortably over your groin area and is small enough to prevent the cup from moving. These are usually best suited to be worn underneath clothing and uniform. If you are wearing a lot of protective equipment, the compression shorts might be the best idea as they are streamlined and lightweight so that it does not make you any heavier than you need.
Jockstraps
Jockstraps are similar to a harness that protects your groin area. It is usually made of multiple straps that all connect to a waistband. These straps are to be tightened around the thigh area to help support the waistband and prevent the whole assembly from slitting. These are effective for all kinds of sports and training exercises, but they are experiencing a drop in popularity due to the emergence of compression shorts. Unfortunately, jockstraps are not as comfortable in comparison to compression briefs as the straps tend to feel itchy and irritate the skin.
Athletic cup
Despite all the mentioned types of materials athletic cups can be made of, they also come in different shapes. There are two main types that are widely manufactured and not used for a specific sport. These cups are suitable for any scenario that involves a possible hit to the groin area. The most generic type of athletic cup comes in the shape of an upside-down triangle. They are meant to be worn in a V shape, with the narrow end facing down. Depending on which brand it is, some of these cups are very stiff and unfitting and tend to sit flatly on your body.
Other brands have tried to add some contouring to the cup in efforts to have it bend more naturally to your body. The other shape of an athletic cup that is starting to become popular resembles a banana. They have a curved design with a round, but also a narrow, bottom. The only comparison is the banana-shaped design allows protection while allowing the organs to naturally hang in the area as opposed to the original design which requires the organs to be lifted.
Size
It is always important to choose the correct size when it comes to protective gear. Sizing is important as it can affect the performance and abilities of the user drastically. Something too big may impede mobility and trip up the user while something small poses a chance to cut off circulation and restrict movement.
A jockstrap or compression shorts do not have to fit perfectly as they can be adjusted but it is imperative for athletic cups to fit. For jockstraps, the only thing to be aware of is that the leg straps should have the ability to be tightened enough to prevent them from twisting or being tangled. Unfortunately, each brand uses a slightly different sizing chart so it is important to try it on.
On the other hand, athletic cups must fit as they can cause discomfort and injuries if they are too big or too small. If they are too small, they will not protect everything it needs to. Big groin cups are also not a good idea as they may protect everything, but they will move and slide easily. Some larger groin cups may also cause bruising when they are hit as they are not contorting to the right places.
In general, the sizing is split into two categories: Adult and child.
The adult sizes:
S: 20-26''
M: 26-32''
L: 32-38''
XL: 38-44''


Groin cups for children also come three sizes and are categorized by age. There are categorized as peewees from ages five to seven, youths from ages eight to twelve, and teens from thirteen to sixteen. The transition period between adult and child athletic cups are between sixteen and seventeen.
Weight
Regardless of what protective equipment you choose, it is important to check the weight prior to purchasing it. There are many types of groin guards and jockstraps that will perform great but be very heavy. There are also many groin cups that are light but may not be able to withstand or completely absorb the impact. The material of the groin cup will also make a difference to the weight. The ones that have a steel plating or are completely made of metal are going to be much heavier than the ones made of carbon fiber. To date, carbon fiber is one of the lightest materials invested by mankind.
Having heavy sports equipment is very cumbersome and stressful. The weight of the protective gear can decrease your endurance and stamina as you focus more time on keeping yourself upright. When your endurance is affected, you tire out easily and give the opponents an opportunity to win against you. Having your stamina lowered will change your performance as you may find move or attack becoming more difficult. Between the shorts, jockstrap, and athletic cup the combined weight should not be more than one pound.
Expert Interviews & Opinions
Most Important Criteria
(According to our experts opinion)
Experts Opinion
Editors Opinion
Users Opinion
By Default
Other Factors to Consider
Value
Price points can be a large determining factor when purchasing protective gear as some prices can run very high. Often times people are put off from entering a sport or starting an exercise because of how much the equipment costs. Sizes can be a determining factor in pricing as often times brands will price smaller sizes less than higher ones. The brand itself can also make a difference as some of the more trusted brands have developed enough of a following that they are able to raise their prices while retaining their customer base.
In general, compression shorts are the most expensive as they are the newest technology available. They are also made of more material in comparison to the other types of equipment. The least expensive pair are usually in the twenty-five dollar to thirty dollar range. Jockstraps are usually very cost-efficient as they have minimal fabric and are easy to construct. Unfortunately, both the jockstrap and compression shorts may not come with an athletic cup, which will add to the overall price of the equipment.
If you are operating on a budget, it is recommended to spend the most money on your athletic cup. The groin cup is going to be what ultimately protects you from blows to the groin muscles. Depending on the brand, the design will be different. Some will be thicker and more durable, while others may conform to your body for a more comfortable fit. The key is to find a groin cup that will fit into the opening of the jockstrap or compression shorts and will fit comfortably over all your organs. Because of different needs and expectations, some athletic cups are as inexpensive as five dollars while some can run up to eighty dollars.
Frequently Asked Questions
q:

Can I Wash My Athletic Cup?

a:

Hardshell athletic cups can be machine washed as they are made of hard and durable material. For soft gel or silicone cups, it is recommended to wash by hand and air dry it. The simplest way to wash either type is to fill a sink with hot water and use some dish soap.
q:

Can I Just Use An Athletic Cup?

a:

The answer is no. Unfortunately, there needs to be some type of jockstrap or compression shorts used to hold up the cup. There is no way for the guard itself to stay up in place nor will it suction against your body.
q:

Can I Use A Different Groin Cup Than The One That Came With My Compression Shorts?

a:

The answer is yes! There are many compression shorts that come with a generic cup. If you have a brand and type that you prefer, you can swap it out. Prior to purchasing the shorts, make sure the cup pocket has an opening that will allow you to pull out the generic one.
q:

Can I Wear Undergarments Under My Compression Shorts?

a:

Compression shorts usually work as undergarments. However, if you want to you can wear something underneath. It may make the shorts less streamlined and comfortable, but it is possible.
q:

Must I Use An Athletic Cup?

a:

For any sport that deals with hits and blows, it is a required item. But there are some milder sports that would recommend it. Regardless, it is not safe to assume that a sport that has less contact will be considered safe. An unexpected or accidental blow could cause a big injury when you least expect it.
Subscribe to our Newsletter