Best Boxing Groin Protectors & Jockstraps Reviewed
last updated:
Jan 21, 2020
Many people greatly dislike wearing a jockstrap or a groin guard, mainly because an ill-fitting groin protector will hinder your performance greatly. The elastic straps may cut off circulation or restrict movement in a certain direction, and they may feel bulky and uncomfortable as many people are simply not used to how it feels to wear something there.
However, it is extremely important to protect your groin area as you need these muscles more than you think. Groin muscles are categorized as muscles that run from your knee to your pelvic area. They play a big part in supporting your body and aiding your movement, so it is extremely important that they are well protected when playing impact sports. They are also suitable for martial arts. By finding a high-quality groin protector that fits properly, you will be able to enjoy your sports safely and comfortably.
In a Hurry? The test winner after 4 hrs of research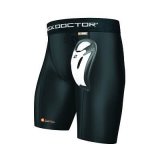 Shock Doctor Core Bio-Flex
Why is it better?
Flexible cup

High quality Synthetic Fabric

Soft waistband

Removable Cup

Maximum Comfort
In a
Hurry? Editors choice: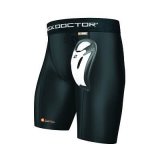 Test Winner: Shock Doctor Core Bio-Flex
Protection
Comfort
Fit
Size
Weight
By Default
10 Best Boxing Groin Protectors & Cups
1

. Shock Doctor Core Bio-Flex
Flexible cup

High quality Synthetic Fabric

Soft waistband

Removable Cup

Maximum Comfort
Elastic waist can be tight when new
The Shock Doctor is a forerunning in the sports gear industry. They have been manufacturing many different types of boxing groin protectors and jockstraps for years. These Shock Doctor Core Compression Shorts are constructed to seamlessly mold around your body and are ideal for hockey players but can be used in any type of sports setting. The sturdy mesh cup is seamlessly sewn into the compression for maximum comfort and durability.
Read more
Comfort
The Shock Doctor Core Compression Shorts with the Bio-Flex Cup was created with comfortability in mind. In comparison to other jockstraps, the cup of the groin protector is positioned lower than normal bringing the cup closer to the legs. This allows for a more comfortable fit and gives the wearer more motion and control when doing sports with it. Since this equipment is usually used during sports, it is important to be able to crouch, bend, and move around quickly with it on.
Breathable
These compression shorts are made of high-quality breathable fabric. The synthetic fabric is stretchy and has a mesh-like quality, allowing for air to circulate. Having the ability to ventilate within the shorts will eliminate sweat, odors, and bacteria that may potentially grow.
Cost and Value
The Shock Doctor Core Compression Shorts with the Bio-Flex Cup has a relatively low entry point. This boxing groin protector has a strong and flexible cup, allowing for extra movement and an increase in range of motion. Along with an adjustable waistband and all-around comfort, these shorts are worth every penny you pay.
2

. Diamond MMA Athletic Cup
Seamless transition between cup and shorts

Comfortable

Durable

High Quality Material

Innovative designed
The jock and cup system that is produced by Diamond MMA was made use during high impact sports. Any sports that may have the potential to cause a groin injury will benefit from using one. The Diamond MMA brand guarantees good groin protection without having to wear something uncomfortable. The athletic cup has a polycarbonate core surrounded by molded elastomer for ultimate protection without compromising comfort.
Read more
Material
The Diamond MMA Athletic Cup Groin Protector & Compression Shorts is one of the best quality groin protectors you can get. Military-grade elastic is woven throughout the spandex fabric of the shorts to make them stretchy and more durable. Using a system with four straps, the jockstraps are designed especially to hold the athletic cup in place and prevent it from moving during use. There is also a tailored pocket that allows for the cup to sit nestled inside and prevents vertical and lateral slipping.
Cup Integrity
When an athletic cup is made poorly, it may either wear out quickly or not protect sensitive areas. The Diamond MMA Athletic Cup Groin Protector has a special design to ensure that it protects all the muscles and nerves in the area. The plastic protector is made of industrial-grade polycarbonate which allows for the material to absorb and redistribute the energy of a hit. Coincidentally, this is also the same material used for bulletproofing glass. The athletic cup has a soft-edged design to help minimize chafing and bruising when taking a hit.
Cost and Value
The starting price point on the compression shorts are a little on the expensive side but it is worth every penny you invest. The Diamond MMA Athletic Cup Groin Protector & Compression Shorts have a design that has won multiple awards. The design has been awarded the seal of approval from Stanford University engineers and multiple doctors and urologists and is the best recommended by professional athletes worldwide.
Low entry point

Simple

Easy to use

Durable

Trusted name brand
Does not come with jockstrap
The Shock Doctor is a versatile company that creates many types of protective gear. They have an expansive list of best boxing groin protectors, jockstraps, and a combination of both. They have been in the industry for many years and have developed a trusted group of followers. This athletic cup is no different from any of their products. It is based on precision engineering and does not compromise on the quality. It has sizes that are available from youths to adults.
Read more
Resistant
The Shock Doctor Bioflex Athletic Cup is a useful tool that will last for many years. The protector is manufactured from a durable plastic that is thick around the core and thin around the edges. Having different thicknesses in areas will improve the cup's flexibility, which is important during high impact sports. The flexibility will also increase the lifespan of your protector as it will absorb the folds and bends, extending the length of time before it wears and tears.
Snug
One of the biggest factors when choosing a groin protector is how comfortable they are. Having an uncomfortable cup could a multitude of problems such as having it rub against your skin until it goes raw, or bruising when the cup moves out of place during a hit. As a result, the Shock Doctor Bioflex Athletic Cup has an ergonomic design that will fit comfortably over your sensitive regions. The shape and design allow it to mold around areas that need protection and add the extra padding that is needed to absorb a hit.
Cost and Value
Prices may vary depending on which color and size you are looking for. Overall, the Shock Doctor Bioflex Athletic Cup has a very good entry-level price point which even beginners would be willing to invest. Because these cups do not come with a jock strap, you'll have to keep in mind to add that to the cost of the protective gear.
4

. Meister Rush Fight Shorts
Anti-odor technology

Seamless transition

Strong

Affordable

Temperature controlling
Does not come with athletic cup
These are the newest model of compression shorts for Meister MMA. They were designed with high-intensity sports in mind and made to move. These compression shorts are ideal for people in contact sports such as hockey, rugby, and football. They are also very suitable for martial arts classes and boxing. These Meister MMA Compression Rush Fight Shorts come with an area where you can insert an athletic cup to increase the padding for protection.
Read more
Quality Fabric
The fabric that is used for the Meister MMA Compression Rush Fight Shorts will far surpass competing brands you see. They are made of a mixture of spandex and polyester that was tested to withstand pulling in all four ways. They can be pulled and stretched without worrying about tearing. The groin area of the shorts has been double stitched so that the seams interlock and increase the lifespan of the product. The double stitching also provides a smooth and flat transition between pants and groin.
Secure
The groin protection area is very subtle and undisturbed. The inside of the shorts has a pocket that is large enough to fit most cup sizes and includes a velcro closure. The closure will keep the cup in place. There are also ventilation capabilities that will ensure the buildup of moisture is kept to a minimum. The breathable fabric in the groin region will mean your body is able to regulate temperature, allowing you a comfortable experience.
Cost and Value
The Meister MMA Compression Rush Fight Shorts With Groin Protector come in a variety of colors. They are quite affordable and will not need replacements often. As with any product, depending on how you use them the lifespan will change. Overall these are quite reliable and have lasted an average of a year or two before the fabric starts to lose its stretchiness. Because these groin protection shorts do not come with an athletic cup, that will have to be calculated into your initial start-up cost.
Affordable

Durable

Lightweight

Balanced protection

Redistributes impact
Does not come with jock strap
Your groin muscles are one of the most frequently used groups of muscles and also one of the easiest places to injure. Along with the muscles, they are also a sensitive region that must be protected from hard impacts. The McDavid 3020 FlexCup Protective Athletic Cup is durable enough to block hard shots in a fragile area. With its thick plastic center and soft plastic edges, this cup absorbs the force of the impact and releases it through the edges to prevent lasting damage.
Read more
Lightweight
Weight is an important factor while participating in sports and exercises. Having too much heavy equipment will hinder your game significantly. Your body spends more time fighting the fatigue from carrying all the weight instead of using the energy to better your performance. The energy that is drained translates to how much endurance you have to stay in the game. The McDavid 3020 FlexCup weighs 2.5 ounces and is one the lightest groin protection on the market, guaranteeing you spend your energy on the game.
Breathable
Protective cups are often used for sports and competition purposes. During things of such nature, it can get quite intense and your body starts to sweat from the exertion. Being in a setting where the temperature of your body can rise quickly can be dangerous, which is why protective gear is often made to be as breathable as possible. The McDavid 3020 FlexCup Protective Athletic Cup does not rely on the material that the shorts and jockstrap and expect it to be cool enough. The actual cup itself has five large ports that allow for airflow and circulation. The ports allow for cool air to be brought in and hot air to be ventilated out, this will keep you at a more comfortable temperature and allows you to focus on your actual sport.
Cost and Value
The price differs depending on the size. Overall, this groin protector has an average price point. It is slightly more than what a beginner would want to pay, but it is durable enough to last quite a while. This athletic cup is also comfortable enough for all-day wear during competitions. The sides of the cup are contoured to conform to the groin area for increased protection and a better fit.
Trusted brand

High quality

Innovative technology

Strong

Does not obstruct user
When looking for a reliable and trusted brand, you won't find someone better than Lo Bloo. They are used by professional athletes around the world. Their protective gear is also constantly tested and upgraded to ensure that they stay relevant. The cups are certified to withstand stress and pressure of up to four tonnes, meaning that they would be a great addition to protecting your groin.
Read more
Hygienic
Jockstraps can get quite gross as it absorbs the sweat and odors over time. Before you know it, bacteria will cultivate within the system. The Lo Bloo Thai Cup 2.0 is designed to be completely smooth and bump-free. This minimizes the chance that bacteria can find a small nook and grow. The entire assembly was also constructed with being machine washable in mind, meaning the fabric and the plastic cup can be thrown into the wash after being used all day.
Ergonomic
If you're looking for a jockstrap that will fit comfortably and conform to your needs, this is the one. The Lo Bloo Thai Cup 2.0 is designed so that it moves along with you, guaranteeing protection. It is shaped in that it does not block your inner thighs and hinder your mobility, the aim is to be so comfortable that you don't realize you're wearing it. The design of this jockstrap will make sure it keeps the athletic cup stabilized and in place. It will minimize the impact or vibrations dealt with it.
Cost and Value
The Lo Bloo Thai Cup 2.0 Professional Athletic Cup is a little expensive, but it is worth every penny you spend. This boxing groin protector comes from an extremely well known and trusted brand. It was also designed and developed by Olympians that knew what was crucial for a comfortable piece of protective gear. These cups are a great fit for any sort of high impact sports or martial arts. It will offer much-needed protection while also being reliable.
7

. Shock Doctor Ultra Pro
Jockstrap and Cup combination

Reliable

Unrestricted movement

High quality material

Good design
This is one of the best combinations of boxing groin protectors on the market. It offers unparalleled protection while increasing your range of motion. Many protective gears restrict movement unintentionally, however, the Shock Doctor Ultra Pro Supporter Jockstrap and Cup is designed to have slimmer straps that prevent hip restriction. It also has a smaller but sturdier cup which gives your inner thighs more freedom and control over their movement.
Read more
Ventilation
Being able to cool your body down while exercising is essential for your performance. The Shock Doctor Ultra Pro Supporter Jockstrap and cup are made from high-quality mesh that wicks away moisture. The reduction in moisture means that there is less chance for bacteria to grow. The overall material of the jockstrap is a very stretchy mesh. The mesh has holes in it that will help the material become more breathable. The circulation of air and the moisture-free environment will guarantee a significant reduction in odors that may develop in the material.
Protection
Jockstrap and cup combinations are a welcomed way of protecting your groin muscles. Jockstraps that do not come with the athletic cup or vice versa can be an improper fit when the two items are individually purchased. The Shock Doctor Ultra Pro Supporter Jockstrap With Ultra Cup is one of the best fitting systems out there. The jockstrap itself includes a supporting strap that wraps around to ensure a snug fit. The athletic cup is constructed with multiple layers of plastic, which is able to withstand a stronger impact and dispel the shock from the immediate point of contact.
Cost and Value
This protective gear comes at a reasonable price and is suitable for people in all stages of training. Whether you are an advanced and competing athlete or someone that is just starting in their exercises, the Shock Doctor Ultra Pro Supporter Jockstrap and Cup combination will give you the most protection while being comfortable. This will give you encouragement to work at your sport confidently without worrying about potential injuries.
Organic Cotton

Genuine pure elastic

Smooth and silky

Long lasting

Low price point
Does not come with athletic cup
One of the things people often do not think about is the materials used to construct their clothing and sports equipment. Often times, the people that would be worried about what goes into the construction of their equipment are people with specific needs. The KD Willmax brand has made a specific jockstrap to meet the needs of people. Using one hundred percent genuine elastic and pure cotton, they have created an alternative jockstrap that is safe and environmentally friendly.
Read more
Support
A common complaint with jockstraps is that they wear out too easily. Wearing out for a jockstrap starts with the fraying and curling of the edges of the straps, then the elasticity starts to wear out and the straps start to sag. The KD Willmax Jockstrap uses a high quality one hundred percent pure elastic in their straps to ensure that they last. The cotton of the protective gear is also mixed with lycra which gives it the endurance to last longer. The lycra will also work as an elasticity component with the cotton to add an additional layer of elasticity support throughout the entire jockstrap.
Comfortable
The KD Willmax Jockstrap Cotton Supporter will be one of the most comfortable protective gear you will find on the market. They are the only ones that have used one hundred percent cotton to make the jockstrap incredibly soft. The cotton pouch that holds the athletic cup is also completely made of cotton, which eliminates the chances of chafing and rash buildup.
Cost and Value
This groin protection can be purchased for a relatively low price. It is worth the investment as they have taken many steps to ensure that the jockstrap is comfortable and will be able to withstand up to the test of time. Because organic cotton can be quite expensive, this is a shoo-in for people that have allergies to fabrics. This groin protector can be used for many everyday activities and sports. One of the biggest benefits is that it can be worn all day without the fear of an allergic reaction between the materials and your sweat. This is going to be a jockstrap that will make a big return on investment.
Easy system for adjustments

Made of steel

Shock absorbing

Padded edges of cup

Increased comfort
Elastic wears out before cup
RDX is a company that prides itself on innovation and new technology. They often experiment with different types of materials and see if they can improve their preexisting models. The RDX brand is renowned for producing strong protective gear that will stand the test of time and will protect you when you need it the most. The newest model of the RDX Groin Guard mixes new materials with a reliable construction process to welcome a new era of groin protection.
Read more
Material
Unlike many other brands, RDX has decided to construct a groin guard that uses a material that other manufacturers would not even think of using. While many guards are made of fortified plastic, the RDX Groin Guard is made of steel. That is not to say the entire cup is metal, but there is a thick triangular rim around the athletic cup that is built to disperse the shock. The very edge of the cup is lined by steel which offers the ultimate protection against a hit. When a hit is delivered to the groin guard the metal within the cup vibrates ever so slightly to rid most of the energy of the hit, allowing your legs to absorb minimal impact.
Durable
Between the plastic and steel that make up this groin guard, it is almost impenetrable. It can take years of abuse before the first signs of wear and tear start to show. The RDX Groin Guard has been put through a series of stress tests and has been able to withstand larger pressure and impact levels that normal people could ever deliver. They are stable and durable enough to last a lifetime.
Cost and Value
This is a combination groin guard that has both the athletic cup and jockstrap which already saves money. Being able to buy both as a combo is beneficial as some groin cups do not fit the jockstrap pocket as well. The RDX Groin Guard ensures that you will always have a cup that fits comfortably and will not wiggle around in the jockstrap. This also comes with an adjustable system which an individual can operate easily on their own to get the perfect fit.
10

. Diamond MMA Athletic Cup
Guaranteed by professionals

Reliable

High quality construction

Innovative design

Prevents injury
This groin cup is one of the more fancy ones on the market and is heavily endorsed by people such as professional athletes, doctors, and many others. The Diamond MMA brand is popular with professionals as they are very durable and can be relied upon for protection. There has been much technology that has been incorporated into this athletic cup. Whether it is the design or the material used, this is not a cup that will disappoint.
Read more
Tough
The Diamond MMA Athletic cup is the perfect cup for high impact exercises and contact sports. This extremely durable groin protector is strong enough that you can take a big hit and bounce back almost immediately. This specific protective gear boasts almost zero recovery time, allowing you to counteract your opponent quickly. This cup is designed so that regardless of where the cup takes the hit, it is able to geometrically deflect and redistribute the force evenly. The energy of a hit is dispelled through a soft vibration known as fluttering at the edges of the cup.
Polycarbonate Core
The polycarbonate core in the Diamond MMA Athletic Cup and Groin Protector can withstand multiple tons of force. It has been tested repeatedly with sledgehammers and other equipment to ensure that it does not fail during crucial times. The polycarbonate material that is in the athletic cup is so strong it is used to make bulletproof vehicles. The core of this cup can withstand any smashing and hit a human can deal with.
Cost and Value
Compared to other brands that offer both the jockstrap and athletic cup together, the Diamond MMA Athletic Cup is just the cup. However, this is the only athletic cup that is endorsed by professional athletes and the US military. This groin guard is able to absorb a large amount of shock and is also guaranteed to be able to prevent injury.
Criteria Used for Evaluation
Protection
Ultimately, all that one is looking for in groin protection is that it will actually work when the time comes. A good groin guard will be able to withstand harder impacts as the materials they are made of are better quality. Regardless of quality, different brands will offer a different scale of protection and it is important to find out which one is best for you. Jockstraps are often adaptable and do not have different types. They all will support a groin cup and hold it in place.
The thing to consider is what type of athletic cup you would need. There are two different types of cups that offer a different level of protection.
Hard Cup
A hard cup is made of rigid plastic and is designed to protect. They are usually used in contact sports such as boxing, baseball, and hockey. They can be quite uncomfortable and will take some time to get used to one. Many people have difficulties adjusting to using a hard cup as it is bulky and hard to control. However, contact sports and martial arts can get quite rough and you will need something that can offer one hundred percent protection.
As mentioned previously, hard cups are made from strong materials that will be able to absorb most of the impact and protect against injury and that is something no other protective gear can do. An important fact to take note is that due to its rigidity, it will not stay in place unless your jockstrap is properly tightened to hold it in place. As the cup itself is not flexible, it will move around and slip if it is not secured properly.
Soft Cup
A soft cup is a cup that is made of gel wrapped in silicone for extra padding. These cups are very flexible and versatile, allowing you to bend and move freely. They do not restrict movement and are much lighter in comparison to a hard cup. Because the gel cup is thin, it is very comfortable and most users forget they are wearing it. They are suitable for martial arts and other sports that have less contact.
They are often used for extra protection from an unexpected hit and are not meant to go directly into competitions where multiple blows are delivered. They are merely meant for protection against an accidental or unexpected hit and will not be able to absorb all the shock of a hard hit. Regardless of cup type, it is important to remember that a jockstrap will need to be used to hold it in place.
Fit
Apart from being able to protect your muscles and groin area, wearing comfortable and fitting sports equipment is just as important. People that use incorrectly sized protective gear can see a decrease in their abilities and it may also cause significant discomfort during training. To find something comfortable, you must first understand how your body and build type can affect the way a groin protector does its job.
As mentioned previously, a groin protector is broken down into three main parts.
Compression shorts
Compression shorts come in different lengths and can also be sold as compression briefs. These almost function as a second skin and are very form-fitting. They have a pocket in the front where you can easily slip in an athletic cup. The pocket is usually designed to have the cup sit comfortably over your groin area and is small enough to prevent the cup from moving. These are usually best suited to be worn underneath clothing and uniform. If you are wearing a lot of protective equipment, the compression shorts might be the best idea as they are streamlined and lightweight so that it does not make you any heavier than you need.
Jockstraps
Jockstraps are similar to a harness that protects your groin area. It is usually made of multiple straps that all connect to a waistband. These straps are to be tightened around the thigh area to help support the waistband and prevent the whole assembly from slitting. These are effective for all kinds of sports and training exercises, but they are experiencing a drop in popularity due to the emergence of compression shorts. Unfortunately, jockstraps are not as comfortable in comparison to compression briefs as the straps tend to feel itchy and irritate the skin.
Athletic cup
Despite all the mentioned types of materials athletic cups can be made of, they also come in different shapes. There are two main types that are widely manufactured and not used for a specific sport. These cups are suitable for any scenario that involves a possible hit to the groin area. The most generic type of athletic cup comes in the shape of an upside-down triangle. They are meant to be worn in a V shape, with the narrow end facing down. Depending on which brand it is, some of these cups are very stiff and unfitting and tend to sit flatly on your body.
Other brands have tried to add some contouring to the cup in efforts to have it bend more naturally to your body. The other shape of an athletic cup that is starting to become popular resembles a banana. They have a curved design with a round, but also a narrow, bottom. The only comparison is the banana-shaped design allows protection while allowing the organs to naturally hang in the area as opposed to the original design which requires the organs to be lifted.
Size
It is always important to choose the correct size when it comes to protective gear. Sizing is important as it can affect the performance and abilities of the user drastically. Something too big may impede mobility and trip up the user while something small poses a chance to cut off circulation and restrict movement.
A jockstrap or compression shorts do not have to fit perfectly as they can be adjusted but it is imperative for athletic cups to fit. For jockstraps, the only thing to be aware of is that the leg straps should have the ability to be tightened enough to prevent them from twisting or being tangled. Unfortunately, each brand uses a slightly different sizing chart so it is important to try it on.
On the other hand, athletic cups must fit as they can cause discomfort and injuries if they are too big or too small. If they are too small, they will not protect everything it needs to. Big groin cups are also not a good idea as they may protect everything, but they will move and slide easily. Some larger groin cups may also cause bruising when they are hit as they are not contorting to the right places.
In general, the sizing is split into two categories: Adult and child.
The adult sizes:
S: 20-26''
M: 26-32''
L: 32-38''
XL: 38-44''


Groin cups for children also come three sizes and are categorized by age. There are categorized as peewees from ages five to seven, youths from ages eight to twelve, and teens from thirteen to sixteen. The transition period between adult and child athletic cups are between sixteen and seventeen.
Weight
Regardless of what protective equipment you choose, it is important to check the weight prior to purchasing it. There are many types of groin guards and jockstraps that will perform great but be very heavy. There are also many groin cups that are light but may not be able to withstand or completely absorb the impact. The material of the groin cup will also make a difference to the weight. The ones that have a steel plating or are completely made of metal are going to be much heavier than the ones made of carbon fiber. To date, carbon fiber is one of the lightest materials invested by mankind.
Having heavy sports equipment is very cumbersome and stressful. The weight of the protective gear can decrease your endurance and stamina as you focus more time on keeping yourself upright. When your endurance is affected, you tire out easily and give the opponents an opportunity to win against you. Having your stamina lowered will change your performance as you may find move or attack becoming more difficult. Between the shorts, jockstrap, and athletic cup the combined weight should not be more than one pound.
Expert Interviews & Opinions
Most Important Criteria
(According to our experts opinion)
Experts Opinion
Editors Opinion
Users Opinion
By Default
Other Factors to Consider
Value
Price points can be a large determining factor when purchasing protective gear as some prices can run very high. Often times people are put off from entering a sport or starting an exercise because of how much the equipment costs. Sizes can be a determining factor in pricing as often times brands will price smaller sizes less than higher ones. The brand itself can also make a difference as some of the more trusted brands have developed enough of a following that they are able to raise their prices while retaining their customer base.
In general, compression shorts are the most expensive as they are the newest technology available. They are also made of more material in comparison to the other types of equipment. The least expensive pair are usually in the twenty-five dollar to thirty dollar range. Jockstraps are usually very cost-efficient as they have minimal fabric and are easy to construct. Unfortunately, both the jockstrap and compression shorts may not come with an athletic cup, which will add to the overall price of the equipment.
If you are operating on a budget, it is recommended to spend the most money on your athletic cup. The groin cup is going to be what ultimately protects you from blows to the groin muscles. Depending on the brand, the design will be different. Some will be thicker and more durable, while others may conform to your body for a more comfortable fit. The key is to find a groin cup that will fit into the opening of the jockstrap or compression shorts and will fit comfortably over all your organs. Because of different needs and expectations, some athletic cups are as inexpensive as five dollars while some can run up to eighty dollars.
Frequently Asked Questions
q:

Can I Wash My Athletic Cup?

a:

Hardshell athletic cups can be machine washed as they are made of hard and durable material. For soft gel or silicone cups, it is recommended to wash by hand and air dry it. The simplest way to wash either type is to fill a sink with hot water and use some dish soap.
q:

Can I Just Use An Athletic Cup?

a:

The answer is no. Unfortunately, there needs to be some type of jockstrap or compression shorts used to hold up the cup. There is no way for the guard itself to stay up in place nor will it suction against your body.
q:

Can I Use A Different Groin Cup Than The One That Came With My Compression Shorts?

a:

The answer is yes! There are many compression shorts that come with a generic cup. If you have a brand and type that you prefer, you can swap it out. Prior to purchasing the shorts, make sure the cup pocket has an opening that will allow you to pull out the generic one.
q:

Can I Wear Undergarments Under My Compression Shorts?

a:

Compression shorts usually work as undergarments. However, if you want to you can wear something underneath. It may make the shorts less streamlined and comfortable, but it is possible.
q:

Must I Use An Athletic Cup?

a:

For any sport that deals with hits and blows, it is a required item. But there are some milder sports that would recommend it. Regardless, it is not safe to assume that a sport that has less contact will be considered safe. An unexpected or accidental blow could cause a big injury when you least expect it.
Subscribe to our Newsletter