Best Gym Mats for Training and Practice Reviewed
last updated:
Mar 31, 2020
If it is time for you to get serious about your combat training, it is time to put some serious thought into getting yourself a quality mat. Perfecting your martial art moves requires practicing the same exercise repeatedly, which can definitely take a toll on your muscles and joints. A good quality exercise mat will help keep you safe from injury as well as absorb most of the repeated impact.
How do you know which mat is the perfect choice for your project or goal? There are a few different aspects to take into consideration, depending on what your specific discipline is. Put some thought into the surface material, the density and firmness of the foam, and how convenient the mat is to move. Are you setting up a flooring for a gym that will likely stay put? Or are you looking for something that can travel with you and be used anywhere?
Featured Recommendations
Soozier Leather Folding

Our rating
Easy to Transport
Price:

See Here
IncStores Jumbo Interlocking

Our rating
Custom Size
Price:

See Here
ProSource Tri-fold

Our rating
Easy to Care For
Price:

See Here
Finding the best fitness mat should be a well thought out choice after some careful research and not a purchase which should be made in haste. Not only are you investing in your goal, but you are also investing in your safety and proper care for your most important weapon, your body. Having the right training mat to absorb impact on your joints after hours of practice will be an investment in your body, keeping it strong and healthy for years to come. There are dozens of different training mats on the market to choose from so we have put together a list of some of our favorites.
10 Best Gym Mats
1. Soozier Leather Folding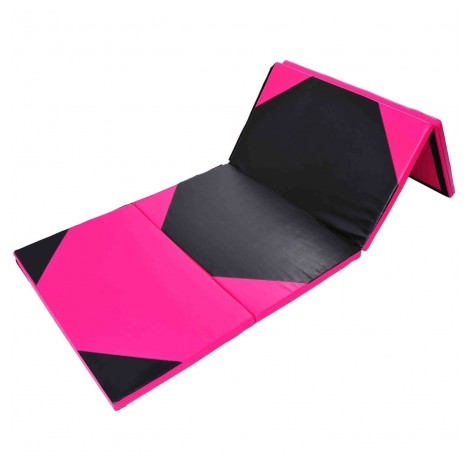 Soozier is part of a family of brands always looking for innovative new products they can offer their customers at competitive prices. This multi-use mat fits that bill and is perfect for martial arts and wrestling practice. It meets the CPSIA safety requirements for lead, formaldehyde, and phthalate. This mat contains two inches of thick, high-density EPE eco-friendly foam. It is also puncture resistant, mildew resistant, and easy to clean.
Expand to see more
Keeping It Portable
This mat folds up with four panels, so it is easy to store in a closet or in the trunk of your car. There are hook and loop strips on all four sides to make it easier to connect mats together. There are also sewn on handles which make the mat easier to carry.

Durable Leather Cover
The Soozier mat comes in a choice of fourteen different bright colors and designs, so you are sure to find one to match the rest of your equipment. These mats are made with durable leather covers that are made to withstand time and use.

Cost and Value
This mat is about the average cost for the ones we have found, but the quality is definitely above average. Soozier has created an effective training tool that is convenient, portable, and easy to clean.
Easy to clean

Meets safety standards

Hook & loop straps attached

Filled with EPE foam
2. IncStores Jumbo Interlocking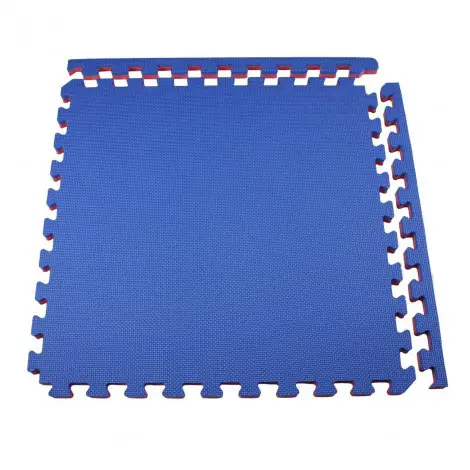 The IncStores, experts in a variety of different types of flooring, offer these interlocking foam tiles. They come in two popular, reversible colors. Each tile comes with two detachable edges so any tile can be used at the side of the floor mat. They are designed specifically for high-impact workouts, perfect for martial arts.
Expand to see more
Made of High-Quality Foam
This mat is made of closed-cell EVA foam which is the high density which makes it very durable and perfect for a good training mat. It is non-recycled, non-toxic, and lightweight.

Convenience On The Road
It is easy to take these tiles apart and carry them in your vehicle. You can set them up in the living room and then put them away at bedtime. If you are going to a competition, you can carry these tiles and set them up in the motel room or a park for a quick workout.

Cost and Value
These tiles are extremely economical in cost for a convenient flexible option in training mats. They are excellent to use in large as well as small spaces. With material that is easy to clean and care for, you are sure to get good use out of them and can take comfort in the fact that they are exceptionally durable.
Come in 2 reversible colors

2 edge pieces per tile

Waterproof

Mold and mildew resistant
3. ProSource Tri-fold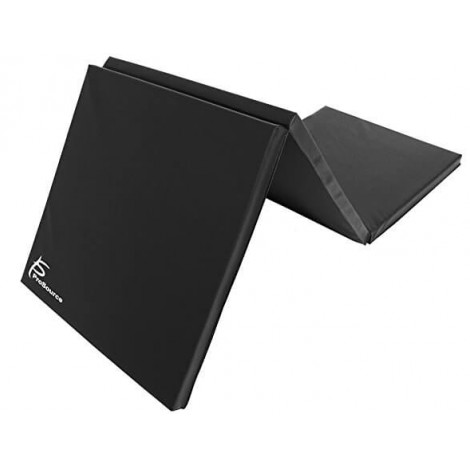 ProSource wants to inspire healthy and active lifestyles with their products. This nice, thick exercise mat is a prime example. This mat folds in three and are easy to carry. It has a cushioned, supportive surface to make your workout more comfortable. The thick foam is covered with a durable vinyl surface that resists tearing and stretching.
Expand to see more
A Comfortable Way to Train Anywhere
This mat folds up and has handles so it is easy to pack up and take anywhere. It fits easily into the trunk and would be a must-have for someone like a mobile personal trainer. It is also a great addition for those that like to train in a variety of spaces whether that be inside or out.

Made With Resilient Foam
ProSource mats are made with resilient EPE foam which keeps its shape during long-term use. This benefit is invaluable to save your knees, wrists, elbows, and back. It also ensures you will be able to use this mat for an extended period of time without worrying about buying a back-up or replacement.

Cost and Value
The cost of this mat is among the most economical, so it is a great value. These mats have a strong vinyl cover with good foam inside. It is simple to care for and fits into most budgets with ease. When looking for a durable, easy to transfer option that won't break the bank this may be the right choice for you.
Two carrying handles

Vinyl easy-to-clean surface

Folds up compact

Six feet long

EPE foam retains shape
4. Best Choice Products Tri-Fold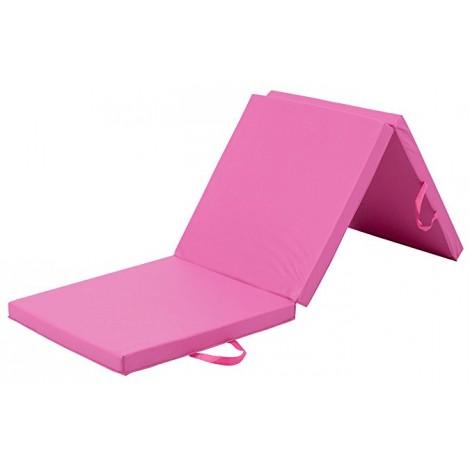 This is a nice, simple mat that will make your workouts convenient to take anywhere. It folds up easily for storage in a closet or truck with carrying handles attached for easy transport. The classic PU leather cover protects two-inch-thick high-density EPE foam. This mat is perfect to provide comfort and support for hard falls.
Expand to see more
PU Leather Cover
The Best Choice is covered with a sturdy, long-lasting PU leather cover which is non-absorbent. That will make it easy to clean with just a damp rag after an intense workout. It is also exceptionally durable which means you will be able to use it for a long time even if your practice causes it to take a heavy beating.

Comes in Three Colors
This mat comes in the standard black to go with any gym motif, so to speak. If you want to add a little color to your workout, it is also available in bright blue or cheerful pink. While many may not care, if you are working in a home gym or like to stand out among the crowd this can be a great feature for you.

Cost and Value
Best Choice Products is dedicated to providing products that are good quality at an economical price. That is exactly what they have accomplished with this mat. If you want something affordable and versatile when it comes to using and looks this is an excellent option. Made of durable materials you won't have to replace it any time soon.
Size is 6 foot by 2 foot

Easy to clean

Folds up compact

Nice, thick cushion

Not too heavy to carry
5. Polar Aurora Martial Arts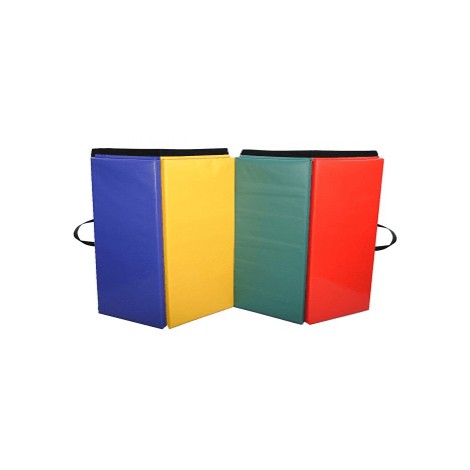 Polar Aurora has created this colorful mat as a comfortable place to do your floor exercises and a wonderful addition to your home gym. The thick foam is covered with a durable PU leather cover, brightly multi-colored on one side and classic blue on the other side. If you want to workout somewhere besides home, it folds up and has handles.
Expand to see more
Sanitary and Durable Cover
This mat is covered in PU leather which is easy to clean after a sweaty workout. It is also puncture resistant, mildew resistant, and is sealed by a zipper. Keep your skin healthy and your mat free from foul odors when you give this gym mat a try.

Flexible Connection Options
The Polar Aurora is a good-sized mat being 4 foot by 8 foot, but sometimes you might want a bigger workout area. If that is the case, this mat has options to connect mats either end-to-end or side-to-side. This added convenience makes it so you can cover as much or as little of your home gym floor as you want. It also means you can travel with a small section just for you or more if you decide you need it.

Cost and Value
This mat is a little more expensive than some of the others on the list, but it is also a bigger size. With the option to add other mats and customize the size we can see why it costs a bit more. In addition, you can use either side and decide what it looks like overall. This adds to the value and are some of the things we love about this option by Polar.
Sturdy PU leather cover

4x8 feet in size

Meets CPSIA requirements

4 panels to fold

Thick, long-lasting foam
6. Everlast 2x6 Folding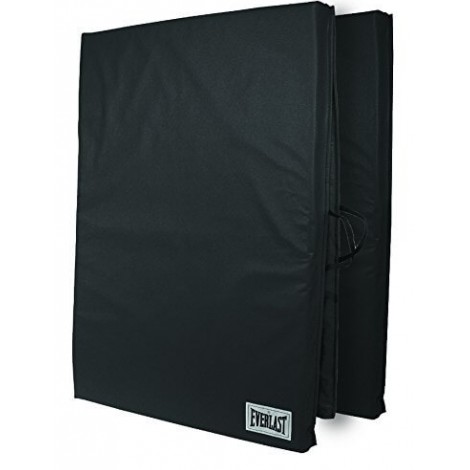 Everlast specializes in
fitness-related equipment
for boxing and martial arts. They know the benefit of fight sports training to improve reflexes, muscle tone, and endurance. This 2-foot by 6-foot mat is a nice for a convenient, practice mat. It comes in black or blue and folds easily. The cover is easy to clean and absorbent, perfect for a good workout.
Expand to see more
Sewn On Handles
The mat folds in half so there are not as many seams, and it is easy to carry to and from your exercise class or even to travel with. Due to the fact that the handles are sewn on you won't have to worry about one of them ripping. this saves you from trying to lug around a mat with broken handles which can be very cumbersome.

Plenty of Padding
The padding on this mat is 1 ⅝ inch thick which is plenty to support your body even doing sit-ups while holding a weight. Your back and hips will be supported off the floor. Overall, this leads to less pain and better workouts.

Cost and Value
This mat is listed at a very economical price for a sturdy, convenient mat designed especially for fight training. Most budgets will be able to afford it without needing to add too much wiggle room.
1 ⅝ inches thick

Made of soft foam

Easily folds in half

Non-absorbent shell

Great for crunches & sit-ups
7. Square36 Large Exercise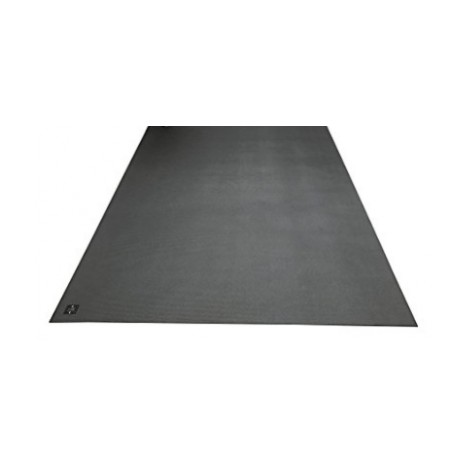 Square36 is the original large exercise mat. It is cushy and perfect for cardio or any workout with or without shoes. It is made from premium non-toxic materials. You can roll it out for use and roll it up easily afterward. The mat is made of premium foam and natural rubber that provides shock absorption, cushion, and noise dampening.
Expand to see more
Storage Straps and Bag
This mat comes with two velcro straps you can roll up and secure it with when, not in use, and then you can slide it into the handy reusable storage bag. This makes it easy when not in use but also makes transporting it a cinch.

Multiple Sizes Available
This is the original large exercise mat which has lots of room for a solid workout. It comes in many sizes for your convenience: 6.5' x 4', 6' x 5', 6' x 6', 6' x 8', and 10' x 6'. Regardless of where you want to exercise or what space you have to work on this mat will meet your needs.

Cost and Value
The price of this mat is on the higher end of the scale, but it is also a much bigger mat than most of the ones on the list. While it may be a bit of an investment for some you have a lot of options when you choose this as your new gym partner.
Use with or without shoes

Ideal for cardio workout

Premium non-toxic materials

Never rips or tears

Protects joints & the floor
8. Pogamat Large Exercise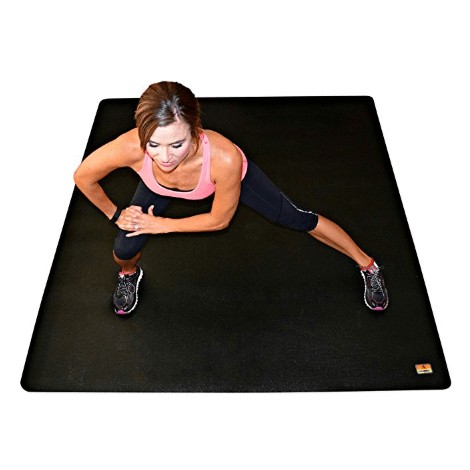 The foam on this mat is two times thicker than the standard fitness mat. It is perfect for your home gym flooring and will reduce the impact on wrists, elbows, hips, and knees. It is made of non-toxic materials and no latex or silicone. The double-sided textures make this mat durable and convenient for your workout.
Expand to see more
Extra Long And Extra Wide
This mat is designed with plenty of room for a good workout, even if you bring a friend. It has enough room for anyone up to seven feet tall. This gives a great allowance for a variety of moves and exercises.

With Or Without Shoes
This mat has a soft texture on top that will grip with shoes on or anyone in their bare feet. On the bottom is a large honeycomb groove anti-slip texture. You will feel secure no matter what you choose to wear.

Cost and Value
This mat is on the higher side of the spectrum but it is also larger than most of the mats on the list and it has double-sided anti-slip protection. The security of knowing that you and your mat are going to stay in place is worth the extra in cost.
7 foot by 4 foot

Thick and dense foam

Non-toxic synthetic materials

Eco-friendly manufacturing

2-sided surface
9. Gorilla Mats Large Exercise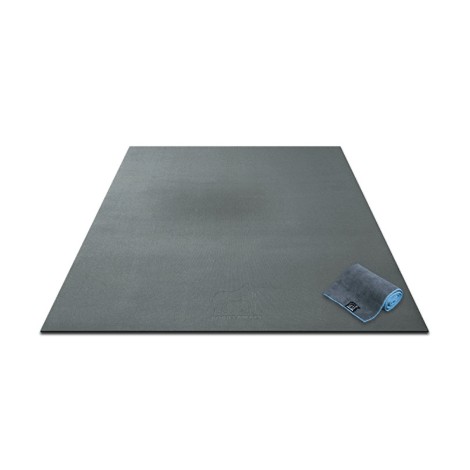 Gorilla Mats is proud of this premium mat. It is a huge 8 foot by 4 foot and is a quarter-inch thick. The surface is ultra-durable and non-slip which can be used with or without shoes. The mat is made of high-density construction and pro-grade materials, designed for firm and comfortable support.
Expand to see more
Two Color Combinations
Each mat comes with a 100% microfiber towel you can use to wipe away extra moisture or give extra padding. You can choose between black with a gray/green towel or blue with a gray/white towel. Both are stylish.

Unroll and Go
These mats are convenient and quick to use. You unstrap it, unroll, and it lays flat on the floor and stays that way. It works great on all floors. You won't have to worry about rolling up corners when using this mat.

Cost and Value
This mat is the most expensive one on the list, but it is also a luxury exercise option. The space is good sized and comes with storage straps and a towel. It is easy to move around and will keep its shape for an extended period of time. Overall it is an exceptional value.
Professional grade materials

Non-slip grip

Double-sided design

Eco-friendly

Non-toxic materials

High density supportive padding
 Surface gets a little slippery
10. SPRI Exercise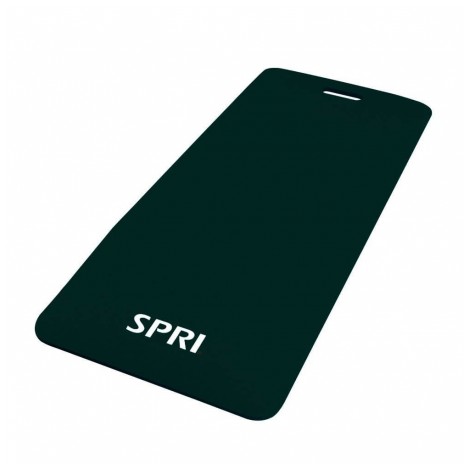 The SPRI mat is designed to be easy to use and easy to clean. It is a thick, poly-foam exercise mat and built to provide good comfort during workouts. It will support your body and protect it from the hard floor underneath. SPRI is considered by many to be one of the most trusted brands in the market.
Expand to see more
Lightweight and Simple
This mat prides itself on being lightweight, easy to roll up, and simple to transport with a simple handle attached. If looking for something that grabs and go this could be a perfect choice.

Rolls Out and Lays Flat
When this mat is rolled out it conveniently lays flat with no assistance. Then when you are done with your workout, it is easy to roll back into a cylinder for storage or you can slide it under the couch flat.

Cost and Value
This is one of the cheapest mats on our list, we chose it because it is good quality and would make the perfect beginner's model. If you hit a yoga class once in a while or just need a mat on occasion this would be a great place to start.
Choice of 3 colors

48" x 20" x ½" dimensions

Poly-foam exercise mat

Very economical cost

Trusted brand
Having a good quality mat is essential when practicing the fighting arts. Not only will the proper mat protect your floor, it will protect your head and joints. Fighting and wrestling can easily take a toll on your body if you do not use a mat that protects it during falls. The American Society of Testing and Materials International determines a standard followed by schools, coaches, and athletic directors for gym mat construction and the foam contained inside.
Shock absorption properties are tested by the ASTMI and are given what is called a G-max score which determines how well the mat will take the impact and spread it, or absorb it. They have come a long way from the original smashed-down piles of horsehair or piles of canvas bags. The technology just gets better and better.
There are a few other important things to keep an eye on like the mat cover that is easy to clean and will not cause abrasions. You want to keep in mind the specific need you have and do a lot of research to find the perfect training mats for you. We hope to have helped with this list of best gym mats.
Criteria for Evaluating the Best Gym Mats
Know Your Mat's Purpose
When you are shopping for the perfect exercise and training mat, the first thing to consider is how you plan to use it. There are many different types of mats, designed for different types of uses.
There are mats that are designed to protect the floor. If you are working with weights, these are the most appropriate mats. When you doing a solid lift and need to drop the weight in order to avoid injury, a mat is important to protect the flooring. These types of mats are going to provide superior shock absorption and distribution.
Other best fitness mats are designed to cushion your body during exercise and provide a non-slip surface. Studies have shown that using the most appropriate mat for a specific exercise will make your workout more efficient and help to avoid injury. The perfect example of this would be a Yoga mat. They are designed to help your hands and feet stick in place for challenging moves while cushioning your body from the floor. This helps muscles and joints continue to feel great even through the longest sessions.
If you are working on submission moves, grappling, or general wrestling work having a wrestling mat that will provide great cushion support and shock absorption is imperative. In addition, you want something that is simple to clean and maintain. This will help decrease odor and bacterial growth. Keep in mind you will also want to wear the right protective gear to make sure you avoid things like cauliflower ear and other common issues.
Foam Padding
The padding in your exercise mat is an important consideration. Not only does the foam protect the floor, but it needs to provide shock absorption and support during your workout. Technology has come a long way since the canvas mats of the old days. We have a few notes to help you with your research.
EPE Foam –
The EPE stands for Expanded Polyethylene. This foam is common in the construction of exercise mats and it is part of many of the mats on our list. It is a semi-rigid, closed-cell which is non-abrasive and perfect for good shock absorption. It is also flexible and water-resistant.
EVA Foam –
EVA stands for ethylene-vinyl acetate. EVA foam is soft and durable and comes in lots of colors and thicknesses. It is easy to work with and is a perfect material for gym mats, especially if your focus is in the martial arts. EVA foam absorbs noise, has a good grip and is easy to clean.
PVC Foam –
PVC foam is used for most yoga mats. The PVC stands for polyvinyl chloride. Some of the mats on our list are made of high-density eco-friendly PVC foam.
Other Miscellaneous Features
There are a few other features that depend on your interest and your lifestyle or maybe just things that are a matter of personal preference. There are so many different designs to choose from you are sure to find the perfect choice.
Mat Covering –
Another feature you will want to take notice of is the covering on your mat. Everyone is going to have their own preference, but there are definitely some things that are good on all mats, regardless of the primary use.

The top cover should be soft for extra comfort and easy to grip

Bottom of cover should be anti-slip so it does not slide on the floor

Should be moisture resistant and non-absorbent so sweat does not accumulate

Should be easy to clean and sanitize after every use

Colors –
Mats come in a variety of colors so you will want to look for one that matches your project and your mood. Of course, the most common colors are black or gray. These are great for a serious floor covering, especially for a full gym. Blue is also commonly used for larger floor mats. If you are looking for a more personal mat for workouts or classes, you may want something more colorful. There are mats with attractive designs, multi-colored mat sections, or you can just pick one of your favorite colors.
Portability and Storage –
This feature is huge when it comes to convenience. You will want to ask yourself a few questions when deciding which mat is right for you.

Will this mat need to be mobile with you?
Are you bringing it to class or traveling with it?
Take a look at how well the design folds down, into how many panels. Is it small enough to carry easily?
Does it have handles to help with carrying?
Will it fit in the trunk of your car?
Other mats roll into a cylinder rather than folding. Is that an easier design for you?
When you unroll it, does it lay flat and stay that way?
Is it easy to roll back up?
Are there straps and/or a storage bag to keep it rolled?
Does it easily fit in a closet or under a bed?
There are quite a few decisions to be made about the best exercise or training mat for you, so there will be some research and shopping to be done. But we hope this information has helped. Overall there are many choices out there that can suit a variety of needs. Taking a bit of time to figure out what all you will be using it for and how often you may need it are great places to start. 
Frequently Asked Questions
Q:  What is the best way to clean the exercise mats?
A: If your mat is just a bit dirty make a solution with a couple of cups of water and a small squirt of dish soap. Wipe off the dirty spots with a sponge, wipe it off with clean water, and then dry it with a towel. If it is heavily dirty, submerge it in warm water with a little soap added. Be careful not to use too much soap because you don't want the residue to make it slippery later. Hand wash the mat and rinse it in clean water. Then roll it up in a towel to get it nice and dry.
Q:  Is it essential to always use your own mat?
A: It depends on what type of workout you are doing, but having your own workout mat is definitely recommended if you are going to a public gym. You can be sure you have one that is perfectly comfortable for you, plus you can make sure your mat is sanitary.
Q:  What is the difference between a puzzle mat, a roll-out mat, and a fold-up mat?
A: This is a great question. Many readers ask the same thing and each type of mat is good for a different type of practice. Each offers a different level of protection and will serve individual users differently.
The puzzle mats are made of high-density foam that locks together easily and is perfect to cover a gym floor. They provide the best protection while practicing Judo, Jiu-Jitsu Aikido and Hapkido.

 

The roll-out mats are lightweight and easy to set up and takedown. They are usually made up of a combination of vinyl and foam. Most martial arts workouts do well on these mats.

 

Fold up mats are not usually designed to cover up a whole floor. They are mostly used as extra padding for some exercises. They are good for temporary use and are perfect for practicing some techniques.
Q:  Is it a bad idea to exercise on the carpet?
A:  It is not necessarily bad from an injury standpoint, but there are reasons why exercising on a carpet is not the best idea. It can be bad if you are doing exercising by kickboxing or yoga because it gives under your weight. You have to be careful with any type of floor exercise or run the risk of getting rug burn. Cleanliness might also be an issue. Laying on a carpet you never know if you will come in contact with dirt, sweat, old food, or some sort of allergens. Lastly, exercising on the carpet may wear it down quicker and carpet can get spendy. An economical exercise mat might be a much better idea. Also using disinfectant sprays for gym equipment.
Sources
Subscribe to our Newsletter