Best Hand Strengtheners Reviewed
last updated:
Dec 03, 2019
The strength of the grip is often overlooked, and many fail to recognize the importance of a firm and strong grip. If you're into any kind of sport that requires the use of your hands, more importantly, that requires a strong grip, then you are the one who will benefit from working on the strength of their grip!
Lucky for us, there are many ways one can train the grip of their hands, with the use of hand grips! Hand grips come in many shapes and sizes and are designed for your specific needs. We've all probably seen the ones shaped like eggs and like thick rubber hoops, but the world of hand grips has much more to offer! Read on and discover just what type of hand grip you need to maximize your strength.
In a Hurry? The test winner after 6 hrs of research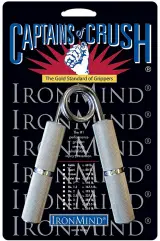 IronMind Captains of Crush
Why is it better?
11 Levels Of Strength
Aircraft-grade Aluminum Handles
GR8 Springs
Quality Appearance
Precision Manufacturing
In a
Hurry? Editors choice: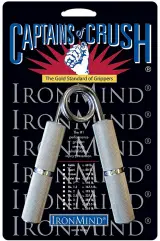 Test Winner: IronMind Captains of Crush
13
Researched Sources
6260
Reviews Considered
6
Hours Researching
10
Products Evaluated
Use
Effectiveness
Comfort
Materials
Features
By Default
Criteria Used for Evaluation
Use
If you've never seen such a product before, or you have one but are not sure how to use it and what it's good for, then read on to find out. First things first, let's talk about your grip. Has a dumbbell ever slipped out of your hands, even though you're strong enough to hold it? If you experienced something like this, you're not alone. Truth be told, not a lot of people think about the strength of their grip before they fail to perform a lift, or open a stubborn jar of pickles. Women are usually the ones who suffer from a weak grip, but it's not uncommon to see men lifting weight twice their size, but failing to hold onto something that is really not that heavy.
Of course, if you are someone who lifts and fights on a regular basis, or you have a job which requires you to use the strength of your grip, like carrying heavy boxes, your grip should then be already quite good. But, your job and strength training can only strengthen your grip up to one point, and further strengthening of your grip requires specific exercises. If you are not one who is interested in lifting heavy weights or opening pickle jars, developing your grip strength may not seem like a priority. However, if you still aspire to lift complex weight, or you want to do more pull-ups, you need to strengthen your grip. Heavy and complex movements will make weak parts of your body visible almost instantly, and for a lot of sports enthusiasts, that part tends to be their fists.
When we say grip strength, we just mean your ability to hold onto something or to move it. Nevertheless, a strong grip can make everyday tasks and gym tasks much easier. The main reason why the grip tends to be weak is that the muscles in your hands and forearms do not develop like the rest of your body does. The thumb seems to be the weakest link, since many everyday jobs, like working in an office, only requires you to use four of your fingers, and you neglect the thumb. If you don't know whether you have good grip strength, there is one simple thing you can do to test it. Take a pull-up bar and grip it tightly, with your palms facing away from the rest of you. Then relax and hang down from the bar, with your shoulders relaxed and your feet off the ground. If you can hold on for 30 seconds or more, you're in the green, but if you slip off before that mark, you're in for some grip exercises, and we will now explain how some of them work.
No matter what type of hand gripper you have, the premise of the exercise is pretty much the same. Place the handle, or one side of the grip, against your palm to prepare for the session. Then, wrap your fingers around the other side, or the other handle, and squeeze the handles or sides as close as you possibly can. Hold this position for 5 seconds, then slowly and gently release your grip. You can start out with two sets of 10 squeezes for each of your hands, and build up your power over a few weeks until you can manage to do four sets. You can also try a reverse grip exercise, which is done with both of your hands. One hand acts as a helper, while the other does most of the job. Grip your gripper between the palm and fingers, but put the handle as close to the tips of your fingers as possible. Now, close your hand with the help of your other helping hand. Now pull the helping hand away, and again slowly loosen the grip. You start with two sets again, but instead of 10, you will do five reps each. If you have a hand gripper that has little buttons on it, then you need to approach it in a slightly different way. As you may have already anticipated, you need to put the handle of the gripper on your palm while you place your tips on the springs or buttons. Curl the fingers towards your palm, and again slowly release. If you want to take this exercise a step further, you can perform it using only one finger at a time. And that's it, now you know how to use your hand gripper!
Effectiveness
Although it might not seem that way, hand grip exercises do have plenty of benefits, and the exercises, if done correctly, are quite effective. As we already said, hand grips allow you to build muscle in your forearms, your hands and around your wrists. But first things first, hand grip exercises are quite effective in building your forearm muscles. The muscles located in your forearms flex and relax when you clench your fists, and by using grippers you can work on those muscles. Regular hand grippers may not work for forearms though, so your best bet is to use the ones that have buttons, or springs. With these grippers, you can work on each finger individually, in order to make your muscles grow more.
One more thing that improves when you use these handy tools is your hand endurance. This endurance increases automatically because by using grippers you increase the amount of force that your fingers can apply. The amount of time you can hold this strong grip for also increases. As you build more and more hand strength, you will notice that you will be able to apply more and more pressure for longer periods of time. One practical use for this increased hand endurance is when you carry a heavy suitcase for an example. Once you increase the endurance, you will notice you no longer need to switch up your hands that fast when you carry your belongings. It will also be much easier to perform pull-ups or any other exercise that requires a strong grip.
Your hand strength will also improve. This just means that the power of your fingers and wrists increases. This supreme power will help you out in many areas, like the gym, where you will be able to hold heavier weights for longer a period of time, or climbing, where you need to lift your whole body weight while using just the strength of your hands.
And last but not least, your dexterity will improve. This is why many musicians tend to use hand grippers, using them to build up enough strength and mobility in each of their fingers, so they can apply enough pressure on their instruments. You may not see any immediate benefit from improved dexterity since you don't have that much of a use for it in the ring or in the gym, but this will surely help you out in your regular, everyday life!
Comfort
One of the things we should also mention is the comfort of the grippers. The skin on the palm of your hands is quite delicate and thin, and if you apply enough pressure on it, it can crack and tear, resulting in wounds and infections which can hinder your progress. By buying a padded gripper, or one that has materials that are friendly towards your skin, you will be saving your skin from unnecessary harm and you will be able to progress faster.
One of the first things any hand grip manufacturer does is creating grippers that have an ergonomic shape. Ergonomic shapes are ones which can adjust to the shape of your body, in this case, your fingers and hands. This is presented with curves and grooves which are ideal to suit your hand, and no bumps or ridges present to dig into your tissues and cause pain and troubles. A grip that does not let your hands and fingers sit naturally can cause many issues, ranging from mild pain to tendonitis and carpal tunnel syndrome, so it's important that you have something that fits in the palm of your hands nicely. The grip on the handles also must be secure and non-slip. When your fingers start to slip from the gripper, or when it starts to slide out of your hands, it's likely that you won't be able to perform the exercise correctly. You can also aid the development of blisters and calluses, which take time to heal and can be very painful and distracting. When it comes to grippers that have springs, the top of the buttons has an ergonomic shape or pads, which save your fingertips from pain and irritation. If you purchase a gripper that is comfortable and lets your hand sit naturally, you will notice how easier it is to actually train your hands!
Materials
The materials your hand gripper is made out of can also play a role here. It can affect comfort, durability, flexibility and many other things which can impact your session. So buying a hand grip that is made out of quality stuff can really do wonders for your exercises.
One of the most dominant materials for the creation of hand grips is rubber. Rubber is a naturally occurring material that is collected from trees. It still needs to be refined in order to show it's true colors, so it's semi-synthetic. Rubber is very flexible and is resistant to tearing, cracks and abrasion. But the thing we should really talk about is its elasticity. This is the property that has the most effect on your workout because it's the one that builds resistance when you squeeze. The denser the rubber is, the more resistance you will get, which is why some circular rubber grips are color-coded, so you know how hardy and dense the rubber is. Rubber is also placed on the handles of other types of grippers, to ensure your hands have a proper grip on your gripper.
Metal is also quite common for the creation of hand grips. Aluminum and steel are the top choices and can be seen on both the handles and the coils that create resistance. These coils are quite sturdy and can be tightened to make more resistance. This tightening possibility makes it simple for you to adjust the difficulty of your exercises, without damaging the tool in the process. Just choose quality metals, and you'll be set for times to come!
Features
A lot of the hand grips are not just simple grips. Instead, they have many features that can help you have a better session, and that can help you progress faster. Different features set different grips one from another, and the more helpful features they have, the better they are.
One of the most important features of hand grips is the possibility to adjust the resistance. With this, you can create steady progress for your session, increasing the resistance when the exercises start becoming easier. Many grippers feature simple knobs which you can twist in either direction to tighten the coils, which in turn increases the amount of pressure you need to create in order to press on the grip. The rubber handgrips are color-coded, most of the times. Different color means more or less resistance, green usually being the easiest one and black the hardest one to squeeze. Even the grippers that feature buttons can be color-coded, and as you progress you can simply buy more colors to keep your muscles on edge. Many of the grippers have metallic handles, and those handles will probably be subjected to sweat. Sweat is mostly consisted out of the water, but it is quite salty, and the combination of these two can corrode metal quite fast, rendering the grip useless, or at least not favorable. So, many manufacturers rust-proofed their hand grippers, meaning you don't have to worry about them giving up before time!
Expert Interviews & Opinions
Most Important Criteria
(According to our experts opinion)
Experts Opinion
Editors Opinion
Users Opinion
By Default
Stress Release
If you don't own a hand grip but are prone to stress and anxiety, chances are you have some form of a stress ball. These stress balls help you relax and calm down, by redirecting your energy onto something else. But this is not the only thing stress balls can help you with! Although their silly shapes and popping parts make them seem unreliable, they will still work on those forearm muscles and finger strength. Just by squeezing the ball you work on your hands, and subsequently, improve your endurance and grip. These balls can be very soft, medium or firm, and you can progress just by using them. If you still don't feel like investing in a handgrip, but your stress ball is simply not cutting it anymore, you can take a tennis ball and practice on that! You can also squeeze the ball with every individual finger, and you can rotate your wrist while you squeeze it, engaging your muscles even more.
From Friend to Fighter
You might think only athletes and fighters need a strong grip, but this isn't true! While a strong grip is essential for athletic pursuits, it can also be an indicator of health for the average person. Some studies have found that those who have a stronger grip actually have a lower chance of heart attack and stroke.
Other Factors to Consider
Side Effects
Performing hand grip exercises is simple, but you can still do it the wrong way, and if you do, you can end up with some troubling side effects. One of the first things you may experience is soreness. But this soreness won't be related to your muscles; instead, the pain won't subside and it will remain, nagging and reminding you that it exists. This pain usually means that you have overworked your tendons. If you're lucky, the pain may go away on its own, but you must take a break with the exercises in order not to aggravate your tendons even more. But if the pain doesn't go away, you likely have tendonitis, which is a painful inflammation of your tendons. Resting for a while will help it go away, but it if doesn't you might need the help of a doctor. You can also get carpal tunnel syndrome, which is a bit more serious and sometimes requires surgery in order to be fixed. Perform the exercises the right way in order to avoid this, and if you ever feel unusual pain stop before you do actual damage!
Durability
If you are diligent, you will probably use your hand grippers everyday, to allow your hands a steady progress. But this constant use can wear down any item quickly, especially one that will be subjected to repeated motions and constant stress. So one may wonder, how long will my hand grips actually last? Truth be told, we can't really be sure. The creators of the grips always make sure to use premium materials, reinforced to last very long. The metals are strong, the rubber is tough and the plastic, if it's present, is made to last much longer than it usually does. But all of this can't really protect the grips for a long time, especially if you'll be using it more than once a day. Grippers are still sturdy though, so you can expect to use one for at least half a year, or even more. But then again, if you've bought a grip that has only one weight or resistance setting, chances are you'll need to replace it much sooner, so durability shouldn't worry you that much!
Portability
Something we all noticed about hand grips is that they are quite small. Their small size allows you to take them with you wherever you want to, all you have to do is slide one in your bag and you're good to go! Although some of them may be a little bit robust, they still won't be that big, and you will easily transport them to wherever you like. This is especially true for the grips shaped like little balls and rings. You can even take them to your office job and work on your hands there, all the while relieving some stress and anxiety. All in all, hand grippers are the most portable pieces of gym equipment one can possibly have!
Bottom Line
Although focusing on your forearm and hand strength might not be a priority, we still suggest you give hand grips a go. You will experience a lot of benefits, and your daily life can improve s well, since you will have a better grip and more dexterity. Investing in a good hand grip can bring nothing but good things to your life (if you use it the right way)! We hope our guide has helped you select one that is fit for your needs, and that you will enjoy having your hands around it.
Frequently Asked Questions
q:

Can I use a hand grip if I have arthritis?

a:

Arthritis is a painful condition affecting the joints, either making them stiff, swollen or painful. It might seem contradictory using a hand grip when you suffer from such a disease, but if you work up your way slowly, you will start seeing benefits. You must improve, or maintain your dexterity and range of motion by exercising, and you can easily do that with hand grips. Of course, as soon as you start feeling more pain than you're comfortable with you should stop, but once you get through the initial soreness you will start feeling more and more benefits from exercising this way!
q:

How often should I train?

a:

Just like with any other muscle in your body, you don't want to overwork your hands or forearms either. By doing so, you don't let your muscles rest, and you can create more damage than good, and all of that hinders your progress. If you want to reap the most benefits out of your hand grips, you should use the grips three to four times a week, with a day or two of rest in between to help your muscles repair themselves. You should always warm-up beforehand, and if you notice you're not doing the exercise correctly, stop doing it and rest.
q:

When should I move from one level to another?

a:

Once you start to realize you are not struggling so much when you do your routine, and that you can do more and more reps with ease, that is your signal that it's time to start changing things up. But just like with any other exercise, you must be cautious and if you feel more pain or soreness than usual, stop and lower the number of reps you're doing, and you'll see results, without a doubt!
q:

What do I do if I get stuck on one level?

a:

Hitting a plateau can be very discouraging, and can make it less and less enjoyable to work out. If you find yourself stuck, the most important thing is to never stop. You can add a new twist to your routine, change the workout schedule, add one more day, or work on your grip with a different tool. Keep at it, and you'll see progress in no time.
q:

Do grippers get weaker with time?

a:

Some people say that after a while, hand grips become "seasoned", or in other words, it's much easier to use them now than it was before. This can happen because of two things - one, your grip got stronger and it's time to move on to a heavier grip, or the coil in the grip is bent, which is not uncommon for poor-quality grippers. If you start to notice it's much easier for you to use your gripper, adjust it to a more resistant state, and if that doesn't work, buy a new, stronger one, and we're sure you'll feel the difference!
Subscribe to our Newsletter