Best Hand Wraps & Tapes Reviewed & Rated
last updated:
Feb 18, 2020
Hand wraps have become an iconic part of martial arts, much like color-coded rank belts, karate gis, or specialized drill dummies. Movies and video games have boosted awareness of hand wrapping for years now and the trend does not seem to be fading. This widespread awareness of the practice does not always translate into an awareness of what purpose the wraps serve, however. Many people think hand wraps are meant to cushion the hands and act as thin protective covers in the same way boxing gloves act as protective covers.
The best hand wraps are also durable enough to help protect against skin damage if used properly. Everything on our list is sold in pairs and many of them are available in a range of sizes and prices to accommodate anyone searching for the best options available.
In a Hurry? The test winner after 4 hrs of research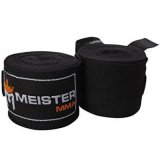 Meister Semi-Elastic
Why is it better?
Sold as a Pair

Hook and Loop Closure

Cotton and Spandex Blend
In a
Hurry? Editors choice: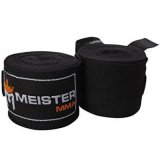 Test Winner: Meister Semi-Elastic
Durability
Adjustability
Materials
By Default
10 Best Hand Wraps
Sold as a Pair

Hook and Loop Closure

Cotton and Spandex Blend
The best hand wraps come from Meister MMA, a company built around the sale of quality martial arts gear. They offer just about everything a martial artist may need from hand wraps and hand wrap winders to gear deodorizers and protective cups. Meister MMA's hand wraps are semi-elastic and can be purchased in an array of patterns and colors, giving them a nice personal touch that many hand wrap sellers lack.
Read more
Hook and Loop Closure
Hook and loop closure is the generic term for the closure system that is most often sold by the Velcro company. With stiff hooks on one end of the wrap and a soft section of loops for them to attach to, hook and loop closure systems allow for an extremely personalized fit for every user, every time. They are also easy to adjust, as hook and loop kits can usually be purchased at any craft store and sewn into the most convenient locations on the wrap.
Spandex and Cotton Blend
Stretchy hand wraps have become more popular in recent years and are sometimes referred to as "Mexican Style wraps" because of their popularity with Mexican boxers and wrestlers. Hand wraps with elastic in them allows for a little more variety in their fit as they can either be stretch taut or left a little slack to allow the wrist more room depending on what the user wants.
Cost and Value
These hand wraps are not only highly-rated but are highly affordable as well. Each pair sells for around $7 which means that fans of the brand can buy several pairs and rotate through them as they become dirty or damaged. This affordable cost also means that they are less painful to replace when the elastic wears out, as all elastic eventually does. Meister MMA's hand wraps are on the thin side, but they seem strong and that is most important for a product that is intended to reinforce, not cushion.
2

. Pro Impact Mexican Style
Machine Washable

Sold As a Pair

Very Durable
Pro Impact ranks second on our list with their boxing-centric hand wraps. This is a company that is all about boxing. They provide punching bags, gloves, and training gear in just about every size, color, and style a boxer could want. Their hand wraps are machine washable and incredibly durable, making them ideal for anyone who plans on clocking plenty of time with their hand wraps on.
Read more
Machine Washable
Smelly gym gear is the ultimate metaphor for anything that smells so bad it could clear out a room. Anyone who spends a lot of time in a gym will tell you that the metaphor isn't very far off from the truth, either. Hand wraps are especially at risk for gaining an unpleasant odor because they are not only in contact with the user's hands but with anything the user touches. Some branches of martial arts, such as boxing, add an extra level of odor risk because users will often wrap their wrists and then put on their gloves, leading to further sweating. Machine washable bands are the easiest way to avoid this as they give users the option of just throwing the bands in with the rest of the laundry.
Durable
It stands to reason that sports supplies will be durable and martial arts supplies even more so. Pro Impact has built its business on its boxing products and the durability of its products is a testament to the dedication they show their products and their customers. Their hand wraps are no different. They are made to last despite being thin and flexible enough to give coverage and protection to a range of users.
Cost and Value
This set of hand wraps is a little more expensive than the Meister MMA wraps but there are a few key points to these wraps that might entice buyers to spend the extra money for Pro Impact. Pro Impact is a better-known brand and it focused solely on boxing which might make boxers a little more keen to trust the brand. The bands are also machine washable which has become more and more important in recent years as people struggle to find time for their martial arts practice. The company does not have the best customer service record, however, and that might give buys a little pause.
Breathable and Fast Drying

Polyester, Cotton, and Elastic Blend

Thumb Loop and Velcro Closure
Sanabul is a little unique among the companies on this list in that they focus on two specific branches of martial arts. Their products are intended for MMA and Jiu-Jitsu practitioners, but that does not mean that they can't be applied to other branches of martial arts. This is especially true of their hand wraps. Made of a cotton blend, they are very breathable and fast-drying to prevent chafing and discomfort during use. And with the most affordable price tag on our list, they're a great value.
Read more
Breathable and Fast-Drying
Most people don't like to talk about it, but exercise and martial arts make you sweat, your hands included. This can become incredibly uncomfortable, particularly if you have hand wraps on that cause your hands to sweat more and prevent them from drying. Sanabul's hand wraps tackle this problem on two fronts and they do it well. The wraps are breathable to help keep your palms cool and they are fast-drying which means the fabric can wick away more moisture than other wraps.
Cotton Blend
Sanabuls' hand wraps are cotton, polyester, and elastic blend. This combination combines the best traits of all three materials for a tight-fitting wrap that is more comfortable to wear than many other styles. The cotton gives the wrap durability and strength while the polyester adds in another layer of durability and a little bit of softness. Elastic allows the bands to stretch in ways that cotton and polyester alone cannot. The result is a hand wrap that will give you the right fit every time.
Cost and Value
These hands wraps are the Best Value choice on our list which is no easy feat. Each pair costs about $6.50 but that doesn't mean they feel like cheap material. Sanabul's cotton, polyester, and elastic blend offer a uniquely snug fit while the fast-drying and breathable material will keep palms cool and the user's focus on their practice, not their hands.
Glove Style

Carbon Fiber Blend

Reinforced Stitching Around Fingers
RDX is a company dedicated to fitness for the whole family. Most of their products could be applied to any branch of martial arts and can even find utility in a standard gym setting. Most of the products have received high ratings and a quick look at their hand wrap makes it clear that quality is part of this company's mission. Their hand wrap features a unique glove design, reinforced stitching around the fingers, and carbon fiber woven into the fabric for a combination not seen anywhere else on this list.
Read more
Carbon Fiber Blend Fabric
RDX is the one and only company on our list to offer hand wraps that feature a carbon fiber blend. This material is incredibly strong and has become increasingly popular over the last decade or so. It is most often found in car parts, body armor, and other safety items but it is rarely interwoven with fabrics for items like hand wraps. A cotton and carbon fiber blend is sure to give an added layer of protection to the fragile bones of the hands and wrists when they are properly wrapped.
Reinforced Stitching
These hand wraps are unique on our list in that they are not just hand wraps. RDX designed their hand wraps as part of a glove-and-wrap combination. Such a combination would usually mean more area at risk for wear and tear, but RDX confronted this issue head-on by reinforcing the stitching around the fingers and wrist hem of the glove. Reinforced stitching usually means a longer lifespan for the product, giving a little more credence to the price point for this product.
Cost and Value
The value of these hand wraps depends largely on whether a buyer wants a built-in glove or not. RDX's glove-and-wrap combination will not cushion a user's hand any more than a standard wrap will, but some users might look favorably on a wrap that can go between their fingers without the extra work of using a standard hand wrap. This unique style comes with a uniquely high price point as well but if someone is in the market for a starter wrap or a wrap they can apply more quickly, this still might be their ideal product.
Wide Range of Colors Available

Hook and Loop Closure

Cotton and Elastic Blend
If you're an athletic person, there is very little you might need that Venum does not provide. Their products cover just about every mainstream fighting style from MMA to karate. They offer products for men, women, and children so that everyone in the family can get it on the fitness. From training gear to "athleisure wear", they have the bases covered in style. Style is not the only trait they bring to the table, however. Their products consistently receive high ratings and their hand wraps easily found a place on this list.
Read more
Cotton Blend Material
Venum's hand wraps are made of a durable cotton blended with elastic. This combination allows the fabric to retain much of the breathability and longevity of cotton while adding additional stretch that is not a natural trait of the material. Cotton and elastic blends are generally favored among boxers because it allows the wearer to pull the hand wrap tight, cinching it against the skin and providing strong support for the small and easily-broken bones of the hands and wrists.
Hook and Loop Closure System
Hook and loop closure is, by far, the most popular closure style among hand wraps. Traditional hand wraps were often ties on, but with hook and loop closure there is less guesswork involved and less risk of the hand wraps coming undone. Hook and loop closures are also easy to care for, easy to move, and easy to mend should the need arise.
Cost and Value
Venum's wraps are available in a range of prices from $7 to $20. The price seems to vary based on the seller so it is important to make sure you are buying your wraps directly from Venum or a trusted reseller in order to get the best results. These wraps are very affordable and a good value at the low end of their price range. If you find yourself veering into the higher price ranges, however, it would be best to purchase a comparable wrap at a more reasonable price.
Hook and Loop Closure

100% Cotton

Wide Range of Styles Available
Fairtex is not a well-known company but that does not seem to have slowed them down. They offer a wide range of martial arts gear, most of it intended for practitioners of Muay-Thai and MMA, though their products are well made and would work well for practitioners of just about any other martial arts style. Their products are well-made and have consistently high ratings. The only downside seems to be the price tag that comes with that kind of quality.
Read more
100% Cotton
Most of the hand wraps on this list are cotton blended with elastic and, in a few cases, polyester. Many users like the tension that elastic lends to a cotton blend. For those who want the taut nature of pure cotton, however, there is Fairtex. 100% cotton hand wraps are breathable, easy to wash, and more easily mended than blends should a tear or rip occur. They may cost a little more, but the ability to mend the fabric and the lack of elasticity breakdown give them a longer life than most blended fabrics.
Available in a Wide Range of Styles
The color or design of a hand wrap might seem like a frivolous concern to some people, but to others, this is a major sticking point and Fairtex has that covered. These hand wraps are available in a range of colors and several prints, giving buyers the option of customizing their look and making sure their hand wraps stand out. This would be particularly helpful for people who might share a house - but not equipment - with other martial artists or who need to match their hand wraps to the color of the uniform.
Cost and Value
Fairtex's hand wraps do not come cheap. Their wraps are actually the most expensive wraps on our list, but there are several key factors that might make the investment worth it. Fairtex's wraps are 100% cotton which would be ideal for anyone who may have contact allergies to elastic or polyester. Such allergies are rare, but they do exist. Fairtex's range of color and print options may also entice buyers to spend the extra money, particularly when those styles are coupled with the longer life expectancy of a 100% cotton hand wrap.
Hook and Loop Closure

Quality Brand

Designed with a Thumb Loop
Pink Wraps Seem Easily Worn Out
Title Boxing is probably one of the most common companies on this site. Their dedication to quality boxing products shows in their consistently high ratings and their focused product line. Their hand wraps are just one more example of this dedication. Affordable and designed for both effectiveness and ease of use, Title Boxing's hand wraps easily found a place on our list.
Read more
Quality Brand
Title Boxing is a company with a reputation for quality and affordability, their products never sacrificing one for the other. Purchasing a Title Boxing product almost always means purchasing a product that you can rely on time and again to help you reach your martial arts training goals.
Hook and Loop Closure
Hook and loop closure systems have become extremely common since they were first introduced in the 1940s. Hand wraps are ideal for this type of closure system because it allows the user to find the perfect fit every time. Hook and loop closure systems can also be easily moved or repaired should they become damaged. This gives a little bit of added life to the product, adding to its value.
Cost and Value
At $7 Title Boxing's hand wraps are among the more affordable on this list. The company's reputation builds an excellent foundation for the value of these wraps and the construction of the wraps themselves only builds from there. A hook and loop closure system means that the wrap will end with the perfect fit every time while a built-in thumb loop gives practitioners an easy and consistent place to start their wrap time after time.
The biggest downfall of these wraps seems to be specifically with the pink wraps. Multiple reviews state that the pink wraps wear out faster than the other colors, though nobody is quite sure why this is. Buyers looking for something pretty in pink might want to check out one of the other listed brands, but buyers who are willing to go with black or yellow will enjoy these hand wraps.
Machine Washable

Ultra-Soft for Comfort

Fast Drying
Elite Sports might not be a household name in martial arts equipment but it should be. Everything they sell is either martial arts equipment or training equipment. They don't limit themselves to one branch of martial arts and instead choose to offer quality products for multiple branches that include Muay Thai, MMA, Brazilian Jiu-Jitsu, and boxing. Their hand wraps are not the cheapest on our list but they do have a wonderful combination of features that would dry just about any buyer's eye.
Read more
Machine Washable
Most people these days simply do not have time to hand wash things. There are notable exceptions, of course, but athletic equipment rarely makes the cut. Elite Sports takes care of this issue with its machine washable hand wraps. The hook and loop closures on these bands might snap other clothes in the wash, but if those are properly secured these wraps can just be thrown in with the rest of the gym gear and run through a normal wash cycle.
Ultra-Soft and Fast Drying
Hand wraps serve a dual purpose. They are supposed to reinforce the small bones of the hands and wrists, but they are also supposed to give some marginal protection to the wearer's skin as well. Elite Sports obviously took this second duty seriously and made their hand wraps ultra-soft and fast-drying. This combination of features makes sure that the skin is not chafed by the material and does not develop issues from long hours of sweating against the wraps.
Cost and Value
Elite Sports prices their hand wraps around $10 and the price seems well worth it. The company is known for its quality products so this is most certainly a case of getting what you pay for. Ultra-soft hand wraps are uncommon which adds to the value of these wraps, particularly when Elite Sports made them both ultra-soft and fast-drying.
Lightweight and Durable

Available in a Range of Sizes

Designed with Thumb Loops
Kakao sports is a bit of an unknown in terms of a company's reputation. They have only one item for sale on Amazon and it is their hand wraps. That one product seems to be fairly popular, however. They are durable and lightweight, designed with features that make them easy to use, and the biggest complaint most people had about them is that the hand wraps are attached to one another during shipping and appear to only be one wrap when the package is opened.
Read more
Lightweight and Durable
Durability is widely understood to be vitally important when deciding between brands of martial arts equipment. Sports equipment, in general, sees a lot of use and wear during its lifetime and martial arts equipment is even more prone to wear and damage. But there is a flipside to the durability that must also be considered and that is whether or not the product is lightweight. Durable products tend to be heavy or, in the case of hand wraps, thick. This is because more dense items usually take longer to wear through or break. But thick hand wraps can also cause the user to sweat more or chafe against the skin and do damage instead of protecting the user's wrists and hands. Kakao's hand wraps are both lightweight and durable, blending the best that hand wraps can offer.
Available in a Range of Sizes
Many of the hand wraps on this list one come in one size and that is 180 inches. Kakao takes its product one step further and offers a second size of 108 inches which they bill as an ideal length for faster and more lightweight wrapping styles. There is also occasionally a 120-inch length, but it seems sold out more often than not.
Cost and Value
Kakao sells their hand wraps for $9-$10. These prices are right in the middle of this list's price range and they generally seem worth the cost. A few factors about this product bumped it down the list, however, and those same factors may affect their value for some buyers. These factors include a relatively low number of reviews, the lack of additional information on the company, and the relatively high price point in comparison to other similar hand wraps.
The variety of sizes and colors available might be enough to counter these shortcomings, however, particularly for buyers who have smaller wrists or want a less dense wrap.
Available in Cotton-Only

Designed with Thumb Loop

Hook and Loop Closure
Some companies approach martial arts as art forms and emphasize that aspect of the practices. Revgear is among other kinds of company, one that appreciates the martial parts of martial arts. Their products are predominantly safety and training gear for those who intend to use their martial arts for self-defense and this is reflected in not only some of the products but the design of their products as well.
Read more
Two Material Types Available
Revgear's hand wraps are unique in that they are available as both a cotton blend or 100% cotton. Every other wrap on this is available in one form or the other, but this material option gives buyers the opportunity to try both materials and determine which they prefer without the worry that differences from one company to another make a bigger difference than the difference in material types.
Thumb Loop Design
Thumb loops are common among the hand wraps on this list but that does not make them any less useful or important. Experienced hand wrappers might prefer to use a wrap without a designated spot for their thumb, but practitioners across the experience spectrum will find the thumb loops easier when starting out their wraps. Most loops are also reinforced and easily repaired should a tear occur.
Cost and Value
Revgear's hand wraps are available for around $10, placing them in the center of this list's price spectrum. Some might feel that the added cost will mean additional quality but their average review is much the same as reviews for similar but more affordable wraps. Unless you are a fan of Revgear or are really looking for hand wraps that can be bought as 100% or a cotton blend, you will get a better value out of one of the other wrap sets on this list.
Criteria Used for Evaluation
Durability
Every band on this list has been labeled durable by people who have reviewed the product, though some are more durable than others. Durability is one of the most important factors that
Care Requirements
The care routine necessary to maintain usable and odor-free hand wraps vary from wrap to wrap and are based on the material, the construction of the wrap, and the frequency with which it is used. Some of the wraps on our list are machine washable while others will need to be hand-washed which can be done in any sink large enough to soak and scrub the wraps in.
Style
Hook and Loop Closure
"Hook and Loop" is the term for a type of closure system made most famous by the Velcro company. Velcro, however, is a brand name and the company is very particular about having it applied to products that may use the same style of closure but from a different company. Because of this, companies that use this closure system prefer the term "hook and loop".
Such closure systems allow for a more customized fit and are easily mended if they become damaged or if they are in the wrong place. They also stay in place just as well as tied hand wraps and, in some cases, better.
Length of Band
Most hands wrap bands are measured in inches with the most common length being 180 inches (15 feet). This might seem like an excessive length for a product designed to wrap around the hand and wrist but many hand wrapping styles require layers of wrapping and some may even require more than 180 inches in total.
Thumb Loop
Thumb loops are common features on hand wraps. These loops are found at one end of the wrap and provide an easy place to start any hand wrapping style. They are also often reinforced to avoid taring and are easily repaired if rips do occur.
Materials
100 % Cotton
Cotton is one of the most breathable fabric materials known to man so it stands to reason that it would be a common material for sports equipment. This is particularly helpful when the equipment is intended for the hands as it allows the palms to dry which helps to avoid chafing. Most pure cotton blends also tend to be soft or to soften after a few rounds of washing, which means that they will do less damage to the wearer's skin when rubbing across the knuckles during practice.
Cotton has a very limited amount of natural stretch to it. Whether or not this is a good thing depends on the individual martial artist. Some practitioners like the limited stretch of cotton because they feel it gives them more wrist support when wearing the wraps. Others dislike the last of elasticity because they cannot pull the fabric as taut and therefore cannot get the kind of tension on it that cotton and elastic blends provide.
Cotton and Elastic Blend
The most common material for hand wraps is cotton and elastic band, though the form and quantity of elastic vary from company to company. Elastic allows the fabric to stretch more than cotton is naturally able to do. Fans of this blend like the added tension that they can apply to the material, though it is important to note that stretch any kind of elastic as far as it will go will result in the elastic wearing out faster and the blend is not as easy to mend as 100% cotton.
Hand wraps made of cotton and elastic blend tend to be referred to as "Mexican-Style" hand wraps because of the popularity this material has found among Mexican boxers and martial artists. It has since spread to use in most branches of martial arts that allow or encourage their students to use boxing hand wraps
Linen
None of the hand wraps on our list are linen, but it is still a material worth mentioning because it can be used as a hand wrap material and, in some branches of martial arts, a very traditional material. Linen is made from the flax plant and has even less give than cotton but is a material widely praised for its ability to help the wearer stay cool.
Although linen used to be an affordable alternative to more expensive fabrics, it is now considered a high-end material and can often cost more than cotton or cotton blends. Those seeking linen hand wraps might have to go to a specialty retailer or potentially make their own.
Other Factors to Consider
Brand
Martial arts equipment takes quite a bit of abuse over its lifetime. Every product on this list should hold up to intense and frequent use, but there is always going to be a defect or weak spot now and then. It is necessary to return or exchange the item in these situations and, for this reason, company reputation was an important factor when compiling this list.
Most of the companies listed here are proactive with their customer service not only in returns but also in answering any questions their customers may have. There are one or two exceptions, unfortunately, but we took pains to note this when applicable.
Bottom Line
There are a variety of ways to use hand wraps with variations mostly depending on what form of martial arts is being practiced. Some practices, such as Muay Thai, require longer "tails" to their hand wraps because the wraps must wind around a significant portion of the wrist. Other practices, such as boxing, give more focus to the knuckles and portion of the wrist closest to the hand as that is the area that takes the brunt of any force generated by a strike. Boxing also favors thinner wraps so that the user's wrapped hand can still fit inside their boxing gloves. But one thing holds true across all branches of martial arts: if you do hand and fist strikes, you can make use of hand wraps to reinforce and protect your hands.
Frequently Asked Questions
q:

How do I wrap my hand wraps?

a:

Specific styles of hand wrapping vary based on the branch of martial arts being practiced, the specifics of the teacher or gym that the user is training under, the user's hand or wrist size, and what portion of the wrist and hand the user is trying to protect. Sites like YouTube are a user's best bet for finding the best hand wrap style to fit their needs.
q:

Are all hand wraps sold in pairs?

a:

Every hand wrap on this list is sold in pairs. Most sellers, both on and off this list, sell their hand wraps in pairs so that buyers will not have to worry about spending double the price they expected. It is important to note that when hand wraps are shipped, many of them attach one to the end of the other, giving the appearance of a single piece of hand wrap.
q:

Will boxing hand wraps cushion my hands?

a:

Hand wraps are not intended to cushion the user's hands. That is solely the domain of the gloves. The purpose of hand wraps is to reinforce the hand and wrist to avoid damage and common boxing injury such as breaks in the small bones of the hands and wrists. They work great as a boxing protective gear when training on a heavy bag.
q:

If my hand wraps are not machine washable, how would I wash them?

a:

Hand wraps can usually be washed in a sink with dish or laundry soap, but this is a generalization. If you are concerned about the best care practices for your boxing hand wraps, it is best to contact the company and ask them if there are any specific care needs for their hand wraps. Many of the companies listed above have excellent and proactive customer service that answer questions posted on their product page or sent to them directly.
q:

How do I store my hand wraps?

a:

Many hand wrap vendors also sell hand wrap rollers which are ideal if cumbersome methods of storing hand wraps. These devices are metal and crank-operated, allowing the user to roll the hand wrap up neatly between uses. It also doubles as a tension system when reapplying the bands as it allows the user to set the hand wrap down without the band unspooling or tangling.

Other options for storing hand wraps include rolling them tightly in a pocket, a mesh laundry bag, or any small box that can contain the rolled or folded wraps. These are occasionally sold by companies who sell hand wraps but can also be found among items already in most people's homes.
q:

Are hand wraps for kids different from hand wraps for adults?

a:

Hand wraps for children are typically shorter as they have shorter arms and smaller hands. The thumb loops may also be smaller and the bands narrower, though these factors vary from company to company.
Subscribe to our Newsletter