Best Hand Wraps & Tapes Reviewed & Rated
last updated:
Feb 18, 2020
Hand wraps have become an iconic part of martial arts, much like color-coded rank belts, karate gis, or specialized drill dummies. Movies and video games have boosted awareness of hand wrapping for years now and the trend does not seem to be fading. This widespread awareness of the practice does not always translate into an awareness of what purpose the wraps serve, however. Many people think hand wraps are meant to cushion the hands and act as thin protective covers in the same way boxing gloves act as protective covers.
The best hand wraps are also durable enough to help protect against skin damage if used properly. Everything on our list is sold in pairs and many of them are available in a range of sizes and prices to accommodate anyone searching for the best options available.
In a Hurry? The test winner after 4 hrs of research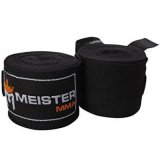 Meister Semi-Elastic
Why is it better?
Sold as a Pair

Hook and Loop Closure

Cotton and Spandex Blend
In a
Hurry? Editors choice: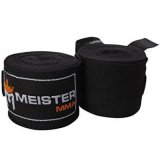 Test Winner: Meister Semi-Elastic
Durability
Adjustability
Materials
By Default
Criteria Used for Evaluation
Durability
Every band on this list has been labeled durable by people who have reviewed the product, though some are more durable than others. Durability is one of the most important factors that
Care Requirements
The care routine necessary to maintain usable and odor-free hand wraps vary from wrap to wrap and are based on the material, the construction of the wrap, and the frequency with which it is used. Some of the wraps on our list are machine washable while others will need to be hand-washed which can be done in any sink large enough to soak and scrub the wraps in.
Style
Hook and Loop Closure
"Hook and Loop" is the term for a type of closure system made most famous by the Velcro company. Velcro, however, is a brand name and the company is very particular about having it applied to products that may use the same style of closure but from a different company. Because of this, companies that use this closure system prefer the term "hook and loop".
Such closure systems allow for a more customized fit and are easily mended if they become damaged or if they are in the wrong place. They also stay in place just as well as tied hand wraps and, in some cases, better.
Length of Band
Most hands wrap bands are measured in inches with the most common length being 180 inches (15 feet). This might seem like an excessive length for a product designed to wrap around the hand and wrist but many hand wrapping styles require layers of wrapping and some may even require more than 180 inches in total.
Thumb Loop
Thumb loops are common features on hand wraps. These loops are found at one end of the wrap and provide an easy place to start any hand wrapping style. They are also often reinforced to avoid taring and are easily repaired if rips do occur.
Materials
100 % Cotton
Cotton is one of the most breathable fabric materials known to man so it stands to reason that it would be a common material for sports equipment. This is particularly helpful when the equipment is intended for the hands as it allows the palms to dry which helps to avoid chafing. Most pure cotton blends also tend to be soft or to soften after a few rounds of washing, which means that they will do less damage to the wearer's skin when rubbing across the knuckles during practice.
Cotton has a very limited amount of natural stretch to it. Whether or not this is a good thing depends on the individual martial artist. Some practitioners like the limited stretch of cotton because they feel it gives them more wrist support when wearing the wraps. Others dislike the last of elasticity because they cannot pull the fabric as taut and therefore cannot get the kind of tension on it that cotton and elastic blends provide.
Cotton and Elastic Blend
The most common material for hand wraps is cotton and elastic band, though the form and quantity of elastic vary from company to company. Elastic allows the fabric to stretch more than cotton is naturally able to do. Fans of this blend like the added tension that they can apply to the material, though it is important to note that stretch any kind of elastic as far as it will go will result in the elastic wearing out faster and the blend is not as easy to mend as 100% cotton.
Hand wraps made of cotton and elastic blend tend to be referred to as "Mexican-Style" hand wraps because of the popularity this material has found among Mexican boxers and martial artists. It has since spread to use in most branches of martial arts that allow or encourage their students to use boxing hand wraps
Linen
None of the hand wraps on our list are linen, but it is still a material worth mentioning because it can be used as a hand wrap material and, in some branches of martial arts, a very traditional material. Linen is made from the flax plant and has even less give than cotton but is a material widely praised for its ability to help the wearer stay cool.
Although linen used to be an affordable alternative to more expensive fabrics, it is now considered a high-end material and can often cost more than cotton or cotton blends. Those seeking linen hand wraps might have to go to a specialty retailer or potentially make their own.
Other Factors to Consider
Brand
Martial arts equipment takes quite a bit of abuse over its lifetime. Every product on this list should hold up to intense and frequent use, but there is always going to be a defect or weak spot now and then. It is necessary to return or exchange the item in these situations and, for this reason, company reputation was an important factor when compiling this list.
Most of the companies listed here are proactive with their customer service not only in returns but also in answering any questions their customers may have. There are one or two exceptions, unfortunately, but we took pains to note this when applicable.
Bottom Line
There are a variety of ways to use hand wraps with variations mostly depending on what form of martial arts is being practiced. Some practices, such as Muay Thai, require longer "tails" to their hand wraps because the wraps must wind around a significant portion of the wrist. Other practices, such as boxing, give more focus to the knuckles and portion of the wrist closest to the hand as that is the area that takes the brunt of any force generated by a strike. Boxing also favors thinner wraps so that the user's wrapped hand can still fit inside their boxing gloves. But one thing holds true across all branches of martial arts: if you do hand and fist strikes, you can make use of hand wraps to reinforce and protect your hands.
Frequently Asked Questions
q:

How do I wrap my hand wraps?

a:

Specific styles of hand wrapping vary based on the branch of martial arts being practiced, the specifics of the teacher or gym that the user is training under, the user's hand or wrist size, and what portion of the wrist and hand the user is trying to protect. Sites like YouTube are a user's best bet for finding the best hand wrap style to fit their needs.
q:

Are all hand wraps sold in pairs?

a:

Every hand wrap on this list is sold in pairs. Most sellers, both on and off this list, sell their hand wraps in pairs so that buyers will not have to worry about spending double the price they expected. It is important to note that when hand wraps are shipped, many of them attach one to the end of the other, giving the appearance of a single piece of hand wrap.
q:

Will boxing hand wraps cushion my hands?

a:

Hand wraps are not intended to cushion the user's hands. That is solely the domain of the gloves. The purpose of hand wraps is to reinforce the hand and wrist to avoid damage and common boxing injury such as breaks in the small bones of the hands and wrists. They work great as a boxing protective gear when training on a heavy bag.
q:

If my hand wraps are not machine washable, how would I wash them?

a:

Hand wraps can usually be washed in a sink with dish or laundry soap, but this is a generalization. If you are concerned about the best care practices for your boxing hand wraps, it is best to contact the company and ask them if there are any specific care needs for their hand wraps. Many of the companies listed above have excellent and proactive customer service that answer questions posted on their product page or sent to them directly.
q:

How do I store my hand wraps?

a:

Many hand wrap vendors also sell hand wrap rollers which are ideal if cumbersome methods of storing hand wraps. These devices are metal and crank-operated, allowing the user to roll the hand wrap up neatly between uses. It also doubles as a tension system when reapplying the bands as it allows the user to set the hand wrap down without the band unspooling or tangling.

Other options for storing hand wraps include rolling them tightly in a pocket, a mesh laundry bag, or any small box that can contain the rolled or folded wraps. These are occasionally sold by companies who sell hand wraps but can also be found among items already in most people's homes.
q:

Are hand wraps for kids different from hand wraps for adults?

a:

Hand wraps for children are typically shorter as they have shorter arms and smaller hands. The thumb loops may also be smaller and the bands narrower, though these factors vary from company to company.
Subscribe to our Newsletter