Best Heating Pads for Injury Recovery Reviewed
last updated:
Jan 23, 2020
When you're training, injuries are bound to happen. Whether you're training for a triathlon, practicing for an MMA tournament, or just trying to lose weight at the gym, we all reach our limits sooner or later. The problem is what we decide to do once we've hit those limits. Injuries happen to the best of us, and whether or not they set us back weeks in our training, or bounce back quickly all depends on the steps we take when they happen. Some injuries need heat application, therefore you can use heating pads.
In a Hurry? The test winner after 14 hrs of research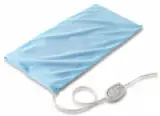 Sunbeam King-Size
Why is it better?
Ultraheat technology
Moist or dry heat
3 heat settings
Auto-shutoff
Washable cover
In a
Hurry? Editors choice: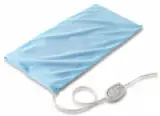 Test Winner: Sunbeam King-Size
15
Researched Sources
4500
Reviews Considered
14
Hours Researching
22
Products Evaluated
Materials
Features
Accessories
Value
By Default
Top 10 Picks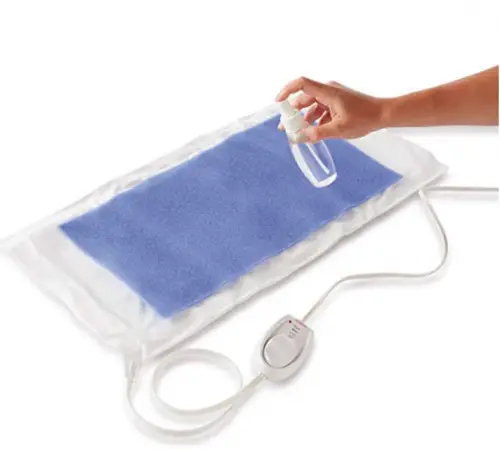 Ultraheat technology
Moist or dry heat
3 heat settings
Auto-shutoff
Washable cover
Wears out after consistant use
Sunbeam Products was established over a century ago, in the year 1910. They are a company that specializes in small electric home appliances. Some of their most notable products throughout history have included the Mixmaster mixer, the Coffeemaster, and a fully automatic T20 toaster. In its current incarnation, it is owned by Newell Brands, of Rubbermaid fame. This product has many winning features. Among them is the option for either moist or dry heat, as well as no fewer than three separate heat settings, and an auto-shutoff feature built-in for safety.
Read more
Ultraheat Technology
The Sunbeam King-Size Electric Heating Pad has a unique feature designed to help heat your sore and tired muscles. Its patented UltraHeat technology penetrates deep into your body to help increase the flow of blood to sore areas to promote both muscle relaxation and faster healing. This increased blood flow will help you heal faster so that you can get back on your feet, and get back to your training.
Washable Cover
It's a fact of life that when you're using a heating pad, you're going to be heating up your body. And when the human body heats up, it tends to sweat. This moisture will, of course, translate directly onto your heating pad. Luckily, this product has a washable cover that can be removed and cleaned. You won't have to worry about how much gunk your heating pad has accumulated over its successive uses.
Cost and Value
This is one of the least expensive items on our list. It is also the most highly rated. It has an excellent basic set of features, including its moist and dry heat options and an auto-shutoff. Additionally, few heating pads come with a washable cover. All of these facts combined equal one great value for one extremely reasonable price.
2

. TheraPAQ Neck & Shoulder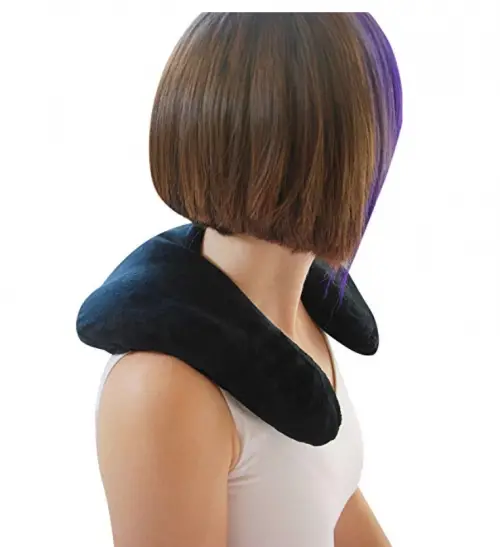 Contoured
12in by 17in
Heating and cooling
100% money back guarantee
ThereaPAQ is a company that was founded by a group of young people with a dream. A community of professional chiropractors and physical therapists, they had one goal. That goal was to help people heal from their bodily aches and muscular pains, without needing to use extremely potent, and sometimes dangerous, drugs and medications. They wanted to develop a powerful and natural pain relief method. Their solution was TheraPAQ. By developing ice packs and heat packs, they were able to bring these products to their patients for an all-natural healing method for pain relief. Their products are used by physical therapists, sports trainers, doctors, and chiropractors.
Read more
Contoured
This heating pad is designed to sit around your shoulders, to deliver pain relief directly to your neck and upper back. This is an area commonly impacted by sports injuries, that is also extremely difficult to hold a heating pad or ice pack too. Now you don't have to exert any effort; the heating pad will stay in place without any effort on your part.
Heating and Cooling
Oftentimes if you need an ice pack or a heating pad, you have to purchase two separate products. This not only costs you more money but also takes up more room in your house. This two-in-one product is as versatile as it is dependable. Now, regardless of whether your sports injury requires icing or heating, you have one handy product that can handle both scenarios.
Cost and Value
This product is in the low-to-mid-range of price when compared to other items on our list. However, it does have some things that other products like it don't. Its contoured shape lets it stay in place without any effort, and it also has the dual function of both heating and cooling. After taking all these factors into account, it is worth its price.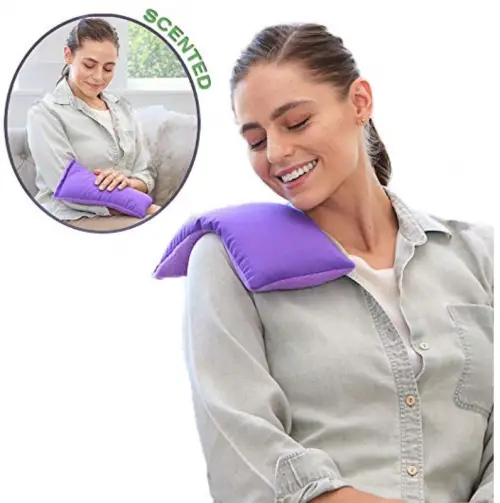 Versatile
Microwavable
2.5lbs
Two-sided fleece and cotton
Petsafe
My Heating Pad is a small company with just one focus. That focus is--you guessed it--heating pads. They have over sixteen different kinds of heating pads for sale, each with a unique shape and set of features. Some are designed to be versatile and applied to any area of the body. Others are customized to be able to sit around the neck and shoulders without support. Some even have included straps to hold them in place over your lower back. The Hot Therapy Pack Microwavable Natural Heat Therapy is only 2.5lbs and is two-sided with fleece and cotton.
Read more
Versatile
A downside of some heating pads is that they are specialized to be used on a specific area of the body, such as the neck and shoulders, or the lower back. The Hot Therapy Pack doesn't suffer from any of these constraints and can be applied to any area of the body. Strain your calves while running? Pull a muscle in your bicep while weight training? No matter the scenario, this product has got you covered.
Microwavable
Instead of having to plug in a product and waiting for it to reach the desired temperature, this product offers a much more convenient option. All you have to do is pop it in the microwave to get it up to the desired level of heat. Once it's out of the microwave, it is fully heated and ready to go.
Cost and Value
This product is the least expensive item on our list. Though it doesn't have some of the frills that other products on this list come with, it is nevertheless versatile and well-regarded. It is soft, lightweight, and pet safe, which makes it well worth its low price.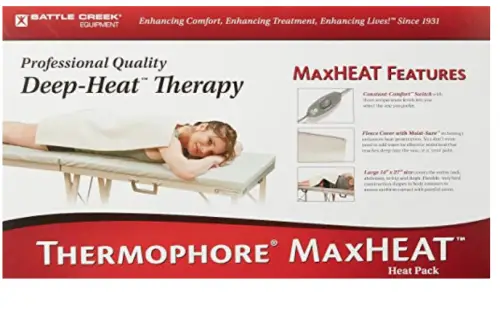 Moist heat
Dry heat
Cleans easily
Heats fast
Plug-in
May break after several months
Thermophore is under the ownership of the Battle Creek Equipment Company. The Battle Creek Equipment Company was incorporated in 1931 a few years after its founding. Its founding principle was to continue the work of the world-renowned Battle Creek Sanitarium, the pre-eminent spa of the late 1800s and early 1900s. Over their many centuries of doing business, they have branched out into the in-home product industry, especially into the heating pad market.
Read more
Fast Heating
When you're in pain, one of the worst parts is waiting for your product to heat up so that you can get some relief. The longer you're in pain, the more discomfort you're in. To minimize your pain and to get you the relief you need, the Thermophore MaxHeat Deep-Heat Therapy is designed to heat up quickly, delivering healing temperatures to you in record time. It heats up and stays hot to improve blood flow and promote healing.
Cleans Easily
One of the main flaws of heating pads and heating packs is their inability to be cleaned. Oftentimes, over the many months and years of use, they can get exposed to all sorts of surfaces and materials. Eventually, they all need to get cleaned. Unfortunately, many can't be. Not so with the Thermophore MaxHeat Deep-Heat Therapy. This product is easy to clean so that you won't have to worry about what's on the fabric. Instead, you can focus on the relieving heat getting delivered to your injury.
Cost and Value
Among the mid-range priced items on our list, this product sits on the high end. It has features comparable to many other mid-range models, including moist and dry heat, heating quickly, and is easy to clean. However, there are many comparable models that have all these features for a lesser price. Some people have reported that this product may break down after a few months of use. Keep these things in mind when deciding whether or not to purchase the Thermophore MaxHeat Deep-Heat Therapy.
5

. Pure Enrichment XL King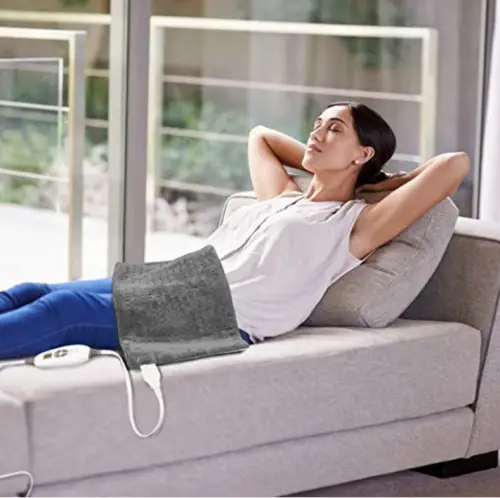 Extra large
Microplush
Fast-heating
Moist heat option
5-year warranty
Defective units are fire hazard
Pure Enrichment was founded in 2010 and is a subdivision of Bear Down Brands, LLC. Pure Enrichment is one of the leading manufacturers of personal care, home, and health products. They are based on the foundation of providing high-quality products that help people live a healthy and balanced lifestyle. Their products are held to incredibly high-quality standards, and they have some of the most extensive and impressive warranties in the industry. The Pure Enrichment PureRelief XL King Size Heating Pad is extra large in size, fast-heating, and offers both moist and dry heat.
Read more
Microplush
Sometimes heating pads are designed solely to do one thing, deliver heat. While this is arguably the most important aspect, that doesn't mean you need to be uncomfortable while you use the product. You're already laid up with an athletic injury; you don't need itchy heating adding to your woes. This product combats this problem with its micro plush fabric to give you the height of comfort.
5 Year Warranty
Pure Enrichment has some of the best warranties in the industry. This is evidenced by the feature on Pure Enrichment PureRelief XL King Size Heating Pad, with its 5-year warranty. Only a company that's absolutely certain of their product quality would dare offer such an extensive warranty.
Cost and Value
This product has a mid-ranged price when compared to the other items on our list. However, its features far exceed those of a mid-range heating pad. From its exceedingly great warranty to its ultra-softness to its dry and moist heat options, this product is a winner. The Pure Enrichment PureRelief XL King Size Heating Pad is worth every penny.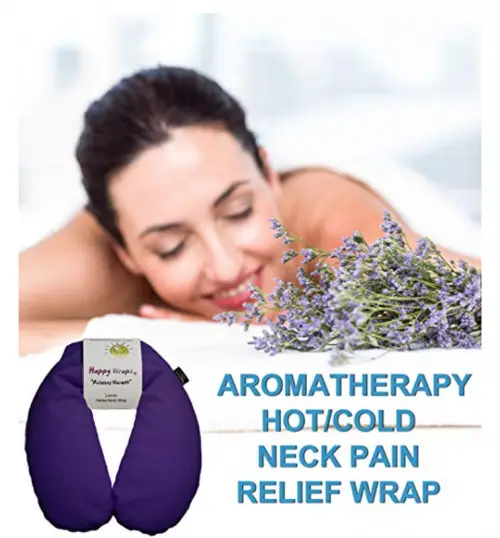 100% cotton
Microwavable
Aromatherapy
Free lavender eye pillow
Freeze option
Happy Wraps is a company that focuses solely on healing and relaxation products. Their entire product line is completely natural and organic. Established in 1991, they've been doing business to produce luxury spa and yoga products for more than two decades. They do business with everyone from spas, hotels, and resorts to yoga studios across the country. They guarantee that their products were made without animal testing and with strict quality control. They guarantee 100% satisfaction.
Read more
100% Cotton
Oftentimes with heating pads, we're never quite certain what these products are made from. Usually, it's a mix of synthetic fibers and plastics. However, you can rest assured that this product is made with 100% cotton. For those whose skin is easily irritated by synthetic fibers, this feature is a huge plus.
Aromatherapy
Aside from just delivering heat to your sore muscles after an intense day at the gym, this product also includes an aromatherapy aspect. Even though training can get you pumped up, everyone needs to be able to relax at the end of a long day. This lavender-scented product will put you immediately at ease.
Cost and Value
This is one of the least expensive items on our list. Detractors may point to the fact that it doesn't have a plugin, and thus has to be microwaved once it loses its heat. However, this is balanced out by the fact that this product is 100% cotton and has an aromatherapy option. For the right person, this product is well worth its low price.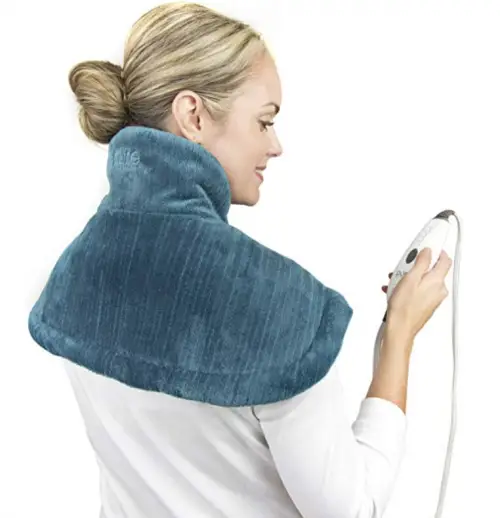 Contoured for neck and shoulders
Micromink
Fast heating
Dry or moist options
5-year warranty
Pure Enrichment brings another excellent product to our list with the PureRelief Neck and Shoulder Heating Pad. For nearly a decade Pure Enrichment has been one of the leaders in the personal care, home, and health products. With the goal of delivering high-quality products to help you live your healthiest and most balanced lifestyle, they hold their products to incredibly high standards. These standards are visible in their incredible warranties, which are 5 years from the date of purchase. This fast-heating option has both dry and moist heat options as well as Pure Enrichment's much-lauded five-year warranty.
Read more
Shaped for your neck
This is the only heating pad included on our list that is not only contoured for your neck and shoulders, but that also features a plug-in. The other products on our list that are contoured for the neck and shoulders have to be placed in the microwave in order to get up to the desired temperature. When they cool off, you have to get up and heat them again. This plug-in design ensures you get consistent heat without the hassle.
Micromink
Mink is one of the softest furs in the animal kingdom. Pure Enrichment took a leaf out of nature's book when they decided to emulate this fur for its softness. The PureRelief Neck and Shoulder Heating Pad have a feel that is as soft as its wild inspiration. This will ensure comfort as you convalesce.
Cost and Value
This product has a mid-range price when compared to the other items on this list. Pure Enrichment products are extremely highly rated, and you can be assured of their quality through their warranty. This is product will ensure you get consistent heat to your neck and shoulders without having to reheat your pack in the microwave. Overall, its quality and convenience make it more than worth its price.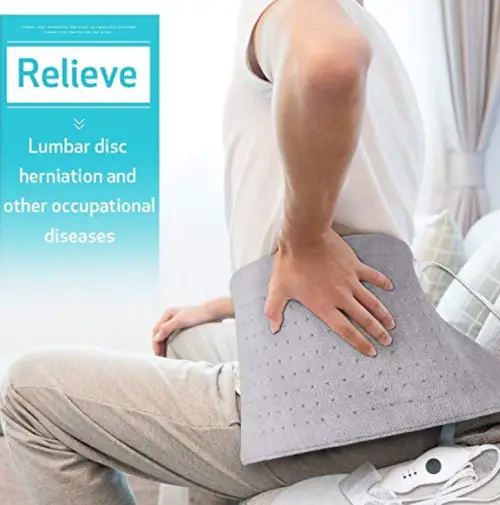 Multifunction
Ultra-soft flannel
Two heating options
Machine washable
90 day return warranty
PROALLER is a startup company that was founded in 2017. Their main foci are home and health products. Their product line includes body and shoulder heating pads, as well as a white noise machine. This narrow product line is an indication of a small company that has put all of their focus into a few products and making sure that they do those few products right. PROALLER's goal is to create innovative products to help their customers live their lives both better and smarter. To live up to this goal, the Large Size Ultra Soft Heat Therapy Wrap has a 90-day return warranty, is multifunction, and is covered in ultra-soft flannel.
Read more
Dry and Moist Heat Option
Dry heat is the most common kind of heat applied by heating pads. However, moist heat can penetrate faster and farther, getting right down to the muscle. In a study that compared both dry and moist heat, results showed that moist heat led to more pain reduction within less time. As an aside, moist heat also has fewer changes for skin irritation.
Machine Washable
The ability to throw your heating pad in the wash is both a huge time saver and a headache preventer. Any item that is covered in fabric is prone to getting dirty. That goes double for an item that you use with some degree of regularity, as most athletes do with their heat-therapy products.
Cost and Value
This product is on the higher end of the price range, though it still sits somewhere towards the upper middle. The fact that it has multiple heat options, as well as the fact that it is machine washable, is a huge plus. Overall, it is a decent mid-range product, with features comparable to other products in its price range.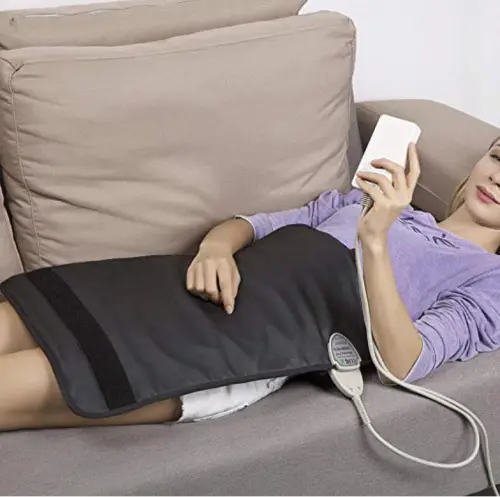 Infrared technology
Versatile
FDA certified
Solid construction
UTK is a company that produces heating pads--specifically, far-infrared heating pads. Their products are registered as Class IIa Medical Devices. Their far-infrared heating pads function through the use of negative ions, far-infrared rays, and naturally sourced stones. In order to keep prices affordable and accessible, their products are produced in China, though they are thoroughly tested before being released to the public. All of their products are free of EMF and radiation.
Read more
Infrared Technology
The fact that this product contains infrared technology sets it apart from other heating pads. Infrared heating pads due to the fact that their heat penetrates deeper into your body, reaching up to four inches. This far and deep reaches allow the heat to reach each muscle, blood vessel, and nerve. Whether you've pulled a muscle on the basketball court or tore a tendon in a sparring match, this deep-reaching heat will help you heal faster.
FDA Certified
This is the only heating pad on our list that is has been recognized by the FDA as having been proven to treat injuries quickly and effectively. UTK's products are classified as Medical Devices Class IIa. This designation means that they are recognized by the leading governmental authority on health as providing results comparable to those you would receive through taking medication.
Cost and Value
This is by far the most expensive product on our list. Innovation comes with a price. If you want to have the latest and most cutting-edge technology, it will end up costing you. However, in its favor, this product is the only one on our list that is recognized by the FDA. Its results have been clinically tested and shown to bring real and powerful results. If you're willing to shell out the extra money, this cutting-edge medical device can help you back up when a sports injury puts you down.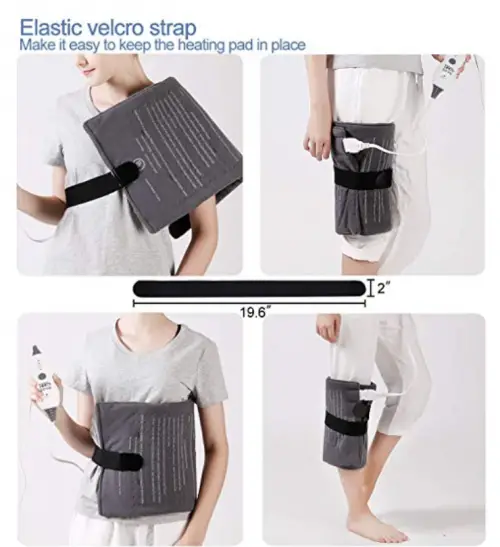 Huge size
100% polyesther
6 heat settings
9-foot cord
2hr autoshutoff
Techlove is an apparel company that has also branched out into the heating pad marketplace. They pride themselves on the humor and customer service that they bring to their customer base, as well as the excellent quality of their products. Their line of heating pads features extra-large models that are almost blankets, wearable heating pads that strap to your back, and heated wrist braces that offer support as well as healing heat. The TechLove Extra Large Electric Heating Pad is 100% polyester and features 6 heat settings and a 9-foot cord.
Read more
Huge Size
This is perhaps the largest heating pad offered on this list. It is two feet long by one foot wide, giving you the maximum coverage. Whether you strained your back while doing deadlifts or overtaxed both sets of hamstrings in a race, this product can give you the coverage you need.
Auto-shutoff
Some people worry about the fire danger that comes with a heating pad, especially the variety that is plugged into the wall. To allay your fears, this product has a built-in auto-shutoff. After two hours it will automatically power down, ultimately giving you the peace of mind you need to rest easy and heal up.
Cost and Value
This product is on the upper end of the price range when compared to other items on our list. However, its huge size sets it apart from its compatriots. In addition, it also has far more heat settings (6) than most other products on this list and has an extremely long cord. Overall, this item is a steal for its price.
Criteria Used for Evaluation
Materials
Synthetic:
The most common fabrics on heating pads are synthetics. This is perhaps due to the fact that they can be manufactured to be extra-soft and smooth on irritated skin. It is also less expensive and helps keep the product's cost down.
Cotton or Natural Fibers:
Some products are made with a more natural and eco-friendly fiber in mind, cotton. Cotton is usually easily washable and is non-irritating to the skin.
Features
Moist Heat:
Moist heat is different from dry heat in that it is able to penetrate further and faster into the damaged area. It can get deep into the muscles that are the source of your ache to relieve. Moist heat also is less irritating on the skin than dry heat.
Dry Heat:
Dry heat, in layman's terms, is any heat applied directly to the body that isn't moist heat. Dry heat is the most common method employed by heating pad producers.
Accessories
Microwave:
Many heating pads need to be put into the microwave for a few minutes to get up to the desired heat. Be careful not to over-heat the product, as this can damage it. When it cools off after use, you will need to heat it again for continued relief.
Plug-In:
The other most common kind of heating pad is the variety that you plug into the wall. This is superior in some ways to the microwavable variety in that it is able to deliver continuous heat without needing to be put back in the microwave. The downside is that these plug-in models usually cost more
Value
Getting hurt shouldn't keep you from achieving your fitness goals. Taking a conscientious and proactive approach to your healing will ensure that you can get back out there. Getting the right heating pad, and taking other steps to consciously heal your body is vital. If you don't want to stay sidelined, it's important to know what steps to take to help your body repair itself. Products like these can greatly speed you along on the road to recovery.
That's why we wanted to make sure that had the best, which included an affordable price for everyeone's budget, great brands that anyone can stand behind and durability!
Expert Interviews & Opinions
Most Important Criteria
(According to our experts opinion)
Experts Opinion
Editors Opinion
Users Opinion
By Default
Cord Length
This will vary greatly from product to product, anywhere between five and nine feet. You'll need to check the individual product specifications.
Machine Washable
Many are. Check the individual product specs to make sure. Also, make sure it is completely dry before plugging in.
Other Factors to Consider
Bottom Line
Heating pads are some of the best tools to help you get back on your feet after an injury has knocked you down. These products are designed to send soothing heat directly into the muscle, to open the blood vessels and reduce inflammation. So, you need a heating pad. The only problem is, which one to pick? Do you want a model that you can plop in the microwave, or do you want one that needs to be plugged in? Is it better to apply moist or dry heat? All of these questions can seem overwhelming. However, the answers have all been assembled below.
Frequently Asked Questions
q:

Are heating pads a fire hazard?

a:

If the heating pad is well cared for and not defective, they should not be a fire hazard. Many have a built-in auto-shut-off feature that turns them off automatically after a certain length of time.
q:

What's the maximum temperature?

a:

This will vary greatly from one heating pad to another. Most generally are not designed to get up to scorching temperatures, which could burn the wearer. When using a microwavable pad, make sure that you do not put it in the microwave for too long, which can result in overheating.
q:

What's the difference between moist and dry heat?

a:

Moist heat generally involves some kind of water. Hot water bottles and hot towels use moist heat. For many heating pads, you have to spray them with a water bottle to get the moist heat effect. Moist heat has been shown to provide better relief to sore muscles by penetrating deeper and more quickly into the body. Dry heat is any heat that doesn't use any moisture.
Subscribe to our Newsletter