Best Heavy Bag Gloves Reviewed & Rated
last updated:
Jan 10, 2020
Hand protection in boxing comes in many forms, from simple hand wraps to boxing gloves. Boxing gloves provide support and protection to your hands and wrist. They also keep your sparring partner and gym equipment safe. This, of course, depends on the oz of glove used as well as some other factors specific to yourself. However, since there are different methods of training, such as sparring with a partner and heavy bag training, there are certain features you want to look out for in your glove.
In our buyer's guide, we will go over a list of heavy bag gloves we have selected that we believe to be the best among the rest. We will also go over what materials go into a glove, how they function and other additional information regarding the topic.
In a Hurry? The test winner after 4 hrs of research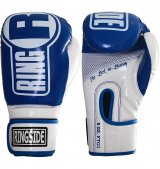 Ringside Apex
Why is it better?
Synthetic Leather
IMF Padding
Hook and Loop Fasteners
Anti-Germ Lining
In a
Hurry? Editors choice: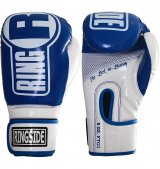 Test Winner: Ringside Apex
Materials
Fit
Advanced Features
By Default
10 Best Gloves For Heavy Bags
Synthetic Leather
IMF Padding
Hook and Loop Fasteners
Anti-Germ Lining
Ringside is a fight gear company best known for its boxing gloves. They have been in the industry for over 30 years, and boast a varied inventory. They also claim to have developed their own patented technologies involved in the production of their gloves. Let their time tell you how trusted and loved they are in the world of boxing.
Read more
Synthetic Leather
The Ringside Apex uses a polyurethane leather or PU leather for the surface of the glove. Although it is not as durable as genuine leather, there are different benefits to using synthetic. Synthetic leather is easier to clean and sanitize and is also known for being less odorous than its genuine counterpart. Also, it does not make use of the hide of living animals which makes this glove of interest to vegans.
IMF Foam
The gloves padding uses Ringside's patented injection technology. Where most make use of a triple-layered foam process, they use a method of injection during the development of the gloves hull that creates a more compact, but soft and effective glove. This process also helps give the gloves its curved form, which promotes proper hand form when striking.
Cost and Value
This glove falls on the low to mid-price range on the buyer's guide. It is not the most affordable glove on the list but it is not very far off from it. Especially when you begin to factor in the quality of the heavy gloves does the cost become justified. This glove is a great choice for both beginners and those looking to replace a worn-down pair of gloves.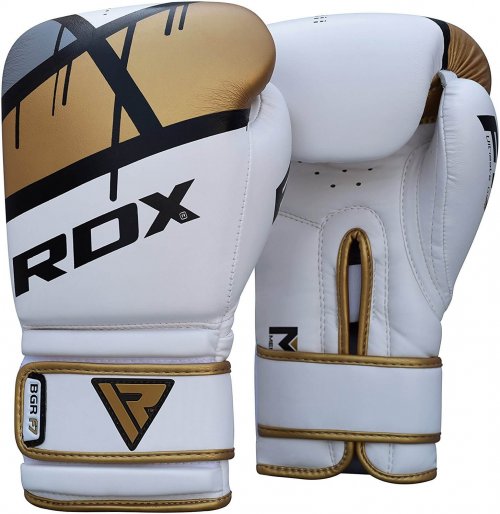 Original Design
Synthetic Leather
Breathability
Gel Padding
RDX was founded in 1999, Manchester, United Kingdom. At the time the price of Japanese, Mexican and other styles of gloves was far too expensive to obtain for a common Britain. So starts RDX's story of eventually creating a successful international market. Their gloves are of great quality, especially considering that all of their products are produced with their own originality.
Read more
Gel Padding
This glove has several locations containing an RDX original gel-like padding. First, over the knuckles and again around the wrist area. This provides both protection for your hands and a sparring partner as well as promote proper fist form and placement. The gel around the wrist is somewhat of a unique feature. It is an additional means of support for your wrist, lowering the risk of spraining.
Palm
The palm of the glove has holes punched into the leather for breathability. Additionally, the cuff closes in a way that leaves an opening along your wrist which also improves hand breathing. This not only keeps your hands cool but also helps in the reduction of bacteria growth, left behind from sweat. A good option for those who have sweaty hands.
Cost and Value
This RDX Ego gloves also fall into the low to mid-range of pricing on the guide. This has a lot to do with the synthetic leather, as well as the RDX patented processes of glove development. This is a great option for beginners and professionals alike, as RDX even sponsors some of the latter of the two.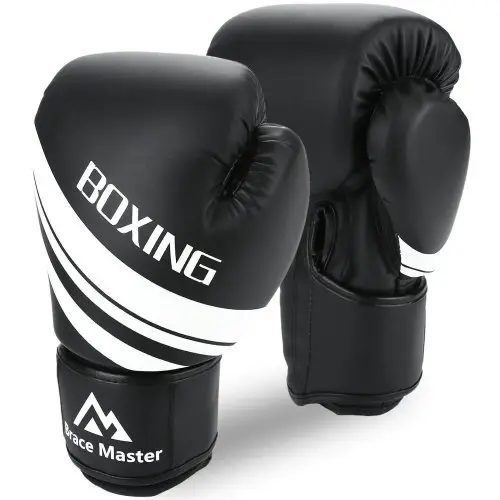 Synthetic Leather
Breathable Palm
Affordable
Gel Foam
Brace Master is a brand of gloves of several kinds. Despite having a line of various boxing gloves, they also have gloves for other sports as well. Being known for their items affordability, the items also are known as "great." In addition to these things, Brace Master is known for being animal-friendly, as they do not use genuine leather.
Read more
Safety First
This glove was designed with safety in mind. Coming standard with shock dissipating gel as its padding, the gel is designed to not only keep you and your sparring partner safe from injury as well as promoting proper fist form. The strap that keeps the glove on your hands adds support to your wrist which will prevent pain in later sessions.
PU Leather
This glove uses synthetic leather in its creation. This not only helps make the glove more affordable, but it also makes it vegan-friendly. Synthetic leather is also easier to clean and sanitize than genuine leather. It is also virtually odorless in comparison to the genuine thing.
Cost and Value
The Brace Master is our buying guide's best value. Being among the most affordable makes it a great place for any beginner to start, especially the one that is on a tight budget. They can give you a great idea of what boxing feels like, for when moving up in skill level, you will want to move on to something a bit more higher quality.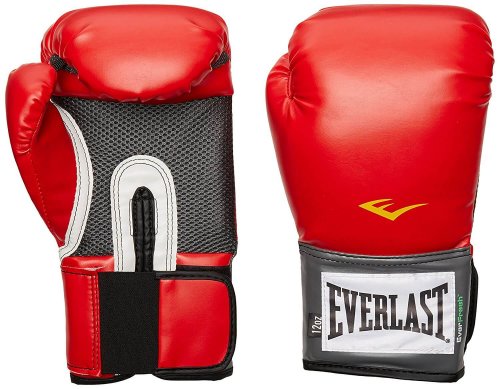 Anti-Microbial/Fungal
Ventilating Mesh
Affordable
Trusted Name
Everlast is a well-known name in the world of athletics. Founded in 1919 by a Jacob Groman, he first started the business by offering swimwear. He has since moved the company up to offering an entire slew of fighting gear from gloves to shorts. This brand is a tried, true, and trusted name when it comes to fighting gear.
Read more
Evercool Mesh
This glove makes use of an Everlast patented mesh. Making up the entire palms surface, the mesh allows the hand to breathe very well. This also assists in the lightweight feel of the glove. In addition to allowing the hand to breathe, the mesh is also a sweat-wicking mesh, which further aids in keeping hands cool and dry by controlling levels of sweat.
Everfresh
Everlast uses yet another patented feature in the design of its gloves. Lining the inside of the glove is an anti-microbial material called Everfresh. It is designed to reduce the bacteria and fungus that would otherwise grow inside the glove due to sweat. However, you will still need to properly and regularly clean the glove to further prevent the growth of these.
Cost and Value
The Everlast Pro Style falls into the low end of the pricing scale. This makes it an affordable option for a fighter on a budget, and a great option for a beginner. Everlast is a trusted name thanks to its high-quality equipment and this option is of no exception to that standard. Definitely worth the consideration.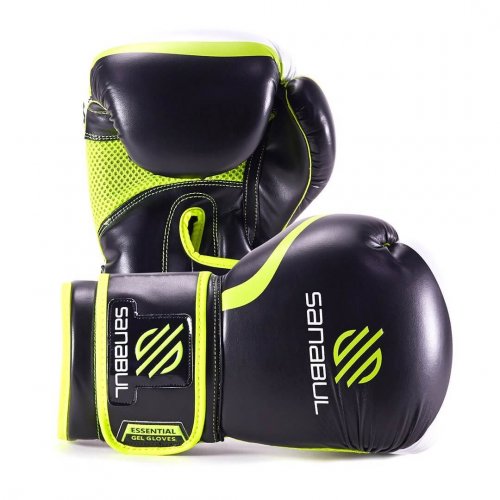 Affordable
Durable
Hook and Loop Fasteners
Odorless
Great for beginners, these inexpensive gloves are great for getting used to hitting a heavy bag. Thanks to the foam and gel combination, these gloves are very durable and supportive, ensuring that your hands are properly protected with every punch.
Read more
GEL Infused
The Sanabul Essential uses a special kind of foam as padding. Infused with GEL, it reinforces the foam, making it much more durable, while still retaining its softness. The gel is also designed to conform to your fist, making for proper support. Rest assured that you and your sparring partner, as well as the heavy bags, will be safe with these gloves padding.
Large Color Choice
Every glove comes in black, however, the trimming in certain spots, as well as the logo can come in a number of colors. These were designed to give you the option to match with other parts of protective gear, like shin guards. If you are an avid boxer, you might find you like to switch out gloves weekly, to prevent the wearing out of a couple of pairs quickly. Color options can make this more interesting.
Cost and Value
The Sanabul Essential is on the lower end of the pricing scale. These gloves are very affordable, giving anyone with the smallest spending budget a chance at boxing. Additionally, beginners could benefit from these as a first glove. Factor in other qualities like the padding and breathability and you have yourself a cheap glove that performs well at what its meant to do.
Trusted Brand
Extremely Breathable
Versatile
Affordable
TITLE is another big name on our list. It was established in 1998, having become very known and trusted throughout the years. They offer all kinds of boxing gear as well as varieties of MMA gear. Whether you are into boxing, muay Thai, or jujutsu, TITLE gear will have you literally covered.
Read more
Wrap Around Wrist
This glove uses a wrap-around wrist type of support. On it, is a hook and loop system which will keep the glove nice and snug on your hand. This means it's fairly adjustable, as long as it is within a certain range of looseness. It also provides support to your wrist, preventing possible spraining.
Triple Nylon Weave Mesh
On the palm of the glove is a little slip of mesh. Made from a triple nylon weave, it is as durable as it is breathable. Good breathability keeps your hands less clammy from sweat and assists in keeping you cool. This also will help reduce the bacteria left behind by sweat.
Cost and Value
The Title Wristwrap is a decently priced glove, having made it on the list at the low to mid-range of cost. It is rather affordable, however, it may not be as durable or long-lasting as other options on the list. It is a simple design, exposing the fingers, which helps lower the cost as fewer materials were used. Beginners can start here as well as those just trying to do some fitness boxing.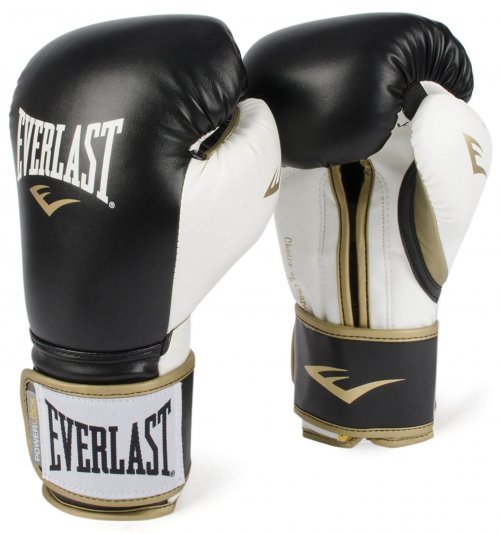 High-Quality
Compact
Balanced
Durable
Everlast makes our guide for the second time. This time they are offering a glove that costs a bit more. However, the Powerlock offers more quality benefits to the user. Protection, balance, and speed are among these things, all of them being important aspects to an aspiring boxer.
Read more
Comapct
The padding inside of the glove has a couple uses. Not only does it keep your hand and sparring partner safe, its injected in a way to form your hand naturally into a proper fist. Also, the efficiency of this design also helps make this glove compact, without sacrificing the safe softness of them.
Vegan Friendly
The glove uses synthetic leather in its design. Synthetic leather is made to look like actual leather and achieves this without using animal by-products. This makes it a very considerable option for a vegan, as they do not rely on animals for consumption. Synthetic leather is also easier to clean and is virtually odorless.
Cost and Value
The Everlast PowerLock ranks in the middle of the pricing range. It is not extremely expensive as far as gloves go, but it does cost more than the gloves on the lower end of the pricing range. For spending a little bit more you end up with a quality glove from Everlast that will last you a bit longer than other options.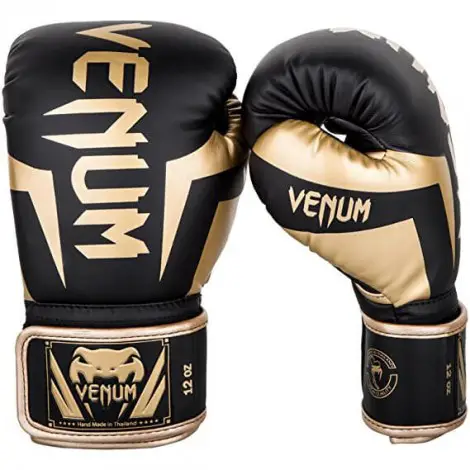 High Quality
Durable
Longevity
Great Padding
Venum was established in Thailand in the year 2006. They make gloves the work for both boxing and other martial arts like Muay Thai. In the world of fight gear, they are a big name, offering high-quality gear. They also have a history of sponsoring promising professional fighters such as Wanderlei Silva. If its high quality you need, Venum might have something for you.
Read more
Triple Density Foam
The Elite makes use of a layering process in the development of its padding. Known as the triple-layered process, it involves laying down three layers of high impact foam. This ensures your fist safety, as well as the safety of everyone else too. It is strong enough to hold up against frequent heavy bag training and sparring, so no worries about its longevity.
Reinforcred Palm
The palm of this glove is reinforced with leather. This gives it an added durability and provides added protection and support to your hand. This additionally reduces the risk of straining your arm and hand during use. This can reduce the hand's breathability for some, but some need the added support of venting.
Cost and Value
The Venum Elite sits in the higher price range on the guide. Being the pricier option on the list denotes certain qualities about it. For starters this is a high-quality glove for training, its materials and craftsmanship being superior. Should a beginner be able to afford these gloves, it wouldn't hurt to try them out first f that is an option at all, as it is quite a monetary investment. If they suit your needs, this glove can last you awhile.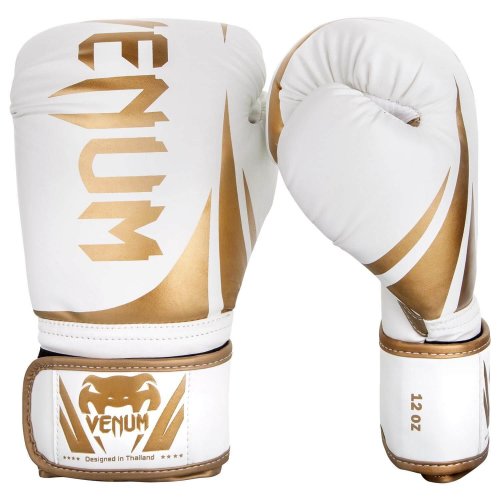 Affordable Quality
Synthetic Leather
Large Cuffs
Comfortable Thumb
Venum, like Everlast, makes our list for the second time. In this offer, Venum offers a more affordable variant of the Elite. With it, the fighter on a tight budget can have a bit of what Venum has to offer with its famous quality, even if some of the benefits of the Elite are not featured.
Read more
Polyurethane Leather
Polyurethane Leather or PU leather is synthetic leather. Venum makes use of high-quality PU leather in the making of this glove, giving it longevity and durability. It is not as durable as its genuine counterpart, but its easier to maintain without fear of rot. It is also cheaper, dropping its cost.
Large Wrist
The gloves have a large cuff that has several functions. Cuffs are originally meant for added wrist support and this gloves cuff is no different. On the cuff is a large hook and loop system that fastens together, not only providing extra support but also keeping the gloves on your hands simultaneously.
Cost and Value
The Venum Challenger 2.0 falls in the mid-range of pricing. Being less expensive than the elite gives a fighter on a budget an opportunity to have Venum's quality. This is a better-suited decision for somebody who is looking to take their boxing game a little more seriously or somebody who likes to look fancy while training and has the extra money to spend.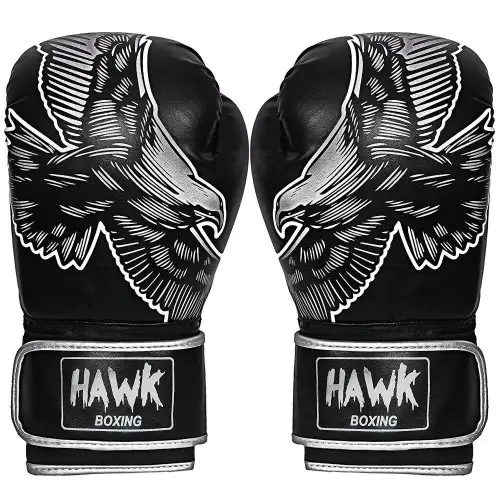 Great Padding
Wrist Support
Affordable
Velcro Straps
Hawk Sports offers some fighting gear of different kinds. They offer products for boxing such as gloves. They also sell some uniforms and more gloves for the likes of Muay Thai and Jujutsu. Offering affordable gear to those looking to start some martial arts.
Read more
Great Padding
This glove has a double-layered foam padding located in various parts of it. It covers the knuckles, lines the back of the hand, and is found in the wrist cuff as well. This use of foam adds a great deal of support and protection to your hands and sparring partner. It is also safe for heavy bag training and will not damage the equipment.
Breathability
In the palm of the glove are several holes for breathability. The holes are punched through the outside surface to the inside lining, promoting air circulation. As a result, your hand sweats less but still stays cool. This can also serve in the prevention of sweat causing bacteria that can make your gloves smell bad.
Cost and Value
Being extremely affordable, this item falls on the low end of the pricing scale. Being as affordable as our best-valued item, a fighter with little to spend can take comfort in knowing they have options in the market. These aren't as durable as other gloves, so you are limited to light bag hitting and sparring with these.
Criteria Used for Evaluation
Materials
One of the most important factors in boxing gloves are the materials that go into them. The materials are used and function in a number of different ways. Knowing what materials are can tell you not only the purposes they serve but also tell you how well they serve that purpose.
For instance, genuine leather tends to hold up better under blunt force than its synthetic counterparts. However, leather requires more maintenance to keep from certain problems, like rotting, than the easier to care for synthetic leather. Lastly, knowing more about the materials can also tell you about how much you are going to dish out to obtain the glove.
Leather
The leather is an animal byproduct known for its versatility as well as its durability. It is used in a huge variety of items, from clothing to some weaponry. In gloves, leather is used in the outer hull of the glove, which is the first line of defense for you and others.
Genuine leather is prone to the elements and requires extensive care to ensure they last as long as it's known to. This makes it harder to clean than gloves that use synthetic leather. Because of leather's durability and longevity, as well as the process of its development, gloves made of this tend to cost more as well.
Synthetic Leather
Synthetic leather is a man-made alternative to the genuine thing. It is developed to look like genuine leather, however, it has different characteristics and these depend on how the synthetic leather is processed.
It comes in many forms due to either how it is processed and what it used to process it. For example Maya Hide Leather is a kind of synthetic leather that employs the use of different plastics in its development; its development process being different from the process at which some others are developed. Synthetic leather is known to be cheaper to process as it doesn't rely on animals at all. However, despite being easier to care for and clean than genuine leather, it is known to be less durable and less lasting than genuine leather counterparts.
Foam
Almost every glove makes use of foam for the sake of padding impact. Some brands claim to have a signature method of padding whereas most make use of a triple-layered foam process. It is always a concoction of plastics with specific blasts of air to fill the plastics with air pockets that eventually make up a soft and safe system. The simple and basically universal production of the foam always ensures sufficient protection.
Mesh
Mesh can be made of different materials such as cotton blends containing polyester or nylon. They are also sometimes made up of only one of these materials. Some meshes exist only to allow the palm or other parts of the hand to breathe, depending on where at the mesh is placed on the glove (more often than not it is found in the palm.
However, a lot of gloves come with a special mesh known as sweat-wicking mesh, that not only serves to improve hand breathing but also to displace sweat, which will help keep your hands dry and less clammy inside of the glove. This can also help with the cleaning and sanitation of your gloves, as reduced sweat will also reduce bacteria.
Fit
Wrist Cuffs
The wrists of a glove almost always have several uses for you. It provides support for your wrist as well as keeps the glove on your hand. What makes up the wrist cuffs is almost always made of a material already mentioned above. It is typically made of whatever material makes the surface of the gloves hull, however, it is how you tighten the cuff that may be a different material, such as laces or a hook and loop system.
Everyone will need a differently weighted glove than the next person, but since sizes aren't always exact, especially in wrist size, the cuff typically is adjustable. Some find that some gloves fit perfectly on one's hand, but are too loose in the wrist. This can be remedied with wrist wraps, however, beware of the inverse, for if a glove is too tight, it cannot exactly be loosened up.
Tightening Systems
Always located on the cuff, the tightening system is made up of a separate material than the rest of the cuff. Sometimes it can come in the form of laces, much like shoelaces, or in a set of hook and loop fasteners.
In some cases, some gloves feature an additional set of hook and loop fasteners or mix up the multiple methods. For example, one glove has a hook and loop fastener that connects before finishing the process off with the tieing of laces. The purpose of this is always for added security and support for your wrist and hands.
Advanced Features
Antimicrobial and antifungal lining –
Everyone in boxing already knows about the importance of sanitizing and cleaning for your gloves. On the literal surface, it is important to sanitize the outside of your gloves after every use in a gym as to reduce the spread of bacteria from the gloves making contact with either another person or the gym equipment. However, bacteria growth can be a bigger issue if left alone on the inside of your glove.
The prevention of this requires other methods of cleaning, and some gloves come standard with an antimicrobial feature. The material inside of the glove is sometimes lined with materials of developed in a way that reduces sweat or is inhabitable for certain germs. Those who tend to have sweatier hands than others may find this feature to be of great benefit to them.
Expert Interviews & Opinions
Most Important Criteria
(According to our experts opinion)
Experts Opinion
Editors Opinion
Users Opinion
By Default
The Right Tool For The Job!
Make sure you choose the right type of glove for not only the type of bag you're going to be training on, but also the right kind of fighting style.
They Have To Fit!
Gloves that don't fit, simply don't fit. Be sure to get the sizing as good as you can get it. Otherwise, the gloves will move and shift all over the place with every strike. Put simply, it won't feel good for very long...
Other Factors to Consider
Bottom Line
The gloves we have selected are what we believe to be the best for your dollar. This alone could be enough information for some, however, some may need to learn the basics. This is likely the case for beginners or those considering getting into a new hobby and boxing is just the thing for them. When just starting out, selecting the best heavy gloves can be overwhelming when you aren't equipped with the necessary knowledge that can help you makes an effective choice. We feel these things are very important to know and knowing them will greatly help you out in this matter.
Frequently Asked Questions
q:

Can I use just one pair of glove for other activities?

a:

It is not recommended that you do that. Each event and training type requires you to use different weights of gloves. For instance, you can damage equipment and even injure a sparring partner if you use a glove that is too light on them. For those instances, you should want to use a heavier glove.
q:

Can I use boxing gloves for other martial arts?

a:

Yes. A lot of different gloves that were made primarily for boxings fist strikes can be used for many other martial arts the use fist strikes, even the ones that rely on more than just fist strikes, as boxing also relies on more than just fist strikes in its practice.
q:

Are there any gloves that do not require you wrap your hands?

a:

It is probably a better idea that you always wrap your wrists and hands. The risk of injury is increased without them. Some gloves will fit you just fine without them, being neither too snug or loose. However, when you go to buy a pair of gloves, you should consider your wrist size when wrapped.
q:

Can I use any weight of glove?

a:

Not exactly. It is not a good idea to just wear any weight of glove, despite having to eventually switch weights according to your activity, you will need to find the proper weight range so you aren't injuring people and damaging equipment.
q:

Can I find anything that can tell me what weight of glove I should use?

a:

Yes. Often, brands will have made a diagram easily available on their site that suggests what weight of glove you should use, which is determined by what weight you are. There are exceptions and it would prove useful to consult a fitness or personal trainer for better advice.
q:

Should I clean and sanitize my gloves?

a:

Absolutely. Sanitizing should be done after every glove use, especially if your gloves have made contact with any equipment or another's skin. This will reduce the spread of bacteria to others. Cleaning will happen less often but is just as important as it will clean the bacteria inside your gloves that grows from sweat.
Subscribe to our Newsletter