Best Heavy Bags Reviewed & Rated
last updated:
May 05, 2020
Boxing is deceptively simple from an outside perspective. This is particularly true of the training process that leads up to being competition-ready. A boxer only needs some boxing gloves, a bag, and a jump rope before they are off and running with their training. At least, this is what movies and television shows have led us to believe. People close to the sport, however, know the truth.
Punching bags come in a huge range of styles and weights, each with its own strengths and weaknesses. The most common kind of bag is the standard heavy bag. And despite being the go-to for boxing practice, finding the best punching bag for home requires a fair bit of work. There is at least one bag on this list that will appeal to users of almost any martial arts practice.
In a Hurry? The test winner after 4 hrs of research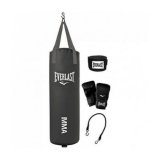 Everlast Heavy Bag Kit
Why is it better?
Composite Filling

Comes with Additonal Content

Quality Brand

Easy to Care for
In a
Hurry? Editors choice: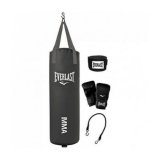 Test Winner: Everlast Heavy Bag Kit
Durability
Adjustability
Materials
By Default
10 Best Heavy Punching Bags
1

. Everlast Heavy Bag Kit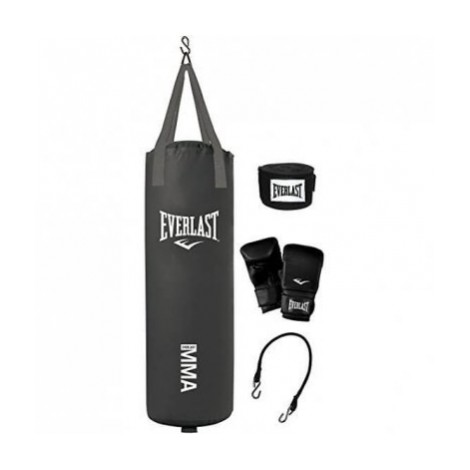 Composite Filling

Comes with Additonal Content

Quality Brand

Easy to Care for
This brand has been one of the biggest names in boxing equipment for decades. Their name is synonymous with quality and customer satisfaction whether the item in question is a pair of gloves, a pair of shorts, or a punching bag. Their heavy bag kit brings together several pieces of equipment into one package deal that puts the best parts of their products on display.
Read more
Composite Filling
This heavy bag is stuffed with a composite of materials that give it a unique density without sacrificing the strike reaction that many boxers look for in a heavy bag workout. The composite filling also prevents the filling from settling inside the bag as easily as single-filling bags can settle.
Comes with Accessories
These bags are some of the most affordable on the market today. But, in this instance, the price does not apply to the bag alone. The brand includes several accessories with the purchase of this bag, including a pair of gloves and wrist wraps.
Cost and Value
This brand means quality and they stand by their products. Investing in a bag is usually a smart idea and that holds true with this particular bag. The added accessories and composite filling are simply extra icings on the cake that brings a little more sweetness to this valuable purchase. This is why this is our top choice when it comes to the best punching bags for home.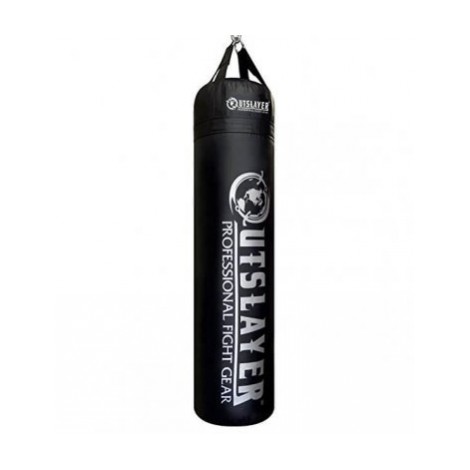 Ships Filled

10 Year Conditional Warranty

Ships in Protective Cover

Top Materials
Outslayer is one of those rare companies that focuses on one thing and one thing only. Their inventory is centered around punching bags and the hardware necessary to properly mount them. Few companies can thrive with such a focused inventory but Outslayer seems to be bucking the trend with their dedication to affordable quality.
Read more
Ships in Protective Cover
As unique as Outslayer is in their narrow inventory focus, they are even more unique in offering this particular feature. Their bags ship in a protective cover that not only protects the bags in transit but can be put on the bag to protect it between uses. This is a particularly important feature for anyone who may be planning to leave their bag mounted in a place where it is exposed to the elements.
10 Year Conditional Warranty
Outslayer has truly set themselves apart from the crowd already, but the trend does not stop with protective covers. The company also offers a ten-year warranty with the purchase of their heavy bag. There are some conditions on the warranty such as a prohibition against hitting the bag with anything sharp, but the warranty applies to most of the general use that a heavy bag will see.
Cost and Value
The Outslayer heavy bag is at the top end of affordable as far as this list's price range goes. There are several factors to take into consideration, however, such as the protective cover and one-of-a-kind warranty that comes with the bag. These factors combine to make the price more than reasonable.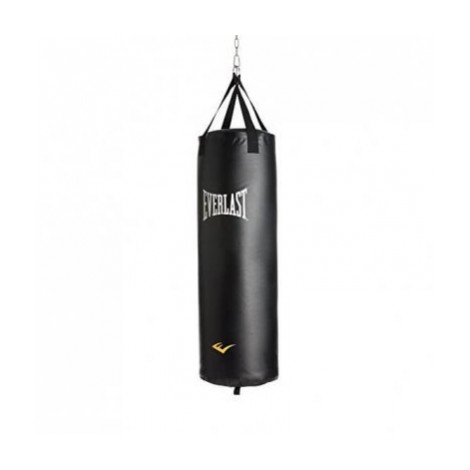 Multiple Weight Options

Quality Brand

Hardware Included

Durable
This brand is, by far, the biggest name in boxing equipment and has been for several decades. Their name denotes quality, making nearly every item in their inventory a solid investment for anyone serious about the art and sport of boxing. Their heavy bag is no exception and holds up well as an example of the quality that they offer for an amazingly affordable price.
Read more
Hardware Included
Heavy bags require specific mounting hardware to avoid the potentially dangerous event of the bag tearing loose from its mounting. Such an event could not only damage the bag but also the training area and, most importantly, the user. This brand isn't in the business of endangering their customers, so they include the necessary mounting hardware to make sure their bag stays mounted where it should be.
Multiple Weight Options
Different heavy bag weights have different benefits for different people. They also hold different drawbacks for the different people. They have been in the boxing business long enough to have this fact locked down. In order to work around it, they offer their bags in a range of weights so that each customer can pick the right bag for their specific needs.
Cost and Value
Despite its relative fame and reputation for quality, they are relatively affordable. Their bags are offered at a range of prices that correspond to the range of weights the company offers, each one an excellent value even before the added value of included hardware is taken into account.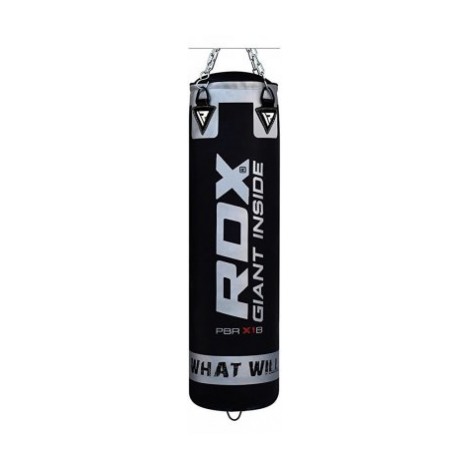 Comes With Accessories

Comes with Hardware

Multiple Lengths Available

Versatile

Very Durable
RDX is a company that strives to provide the best fighting gear possible to as many different branches of martial arts as they can. Most of their products are applicable across a range of disciplines, their heavy punching bags included. In addition to the cross-field utility, buyers receive a range of additional equipment pieces with the purchase of the heavy bag, adding even more value to an already impressive offering.
Read more
Multiple Length Options
RDX is not a company that relies on one facet of their product to provide value to their customer. Not only do their customers receive an array of additional equipment with their bag, but they can choose from a range of bag lengths. Bag length is not a one-size-fits-all situation and RDX ensures that their customers can choose the bag length that will leave them completely satisfied with their purchase.
Hardware Included
Bag hardware can cost users a pretty penny, a fact RDX knows well given that they have a few hardware offerings on the market themselves. But they are in the business of providing their customers with quality and that means including the necessary mounting hardware for their bags in with the bag purchase rather than requiring customers to buy the hardware separately.
Cost and Value
RDX is not the most affordable bag on this list but it comes close but it is the best punching bag for home. Heavy bags, in general, do not come cheap and the sheer amount of equipment that customers get for their money with RDX is astounding. Gloves and pads, just to name a few, as well as all the necessary mounting hardware. It's a fantastic bargain for a quality bag.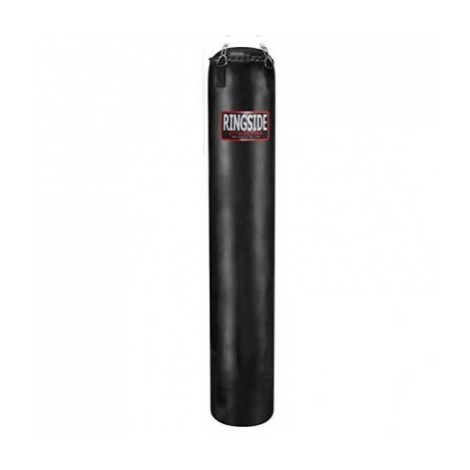 Synthetic Leather Construction

5 ft Long

Comes with Mounting Chains

Easy to Clean

Low Maintenance
Ringside is a regular among the companies featured on this site. Their quality and dedication to boxing are unquestionable, despite the fact that their products have yet to gain the status of a household name. They offer several heavy bags in a range of weights but the first of their best boxing bag chosen for this list if the 100 lb heavy bag. With solid construction and a few add-ons in addition to the quality, Ringside is known for their heavy bag is a sure bet.
Read more
Mounting Chains Included
Ringside is a company that prides itself on doing right by its customers and providing the best products they can at relatively reasonable prices. They are not the kind of company to cut corners that may cost their customers more money in the long run. To that end, they include the necessary mounting chains with the purchase of most of their heavy bags. This takes the guesswork out of buying the appropriate-length chains upon receiving the bag and lets their customers get to training a little bit sooner.
Synthetic Leather Construction
Ringside is usually a company that focuses on traditional small details when constructing their products. Now and then, however, they opt for more modern options instead. Their 100 lb heavy bag is one such instance. They chose to go with synthetic leather instead of natural leather, likely due to the easier care and keeping of synthetic leather. This choice also allows the bag to be sold at a more affordable price, making their brand quality available for a wider range of buyers.
Cost and Value
Ringside is not the least expensive brand on this list but their 100 lb heavy bag is roughly in the middle of the price spectrum. When the added value of included chains and free shipping is taken into account, the price seems a little more reasonable.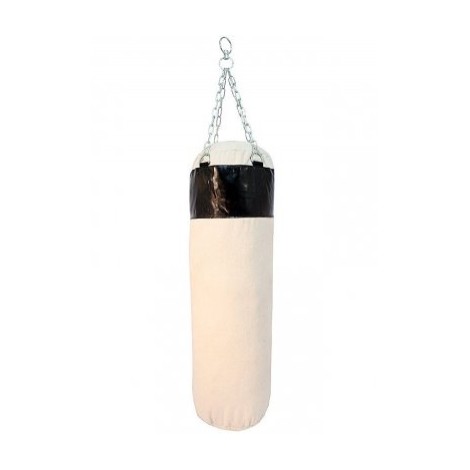 Light Shipping Weight

Variable Weight

Good Starter Bag

Exceptionally Affordable
Life Gears is a bit odd among the companies on this list. This is not only due to their varied inventory but to the variable nature of the products they offer. Some receive consistently high reviews while others are more varied. Their punching bag, however, seems to consistently please those who give it a chance, earning the company a place on this list.
Read more
Light Shipping Weight
The Life Gears punching bag ships unfilled. This will turn some buyers away but will certainly be a benefit for those who like the variability and personalization offered by an unfilled bag. Users can use anything they wish to fill the bag, though they will have to do some experimentation in order to find the best weight and density for both them and the bag. An unfilled bag also means that the shipping weight is lighter, leading to a jaw-droppingly low price.
Variable Weight
Unfilled bags give users the opportunity to fill the bag with whatever they wish. This means that, so long as the bag is dense enough, they can vary the weight of the bag to suit their needs practice by practice or user by user.
Cost and Value
This bag is, by far, the least expensive bag on this list of the best home punching bags. This low price does come with some drawbacks, however, and those are the reason it was not marked as the best value. The bag is intended for light use only and does not come with any of the necessary mounting hardware which will cost additional money to procure.
7

. Outslayer 150 lb Unfilled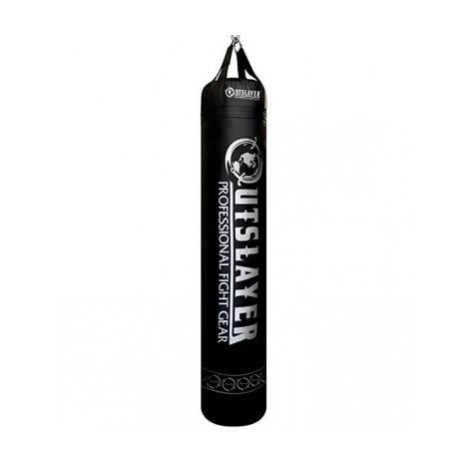 10 Year Warranty

No Chains Needed

Vinyl Exterior

Easy to Care for
It is little wonder that Outslayer made this list twice. They area company dedicated to selling quality heavy bags and all the hardware that might be necessary to keep those bags up and in use. Their products routinely receive the highest praise and solid reviews that set them apart from most other companies. Their sole focus on one product clearly pays off in the quality of their products and the prices at which they can sell them.
Read more
10-Year Warranty
Outslayer is unique among just about any sporting goods company in that they offer warranties with their products. This feature is even rarer among companies that sell martial arts and boxing supplies due to the aggressive and intense nature of the workouts these bags are put through. The warranty is conditional, prohibiting the use of sharp items when hitting the bag among a few other provisions. Barring that, the Outslayer bags are covered for ten years while most bags come with no warranty at all.
No Chains Needed
This heavy bag was designed with built-in cloth straps that match the black synthetic leather body. These straps remove the need for chains and allow the bag to be hung just about anywhere almost immediately upon arrival. It also removes the issue of noise from clanking chains, which is a bonus for those who may be using this bag in a private setting.
Cost and Value
Outslayer's bags fall roughly in the center of this list's price range. This may be steep for some, as the bag comes unfilled. Others may appreciate the opportunity to fill the bag with any filling they like while dealing with a lighter shipping weight.
Hardware Included

Canvas Exterior

Light Shipping Weight

Variety of Fill Options
Flexzion is a company that does not believe in putting all their eggs in one basket. Or, to be specific, in one market. Their products run the spectrum from self-defense keychains to blenders and back. This wide array of products does not seem to prevent them from providing quality at affordable prices, however. Their heavy punching bag is a prime example of this, with quality and durability packaged together under a remarkably light price tag.
Read more
Hadware Included
Heavy bags are, well, heavy. They require a fairly specific amount of hardware and support before they can safely be used. Flexzion takes much of the guesswork out of how to mount their heavy bag by including the hardware with the bag upon purchase. This ensures that the buyer will have all the pieces they need when they set up their new bag, letting them get into their train that much faster.
Light Shipping Weight
Flexzion's bag is unfilled which may deter some buyers but is a very large draw for others. An unfilled bag means that the item's shipping weight is much lighter than a filled bags would be. It also means that the bag can be filled with whatever the buyer wants, allowing for a customized density that pre-filled bags cannot offer.
Cost and Value
This bag is the most affordable on this list and for good reason. It has a light shipping weight which means that the cost of shipping has not been defrayed into the cost of the item. This also means that the buyer can use any filling they choose and they don't have to worry about hardware as that is all included.
9

. Contender Fight Sports Heavy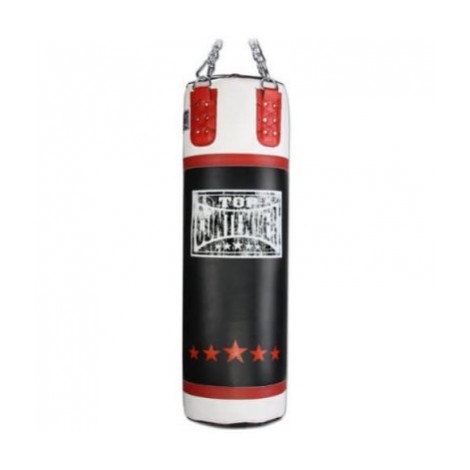 Multiple Weight Options

Leather Exterior

Hardware Included

Quite Durable
Contender Fight Sports is a company that lives up to its name. Its entire inventory has been cultivated for practitioners of fighting sports though they do not limit themselves to one branch. Their products are almost universally highly rated and their customers routinely review the items as excellent investments that live up to the company's promise of quality and longevity.
Read more
Leather Exterior
Natural leather has long dominated the boxing gear market. Synthetic leather has begun to rival it recently, but many boxing enthusiasts agree that little can compare with the durability and strength of genuine leather. The bag may require a little more care, but it will last for decades with the right owner.
Multiple Weight Options
Most of the bags on this list are sold at one weight or another. Contender, however, offers their bag in a range of sizes. This allows the buyer to purchase the bag that best fits their needs rather than settling for one that might now be "just right".
Cost and Value
Contender's heavy bag is available at a range of prices, each one attached to a different bag size. Even their least expensive bag falls towards the high end of the price spectrum but the genuine leather exterior and included hardware may take some sting out of the price for certain buyers.
10

. Ringside Heritage 90 lb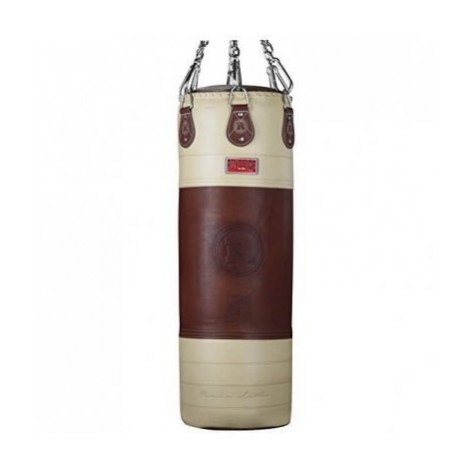 Quality Brand

Traditional Construction

Unique Appearance

Exceptionally Durable
Few Reviews

High Price Point
Ringside may not be a brand that a random person on the street could name. But that does not reduce their dedication to the traditions that made boxing popular or the quality of their products. Customers are nearly always satisfied with a Ringside product and they are frequently listed among the best sellers on this website. Their Heritage heavy bag is the perfect example of their dedication to history and quality, both traits wrapped tightly in one eye-catching package.
Read more
Quality Brand
Most people can name a few sports gear brands off the top of their heads and it's a good bet that Ringside is not one of those brands. And, in all honesty, it should be. Ringside is a company dedicated to the preservation of all things that made boxing great from high-quality equipment to the vintage aesthetics that still draw people into this day.
Traditional Style
Most modern heavy bags are made of black synthetic leather with lettering along the exterior of the bag. Ringside chose a more classically appropriate aesthetic for their Heritage line. White and natural-toned leather alternate to create a unique pattern that is detailed with pressed icons and brown leather hardware settings.
Cost and Value
This bag is the most expensive on our list by far. It is well outside the average price range for a heavy bag of its weight, but it simply could not be left off the list. Ringside has proven their worth time and again, both with their heritage line and their general selection of products. This bag is overpriced for the casual user, but if someone is looking for a traditionally made bag with a classic look and quality construction, they can't do better than the Ringside Heritage line.
Criteria Used for Evaluation
Durability
Protective covers are almost as rare as warranties. They are a tremendous bonus when they are added on to the purchase of a bag, however, and can serve several purposes. Some customers use their protective covers as bags in which to transport their heavy bags. Others use the covers to keep their bags protected from the elements while it hangs outside.
Warranties are rare among any kind of sporting good. They are even rarer among martial arts equipment. One or two companies on this list buck that trend, however. The offered warranties are often conditional but the conditions are well within the reasonable limits of what a user would do with a heavy bag, allowing the customer to get the full use out of the bag without voiding the protection of a warranty.
Materials
Most heavy bags shipped filled directly from the factory. This means less work for the consumer but it also means that the filling is out of their control as is the exact weight of the bag. Most users enjoy the standardized weights and densities of pre-filled bags, however, which is why this style of bag dominates the market.
Several bags on this are unfilled. This means that there is nothing inside of the bags when they are shipped and it is up to the customers to decide how to fill the bag and to what weight. Most unfilled bags have an upper weight limit that they cannot exceed, but some of the bags require a little trial and error to find the right weight. Unfilled bags are generally more customizable than pre-filled bags but there is a greater risk of the filling settling as well as the bag density being too light for serious users.
Bags that come pre-filled are often filled with only one type of material. Some, however, are filled with a composite of materials. This gives the bag a unique strike reaction as well as contents that do not settle as easily as they would if the bag had a single type of filling.
Adjustability
When hanging a punching bag, it is incredibly important to follow instructions that the bag calls for. Most punching bags will suggest that you hang right from a support beam so that it has the best stability and a lesser chance to come crashing down. You will need an eye bolt so that you can drill it into the support beam and then loop the chains from the bag through the eye hook and the bag will be stabilized.
Expert Interviews & Opinions
Most Important Criteria
(According to our experts opinion)
Experts Opinion
Editors Opinion
Users Opinion
By Default
Pick the Right Weight
When searching for the right punching bag, it is suggested that you choose a bag that is 1/2 of the weight of the boxer!
Other Factors to Consider
Accessories
A few of the companies on this list chose to add heavy bag gloves or wrist wraps with their bags. These add-ons are not common but they do add additional value when they are included. They are especially ideal for customers who may be getting into boxing for the first time and are unsure about which gloves or wrist wraps to buy, as the package deal gives them a starting point while adding little to no extra cost.
Bottom Line
When buying a heavy bag you have a lot of options and should take some time for consideration. If interested in Boxing or other martial arts disciplines, a heavy bag can be excellent for training but it can also take quite an investment. Finding it to not be your cup of tea can leave your bank account low and you unhappy. Try the heavy bags at your local gym and see what you think before deciding to purchase one for use at home. But if you still decide to purchase one from our list of best punching bags in 2020 you will make a good choice.
Frequently Asked Questions
q:

Are heavy bags shipped filled or unfilled?

a:

Some ship filled and others unfilled. It depends on each company and the specific bag they are selling. This list notes which bags are filled and which are unfilled for the benefit of the reader.
q:

How do I care for a genuine leather heavy bag?

a:

While it is true that genuine leather has to be cared for more carefully than synthetic leather, the care routine is fairly simple. The bag must be wiped down after practice if any fluids come into contact with the surface. It must be cleaned with a leather cleaner every few months and then conditioned with an appropriate leather conditioner to ensure that the leather stays moist. This will help avoid cracking and ensure that the bag reaches the full potential of its lifespan.
q:

How do I mount a heavy bag?

a:

Most heavy bags mount via an eye bolt set into a ceiling or overhead rafter. The bag hangs from a hook on this eye bolt. It is suspended from heavy bag chains that connect to the hook, often in a three or five-point pattern around the top of the bag so that the force of strikes down not cause a tear or dislodge the bag from its hook. You can also find some great freestanding options.
q:

Do I need gloves to use a punching bag?

a:

Gloves are strongly recommended when using heavy bags. The bags are often so dense that hitting them without gloves can cause serious damage to the bones of the hands and wrists, even if the user is not swinging with the full force of their arm and should. Gloves offer protection for these easily-damaged bones without interfering with the benefits of bag training.
q:

Can I use a heavy bag with only hand wraps?

a:

Experienced users may feel comfortable using a bag without gloves but it is not recommended. Even experienced users can severely damage their hands and wrists if they are not properly protected during bag training.
Subscribe to our Newsletter