Best Home Gyms – Gym Machines & Portable Gym Reviews
last updated:
Apr 02, 2020
It can be a major hassle to get in your car, hop on your bike, or catch the bus or train across town just to get to the gym. All that time that you waste commuting could be spent working out. Instead of raising your heart rate, you're stuck in traffic getting a leg cramp because you've been sitting all day. The frustrations of driving mixed in with the wasted time may make you begin to wonder if you should even bother going to the gym at all.
If this sounds like an unpleasant scenario that you'd like to avoid, then you may be in the market for the purchase of home gyms. These products bring all of the opportunities for training from the gym right to your living room. Our experts at Fighting Report reviewed and rated 10 best home gym machines for your best workouts.
In a Hurry? The test winner after 12 hrs of research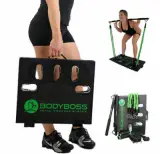 BodyBoss 2.0 - Portable Home Gym
Why is it better?
Portable
Low cost
No assembly required
Versatile workouts
Included workout program
In a
Hurry? Editors choice: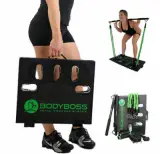 Test Winner: BodyBoss 2.0 - Portable Home Gym
15
Researched Sources
2700
Reviews Considered
12
Hours Researching
16
Products Evaluated
Versatility
Accessories
Materials
Ease of Use
By Default
Best Home Gyms Reviews & Comparisons in 2020
1

. BodyBoss 2.0 - Portable Home Gym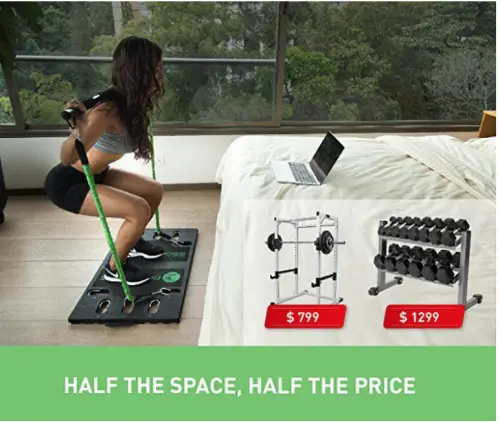 Portable
Low cost
No assembly required
Versatile workouts
Included workout program
May receive incorrect color
BodyBoss started out with an idea. One person thought, what would happen if a home gym was made portable? Well, this thought turned into a Kickstarter campaign that raised tens of thousands of dollars. People loved the idea so much that this company launched itself from a simple idea to an internet crowdfunding campaign, to a breakthrough company finding raging success in the fitness market. The BodyBoss 2.0 - Full Portable Gym Home Workout Package is low cost, has a versatile range of workouts, and has no nuts, bolts, or screws required.
Read more
Portable
This is the one and only product on this list that is fully portable. Every single other product on this list is stationary once you set it up. This confines your workout to one room or area of your home. But with this product, you can break free and take your workout anywhere. Simply collapse it, pick it up by the carry handle, and go.
Included workout Program
BodyBoss didn't just invent a portable home gym with their product. They also invented an innovative workout regiment to help you get toned and in shape. While optional, this included a workout program that is used by thousands of satisfied customers across the world.
Cost and Value
This is by far the least expensive item on our list. If you're looking for a stationery design that's more traditional (made of steel, has a weight stack, etc.) then this is not the product for you. However, if you're interested in an innovative, paradigm-shifting design that allows you to pick it up and carry it with you, then you may want to consider purchasing the BodyBoss 2.0 - Full Portable Gym Home Workout Package.
3 stations
Multifunction press arm station
DuraFirm pads for lumbar support
Lifetime manufacturer's warranty
210lb weight stacks
Body-Solid Inc, founded in 1989, has grown over the years, They started out in a small warehouse, but nowadays operate out of a 200,000 square foot facility that serves as their manufacturing plant, distribution center, and company headquarters. Another powerhouse of a company, Body-Solid brings the second product to the list with the Body-Solid EXM3000LPS. This product has many notable features, including multifunction press arm stations and DuraFirm pads for lumbar support.
Read more
Three stations
This product is truly the most diverse on our list, with no fewer than three separate stations to provide you with an array of workouts. Each station has something different to offer, ensuring that you can get in a complete range of exercises all in one place during your workout.
Lifetime manufacturer's warranty
This product is guaranteed to last a lifetime. It even has a warranty that says so. Should anything go wrong with this product at any time, simply contact the manufacturer and they will assist you in remediating the situation. Sometimes pieces break, and accidents happen. That's life. But this warranty makes this headache slightly less painful.
Cost and Value
This product is by and far the most expensive on our list, by several thousand dollars. It has many features that other items listed here do not; all the other home gyms have just one station. However, it was designed for use in a commercial gym. If you have the space for it, this product could be a great addition to your home gym. However, if you're working out in a limited space, then this product may simply be too large for you. Still, these are one of the best home gym machines on the market for a good workout.
3

. Total Gym XLS - Body Strength Training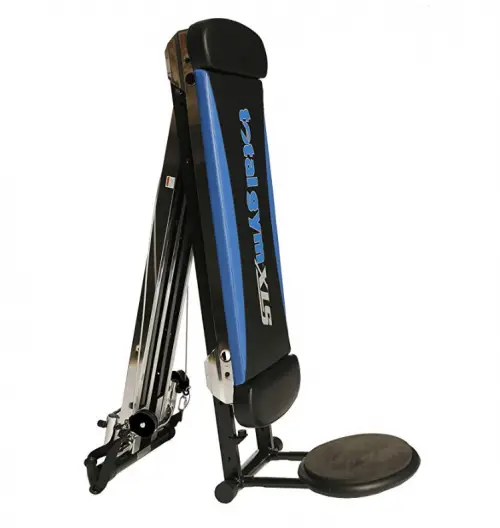 Beginner-friendly
400lb weight capacity
Included accessories
No assembly required
Total Gym was founded twenty years ago and has risen to such a level of prominence that it has come to be endorsed by none other than Chuck Norris. Total Gym got their start in rehabilitation centers, where the main focus was to help people who were recovering from physical injuries. They grew to prominence for many reasons, among being that the gliding motion is easy on joints, the customizable heights accommodates even beginners, the ergonomic support, and more. The Total Gym XLS – Universal Home Gym for Total Body Workout has these features and more.
Read more
Included accessories
Usually, when you order a product, what you see is what you get. In order to maximize their bottom line, most companies don't include a lot of freebies or extras. That is not the case with the Total Gym XLS. When you order this product, you also receive the Wing Attachment, Leg Pull Accessory, Ribbed Squat Stand, 5 Workout DVDs, Exercise Chart, Training Deck, and Nutritional/Meal Planning Guide.
No assembly required
Every single other home gym on this list requires at least some effort to put together. This is one of the greatest downfalls of these products: the assembly. However, with the Total Gym XLS, you can avoid this pitfall entirely. It ships fully assembled. It even folds for storage.
Cost and Value
This product is on the higher end of the price range when compared to other items on our list. It is smaller than most other items like it, which some might call a detraction. However, though this item may be small, it is mighty. It folds for convenient storage, making sure it doesn't waste space in your home. Additionally, it is friendly to all levels of experience. Best of all, no assembly is required. And when it's endorsed by Chuck Norris, you know it's worth every cent.
4

. Marcy Stack Dual Function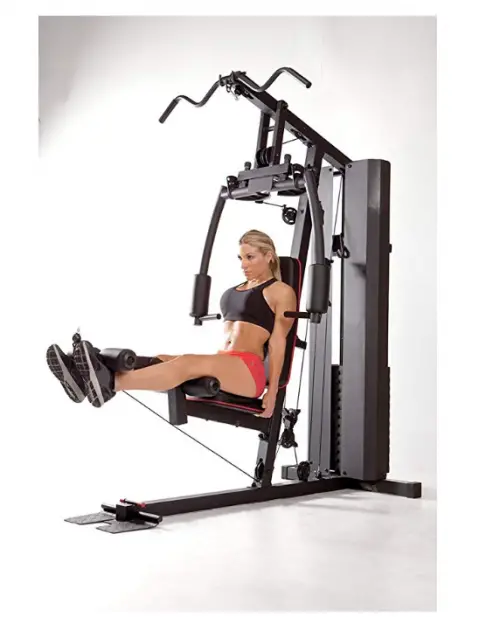 14 gauge steel tube frame
Safety protective stack cover
Premium vinyl upholstery
Multi-funciton arm press
Powder-coated finish
Some models may be defective
Marcy, like Bowflex, is well-known and pervasive in the fitness industry, especially when it comes to home gyms. This company, which has been in business for over two decades, has risen to prominence in the industry. Its products are widely lauded and highly rated. Marcy brings a third and final product to our list with the Marcy Stack Dual Function Home Gym. This product has a 14 gauge steel tube frame and a safety protective stack cover.
Read more
Premium vinyl upholstery
One of the least-talked-about, but most important aspects of any home gym is the part that your body will be having the most contact with. I'm referring, of course, to the upholstery. Many home gyms focus on the number of exercises and the kinds of weights, but many forget to design comfort and ease of cleaning into this aspect. The Marcy Stack Dual Function Home Gym certainly did not ignore this crucial design aspect, using long-lasting and easy-to-clean vinyl to cover its seating.
Multi-function arm press
Arm presses don't have to just be locked into one set of functions. With this product's multi-function arm presses, you can work your pectoral muscles with these dual-function arm presses. You can switch from a horizontal chest press to a vertical butterfly exercise. This versatility will give you a full range of motion and a full range of exercise.
Cost and Value
This product sits squarely in the middle when it comes to price. It has a great set of features for a mid-range product, with multi-functional arm presses, premium vinyl upholstery, a solid 14 gauge steel tube frame, and a powder-coated finish for durability. If you're looking for a product that is versatile and will stand the test of time, the Marcy Stack Dual Function Home Gym is a great option.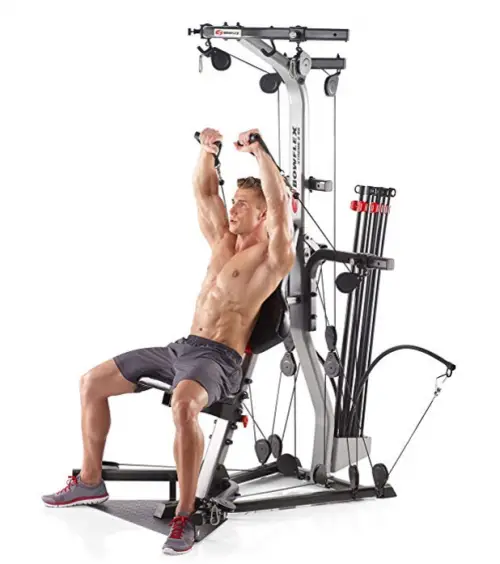 75+ exercises
Upgradable resistance
210lbs built-in resistance
Ergonimic adjustable seat
Steel frame
Bowflex brings a third and final product to our list. A company as well-known, high-quality, and pervasive in the home fitness industry as Bowflex means that their products are everywhere, and among the most highly rated around. Then, it should be no surprise that they bring another item to us today, this time the Bowflex Xtreme 2SE. This product is made of a solid steel frame that has 210lbs of built-in resistance and an ergonomic, adjustable seat.
Read more
75+ exercises
Most home gyms average between thirty and sixty available exercises in their built-in capabilities. The Bowflex Xtreme 2SE Home Gym blows those numbers out of the water with more than seventy-five exercises to choose from. No matter what you're training for or what your fitness goals are, this home gym machine has the capability to help you reach your goals.
Upgradable resistance
With products like this one that provides their lifting experience from resistance bands, oftentimes what's built-in is what you get. This product has 210 pounds of on-board resistance, but you aren't necessarily limited to that. If you are at a point in your strength training where you need higher amounts of resistance, you can upgrade your machine in increments of 100 pounds.
Cost and Value
This product has a lot going for it. However, those high-end features come with a high-end price tag; this product is the second most expensive on our list. If you're someone who isn't looking to spend a lot of money upfront, you may want to look at other items. However, if you're serious about acquiring the best home gyms possible and have the money to invest, then this product could be the right fit.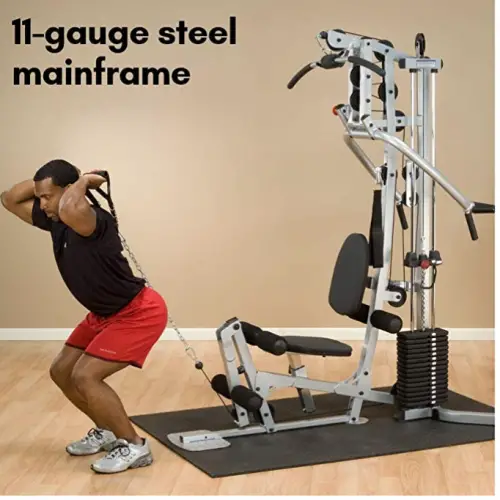 Ships mostly assembled
11-gauge mainframe
Chrome-plated
2200lb tension strength
10yr manufacturer's warranty
May ship without all parts
Body-Solid Inc. was founded in 1989. They originally ran themselves out of a 10,000 square foot warehouse. Nowadays they are housed in a 200,000 square foot warehouse and distribution facility outside of Chicago, Illinois, which also houses their headquarters. Being in the market for over twenty years, they have an extremely diverse product line. This includes multi-station gyms, free weight machines, cardiovascular products, weight plates, kettlebells, dumbbells and more. The Body-Solid Powerline Home Gym is an excellent example of a product done right, with its chrome-plated, 11-gauge mainframe and 2200lb tension strength.
Read more
Ships mostly assembled
Most people love the idea of a home gym. However, there is one reality to the process that most people would avoid at any cost: the assembly. If assembling a bookshelf from a big-box furniture store is hard, imagine a metal device with dozens of moving parts. This headache is what Body-Solid sought to avoid with the Body-Solid Powerline Home Gym. There are only nine bolts that need to be fastened, and then you can start getting pumped!
10-year manufacturer's warranty
Sometimes products are defective, and sometimes things go wrong. That is just life. Usually, when misfortunes or accidents happen, we just have to suck it up and deal with them. In this case, though, Body-Solid has sought to make this eventually just a little less painful with its 10-year manufacturer's warranty.
Cost and value
This product has a mid-range price when compared to other items on our list. though it may look smaller and less impressive than its competition, it has several things going for it that making too good to pass up. Most notably, the fact that very little assembly is required. Avoiding hours sitting on the floor amidst a maze of nuts, bolts, and metal pieces is something most people would pay to avoid if they could--and now you can!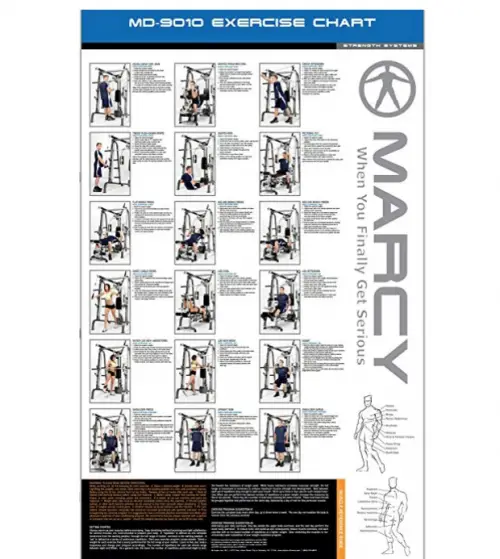 Linear bearing
Olympic free-weight rack
Dual action leg developer
Multifunctional press arms
All-steel construction
Marcy, owned by IMPEX, was founded in 1982 and became one of the forerunners in the fitness industry through their reputation for producing high-quality products for high-profile companies. IMPEX has many brand names that it has acquired and licensed throughout the years, each of them successful and able to stand alone in excellence and reputation. Marcy is just one of these notable brands, bringing the second product to our list with its Marcy Smith Cage Workout Machine Total Body Training Home Gym System.
Read more
Linear bearing
Sometimes cables get snagged, or the pull can get choppy and cumbersome. Marcy was on top of this problem, however. The unique design involving the linear bearing on this piece of equipment prevents any snags, ensures smoothness of motion, and leads to an easy and user-friendly experience.
Olympic free-weight rack
When one thinks of Olympic weight racks, those prestigious games come to mind and high-quality workout equipment that is beyond the reach of the average person. Now, though you are free to engage in intense strength training or weight lifting at home. The Marcy Smith Cage Workout Machine Total Body Training Home Gym System includes 6 weight plate pegs, built right into the frame. This allows you to organize your weights/barbells on the machine for quick accessibility.
Cost and Value
This product is on the higher end of the range when compared to other items on our list, being the third-most-expensive. It has features that other products don't have, namely the fact that it is an Olympic free weight rack. Most other home gyms rely on resistance bands to give you your workout, but this product has this astounding feature to allow you to use free weights. This product also has a linear bearing, a dual-action leg developer, and is made of all steel. It has a huge range of features if you're willing to pay for them. You can use it as home gym leg machine, weight machines or ab machine, it's up to you.
8

. Bowflex Blaze Home Gym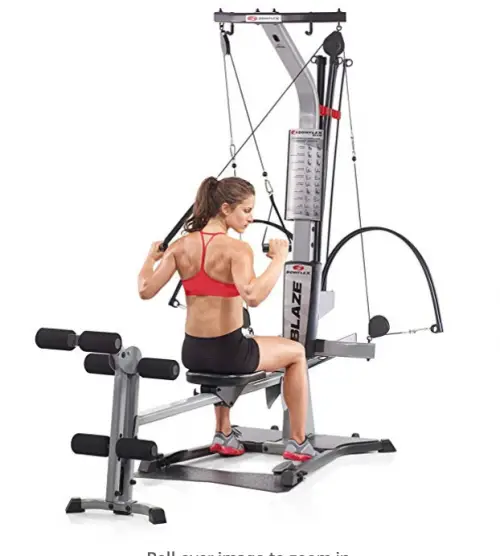 60+ exercises
210lbs resistance
Upgradable resistance
7 free included workout regimens
Included lat and squat bar
Difficulty in switching exercises
Bowflex is perhaps the most famous company on our list, being a juggernaut in the home fitness industry since the first Bowflex was produced in 1986. Today their global headquarters is based in Vancouver, Washington. However, they have other offices all over the globe to meet the international demand for their products. Bringing a second product to the list, the Bowflex Blaze Home Gym does not disappoint. It features 60+ exercises, 210lbs of resistance, and upgradable resistance if you want more.
Read more
7 included workout regimens
So, you've ordered your home gym and received it in the mail. Now you have to figure out what to do with it. Researching and inventing new workout routines can be frustrating, and takes time away that could be spent exercising. The Bowflex Blaze Home Gym takes care of this problem by providing you with no fewer than seven separate workout regimens to suit your needs.
Included lat and squat bar
Most people associate Bowflex with resistance bands and various kinds of pull-down exercises. Little do they know that this product also comes with a lat and squat bar to help you perform an even more diverse range of exercises. Just because you've bought a home gym doesn't mean that you have to compromise to anything less than commercial-level quality.
Cost and Value
This product has a mid to low range cost when compared to the other items we've gathered here on our list. While it is not the most inexpensive, it definitely has a lot of qualities that make it well-worth its moderate price. This is especially true when you consider the more than 60 exercises you can do with this machine, and the seven included exercise regimens.
9

. Marcy 150-lb Multifunctional
Steel construction
Weight stack lock
Dual action arm press
Removable curl pad
Marcy is owned by IMPEX. IMPEX was founded in 1982 and quickly gained a reputation as a winner in the fitness industry as a prestigious manufacturer of fitness products for many high-profile companies. Through the years, IMPEX has acquired and licensed many high-quality brand names, of which Marcy is one. They own over six different brand names, and overall their products reach every single niche in the fitness industry. The Marcy 150-lb Multifunctional is a welcome addition to its line, featuring a dual-action arm press and having a solid steel construction.
Read more
Removable curl pad
Sometimes you need something, and sometimes you don't. However, when you're not using a certain feature of a product or an item in your home, you're usually stuck with it taking up space. However, with the Marcy 150-lb Multifunctional Home Gym, this isn't the case with the removable curl pad. When you're focusing on other areas of your body and fitness training, you can simply take it off and store it until you're ready to use it.
Weight stack lock
The Marcy 150-lb Multifunctional Home Gym comes with a 150-pound selectorized weight stack. You can use the weight stack lock to customize the level of difficulty, as well as being able to avoid the cumbersome task of manually loading and unloading weight plates. Finally, the built-in safety lock can prevent unauthorized use of your equipment, which is especially useful in homes with children.
Cost and Value
This product is the second-least-expensive item on our list and is extremely reasonably priced when you compare it to the other products listed here. Despite its low price, it is still jam-packed with high-end features and exercises. The removable curl pad and weight stack lock are just the starting point; when you factor in the dual-action arm press and the solid steel construction, this product is worth every penny.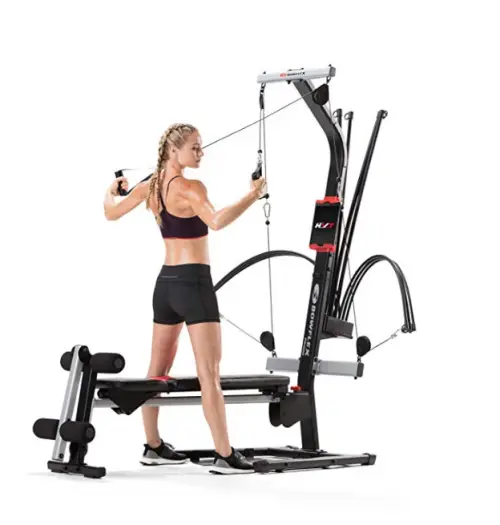 300lb weight maximum
30 strength exercises
Up to 210lbs of resistance
Included rowing machine rail
Bowflex is perhaps the most ubiquitous name in the home-gym game. Established in 1986, it began when the founders took a look at the fitness industry and realized that all the manufacturers were making products for commercial gyms. Realizing the true expanse of the unfilled home-gym niche, Bowflex was founded on the principle of bringing gym-quality equipment right to your home. The Bowflex PR1000 Home Gym has many features that embody these principles, such as its thirty different strength exercises and offering up to 210 pounds of resistance.
Read more
Rowing machine rail
Many home gyms offer a few kinds of exercises, usually designed around resistance bands being pulled by either the arms or legs. However, the Bowflex PR1000 Home Gym adds another exercise to its impressive roster by included a rowing machine rail. You won't have to sacrifice the ability to do this particular exercise when you purchase this home gym.
High weight maximum
This product has the ability to handle up to three hundred pounds of user weight. This product's high weight maximum means that exercises of many sizes can use this product to get in shape. Some products are too flimsy to handle this much pressure, but the Bowflex PR1000 Home Gym is made with excellent sturdiness and durability and can handle what you dish out.
Cost and Value
This product has a low to mid-range price when compared to other items on our list. Other products on this list cost several hundred to several thousand dollars more than the Bowflex PR1000 Home Gym but do pretty much the same job. If you're looking for a sturdy machine by a trusted brand name that is versatile in its exercises, this may be the product for you.
Criteria Used for Evaluation
Versatility
The number of exercises: Most standard home gyms will include at least thirty exercises. The more expensive machines will usually have more exercises, with mid-range machines providing between fifty and sixty different options. High-end machines will have seventy-five or more options available. Depending on your priorities, you will need to decide on the sweet spot between how many exercise options you want, and how much money you are willing to spend.
Kinds of exercises:
The most basic kinds of exercises you will find included in your home gyms are arm- and leg-targeted options. Best home gyms utilize either system of resistance bands or traditional weight stacks. By utilizing both of these methods, the primary way that they allow the exerciser to gain strength is through a pulling action. These pulling actions are the most common kinds of exercises you're going to see in home gyms. These include lat pull-downs, arm and leg extensions, arm, and leg curls, etc. More advanced home gym machines may have a rowing machine option to expand your repertoire, but this is by no means a universal feature.
Accessories
Arm curl pads:
Some home gyms will include an arm curl pad, and some will need to be purchased separately. The main goal of the arm curl pad is to allow you to perform exercises to tone and improve the bicep. The bicep by far the largest muscle in your arm, and as such, training it will help to increase your arm strength. Training your bicep will have a significant impact on the appearance, tone, and overall shape of your arm.
Leg curl pads:
Leg curl pads allow you to perform a diverse array of exercises, depending on the setup and capability of the attachment. The most ground-level exercise is the leg curl, which trains and strengthens the hamstrings. The hamstrings are the muscles along the backs of your upper legs. Having tight or weak hamstrings can lead to problems, specifically to pain in the lower back. If the leg curl pad also allows you to perform leg extensions, this will allow you to also train your quadriceps (the muscles along the front of the upper leg) and the calves (muscles along the back of the lower leg).
Fitness routines:
Some companies will include a fitness routine or workout regimen complimentary with your purchase. These may be in a written pamphlet, booklet, or brochure. Alternatively, they may in a digital format, such as a DVD or series of video guides available online.
Materials
Resistance bands vs. Traditional Weights:
When you pull down on the grips of your machines, you strain your muscles. The source of that strain is resistance. In-home gyms, resistance is provided through one of two ways. The first is the traditional weight stack, which involves a series of weight plates that you adjust. By adding more weight, you increase the amount of resistance. The other method, made popular by Bowflex, is resistance bands. These bands do not utilize traditional weight stacks, but rather simply increase the amount of resistance you experience when you pull down on the grip. The benefit of resistance bands is that it makes for a lighter machine, as you don't have two hundred+ pounds of weight plates to assemble and move around. The downside is that some buyers have reported that the resistance levels are lower and less impressive than traditional weight stacks.
Powder-coated:
Powder-coating is an incredibly popular method of applying a finish to workout equipment. It is extremely popular across manufacturers of workout machinery and could be considered an industry standard. Powder-coating means that once the equipment–usually steel-framed–is finished being assembled, a dry finish is applied in a thin layer to the exterior. This layer prevents rust, scratching, discoloration, and other wear and tear on the metal.
Vinyl fabric:
Vinyl is the usual fabric you will find on the seat or other cushioned areas of the machine. Vinyl is a synthetic fabric that does not absorb sweat or moisture. This makes it ideal for use in workout equipment, as more absorbent fabrics would take up liquids, breed bacteria, and soon begin to smell.
Ease of Use
Pre-assembled:
Some machines come pre-assembled or require minimal assembly on delivery. Simply get it out of the box and begin work out. These options, while more convenient, do have a few drawbacks. They tend to be smaller than their more complex counterparts and have fewer exercise options. However, because they are smaller, they are also easier to store and move around, being many pounds lighter.
DIY:
Deciding to put your home gym together yourself will save you some money, but it is quite an undertaking and will take some hours to complete. There are hundreds of metal pieces, nuts, bolts, fastening, and steel bars to fit together, and the instruction manuals are usually fairly long and dense. However, if you are technically savvy and have the time to dedicate, putting it together on your own can be an interesting mental exercise and can save you some cash.
Purchasing professional assembly:
Some machines come with the option to purchase professional assembly. This means that experts will come into your home and put your home gym together for you. This ultimately saves you the headache of having to fit together hundreds of different parts, but it tends to cost several hundred dollars, and not every machine has this option. If you are not technically savvy and have some extra funds, it may be worth purchasing this option.
Expert Interviews & Opinions
Most Important Criteria
(According to our experts opinion)
Experts Opinion
Editors Opinion
Users Opinion
By Default
Maximum Limit on the Weight Stack
Most weight stacks top out at two hundred and ten pounds. This amount usually cannot be upgraded. With machines that use resistance bands, some home gyms have the option to upgrade the amount of resistance to the equivalent of three hundred pounds, or four hundred pounds.
Saving Money
Purchasing best home gyms will not only save you money in the long run, but you also don't have to worry about germs and weather as an excuse not to workout.
Other Factors to Consider
Features
All of that time that you previously spent driving could potentially be spent strengthening your body. Having one less errand to run during the day and one less place to go can lend someone an incredible amount of peace of mind. We all have a huge amount of stress in our lives; purchasing a home gym will allow you to remove at least one stressor.
Not only do these machines save you a commute, but they are also extremely versatile. Most have dozens of exercises built into them. Whatever workout you were previously doing at the gym, you can now do at home with very little modification. You also get the added benefit of never having to wait for the machine you want to use to become free. Lines tend to build up at the gym; a line will never build up in your house. Finally, there is a huge range of options available when it comes to these machines. Some have rowing rails; some are Olympic free weight racks; some come with included workout routines, and some are deceptively simple but powerful. Whatever your need, there's a home gym to meet it.
Frequently Asked Questions
q:

How do I put home gyms together?

a:

There are three main ways to get your home gym together. If you purchased a pre-assembled one, all you have to do is pop it out of the box, set it up, and begin working out. If you ordered a more complex machine, you will need to follow the instruction guide closely to ensure you are assembling it correctly. Some machines have the option of purchasing professional assembly services with your home gym. Keep assembly options in mind as you are shopping around.
q:

What do I do if it ships without all the parts?

a:

You will need to contact the manufacturer or seller immediately, with the exact part name and description–or better yet, with a picture. Once they know the part that's missing, they can ship it to you. You'll need to keep an eye out during the assembly process to ensure that you have all of the parts. Document all missing parts and let the seller know all at once, rather than contacting them multiple times, which may cause miscommunication.
q:

What is the difference between resistance bands and traditional weight stacks?

a:

Traditional weight stacks increase resistance by simply adding weight. When you want more resistance, you change the setting in increments of ten pounds. In short, you increase resistance by adding more pounds from the weight stack. Machines that use resistance bands do not have traditional weight stacks. Instead, the bands increase in tension, which increases resistance to an equivalent number of pounds.
Subscribe to our Newsletter