Best Hot Water Bottles Reviewed
last updated:
Dec 24, 2019
Every medicine cabinet needs to have a few staples lined up and ready to go - bandages, numbing cream, rubbing alcohol and hot water bottles. They can be used in a myriad of ways for all of your aches and pains inside and out.
Whether you hit the ground hard when sparring with a partner, or your stomach is upset from going a little overboard on your cheat day, a good hot water bottle can help soothe your troubles. Plus, it is the perfect thing to take with you on the go when you need a little bit of relief.
In this guide, we have selected some of our favorite brands and styles of hot water bottles to help soothe your tired bones no matter where you are!
In a Hurry? The test winner after 8 hrs of research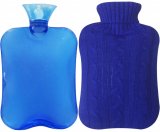 Attmu
Why is it better?
Quality plastic
Leak-proof
Sweater included
In a
Hurry? Editors choice: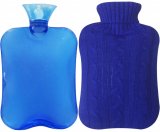 Test Winner: Attmu
2
Researched Sources
890
Reviews Considered
8
Hours Researching
10
Products Evaluated
Materials
Use
Features
Effectiveness
Size
By Default
Criteria Used for Evaluation
Materials
One of the very first things that we looked at when considering each and every option for our list was the materials used.
There are a few different materials used by different companies that have their advantages and disadvantages. Below, we have gone into detail about the benefits of the three different material options available.
Thermoplastic: This material is one of the most popular options currently out there on the market. Users love that they are often partially transparent that allows you to see just how much water is in the bottle. It is also incredibly flexible which allows you to shape it to the curvature of your body.
One of the downsides to this type of plastic is that it is just a little less resilient over some of the other options out there on the market. If you do not take proper care to dry it completely or store it away from sunlight, it is more prone to leaks.
Rubber: Rubber of the OG of these types of bottles. The original water bottle was invented in 1903 and was made from rubber. What makes rubber great is that it is incredibly resilient, pliable, and less resistant to leaks. Plus, it feels comfortable when placed against your skin.
The downside to rubber is that it also comes with that patented rubber smell. When the material gets warm, the smell only intensifies. If you hate the smell of rubber, you may want to opt for a different material. Another downside of rubber is that it isn't transparent, so it is difficult to judge how full it is.
Silica Gel: A up and comping material that users like is the use of food-grade silica gel. This material is incredibly thick and soft to the touch. It's number one characteristic that makes it stand out from the pack is that it is the only material that you can place in the microwave to heat the water.
However, this material isn't transparent, which means that it will be difficult to judge just how full it is. This thicker material isn't as pliable as rubber or plastic, which means you may have a little trouble getting it to reach those troubled areas such as your knees.
Use
We wanted to make sure that we selected designs that were easy to use.
When dealing with hot water, the last thing that you want to contend with burning your hands. There are a few key design features that can help ensure that your hands will not get burned.
The first thing to look at is the width of the nozzle. If a unit had a narrow nozzle, we would typically move on to another brand. Nozzles that take the shape of a funnel make it easier to pour without spilling. We also liked nozzles that provide a spill trap to prevent water from reaching your hands.
We also liked brands that included a loop along the side that keeps your hands away from the nozzle altogether. Loops help keep your hands safe, but they have a tendency to be a little cumbersome to use.
It is important to note that when filling these bottles, the water should never be boiling. Not only is it dangerous to work with boiling water, but it also stresses the materials used for the bottles- especially those constructed from thermoplastic.
We suggest using the tea kettle on your stove to craft the perfect temperature of the water. Simply place the water in a tea kettle and wait for the slightest whistle. When it starts to whistle, it means that it is hot enough for tea, but it isn't boiling.
Features
A few key features can make the most simple designs stand out from the pack.
We wanted to go into a little bit of detail about extra features to help protect your skin as well as keep you comfortable.
The most important feature that we found with most designs is a cover that is included. Sometimes, when placing these products directly against the skin, you run this risk of minor burns. To prevent burning, we suggest that you select designs that come with covers that are easy to slip on and off.
Some of our favorite sleeves come in a wide variety of colors and styles. The most popular style is the cable knit turtleneck that looks like a real sweater. This design keeps the hot material from pressing up against your skin, but it isn't too tightly knit that is prevents the heat from traveling to your skin.
If you want something that is a little softer and buffers the source of the heat, we suggest selecting a cover that is made from fleece. What users love most about fleece options is that it helps keep the water warmer for longer periods of time because it is more insulating than your traditional knits.
Another key feature lies in the design of the stopper. We wanted to select design that used a threaded stopped to ensure that it stays firmly in place and will not leak. While in use, you will be placing pressure on the bottle and the last thing that you want it a leaky stopper! By utilizing a threaded stopper, there is a minimal risk that any water will leak out of the top.
Effectiveness
At the end of the day, you just want something that works.
In the case of these products, that means selecting a bottle the effectively delivers heat to your muscles, as well as retains heat without cooling down too quickly.
There are a few things to take into consideration to ensure that it will not lose heat. The first thing that we looked at is whether or not it came with a knitted cover. Not only does a cover help protect your skin, but it also helps to retain heat as well. When you step outside in the winter wearing a thick wool sweater, you are less likely to lose heat. This same principle can be applied to covers for these bottles. We wanted to make sure that we included products that included some type of garment for your bottle to not only hold in the heat but protect your skin as well.
We also combed through hundreds of user reviews to find those that really stood out from the pack. Users are the very first to report if a design lost heat a little too quickly. If we found that there was an overwhelming number of users that felt that their product lost heat a little too quickly. If the was the case, we would move on to the next product.
We wanted to make sure that we selected products that could retain heat for at least 1 hour after filling it up. On the lower end of the spectrum, most products that did not use a cover would hold heat for up to an hour. Other options that used covers could stay hot for up to 3-4 hours!
Size
All of the standards sizes out there on the market hold on average about 2 liters of water. However, that doesn't mean that all of the styles out there on the market are the same size.
On the larger end of the spectrum, there are designs that measure to be about 12 inches long and about 10 inches wide. For those that intend on using these products on larger areas of your body such as your back or stomach, larger designs may be better suited for your needs.
If you need something that works for smaller areas of your body such as your knees, arms, or feet, a smaller option may work better for your. If you intend on using these products on smaller and boney areas of your body such as your knees, be sure that you select a material that is more pliable than thicker designs such as those made from silica gel.
Expert Interviews & Opinions
Most Important Criteria
(According to our experts opinion)
Experts Opinion
Editors Opinion
Users Opinion
By Default
Benefits Of Heat Therapy
Heat therapy is one of your best tools to help combat chronic pain. By placing something warm on your tired and affected muscles, it promotes the circulation of blood to your muscles to help soothe and repair muscles. When you are pushing your body to its limits at the gym, sore muscles are soon to follow. While sore muscles are a basic fact of life, using heat therapy to mitigate pain is incredibly helpful and will benefit your workouts in the long run!
History Of The Hot Water Bottle
The original design of the hot water bottle was patented in 1903 and was made from materials such as rubber and PVC and filled with hot water. However, earlier designs date back to the 16th century and did things a little differently. Instead of filling a container with water, they filled containers with hot coal embers! Luckily we have moved past the use of hot coals, and flexible hot water bottles are far more comfortable as well as portable!
Alternate Hot and Cold
If you hade a pretty brutal day of training and your muscles are aching, the best course of action is to alternate between hot and cold therapy. We suggest using one of these products to warm the affected area for 30 minutes, and then switch to an ice pack for 30 minutes. By switching from hot to cold, you can help heal strained muscles to get you back in the gym faster!
Other Factors to Consider
Bottom Line
If you can't soak in a hot tub, sometimes you need to bring the tub to you! The beauty of using hot water bottles is that they can soothe tired muscles or stomachaches in an all-natural way when you don't have time to soak in the tub. Sure, popping an aspirin or applying a good numbing cream can help with pain, but nothing compares to applying heat to the area the is troubling you!
Every bathroom cabinet needs to be stocked with a great hot water bottle for those days that your body gets beat up a little bit when training or just while at work. Plus, it can also be filled with cold water to ice those tired muscles and joints as well!.
If you are at home or traveling, keeping such a simple device close at hand means that you will never need to suffer from sore and tired muscles. Plus, they can also be used to soothe upset stomachs and tame killer headaches in an all-natural way.
Frequently Asked Questions
q:

Why do I need a hot water bottle?

a:

Sometimes, all your body needs is a long soak in a hot tub. There is nothing better than warm water penetrating your overworked and tired muscles. However, we often do not have the time to set aside for a long soak in a tub. In those cases, it is important to be able to bring the tub to you!

That's why keeping a hot water bottle stashed in your medicine cabinet is a great idea. If you had a long day of training at the gym and need to soothe your tired muscles, popping a hot water bottle on the affected area is a great way to naturally soothe what's troubling you.
q:

Are they easy to fill?

a:

Yes, the styles that we selected for our list are fairly easy to fill. The wider the spout on the top of the bottle means the easier it will we to fill. We liked designs that offer a super wide funnel or a trap to catch the water that spills over the edge.

It is important to take into consideration that you are pouring hot water into the spout- so it is important that it doesn't spill! Be sure that you select a design that comes with additional features to help protect your hands when you are filling it up.

Spills can sometimes happen, and that's perfectly normal. When you go to fill up your bottle, we suggest placing the bottle over the bathtub or the sink in case there are any spills.
q:

How should I heat the water?

a:

To ensure that you do not burn yourself or damage the bottle, it is important that you do not use boiling water! Boiling water will not only burn your hands when working with it, but it could also actually damage your bottle.

So, how exactly do you know the right temperature of water to use? We suggest using a tea kettle to get the best temperature. When you make a cup of tea, your water is hot but not boiling, and this same principle applies to hot water bottles.

When you put your water on the stove, be sure to remove the water from the heat the moment that tea kettle starts to whistle. If you want any longer, your water will start to boil.
q:

How do I clean them?

a:

I can prove to be a little difficult to prevent the inside of your bottle from smelling a little state. You can try to completely dry out the inside before stashing it away, but it will eventually start to smell a little state. While there is no way to avoid this fate, there is a way to combat the smell.

If you find that the inside of your bottle is starting to smell a little on the stale side, we suggest giving it a good cleaning. To do so, hydrogen peroxide is the way to go. Simply fill the bag with warm water and ¼ cup hydrogen peroxide. Shake it for about 30-60 seconds to ensure that it mixes completely. When you are done, empty it down the drain. Then, fill it with cool water, shake, and discard in down the drain.
q:

How should I store them when not in use?

a:

Getting all of the water out of the bottle before tucking it away in storage is important, but it is pretty difficult. When you are finished using it, be sure to try and dump all of the water that you can down the drain. We suggest hanging it up with the nozzle pointing downwards to drip all excess water out of the bottle.

To make sure that the plastic and rubber do not become brittle over time, it is important that you store them in a cool dry place that is away from direct sunlight. Once it is completely dry, the best place to store them in lying completely flat in your medicine cabinet or linen closet.
q:

Can they be used for anything else?

a:

Absolutely! While many users use them to soothe tired muscles, they can also come in handy in a myriad of other ways. Many users love to place hot water bottles on their stomach when experiencing cramps or a simple upset stomach from overindulging.

While they are designed for hot water, you can also pour ice water into the container to place on the back of the neck to soothe a tension headache or to ice sore muscles. However, it is important never to place them in the freezer because the expanding water can cause cracks in the lining. If you want it to be as cold as you can get it, use water that is cooled in ice before pouring it into the bottle.
Subscribe to our Newsletter