Best Martial Arts and Judo Belts Reviewed
last updated:
Feb 03, 2020
No matter your chosen discipline in martial arts, the color of your belt tells everyone how hard you have trained to be where you are. While there are differences in Judo, Karate, Taekwondo, and other martial arts the belt systems are about the same. As your skill grows your belt color changes. This is a system that has been used for centuries and looks as if it is here to stay.
Just beginning in martial arts, the focus should be on your form and honing your skill and technique. While many trust in tournaments to prove their skill, this may be overused at the beginning of a person's learning. Realistically, when you are wearing a white belt, you simply need to focus on your form, accuracy, and muscle memory. Going to tournaments can be intimidating and many believe they are unnecessary at such a novice level.
Featured Recommendations
Mooto Do

Our rating
Superior Stitching
Price:

See Here
Century Student

Our rating
Exceptionally Durable
Price:

See Here
BlackBeltShop Solid

Our rating
Easy to Tie
Price:

See Here
Ranking higher and reaching Dan levels in Judo or other disciplines can make tournaments a different thing. When you are achieving that kind of skill level, showing it in a tournament will not only be exciting but help you showcase yourself. Your Judo belt needs to not only look great but also keep your judo Gis closed and not get in the way.
Wearing a belt helps to keep the loose fitting martial arts attire out of your way when kicking and punching. It also shows your rank and experience. There are many colors and fabrics available on today's market which can make choosing the best for you or your school difficult. In times since past, there were very few color options, some days we all wish for simplicity. Hopefully, our guide will help you make this a simple journey.
10 Best Martial Arts and Judo Belts
1. Mooto Do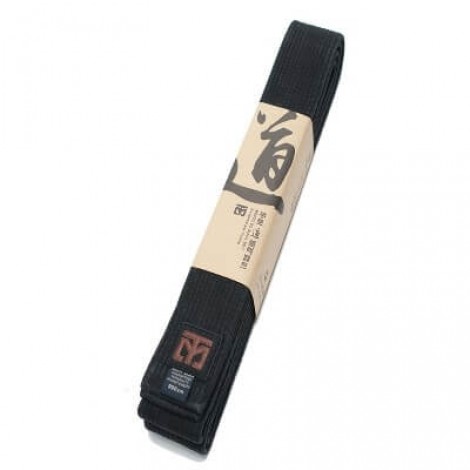 Mooto Do offers a Judo belt that is wider, tougher, and better quality than many others on the market. Pre-washed and ready to go, the material is soft and durable. With lengths offered between 95 and 110 inches, this belt is sure to meet your length needs. Superior stitching ensures this martial arts belt will stay with you until you are ready to move to the next level.
Expand to see more
Pre-Washed
Most Judo belts are made of 100% cotton inside and out. This can cause the belt to shrink after putting it through the washer. The prewashed feature on the Mooto Do Judo belt allows you to wear and wash your belt without worry. Some fighters avoid washing their belt because of this reason and that can lead to foul odor and deterioration of the belt's material. When you wear a Mooto Do you won't have to worry about any of the above.

Length Options
Judo enthusiasts come in all shapes and sizes and finding a belt to fit everyone is exceptionally difficult. Mooto Do's belt offers a wide variety of lengths. This makes it easier for the wearer to wrap their belt properly. It also allows enough room at the ends to make sure you can tie it correctly.

Cost and Value
Mooto Do Judo belts are some of the most expensive on the market. This is because of the exceptionally high-quality material and craftsmanship. The options in length make them perfect for all sizes of wearers. Additionally, the ease of mind when washing your Gi and belt is well worth a slightly higher price tag. No one wants to go to class in a poor fitting or worn out looking Judo belt.
No Break In Time

Maintains Shape

Great Thickness

Excellent Width

Superior Construction
2. Century Student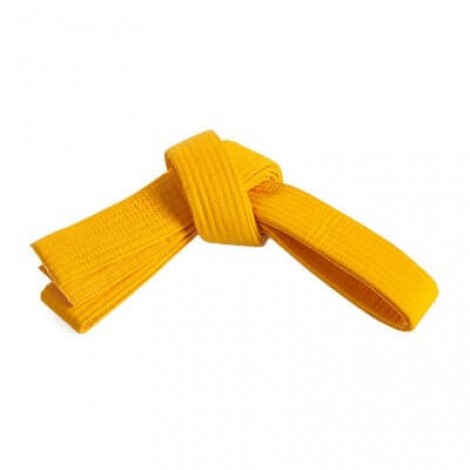 Century provides top quality
Boxing
, Muay Thai, Judo,
Wrestling
, and other martial arts disciplines, gear. Everything you need, they have and not only will you receive quality items, they keep it affordable too. The Century Student Belt offers the double wrap that is required for Judo. These belts are a cotton, polyester blend, making this Judo belt a little lighter and very durable. In addition, the seven rows of stitching add to the durability.
Expand to see more
Cotton Polyester Material
Everything you put on adds weight and inhibits movement to some degree. There are pluses to a heavier belt but we find this medium weight to be the perfect balance. The cotton poly material is flexible and breathable. In addition, cleaning it is a cinch. No worries when you throw this Judo belt in the washer. It will come out looking and smelling great every time.

Solid Design
These solid Judo belts allow beginners to all look the same. When training if there is a lot of variety in belts, participants can be distracted or even feel inferior. The simple design of this Judo belt is functional and keeps everyone looking the same and feeling they are on the same playing field.

Cost and Value
While this belt is simplistic, it does exactly what it needs to do. Identifies your rank, while staying where you put it and allowing enough length to wrap and tie it properly. This belt is very affordable and would be great for any training environment. Durable and easy to clean plus exceptional affordability, what more can we ask for.
Perfect Sizing

High Quality Stitching

Vibrant Color

Affordable

Nice Feel
Durability With Extended Use
3. FUJI BJJ Belt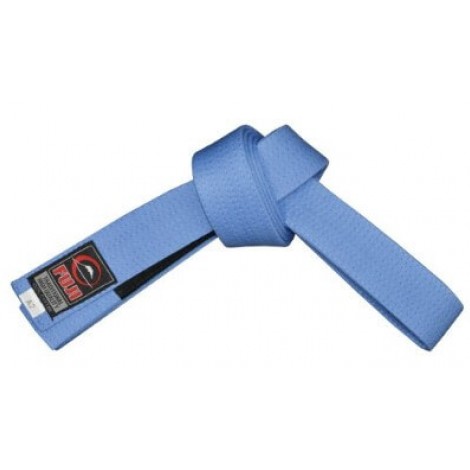 FUJI and martial arts go hand in hand. FUJI offers commitment, passion, innovation, and quality in all the martial arts gear they make. From apparel to equipment FUJI keep you in mind. Their Brazilian Jiu Jitsu belt transitions well into your favorite Judo class. Remember, just because you are a black belt in Jiu Jitsu does not mean you are in Judo and you may need to pull out your white belt when attending a different discipline's class.
Expand to see more
FUJI's Premium Weave
When looking for ultimate durability, this belt was built for you. With their vast experience and expertise in making superior martial arts belts, comes the FUJI Premium Weave. Their weave allows the belt to take abuse from wear and washing and shrug it off, ready for another round. Some belts wear, fray, and eventually start losing their integrity. Put those worries away for a significantly longer period when you wear the FUJI BJJ belt.

Constructed for Durability + Looks
Grueling training sessions day after day can really make an impact on your belt. Not only the overall quality but also the look. The construction of FUJI belts will maintain their shape and bright colors longer than most others. Years of production and fine tuning in their technique allows this belt to hang with you through the fierce competition without worrying if your color has faded too much or if you're going to lose stitching during a huge event.

Cost and Value
These long-lasting Judo belts fall in the middle of the pack when it comes to price. Like all belts, cost depends on size. This falls slightly higher than some but it offers such great durability what it's lacking in savings will be made up with use. If you need a top quality belt that can seriously take abuse and you have a little wiggle room in your Judo belt budget, this may be the best option for you.
Soft Yet Durable

Superior Construction

Includes Rank Bar

Easy to Tie

Excellent Fit
Colors Vary

Sizing Problems
4. BlackBeltShop Solid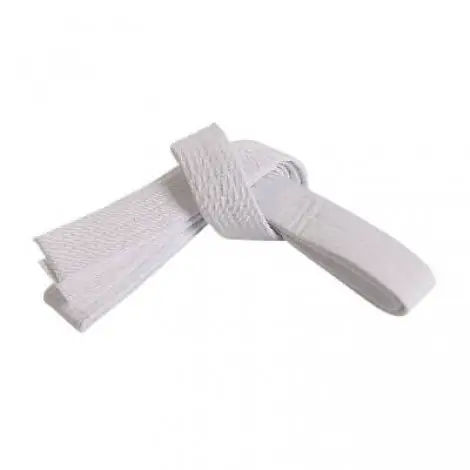 BlackBeltShop offers any color you may need in a high-quality Judo belt. Seven rows of stitching and a cotton polyester blend make this belt durable and ready for long
training sessions daily
if that's how you train. This belt is medium weight and easy to care for and tie. Simple design with attention to the small details make this belt a great choice from beginners to advanced martial artists.
Expand to see more
Chain Stitching
When it comes to the durability of your Judo belt, a lot of it has to do with the stitching. BlackBeltShop uses seven rows of chain stitching. This type of stitch interlocks giving you solid reinforcement to the material. Truly able to withstand the long haul, you can count on this belt to hold out until you reach your next color goal.

Easy to Tie
Wearing a brand new belt can be very frustrating. Not only are they typically very stiff, they are very difficult to tie. The middleweight cotton polyester blend moves easily, even during your first use. Your belt staying in place is very important and belts that require you to retie them during training take up precious time. In addition, if it completely falls off, you could put yourself or sparring partner in danger of tripping. Keep it easy from the beginning with this flexible easy to tie Judo belt.

Cost and Value
Easy to clean, easy to tie, and easy on your finances. The BlackBeltShop Solid Judo belt is the best value in our guide. Not only does it stand up to abuse, it looks great and anyone can afford it. If just beginning or looking for a budget-friendly option for the one flying through colors, this may be the belt for you.
No Break In Time

Strong Stitching + Material

Superior Price

Excellent Coloring

Perfect Fit
5. Mizuno Belts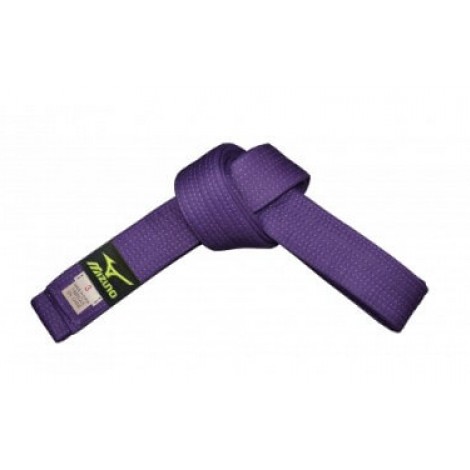 Excellent for just about
any martial arts style,
Mizuno offers a high-quality belt that performs better than most. The Mizuno name is embroidered on a patch which tells everyone who sees it that you are wearing a top quality belt built by a top quality brand. Mizuno has provided superior gear to martial artists for decades and when you wear this belt you will know why so many rely on it. Durable and comfortable, this belt will stay where you put it and no fraying will be found.
Expand to see more
100% Cotton
Cotton is known for being awesome at sweat absorption. In addition, cotton makes for a more heavy duty belt. Judo training leads to a ton of sweating, the less that is sitting on your body the better. When sweat sits against the skin for too long you can end up with raw, rubbed areas and other skin break down. Your belt can help keep sweat away from you and the 100% cotton used in this Judo belt will absorb it better than others. Thus, keeping you cooler and more comfortable.
Versatile Use
Often we see people practicing
Muay Thai
coming to Judo classes or Karate classes. This is due to the popularity of Mixed Martial Arts. Most transition out of their white belt fairly quickly but what happens when you move to another discipline and need that white belt again? The Mizuno belts offer a length that is versatile and color variations to make them exceptionally versatile. No matter if you love Taekwondo this month and Brazilian Jiu Jitsu next, this belt won't let you down.
Cost and Value
Durable and versatile this Judo belt does cost more than most in our guide. Mizuno has offered top-quality apparel and equipment for years and you can trust this product will last with you. No matter what you decide to study this is a solid investment in your martial arts future.
Thick and Durable

Holds It's Shape

Great Value

Stands Up to Abuse
6. Macho Rank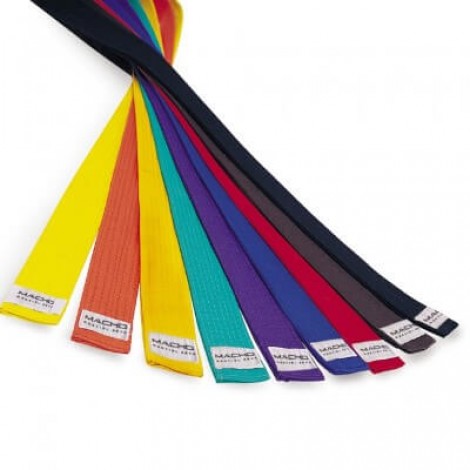 An excellent option for beginners and the highest level Dans. The Macho Rank belts offer solid construction as well as seven lines of stitching. In addition, Macho pays close attention to the details and stitches the ends of their belts. Vibrant colors with traditional size and styling, Macho has been relied upon for years by members of the martial arts community. Keeping your belt looking great is easy. You can rest assured when it is time to move on, this belt will also look great on display.
Expand to see more
Increased Durability
Many of the Judo and Martial Arts belts on the market offer seven rows of stitching, which really helps in the area of durability. Macho takes it a step beyond and adds stitching to the ends of their belts. The stitched end helps avoid fraying and string pulls. Overall, this quality makes this belt one of the most durable on the market.

Overall Material + Construction
Blended cotton, seven rows of stitching, stitched ends, and attention to detail make this Judo belt superior to most others. You can rely on this belt to maintain it's shape and color. Even if you wear the same belt for a year, you will find it stands tough and durable. Thick and ready to go this belt won't let you down.

Cost and Value
When it comes to durability there are few better than the Macho Rank belts. Available for all levels and transitioning between disciplines is made simple when you choose Macho. This belt falls to the middle of our price ranges and is affordable to most budgets. The long-lasting wear of this belt also adds to it's overall value.
Won't Stain Uniform

Superior Stitching

Accurate Sizing

Top Quality Construction

Easy to Tie
7. Gazray Double Wrap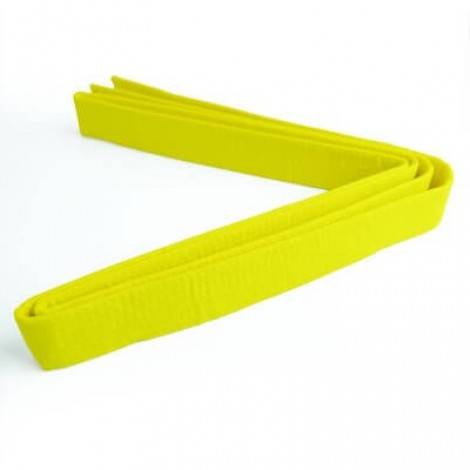 Gazray gives us an awesome and versatile Judo belt that is built exceptionally tough. With an additional row of stitching, this belt will last you through the toughest level increases. The double wrap design ensures you will have plenty of room left to tie your belt. In addition, it will fit a large variety of shapes and sizes. The cotton polyester material allows this belt to hold it's shape and maintain durability though extended use. Less break-in time is also something we love about this Judo belt.
Expand to see more
65% Polyester 35% Cotton
The blend of this belt is more polyester than cotton and makes this belt wash and wear amazingly. The polyester grips itself well making your knots stay in place better during vigorous training exercises. It also maintains it's look longer than pure cotton belts will. The color will stay vibrant longer and you won't have to worry about it shrinking in the wash.

Size Variety
Brands offer different sizing options some are very limited and others quite extensive. Gazray falls into the extensive category. Whether tiny or large they have a size that will fit you comfortably. Double wrapping your Judo belt is a must and finding the right size to allow it can be difficult You can put that worry to the side when you trust Gazray for your Judo or Martial Arts belt needs.

Cost and Value
When it comes to affordability the Gazray Double Wrap belt is tied for the best value in our guide. Exceptionally affordable any budget will be able to absorb the impact of its cost. In addition, you get an easy to care for and great looking belt that will last with you through color after color.
Superior Price

Colors are True

Holds Up to Abuse

Easy to Care For
8. Sanabul Pro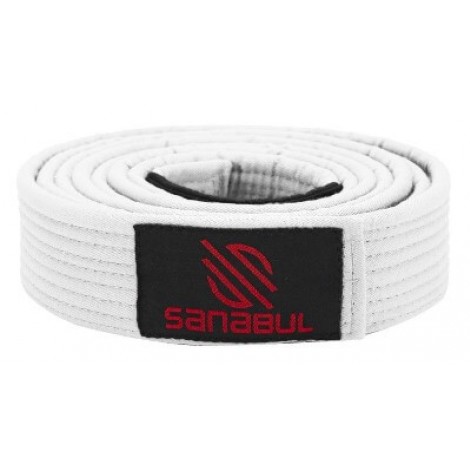 Sanabul is a powerhouse in the world of martial arts. They offer some of the most advanced and innovative gear a martial artist could hope for. No matter your discipline they have you covered. The Sanabul Pro belt is excellent for all of your training and competition needs. This belt is also built to last. Exceptional durability and rank showing capability are pieces of what make this belt exceptional.
Expand to see more
Sleeve Bar
As you move up in your Judo rank, this belt will allow you to show it. Not all martial arts have levels within a color but when there is, you certainly want to display it. Hard work deserves recognition and with the addition of a sleeve bar, showing your work is made simple. Sanabul understand the importance of this type of feature and that is why we continue to see them appear on the top guides to all your martial arts needs.

Detailed Stitching
Sanabul is another brand that offers us not only eight rows of stitching but also stitched ends. The reliability of your belt depends a lot on the material but even more so on the stitch quality. The attention to detail that Sanabul puts into all of their products ensures the quality of your stitching will be superior. Take pride in your belt, which is easy to do when you are wearing one like the Sanabul Pro.

Cost and Value
The Sanabul name offers experience and expertise in the world of martial arts equipment and clothing. Their belts are made to last and offer all the features you are looking for in a superior Judo belt. Their cost is higher than most in our guide however, if you give it a try, we believe you will see why so many people trust Sanabul with their needs.
Thick and Soft

Superior Stitching

Black Section for Stripes

Exceptionally Sturdy

Accurate Sizing
Long Break In Period

Knot Checks Needed
9. Tiger Claw Ranking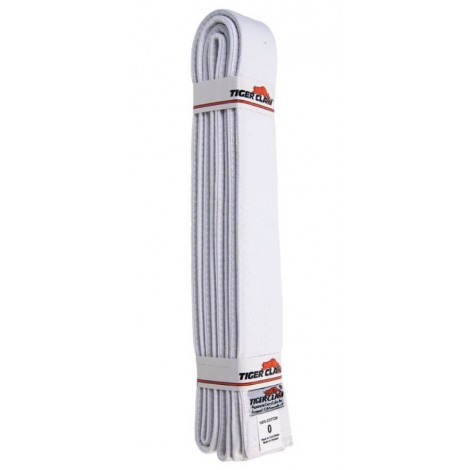 A firm belt that boasts it is soft enough to tie easily on the first try, the Tiger Claw Ranking belt is loved by many. This belt is made of 100% Heavy Duty cotton. Making it stand tougher than most others. Excellent stitching through the length also ensures a long lasting belt. Additionally, the ends are also stitched providing superior strength. Tiger Claw also offers extended size options, ensuring they have something to fit every shape and size.
Expand to see more
Heavy Duty Cotton
There are many belts within our guide that are made of 100% cotton. However, not all cotton is created equal. Tiger Claw uses a heavy-duty cotton that really will withstand the test of time. At higher levels, you may have the need to wear your Judo belt for months before moving on to the next. Purchasing more than one is not only a waste of valuable training time, it is also a waste of money. When you wear a Tiger Claw Ranking belt you know you are wearing a belt that will last with you no matter how long it takes to reach your goal.

Extensive Size Options
Finding all belts to be too big or too small can be insanely frustrating. Many brands only offer standard sizes, but so many people are not standard sizes. Tiger Claw has everyone covered with an excellent range of sizes. Double wrapping your belt in Judo is standard. Take the burden out of your search for the perfect size when you choose this Judo belt.

Cost and Value
Tiger Claw gives us one of the most affordable martial arts belts in this guide. Giving quality material and stitching this belt won't let you down, even after hundreds of hours of abuse. Stitched ends and size options for everyone plus a price to make all budgets happy. It's obvious why we love the Tiger Claw Ranking belts.
Excellent Price

Strong Stitching

Durable Material

Breaks In Quickly

Very Light
Shrinkage Problems

Sizing Issues
10. Revgear Solid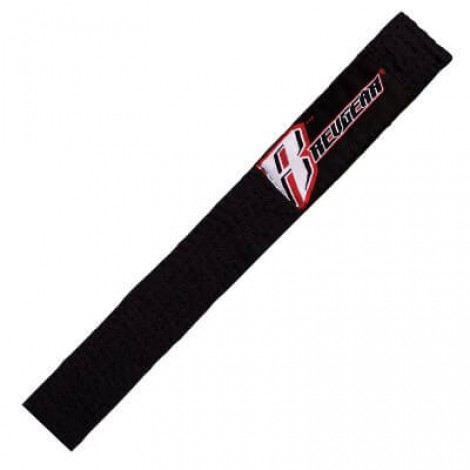 Revgear offers us a double wrap belt with eight rows of chain stitching. This provides exceptional durability and fit for a variety of disciplines. In addition to the great stitch, this belt is also 100% cotton. It will help absorb excess sweat and last through tough use. Slightly more narrow than most of the belts in our guide this belt would be great for someone looking for a sleeker fitting Judo belt.
Expand to see more
8 Chain Stitched Rows
We have discussed stitching throughout this entire guide and that is because it plays such a huge role in overall durability. In addition, the stitching helps the belt maintain it's shape. Seven rows are great, eight is even better. This belt is built to last and the reinforcing power of eight rows of stitching is there to prove it.

Thinner Fabric
There is definite debate over the preferred thickness of Judo belts. Honestly, it really is a personal preference. We strive to meet everyone's needs with a variety of options. The thinner fabric of this Judo belt is lighter and offers better breathability. While still 100% cotton, and durable, this belt won't weigh you down and it takes less time to dry. If you find other belts you have worn to be too bulky or heavy, this may be the perfect alternative for you!

Cost and Value
One of the few brands that offer a lightweight yet exceptionally durable belt, does carry a higher cost. While not the most expensive it is certainly not the cheapest. When you need something that is more flexible, a bit sleeker, and a bit of added cost doesn't bother you, this belt could be an awesome fit. It will fit into most budgets and the quality is excellent.
Slimmer Fit

Nice Feel

Tough

Affordable

Easy to Tie
Grading systems vary within the world of Judo. There are different standards in different countries and this will need to be taken into consideration. Many follow the same general guidelines. Likewise, standards in different disciplines may differ. Judo's belt system starts at white just like everyone, as you move through, depending on your rank, your color will change. It is important to note, the highest ranking Dan's, wear Red belts in Judo.
While your belt may help keep things in place and if tied right can save time during class, the main purpose will always have to do with rank. Easily spotting rank is important in competitions and classes. Finding a belt that is easy to tie, fits properly, stays put, and doesn't inhibit the wearer can be challenging. Hopefully, this guide has made your decision easier and you will be able to purchase a top quality Martial Arts or Judo belt.
Criteria for Evaluating the Best Martial Arts and Judo Belts
Length
Regardless of your chosen discipline, your belt should wrap around your body twice before being tied. Many belts do not offer enough length to accomplish this. Due to poor sizing charts and unreliable makers, it can be very difficult to make sure you are getting the correct length. It is important to note, many will tell you to order your belt size the same size as your Gi. This is not always correct, in fact, oftentimes you will not order the same size but one size up.
There are a few steps to measuring your correct size to ensure the best fit and enough room to comfortably tie your knot.

With a soft measuring tape measure your waist just below the belly button.

Take your measurement and multiply it by three.

Compare your number to your preferred brand's size guide and pick the size closest to your number. It is important to note, if your exact number is not available, you want to order the next size up.
Following these simple steps can really make the whole process easier. When you look at the sizes of belts for martial arts, they are numbers ranging from 0000 to 9. These mean nothing to most people, but measurements for the sizing system are usually reliable and streamline the process. It is important to note, size 0000 and 000 are youth sizes and are typically single loop with velcro closures. Sizing varies a lot within those two sizes. Let's take a minute and look at the breakdown of what these seemingly random sizes correlate to.
| | |
| --- | --- |
| Size | Inches |
| 00 | 72 |
| 0 | 75 |
| 1 | 85 |
| 2 | 91 |
| 3 | 99 |
| 4 | 105 |
| 5 | 114 |
| 6 | 122 |
| 7 | 131 |
| 8 | 139 |
| 9 | 148 |
Durability
The durability of your Judo belt depends on a few different factors.
Inner and Outer Material – Most belts for martial arts, such as karate belts, are made of cotton or a cotton-polyester blend. These are both durable and will last you. Often, these belts are 100% cotton or cotton polyester blends. Meaning the inner and outer material are made of cotton. This makes the belt heavier than others may be but really adds to the longevity of use. Cotton and cotton-polyester blends will stand the test of time. Other belts will use a foam inner wrapped in cotton or a cotton-polyester blend. This makes for a much lighter belt that is also more flexible. The durability of a foam filled belt is less than the 100% cotton varieties. You may find you have to replace this type of belt more often. Many fighters find that acceptable due to the sleeker fit, lower break in time, and flexible feel of a foam lined Judo belt.
Stitching – 

The stitching of your Judo belt probably plays the biggest roll in its durability. You want a belt that uses chain stitching. This type of stitch locks in place on itself, ensuring you won't be pulling threads.

There should be at least seven rows of stitching running the length of your belt. Many brands use even more but seven is the minimum we would suggest. This amount of stitching helps reinforce the belt. When training and competing for your belt will take a lot of abuse and excellent stitching will help it maintain it's integrity.
End Closure – There are two common methods for the ends of your martial arts belt. The first and most commonly seen way is to burn the material. This is a good option but maybe not the best option. You won't have to worry about the ends fraying for quite some time, however, sometimes burning the ends can make them sharp. Putting you and your partner in danger of scratches.

The second most common and in our opinion superior way to end a belt is with stitching. This does add a bit of bulk to the end of your belt but you won't have to worry about fraying or unnecessary injuries.
Each of these items plays its part in keeping you belt looking and feeling great. Some levels require a belt to hang in there for an extended period of time. If you have to keep replacing your belt due to the poor quality you are not only wasting time and money, you are also causing unneeded frustration for yourself or the person purchasing it for you.
Frequently Asked Questions
Q: What do the different colors mean in Judo belts?
A: For obvious reasons, this is one of the most common questions that surface when discussing Judo belts. It is important to note, that different disciplines use different colors and their meaning may vary. 
In Judo the levels before a black belt are considered Kyu and after a black belt, they are considered Dans. Different countries use different ranking systems and it is important to understand that you will encounter different styles of ranking in different Dojos as well. We are going to discuss the common color steps you will encounter in places like the US, Canada, and Europe.

White –


Associated with the beginning, when you first step into the world of Judo, you will do it wearing a white belt. The white belt is the start of a life cycle and is symbolic of a seed under the snow.
Yellow –


Your training will lead you to knowledge. When that first light shines on that seed it can begin to grow and gain strength. Your trainer will lead you here and help you further your skill.
Orange –


As the sun's power grows so does the fighter's. The world grows warm and allows growth in the Spring. The body gains skill and focuses – as does the mind.
Green –


You are finding more refinement in your style and form. Like a new sprout, exploding out of the ground, you are gaining solidity between mind, body, and spirit.
Blue –


The continuation of knowledge allows the student to grow. The body reaches towards the blue sky as it is nourished with light.
Purple –


When you start to change into a more advanced martial artist, it is like the changing at dawn. A new awakening into the understanding of what you must do to reach the black.
Brown –


In the beginning, you aren't able to see how hard you are working. With more knowledge and strong foundations, you start to show the maturity of a plant at the end of a growing season.
Red –


As you reach new levels of personal grow you start to feel the intense red heat of our sun. You start to notice the finer things in form and knowledge. You start to find restraint, knowing you are becoming a weapon.

Black –


The profound blackness beyond our sun is the foundation with the ability to start teaching others emerges. With advanced knowledge of your skill and the need to help plant seeds and make them grow, you move towards mastery. This is paired with the thoughts that you will always be growing and you will always help others to do the same.
Q: How do I tie my Judo belt?
A: There are a few different ways to tie your belt. We will share what we feel is the easiest and most commonly used way to tie your belt.

Start with your belt across the front of your Gi. Leave one side longer than the other.

Wrap your belt around your waist and hold the overlap with one hand.

Wrap the belt around your waist again, be careful to make sure the belt lines up and is neat.

Once you are here, you should have the left end over the right end.

Take the left over the right and under both pieces.

Pull and then take right over left and repeat the process

Pull and you should be left with a knot that with a little adjustment fits perfectly
Tying your Judo belt takes practice. A few times through and we are sure you will feel like a pro!
Q: Should I wash my Judo Belt?
A: Some people are strictly against washing their belts because they lose their form and it may damage the integrity of the belt. It is honestly each person's preference whether or not to wash their belt. Keep in mind if you are going to, you need to follow the manufacturer's instructions to ensure you don't shrink or damage your favorite Judo belt.
Q: What should I do with my Judo belt after I move on to the next color?
A: Such hard work and dedication go into gaining your belts, it would be a shame to stick them in a drawer somewhere. Many people decide they want to keep their belts as they move through the ranks and there are many options for displaying them proudly.
You can purchase a variety of display cases specially made for displaying your Martial Arts Belts. There are also places where you can have them custom made. You can display them hanging or laying in rows. Whatever you prefer for your particular style. This will show everyone how hard you have worked and how far you have come. Something for you and your loved ones to be proud of.
Sources
Subscribe to our Newsletter