Best Judo Gis Reviewed & Rated For You
last updated:
Feb 18, 2020
A good uniform is the most important and necessary piece of equipment that one can have when they decide to take up a martial art. It is crucial that your chosen one is comfortable, is made by the standard of that sports federation so that it can be used in competitions and that it gives you enough room to move comfortably during the training.
Another important aspect is that it needs to be reinforced in the most sensitive areas which are tugged on and impacted regularly. You will want to be able to fall down and get back up many times before your gi will have to be replaced.
There are affordable and expensive options out there, but they are all made from natural cotton and have similar properties. The main difference is in the padding and stitching quality. Read our picks of the best judo gis in 2020.
In a Hurry? The test winner after 6 hrs of research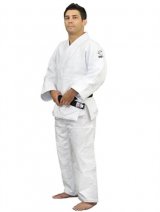 Fuji Double Weave
Why is it better?
Durable
Withstands impact
100% pure cotton
IJF size and weight standards
Double weave
Comfortable
High quality stitching
In a
Hurry? Editors choice: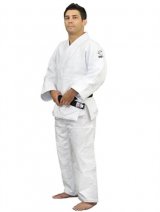 Test Winner: Fuji Double Weave
3
Researched Sources
8794
Reviews Considered
6
Hours Researching
10
Products Evaluated
Comfort
Breathability
Materials
Fit
Durability
By Default
10 Best Judo Gis Reviews
Durable
Withstands impact
100% pure cotton
IJF size and weight standards
Double weave
Comfortable
High quality stitching
For all you who practice martial arts on a daily basis, a good and durable uniform is a must-have. Able to withstand a lot of impact and friction, this one is just perfect for extended use. Thanks to its double weave, it will last longer than most other products, no matter how much it gets used and abused. It comes in two colors, white and blue, for beginners and teachers. It is easy to use and to clean, and will not shrink when washed in a machine.
Read more
Fuji Sports was founded all the way back in 1969, and in time became one of the leading brands for sports and martial arts equipment. The quality of their products does not come in question, as they have 50 years of experience in this field and is trusted by many people. If you want the best quality, this brand is the right way to go.
For martial art practitioners and enthusiasts, a uniform, such as judo gis, is the most important piece of equipment one could have. It needs to be thick and durable, but still, meet the IJF size and weight specifications. This one is perfect by these standards. It is made from a premium cotton blend, which gives it the softness and makes it very comfortable to wear and keeps you cool when the training gets tough, while at the same time being sturdy and durable.
It will give you an advantage over anyone wearing a uniform of lesser quality, as it will keep you comfortable at all times, leaving you to concentrate on your training or competition. The price tag may seem very high, but it is an investment that is guaranteed to pay off.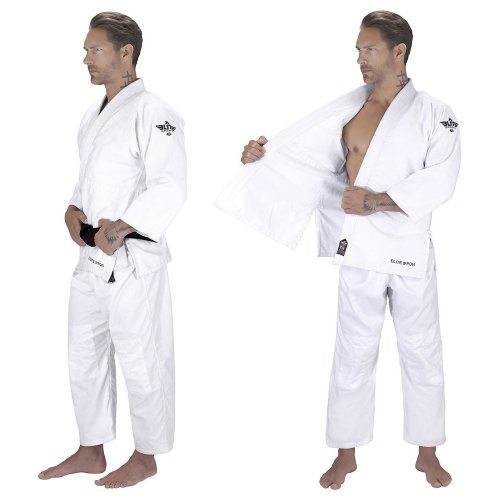 Cotton blend
Double weave
Antimicrobial treatment
Free belt included
Thick lapel
High-quality stitching
Three color options
Proportions may be a bit off
Elite Sports is a USA based sporting goods and equipment company that offers a wide variety of products for different sports, from baseball to martial arts. Their uniforms are known to be of high quality, and they are a very trusted company. They are made to fit your body well and to enable you to have ease and a wide range of movements to make your training pass with no problems.
Read more
This product is made from double-weave cotton, which makes it resistant to tearing and is able to last a long time. Thanks to the natural materials, it will not shrink when washed and will keep its shape and size no matter how many times it takes a beating. Because it is thick, it will absorb some of the impacts and leave your body with a few bruises and scrapes possible.
The lapel is made to be thick and sturdy, which makes it harder for your opponent to grip, giving you an advantage during practice and competition without actually breaking any rules. The stitching and seams are high quality so that you don't have to be worried about any tears to the fabric. The uniform has an applied micro bacterial treatment and will stay clean and fresh for a long time.
When purchasing this product you will also get a white belt as a gift for beginners, which comes equipped with a striped bar that will allow you to show off your stripes as you earn them. Available for men from the age of 18 to 55, this judo gis is perfect for everyone who wants to give judo a chance, no matter their age. This brand is also very popular among BJJ Gis.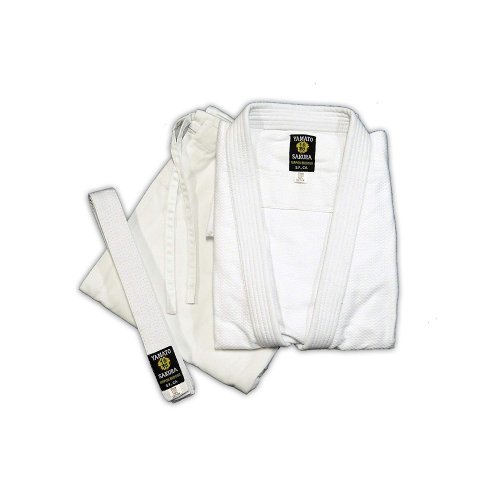 Single weave
Pure cotton
Comes in many sizes
Can be shrunk to fit
Belt included
If you are in need of a lightweight judo gis, then this one is perfect for you. It is made entirely from bleached cotton and has a single weave construction. The cotton gives it quality, softness, and comfort, and single weave means that the fabric is breathable and not heavy to wear.
Read more
The top of it is reinforced in the shoulder and chest regions, to provide protection for your body, as well as for the material itself. It will not rip easily when the opponent grabs you by your kimono, and the pants are reinforced on the knees using a quilted patch. For best fit, check out their size chart. If it is a bit big, you can always wash and machine-dry it, even though the manufacturer states it should be air-dried. If you dry it in the machine, you can shrink it a bit to fit your body perfectly.
Thanks to the single weave construction, the judo uniform is easy to fold, pack and take on trips. It is not stiff like the double weave ones. Its light construction makes it perfect for children, as they will not be as harsh as adults, and will last much longer for them. It comes together with a belt, so you don't have to be bothered to buy one separately.
As far as the prices go, this one is not unreasonably expensive. The pure cotton it is made from gives it a lot of value, because it will be comfortable and durable, lasting you for many training sessions and competitions. Investing in it is surely a good idea, as it will be your trusty companion through thick and thin.
100% cotton
Four colors
Ten size options
Drawstrings
Affordable
Comfortable
Pro Force has been one of the leading sports equipment and apparel brands for many years and they have established trust in the consumers of their products. For quality stuff at reasonable prices, this brand is a good way to go. Whether you are a beginner or a pro, young or old, here you can find everything you need to make your training easier and comfortable. This judo gi is suitable for anyone who needs one, comes in four different colors and a variety of sizes. It is made with a single weave but constructed to be tougher than other similar ones.
Read more
Made from 100% cotton, the uniform is very soft to the touch, comfortable and leaves enough room for easy movement, and will not come in the way of your sparring or training session. It can be used daily and withstand impacts, so you can fall and get up over and over again with no damage to it.
It consists of top and bottom parts, which can be adjusted by drawstrings, to ensure that the pants will not get loose and slip down at an unfortunate time. With it your mind can be free from worry and concentrated on perfecting your technique and be the best that you can in any competition.
Because it is made from a single weave, it is not heavy and stiff, can be packed easily and carried on trips in your suitcase or sports bag. Even though it is available in many sizes, it is a perfect low-cost starter uniform for children and new students. Bear in mind that it will shrink a bit when washed, so carefully check the manufacturers washing specifications before cleaning it for the first time. The only downside to this judo gis is that it does not come with a belt, which will have to be bought separately. Other than that, it is just what you need for a carefree training session.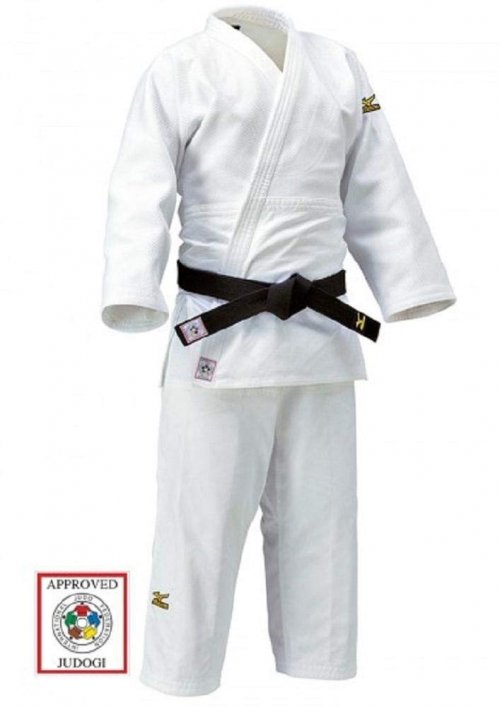 IJF approved
Cotton and polyester blend
Made in Japan
Comfortable
Reinforced
No belt included
Very expensive
If judo is something you enjoy and practice for a long time, or if you are just starting out and want your first judo uniform to be of great quality and you don't plan on buying another any time soon, then look no further. It is IJF approved with a red label and it is made from a cotton and polyester blend, with cotton being the main material, which makes it soft and comfortable to wear for longer periods of time.
Read more
For added safety to you and to the fabric, the judo gis is made with reinforced shoulders, chest, and reverse. It will not rip and tear easily when it comes in contact with a training mat or hard floor, or when your opponent grabs it roughly. When washing it make sure to use only cold water in order not to damage and shrink too much. It has a 5 percent shrinkage range, so be careful when choosing the size. Make sure that it is not too tight on you and that it has room to shrink a bit and still fit you nicely. Thanks to the cotton and polyester blend, it dries up to 70 percent faster than the previous models, which is very important to know as it will have to be air-dried.
The package includes only the jacket and pants, with the belt having to be bought separately. The pants include a drawstring for maximum comfort and safety. It comes in two colors, bleached white and blue, and 10 different sizes. Made in Japan, this kimono meets all the standards for martial arts apparel. It has been improved since the previous models and is now much lighter and durable.
6

. Fighting Films Superstar
IJF approved design
Two colors
Lightweight
Padded jacket
Great value
Anti-tear material
If you have been training Judo for a while, chances are that you heard about Fighting Films. They have been on the market for a long time and have everything that you need for your training, from apparel and books to accessories. This kimono is everything you need for your day to day training and competitions. It comes in two colors, white and blue, and various sizes, some of which are slim fit.
Read more
Approved by the IJF standards, the uniform is of high quality and durability. It is soft on the inside and very comfortable to wear for a longer period of time. It consists of 70 percent cotton and 30 percent polyester, which gives it softness as well as the ability to last for a long time and withstand a lot of wear and tear. It is one of the strongest lightweight judo gis on the market weighing only 870 grams per square meter.
Available in children's and adult sizes, it can be used by anyone. The smaller sizes are all made to be slim fit, while larger ones are a regular fit. This great product will give you an upper hand in any competition and will allow you to focus on your training and perfecting your techniques. When washed, it will shrink only by one percent, but because the company is a bit generous with its sizes, so people generally buy a smaller size than they need. This information will be very helpful if you decide to invest your hard-earned money on it. The price is reasonable, and the only downside is that the belt has to be bought separately, but other than that, it is an amazing product to have.
Lightweight
Comfortable
Reinforced stitching
Highly affordable
Padded knees
100% bleached cotton
The Hayashi uniform is an inexpensive and affordable product that is best suited for children and beginners but can, of course, be used by anyone, regardless of age and gender. It is made from a single weave and is designed with the traditional rice-grain weave on the top and diamond pattern on the bottom. It comes only in the blue color but in a wide variety of sizes. The fabric is reinforced and virtually resistant to tearing.
Read more
The uniform is made from a natural, bleached cotton fabric, which makes it very comfortable and soft to the touch. The pants include a standard drawstring which helps them stay on without slipping down at any time. It can be adjusted to fit your body perfectly without the pants being uncomfortable. The fabric on the knees is quilted for extra support. It also features heavy-duty reinforced stitching on the main stress areas that can withstand a lot of impact without being damaged.
The price is highly affordable, making this a perfect piece of apparel for kids as well as beginners, who need something inexpensive that will do a good and proper job while they are focused on learning and perfecting their techniques. There are no judo belts included, only the jacket and pants, and it will have to be bought separately, but at this price, it is well worth another small investment.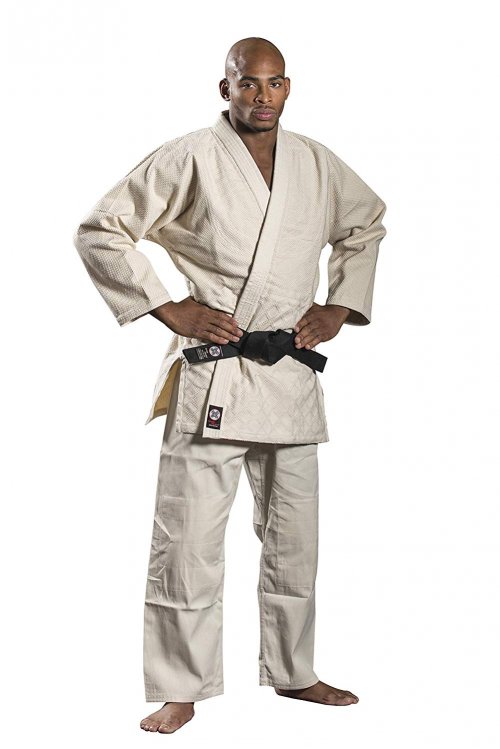 Single weave
Lightweight
Reinforced
Variety of sizes
White belt included
Highly affordable
Ronin Brand has a variety of great products at very reasonable prices. They have been producing Gis, such as karate gis and judo gis, since 1980 and are a trusted brand on the market with decades of experience. However, they do not sacrifice quality in order to keep their prices low. This awesome product not only looks good but is also sturdy and made of unbleached cotton, which makes it soft and comfortable. It has a traditional rice grain and diamond patterns.
Read more
This single weave, cotton judo GI is lightweight and simple and easy to fold and pack if going on a trip or traveling to a competition. It features quilted and reinforced fabric on the knees, which keeps it from tearing easily, and reinforced shoulders, lapels, side vents and sleeves, any part of the judo uniform that is prone to be ripped or weakened by excessive gripping and impact from your opponent.
It comes in various sizes, from 0 to 7, but keep in mind to check out the size chart before placing an order to make sure you are getting the one that best suits you. It can be machine washed, but it is best that it is left to air dry, to save it from shrinking. If by some chance it is big on you, simply put it into the dryer and get it shrunk a bit with ease. Smaller sized pants come equipped with an elastic band and larger ones come with a drawstring. It includes a jacket, pants and a white belt.
Natural cotton
Three color options
Many size options
Padded lapel
Reinforced fabric
Durable seam cover
Belt is included
This Tiger Claw has been in the martial arts equipment business for a long time and has come to know its client base and provide them with what they need to be successful in their martial arts training. This judo gis comes in three colors, blue, bleached and unbleached, something for everyone. Suitable for amateurs and professionals, it comes in many sizes, from 00 to 7, for every body type and age. It is sold in sets and is tailored to American sizes.
Read more
The material this uniform is made from is natural cotton. It is soft and sturdy and can take a lot of impact and beating, with reinforced stitching in the most problematic areas. The lapel is wide and created to provide a proper hold to your opponent without falling apart and getting ripped. The reinforced stitching gives it quality and durability in the most problematic areas.
The judo gi is made with everyone in mind, kids and adults, men and women, young and older. It is never too late or early to start something, and this is a product that will help you start and get better in your chosen martial art each day, without having to worry about the uniform getting ripped or damage any time soon. The price corresponds to its overall quality. It depends on the size that you need, but it really pays off in the long run.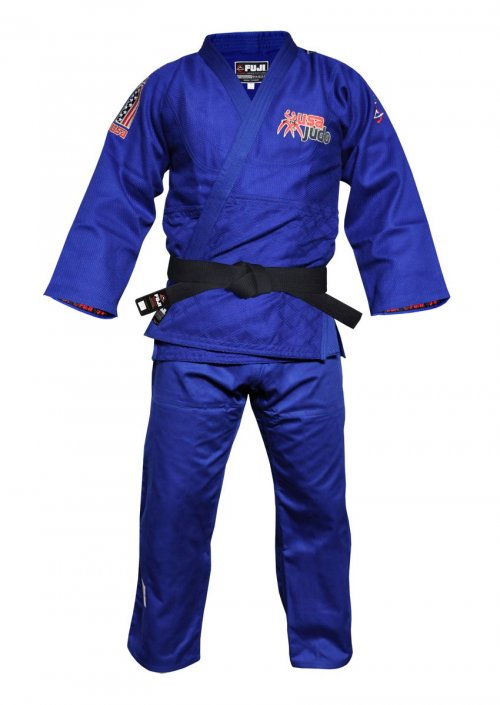 Variety of sizes
Patriotic
Single weave
Light
Easy to pack
Durable
White belt included
Comes only in blue
Shrinks in the dryer
Among the myriad of different judo gis and uniforms, it can be hard to pick just one. But if you had to, this one would be a great choice. It is specially made for those of you who feel very patriotic, with an American flag embroidered into the fabric and words from the national anthem, so that you can feel the entire nation rooting for you while you are training or competing.
Read more
Made with a single weave, this gi is very light and easy to wear and travel with. It is easily foldable and can be packed without problems. It only comes in the blue color and in various sizes, from 0 to 8, making it perfect for everyone, children as well as adults. It comes with a white belt, to help you kickstart your training if you are only just beginning and save you time and money on buying it separately.
The price is very reasonable, making it fall into a mid-range category. After every purchase, a part of the money is invested in the USA Judo high-performance fund which helps athletes achieve their dreams, so by investing in this one you would also be helping someone else reach their goals.
Criteria Used for Evaluation
Comfort
For something that you wear for longer periods of time and that comes in direct contact with your skin, it is extremely important that it is comfortable and that it feels good against your skin. When training, everyone is bound to break a sweat, so it is good to have a judo uniform in which you will not feel too hot and that will allow you to move freely with no difficulties.
The last thing anyone wants is judo gis that you have to adjust often and that will impact your training. Comfort is important not only for your well being but also for your performance. A bad uniform can impede your progress simply because it is too big, too sturdy or too weak, but a good one will help you improve and perfect your techniques and even give you an upper hand in the competition.
Breathability
Breathability of a piece of gis, especially one that covers your skin and that you sweat in is extremely important in deciding which one to buy. All of the products listed here are made of natural cotton and the only thing that separates them is the weave, thickness, and color. Cotton is inherently a very breathable material, that does not harm your skin or irritates it easily. It is natural, safe and soft and will allow your skin to breathe through it. It is not coarse, so you can feel comfortable with every movement which is crucial while practicing any martial art.
By allowing your skin to breathe you are ensuring that it will stay healthy and cared for, and you will not feel hot in your uniform even while sweating. By taking this into consideration, you will help yourself be better at what you do because you will be able to concentrate solely on the practice and not think or get distracted by anything else.
Materials
Materials of which your sports apparel is made of is more important than some would think. If you have been training for some time, you know what a good and comfortable material against your skin means in the long run.
For training and competitions alike, comfort is the thing that can make or break you. Feeling comfortable and good in your judo gis will impact your performance greatly. All of this gis are made from natural cotton, some bleached and pre-shrunk and others unbleached.
Cotton is an inherently soft and comfortable material and should not give you any problems, but just to be on the safe side, we recommend that you always first read the reviews of people who already bought them to make sure that you will not waste your hard-earned money on something that can bring discomfort to you.
Fit
Choosing the right fit will impact your overall performance in your chosen martial art. It can be a bit harrowing to find and know what exactly will be right for you, and that is why the manufacturers have included size charts that you can use to find a perfect fit. If the jacket or the pants are a bit bigger, they can always be machine dried which will cause the material to shrink a little and provide a better fit.
Durability
For something that gets used and abused on a daily basis, it is important that it is made from a durable and quality material and using some heavy-duty stitching to ensure that the uniform will not get ripped easily and that it will be able to last for at least a few years. It should be able to take quite a few punches, falls, pulls and tugs and still be as sturdy as when you bought it. That is why all of the best judo gis have to be made with quality stitching which will not break any time soon, and they are also reinforced in the areas that will be most affected, such as knees, chest, shoulders and the lapel.
Expert Interviews & Opinions
Most Important Criteria
(According to our experts opinion)
Experts Opinion
Editors Opinion
Users Opinion
By Default
Size is important
Make sure to always check out the size chart and take your measurements to make sure that you will order one that will fit your body the best. Loose or tight judo uniforms will impact your training and your money will be wasted if the size is not appropriate.
Invest in a more expensive uniform
More money means more value, so do not refrain from investing a bit more, as you will get more back in terms of durability and comfort.
Other Factors to Consider
Bottom Line
A judo gi is an important piece of sports apparel for everyone, no matter if they are just beginning or have been training for a long time. When starting out, you need something that is of great value for your money, and also durable and comfortable, and capable of taking a lot of impact and tugging and pulling from your opponents. The last thing that anyone needs is their uniform getting ripped during training, let alone a competition.
Judo is a dynamic sport that requires a lot of movement and concentration, and a lot of concentration is required in order to be successful and master its techniques, so by providing yourself with a proper and high-quality judo gis you have already done a part of the job right and will even have an upper hand over those who bought the cheapest one or did not think their purchase through. For a great movement choose the best judo shoes our experts reviewed in Fighting Report.
Frequently Asked Questions
q:

Will my judo gis shrink?

a:

Because they are made of cotton, it is certain that they will shrink a bit, but only if dried in a machine. It is recommended by manufacturers and sellers that they are washed in cold water and air-dried, in order to keep them intact.

However, if they seem to be too big, you can always machine dry them and shrink them a bit for a better fit. Some come pre-shrunk, but if not careful they are able to shrink more due to the nature of the materials used.
q:

Are there children's sizes?

a:

Of course, all of the items on our list come in adult and children sizes and are tailored to their height and weight.
q:

Is the belt included in the price?

a:

The belt inclusion depends on the seller. Some of them come with a white one and some without and it will have to be purchased separately.
q:

Do the pants have elastics or drawstrings?

a:

Most of these products come equipped with drawstrings, but if this is important to you pay attention to the seller's description to make sure that it has what you need. Some pants for children come with elastics, but drawstrings are more common for adults as they make the pants easily adjustable and easier to wear.
q:

What is the difference between single and double weave?

a:

Gis that are made with a single weave is lighter, easier to wear, fold and pack. They provide easier movement but do not last as long as the double weave ones. They are usually worn during practice.

The double weave provides durability and sturdiness that are much needed for competitions. They are heavier than the latter ones, so it is better that they are not used by children in order to be more comfortable and learn the techniques better before they start wearing the heavier ones.
q:

Does it matter if it is IJF approved?

a:

IJF stands for International Judo Federation. If the judo gis is approved by them, that means that it can be used for competitions. If not, it can only be used for training.
Subscribe to our Newsletter