Best Jump & Skipping Ropes Reviewed
last updated:
Apr 28, 2020
Incorporating the use of a fitness rope into your routine can have a host of benefits. One of the biggest advantages is that they burn calories at an amazingly fast rate. Jumping is a full-body workout that uses all muscles in your body. It also allows you to train your agility and become more light-footed. The constant jumping motion is defined as an unbalanced state of your body which causes a subconscious reaction where your brain and muscles want to make adjustments to keep balanced. By continually practising this exercise, it will make you lighter on your feet and be able to have a better reaction time. Here are some of the best jump ropes on the market that our experts tested and reviewed so you can make an easier choice.
In a Hurry? The test winner after 4 hrs of research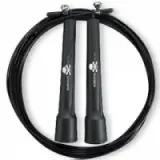 Survival and Cross Rope
Why is it better?
Adjustable
Travel Ready
Smooth spins
Reliable
Grip and Traction
In a
Hurry? Editors choice: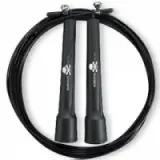 Test Winner: Survival and Cross Rope
Durability
Materials
Stability
Size
Adjustability
By Default
10 Best Jump Ropes Reviews in 2020
1

. Survival and Cross Rope
Adjustable
Travel Ready
Smooth spins
Reliable
Grip and Traction
Manufacturer issues with handle
Survival and Cross is a strong brand that has been in the fitness world for ages. They have always manufactured gear for people that are looking to enhance and optimize their work out. Prior to manufacture, the company takes the feedback of individuals who use their products and makes adjustments to make their equipment more suited to the needs of people. The slim and simple design coupled with the lightness of this product will have you coming back to buy more.
Read more
Travel Ready
For many people that enjoy exercising and staying fit, travelling is one of the worst things that could happen to their routine. During travelling, there is less time to exercise and you are also eating a lot more foods that you may not normally eat. As a result, your fitness level drops during that time. If there is no fitness center available at the place you are staying, the least can do is continue jumping. The Survival and Cross Jump Rope is small and thin enough that it uses very minimal space in your luggage. It is lightweight and compact enough to easily find a room while you're packing and can be used indoors and outdoors.
Adjustable
Skip ropes are usually made to an average length. However, people looking to get a serious work out tend to want the rope an exact length that is most suitable for their body. Having it at a suitable length gives the user better control and more stability in their work out. The Survival and Cross Jump Rope is completely adjustable. The handle has a collar which is adjusted by screws. Simply loosen the collar and slide the handle to the desired length and tighten the collar. The extra rope can be cut off so it does not impede your workout.
Cost and Value
This seems to be on the expensive side for a simple rope. However, in comparison to other fitness equipment, this is a great cardio training tool and is actually worth the amount you pay. This is a very durable one that will be less likely to break, thus allowing you to save some money in the long run. It also comes with a free app that allows you to follow set exercise routines.
Trusted brand
Waterproof
Good value
Balance
Fast spins
One of the biggest reasons a jump rope is so popular is because they can quickly improve your fitness levels without spending too much time on it. This fitness equipment is super effective and is a full-body workout that works to improve your agility and balance. This is a great training tool for athletes and can be a beneficial practice for a variety of sports. Skipping rope will also tone your leg muscles and build strength in your arms and shoulders.
Read more
Speed
The use of a WOD Nation Speed Jump Rope will help even of the most beginner jumpers achieve pro status quickly. One of the main reasons is because the rope is actually a steel one that is wrapped in nylon and prevents it from tangling or having kinks. Along with the swivel bearings that are dipped in smooth liquid steel it ensures that it won't lose its shape or speed while you are using it.
Balance
The WOD Nation ropes are built differently compared to many on the market. They believe that in order to perfect your balance while using a skipping rope, the equipment itself must be balanced as well. The WOD Nation speed room using a bearing system that consists of four patented bearings. These bearings are located in the handle, one at the back of the handle and one at the very tip where the handle connects to the rope. The bearings making the rope balanced on both sides, allowing your body to adjust quickly to using their equipment.
Cost and Value
The WOD Nation Speed Jump Rope is a very good value for the price you pay. It comes with an entire second one that you can use when your initial rope wears out, or you can use the parts to replace worn out parts on your fitness equipment. It also has a travel pack in which you can carry your jumping rope to use elsewhere. Because of the way it is designed it allows you to recover from inaccurate hand positions or jumps without having to miss a beat. That in itself is worth more than anything money can buy.
Comfortable
Adjustable rope
Strong
Waterproof
Smooth spins
The King Athletic Jump Rope allows you to exercise anywhere you want. The small and collapsible design allows for easy access and hassle-free transportation of your fitness equipment. The King Athletic brand has also included a free guide on how to use your skip rope to the max. This product is suitable and comfortable enough for daily use and is designed to be extremely durable.
Read more
Durability
When a jumping rope decides to break, it is usually at the handles. The rope and handle detach in such a way that there is no way to keep them together. This occurs to even the best skipping rope. The King Athletic brand has tried to mitigate this problem and increase the lifespan of a product by using high-quality materials to construct their equipment. The fitness equipment is made of a strong plastic polymer that will hold the entire structure together longer, coupled with the reinforced cabling they have put into it, this skipping rope is made for heavy-duty use.
Ergonomics
It is hard to train properly if the fitness equipment makes you uncomfortable. In order to meet all your fitness goals, it is important to make sure the equipment is suitable for your needs. The King Athletic Jump Rope is lightweight enough that it will not tire out your hands and arms. The handles are constructed of foam and molds to your grip, making it a comfortable and effortless grip while you train.
Cost and Value
The King Athletic Jump Rope is more on the expensive side. However, it comes with a one hundred percent satisfaction guarantee. This means if there are any defects or problems with your product, they will not only give you money back but also send you an additional skipping rope completely free. Despite the guarantee, the quality materials used to construct this equipment ensures that this one will last a very long time. There is a lot of return on investment as a skipping rope is a fast way to burn calories while having fun.
Stress-free use
Quality materials
Waterproof
Durable
Good cardio workout
Jump ropes are a great way to improve your cardio within a short period of time. They can give you power training in your arms and legs while increasing your lung capacity. The Fitness Master brand creates products that are designed to be light and suit a user's needs. This fitness equipment comes with a fully adjustable length and is made for speed.
Read more
Materials
The Fitness Master Jump Rope is known for being able to keep up with heavy-duty workouts. The product is made of reinforced metal ropes that ensure it will last a long time and be able to withstand the toughest exercise routine thrown at them. To ensure comfort and prevent users from being cut there is also a heavy layer of plastic polymer that coats the outside of it.
Hassle free use
Many skipping ropes have a problem where if they are not used all the time, kinks and knots develop. The Fitness Master Jump Rope is constructed to combat these kinks. Most skipping ropes are manufactured with the rope sticking out directly from the top. However, the Fitness Master Jump Rope constructed the handle to be perpendicular to the rope itself. This allows for the handles to smoothly glide along and straighten out any kinks or knots that may have occurred. It also decreases the amount of friction the fitness equipment may build up and also prevents static build-up.
Cost and Value
This skipping rope is very affordable and is backed by a lifetime warranty. If you are looking for a durable one that has a lot of value, this is going to be it. The product comes with a carrying case and also a screw kit so that you can adjust it to the perfect length. On top of everything, the quality and design of this product is good enough that it is guaranteed to last a long time before needing to be replaced.
Reliable
Comfortable
Grip and Traction
Long length
Ventilation
The Limm brand is relatively unknown in the market but has a surprising value in all their equipment. They are able to offer a money-back guarantee and has quite a following. Their skipping rope is made of light and durable material that makes for a comfortable work out. They are suitable for indoor and outdoor use and can be taken on vacation to continue reaching your fitness goals.
Read more
Balance
Despite how unassuming a skipping rope looks, they can greatly affect your work out when it is unbalanced. For instance, you may find yourself stronger on one side of your body or you may find yourself constantly adjusting to the tilt you subconsciously feel. The Limm Jump Rope has a ball bearing that is built into the handle which ensures that the weight is evenly distributed on both sides and allows for smooth movements.
Breathable
The Limm Jump Rope is very comfortable to use as it keeps your palms dry. There are bumps and dips designed into the handle which allows for areas of your palm to have a gap while holding it. The gap will then ventilate and have air blow through the area, thus keeping your hands dry and free of moisture. This will also prevent bacteria from developing on the handles and prevent odors or early break down of the materials.
Cost and Value
The fitness equipment is in the average price range compared to other similar items. However, they excel in an area where none others do. Not only have they improved the balance of their skip rope, but they have also created a handle that will ventilate and keep your hands dry, and maintaining a lightweight but durable sports equipment. This is not something many brands can achieve and alone, that is worth its weight in gold.
6

. Fitness Factor Adjustable
Heavy Duty
Adjustable
Ergonomic
Smooth Spins
Long length
As the name says, one of the biggest selling factors in this fitness equipment is that the length can be adjusted. However, this is the only good point about this skipping rope. They use a type of rubber in their cord to prevent it from tangling, allowing you to be hassle free when used. The manufacturer has also created a comfortable grip that gives you better control when you use it and is easy on your wrists, allowing you to focus on your training.
Read more
Comfortable Grip
When it comes to manufacturing a good grip, Fitness Factor cannot be beaten. Using the lightest foam available on the market, they have created a handle that is easy to grip and incredibly comfortable to hold. The handles are designed to be slightly bigger than normal handles as it allows for your fist to wrap around loosely and still feel the handle. There are many manufacturers that decide to go with a smaller handle, however, this can cause discomfort as many people don't feel they are gripping something and subconsciously wrap their fists tighter in order to hold the handle.
Adjustable Length
Having the ability to adjust the length you use is crucial during a workout. Having it too long can cause you to trip as you may not be able to pull it entirely back and clear from your feet. If it is too short, there is a chance you may not be able to jump high enough for your feet to pass through. Although all skipping ropes are made with a certain length, most are designed for you to adjust by cutting them. The Fitness Factor Adjustable skipping rope is easy to manipulate. Simply loosen the ball bearing, cut the right fit and tighten.
Cost and Value
The Fitness Factor Adjustable Jump Rope is quite affordable and comes with more value than what you pay. Because these cords are designed to be tangle-free, your jumping will become more rhythmic and smoother quicker than you expect. The ball bearings inside will also increase the flexibility of the equipment, thus allowing you to put less strain on your wrists. Overall, this jumping rope is a great purchase to increase your cardio and be lighter on your feet.
7

. iheartsynergee Crossfit
Multi-use
Waterproof
Keeps hands dry
Good quality material
Reliable
Despite not being a name that many people have heard of, they make up by giving you your money's worth. These ones come in a variety of colors, allowing you to really personalize your experience. To ensure you get the exact length you're looking for the iheartsynergee team has included ten feet worth of rope, allowing even the tallest of people to comfortably use their product.
Read more
Versatile
A jumping rope is an incredibly versatile fitness tool to have. It can be used in many sports training such as CrossFit, mixed martial arts, and wrestling. Most of these sports require you to be able to move quickly on your feet and react fact. The iheartsynergee Jump Rope can help to shorten your reaction times and can also promote movement of your feet. This skipping rope will also help to improve your hand-eye coordination, which can benefit a combat sport greatly. It can also be used for strength and power training of your upper body. The great thing about this is that it is waterproof and can be used both outside or inside. There is also no particular type of flooring you cannot train on.
Steel bearings
There are bearings made of steel installed into the handle of the iheartsynergee Jump Rope. This is to allow for lightning-quick spins. The bearings are smooth enough that they can move up and down quickly without tangling. These bearings will also balance out as it evenly distributes the weight on both sides. The last thing anyone wants to have to do is replace a handle or a bearing on a skipping rope. These steel bearings are designed to last a long time and be durable enough to handle daily use.
Cost and Value
This skipping rope is very affordable and can really up to your fitness routine. Jumping is a great way to improve your cardio as it is a full-body conditioning experience. It takes a lot of different muscle groups to keep jumping continuously to a rhythm. Using one will guarantee that you shave minutes off your work out while ensuring you're hitting every muscle group that needs to be worked out. All in all, this is a small investment for something that is extremely beneficial to your healthy lifestyle.
Smooth spinning
Light weight
Balanced
Ventilation
Durable
XYLsports Jump Ropes are best known for being used in aerobic workouts. As more people recognize the benefits of using a skipping rope, more cardio classes are incorporating it into their routine. It is no longer a surprising sight to see large groups of people all jumping rope at the same time. These are very light and allow for increased endurance while using it. They are also small and compact so they do not take up a lot of space when bringing them to and from class.
Read more
Double Unders
The XYLsports jump rope is one of the best tools out on the market for doing double unders. A double under is the act of jumping higher than normal while swinging it two full circles before landing. It is quite a difficult jump to master, however, it is extremely good for strength and power training. One of the biggest things that the ropes need to do while completing a double under is able to tap the ground twice quickly. The XYLsports brand has lightweight ones that have enough elasticity to give a bounce-back that will shorten reaction times greatly.
Grip
One of the biggest problems in skipping rope is when your hand gets sweaty, the handles will slip or fly out. To mitigate this problem, the XYLsports brand has used a durable foam to wrap around the plastic handles. This gives more grip and traction to a sweaty palm so that despite the moisture, you can maintain your hold on the handle and finish your workout. The foam also acts as padding against the hard plastic of the handle, allowing you to have a more comfortable grip.
Cost and Value
This is one of the most affordable fitness equipment you will find on the market but one of the best skipping rope brand. While many other manufacturers try to give extra benefits or added value, XYLsports has stuck to a clean and simple way of selling. Instead of adding extra supplies or workout routines, this product is the only thing you will get when you purchase it. This is great as it allows buyers to know exactly what to expect and there are no hidden surprises. Along with the fact that this product is reliable and will not break easily, this is definitely one worthy purchase.
Upgraded Construction
Ergonomic
Grip and Traction
Waterproof
Lightweight
The 5billion brand is known to produce good and reliable jumping ropes. They are able to deliver a product that is constructed with high-quality materials to ensure that it can withstand the toughest of workouts. They have also taken the time to understand the needs of users and created a comfortable and easy to hold handle. Without comfort, users will spend less time as it is incredibly tough on arms and wrists. This is a great waterproof product that will burn body fat quick and allow you to become a more health-conscious person.
Read more
Ergonomic
An item that is not built to be ergonomic can leave you tired and need to cut short your workout. The idea behind ergonomics is to that you can increase your stamina while working out and focus on your routine instead of being hindered by your fitness equipment. The 5Billion brand has one of a kind handles that not many other manufacturers have used. Most other branded jump ropes have constructed a handle made of a simple tube shape. However, the 5Billion Speed Jump Rope is constructed with a dip on the handle that allows your thumb and index to rest comfortably while maintaining your grip. This is a great advantage in your training as you are able to use a more relaxed stance while holding it, thus reducing the amount of energy spent.
High Quality Construction
This skipping rope is constructed of the highest quality material out there. To improve on the handles, even more, there are ridges and grooves constructed for better traction for sweaty hands. The product is made from heavy-duty wire, allowing a longer lifespan for the product.
Cost and Value
This product is more on the expensive side, however, it is still a worthwhile investment. This is one that is suitable for outdoor or indoor use and for all sized people. It is also a great fitness tool to incorporate if you are training in a sport or as a dancer as both require you to be light on your feet. The use of high-quality material within the rope to ensure that it stays kink and wrinkle-free is also an added benefit that should allow for you to consider investing in the 5Billion Speed Jump Rope
Top quality
High End Materials
Durable
Waterproof
Adjustable
Sonic Boom is famous for its products as they are incredibly effective. Their newest version brings a plethora of new technology to the world of rope jumping. Each set is carefully tested and constructed to ensure quality and that the product is free of any defects. They are also extremely resistant to break and can last a very long time. This product is no laughing matter and is guaranteed to help hit every fitness goal you set.
Read more
Upgraded Materials
The bearings in the Sonic Boom M2 High-Speed Jump Rope are made of the finest stainless steel available. This prevents rusting whether it is from sweat or the humidity of your environment. The grips of the handle are also constructed with silicone, allowing for a sure and firm grip on your equipment while working out. The rope itself is coated with a rubber polymer that prevents it from tangling and interrupting your workout. The rubber also reduces the amount of friction you gather while spinning, allowing you to achieve those spins that you weren't able to do before.
Adjustable
This product comes with a new technology that allows you to adjust the length of your Sonic Boom jump rope without the use of screws and other tools. The Sonic Boom M2 High-Speed Jump Rope has an auto lock that allows you to simply twist to unlock, adjust, and twist to lock back in place. This allows you to focus more time on your workout and also allows for other people to share it.
Cost and Value
The cost of this product is on the expensive side, however, this is going to be the most top-quality product you will find on the market. Despite how expensive it is, it's worth every penny you spend. The technology within these ones far outweighs any other competitor. It is also designed with an aim to last an entire lifetime. The Sonic Boom M2 High-Speed Jump Rope is what you want to buy if you are looking to become serious in training with one.
Criteria Used for Evaluation
Durability
The last thing you want to do is replace a jumping rope you just purchased. However, these products take a beating each time you use it. Every rotation that it makes, it has to take an impact from the ground and also stretch to its fullest capabilities. The most durable rope will have some sort of metal in it. Metal is a great material for jumping ropes as they are light and do not break easily. Keep in mind when you purchase your product that there may be a chance you will change your place of exercise. As a result, try to look for one that will be able to hold its own indoors and outdoors.
Materials
There are many different materials that a jump rope is made of. Depending on your needs, the best one for you will vary. For beginners or people looking to have fun, there are products available that are made of plastic and rubber. As you begin to train seriously you will find yourself needing a stronger one.
One of the most popular materials is steel. Usually, the steel is wrapped with vinyl so that it does not cause damage to the user. These fitness ropes are ideal as they can withstand thousands of consecutive slams against the floor. They are the most durable material and will last longer than many other kinds of jumping ropes. If you are looking to bring your workout outside, then one made of steel would the most ideal as they can withstand the impact on concrete better than any other kinds.
Another kind of material that manufacturers use is a plastic polymer. Essentially, it is a rope-like material that is dipped into a plastic sleeve. These are good for beginners as they are light and easy to manipulate. However, they are not suitable to be used on hard surfaces such as concrete as it will break up the plastic. A rope made with a plastic polymer can be used for leisure activities and also if you are just starting to work out with it. These fitness ropes are not optimized for speed as they are a little too heavy for it. If you are looking to challenge yourself or want to go faster on a skipping rope, you will need to invest in something else. Because these jumping ropes are meant for indoor use, they last longer than normal ropes.
Historically, one of the most popular materials that jump ropes were manufactured was leather. They were often found in boxing gyms and used by combat sports athletes. They were a favorite of athletes because they were incredibly light compared to the regular one. The leather itself was light and the handles were wooden, which made them weightless as well. These leather products were a great tool to improve agility and become lightfooted. However, they were not very durable. Leather is a soft and organic material, this made it incredibly fragile and unable to stand the impact of thousands of slams on the floor. Also, the leather deteriorated and started to react when it came into contact with moisture. Because of all these reasons, leather ones are now more of a memento than something used to train.
Size
When it comes to a skipping rope, the length of it is very important. Having a product that is too short will be ineffective as you cannot physically jump over it. Having one that is too long can cause injuries as it may crinkle when you least expect it. It can also be too long for your arms to fully pull the rope back and you may not be able to jump through the loop.
Ideally, the one you choose should come all the way to your chest height. Simply step onto the middle point of your fitness rope and pull upwards. If the handles can reach the middle of your chest, then your fitness rope is the optimal length. An alternative way is to simply add three feet of rope length to your height.
Stability
Having a good grip on your skipping rope is paramount to your performance. As expected, if you have sweaty palms and are unable to grip it, it will fly or slide out of your hand. If it does not fly out of your hand, you may find yourself stopping to wipe off the sweat on your handles as it may make you feel like you have less control over it.
A good grip comes from the manufacturer of the handle. Ideally, a handle that is foam padded with ridges would work the best. The foam pad will act as extra insulation to keep your hand more comfortable as you are gripping something softer than just hard plastic. Having ridges on the handle will allow for gaps in your grip where air can flow through. It is important to increase the airflow as it can keep your hands dry and free of moisture. If your handles are not kept dry, there is a possibility of moisture to stay in the handle and promote bacterial growth. The fungi or bacteria that grow on the handle may cause your jumping rope to have strange odors.
Adjustability
Most of the jumping ropes available on the market can be adjusted. This is because no rope is made specifically for a height. They often come with extra cabling and allow for people to cut the excess themselves. However, there are many manufacturers that have a cumbersome system of screws that often leave people frustrated. It is recommended to look for a jumping rope that can be easily adjusted. Some manufacturers have an auto-locking system where you twist and untwist to loosen it. Other manufacturers, use a clamp system where the rope is kept in place by two pieces of metal that are clamped to it. The clamp is then held together with screws. Apart from adjusting the length, sometimes it is necessary to completely replace it. As a result, the adjustment should be something that can be done within a minute or so.
Expert Interviews & Opinions
Most Important Criteria
(According to our experts opinion)
Experts Opinion
Editors Opinion
Users Opinion
By Default
Other Factors to Consider
Model
Knowing what type of jumping rope to buy is very important. There are some products that may not be suitable for a beginner, or you may end up buying something that is too top of the line and waste your money. Fitness ropes are broken into three main categories: Beginners, Speed, and Strength.
People that are just starting or exploring the world of jumping rope should invest in one that is lightweight and comfortable to hold. While it is important to advance, having a product that you can grow accustomed to and learn the basics is just as important. There are many plastic ones out there that are affordable and comfortable. They are a suitable entry-level one as long they feel durable and allow you to get into a rhythm when you jump.
A speed rope is something that allows for people that are looking to get serious to train on. These are also popular with athletes as they can help develop or improve footwork. With the speed of the rope moving, it will also greatly improve one's hand-eye coordination. Apart from agility training, most people that opt for a speed rope are wanting to improve their cardio and conditioning. Once you have figured out the basics of using a skipping rope, a speed rope can be purchased to do more advanced exercises such as different tricks and the very popular double-unders. Despite the simple-sounding name, a double under requires a lot of speed and works out your endurance and coordination at the same time.
When looking for a speed rope, it is recommended that the one you purchase has a handle that is perpendicular to the rope itself. There are many jump ropes that have the rope coming out from the top, however, it is necessary for a good speed rope to have the rope come out of the side. This is because speed ropes go super fast, without a bearing or a smooth entry and exit point of the rope, they can damage easily and are also not as effective.
A strength rope is also known as a weighted rope. As the name says, these products are weighted and meant to train your strength and power. These sort of ropes are most often used for people that want to lose weight. It takes a lot of power to spin these, thus giving your entire body a workout. Once you start spinning the weighted rope, the upper part of your body must improve its endurance and keep it spinning. Depending on what your abilities are, there are weighted ones that weigh anywhere between one and six pounds.
Weighted jumping ropes are notorious for burning extra fat. It decreases the time you have to spend exercising while burning double the amount of calories. These ones also help beginners adjust and master how to jump quicker. Because the rope itself is heavier, they give beginners a sense of control because they feel the rope more. A weighted fitness rope is beneficial to more serious jumpers as well. The weight of the rope will do resistance training, thus allowing your muscles to develop and become stronger. These products are also suited for both indoor and outdoor use and are a great way to break up your routine. Weighted ones can be incorporated into your warm-up or cool down, or also used to train along with other tools to make the perfect training combination that your body needs.
Advanced Features
There are many products that do not use ball bearings. A jumping rope without a ball bearing is not inadequate. They can work great for beginners and people that are not looking to train with them. Mostly, a ball bearing jumping rope is only necessary when you want to train for speed. Jumping ropes were not made to spin as quickly as they are required to when people are doing agility training. As a result, ball bearings were introduced in the handles. Some have ball bearings at the top of the handle and some others have them constructed into the base of the handle.
A ball bearing that is placed at the base of a handle is for balance purposes. The bearing will help the user keep their balance and control as they can feel the weight of the rope. The ball bearing will also ensure the handles are balanced, allowing for an optimal training session. There are other jumping ropes that have the bearing at the top of the handle, where the handle meets the rope. Many of these bearings are dipped in a liquid that will make them smoother as their responsibility is to move along it smoothly. When it is moving at a really fast speed, it is important to be able to give it some room to move. If it is clamped into place without any flexibility, it will increase the amount of stress to it and potentially cause it to snap earlier than intended. People looking to agility train on ropes can cause a lot of friction on the fitness rope, thus having the ball bearing also reinforces and protects the area between the rope and handle.
Bottom Line
Using a skipping rope will increase your bone density, making this exercise incredibly beneficial to seniors and young children. Studies have shown that the jumping movement causes mild impacts of shock that your legs are required to absorb. Because the impact is quite mild, it allows for your body to adjust over time and strengthen your joints and muscles in that area and slowly improve your bone density. Apart from your body becoming stronger, using a jump rope will also strengthen your brain. This is an exercise that requires your mind and body to connect as one. While your body does the physical jumping, your mind has to stay focused and ensure it timing it right so the muscles pass over it. This is the hand-eye coordination that is required for learning the coordination, rhythm, and strategy of skip rope.
Adults are not the only ones that benefit from this sort of exercise, children do as well. A skipping rope is something that can be used individually or also used as a means of bonding. Many children prefer to play together and by doing so it strengthens their cooperative teamwork and social skills. Playing with it will also encourage the children to be outside and more active. Over the course of playing, many children develop multiple uses of a jump rope which advances their understanding of problem-solving. Read our detailed jump rope reviews, choose your favorite and start your workout.
Frequently Asked Questions
q:

Where can I buy one?

a:

Depending on the type you want, they can be purchased almost anywhere. Supermarkets, large sports stores, or specific sports stores will all have something available.
q:

Can my children use weighted one?

a:

Yes, however, it is recommended that you start them with a regular rope before transitioning to something weighted.
q:

Are all jump rope products waterproof?

a:

Most ones are waterproof and can be wiped down or washed.
q:

How long should I use one?

a:

There is no specific length of time that you should use it, most people use it between twenty minutes to an hour each day. It minimum recommended time for an exercise to become effective is ten minutes of use every day.
q:

Can it help me lose body fat?

a:

Absolutely, jumping rope is a great sport to lose overall body fat. It is a low impact on your joints but will give your full body an entire work out. The fat from all parts of your body will be reduced with the use of one. Unfortunately, it cannot target specific muscle groups.
q:

Will jumping give me abs?

a:

Jumping rope combined with other exercises to become a high-intensity workout circuit will give you abs faster than any other core muscle routine.
q:

Does skipping increase your height?

a:

Despite it being hard to believe, jumping ropes add height to people that are still growing. The movements of jumping elongate the body and stretch out various muscles, thus increasing a few inches in height.
q:

When can my child start using one?

a:

There is no specific time in which a child can or cannot start. Some children develop an interest and start jumping very young, while others do not realize the benefits until they start exercising.
q:

Can I use my jumping rope on a mat?

a:

Yes, however, be aware of the effects jumping will have on a mat after prolonged use. Over time, the mat may lose its cushioning properties from being constantly jumped on.
q:

Do they lose elasticity over time?

a:

They usually do not lose elasticity, just simply snap when their time is up.
q:

Will it scratch my wooden floors?

a:

Most jumping ropes have a coat of chemical on the rope to prevent it from scratching any surface it meets. Most ones will not scratch wooden floors.
Subscribe to our Newsletter