Best Karate Gis Reviewed in 2021
last updated:
Jan 07, 2021
Did you know that the word gi simply translates to the word 'uniform'? When wearing a karate gi, there are a few key features to look out for. First of all, you want something that will fit you right to allow for a full range of motion.
Weight is another thing to take into consideration. If you are new to the class, a lightweight option allows you to keep light on your feet as you learn. You want to select a karate uniform that is made from soft and easy materials and won't leave you constantly itching and adjusting.
Karate is about developing not only fighting skills, but it is also about a sense of control and humility. When you suit up in a perfectly fitted karate gis, getting in the right state of mind before class is much easier!
In a Hurry? The test winner after 7 hrs of research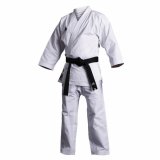 Adidas
Why is it better?
Trusted brand
40 percent cotton
Mesh panels
In a
Hurry? Editors choice: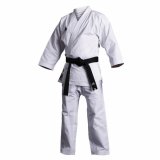 Test Winner: Adidas
2
Researched Sources
830
Reviews Considered
7
Hours Researching
10
Products Evaluated
Materials
Weight
Fit
Comfort
Durability
By Default
Our 10 Top Rated Karate Gis
Criteria Used for Evaluation
Materials
There isn't a lot of range in the materials used for these styles of uniforms. Brands use two types of fabrics: cotton and polyester. We wanted to get into a little bit of detail about these two types of materials, and the advantages and disadvantages of using both.
Cotton:
The great thing about cotton is that it is incredibly lightweight and breathable. Many of the novice-grade gis are made from cotton because they move so well. Just like your favorite cotton t-shirt, it isn't the least bit itchy and is something you will be excited to put on for each class.
The downside to cotton is that it is quick to lose its shape and shrinks when exposed to heat. If you want to keep your uniform looking great, it doesn't mean you have to skip out on 100 percent cotton designs. It simply means that you need to wash it in cool water with mild detergent and hang it up to dry in a well-ventilated area.
Polyester:
For durability, polyester is the way to go. Polyester is one tough material, and it can be washed over and over without losing its shape. If you take a lot of hits, polyester works better at protecting your skin from scrapes and cuts over cotton as well.
The downside to polyester is that it isn't considered to be as soft as cotton. Many users complain that karate uniforms made from 100 percent polyester aren't very breathable, and they are often pretty itchy when worn against bare skin.
Weight
There are three special weight classes that are used for various skill levels.
If you are just starting out, in the height of your training, or you're an old pro, the right weight makes all of the difference. It is important that you select the right weight for your skill level. Below, we explain the different weight options and the reasons they are perfect for your skill level.
Lightweight
Lightweight options are perfect for beginners. They typically weigh in at between 4-7 ounces and are made from cotton. These designs are built to promote a full range of motion without weighing you down.
Mediumweight
If you are in the height of your training, medium weight options are your best bet. They weigh in between 7-14 ounces and are typically constructed from a blend of polyester and cotton. These designs offer higher protection from hits and spills and a little more structure for deliberate movements.
Heavyweight
Heavy weight designs have a dense canvas-like feel to them. Teachers, instructors, and tournament attendees often select these heavy options because they are the highest quality styles currently out there on the market. Users also like the heavier options because they don't absorb sweat and odors as quickly as those crafted with cotton, which means you will not need to wash it as often.
Fit
Finding the perfect fit for your specific body type is key. Brands that provide a lot of sizing options accompanied by a detailed sizing chart was one of the very first things that we looked for.
It was important to select brands that had at least 75 percent of previous users happy with the fit. Due to the fact that not everyone is built in quite the same way, there are bound to be problems with a proper fit. The important key is to ensure that the size chart and the final product are correct.
In most instances, users found that some of the products out there on the market run small rather than run large. While you want to ensure a perfect fit, it is always better to go a little bit larger than smaller. When your karate uniform is too small, it limits your full range of motion. Plus, there is very little to be done about a fit that is too small.
If you find that your karate gi is too big, there are some ways to fix it. If you are handy with a sewing kit, hemming the sleeves and the pants are a quick and easy fix. When you sew the arms, just be sure that they don't come up higher than your elbow!
For competitions, the jacket must at least touch the hips. If you select a uniform that is too short, there is a chance you may not be able to wear it in a competition. There are no regulations about a jacket being too long. Plus, it is something that you can hem as well.
If you aren't handy with a needle and thread, employing the help of a skilled tailor can help craft the perfect fit for your body. Fixing a uniform that is too big than too small is a much easier process. If you are unsure about what size to select, we encourage going just one size higher than normal.
Comfort
Whether it's karate, boxing, kickboxing uniforms, or yoga gear, wearing uncomfortable clothes is the worst! We wanted to make sure that we selected products that were not only crafted from high-quality materials but were comfortable as well.
There were a few key features we considered to make sure you are just as comfortable at the beginning of practice as at the end.
Blended fabrics:
Fabrics that are blended with polyester and cotton provide users with comfort, flexibility, and protection. In most cases, brands used a slightly higher polyester thread count compared to cotton. Most designs are made up of about 55 percent polyester and 45 percent cotton.
By blending fabrics, users get comfort and mobility from cotton while receiving higher durability from polyester.
Waistband:
Another thing to take into consideration when selecting a uniform is the design of the waistband. You want your pants to give you a low of free movement for easy kicks, but they still need to fit loosely. There are a few different designs that keep your karate pants snug around your waist while loose in the legs, hips, and crotch.
Elastic bands are the most common band out there on the market. It is a great way to accommodate a wide variety of waistlines without cutting off the circulation in your hips. The downside to elastic is that it can become stretched out and worn over time.
We also liked products that use a drawstring to hold the pants in place. Drawstrings won't lose strength over time and can be adjusted to fit incredibly tight or as loose as you want.
Additional features:
Well placed features in the design and cut of the fabric keep you cool and comfortable. For instance, the Adidas design offers vented mesh in the back to promote air circulation to keep you cool and dry. Other brands feature reinforced panels to the hips and crotch to give your legs an even higher range of motion for powerful kicks.
Durability
These uniforms really take a beating, so it is important that they are able to withstand your movements. There are a few key features that we considered to make sure that they last more than one training session.
Pre-shrunk fabrics are a great way to make sure that your perfectly fitted karate gi doesn't shrink up in the washing machine. Due to the fact that you gi needs to be washed after every sweaty use, pre-shrunk materials ensure that it will not change shape after only one visit to the washing machine.
Utilizing these types of fabrics means that you can also select uniforms that contain cotton without the worry of shrinking.
Double stitching is another great feature that ensures the seam in your pants doesn't rip after landing an epic roundhouse kick. We love brands that offer flat-locked double-stitched seams to be kinder to your skin. Everyone knows the very specifical irritation of itchy seams. By sewing the seams to the garment, there is less of a risk of irritation.
If you love the fit of your gear right out of the box, you may want to skip hot water completely. Even though brands claim they are pre-shrunk, or that they are machine washable, they can sometimes lose shape when exposed to hot water.
We recommend washing your karate gear in cool water with gentle detergent and then placing it in a well-ventilated area to dry completely. If you have more than one practice per week and don't have time to hand wash and dry your uniform, buy enough uniforms for the week and then wash and dry them on one day!
Expert Interviews & Opinions
Most Important Criteria
(According to our experts opinion)
Experts Opinion
Editors Opinion
Users Opinion
By Default
The Empty Hand
Karate quite literally translates to the words 'empty hand'. Kara translates to empty, and te translates to hand. Therefore, karate translates as the art of fighting without any weapons.
Black Belt
When you hear the term black belt, you may conjure an image of a karate master. However, this could not be further from the truth. Many feel that earning your black belt simply means that you have learned enough to really begin your karate journey. Just like in life, there is no tangible finish line when it comes to learning.
Start Light
New to class and feeling overwhelmed with the various gi options out there on the market? When it doubt, always opt for a lightweight option. Designs that weigh between 4-7 ounces are designed for new students that need something light and easy.
Other Factors to Consider
Bottom Line
At the end of the day, just as with martial arts shoes or MMA gloves, getting the right fit is key. Be sure that you utilize the detailed sizing charts that are provided by most brands! Be sure to measure not only your waist and chest but also your wingspan as well.
Selecting products that are composed of a blend of polyester and cotton offers a stretchy fit that is both breathable and lightweight. When sparring with a partner, it is important that you are able to achieve a full range of motion without extra bulk or tight fabrics holding you back.
If you are just starting out on your karate journey, lightweight options that weigh in at around 5-7 ounces are great for really learning the movements while staying comfortable. Due to the fact that fit is so important, there is nothing wrong with employing the help of a tailor to get that perfect fit for your unique body shape!
Frequently Asked Questions
q:

How should my karate gis fit?

a:

Movement is key. A uniform that is too large will weigh you down and make your movements feel loose and sloppy. A uniform that is too tight hinders your movements and does not allow for a full range of motion. So, where exactly is the sweet spot?

One of the most important things to ensure is that the jacket fits down over your hips. A gi that is too short doesn't feel natural. The arms should offer plenty of room to move without the fabric getting bunched up at the elbows.

It is also important that the shoulders feel loose and easy. If you carry extra muscle in your shoulders, finding the perfect fit can be frustrating. In our experience, we found that selecting a size up is better than something that is too small.

If you found that you love everything about your uniform, but there is just something off about the fit; you have options! There is nothing wrong with taking your uniform to a tailor to get it specifically cut to your body.

However, before you take it to a tailor be sure that you wash it first to ensure it doesn't shrink on you after paying to get it tailored.
q:

What do I wear under my karate uniform?

a:

Various dojos have different rules when it comes to what to wear under a uniform. To play it safe, you should always adhere to these simple rules.

Women should always wear a sports bra under their jacket when training and in competitions. Men should never wear a t-shirt under their jacket.

It is also important to note that cups are often prohibited at most competitions. Therefore, training with a cup is not considered to be ideal.
q:

How heavy should it be?

a:

There are various weight classes for this style of uniform, so it is best to select the right weight for your skill level.

If you are a novice, lightweight designs are perfect for just starting out. Lightweight options often weigh in at around 5-7 ounces and are designed to help you really learn the movement without heavy gear weighing you down.

Heavier, models, like those that weigh in over 14 ounces, are designed for teachers, experts, or those heading to a competition.
q:

Do I need a special karate gis for competitions?

a:

The good news here is that most uniforms are allowed for karate competitions. The only exception lies in international competitions. For serious competitions, there are a few guidelines your gi must pass.

First of all, there are certain color requirements for various competitions. While red and blue may be fun for practice, these colors are not permitted for some competitions. To play it on the safe side, we suggest opting for the basic white and black if competitions are in your future.

Secondly, uniforms must be free of rips or tears. If you plan to complete, we suggest buying a gi specifically for training and then buying one for competitions.
q:

Is it easy to wash?

a:

The answer to this question depends upon the type of material you selected. If you opted for a design that is made from 100 percent cotton, or the cotton count is higher than polyester, washing is a little tricky.

Cotton is notorious for shrinking when exposed to heat. If your gi fits perfectly right out of the box, it is important that you never subject it to any heat. We suggest washing your uniform in cool water with a gentle detergent. Once you ring out the excess water, hang it in a well-ventilated area to dry completely.

If you select a design that uses a higher polyester count, you don't need to worry about it shrinking when exposed to heat. When washing a polyester style, you can simply toss it into a washing machine with warm water. To be on the safe side, we like to skip the dryer and hang our uniforms up to dry.
q:

How do I know what size is right for me?

a:

No two body types are alike, which can make picking out the right size for your shape a little difficult. The good news, however, is that most companies out there on the market have sizing charts to make things just a little bit easier.

There are three areas of your body that you need to be sure that you measure. The first, and maybe most important, is your wingspan. Karate movements require that your arms are free and unencumbered. Arms need to be loose, but not so loose that the fabric hinders your movements.

The second area to measure is your waist. While most brands offer an elastic waist to accommodate most sizes, pants need to be held firmly in place at the waist while offering a full range of motion in the legs and hips.
q:

How do I prevent it from shrinking?

a:

As with most fitness gear and equipment, you want to avoid heat at all costs. Even if your uniform is made from polyester (which is resistant to shrinking), avoiding the drier prolongs the life of your gear.

We like to wash our gear in gentle detergent in cool water by hand, and then hang it up to dry completely.
Subscribe to our Newsletter