Best Karate Gloves Reviewed & Rated
last updated:
Feb 03, 2020
Karate gloves are an essential when you are thinking about protective equipment. As a beginner in this ancient martial art, unless practicing with no contact, you should always stay protected. Inexperience can lead to injury. Don't get us wrong, you should expect some bumps and bruises along the way, but you don't want to sustain serious injury.
More advanced in your chosen discipline? The importance of protection during your training is equally if not more important than for beginners. As your skill increases so does your strength and precision. Handing out lethal blows during training and not protecting yourself and your partner could go badly. Wearing Karate gloves will decrease the impact for not only you but your sparring partner too.
In a Hurry? The test winner after 4 hrs of research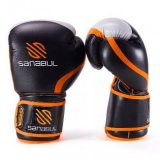 Sanabul Essential
Why is it better?
Plush Feel

Exceptionally Comfortable

Top Quality Construction

Room for Wraps

Advanced Durability

Excellent Price
In a
Hurry? Editors choice: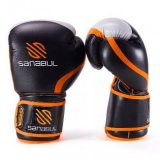 Test Winner: Sanabul Essential
Protection
Overall Fit
By Default
10 Best Gloves For Karate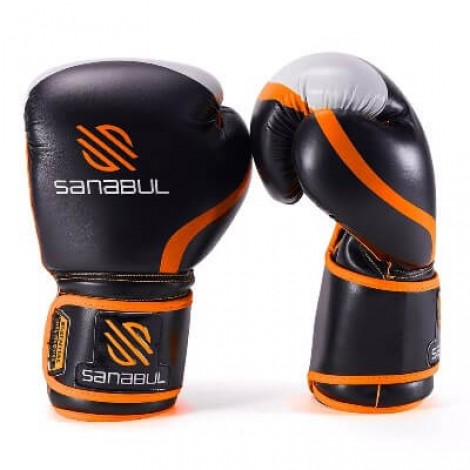 Plush Feel

Exceptionally Comfortable

Top Quality Construction

Room for Wraps

Advanced Durability

Excellent Price
Sanabul is a leader in the Karate, Boxing, Kickboxing, and other high impact sports, for a good reason. Stylish, affordable, top quality equipment that is innovative and technologically advanced. The Sanabul Essential Karate gloves offer gel foam technology that absorbs impact to the extreme. This aids in keeping you feeling great through the punishment of training. In addition, they are naturally curved and come in a range of weights which makes them feel truly customized to your preference.
Read more
Gel Impact Protection Foam
One of the main purposes of Karate gloves is to absorb the shock from punching. Doing this protects your skin, bones, and joints. When you are looking for the ultimate protection, look towards the gel impact protection foam used in the Sanabul Essential Karate gloves. The gel infused foam is soft, durable, and can handle everything you have to dish out.
Overall Build
There are so many amazing features in this Karate glove we decided to put them together in overall build. The mesh palm keeps this Karate glove lightweight and breathable. In addition, it offers an easy on easy off Velcro closure that helps this Karate glove fit snug. Both of these are great but we must mention the arched design. It helps your hand sit in the natural striking position. This helps maintain safety and encourages proper technique.
Cost and Value
Sanabul not only impresses us with their exceptional quality and innovative craftsmanship but also with their prices. Keeping protective gear affordable is a main priority for a lot of fighters in a variety of disciplines. Sanabul understands the importance of wearing the best equipment to keep you safe and proves it doesn't have to cost a fortune.
2

. Cheerwing Training Gloves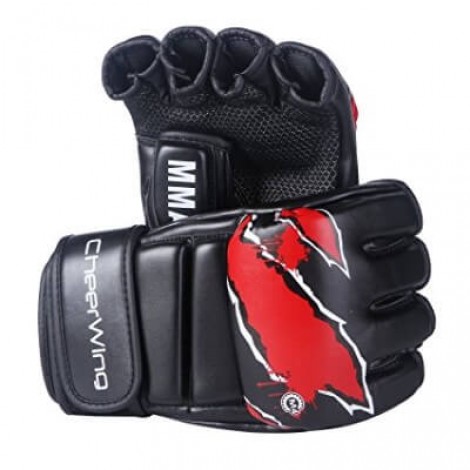 Good With Bags and Sparring

Excellent Wrist Support

Superior Price

Great Force Distribution

Not Too Bulky
Cheerwing offers a truly advanced pair of Karate gloves. Durable synthetic Leather outer and an EVA foam inner will take the abuse of heavy training. While keeping your hands and wrists feeling great with superior shock absorption they will also last through training session after training session. The fingerless design allows these Karate gloves to move with you without restriction and increases the overall breathability. In addition to all this, they also offer a double wrap wrist closure. This type of closure adds to the support your wrists receive and the overall awesome fit of these Karate gloves.
Read more
Durable + Comfortable Construction
Cheerwing Training Gloves are superior in a lot of ways. They attach the section of padding at the back of the hand directly to the glove. What does this mean for you? Improved flexibility and a better fit. Also used, is a curved construction that helps promote the natural position of your hands. On top of this they use a super durable synthetic outer and EVA foam. This combination is easy to clean and will stand up to serious punishment. Lastly their is the secure double Velcro closure with a wide strap. This supports your wrists but also keeps these Karate gloves right where you want them and it keeps them there comfortably.
Unique Design
The design of these Karate gloves will have you feeling like they were made just for you. As you wear them, the Cheerwing Training Gloves will contour to your specific hands. This not only increases the comfort level but also helps you maintain the natural positioning of your hand. These features will keep you training longer and harder for weeks to come.
Cost and Value
Cheerwing offers a truly advanced pair of Karate gloves and while you would expect that to cost more, they are more affordable than most in our guide. Cheerwing knows what it takes to keep you truly protected and they do it with some seriously advanced technologies. It's a nice surprise to find a company that understand everyone needs great protection and it needs to fit in more than the top budgets. If you want one of the best for a stellar price, try the Cheerwing Training Gloves.
3

. Century Student Gloves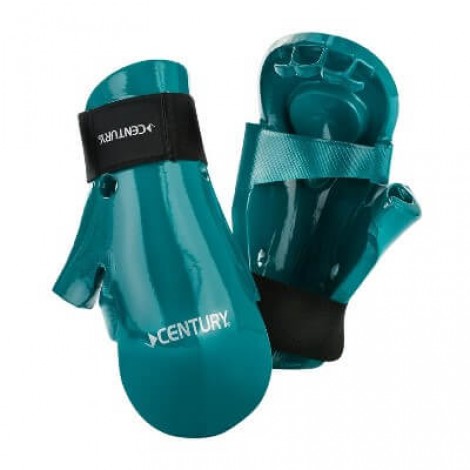 High Quality

Great Fit

Nice Color Choices

Secure Closure

Easy to Clean
Century Martial Arts offers a simple yet high functioning set of Karate gloves. Dipped foam build gives great shock absorption to protect your hands. There is also a covered thumb for added protection, which is not seen on all Karate gloves. Easy and secure closures at a price to please are reasons we love the Century Student Gloves.
Read more
Full Finger Coverage
When beginning your adventure in martial arts, keeping yourself fully protected until your skill grows is imperative. When you are learning to throw punches, you have to be careful so you don't cause damage to your skin, bones, or joints. The full finger coverage in these Karate gloves will allow complete safety for your hands during your training. Keep in mind bruises may not be a big deal but if you sustain a broken bone you could be out of training for weeks on end.
Hook and Loop Closure
An important part of Karate gloves are their closure systems. The way your gloves fit will offer security and a customized feel if it is a well made glove. Century Student Gloves use an elastic strap with hook and loop closure. The give of the elastic will fit nicely and stretch to accommodate a variety of sizes. The hook and loop closure that is attached will provide confidence that your Karate gloves will stay where you put them.
Cost and Value
Century Martial Arts offers simplicity yet give the feel of a more complicated Karate glove. The cost of these gloves is slightly higher than others within our guide. While they may be a bit pricier, they are exceptionally durable and can handle hard hitting impact during training. Easy to clean, put on, and take off the Century Student Gloves are a great option for all disciplines.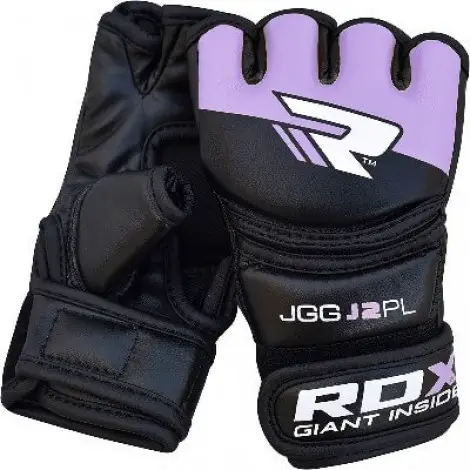 Superior Quality

Super Flexible

Great Fit

Good Wrist Support

Excellent Cushion
RDX gives us protection at it's best. Durable Maya Hide Leather paired with multi-layer padding keeps hands and wrists feeling great. These Karate gloves also offer advanced breathability. Keeping your hands dry and cool is no easy task during hours of difficult training, yet RDX does a great job at accomplishing it. Additional features that we love are the great wrist support and the easy yet secure hook and loop closure.
Read more
Advanced Breathability
The RDX Grappling Gloves offer breathability in a couple of ways. It starts with the D cut palm. The open space in the palm naturally helps your hands to stay cool and dry. In addition, it offers better grip and flexibility. Take this and add a moisture wicking lining and you have yourself advanced breathability. Removing moisture with ease will ensure your hands keep great skin integrity and those nasty odors stay away
Maya Hide Leather
Leather offers durability that is superior to most materials used for Karate gloves. Part of the problem with it is it can be difficult to maintain. Maya Hide Leather gives you all the durability with none of the hassle. Easy to clean and maintain your Karate gloves will be with you for the long haul when you buy the RDX Grappling Gloves.
Cost and Value
RDX offers a flexible, breathable, long lasting Karate glove. They also tie for the highest price tag in our guide. The truly durable design of these gloves helps to absorb some for the higher cost. Superior protection and comfort can be found with these Karate gloves and if you know you are sticking with your discipline, can be a great addition to your protective equipment.
5

. Whistlekick Sparring Gloves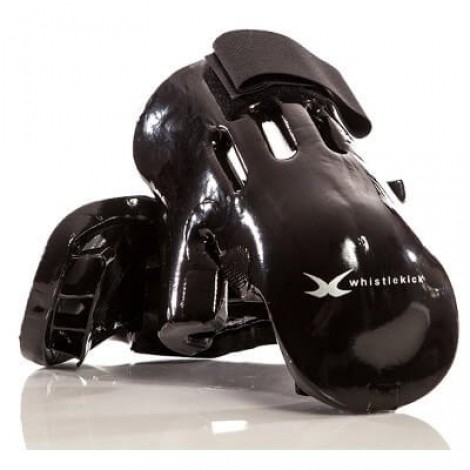 Fits True to Size

Extra Durable

Comfortable Fit

Secure Closure

Easy to Care For
Whistlekick takes pride in providing protective gear that stands tough. They were tired of expensive equipment falling apart with heavy use, and thus started providing products like the Whistlekick Sparring Gloves. Built with top quality, durable materials, these gloves are easy to clean and are ready for daily abuse. In addition, they are double reinforced to ensure length of use. Exceptionally breathable and lightweight these are a great option when looking for superior Karate gloves.
Read more
Enhanced Ventilation
Pairing a shorter wrist with extra ventilation areas promotes air flow. What does that mean to the wearer? You will stay cool and dry when wearing these Karate gloves. Wet, sweaty gloves and hands can lead to skin deterioration and make your hands generally uncomfortable. The enhanced ventilation will make wearing these gloves a breeze, even if worn for hours.
Improved Strength
Recently redesigned with durability in mind, the design team at Whistlekick have increased the strength in the palm of their Karate gloves. The palm of Karate gloves has a tendency for wearing before any other part. With new double reinforcing, you won't find that problem. This improvement didn't add any weight to the glove with is a relief and it will hang tough longer than most others.
Cost and Value
The Whistlekick Sparring gloves are tied as the most expensive Karate gloves in our guide. Ultimate breathability and durability are reasons the cost isn't really so bad. Your hands will be well protected yet have the ability to stay cool and dry. Not only that, you can train in these Karate gloves for years and not worry about them falling apart.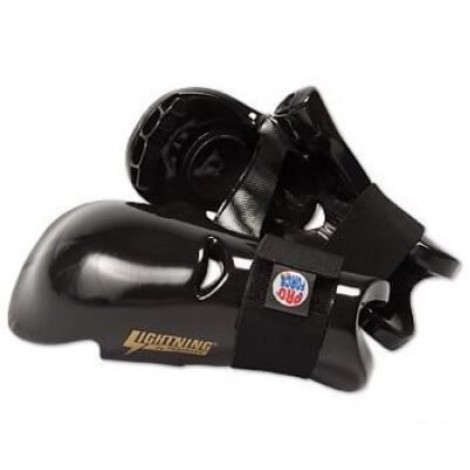 Excellent Padding

Solid Construction

Easy On Easy Off

Lightweight

Perfect Fit
Stiff Palm Strap

Difficult Sizing
ProForce Lightning Karate gloves offer features that are slightly different than the rest. Their half inch thick, dense, foam core is covered in Vinyl. This makes them exceptionally durable and super easy to maintain. At the knuckles, you will find double layered padding to ensure your safety yet not compromise flexibility. These Karate gloves are naturally contoured and offer an easy on easy off closure.
Read more
Extra Protection at High Impact Area
Many Karate gloves offer excellent padding however, they put the extra over the entire glove. This seriously decreases flexibility and natural movement. By adding the extra padding to the place of highest impact, the knuckles, you maintain flexibility but offer added support. Absorbing shock and distributing it with ease, your hands will feel better allowing you to train longer and harder.
Large Hook and Loop Strap
The wider strap on the ProForce Lightning Karate gloves not only offers easy application, they also make the fit more customized. While delivering devastating blows these gloves will stay in place, which ensures your protection. The hook and loop system is easy to put on and take off saving you time and effort while training.
Cost and Value
Extra padding in the right places paired with great breathability, flexibility, and fit does not have to cost a ton of money. The ProForce Lightning Karate gloves fall right in the middle, when it comes to cost in our guide. Affordable and durable these Karate gloves are a great buy for anyone looking for superior protection.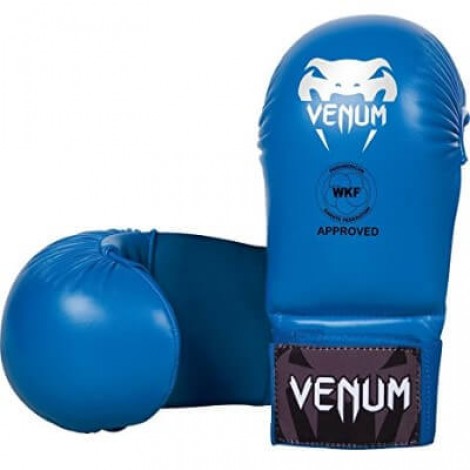 Secure Fit

Top Quality Materials

Extremely Light

Won't Restrict Movement

Great for Sparring and Tournaments
Higher Cost

Stitching Issues
Venum has worked with martial arts experts in the design of their Karate gloves. Wanting to provide superior performance and quality they looked to the people who know. With their guidance they offer us the Venum Sparring Mitts. These Karate gloves give supreme strike feel and a natural curve to give you comfort and great sensation during training. Durable PU Leather outer will take a beating and continue to keep you comfortable and supported. Finding Karate gloves built with masters in mind isn't as hard as you think. Try the Venum Sparring Mitts and you will see what we mean.
Read more
Ergonomic Shape
The shape of your Karate gloves play a big role in the overall feel, fit, and comfort level. The shape of this glove keeps your hands in their natural position and gives great strike sensation. We want our Karate gloves to absorb impact and protect our hands and wrists but we also want to feel something when whaling on a bag. The shape of the Venum Sparring Mitts will meet both needs.
Approved By Professionals
These Karate gloves have been put to the test by several top ranking martial arts experts. Not only do they have their stamp of approval from the Karate Kumite Champions but also World Kumite and PanAmerican Champions. When a product is being worn and tested by true experts it helps us to put trust in that brand. Given the fact that these have been approved by a variety of champions, we believe they will stand true and not only keep us protected but also last through grueling training sessions.
Cost and Value
These Karate gloves are built to last and keep you comfortable. In addition to their top quality design, they have a top quality cost. Coming in towards the top of our prices, you may have to adjust the budget a bit to make these your everyday training gloves. The perk to spending a little more is you get more. With great durability and comfortable fit you will be happy to call these your own for an extended period of time.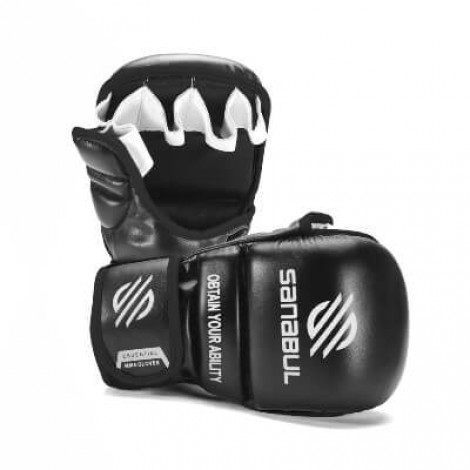 Excellent Wrist Support

No Break In Time

Room for Handwraps

Great Price

Sturdy
Sizing Issues

Not Great for Bags
Transition between grappling and striking with ease when you wear the Sanabul Hybrid Karate gloves. New and improved these gloves offer Durasoft Impact Protection Foam. This will protect your hands to the utmost degree and provide extra support during training. Durable construction and easy to clean surfaces are two other reasons we love these Karate gloves. It is important to note, these gloves do best during sparring and do not perform as well on bags.
Read more
Performance Engineered Leather
The performance engineered Leather that Sanabul uses is exceptionally durable. Training in Karate or other martial arts disciplines require protective gear that can stand up to tough use. In addition to being extremely durable, the Sanabul Hybrid Karate gloves are simple to clean. Unlike full grain leather these gloves you can simply wipe down with soap and water or your favorite antibacterial cleaner. You won't have to worry about ruining your karate gloves and they will be clean and ready to go when you are.
Durasoft Impact Protection Foam
There are a variety of foams that are used in Karate gloves. Sanabul Hybrid's offer the use of Durasoft Impact Protection Foam. What this does in helping to avoid injuries at all levels is amazing. Soft feel and great flexibility yet also supreme protection. In your high impact sport you need to take care of your hands. These Karate gloves will exceed your expectations.
Cost and Value
Sanabul gives us a great addition to our guide with the Hybrid Karate gloves. Not only do the offer advanced features they also carry a price tag that pleases most. Landing in the middle of our price range, Sanabul keeps customers protected and bank accounts happy. You will not be disappointed when you wear the new and improved Sanabul Hybrid Karate gloves.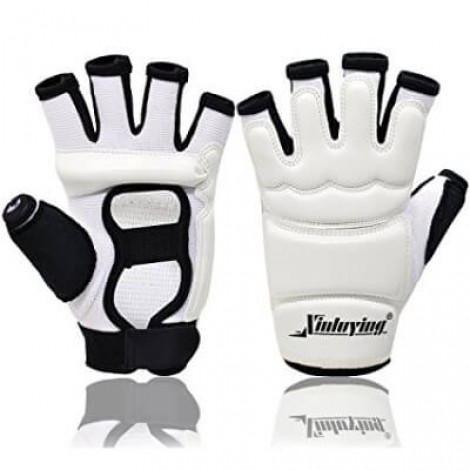 Excellent Knuckle Protection

Superior Air Flow

Machine Washable

Tough Design

Easy On Easy Off
A mixture of synthetic PU Leather and Lycra fabric makes these Karate glove not only durable but exceptionally breathable and comfortable. Xinluying knows that fighters need protection and they need it to be affordable. With features like 8MM of EVA lining and an elastic open palm we see exactly why people love these Karate gloves. In addition to breathability and protection these gloves take sweat absorption to the next level.
Read more
Terry Cloth Thumb
When you are training hard, sweat is a natural occurrence. The problem is wet hands can lead to skin breakdown and infection. Not to mention extra unwanted movement in your gloves. Xinluying's use of a terry cloth thumb keeps your hands dryer than ever before. Wicking away and absorbing wetness with ease these Karate gloves are sure to keep you comfortable.
Custom Fit
These karate gloves continue to impress with every glance we take. Looking for a glove that feels as if it was made for your hand? The elastic mesh that is used between the fingers hugs your hand but also allows great airflow. The cylindrical hold bar increases your grip while wearing gloves and increases the overall fit. We believe this makes these one of the most comfortable and well fitting pairs of Karate gloves in our guide.
Cost and Value
The Xinluying Mitts are the most affordable Karate gloves in our guide. They offer top quality, innovative, features seen in the most expensive brands. These Karate gloves prove you can prove you can buy exceptional, top quality, gear at a price to please all budgets.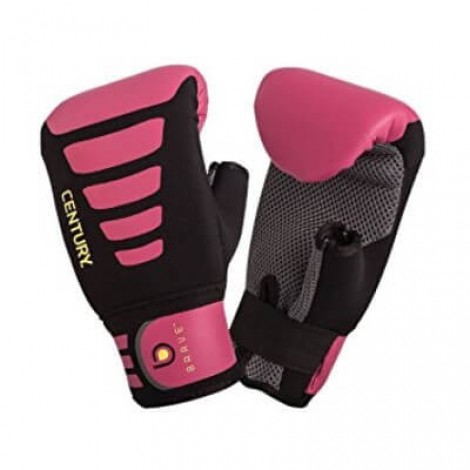 Excellent Quality

Breathable

Great for Speed Bags

Very Flexible

Easy On Easy Off
Not For Heavy Bags

Little Wrist Support
Made with lightweight bag and speed bag training in mind, the Century Brave Mitts will take your ability to the next level. The fit of these Karate gloves are a bit longer and a bit more narrow which promotes comfort and form. In addition, they offer great breathability and hand movement with the Neoprene mitt design. The open style and grip bar promotes correct hand formation and offer better grip and mobility.
Read more
Grip Bars
Only a few of the gloves within our guide offer a grip bar. We love this feature because it helps the wearer use proper hand formations. This helps increase skill, safety, and comfort. Century Brave Gloves are unique and these grip bars help prove why.
Open Style Fingers
Having the ability to splay your fingers and move them freely inside your Karate gloves certainly has it's advantages. With increased dexterity and grip you will find practicing in these to be easier than most. It is important to note, you want to stay away from heavy bags as the open style fingers is not as protective and padded as others.
Cost and Value
Century his known for their top quality products at exceptionally affordable prices. The Century Brave Mitts offer many features that impress us, include a secure closure, comfortable fit, and excellent dexterity. If you are looking for a pair of Karate gloves made to help you increase your speed and accuracy while being super affordable, try Century Brave Mitts.
Criteria Used for Evaluation
Protection
When you are involved in any martial arts class, boxing, wrestling, or other high impact sports you need to make sure your body is protected. During tournaments, you may wear less than at practice. It is crucial during training that you protect your hands and wrists so you can continue to participate in your training.
Protection within Karate gloves covers several areas. You are not only protecting your fingers and hands but also your wrists. It is important to note, your safety gear also impacts the safety of your sparring partner. If you are not wearing gloves you can cause major damage, including broken bones, to the person you are training with or to yourself.
Let's take a minute and look at what you want to keep yourself protected. Some options are great for light work on speed bags others will work great on heavy bags. Weigh your options and know your class, this will help you make an educated decision.
Wrists
- Secure Closures
- Coverage Over Entire Wrist
- Light Padding
- Long Straps
Back of Hands
- Secured Padding
- Shock Absorbing Foam or Gel
- Sectioned Padding
- Durable Material
Fingers
- Open or Closed Design (Your Preference)
- Padding Offering Knuckle Coverage
- Shock Absorbing Foam or Gel
- Breathable Fabrics
- Snug Fit
These elements all protect you in different ways. Finding a Karate glove that meets every checkbox, isn't so difficult when the research is already done. Your personal comfort and preference will differ from others. Take time to think about your hands and what you need to stay safe and comfortable before making a purchase.
Overall Fit
The overall fit of your Karate gloves plays a key role in not only your comfort but it also plays its part in protection. Ensuring your gloves fit well and stay put is crucial to your performance and the safety of not only you but also your partner.
There are many different styles of Karate gloves and each one adds something different to the table.
Traditional Glove Styles
Offering fuller coverage, this type of glove will have a bulkier and more protective fit. They will encompass the fingers and give optimal padding. Typically they also offer great wrist support with wide wrapping wrist closures. These Karate gloves will fit snug around the wrist and looser in the mitt area.
Fingerless Glove Styles
The fingerless glove offers less coverage but more movement. The padding is placed at the knuckles and the back of the hand providing adequate protection during training. In addition, they are exceptionally breathable and flexible. You again should find a snug fit at the wrist and through the fingers. If you find that the material of the fingers is pinching you, you will want to purchase a larger size. It is important to note, you want the padding in these types of Karate gloves to protect your knuckles and the backs of your hand, making sure these lines up correctly on your hands is imperative to your safety.
Open Thumb Mitts and Gloves
Open thumbs provided added airflow and unrestricted movement. Whether in a Mitt style or a glove, you lose the protection of your thumb with this type of Karate glove. Movement through your thumbs is awesome you just need to be mindful. You want this glove to secure around the wrist and not pinch where your thumb comes out. Karate mitts should allow for easy finger movement. The gloves should not pinch and padding should line up with your knuckles and the backs of your hands.
Expert Interviews & Opinions
Most Important Criteria
(According to our experts opinion)
Experts Opinion
Editors Opinion
Users Opinion
By Default
Other Factors to Consider
Bottom Line
Finding a great pair of Karate gloves does not have to be a burden. We have done the research and depending on your budget there are a variety of excellent choices. When purchasing protective equipment, uniforms, or belts, keep in mind that superior protection, craftsmanship, design, and quality are a must.
Whether you are a novice just stepping into martial arts or an expert in your discipline, protecting yourself is crucial. Especially when thinking about your hands. The majority of what you learn has to do with your hands and if they are not protected you may find injuries around the corner.
Frequently Asked Questions
q:

Is it ok for me to spar without gloves?

a:

For a simple question this has a complicated and mixed answer. Truly the answer is yes and no. Depending on your training and what exercises you are doing you may be fine to go without gloves. However, keeping yourself protected should always be the main focus while participating in full contact fight sports.

If you are doing no contact drills or individual drills not wearing Karate gloves is an option. You won't have to worry about damaging your skin integrity or doing damage to your bones and joints. In addition, if you are working at slow speeds to practice form you may be fine to not wear protective gloves.

Working on a heavy bag or sparring will require gloves. Anytime you are going to actually make contact you need to protect yourself and your sparring partner. A misplaced or harder than intended blow could take you both out of training for an extended amount of time.
q:

Why is protective gear so important, I know what I'm doing?

a:

After discussing this with several advanced practitioners of several different disciplines we have found that no matter your skill level protection is important. Not only does your protective gear impact you, it also impacts your sparring partner.

Protecting your head, body, hands, shins, and feet can make the difference in training every day and winning your next fight or being down for a very long count. Your trainer should wear full protective gear when on the defense to ensure their safety. For you, if left unprotected, an unexpected strike or misplaced kick could break bones, leave terrible bruising and cause you a lot of pain.

Training with padded protection will allow you to practice combinations safely. In addition, you will be able to experience what full force will feel like without the pain that usually comes after a tough match. Training at full pace makes for better performance results during tournaments. Thus, keeping yourself protected will actually help you perform better when the pads come off.
q:

Will I need to wear my protective gear during tournaments?

a:

This is an excellent question. While it really depends on the tournament rules you may or may not wear your protective gear. Different disciplines and belts also play a role in how much gear you will wear.

Our best advice is to talk with the hosts of the tournament or to your trainer. The information is usually included with your signup information and can be accessed easily. In addition, you can also look at their website to find rules for their specific tournament.
q:

Do I need to wear Karate gloves while training at home?

a:

Yes, while there is not a partner to worry about hurting you can still do damage to yourself. When hitting a heavy bag, the amount of impact that is present could cause some serious harm. Not only will you have to worry about bruises but also breaks and bag burns. Wearing Karate gloves will ensure you don't feel the shock from hard blows to your bag. They also protect your skin, bones, and joints. This helps you feel great so you can train every day.
Subscribe to our Newsletter