Best Karate Gloves Reviewed & Rated
last updated:
Feb 03, 2020
Karate gloves are an essential when you are thinking about protective equipment. As a beginner in this ancient martial art, unless practicing with no contact, you should always stay protected. Inexperience can lead to injury. Don't get us wrong, you should expect some bumps and bruises along the way, but you don't want to sustain serious injury.
More advanced in your chosen discipline? The importance of protection during your training is equally if not more important than for beginners. As your skill increases so does your strength and precision. Handing out lethal blows during training and not protecting yourself and your partner could go badly. Wearing Karate gloves will decrease the impact for not only you but your sparring partner too.
In a Hurry? The test winner after 4 hrs of research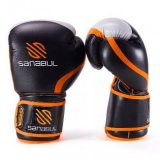 Sanabul Essential
Why is it better?
Plush Feel

Exceptionally Comfortable

Top Quality Construction

Room for Wraps

Advanced Durability

Excellent Price
In a
Hurry? Editors choice: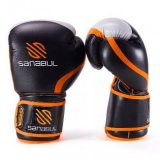 Test Winner: Sanabul Essential
Protection
Overall Fit
By Default
10 Best Gloves For Karate
Criteria Used for Evaluation
Protection
When you are involved in any martial arts class, boxing, wrestling, or other high impact sports you need to make sure your body is protected. During tournaments, you may wear less than at practice. It is crucial during training that you protect your hands and wrists so you can continue to participate in your training.
Protection within Karate gloves covers several areas. You are not only protecting your fingers and hands but also your wrists. It is important to note, your safety gear also impacts the safety of your sparring partner. If you are not wearing gloves you can cause major damage, including broken bones, to the person you are training with or to yourself.
Let's take a minute and look at what you want to keep yourself protected. Some options are great for light work on speed bags others will work great on heavy bags. Weigh your options and know your class, this will help you make an educated decision.
Wrists
- Secure Closures
- Coverage Over Entire Wrist
- Light Padding
- Long Straps
Back of Hands
- Secured Padding
- Shock Absorbing Foam or Gel
- Sectioned Padding
- Durable Material
Fingers
- Open or Closed Design (Your Preference)
- Padding Offering Knuckle Coverage
- Shock Absorbing Foam or Gel
- Breathable Fabrics
- Snug Fit
These elements all protect you in different ways. Finding a Karate glove that meets every checkbox, isn't so difficult when the research is already done. Your personal comfort and preference will differ from others. Take time to think about your hands and what you need to stay safe and comfortable before making a purchase.
Overall Fit
The overall fit of your Karate gloves plays a key role in not only your comfort but it also plays its part in protection. Ensuring your gloves fit well and stay put is crucial to your performance and the safety of not only you but also your partner.
There are many different styles of Karate gloves and each one adds something different to the table.
Traditional Glove Styles
Offering fuller coverage, this type of glove will have a bulkier and more protective fit. They will encompass the fingers and give optimal padding. Typically they also offer great wrist support with wide wrapping wrist closures. These Karate gloves will fit snug around the wrist and looser in the mitt area.
Fingerless Glove Styles
The fingerless glove offers less coverage but more movement. The padding is placed at the knuckles and the back of the hand providing adequate protection during training. In addition, they are exceptionally breathable and flexible. You again should find a snug fit at the wrist and through the fingers. If you find that the material of the fingers is pinching you, you will want to purchase a larger size. It is important to note, you want the padding in these types of Karate gloves to protect your knuckles and the backs of your hand, making sure these lines up correctly on your hands is imperative to your safety.
Open Thumb Mitts and Gloves
Open thumbs provided added airflow and unrestricted movement. Whether in a Mitt style or a glove, you lose the protection of your thumb with this type of Karate glove. Movement through your thumbs is awesome you just need to be mindful. You want this glove to secure around the wrist and not pinch where your thumb comes out. Karate mitts should allow for easy finger movement. The gloves should not pinch and padding should line up with your knuckles and the backs of your hands.
Expert Interviews & Opinions
Most Important Criteria
(According to our experts opinion)
Experts Opinion
Editors Opinion
Users Opinion
By Default
Other Factors to Consider
Bottom Line
Finding a great pair of Karate gloves does not have to be a burden. We have done the research and depending on your budget there are a variety of excellent choices. When purchasing protective equipment, uniforms, or belts, keep in mind that superior protection, craftsmanship, design, and quality are a must.
Whether you are a novice just stepping into martial arts or an expert in your discipline, protecting yourself is crucial. Especially when thinking about your hands. The majority of what you learn has to do with your hands and if they are not protected you may find injuries around the corner.
Frequently Asked Questions
q:

Is it ok for me to spar without gloves?

a:

For a simple question this has a complicated and mixed answer. Truly the answer is yes and no. Depending on your training and what exercises you are doing you may be fine to go without gloves. However, keeping yourself protected should always be the main focus while participating in full contact fight sports.

If you are doing no contact drills or individual drills not wearing Karate gloves is an option. You won't have to worry about damaging your skin integrity or doing damage to your bones and joints. In addition, if you are working at slow speeds to practice form you may be fine to not wear protective gloves.

Working on a heavy bag or sparring will require gloves. Anytime you are going to actually make contact you need to protect yourself and your sparring partner. A misplaced or harder than intended blow could take you both out of training for an extended amount of time.
q:

Why is protective gear so important, I know what I'm doing?

a:

After discussing this with several advanced practitioners of several different disciplines we have found that no matter your skill level protection is important. Not only does your protective gear impact you, it also impacts your sparring partner.

Protecting your head, body, hands, shins, and feet can make the difference in training every day and winning your next fight or being down for a very long count. Your trainer should wear full protective gear when on the defense to ensure their safety. For you, if left unprotected, an unexpected strike or misplaced kick could break bones, leave terrible bruising and cause you a lot of pain.

Training with padded protection will allow you to practice combinations safely. In addition, you will be able to experience what full force will feel like without the pain that usually comes after a tough match. Training at full pace makes for better performance results during tournaments. Thus, keeping yourself protected will actually help you perform better when the pads come off.
q:

Will I need to wear my protective gear during tournaments?

a:

This is an excellent question. While it really depends on the tournament rules you may or may not wear your protective gear. Different disciplines and belts also play a role in how much gear you will wear.

Our best advice is to talk with the hosts of the tournament or to your trainer. The information is usually included with your signup information and can be accessed easily. In addition, you can also look at their website to find rules for their specific tournament.
q:

Do I need to wear Karate gloves while training at home?

a:

Yes, while there is not a partner to worry about hurting you can still do damage to yourself. When hitting a heavy bag, the amount of impact that is present could cause some serious harm. Not only will you have to worry about bruises but also breaks and bag burns. Wearing Karate gloves will ensure you don't feel the shock from hard blows to your bag. They also protect your skin, bones, and joints. This helps you feel great so you can train every day.
Subscribe to our Newsletter