Best Knee Sleeves and Compression Wraps Reviewed
last updated:
May 13, 2020
If there is one injury that athletes and gym-goers fear more than anything, it is a knee injury. Arm and shoulder injuries are certainly painful but they don't put a stop to most cardio, body weight exercises, and core training like a knee injury does. And while there are treatments available, the best way to deal with a knee injury is to avoid getting one in the first place. That is where having the best knee sleeve available comes in handy. This list brings together the ten best knee sleeves and wraps that are intended to compress the knee and prevent injury from happening in the first place. They do this by offering a little extra stability during exercises that would otherwise pose a greater risk to the sensitive joint.
In a Hurry? The test winner after 14 hrs of research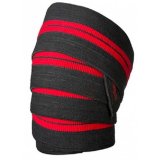 Harbinger 46300
Why is it better?
90-Day Warranty
Extended Length
3 Inches Wide
Competition-Grade Elastic
Sold as a Pair
In a
Hurry? Editors choice: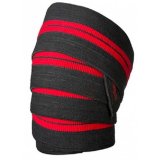 Test Winner: Harbinger 46300
40
Researched Sources
5600
Reviews Considered
14
Hours Researching
24
Products Evaluated
Value
Compression
UV Protection
Materials
By Default
Top 10 Picks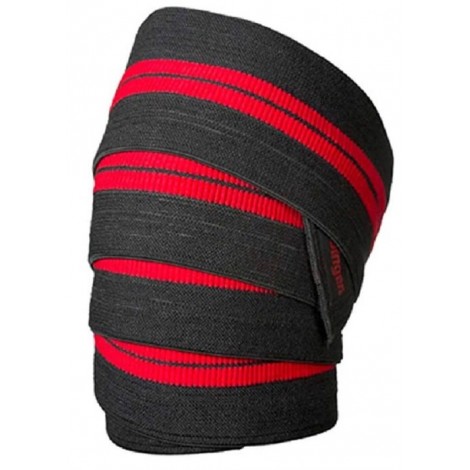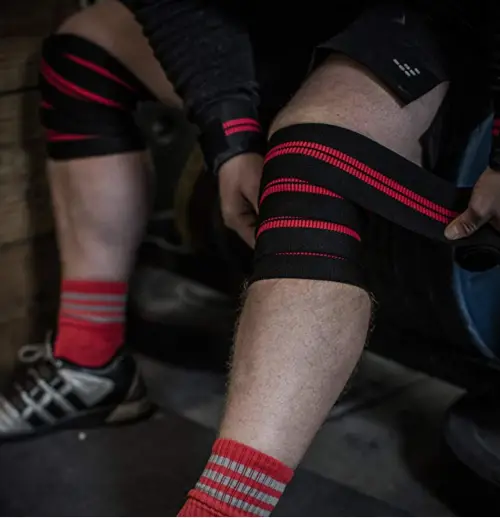 90-Day Warranty
Extended Length
3 Inches Wide
Competition-Grade Elastic
Sold as a Pair
Harbinger encourages their customers to "Be the Unstoppable Force" and that is exactly what their products are designed to do. Whether they are helping their customers lift more or withstand more, they are a company built on stamina, endurance, and strength. Their knee wraps are just one of several popular safety products they offer and are some of the best on the market. Backed by a 90-day warranty, they are three inches wide, extra long, and constructed using competition-grade elastic.
Read more
Extended Length
Harbinger's wraps are a little bit longer than the average comparable product on the market. This might not seem like a huge bonus, but it allows users to extend the height to which their wraps go and it also allows them to add another layer of pressure if they want to increase the level of compression the product offers.
Competition-Grade Elastic
This product's elastic is rated to hold up to the strain and stress of competition which is often very different from that of general day-to-day use. It is important that customers make sure wraps are permitted in whatever competition they are entering, of course. Once that has been confirmed, these wraps are the ideal option to help competitors put their best foot forward without risking the knee that goes along with it.
Cost and Value
Harbginger's wraps are on the higher end of this list's price range. This is in part due to the fact that wraps are generally more expensive than sleeves but it is also due to the competition-grade quality of the product and the 90-day warranty that the company offers. The wraps are 3 inches wide and longer than most other comparable products on the market which gives the customers a high level of customization that other wraps simply lack the capacity for.
2

. Mava Sports Knee Wrap Pair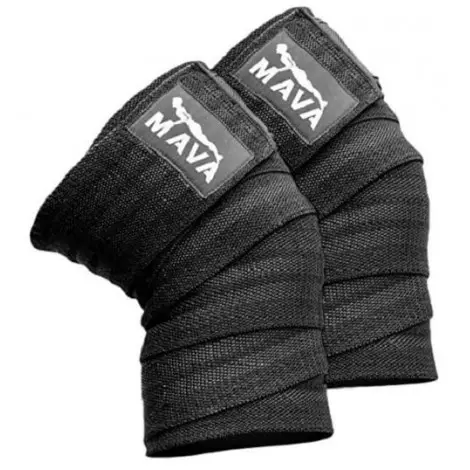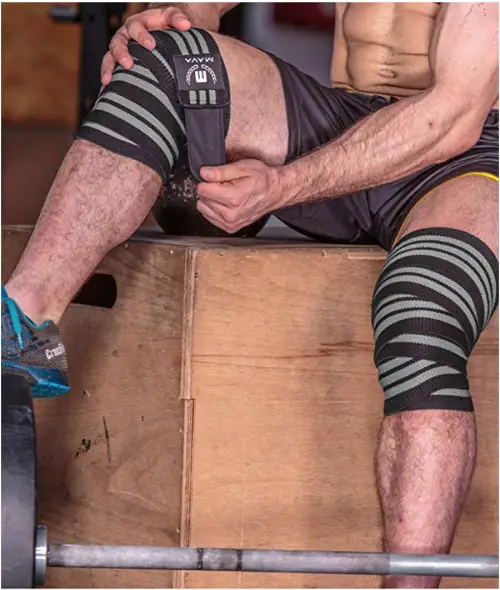 Hook-and-Loop Closure
No-Slip Design
Multiple Wrapping Styles
Designed for Intense Use
Mava is the only company to make a second appearance on this list. They are also the only company to have two highly-rated yet rather distinct knee care products. Their first product on this list was a sleeve but they are closing out with a pair of knee wraps. Wraps are, in general, less common than sleeves but they are often just as effective as sleeves. Mava's wraps can be done up in several different ways and seal with a hook-and-loop closure system that makes their fit incredibly customizable.
Read more
Multiple Wrapping Styles
Mava is quick to point out that there are multiple ways to secure their knee wraps. Some customers have also mentioned that wrapping style suggestions are included with the product, but other sources like YouTube or athletic blogs are sure to have additional ideas. This versatility in wrapping options allows customers to find the option that best fits their bodies and their activity levels so that they can get the most utility possible from their purchase.
Hook-and-Loop Closure
"Hook and loop closure" is the generic term for the product made most famous by Velcro. The company itself is very tough on people who use their brand name without using actual Velcro-brand closures, however, so "hook and loop" is used instead. This closure method provides the widest range of fit customization and can be further customized by customers through after-market modifications such as adding extra hooks or adding in different areas of the softer loop material.
Cost and Value
Wraps are generally more expensive than sleeves which is part of why Mava's wraps are on the more expensive end of this list's price range. They are still affordable on most budgets, however, and may be a better option than a sleeve for someone who is intensely active on whom a sleeve might fall off. They also tend to offer a more personal level of compression because users can wrap them in whatever way is most comfortable and effective which is a level of personal value that cannot be overstated.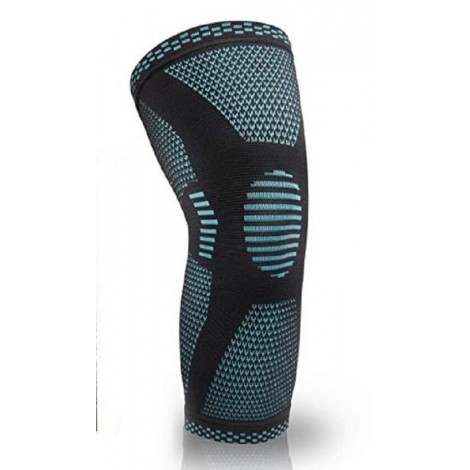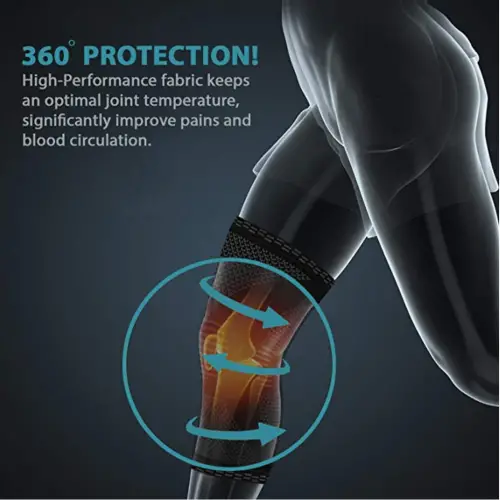 Anti-Slip Seams
100% Money-Back Guarantee
Soft Fabric
Won't Compromise Mobility
PowerLix has an inventory that touches on a wide range of markets and they do their best to excel in every one of them. They have succeeded with the knee sleeve, at the very least. Though the product is sold as a single sleeve rather than a pair, customers seem overwhelmingly pleased with the product. The sleeve's soft fabric will move well beneath an outer layer of clothing and the anti-slip silicon detailing will keep it from rolling or bunching. These two factors ensure that the sleeve will not impede the wearer's mobility, which is a promise backed by the company's 100% money-back guarantee.
Read more
100% Money-Back Guarantee
It's been mentioned before but it is worth mentioning again: money-back guarantees are one of the surest signs that a company believes they have made a quality product. No company could provide subpar products and honor a guarantee like that because they would lose too much money. It is also a sort of insurance policy for their customers and one that is highly sought-after in the athletic gear markets.
Anti-Slip Seams
Both the top and bottom seams on this sleeve have been outlined along the interior rim with a non-slip material. This material provides a gentle level of traction against the wearer's skin and ensures that the sleeve will stay in place rather than rolling or bunching when it would be least convenient.
Cost and Value
Powerlix's price is about average for this list, as is their product. They outshine many other competitors on the market, however, due to their money-back guarantee, unique color choices, and extremely soft exterior material. Not only does this material make the sleeve more comfortable to wear against the skin but it also allows garments to slide over it more easily, making this product ideal to wear underneath pants or a dress.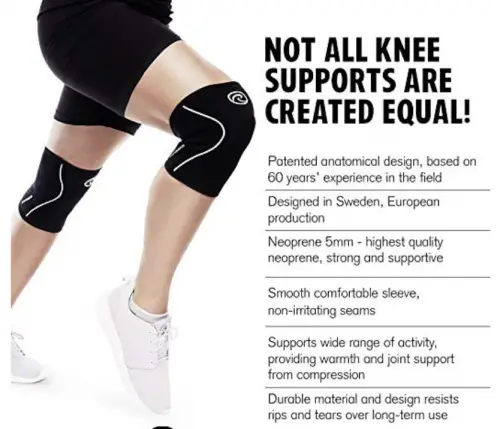 Patented Anatomical Fit
Company Founded in 1955
Intensive Size Guide Available
Rehband's entire mission is to help athletes avoid and prevent injury. They want to keep people up and moving and their products are all dedicated to making this goal a reality. Their knee sleeves are an excellent example of intent turned into action as evidenced by their warm reception by customers. The sleeves are anatomically shaped for maximum flexibility and they take great pains to ensure that their customers get products that fit so that they will reap the greatest possible benefits.
Read more
Patented Anatomical Fit
Rehband is one of only two companies on this list to specify that their products are designed with the anatomy of the human knee in mind. This is reassuring given that many sleeves are straight sheaths of material that rely solely on elastic to move into the correct shape. An anatomically crafted sleeve is more likely to fit the shape of the knee without straining the seams or the elastic.
Intensive Size Guide Available
It can be surprisingly difficult to get the right size knee sleeve, particularly the first time someone buys one. The compression level, thigh size, calf size, and knee strength must all be taken into account which can be an exhausting endeavor. Rehband took some of the work out by offering an intensive sizing guide to ensure that their customers get the right size the first time.
Cost and Value
This is one of the most expensive products on the list and while it might seem like an unreasonable price, the large number of happy customers would indicate otherwise. The price is especially surprising given that it is only for one sleeve instead of a pair as most of the products on this list are sold. Part of the cost is due to the fact that the company has been around since 1955 and clearly knows their business while another portion of the price is due to the specific and patented fit of this company's products. Newcomers to this equipment may not feel comfortable spending that kind of money on one sleeve, but it may be worth it for customers who have tried other brands and want to upgrade to something a little more intensive.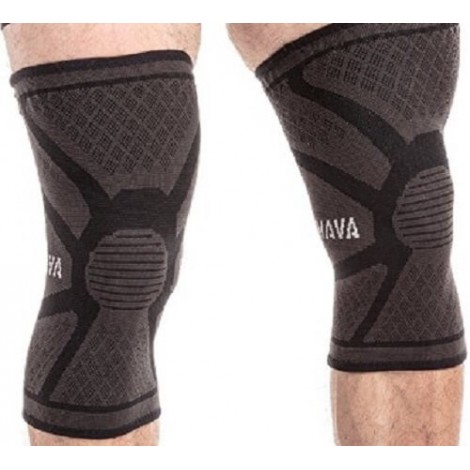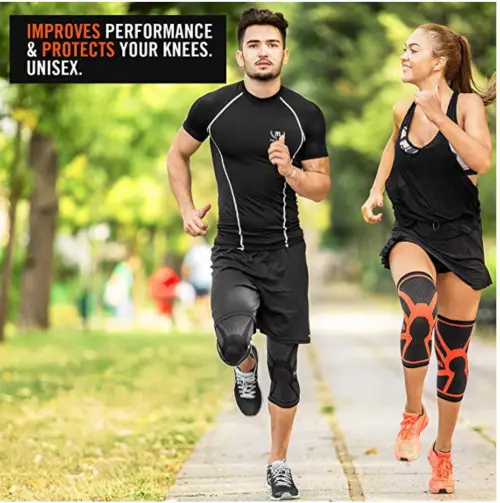 Anatomic Shape
Anti-Slip Silicon Lining
Designed for Daily Wear
Soft Knit Exterior
Mava is the only company to make this list twice, although their second offering is a fair bit farther along. Their first offering is their knee sleeve which is a bit unique among comparable products on the market because it was designed to be worn daily, not just during a workout. Its soft knit exterior allows it to move easily against any pants or dresses it is worn beneath while the anti-slip silicon detailing along the seams will help keep the sleeve in place throughout the day.
Read more
Soft Knit Exterior
Most people don't particularly care if their athletic equipment is soft to the touch so long as it is comfortable to exercise in. For those that do care, however, there is Mava. Mava's sleeves are knit from super-soft materials that gives them a comfortable, plush texture.
Designed for Daily Wear
Most sleeves on the market were designed with athletic use in mind. Mava's product, on the other hand, was designed with the intention that it be worn every day for an extended period of time. These sleeves are anatomically shaped and feature a no-slip silicon lining that will keep them in place through most conditions even when worn under another layer.
Cost and Value
Mava's prices are a little bit higher than the average for this list but they are still affordable on most budgets, particularly for people who may be on their feet all day or who spend a lot of time bending or squatting. They work just as well at the gym as they do beneath pants for daily use, giving them an added layer of versatility for those who transition from work to the gym without much break in between.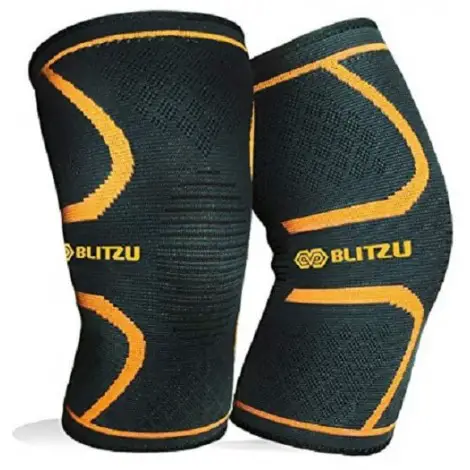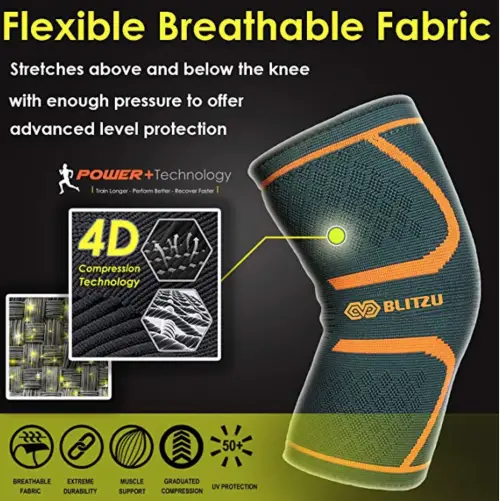 Reinforced Patella Stabilizer
Breathable and Antimicrobial
Moisture-Wicking
Machine Washable
100% Permanent UV Protection
UPF 50+
Blitzu's main market is bicyclists but their products appeal to a much broader range than that. Their knee sleeves have loads of positive reviews from people that practice a wide range of sports, martial arts, and general fitness methods. People from all walks of active life seemed to have tried Blitzu's products and loved them, though it is not hard to see why. The material is antimicrobial and the sleeves are designed with a reinforced patella plate. They are moisture-wicking and machine washable, which the company asserts will not diminish the level of UV protection that they offer.
Read more
Antimicrobial
Blitzu is one of the few companies on the market to take an aggressive approach to the problem of perspiration-caused odor and skin issues. Their sleeves have antimicrobial properties that actively kill off the bacteria that can lead to odor or skin irritation when they build up.
UPF 50+
Although most people wear their knee sleeves inside, a growing number of runners and athletes are wearing them out into the sunshine and this has opened up a whole new niche within the knee sleeve market. This niche is for companies that take the extra step to provide UV protection through their products and Blitu is one such company. Their offering has a UPF 50 protection rating which is a great way to boost the protection most people already seek through the application of sunscreen.
Cost and Value
These are among the most affordable products on this list and there is an astonishing amount of value packed into its low price tag. They are moisture wicking, machine washable, and have a reinforced patella stabilizing segment for an added boost of security.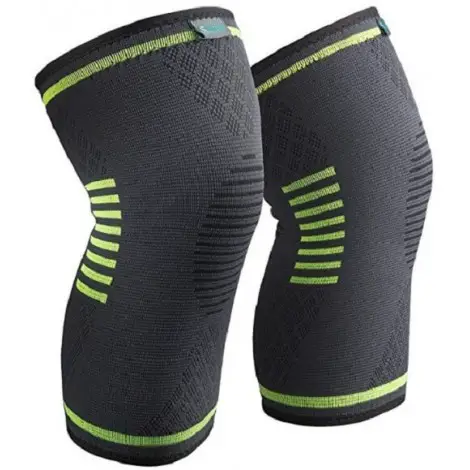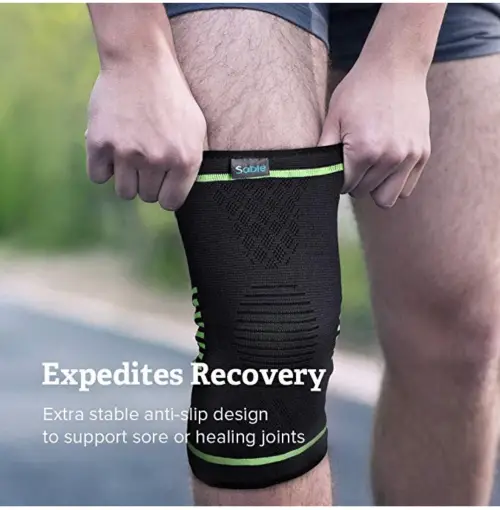 Extra Long
Breathable Fabric
FDA Registered
Lifetime Warranty
Sable has a wildly eclectic inventory that ranges from bikinis to home goods to fitness equipment but that has not stopped them from producing quality products that their customers love. Their knee sleeves are extra-long when compared to others on the market and made of a highly breathable fabric. They are registered with the FDA and backed by a lifetime warranty which is a wild amount of support and value for their relatively low price tag
Read more
Breathable Fabric
Compression garments have the unfortunate tendency to make the skin beneath them extra warm. This can cause many wearers to perspire and that is a distinctly unpleasant sensation that can also lead to odor and skin irritation. Sable's breathable fabric allows the skin to dry more quickly which can cut this issue off before it starts and allow the wearer to continue on in comfort.
Extra Long
Everyone's legs are a little bit different and, for some people, the average length of a knee sleeve is not quite enough to create a comfortable fit. Sable opted to create an extra long sleeve that would rise higher onto the thighs and go down lower on the calves in order to give the most people possible the chance at a comfortable fit.
Cost and Value
Sable's products are available at several prices, all of which are affordable on most budgets. The company packs a lot of value into those low price tags as well, which is an appealing balance of quality and price. Their sleeves are registered with the FDA and they come with a lifetime warranty to ensure customer satisfaction.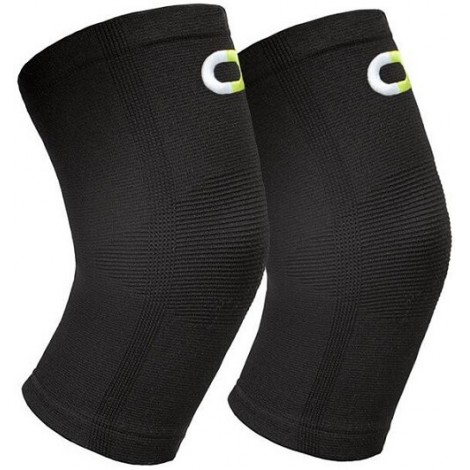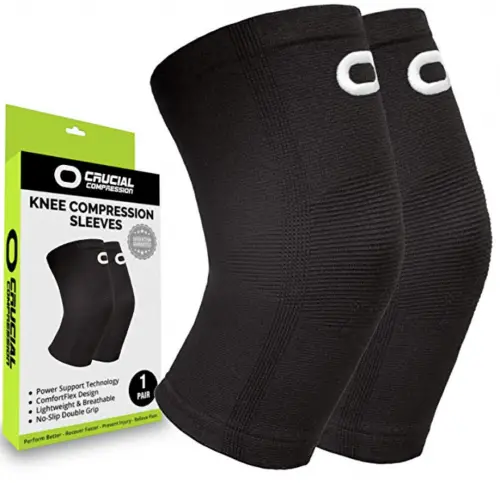 Improves Blood Flow
Combats Mild Inflammation
100% Perfect Fit Guarantee
No-Slip Silicon Lining
Wearable Under Clothing
Crucial compression primarily focuses on feet and ankles, but occasionally they vary from this theme. They bring their reputation for quality and affordability with them when they do, such as in the case of their knee sleeves. They offer a 100% perfect-fit guarantee because they know that without the proper fit, their customers will not receive the benefits of compression up to and including a reduced recovery time from inflammation as well as improved blood flow through the compressed areas. Their knee sleeves are also made to be worn under clothing and feature no-slip silicon detailing along the seams on both ends.
Read more
100% Perfect-Fit Guarantee
Compression gear may not seem difficult to size correctly but there are hidden catches. A too-small garment will compress so much that it cuts off blood flow while a too-loose garment will void any of the benefits that compression gear is supposed to offer while also running the risk of falling off. Crucial Compression is a company built on the efficacy of their compression gear and they protect this reputation by offering a 100% perfect fit guarantee.
Improves Blood Flow
One of the main benefits of compression gear is that it is supposed to improve blood flow through the areas that are compressed. This keeps the muscles warm and limber which in turn helps to avoid injuries to those specific muscles. Some proponents of compression gear also claim that increased blood flow means that they don't get sore after they work out, but the evidence is still out on whether or not this is a hard and fast benefit of compression.
Cost and Value
Crucial Compression is a fantastic company that has been featured on a few compression lists prior to this one. Their repeat appearances are more than familiarity, however. Their products are affordable and high-quality that last well past the time frame when many other comparable and similarly-priced products would have fallen apart. They are a good investment, particularly for people who may be new to compression gear or knee sleeves.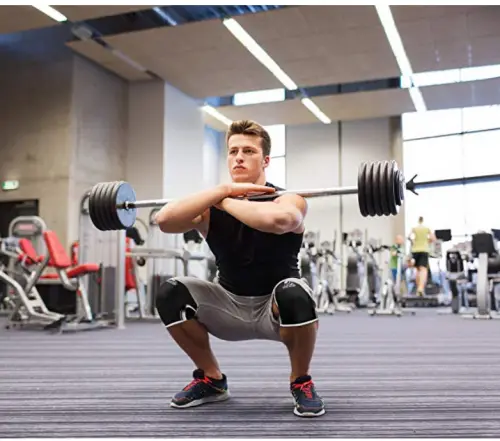 Compression Style Sleeves
1-Year Replacement Guarantee
Machine Washable
Nordic Lifting is one of the most-recognized weightlifting and bodybuilding gear brands on the market. Most of their products focus on the weights needed to bulk up but they are also careful to promote safety among their customers. One way they do this is by offering products like their high-quality knee sleeves. They are machine-washable compression-style sleeves that come backed by a 1-year replacement warranty.
Read more
Machine Washable
Not all knee sleeves can be machine washed. And although they might not be difficult to hand wash, few people have the time to hand wash a garment that they will likely wear as often as they will be wearing their knee sleeves. Nordic Lifting must have had this issue in mind when they designed these sleeves because they can simply be thrown in the washing machine with the rest of the clothes. They should be laid flat to dry so that the heat of the dryer does not damage the elastic, but that is much less time-consuming than hand washing them every time they need it.
1-Year Replacement Guarantee
Nordic Lifting is a fantastic company that has proven their dedication to their customers time and again. In the case of their knee sleeves, they show their support for their product and their customers by offering a 1-year replacement guarantee. Customers have to be sure and read the included guidelines so that they do not accidentally void the guarantee, though this is generally good advice for any product.
Cost and Value
Nordic Lifting has a great reputation but this has the unfortunate tendency to translate into higher price tags. The quality of the products and the customer support offered by the company are almost entirely worth the prices they ask, but that does not mean that these knee sleeves will be in everyone's budget. Someone who is just starting out with knee sleeves may want to go with a more affordable brand while experienced users will find these particular sleeves a sort of upgrade that is well worth the monetary investment.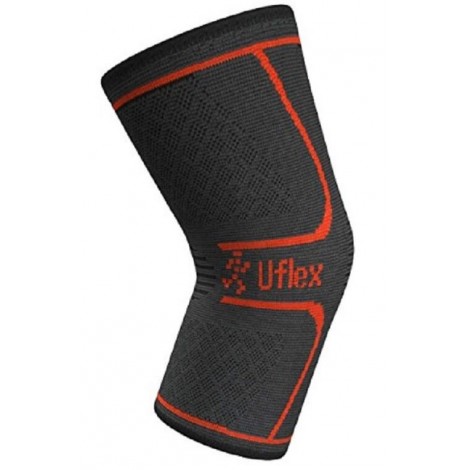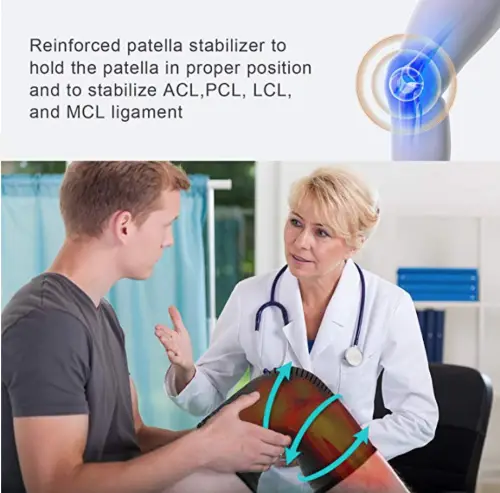 Excellent for All Sports
Anti-Slip Silicone
Anti-Odor Weave
4-Way Stretch
Uflex is a company that is all about the core safety of their customers. They strive to protect the muscles and bones that make all movements humans make possible and their products are designed to do just that. All of their products are made with flexible, high-quality anti-bacterial material and designed to compress the muscles to increase blood flow and help protect them. Their knee sleeves are just one example of this dedication, one of several dedicated solely to the knees. It holds true to the company's all-product promises while also featuring an anti-odor weave and anti-slip silicon detailing along the seams at both ends.
Read more
Anti-Odor Weave
These knee sleeves were woven in a specific pattern that is intended to wick moisture away from the skin and release it more quickly than other fabric would be able to. This reduces odor, as was the intention, but it can also prevent wearers from developing skin irritation or conditions if they wear their knee sleeves for extended periods of time or with any frequency.
4-Way Stretch
Everyone has had the unfortunate experience of buying a garment only to find out that it is very stretchy one way with almost no stretch at all in the other. This leaves the wearer feeling as if the garment is a loose bag in one direction while it limits their mobility and digs into their skin in the other direction. This knee sleeve, thankfully, will not cause these unfortunate and conflicting feelings. The fabric is designed to have four-way stretch which means it will stretch equally in all directions for increased comfort and usability.
Cost and Value
Knee sleeves are generally affordable and this product is no exception. Its price must be part of its appeal, given the number of customers who have reviewed it and left their praise for the product's comfort and usability. It is easy to care for and designed to hold up through all kinds of sports which makes it a fantastic value purchase for any eclectic athlete or fitness enthusiast.
Criteria Used for Evaluation
Value
It's never too soon to protect sensitive joints like the knees. There are knee sleeves on the market for people of all ages because nobody is immune from the possibility and effects of a knee injury. Whether the risk comes from running marathons, powering through squats, or pushing a flexibility limit in yoga, threats to our knees must be taken seriously. The products listed above are the best on the market that also offer the benefits of compression. .Some can be worn under clothing, many are easily cared for, and all of them are a person's best defense against life-long knee pain.
When it comes to value we take a lot into consideration, comfort, brand, price and affordability to name a few.
Warranties and Guarantees are more than just insurance policies for customers. They are signs that a company stands by their product and has done their best to make a quality product. If they didn't, they would lose money faster than they could make it as they replaced or refunded customers for the products they had sold. This faith in their own products is often a sign of a company that values quality, which is the sort of company we want on a list like this.
Compression
This one might seem a little bit silly to lay out as a specific criterion, but there are a surprising number of knee sleeves on the market that rely on a relatively loose elastic fit instead of a true compression level of security. Not only are these looser products less likely to stay in place but they also do not offer the benefits of true compression gear, which include improved blood flow through the area as well as an improved recovery time from mild inflammation
UV Protection
Gyms are some of the popular places to use knee sleeves, mostly in the weight room, but that does not mean that these products can't be used outdoors. They are ideal for running and swimming, or any other day to day activity that may strain a person's knees. Some companies kept this in mind and went the extra mile to protect their customers by integrating UPF 50 UV protection into their products, adding an additional level of value to an already valuable product.
Materials
As mentioned, knee sleeves take quite a bit of pressure. They get bent and folded, pulled and stretched. A low-quality sleeve would fall apart in a few months, particularly if it was not treated as a delicate piece of clothing by the wearer. Higher quality products tend to have a longer lifespan and easier care instructions, however, which are the exact criteria that helped the products above make it onto this list.
Machine Washable: Athletic gear that is hand-wash only has always been something of a mystery. So few people seem able to make as much time as they want to hit the gym, they're certainly not going to be able to make time to hand wash everything they wore while they were there. In an effort to save buyers as much time as possible, products that could be machine washed were given more consideration than those that could only take a trip through the sink.
Expert Interviews & Opinions
Most Important Criteria
(According to our experts opinion)
Experts Opinion
Editors Opinion
Users Opinion
By Default
Experiencing pain
If you're experiencing a ton of pain, sleeves can not take place of proper care from a doctor.
Slippage
Knee wraps stay in place depending on how tight the wearer wraps them, essentially creating compression to stay in place much like a compression sleeve. A few of the compression sleeves listed above are also kept in place through the use of non-slip silicone detailing along the seams which will lightly stick to the wearer's skin to avoid slippage
Other Factors to Consider
Accuracy
Knee sleeves and knee braces are two separate products with a few key differences, so there won't be any knee braces featured on this list. The products featured here are either slip-on compression sleeves or knee wraps that allow the user to find the pressure level that is right for them. Most of these products are not sport-specific and can be used during a variety of physical activities from weightlifting to swimming to yoga. They can even be worn during some competitions, though that depends largely on the specific rules of the competition. Outside pressures aside, however, these products can and should be a gym wardrobe staple for anyone who may be concerned about the safety of their knees.
Frequently Asked Questions
q:

Can I wear a sleeve under my normal clothes?

a:

For the most part, yes. Some of the sleeves may roll or bunch which can become uncomfortable underneath clothing. But if a sleeve seems to stay in place well without any bunching, it should be fine to wear under clothing.
q:

How long can I keep one of these on?

a:

This really depends on personal comfort. Some people find that knee sleeves make them perspire too much to wear the garment beyond an hour or two while they work out while other people don't have any problem wearing them all day. Trial and error is the best way to find out the time frame that works best for each person.
q:

Are all of these products sold as pairs?

a:

Most knee sleeves are sold as pairs but it is always best to check. At least one product on this list is sold as a single sleeve and that is noted in the "Cons" section of its description.
q:

Can I wear a sleeve during competitions?

a:

This question can only really be answered by the rulebook of the specific competition in question. Most bodybuilding competitions and marathons allow knee sleeves because they are considered safety gear but competitors should always read the competition's rules closely to make sure they are in compliance.
Subscribe to our Newsletter