Best Kung Fu Movies For Your Entertainment Reviewed
last updated:
Jan 31, 2020
Kung-fu movies are a beloved phenomenon that sprang to life in the 1970s and hit their stride during that decade, with momentum carrying their popularity into the next decade and beyond. Legends came to be born during that era, whose names include Bruce Lee and Jackie Chan, among others. Many people begin their journey into the world of martial arts after watching one such movie; largely, this is how the West was introduced to these traditions. Originating in the misty mountains of China among secluded temples, these practices have taken the West by storm.
In a Hurry? The test winner after 15 hrs of research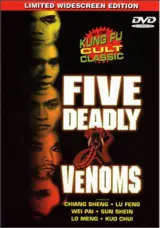 Deadly Venoms
Why is it better?
In a
Hurry? Editors choice: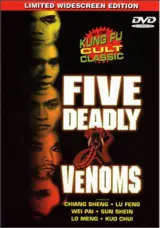 Test Winner: Deadly Venoms
Top 10 Picks
This film follows the tale of the youngest student of the master of a martial arts school. As his master lay dying, he commands his pupil to stop the havoc that is being caused by one of his former students, who is using the kung fu teachings for evil. The teacher instructs his student to find five of his former pupils, each of whom was taught a different kung-fu style: Centipede, Snake, Scorpion, Lizard, and Toad.
This youngest student, who knows a small amount of each of these styles, must discover which of these former students has stayed true to the righteous path and will team up with him to destroy the former students who have turned to evil. But who is trustworthy?
Read more
5 diverse kung-fu styles
Most kung-fu movies focus on just one style of kung-fu. At most, you may see two--that of the protagonist and that of the antagonist. However, this film features not one, not two, but five separate and unique styles of kung-fu. The diversity represented in this film will give you an excellent inside view as to the differences between them, and perhaps give you insight as to which variety you may wish to study in your own life.
Illustrative opening sequence
The Five Deadly Venoms has an opening sequence that puts many other movies to shame. Where some don't make use of the opening sequence and let the visual space go to waste, this film makes full use of it. The opening sequence portrays each of the actor running through a form or technique from each of their five different styles.

Cost and Value
The most common issue with this film is that there is not an English dub available. However, if subtitles aren't a big deal for you, then you can enjoy this film in either physical or digital format, both of which are reasonably priced. You can order it as a DVD, purchase it as a digital download, or rent it through a streaming service for a limited amount of time.
Bruce Lee stars in yet another film on our list. Being such an iconic part of martial arts film history, this is hardly surprising. Fist of Fury is the story of a martial arts expert who is determined to get revenge when he discovers that his kung-fu master has been murdered. When he discovers that a Japanese drug smuggling ring is to blame, he goes on a fury-filled martial-arts fighting spree to bring the perpetrators to justice. Most well-known by its title Fist of Fury, this film was also distributed under the title "The Chinese Connection."
Read more
Martial arts legend Bruce Lee
Perhaps the most famous martial artist of all time is Bruce Lee. He made many kung-fu films throughout his career, and Fist of Fury is among his best. He exhibits his trademark style, as well as taking part in a fast-paced story that will keep you engaged the entire time. If you're looking for inspiration for your practice, look no further than Bruce Lee.
Vicious kung-fu
Bruce Lee's trademark style of kung-fu is fast, fierce, and holds nothing back. He moves smoothly from one blow to the next without pause, without hesitation, in a blur of fury that will take your breath away. Taught by a grandmaster of Wing Chun, Lee clearly learned his lessons well.
Cost and Value
A common complaint with this film is that the English dubbing is low-quality. That, however, is a common problem experienced by martial arts films. Those who are fans either learn to put up with the mismatched lip-syncing and cheesy voices, or just watch the original with subtitles.
Ip Man tells the story of Bruce Lee's own master, Wing Chun grandmaster Ip. Ip has everything anyone could want in life: a loving wife, lots of money, a beautiful home, and a growing academy for martial arts. That all changes when the Japanese occupy his hometown in 1937 during the Sino-Japan war. He loses everything and is forced into hard labor. While fighting for the amusements of the invaders, his amazing skills are noticed by Japanese Colonel, Mr. Miura. Miura demands Ip teach Wing Chun to his soldiers. Ip refuses. It is then that he must face the greatest challenge to both his training and his honor.
Crouching Tiger, Hidden Dragon is a martial arts film that fundamentally altered the paradigm for martial arts films. This film takes place during the Qing dynasty in China when miracles were commonplace, and spirits and gods walked in in man's world. In such a place and time, it's almost possible to believe that zen warriors can float through the air as well as skim the surface of the water, and do battle among the treetops. The protagonists, Li Mu Bai, is the owner of a magic sword, the Green Destiny. When it is stolen, he must retrieve it. While on this quest he is also seeking to avenge his master's death at the hands of the Jade Fox. Through all of its subplots, ultimately this movie is a love story.
Read more
Breathtaking wirework
When you think of classic kung-fu movies, doubtless your mind goes to warriors running along rooftops, jumping through the air, and leaping from tree branch to tree branch. That is highly due to the impact of Crouching Tiger, Hidden Dragon. No other movie prior to it made such beautiful and astounding use of wirework to take their fight sequences to the next level. They truly changed the way martial arts movies were made, and its beauty has not been matched since.
Graceful, paradigm-breaking action sequences
In many m,artial arts films the expectation is for the action to be fast-paced, with lots of kicks, flips, punching, and screaming. Crouching Tiger, Hidden Dragon does the exact opposite. Their fight scenes seem almost tranquil in their grace and elegance; this may seem like a contradiction or an oxymoron, but that is the farthest thing from the truth. These fight scenes are the epitome of zen.
Cost and Value
As a newer movie, high quality versions of this film is more widely available on Blu-ray and DVD. If you opt to purchase a physical copy of the film, they are reasonably priced compared to other similar products. However, if you don't mind streaming it or purchasing a digital copy, you'll save a significant amount of money, and have the convenience of watching on any internet-connected device.
Jackie Chan's acting and this plotline were so entertaining that not only was there a second film made, but the sequel went on to become one of the most loved martial arts films ever. The film picks up with our Hero Wong Fei-Hong, who gets unknowingly caught up in a fight between Chinese loyalists trying to protect ancient Chinese artifacts and foreigners trying to steal those artifacts. He uses his Drunken Boxing style throughout the film, but not only does he have to deal with stealing foreigners, but also with his pacifist father's anger at his decision to fight.
Read more
Legendary actor Jackie Chan
Jackie Chan is at his best in this sequel; his acting is just as good as--if not better than--it was in the original. Everything that you loved about the original comes back to bear in this second installment. Legendary actor Jackie Chan humorous acting, physical comedy, and first-rate martial arts make this fA well-paced-see.

A well-paced plot and fast-paced action
This film balances a well-paced plot out with a heaping dose of action. While most people don't watch kung-fu movies for the plot, this film gives you an excellent one nonetheless. The action sequences are well placed throughout the film and ensure that you never get bored.
Cost and Value
The best way to enjoy this film is through a streaming service. Buyers have reported issues of receiving the wrong product when they order either a Blu-ray or a DVD. This product is average-priced when you order it as a DVD, but if you rent it through a streaming service, it is extremely affordable.
The star of this film is the character Wong Fei Hung, whose father, Wong Kei Ying is a Hung Gar style boxing master in China in the mid-1800S. Wong Fei Hung, though very young, grows up to become a martial arts legend, almost a mythical figure of Chinese history. When his son is kidnapped, the father is forced to his legendary Hung Gar boxing to serve the abductor, who is a lying politician. This politician is plagued by a thief known as the Iron Monkey, who robs the rich and gives to the poor.
This story is based around the lives of two friends at a Shaolin temple, and tells the tale of the discovery of the martial art of tai chi. The two who are friends, one of whom is very silent and humble, the other of whom is competitive and is quick to get angery. The who friends are thrown out of the temple after being falsely accused of cheating in a fight.
Here they split paths, and take very different journeys. When they finally come back together, one is betrayed by the other, nearly killing them in combat. While recovering from his wounds, the gentler, more balanced monk discovers the graceful, elegant martial art called tai chi. He uses his newfound mastery of this art to rematch with his one-time friend.
Read more
Tai chi origin story
For the martial artist who wants to learn about the history of the various forms of martial arts, The Tai Chi Master is surprisingly true to history. This origin story can help the student martial artist get more connected with the roots of their practice, and help them learn more about an ancient tradition.
Long-form opening and ending sequence
Many of the classic martial arts movies demonstrate classic forms during their opening and credit sequences. This is also the case with the movie Tai Chi Master. The dedicated student will recognize the Yang Tai Chi long-form, a sequence of moves from the traditional Shaolin lineage.
Cost and Value
Being a newer movie, this film is available in a variety of formats, including DVD, Blu-ray, and online via streaming service. If you opt for the physical format it will cost more, but it is readily and cheaply available via online streaming services.
The Drunken Master is another famous martial arts movie, this one notable for its comedy, starring famed physical comedian and martial arts expert Jackie Chan. Chan plays Wong Fei-Hung, a spoiled son who keeps arguing with this father and has to leave home, completely without money and nowhere to turn.
With no other options, he grudgingly becomes the student of Su Hua Chi, a notorious drunk and martial arts master. He teaches Wong the techniques of Drunken Boxing, which is an extremely unique and diverse fighting style. Wong then has to return home and use his new skills in an attempt to protect his father, who has become the target of the deadly assassin Thunderleg.
Read more
ComedyDrunken Boxing style
Though some may think that Drunken Boxing is a form of martial arts that was invented solely for this film, the opposite is actually true. Those same people would be surprised to learn that Drunken Boxing is an ancient form of martial arts, right along side Shaolin, and has been taught for centuries. Their portrayal of the 8 Drunken Gods is actually surprisingly accurate.
Cost and Value
This product, like many others, has problems when ordered in physical format. Especially on DVD, people have reported problems such as low picture quality, or that the discs simply won't play. However, if you don't mind enjoying this movie through a streaming service, it is extremely reasonably priced and can be enjoyed anytime, anywhere you have an internet-connected device.
Enter the Dragon is a famous martial arts film, whose star is none other than Bruce Lee. In this film Lee portrays an expert martial artist whose sister was killed by a gang. He Is determined to capture the narcotics dealer at the head of that gang. To do this, he enters a kung-fu competition on an island in an attempt to fight his way into the dealer's secret headquarters and get his revenge. He does this with the help of a few faithful and trusted companions.
Read more
Gripping action
This film is filled to the brim with action. Some movies drag on and on, and you wonder where the plot is; this is not one of those films. If you're a fan of action, this film is definitely up your alley. It never has a dull moment and keeps you on the edge of your seat.
Iconic martial-arts style
Bruce Lee is famous for his specific brand of kung-fu. His style is fast and vicious. He strikes without hesitation, and his mastery of the art is unquestionable. He is perhaps the greatest famous martial artist of all time. Watching him can give you helpful tips about how to take your own practice to the next level.
Cost and Value
Enter The Dragon has mixed reviews on the DVD and Blu-ray version. There are many reported mishaps reported by people attempting to acquire a physical copy of the film. However, this film is also available via streaming. If you don't mind watching it through a computer, it is extremely reasonably priced.
10

. The 36th Chamber of Shaolin
In this film, the protagonist, Liu Yu-te, is a rather unassuming scholar. That is, until everyone he loves is brutally murdered brutally slaughtered by a band of troops. Hoping to achieve revenge, he finds his way to the Shaolin temple in the hopes of gaining the skills necessary to defeat his adversaries. He is renamed San Te, and after a year of menial chores, he begins training, a task that involves passing through 35 chambers.
Each chamber represents a unique aspect of kung-fu, mastered through grueling and excruciating tests. He soon proves himself to be the greatest student they have ever seen, mastering all 35 chambers in only five years. He is thrown out when he requests to establish a 36th chamber, to teach kung-fu to the masses for self-defense. Once he has been cast out of the temple, he assembles a team for his long-awaited revenge.
Read more
Pure Shaolin martial arts
Many movies nowadays feature a mixed bag of martial arts. However, if you're looking for pure Shaolin style, look no further. One of the most ancient schools of martial arts, it's fully on display here.
Insider view of kung-fu training
If you're wondering how Shaolin monks gain such a degree of mastery, this inside view of their training is surprisingly accurate. If may give you an idea of the dedication necessary to achieve such a level of mastery in your own practice.
Cost and Value
There are several formats of this movie available, at varying prices. However, it is extremely affordable if you don't mind streaming it. Considering the insider look at ancient Shaolin practices, it is not only a great deal but a great story.
Criteria Used for Evaluation
Comfort
Dubbing: Dubbing refers to the process by which English voice actors speak over the parts of foreign films. This has the benefits of allowing you to enjoy a film without subtitles. However, the syncing is often problematic at least, and annoying and distracting at work. A poor voice actor can leech a lot of quality from an otherwise excellent movie.
Subtitles: Subtitles refer to when the English translation of the actor's lines are displayed across the bottom of the screen. While this may be distracting for some, and requires you to read while you enjoy the film, some people do prefer subtitles. Being able to hear the actor's voices say their lines as originally delivered allows you to view the film in its whole, original entirety, as the director and other involved artists intended.
Features
Fame: When you're deciding on which kung-fu film to watch, odds are that one of the major things grabbing your attention will be the actor starring in the film. Juggernauts of the industry include Bruce Lee and Jackie Chan, among others. If you're looking to get insight into a specific style, you'll want to think about what style the actors are most proficient in. For example, Bruce Lee and Jackie Chan both largely use Wing Chun style.
Lesser-Known Figures: Lesser-known actors, such as Liu Chia-Hui, may not have the star power of the bigger names–but their skills are no less impressive. Oftentimes movies with lesser-known actors make up for the lack of blockbuster names by having superior plots and well-choreographed action.
Style
Traditional Shaolin Kung-fu: This style, as it is taught in the Shaolin Temple, is not commonly seen in kung-fu movies, perhaps with the exception being the 36th Chamber of Shaolin. This style is not flashy like Wing Chun or Wushu, focusing instead of power and economy to take down the enemy as quickly as possible.
Drunken Boxing: This is a common Buddhist style of martial arts, based on the Daoist tale of the Eight Drunken Immortals. Each of the eight immortals has a different specialty, such as Han Xiangzi, the flute-playing immortal whose specialty is powerful wrists, and Li Tieguai, the cripple, takes down their enemies with one strong leg.
Animal Styles: There are over forty different animal styles in kung-fu. However, the 5 most well-known and widely taught are Tiger, Crane, Leopard, Snake, and Dragon styles. These styles were invented largely through masters observing the movements of animals in the wild and imitating them.
Taichi: Taichi is a style that was invented by a monk observing the movements of water, and nature. It is principally known for being slow-moving and graceful. Aside from being beautiful, its principal theme is using your opponent's own body movements and momentum to defeat them.
Wing Chun: This style is based on the use of well-paced, fast-moving blows to vital points down the body's centerline—neck, chest, belly, and groin. The speed of this style is perhaps what has made it so famous, being used by both Bruce Lee and Jackie Chan. It is ideal for shorter, smaller people because it doesn't rely on height, weight, or physical power to be able to overtake an opponent.
Wushu: Wushu is by and large referred to as "performance kung fu." It is more focused on performance and style than the practicalities of self-defense. It involves a lot of flashy cartwheels, flips, and jumps.
Difference between a movie with "dubs" and "subs"
"Dubs" is short for "dubbing," which refers to the practice of using English voice actors to speak over foreign films' dialogue. "Subs" is short for "subtitles" and refers to using text at the bottom of the screen to translate the dialogue.
Screaming A Movie
There are many ways to stream a movie. Many websites, including Amazon, have movies available for streaming. There is a small charge required in order to access a movie, but the cost is generally far less than a DVD. Specifically, if you have an Amazon Prime membership, many movies are included free of charge.
Other Factors to Consider
Bottom Line
Watching kung-fu movies isn't just a pastime for the average couch potato. These films can inspire you to not only begin learning a martial art in the first place but also keep you inspired to keep going and dedicate through years of difficult training. Mastering a martial art and conditioning your body and mind can be hard work. Eventually, everyone gets tired and wants to give up at some point. Watching these films can remind you of the heights of power and skill you can attain if you stay diligent and practice hard, just like the masters.
Another thing that these films are wonderful for is introducing different styles of kung-fu and martial arts. Though Shaolin monks may come to mind when one thinks of kung-fu, there are hundreds of different styles and traditions in the world. These films can introduce you to Wing Chun, Hung Gar, various kinds of animal styles, and Drunken Boxing, to name a few. When deciding which of these hundreds of styles you want to personally learn, watching these films can help give you an idea of what a master looks like, and what you too can look like if you put in the diligence and long hours necessary to reach mastery. If you prefer reading books rather then movies, check out our list of best martial arts books, books about boxing and karate books.
Frequently Asked Questions
q:

Where can I learn these styles?

a:

It all depends on what teachers you can find in your area. Some styles, such as Wushu and various Animal Styles (especially the Five Animals) are much easier to find a teacher for than others. Few cities (other than Denver and Chicago) outside China have a Shaolin Temple where you can learn traditional Shaolin Kung Fu, for example. You'll have to research what schools are located near you, and what their specialty is.
q:

What do I do if I receive the incorrect disc format?

a:

Contact the seller immediately to set up either a refund or exchange.
q:

How do I know what martial arts style is being used?

a:

You will have to do some investigating. Sometimes the information will be included in the movie's bio. If you don't find it there, you'll have to research the martial arts specialty of the lead actor(s).
Subscribe to our Newsletter