Best Lifting Straps Reviewed For Safety & Efficacy
last updated:
Jan 17, 2020
Lifting straps are an integral piece of equipment for any seasoned gym rat. When advancing in your routine, you may notice that your grip strength is holding you back. This problem commonly arises with exercises that involve gripping and holding large amounts of weight, like deadlifts and shoulder shrugs. You'll find that, while you still have gas left in the tank to work your targeted muscles, your grip starts to fail.
In a Hurry? The test winner after 12 hrs of research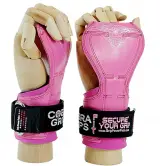 Cobra Grip Power Pads
Why is it better?
Simple Design
1,000 Pound Test
1 Year Warranty
Usable on All Equipment
Quality Construction
In a
Hurry? Editors choice: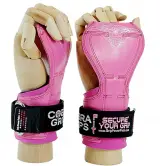 Test Winner: Cobra Grip Power Pads
15
Researched Sources
3450
Reviews Considered
12
Hours Researching
19
Products Evaluated
Top 3 Lifting Straps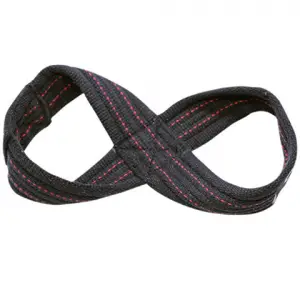 Cobra Grip Power Pads
Exceptionally Durable
1,000 Pound Tested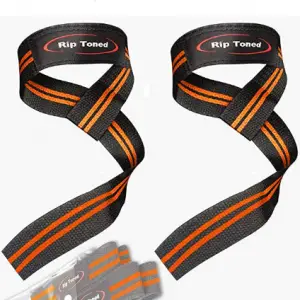 Rip Toned Lifting Straps
Free Case
Performance Guarantee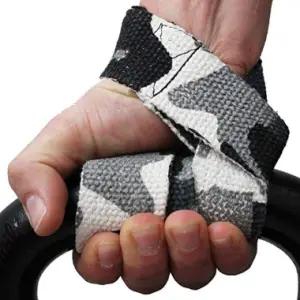 Anvil Fitness Lifting Straps
Best Value
Neoprene Padding
Materials
Durability
Value
Features
By Default
Top 10 Picks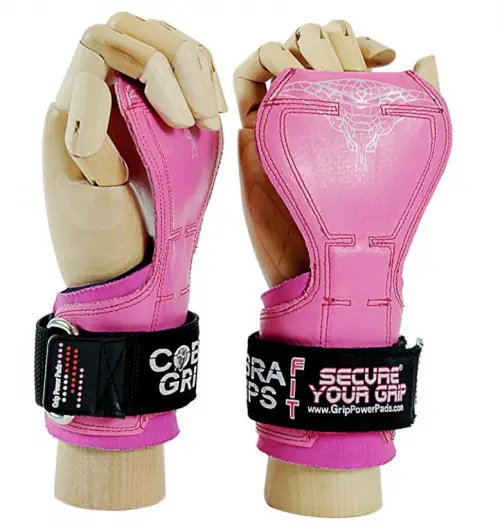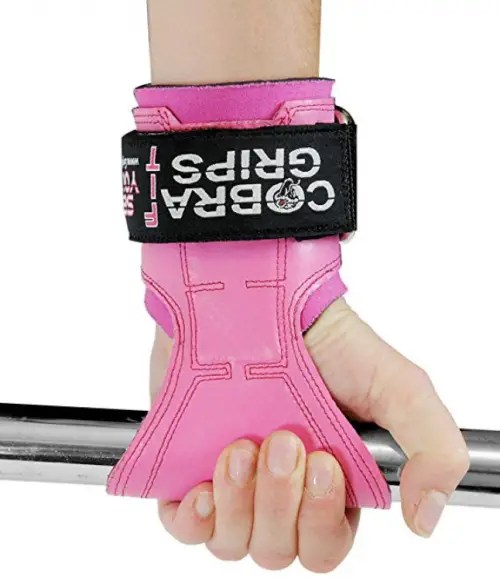 Simple Design
1,000 Pound Test
1 Year Warranty
Usable on All Equipment
Quality Construction
This fabulous addition from Grip Power Pads feature a "figure-eight" design and come in 3 different sizes so you can get the perfect fit for your hands and wrists. You can use these grips with just about any piece of equipment; cables, dumbbells, barbells, whatever. With their simple design and reinforced stitching, these durable grips can stand up to your most extreme lifting routines.
Read more
Reinforced Stitching
Cobra Grip Power Pads feature cotton blend materials and reinforced stitching. The manufacturing process uses both double-stitch and cross-stitch sewing on the seams, giving these straps extreme durability. The high-quality stitching also helps hold the straps in place and resist slippage. These straps are so high quality that they can even pass a 1,000 pound stress test!
Comfortable
Comfort is important when choosing any kind of exercise equipment, but it's especially important when selecting a lifting strap. A strap that doesn't fit properly or is not comfortable can cause severe injuries. Whenever you are dealing with weights it's important that your equipment fits and stays in place, These straps come in three different sizes so you can get the right fit, and the cotton blend construction stays in place even when you're sweaty.
Cost and Value
These straps are one of the most expensive items on our list, but they still rank fairly high in value because they are so high quality. While you will pay more than you would for most straps, these gloves are well built and will last forever. If you had any doubts about quality, Grip Power Pads offers a one-year, 100% satisfaction guarantee on their products. If you're not happy with the grips for any reason you have a full year to return it or exchange it.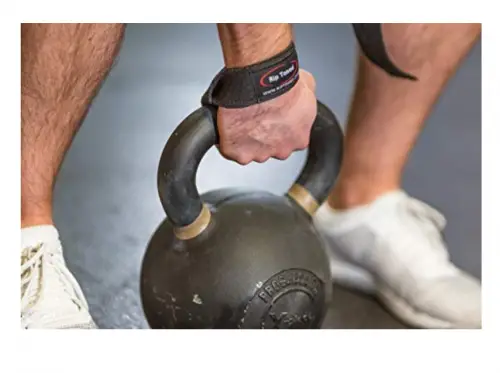 Free Ebook
Great Customer Service
Extra Padding
Lifetime Replacement Warranty
Great Value
Cheap Construction
One Size
When you see a product guarantee like 'lift more weight or your money back' it's usually a pretty good indicator of the manufacturer's quality and confidence in their product. That's exactly what you get with this stellar design from Rip Toned, they even include a free e-book with your purchase. They're great for all types of exercise, including Crossfit and kettlebells.
Read more
Customer Service
Ripped Toned offers a ton of bonuses with this product, giving you a full experience with premium content with free membership access to their website and an included e-book to help you get the most out of them. You can try them risk-free and these guys offer a lifetime replacement warranty, so if you have any problems with them they will replace them. The company even guarantees that you will lift more weight or they will return your money!
Reusable Snap Pouch
Included with your purchase is a convenient snap pouch for your grips. It's great for keeping them organized and separate from the rest of the gym stuff in your bag, which makes digging them out of your often unorganized gym bad significantly easier.
Cost and Value
If you're in the market for a bargain, these will definitely make your short list. When you take the comprehensive warranty and manufacturer's extras into consideration, the value, which is already high because of the low price, is supplemented even further. With the manufacturer lifetime replacement warranty, this could be the only pair you'll ever have to buy.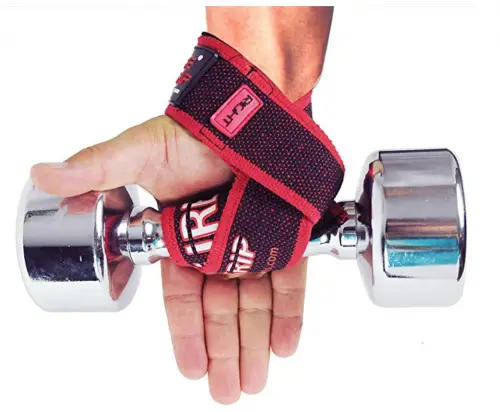 Expanded Sizes
Cotton Canvas Construction
Silicone Grip
Neoprene Padding
Heavy Duty
Odor Absorption
Poor Fit on Small Wrists
This eye-catching pair features breathable cotton canvas construction that helps keep you cool and comfortable during your workout. The design maximizes wrist support with a 2" extra-wide width that wraps around and supports your wrist, so you can lift confidently knowing that your wrist is supported, protecting it from injury, and you know that your grip won't hold you back.
Read more
Extra Large
Grip Power Pads Pro features enhanced dimensions, increased length and width, so they can provide maximum support and comfort. The extended length of 24" enables you to wrap the excess material around your wrist, creating a more secure fit and decreasing your risk of injury. Increased 2" width mean that their effectiveness is increased further, ensuring a comfortable and confident fit.
Breathable Comfort
Mostly constructed from cotton canvas, these are breathable and help keep you cool during your workout. The enhanced neoprene padding provides a comfortable fit and helps prevent blister and calluses when lifting heavy loads. The eye-catching patterning you see on them is actually silicone padding that helps you keep a sure grip.

Cost and Value
While these are on the higher end of the price spectrum, they are high-quality products which are both comfortable and built to last. They double as wrist wraps so you can support and protect your wrist without bringing along an extra piece of equipment. As always, quality costs money but, at that price, you are getting a high quality, durable set that will last.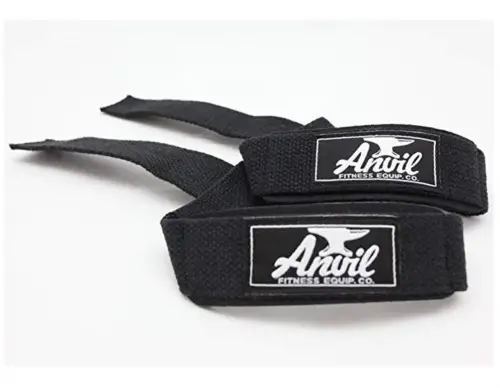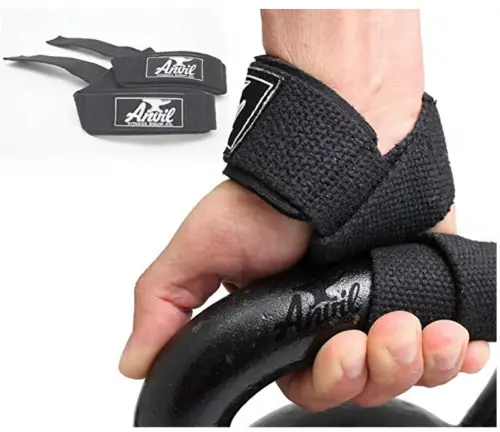 Best Value
Neoprene Padding
Durable Construction
Money Back Guarantee
No Lift Test Rating
Odor Retention
Anvil Fitness boasts that these are "The Last PairYou'll Ever Have to Buy" and, whether or not that claim turns out to be true, they're also our choice for the best value. These, high quality, heavy-duty wraps have included neoprene padding to give you maximum comfort and improve your workouts. Plus, they're available in three different styles.
Read more
Ideal Length
These are the perfect length for most lifting exercises. There is just enough of a strap to wrap around the bar two or three times, so you get an ideal grip without bunched up, excess material interfering with your sure grip
100% Satisfaction Guarantee
Anvil Fitness products feature a no-questions-asked money back guarantee. No matter what kind of problem you have, if you're not 100% satisfied they will give you your money back. None of the other products in this price range offer a guarantee that's even in the same ballpark.
Cost and Value
These were the clear-cut winner for our choice for best value. This a high-quality product at any price, but when you take into account the lowest price on our list you begin to see why it's such a bargain. With a 100% money-back guarantee, there are few conceivable circumstances where you can walk away from this purchase unsatisfied.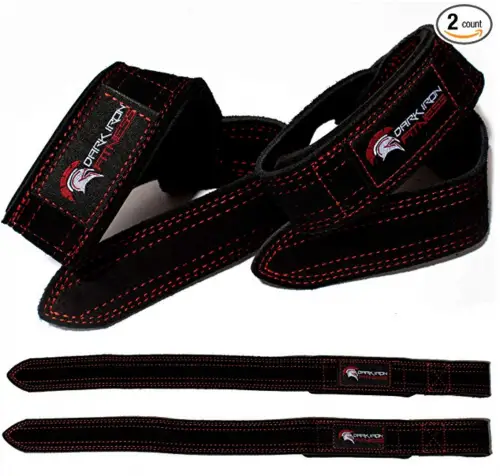 Suede Construction
Snug Fit
Low Price
Comfortable
Lifetime Warranty
Dark Iron decided to use a premium suede construction in their design. Suede is a type of leather so it's super strong and durable. The suede holds its better grip than cotton and enables the wraps to fit snugly on your wrists without the pinching or chafing that you can get with cotton. While suede may seem like a luxurious material, these straps have a 400-pound lift test strength so they are more than capable of getting the job done.
Read more
Suede Construction
Suede is a unique material that is particularly well suited for use. The material is strong but it's also comfortable. It is breathable and supple enough to mold to your shape and get a good, snug fit. Suede doesn't absorb moisture like cotton, so they won't develop that offensive gym bag odor you get with cotton after even a few weeks of use.
Won't Let You Down
Tired of slippage? Point blank: any product that doesn't stay in place, especially when holding so much weight, can be downright dangerous. All of the products picked out today, of course, definitely aren't a risk. However, this product, in particular, has a fantastic, snug fit that won't budge even under the most strenuous of workouts.
Cost and Value
These have an unexpectedly low price, give their suede construction, and they are a fairly priced option for most shoppers. Suede has unique properties that make it well suited as strap material, so to get it at such a low price is an enticing prospect. Additionally, the manufacturer offers a lifetime replacement and they will send you a new pair if yours tear, rip, or otherwise fail.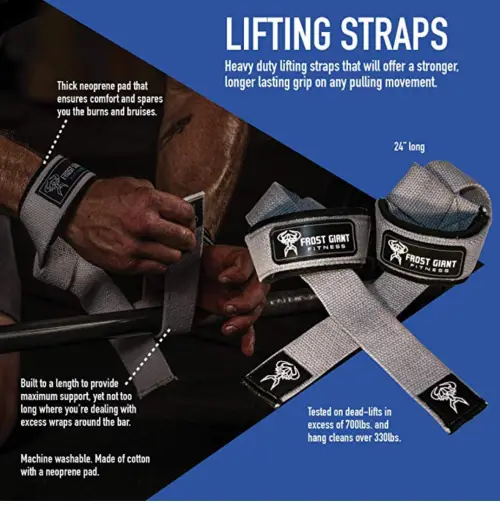 Adjustable
Included Wrist Wraps
Variety of Colors
800 Pound Test
Neoprene Padding
Odor Absorption
Wrist Wraps are Cheap
Everyone likes getting two things for the price of one, and Frost Giant includes a set of wrist wraps with their designs. They are size-adjustable and come in a wide variety of colors, so you can get one that fits your style. You even get a convenient mesh bag carrying cash that allows your wraps to air out so they don't stink, and the bag has a clip so you can easily attach it to your bag with no fuss.
Read more
Adjustable
Both the wrist cuffs and the lifting wraps are adjustable so you can get a good, snug fit. This is extremely important when choosing any kind of brace or wrap, but it's especially important for these specific products because of the heavyweights often being lifted. An expected slippage or shift can cause serious injuries, so fitting your wraps correctly is very important to your safety.
Bonus Extras
Since we are focussing on a specific piece of equipment in this piece, we look at the wrist wraps as a valuable extra. In conjunction, the wrist wraps give your wrists and forearms the support they need to stand up to the heavy loads you'll be lifting. The breathable mesh bag gives you a convenient place to store your gear while allowing your gear to air out any residual odor.
Cost and Value
Overall, this product rates highly in value and ranks in the middle of the road on price. If you're in the market for these products this is a solid option to consider. You also get a set of wrist wraps with your purchase so you can potentially cover two needs with one modestly priced purchase, and Frost Giants covers all their products with a 100% satisfaction guarantee.

Stylish Colors
Free Wrist Wraps
1 Year Replacement Warranty
Machine Washable
Great Customer Support
Here we have another lifting strap and wrist wrap combo package, this time from Nordic Lifting. These combo packs come in a variety of colors and styles so you can express your personality or match them with your favorite gym outfit. The wraps are 2" wide, so you get maximum joint stability. Heavy-duty cotton and reinforced stitching make these wraps and straps both comfortable and durable.
Read more
Bold Styling
This set of wrist wraps and lifting straps combines functionality with fashion by giving you 8 different options of colors and styles. You will more than likely find the right color to match them up with your favorite gym outfit, and the bright colors add a little style to help you stand out from the crowd.
Free Wrist Wraps
When you buy these lifting straps you get the added bonus of the included wrist wraps. These wraps provide enhanced support and protection for your wrist. They feature super strong velcro with an extra large 2" by 4" grip pad for enhanced velcro grip, so they stay nice and tight on your wrist throughout your workout.
Cost and Value
In terms of price, these wraps are middle of the road, and the amount of features you get in comparison to similarly priced products is, frankly, a little underwhelming. These wraps are relatively basic with a simple design and standard heavy duty cotton construction. There's nothing that makes it stand out in the category, with the exception of a large number of colors.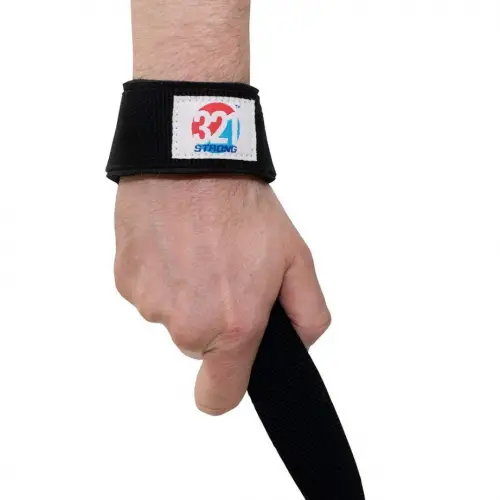 Bargain
Machine Washable
Comfort Grip
Included Carrying Case
Dollar for dollar, you get a lot for your money with this design by 321 STRONG. They were a close runner-up in our choice for the best value, and they are a sound option for beginners and pros alike. Foam padding makes your grip more comfortable and the entire thing is machine washable so you can keep out the lingering gym smell. While the construction quality isn't as high as some of the more expensive options on the list, it's still a good bargain at the price.
Read more
8" Foam Padding
321 STRONG has included 8" of foam padding built into each product that keeps it comfortable on your wrist, even if you are using heavy weights. They will increase your confidence in your grip when picking up heavy loads, and the comfort from the extra padding means you can focus more on your form.
Machine Washable
This is a pretty basic set made out of cotton. However, simplicity can be a good thing. In this case, the simple design and cotton material construction makes maintaining your grips relatively easy. Just toss it in the wash to freshen up your grips when they are starting to smell like a locker room.

Cost and Value
These came in second in a very close race for our best value pick. It's a simple design with no frills, but it boasts one of the lowest price tags on our list. It's easy to maintain since it's machine washable, so they'll last you quite a while. Though there is no warranty from the manufacturer, this is somewhat offset by the low price.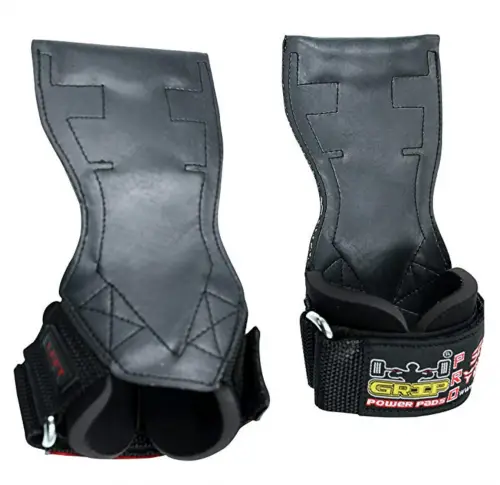 Multi-Functional
Maximum Support
Customizable Fit
High Quality Construction
Palm Padding
This super heavy-duty design is actually multiple products built into one durable package. Lighter styles can't match the comfort and padding of these grips, so you get much better protection from calluses than you would with a lighter, simpler alternative. Plus, with the wrist support built into these, you won't have to wear wrist wraps. One less piece of equipment to keep track of and carry in your gym bag.
Read more
Maximum Support
It's hard to find good wrist wraps to accompany your straps. Often, the wraps and the straps and they end up getting in each other's way, causing discomfort and being very annoying. By building the wrist supports directly into the product you get enhance support and improved control. You are more connected to the weight with less material between you and the bar.
Selection
These straps have a variety of options and styles to choose from. There are three available sizes (small, medium, and large) and clear sizing instructions to help you get the best fit for your wrist size, further maximizing grip strength and wrist support. And there are even four different colors to choose from, so you can get the perfect set to match your style.
Cost and Value
While these are probably the most heavy-duty straps on our list and offer the greatest amount of joint support, they are also one of the most expensive pairs of straps listed here. However, it can be argued that this one piece of equipment replaces three pieces of single-purpose accessories: lifting straps, wrist wraps, and power hooks. From that perspective, you do get a lot for the money and these are very high quality and should last a long time.
10

. Schiek Lifting Straps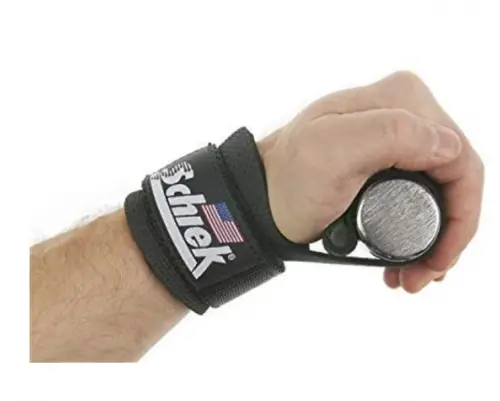 Enhanced Lifts
Durable Construction
Synthetic Materials
Die-Cut Rubber Dowel
Expensive
Mixed Reviews on Dowel
The main difference in this design by Schiek is the components which make up design. In fact, they function more like a hook. The dowel creates a maximum point at which the weight transfers from your grip to the straps. Most people enjoy this aspect of the design and say that it gives them increased strength over traditional designs, however, others have difficulty finding a comfortable medium with this design. Whether or not you will acclimate to this design depends mostly on comfort level and preference.
Read more
Dowel System
As mentioned in the summary, these have a distinctive design. The "dowel" is an apparatus that wraps around and hooks the weight. The design is a compromise between traditional wraps and power hooks. You can get the confidence and grip strength of power hooks put with a little more flexibility and less bulk.
Synthetic Construction
The dowel used to grip the bar is made mostly of rubber. The dowel is attached to your wrist via a nylon and acrylic strap. All these materials are synthetic and generally, hold up better and absorb less sweat and stink that foam or padded designs.
Cost and Value
With the exception of the rubber dowel design, these are pretty basic. In this writer's opinion, they are a little too basic to warrant their relatively high price tag. However, its dowel design component gives it a unique attribute in comparison to the rest of the list, so if you think the dowel design sounds like it might be a good fit for your work out then these straps might be the right choice for you.
Criteria Used for Evaluation
Materials
Straps come in a variety of different materials. Some are better than others but the thing that dictates the material the most is cost. Materials like leather and suede are going to provide improved durability and breathability but they're also going to cost a lot more money than a pair constructed with simple cotton might. A large part of your decision in this category is made up of feel and preference. Maybe you don't like the feel of leather, even if it is more durable, a lot of it is up to you so it may take some experimenting and familiarizing yourself with the merits of each option in order to determine which will be best for you and your training routine. As a rule, leather and suede tend to stretch out a little easier since they are natural materials and have more dynamic flexibility. Cotton and canvas are a little stiffer, more static, than leather and suede and they also have the advantage of often being machine washable. The best material for rapidly releasing the dumbbell, which is important for certain types of lifts, is Nylon. Keep these guidelines in mind when you are shopping around for your first set.
Durability
All of these products, unfortunately, have a limited lifespan. No piece of equipment that undergoes this kind of stress is going to last forever. A lot of these things are made of simple materials like cotton and they will all wear out eventually, so one of the most important attributes to consider when evaluating a pair is the expected lifespan. Cheaper designs can wear out in as little as two months with heavy use, and while you save a couple of bucks buying cheaper options you will end up replacing them a lot sooner than you would if you had spent the money on a quality pair. Durability is a vital measure of value when evaluating products like these and it's reflective of the overall quality of the strap as well.
Value
There are a ton of different brand names and manufacturers in the fitness equipment and workout clothes, and that fact is evident in the huge amount of companies producing their own designs. Since lifting straps are relatively easy to manufacturer, just about every upstart fitness brand on the internet has their own pair on the market. However, this abundance of brands can be used to your advantage. Some vendors offer extremely comprehensive warranties and replacement programs as part of their attempts to create a loyal, repeat customer base and distinguish themselves in a very competitive market. As a result, you should always look for options with a comprehensive lifetime warranty. So many manufacturers are offering them that it's something you should expect from any vendor you by from. While not all have full, no questions asked, lifetime warranties you should look for products with at least a 1-year warranty, at a minimum.
Features
Lifting straps are designed to take the load off your hands and wrist when you're picking up heavy loads, but they also give your hands some level of protection from the bar. The best designs have padding built in to make your grip more comfortable when you are holding onto the bar, even if you're not relying on anything to lift the weight. Different types utilize different designs and arrangements of padding to give you a more comfortable grip, there's no clear-cut winner in terms of what the best design is. A pair of these may have a lot of padding but the padding is bulky and messes up your grip. It's a delicate balance and, sometimes, more is less so you don't always want to go for the pair with the most padding outright, but you should be looking for some type of padding in the pair you are considering buying.
Expert Interviews & Opinions
Most Important Criteria
(According to our experts opinion)
Experts Opinion
Editors Opinion
Users Opinion
By Default
Machine Washable
Depending on the material, some are machine washable. Usually, you can't machine wash leather or suede. Cotton or canvas are often machine washable, but try to keep washing to a minimum. These undergo a lot of stress when you use them to train and washing them wears them out faster because the fabric becomes fatigued by the washing and drying process. However, cotton and canvas absorb more odors than other materials so they can start to stink. Generally, your best bet is to wash them on a gentle cycle and dry on low to no heat.
Will Using Lifting Straps Make me Stronger
Immediately, no, but a good set of lifting straps can help augment your existing training regimen and help you break through plateaus. Straps allow you to focus more on your lift and less on your grip, improving your form and technique. Additionally, you can train your larger muscle groups more intensively and work them to the point of true fatigue without being held back by your tired grip. Whether you're new to weight training, an intermediate trainer.
Other Factors to Consider
Bottom Line
This is especially problematic for people with smaller hands. Just because your traps have the strength to carry on doesn't mean that your grip strength can handle the load for the amount of time you need to complete the set. That's where these handy, little helpers come in. They wrap around your wrist and the bar to help supplement your grip strength when performing extra heavy reps. If you want to push your muscles to the limit, without being limited by grip strength, you're going to have to pick up some type of lifting straps at some point.
Shopping for this style of equipment isn't quite as simple as you may, at first, think. There are a wide array of options and features to consider depending on your preferences and work out routine, but a large part of the shopping process is based on preferences. When evaluating a strap, consider things like quality of construction, comfort, and durability to determine which strap is best suited to handle an intensive routine. These products undergo a lot of stress when lifting and they are often used with extremely heavy loads, compounding the problem. To combat this, look for high-quality material that you know will last. This is a piece of equipment you're going to find yourself using a lot as your strength increases, so it's worth it to buy a pair that will last you.
Frequently Asked Questions
q:

How do Lifting Straps Help me Lift?

a:

They work by wrapping around your wrist and the bar. This reinforces your connection to the weight and improves your confidence in your grip. Essentially, they allow you to focus more on the lift and less on your grip, enabling you to improve your form get better quality pulls. During the course of a training session, it is very common for your grip to become fatigued and, by using them, your grip is augmented and you can continue to train larger muscles groups even in the face of a failing grip.
q:

What is the Best Material to look for?

a:

These products are manufactured with a wide variety of materials. You'll come across some that are made of leather, suede, canvas, cotton, and more. Each material has its own unique set positive and negative attributes, so there's no real clear cut winner for the best material. Cotton and Nylon are firmer materials that don't get stretched out as easily as leather, but leather has a bit more give and some people find them more comfortable. However, one thing to keep in mind is that any material will get worn and stretched out after sustained use.
q:

How are Lifting Hooks Different from Lifting Straps?

a:

Lifting hooks and lifting straps both increase grip strength and guard against grip fatigue and injury. However, they take different approaches to solving the same problem. Lifting straps are soft and flexible, they are used by wrapping them around the bar and your wrist to reinforce your grip while you lift.

They are versatile and can be used on almost any bar or dumbbell. Hooks are exactly what the sound like, metal hooks that are built into gloves or wrist wraps that hook onto the bar while you're picking up the excessive weight to less grip strain. The problem with hooks is that, because they are solid and inflexible, users sometimes encounter problems when attempting to attach them to certain bars and machine grips. Hooks give a more solid base of your grip but straps are more flexible and versatile.
Subscribe to our Newsletter