Best Macho Gear To Protect Yourself With Reviewed
last updated:
Mar 17, 2020
With so many gear brands out there, it's hard to know which one to choose, especially if you never encountered the brand before. Do they make quality products, are they just right for you, and many more questions could come to mind as you decide if you want their products or not.
We're here to tell you that you can't go wrong with Macho gear! This is a brand with a rich history, and their experience gives you the best possible gear. The brand was created by 8th-degree Taekwondo Grandmaster Soo Se Cho in the 1980s after he saw a need for better protective gear in martial arts. He designed the gear with great care, and his own students tried the very first prototypes, giving him more ideas and feedback to better the products. Head on onto our list to discover what makes this brand of sparring gear so special!
In a Hurry? The test winner after 6 hrs of research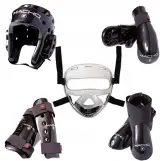 Piece Sparring Set
Why is it better?
Eight Piece Set
High-Quality Foam
Complete Protection
Five Color Options
In a
Hurry? Editors choice: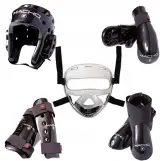 Test Winner: Piece Sparring Set
5
Researched Sources
5551
Reviews Considered
6
Hours Researching
10
Products Evaluated
Effectiveness
Protection
Fit
Materials
Durability
By Default
Top 10 Picks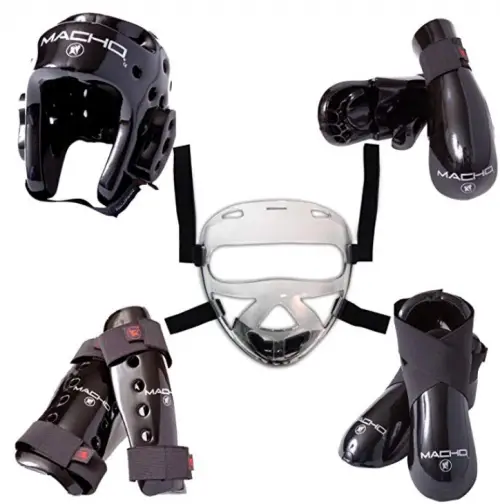 Eight Piece Set
High-Quality Foam
Complete Protection
Five Color Options
If you don't want to bother with buying each and every individual set piece, you can simply buy the whole set with just one click of a button. The set includes kicks, gloves, a face mask, a headpiece, and the versatile shin/forearm guards.
Read more
All of these pieces are made out of their quality dispersive foam, besides the face mask, which is made out of lightweight polycarbonate. These pieces combined will offer you the perfect protection, and you will come out of the match unharmed and ready for one more round. There are five color options which you can choose from, to express your individuality.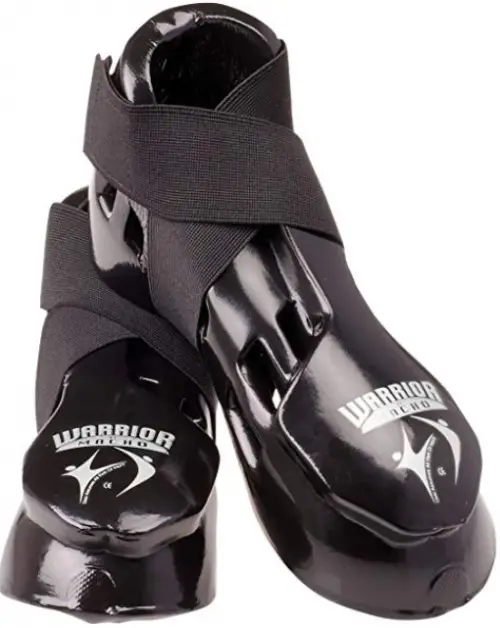 Not Movement Restricting
Protective Padding On Top
Vinyl Strips
Stable Criss Cross Strapping
Radial Reinforcements
Your feet, just like your hands, will be used often as you spar. And they too have a myriad of thin bones scattered all around them. The finger bones are thin, and the little bones in your feet can be easily broken. The skin is delicate as well, and since you will be walking on your feet and putting them in shoes, it's vital that your skin remains unharmed, as an open wound can be a cause of infection. This is why you need to have kicks when you spar.
Read more
The double layers of foam protect your feet from impact. It's a special type of dipped foam, that disperses the force of punches and kicks. The double foam overlays are placed where you need protection the most, like the top of your foot. The vinyl strips across the bottom ensure you have a proper fit and comfort. The stable crisscrossing strapping and radial reinforcements at stress fits secure the fit, even more, preventing the kicks from flying off.

Thin Plastic Outsole
Soft Cotton Interior
Moisture Absorbing
Cotton Sole Replacement
Canvas Upper
Kung Fu cannot be performed with regular sparring kicks, and as such it requires a special type of shoes. You need to be light on your feet, and these shoes will provide you with just that. You also do need to protect your feet, as you will be performing kicks. You will also jump around, so you need good traction to land safely.
Read more
These particular shoes have a thin plastic outsole that will provide you with great traction and grip, so you land safely on your feet. The interior of the shoe is lined with soft cotton that absorbs sweat and moisture, and it also hugs your feet gently, giving them a welcoming environment.
If you don't like the plastic shoe, you can always get the cotton sole, which is limber and allows you to flex your feet more. The upper is made out of comfy canvas, that is flexible and breathable. The liner is also made out of cotton, and the shoes have padded heels, and a stretch elastic keeps you secured inside.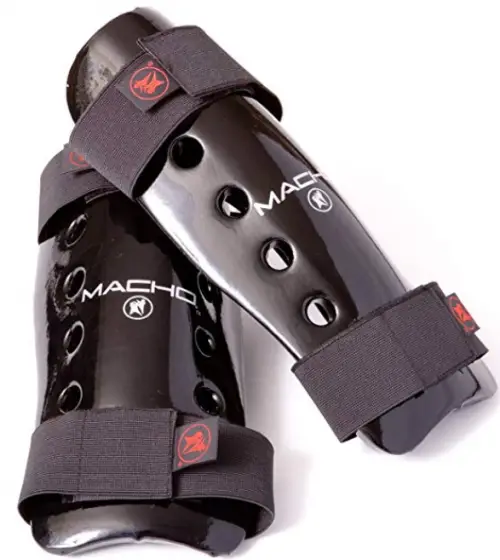 Lightweight Profile
Contoured
⅝" Dipped Foam
Excellent Coverage
Extra-Wide Strapping
Your shins and forearms are what's usually used when you protect yourself, and sometimes even for kicks. As such, these areas do need to be protected well from impact, since the bones are quite close to the skin. They can take a beating, but it's better they do not, because you will be able to go for a longer time, and you won't end up bruised or broken, with a need for a longer break. The skin there is also delicate, and it can break easily, so you would benefit a lot from this versatile guard.
Read more
This all-around guard can be strapped onto your shins and forearms, giving you more value for the same price. The guard is quite lengthy, covering you from just below the knees way down to your ankles, or just from your elbow up to your wrists. The construction is lightweight, and it will not hinder your movement in any way.
These guards are contoured with a ⅝" dipped foam, so they sit over your limbs nicely, and they do not constrict your movement in any way. If you need even more protection, you can add the protective foam insert, and the extra wide strapping ensure you stay protected for the whole duration of the match!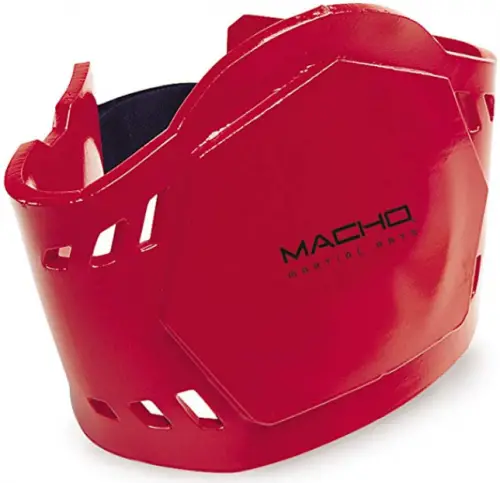 1" Foam
Extra Foam Layer
Protective Trauma Shield
Impact Resistant
Adjustable Double Web Strap
Rib Guards can be especially important as you partake in sparring. Although your ribs are quite sturdy and can take quite a hit, why would you risk a broken rib that could set you back for weeks or even months? Even more, some of your organs could be affected, and it's vital they stay protected. This foam rib guard will protect you, without a doubt, and you can rely on it to keep you safe and sound.
Read more
This particular rib guard has been specially designed to give maximum protection, without constricting your breathing and movements. It protects your abdomen, ribs, and kidneys, and you'll be going home pain-free after the sparring session is over. The foam is 1" thick and is reinforced with an extra foam layer on the front and a plastic protective trauma shield. The trauma plate is impact resistant, giving you extra protection on your most sensitive areas. It has an adjustable elastic double web strap that holds the guard firmly in place.
Light And Transparent
Does Not Fog Up
Scratch-Resistant
Normal Peripheral Vision
Your face is probably one of the most important areas of your body. Not so much because of the organs there, but because that is your most recognizable feature, as it helps you feel human. Also, your face holds most of your senses that allow you to interact with the world, and should any of the be impaired or damaged beyond repair, you could suffer greatly. This is why you must protect your head, whether, with a cage or a shield, that attaches to your helmet.
Read more
As you hear the words face shield, you could be thinking many things - will the shield impair my vision? Will it get too hot in my helmet, and will the shield fog over? Is the shield really that protective? Well, a face shield or a face cage is one of the standard sparring gear pieces that you shouldn't start a match without, and as such, Macho has made it ideal.
The shield is clear and scratch resistant, so nothing will make it foggy and you'll be able to see through it all the time. The material the shield is made out of is polycarbonate, which is light and durable. The shield has many air vents, so you won't suffocate while wearing it, and fresh air will circulate through it. This particular shield is designed specifically for the Warrior headgear, so don't buy it if you've got any other piece of equipment!
High-Density Protector
Very Durable
Contoured
Reversible
Soft Vinyl Upper Layer
The word hogu, when translated to English, simply means chest guard or chest protector. The hogu is considered to be the most important piece of protective gear for Taekwondo sparring and has been used ever since the 1950s. The hogu is also the most common place for scoring, and is hit by the whole foot, similar to a back kick, and can also be hit with the fist. This is why you absolutely need to wear it because otherwise, those hits would end up on your bear unprotected body!
Read more
This is a very durable high-density chest protector, with added scoring zones. The shape of the hogu is contoured, designed to match every body shape that is placed underneath it. The shape will not interfere with sparring in any way, and will only offer support and protection. The scoring is blue on one side, and red on the other, which is why it's reversible - you can simply flip it the other way if you want to change the color. The durable, super dense EVA foam is covered by a soft vinyl layer, that hugs you gently. It has one adjustable strap and one tie strap, so you can take it on and off with ease.
Steel Construction
Full Protection
Chin Adapter
Meets Tournament Criteria
Easy And Safe Fit
Slightly Heavy
Only For Warrior Headpiece
The face cage is a more aggressive way to protect your face from oncoming punches and kicks. Unlike the face shield, the face cage is made out of metal and offers a slightly different form of protection. It looks just like any regular cage, and it's easy to see right through it, while the air can circulate in and out freely. Of course, it does not allow any feet or fists even near your face, as they get stopped right away at the metal bars.
Read more
This face cage meets all the requirements set by martial arts tournaments set for users of all ages, especially for those that are 17 or under. It protects your face fully, without limiting your peripheral vision. The construction is made out of steel, so it might be slightly on the heavy side, but nothing that you won't be able to manage. It has a chin adaptor that protects your jaw from any additional damage. The fit is secure, and the cage won't be sent flying off by a particularly heavy blow. It's also easy to attach it to the rest of the warrior headgear, and it will not fit any other type of helmet!
Ultimate Head Protection
High Quality 7/8 " Foam
Special Ear-Release Canals
Promotes Air Flow
Easy Attachment Of Extra Pieces
Doesn't Absorb Sweat
Thin Padding
Your head is probably one of the most vulnerable areas of your body. If punch or a kick lands on a particularly troubling spot, you could end up with a concussion. Even worse, your skull could be fractured, you could get a hemorrhage and many more things which will never happen if you wear the proper headgear. The headgear is soft but sturdy enough to protect your brain and skull from impact, while also protecting your ears from hearing damage.
Read more
The Dyna line of Macho has the most fans, and it's also the industry standard. The headpiece is made out of high-quality ⅞" foam. It has special ear-release canals that protect your eardrums from rupturing as you spar. The design of the headpiece allows air to flow through, protecting your head from overheating. The spaces do not affect the sturdy construction, as the headgear offers plenty of protection. You can easily attach a cage or face shield of the Dyna line on top, achieving perfect protection.
Criteria Used for Evaluation
Effectiveness
If you want your gear to be effective, you must make sure that you've bought the right kind. Not all gear is created equal, and you have to think through choosing the proper type for you. Think about choosing your gear the same way you would approach buying a pair of shoes. You must get the right material, size, the best brand and so on and so forth. If you are inexperienced, buying the gear could be troubling, which is why we will let you know how to buy the proper gear that will protect you no matter what.
First things first, you must look at the brand. The brand we're talking about is Macho, which is a super popular sparring brand that offers great gear. They were created by a Taekwondo Grandmaster, backed up by his students. Their gear has been properly tested, and you will get the most out of this brand.
Then you have to look at the style of your gear. We don't mean how good your gear looks, we actually refer to the type of gear that you will be choosing. Today, you can choose from a myriad of colors, materials and targeted locations, so your whole body will be protected. No style will work the same way for two people, so you must actually try out the gear before deciding which one is just right for you.
The material your gear is made out of must also be considered. The materials will reflect your personal choices and the function of the piece. Most of the times, the upper layers are made out of vinyl, while the inside is filled with dense foam unique to the brand, but you will need to carefully select one just right for you.
The size and weight should be considered as well. Obviously, your gear should be snug, but not too snug, since that could hinder your movement. It also shouldn't be too loose, since it could fall down and cause an injury, instead of preventing it. Heavy gear should be avoided because the extra weight won't allow you to move your body the right way. Gear that is too light, that feels flimsy, probably is flimsy, and should also be avoided. There are many factors that you have to consider when buying effective sparring gear, and these are just some of them!
Protection
Of course, your sparring and fighting gear should be protective, before everything else. In order to stay properly protected, there are plenty of gear pieces you should consider buying, and we will list some of them and how they protect you.
First things first, you do need a cup. They are an essential part of protective gear for males. Even if your sparring session or fight will not be full contact, it's still a good idea to offer your vulnerable some protection. It really doesn't take much for a little kick to become super painful. The cups need to be made out of a sturdy material, such as a plastic derivate, with dense foam underneath, and it has to fit you well in order to protect you the right way.
Then, you need a mouth guard. The mouth guard covers your teeth and protects them from damage, but this is not the only role of the guard. If your mouthguard has been fitted correctly, which is essential if you want to be properly protected, your jaw will also be shielded from impact, and it might reduce the chances for a concussion. Many mouth guards are a "boil and bite" kind, which uses hot water to mold to your teeth perfectly.
And of course, the handguards. These come in different shapes and sizes, and they usually cover most, if not your whole fists. Boxing gloves are the largest, and they have closed off fingers and a separated thumb. Sparring gloves are elongated, and they have the opening for the fingers, so you can open up and close your fists. Straps hold the gloves in place, and if you want to leave the match with your hands intact, then you must have a pair on your person!
Chest protectors, or hogus as they are called in Taekwondo, are an essential piece of protective gear. They reduce the chances of your ribs, stomach or kidneys getting damaged, which can have some serious consequences. They are required by many regulations, and you really cannot fight without one. Also, they look like fluffy armor, which is pretty cool. The hogu has a special design which uses lightweight material that does not hinder your motion in any way. Many protectors are reversible, with a different color on each side, so that the judges can differentiate between the competitors.
If your martial art is one where you need to kick a lot, then a foot guard has to be something that you consider important. The foot guard protects your feet from bruising and broken bones, and it's light enough for you to use your feet and legs normally. Shin guard can also come as a part of the package, and they protect your delicate shins from bruising and broken bones as well. These shin guards can be re=used as forearm guards, so you'll get two for the price of one. All of the foot guards are made out of dip foam that disperses the force of the impact, lowering the damage to your limbs, protecting you fully.
And last but not least, we have the headgear. The headgear protects your whole head, including your face, with the help of a face shield or cage. The headgear also has special ear protection that does not allow the extra pressure the impact your eardrums, rendering you deaf. The headpiece is an essential part of your gear since an injured head is a recipe for disaster!
Fit
The fit of your Macho gear is also something you should consider. A loose fit cannot protect you at all since it could easily fly off, slide away or flip as you fight or spar. And how can something that is not there protect you? On the other hand, a fit that is too tight will constrict your movement, and lower your range of motion. It could also affect your overall comfort, and if you're not comfy you will be distracted, which could affect your performance as well. And worst of all, it can constrict your blood flow, and nothing good can come out of that!
The ideal fit can be ensured in many different ways. First off, each and every piece of Macho gear has straps. These straps are either wide, thin, elastic, webbed or crisscrossing. The type of strap will depend on the type of gear you have. For example, gloves will have one thick stretchy band that will keep it in place, while footgear has crisscross straps that lock your feet in place. The shape of the equipment also dictates the fit. A contoured piece will fit nicely along your body, and you'll be able to move like you're not wearing it at all. A robust, bulgy piece is something you should avoid, as it won't do you any good.
Materials
What the gear is made out of can tell you a lot about the quality and the amount of protection you will get out of it. Most of the Macho gear is made out of special dipped EVA foam, with varying density and thickness. This foam disperses the force you receive upon a hit and minimizes the amount of damage you receive.
Dipped foam is a staple of many clubs, as it is lightweight and appropriate for children. Dipped foam is also quite cheap, so that gives it a certain value as well. But, dipped foam does tend to break over time. It's created by being placed in a mold, and when it's squashed so it fits into a bag, or when it's squished because of impact, it tends to get torn. Slowly those splits will get bigger and bigger over time, so you must take care of your foam gear.
The upper layer is coated with soft vinyl. Soft vinyl comes from PVC, also known as polyvinyl chloride. This is a type of plastic that has been around for more than fifty years, and it has many uses besides coating your gear. PVC is very bendy and soft, at least when coating your gear. It is not flammable, so you will be protected even from the fire. It stronger than dipped foam, and it will prevent it from getting tears so quickly.
The cages and masks are made out of slightly different materials. The cage is made out of polycarbonate, which is a synthetic material similar to plastic. It is very light and scratch resistant, so it does not obscure your vision. The cages are made out of steel, which gives the supreme durability, sturdiness and proper protection.
Durability
It's also vital that your gear remains durable. If you spend a lot of money on some piece only to have it fall apart after a few matches, then what's the point? The durability of your gear can be affected by many things, ranging from what you use it for to how it's been made. Your gear also has to be properly tested to ensure you get the right kind of quality.
Martial arts are becoming increasingly more popular, and as a result, there are many people reporting minor injuries resulting from poor gear. This is why all of your gear needs to be well tested before it actually leaves the factory. You must not trust gear that has not been tested before you actually get to use it.
Macho tests all of their gear before they sell it to you, ensuring proper quality control that means your gear will last a long time. The construction, fit, material, weight and thickness of each and individual piece is tested, paving the way for Macho to leave a lasting impression. Macho believes that every minor injury is one too many, and they will do their best to protect you.
Expert Interviews & Opinions
Most Important Criteria
(According to our experts opinion)
Experts Opinion
Editors Opinion
Users Opinion
By Default
Keep In Mind
Sparring is something you're all familiar with, common to many combat sports. Although the rules vary slightly, essentially it is free-form with just the right amount of rules to minimize injuries. But, sparring is still something that you should be properly protected for since there are still some chances you could get injured.
Protect Everything
There is sparring gear for nearly every part of your body, as you probably already noticed in our guide. You must remember to wear high-quality protective gear, just like Macho makes it if you want to leave the exercise unharmed and ready to go again!
Other Factors to Consider
Comfort
Your protective gear also has to be comfy. If you're not comfortable, you will be distracted by the unpleasant sensations and might get injured or lose some very valuable points. The comfort of your gear will be determined by the fit and by the level of padding it has. Usually, macho gear is made with foam that is super fluffy and soft by default, and it offers enough comfort as it is. A proper fit will not rub you the wrong way, and you won't even feel the piece on you. Padded gear is quite common and it will cushion you, even more, offering you extra protection and coziness!
Bottom Line
You should already know that you must always have protective gear on you when you spar or fight, and if you didn't know that already, now you know. Macho has you covered, as they offer a huge range of gear that will protect your whole body. No matter what you need to have protected, they have your back. We hope our guide has helped you see how good their guide is, and that you have managed to find a piece that suits your needs!
Frequently Asked Questions
q:

Do I really need protective gear?

a:

Well, unless you actually want to hurt your opponent, or yourself, wearing protective gear is a must. No one really wants to hurt each other, no matter how competitive the sport gets. Gloves and kicks can limit your technique, but they are still a valuable piece of the equipment. Heavy gear can make you slower, and it can also affect the way you fight. Also, most tournaments require you to wear some parts of the set, because otherwise, you won't be able to compete in it. But you still shouldn't fight without it, because you can end up seriously hurt, and that can set you back a lot!
q:

Where is Macho gear created?

a:

The product line of Macho is very diverse. Their products are usually from the USA, but they can also come from China and many other countries all around the world. If you wonder here your particular item came from, you can easily check the product and the country of origin will be marked on it. Macho overlooks and reviews all of their products before they leave the store, so you'll be getting top quality items. All of their items meet the safety standards, no matter where they came from, so you shouldn't worry that much about the country of origin!
q:

How do I wash my sparring or protective gear?

a:

Your Macho gear will be in contact with your skin, all of the time. And what is something you will definitely do when you fight? Sweat! Sweating makes the gear moist, and that moisture can invite bacteria in, which produce bad odors we all want to get rid off. So how can you do this without damaging the items in the process? The gear is usually protected with a vinyl coating, which you can simply scrub and be done with. You shouldn't actually throw your gear in the washer, but you can was it by hand if you want to ensure it's completely clean. Do this with a mild detergent, and wash it in and out, leaving it to air dry completely. Do not leave it in the sun! The sun will damage the coating and the dense, fluffy foam.
q:

Can kids use Macho gear?

a:

Macho takes care of all ages and sizes, kids included! Kids should use Macho gear, because it's extremely important your little ones are safe and protected during their matches! Macho offers a line of protective gear specially designed for children, so they too can enjoy sparring and fighting.
q:

Where can I buy Macho gear?

a:

You can find Macho gear in any well sourced martial arts store. All you've gotta do is ask someone to lead you towards their section, or you can find it yourself. If you don't feel like browsing through a store, you can always order online! They offer good size charts, so you won't accidentally order something that does not fit you!
Subscribe to our Newsletter