Best Martial Arts Shoes Reviewed
last updated:
Feb 18, 2020
When you think about the different martial arts being practiced around the world, one thing you think of is the different apparel and suits that are worn. A lot of times footwear is overlooked.
While all the uniforms and gear are there for performance as well as tradition, strapping on a pair of the best martial arts shoes could get you suited up with that little extra edge and protection you'll need. If the competition or training situation allows, go for that extra traction and protection!
This is the best product on our list that is currently in stock: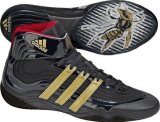 Adidas Tyrint IV
Why is it better?
EVA insole/outsole
Flexible
Breathable
Mesh upper
Seamless design
Stylish
In a
Hurry? Editors choice: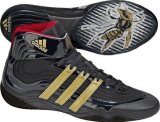 Test Winner: Adidas Tyrint IV
Overall Fit
Versatility
Flexibility
By Default
Best Shoes For Martial Arts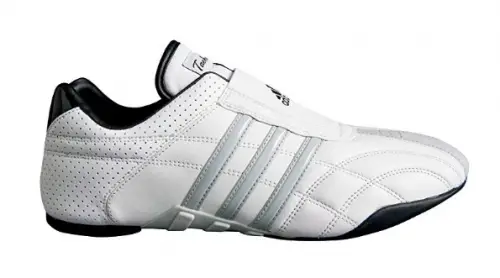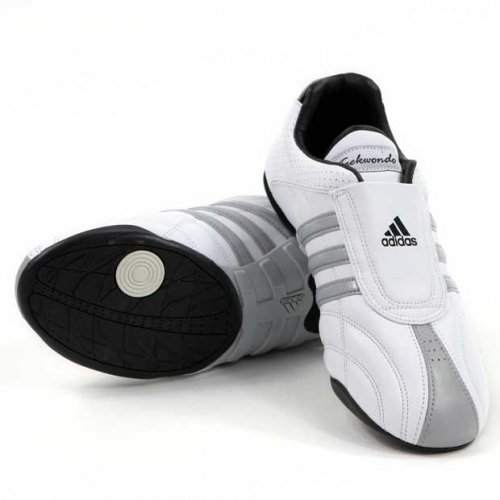 Laceless
Leather
Circles on bottom of the shoe, allows you to easily pivot
Sleek lightweight thin design
No color choice
Breaking period
Adidas is known for making specific models that flow well with a specific sport, daily activity, and even lifestyle. So it's not surprising they design martial arts shoes as well. This model is one of the most versatile shoes in the martial arts community. Adidas designed the shoe to be light on the foot, flexible for better maneuverability, and an overall slipper-like fit.
Read more
Overall-Fit
Adidas decided to construct their Adilux model with leather; not only does this allow the shoe to perfectly form to the shape of your foot, but it also makes them durable. They feature a Torrison System, this means it has arch support that allows your forefoot and your rear foot to independently move around freely. This system lets your feet adapt to other surfaces.
Versatility
These shoes have Taekwondo in their name, that doesn't mean they're only for that specific style of fighting - with Taekwondo having a sleek lightweight slim shoe, as thin as a shoe could get. They are universal to practically any martial art style of fighting. These feature a laceless system paired with a seamless upper, sleek non-sharp edge making it almost impossible to injure your sparring partner during practice.
Flexibility
Made with leather there is guaranteed a break-in process, it's inevitable. Once they are broken in you will never feel like you can move so freely in any other pair of shoes. Leather molds to the shape of your feet, while the laceless system gives you the feeling you are putting on a slipper or a sock. Adidas tried to design a shoe that allows you to pivot freely making you feel as light as a feather as you throw a kick or move.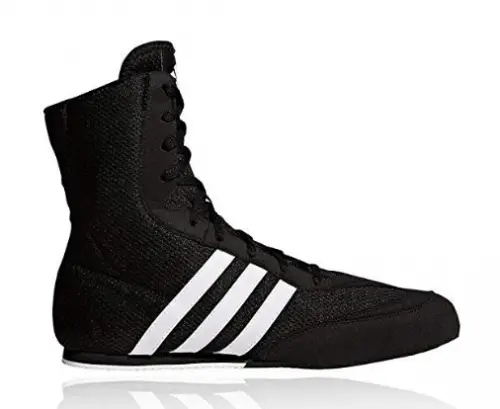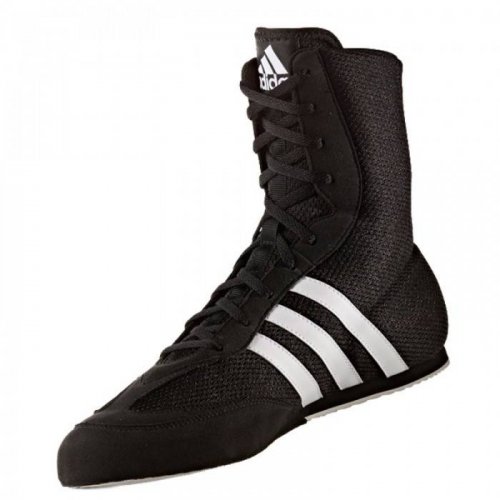 Durable
Great arch support
Perfect for pivoting
Exceptionally breathable
Comfortable
This specific model is made more towards boxing/wrestling. You will see this model was constructed with more breathable flexible fabric in order to protect feet during the most intense workouts - while also allowing your feet to stay cool and dry whether you're practicing on bags, sparring, or just warming up. Adidas Box Hogs are especially great for beginners.
Read more
Overall-Fit
Reviewers seem very happy with the overall fit. The only thing to keep in mind when buying this specific model is they do run a little big in size. If you're buying online, follow the sizing chart provided. Most boxing shoes and martial arts shoes don't have insoles and if they do, it's very thin ones. This is because without an insole your feet can feel more accurately, allowing your footwork technique to be precise. Adidas has put a partial insole in this model that's built up by the arch to give you better arch support.
Versatility
Designed as a high-top for boxing and wrestling, they are very supportive of your feet and ankles. Having features such as arch support, breathable-like synthetic mesh with limited leather on the upper, the shoe molds to your foot and keeps it dry and as comfortable as possible. Since Adidas has such a high success rate with their specifically designed shoes for certain fitness activities, you can just imagine how compatible these will be for boxing and wrestling.
Flexibility
With them having breathable mesh fabric and specifically designed materials to allow you to freely move around your mat, you can imagine how flexible these are. Any martial art sport is an intense sport and flexibility is important when it comes to performing.
EVA insole/outsole
Flexible
Breathable
Mesh upper
Seamless design
Stylish
Laces seem to not stayed tied
Known throughout the martial art community as a high-performance shoe that wrestlers have used since the first day these were released. Adidas designed this line for all skill levels, keeping you feeling low to the ground for stability and agility.
Read more
Overall-Fit
An EVA outsole, EVA insole, seamless upper with synthetic breathable mesh, thin tongue, small areas of leather all thrown together to bring you a high-top bootie designed shoe giving you the most supportive, stable wrestling shoe that will not disappoint. All these features paired together with laces running all the way up brings you one of the most secure comfortable fit you will ever feel.
Versatility
Made specifically for wrestling and boxing, this shoe has it all -with a thin insole that has a cushion in all the right places. Featuring a firmer cushion on the more high wear areas and softer cushion where it matters, it gives this model extra durability. Not only does it have extra padding, but it also come with a non-marking rubber on the bottom for better traction on all surfaces. Adidas really knocked it out of the park with this model.
Flexibilty
When buying a pair of wrestling shoes, it is important to find a pair that is beyond flexible; you don't want to feel like you're wearing a pair of concrete blocks on your feet. Adidas kept their athletes in mind making it a point to design one of the most flexible wrestling shoes out there. The Tyrant was built with a stretchy durable mesh that mold to the foot, rubber outsole that bends effortlessly while also serving you with traction.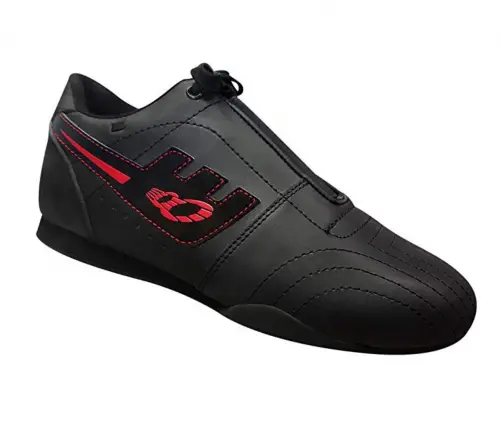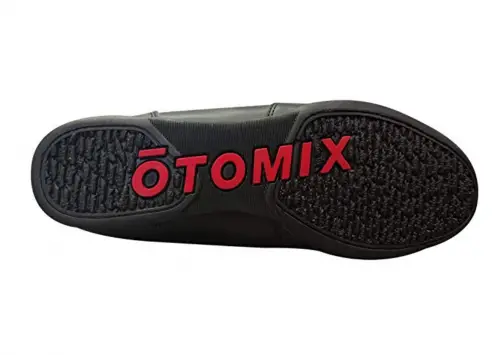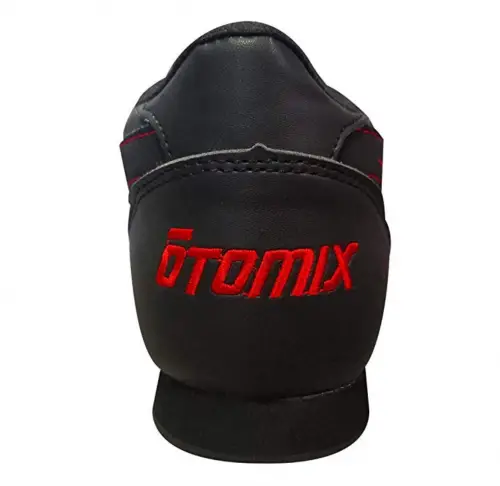 Sleek seamless design
Lightweight
Versatile
Thin flexible sole
Otomix isn't a very well-known brand but don't let that steer you away. Otomix knows what they're doing when it comes to constructing some of the best martial arts shoes. Their comfortable high-top bootie design keeps customers coming back. Athletes who have changed brands to give these a try swear by them and guarantee you won't go back once you give these a try.
Read more
Overall-Fit
Made from leather material to mold to the shape of your foot after a brief breaking-in period leaves the fit to be feeling almost customized. Not only are these shoes excellent for training based on their solid construction and rubber soles, but they're also stylish enough to wear for day to day activities.
Versatility
Because the Otomix Original Lite mocks the shape of a typical sneaker, if it ever comes to you having to defend yourself, it's almost like you've been training all along with your every day sneakers. Original Lite has a raised heel that stimulates the feeling of everyday shoes, for example, naturally heel angle and your foot placement. Their laceless design allows you to perform to your max without having to worry about your sparring partner or your laces even hitting the sides of your ankles during practicing. These shoes are versatile, can be used as karate or taekwondo shoes.
Flexibility
When it comes to flexibility, these are not the most flexible shoes on the list (that doesn't mean they're not flexible at all, just not top of the line). With them being made of real leather,r they initially have more of a stiff feel until you break them in. Once they're broken in, they will feel supportive of your foot. They also have a very low top design letting your ankle move around freely.
5

. Adidas Combat Speed III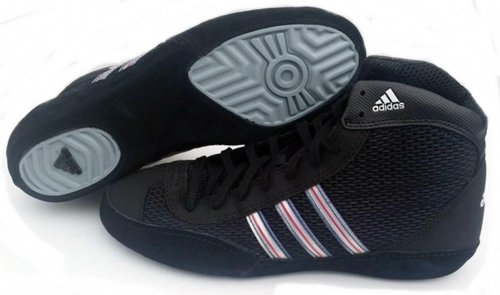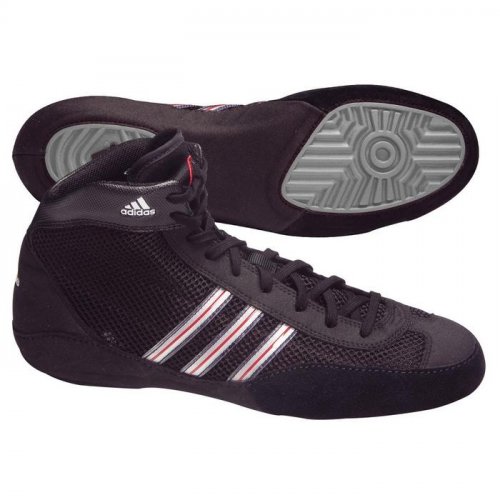 Rubber soles for traction
Fabric molds to feet
Extra eyelet of securing foot
Breathable holes for cooling
If you're on the hunt for a great pair of freestyle wrestling shoes, weather it's muay thai, taekwondo or jiu-jitsu shoes, look no further. This lightweight, supportive and responsive martial art shoe is designed to adapt to your specific brand of fighting while being able to hold up for any form of martial arts.
Read more
Overall-Fit
A key feature to keep in mind when searching for the best martial art shoes is the weight. You don't want your shoes to be on the heavier side. Heavy shoes would not only slow down your flow, but they would also hold you back from performing to your highest potential. The Adidas Combat Speed III is built with a forming fabric and has 6 eyelets, allowing you to secure your feet into your shoes while the same time molding them to your feet as you tighten each eyelet. Adidas added holes in the fabric to allow your feet to stay cool and dry through-out any wrestling match. This model runs a bit small so make sure to buy a pair one size bigger than your daily shoes.
Versatility
Adidas constructed this model for mixed martial arts, meaning they are compatible with almost every style of martial arts (besides the more barefoot styles). Made with a velvet fabric, they mold to your feet causing a more sock-like feel. With this, it makes them able to maneuver with your foot no matter what kind of intense movements you are doing.
Flexibility
A lot of martial arts shoes lack an insole and this is done purposely to allow them to be as flexible as possible. Some people like it and some don't. If your feet desire an insole then look no further, the insoles here are super thin and flexible giving you support while allowing your feet to pivot freely. This insole is also paired with a bendy outsole creating a perfect pair of martial arts shoes.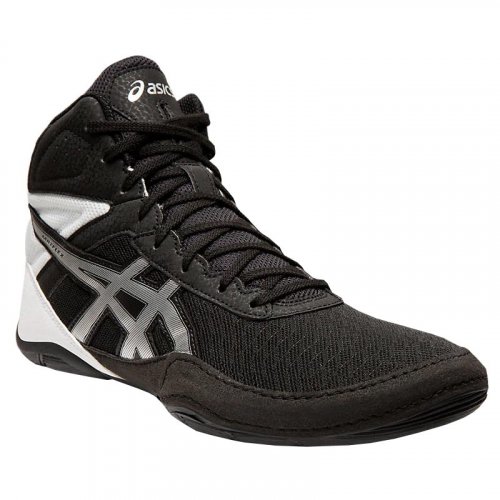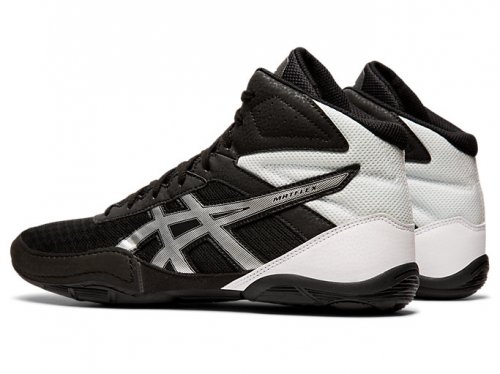 Flexible suede fabric
Lace pockets to keep them secure
Breathable
Cushioned Insoles
You might have seen these before on a movie set, a wrestling match, or possibly on a weightlifter, this model is Asics top-selling and longest-running line of wrestling shoes. The all-around reliable wrestling shoe will never disappoint you. Its job is to perform with you - regardless if it's on a world championship mat or at a youth competition.
Read more
Overall-Fit
Asics did it again with the Matflex 6, keeping all the favorites of the previous models while updating some of the things that needed improvements. A newly redesigned suede mesh overlay provides the shoe with a snug fit and a secure hold on your feet. Not only does the fit totally rock, but they're also extremely breathable. Asics decided to give this model a lace pocket that allows you to tighten the shoe specific to your foot shape while still being able to hide the laces so you can spare your sparring partner from getting whipped while competing.
Versatility
These adapt very well to any style of wrestling. With their lightweight mesh upper, they're breathable while also adapting to the shape of your feet. Matflex 6 was designed with a high-top design and laces that run all the way up in order to keep your feet snuggly tucked in.
Flexibility
Constructed to be lightweight and having a more bendy sole makes these shoes very flexible. They aren't the ultimate flexible shoe which isn't a bad thing; reviewers have really learned to love the more firm feel of the Matflex 6.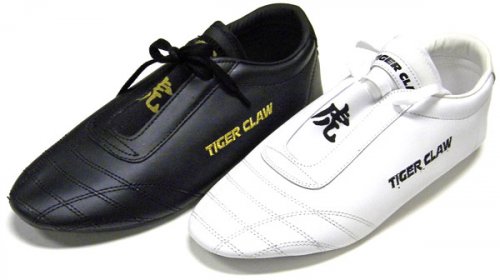 Lace pouch to hide laces
Leather to keep them clean and shaped to feet
Made to last
The brand Tiger Claw dedicated it was time to make the best martial arts shoes on the market. They make anything from martial arts belts to uniforms, shoes and more and it's all excellent gear. So you would expect a brand that's completely dedicated to one sport to design the most comfortable products for that specific sport - and they do, hence why the Tiger Claws are on this top 10 list.
Read more
Overall-Fit
Tiger claw took the time constructing this shoe, making them one of the most conforming shoes to your feet on the market. It's the lightweight breathable design and the slight padding around the ankles and forefoot that allows for the perfect fit through the most intense workouts. These are naturally a narrow fitting shoe, so sizing up won't help this issue, it will just make them feel floppy. If you have naturally wider feet, these are not the shoes for you.
Versatility
Tiger Claws are made for mixed martial arts, which means they are adaptable through different styles of wrestling. Paired with a gum-like outsole that is versatile for any surface, these shoes are adaptable to any activity. Tiger Claw decided to add a circle on the bottom of the forefoot and rearfoot to allow easy pivoting. Furthermore, they come with a travel bag that allows for easy transportation throughout your day from work to your workout.
Flexibility
We know that these shoes have a solid amount of flexible material in them - with its upper being made with stretchy breathable material and a bendy sole that allows you to maneuver about your moves flawlessly.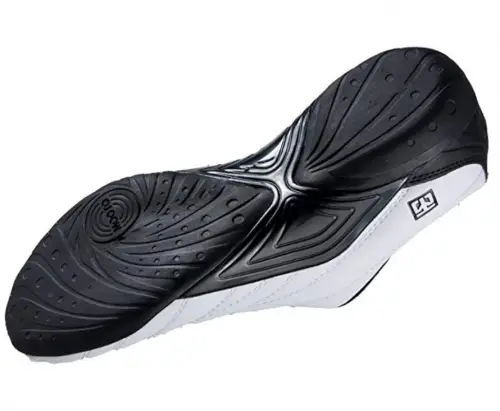 Durable
Extremely flexible
Lightweight material
Heel shock absorption
Mooto has a reputation for making quality martial arts shoes. Whether used for Karate, Kung Fu, or taekwondo as intended, these easily adapt to whatever activity you decide to go for. With their lightweight and durable construction, you cannot go wrong here. They might seem a bit higher in price but they're built to last a long time.
Read more
Overfall-Fit
Built to last, the Mooto Taekwondo is constructed with leather to bring a lightweight comfortable feel to improve your performance and agility. Having being made thin with a small lace to secure and shape to your foot makes the overall fit snug and supportive.
Versatility
Mooto shoes are made for taekwondo - this means that they adapt easily to any and all forms and levels of training and they guarantee you a super lightweight and comfortable fit.
Flexibility
These feature a layered sole which helps minimize the shock of the heel while the 30 degrees of the latter guarantees easy hopping around your mat, also enhancing flexibility. The genius outsole design is all about letting you turn and carry out your footwork effortlessly, allowing for maximum flex both in the area of toes and the heel.
Criteria Used for Evaluation
Overall Fit
Our bodies are far from symmetrical, no same fingers are the same length as no two feet is the same size. When it comes to an activity like martial arts, whether it's Jui Jitsu, Muay Thai, or Karate, making sure the shoes of your choice fit perfectly is important. When choosing a shoe size you want to make sure your bigger foot is fitting comfortably in.
Also, it's a good idea to test your shoes while standing as well as sitting down since your feet expand very slightly because of the way the weight distributes on the feet. You don't want to try on a pair of shoes just sitting down with them having a snug fit and then comes practice and you put them on for the first time to find out they are too tight - this will lead to slight injuries like blisters or simple cramps and uncomfortableness.
Another fit tip; make sure that the sole of the shoe fits on the widest part of your foot. Many think that they will stretch out, then come to find out that they don't.
Lastly, take the time during the buying process to walk around, do a few jumps, kicks, or any type of move to ensure that they certainly do fit comfortably. If you make sure to keep all these in mind when looking for the best martial arts shoes, you will not only be happy with the fit, but it will save a lot of trial and error that many of us go through.
Versatility
When it comes to martial arts, there are certain styles of shoes depending on what form of martial arts you are practicing. Karate typically is barefoot; you might find that some schools ask for you to get a pair of shoes typically for sparring or during practice. Karate shoes are usually laceless for the simple fact that while sparring, you don't want your laces to cause injuries to your sparring partner. While boxing shoes, for instance, have a few different styles, some are hightops as other styles are more low tops with each providing features such as ankle support.
For athletes that practice more mixed martial arts, you will see them using things such as grappling socks or feet wraps. Getting down to it, a lot of martial arts are practiced with little to no shoes at all, but there will be times that they are necessary, such as simply practicing to get used to having shoes on in case of self-defense. This allows your body to have flawless moves and flow.
The point is to figure out what kind of style of shoe you need and want. Before buying, select a pair that is suitable for your form of martial arts.
If you serve in a martial art that is more barefoot, then you would want to choose a more light and quick model to slip on. Shoes that are designed for Taekwondo are a great all-around option for any martial art. Finding a shoe that is compatible with your art form will help you push to your ultimate performance.
Flexibility
Flexibility is everything. Not only being flexible in your legs and arms but also when it comes to gear as well. This especially goes for shoes.
It's important to find that perfect mix of flexible support best suited for what you're getting yourself into. If you are doing a lot of groundwork, make sure the shoes will allow flexing of the toes. If you're into a lot of kicking and striking, then pivoting is also important.
If you're a boxer you also need to make sure you have plenty of flexibility for all that fancy footwork (depending on your fighting style).
Expert Interviews & Opinions
Most Important Criteria
(According to our experts opinion)
Experts Opinion
Editors Opinion
Users Opinion
By Default
Other Factors to Consider
Traction
While that extra bit of grip and traction is usually a good thing, it's wise to be mindful of a few things. It's a good idea to consider the surface you'll be sparring or training on. On softer surfaces like mats, too much grip might be a mistake on quick pivots or turns. You might find your feet not able to easily turn with the rest of your body, potentially causing a sprain or other injury.
On harder surfaces, decent traction is a plus, especially on a smooth or polished gym floor. If being worn for an exposition or form competition, and footwear is permitted, then that extra grip is a great idea.
Frequently Asked Questions
q:

If I'm between sizing which size should I pick?

a:

When it comes to martial art shoes, you want to make sure they fit comfortably and snug - not snug enough to cause hot spots and blisters but comfortable snug to move with you, not against you. You want to make sure when buying online you pay attention to the sizing charts. Also, you want to choose a size that best fits your bigger foot.

Martial art shoes fit narrow and snug and are made to shape to your feet and feel like socks. If you're trying shoes on in the stores, make sure you try them on sitting down and also standing up and attempting a move or two.
q:

Are a pair of martial art shoes even necessary?

a:

Most forms of martial art styles are actually practiced barefoot. It's best to ask your instructor whether you need a pair.
q:

If I like my martial arts training shoes, can I wear them for things outside of training?

a:

You want to keep the mats and ground for training as clean as possible. If you like the style and overall fit of your martial art shoes, then you are more than welcome to wear them as your everyday shoe. Just make sure that you pay attention to the ones that don't have any insoles. Although these shoes are comfortable for martial arts, they are not everyday shoes.
q:

Should I buy colors that match my school color?

a:

That is ultimately up to the wearer of the shoe. Do you like your school colors? Chances are if you're representing your school you will already be wearing your school colors on. Just pay attention to how the shoes fit and worry about style and color later.

Also, check your school rules, if they don't have a rule about having to wear your school colors, choose any color you like!
Subscribe to our Newsletter