Best Martial Arts Shoes Reviewed
last updated:
Feb 18, 2020
When you think about the different martial arts being practiced around the world, one thing you think of is the different apparel and suits that are worn. A lot of times footwear is overlooked.
While all the uniforms and gear are there for performance as well as tradition, strapping on a pair of the best martial arts shoes could get you suited up with that little extra edge and protection you'll need. If the competition or training situation allows, go for that extra traction and protection!
This is the best product on our list that is currently in stock: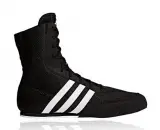 Adidas Box Hog
Why is it better?
Durable
Great arch support
Perfect for pivoting
Exceptionally breathable
Comfortable
In a
Hurry? Editors choice: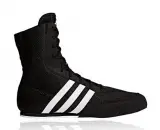 Test Winner: Adidas Box Hog
Overall Fit
Versatility
Flexibility
By Default
Best Shoes For Martial Arts
Criteria Used for Evaluation
Overall Fit
Our bodies are far from symmetrical, no same fingers are the same length as no two feet is the same size. When it comes to an activity like martial arts, whether it's Jui Jitsu, Muay Thai, or Karate, making sure the shoes of your choice fit perfectly is important. When choosing a shoe size you want to make sure your bigger foot is fitting comfortably in.
Also, it's a good idea to test your shoes while standing as well as sitting down since your feet expand very slightly because of the way the weight distributes on the feet. You don't want to try on a pair of shoes just sitting down with them having a snug fit and then comes practice and you put them on for the first time to find out they are too tight - this will lead to slight injuries like blisters or simple cramps and uncomfortableness.
Another fit tip; make sure that the sole of the shoe fits on the widest part of your foot. Many think that they will stretch out, then come to find out that they don't.
Lastly, take the time during the buying process to walk around, do a few jumps, kicks, or any type of move to ensure that they certainly do fit comfortably. If you make sure to keep all these in mind when looking for the best martial arts shoes, you will not only be happy with the fit, but it will save a lot of trial and error that many of us go through.
Versatility
When it comes to martial arts, there are certain styles of shoes depending on what form of martial arts you are practicing. Karate typically is barefoot; you might find that some schools ask for you to get a pair of shoes typically for sparring or during practice. Karate shoes are usually laceless for the simple fact that while sparring, you don't want your laces to cause injuries to your sparring partner. While boxing shoes, for instance, have a few different styles, some are hightops as other styles are more low tops with each providing features such as ankle support.
For athletes that practice more mixed martial arts, you will see them using things such as grappling socks or feet wraps. Getting down to it, a lot of martial arts are practiced with little to no shoes at all, but there will be times that they are necessary, such as simply practicing to get used to having shoes on in case of self-defense. This allows your body to have flawless moves and flow.
The point is to figure out what kind of style of shoe you need and want. Before buying, select a pair that is suitable for your form of martial arts.
If you serve in a martial art that is more barefoot, then you would want to choose a more light and quick model to slip on. Shoes that are designed for Taekwondo are a great all-around option for any martial art. Finding a shoe that is compatible with your art form will help you push to your ultimate performance.
Flexibility
Flexibility is everything. Not only being flexible in your legs and arms but also when it comes to gear as well. This especially goes for shoes.
It's important to find that perfect mix of flexible support best suited for what you're getting yourself into. If you are doing a lot of groundwork, make sure the shoes will allow flexing of the toes. If you're into a lot of kicking and striking, then pivoting is also important.
If you're a boxer you also need to make sure you have plenty of flexibility for all that fancy footwork (depending on your fighting style).
Expert Interviews & Opinions
Most Important Criteria
(According to our experts opinion)
Experts Opinion
Editors Opinion
Users Opinion
By Default
Other Factors to Consider
Traction
While that extra bit of grip and traction is usually a good thing, it's wise to be mindful of a few things. It's a good idea to consider the surface you'll be sparring or training on. On softer surfaces like mats, too much grip might be a mistake on quick pivots or turns. You might find your feet not able to easily turn with the rest of your body, potentially causing a sprain or other injury.
On harder surfaces, decent traction is a plus, especially on a smooth or polished gym floor. If being worn for an exposition or form competition, and footwear is permitted, then that extra grip is a great idea.
Frequently Asked Questions
q:

If I'm between sizing which size should I pick?

a:

When it comes to martial art shoes, you want to make sure they fit comfortably and snug - not snug enough to cause hot spots and blisters but comfortable snug to move with you, not against you. You want to make sure when buying online you pay attention to the sizing charts. Also, you want to choose a size that best fits your bigger foot.

Martial art shoes fit narrow and snug and are made to shape to your feet and feel like socks. If you're trying shoes on in the stores, make sure you try them on sitting down and also standing up and attempting a move or two.
q:

Are a pair of martial art shoes even necessary?

a:

Most forms of martial art styles are actually practiced barefoot. It's best to ask your instructor whether you need a pair.
q:

If I like my martial arts training shoes, can I wear them for things outside of training?

a:

You want to keep the mats and ground for training as clean as possible. If you like the style and overall fit of your martial art shoes, then you are more than welcome to wear them as your everyday shoe. Just make sure that you pay attention to the ones that don't have any insoles. Although these shoes are comfortable for martial arts, they are not everyday shoes.
q:

Should I buy colors that match my school color?

a:

That is ultimately up to the wearer of the shoe. Do you like your school colors? Chances are if you're representing your school you will already be wearing your school colors on. Just pay attention to how the shoes fit and worry about style and color later.

Also, check your school rules, if they don't have a rule about having to wear your school colors, choose any color you like!
Subscribe to our Newsletter