Best Martial Arts Weapons For Various Styles Reviewed
last updated:
May 13, 2020
Martial Art is a term used to describe a very general topic. The number of disciplines that exist under the term of martial arts are many. Some styles have withstood the test of time, while some have been developed recently. For example, certain fighting styles, like jujitsu, Iaijustu, and Kenjutsu, predate the Meiji Restoration, which took place in 1868. Newer fighting styles, like Keysi, have origins in the 1950s, only have become more popular in the early 2000's. Even today, new martial arts are being developed by enthusiasts all over the globe. In a lot of cases, fighting styles are hybrids of two or older fighting styles. However, the arts of the ancient world tend to be varied in their own right. Some rely on body strikes using your own limbs, while others have a primary and mixed focus on the use of martial arts weapons.
The martial arts that have a focus on weaponry are also many. There are disciplines that focus primarily on a single weapon, as Kendo does on a sword or Bojutsu on the Bo Staff. Others can have a mix of weaponry that employs the use of both the sword and the staff. The number of options is staggering and can be a little overwhelming for those who are curious about martial arts training, or for those already just starting out. Henceforth, those who have started at a gym are likely aware that in order to train under a martial art that employs weapon use, they are going to want a training weapon.
Featured Recommendations
Cold Steel Hawk Trainer

Our rating
Non-Injuring
Sturdy
Price:

See Here
Boker Training Knife

Our rating
Affordable
Durable Material
Price:

See Here
Goldenvaluable Nunchucks

Our rating
Foam
Excellent Cost
Price:

See Here
Fortunately, there is a demand for martial arts weapons, and the internet has the unsure consumer covered. There are a number of vendors selling things from MMA gloves to weaponry at varying quality and varying costs. Although the variety is often a good thing, the number of options can be overwhelming for some. However, In our buyer's guide, we have reviewed a number of different weapons for several different martial arts styles in order to better inform anyone looking to expand their knowledge on this multifaceted topic.
Best Martial Arts Weapons
1. Cold Steel Trench Hawk Trainer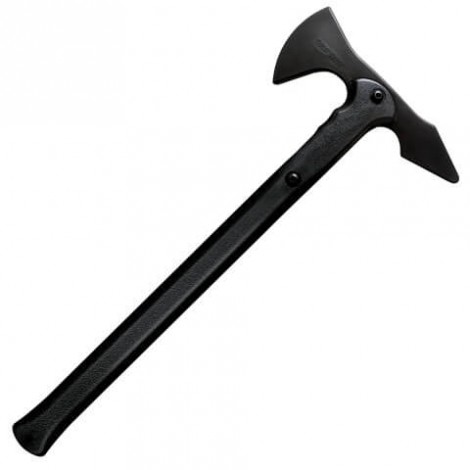 Founded in 1980, the company deals in knives and bladed weapons of different kinds. They also have training variants of some of their products. In this case, they have made a training replica of an actual Tomahawk they produce. The Tomahawk is an extremely versatile item. Having taken its roots from axes, all over the world, the tomahawk is used not only as a tool but also as a weapon. It has been all throughout history in different forms in many different cultures. A number of martial arts employ the use of tomahawks as both a close-quarters combat weapon and a ranged throwing weapon. In the USA, the military and SWAT teams are known for their usage of the multi-purposed tomahawk.
Expand to see more
Training Replica
Cold Steel made a replica of their popular Tomahawk known as the Trench Hawk. In place of wood and steel, the trainer is made of Santoprene, a type of recyclable plastic that looks and feels like rubber. This replica was designed to match the size of its actual counterpart, feel and weight. As a result, you get a weapon that is safe to train with, without compromising getting improving with the real thing.

Long Lasting Durability
Another benefit of using Santoprene means the Hawk Trainer will last a long time. Great durability is typically followed by great longevity. Therefore, As long as it is used for training purposes, and not against other bladed weapons, this tomahawk will guarantee up to thousands of hours of training. This, of course, means more time for honing your skills.

Cost and Value
Just about anyone training under a martial art that uses a tomahawk need not look any further than Cold Steels Hawk Trainer. This training weapon is extremely affordable and useful to beginners and experts alike. Even those on the tightest of budgets can more than likely benefit from this item without breaking their wallets. A potentially very wise investment for any caliber of fighter.
Durable
Great Longevity
Affordable
Recyclable Material
2. Boker Training Knife Set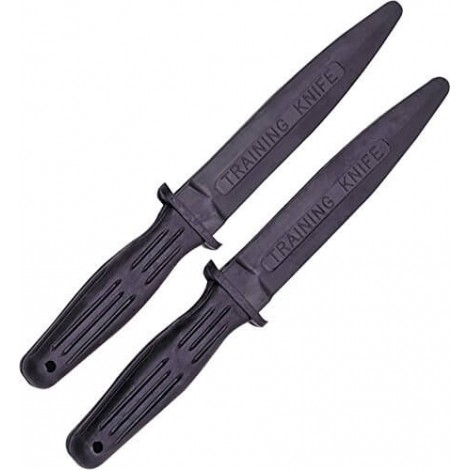 Boker might have what you're looking for. Founded in 1869 in Germany, Boker has a sizeable amount of time dedicated to developing bladed items. For those looking to train in knife fighting, Boker additionally offers a training knife. A great many disciplines of martial arts use knives in their training. Styles such as Filipino Martial Arts (FMV) and Silat are known for using knives. Additionally, WWII combatants were trained for various knife combat situations. Knives are versatile and can be used for a number of tasks. In martial arts, they can be used in both close-quarters combat and ranged combat situations. Anyone looking to train in a martial art that requires knife training will find that a training knife is a necessity.
Expand to see more
Safe for Training
Boker's training knife is made for safety. Completely made out of rubber, this knife will ensure that you will not fatally injure your sparring partner. Despite this, it will still let you and your opponent know they have been hit, making the knife useful in improving your technique. However, when training with knives, it is advisable to wear protective face gear to prevent injury to you or your opponent's face and particularly the eyes.

Set of Two
Boker offers its training knife in a set. Those who train in a style that teaches one-handed knife techniques will benefit as they will receive a replacement knife or one to give to a sparring partner. Those training in two-handed knife training will find the obvious benefit of investing in this set.

Cost and Value
Bokers training alternative is more than affordable. It can easily be seen as a bargain. Receiving two training knives from a reputable company might justify its already low cost for some. With good reason too, as these quality training knives are made by a company that has over 145 years of knife experience. Expect these wallet savers to last you a lifetime.
Set of Two
Reputable Brand
Safe Material
Durable
3. Goldenvaluable Nunchucks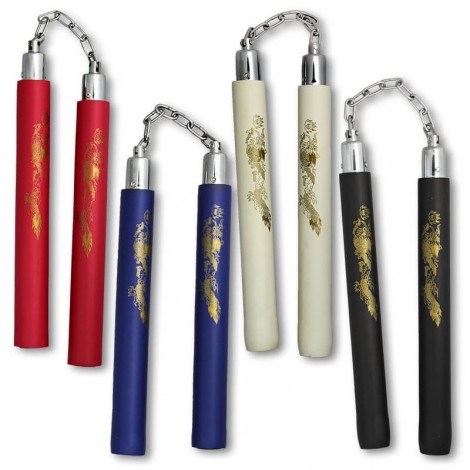 Nunchucks or Nunchaku, are popular weapons with origins in the Orient. Originally used as tools of farming, history saw to it that these tools would become a weapon. Martial arts like Karate and Escrima are known for their use of nunchucks. At its simplest, the weapon is a system of two short and cylindrical objects both connected together at one end by a chain or cord. These can make for extremely lethal weapons especially to someone who is not properly trained. Therefore, somebody looking to become proficient at the nunchaku is going to need a safe set to train with.
Expand to see more
Perfect for Training
A real pair of nunchaku is guaranteed to hurt and cause injury or damage. Practitioners of Karate and other styles using this weapon know this to be true. As a result, most schools require safer forms made out of a soft material. Goldenvalue offers its Foam Nunchaku. Covered in soft foam, these training nunchucks make improving your skill worry-free. The foam makes the weapon lightweight, however, this does not completely take away from the weight of a real pair, they still hit hard enough for you and your opponent to know they have been struck without injury.

Great For Youth
Karate is popular among the youth of not only the USA but of the world. These nunchakus make an excellent choice for youth and adult beginners alike. Since actual pairs of nunchaku are quite weighty and require decent strength and skill to wield effectively and without injuring yourself or another, it is likely not something a parent would want their children to have access to. The foam nunchuck is a clear and extremely effective solution to that problem.

Cost and Value
These foam nunchakus are the best-valued item on our buyer's guide. Therefore, making this the most affordable item in the guide. Not only is this a great choice for youth and beginners alike, but it can also serve as an affordable gift. Those looking to take up Karate or other nunchuck wielding fighting styles will have need of these, and since you really can not beat the low price, why look any further than Goldenvaluable?
Safe for Youth
Great for Beginners
Durable
Color Variety
4. Cold Steel Bokken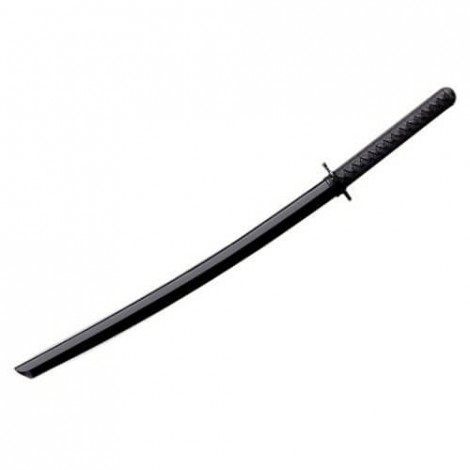 Cold Steel, a known American source of bladed weaponry, makes our list again. A brand that has a hand in self-defense training items, they have added the Bokken to its selection. Bokken, a Japanese term meaning "Wooden Sword" is exactly that. Used for training by various martial arts schools, such as Kendo, Aikido, and Kenjutsu, the Bokken is a rather popular self-defense training purchase. They come in several shapes and sizes and almost always take on the form of a Katana, the actual bladed weapon its modeled after.
Expand to see more
A Durable Alternative
Traditional Bokkens are known for being made of a specific wood. This wood, Kashi, a kind of Japanese White Oak, is known for being quite resilient. However, it is also known for being expensive. Cold Steel made a bokken from a type of durable plastic known better as polypropylene. Despite not being as rigid as Kashi, the plastic bokken is resilient and still remains rather stiff after some use. The plastic is also inexpensive to produce which will lower the item's cots.

Plastic Advantages
Everything has its pros and cons. Wood is no exception to this rule. Despite bokken's traditional wooden build, wood is known to crack, rot, and break, as it is not very formidable against most elements. However, being made from plastic, the Cold Steel Bokken is not only resilient to the elements, but it can also withstand a good deal of strikes and guards before being rendered useless. This Bokken will withstand the test of time.

Cost and Value
This training weapon falls on the mid to high range of cost on our buyer's guide. Despite this, a traditional wooden bokken can be quite more expensive. This high price alone can justify the cost of this alternative. Considering the item is made of simple plastic, but holds up extremely well against its original inspiration can speak a lot of its cost. Do not pass this item up.
Durable
Great Grip
Inexpensive Alternative
Trusted Brand
5. Perfect Point Throwing Knives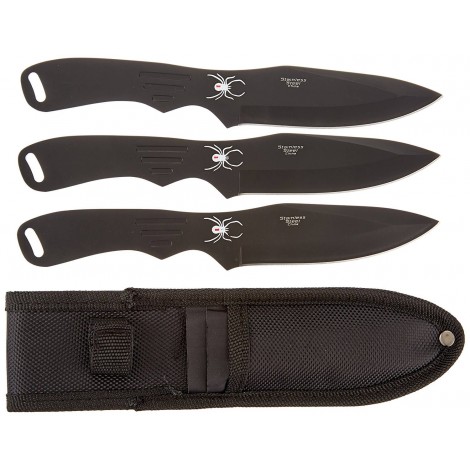 Master Cutlery is a family-owned business. Being founded in 1982, they have partnered up with other knife manufacturers to expand their bladed variety. Perfect Point is among those partnered companies. Perfect Point deals in throwing blades such as shurikens and in this case, throwing knives. Throwing knives is more of a sport than it is an art. Most martial artists do not rely on throwing knives and is considered to be too risky in a combat situation. However, in order to hone your precision throwing techniques, you are going to want a decent and actual throwing knife.
Expand to see more
Steel Build
These eight-inch knives are laser cut completely out of stainless steel. Stainless steel is a durable metal found in most homes in the form of kitchen wares and eating utensils. It is better known for its high rust resistance. The steel can also be sharpened to your personal preference. As always, exercise safety and caution when using these and any knives. Additionally, the knives come in a set of three, making this a steal.

Nylon Sheath
Not only do you get an additional two blades, but this set also includes a nylon sheath. The sheath is designed to safely store and carry all three blades. The nylon is resistant to the sharpness of the blades and will not compromise the sheath. As an effect, you and your blade's safety remain intact.

Cost and Value
This set of throwing knives is quite the deal. On top of getting an additional two knives, they have also included a Nylon Carrying sheath. In spite of the amount you get, the cost is on the low end of the buyer's guide. This is an extremely affordable choice for the beginner on a budget.
Stainless Steel
Black or Silver
Nylon Sheath
Set of Three
6. BladesUSA Octogonal Sais
Blades USA is an online bladed weapons dealer. Their inventory is vast and houses a plethora of names both known and less known in cutlery. They have available for purchase, in particular, a type of Sai. A sai is a three-pronged striking weapon. They are also famous for being the weapons used by the red bandana-wearing ninja turtle, Raphael. Additionally, the weapon has an ancient origin. Starting also as a farming tool, like the nunchaku, the sai become weaponized much after its conception. The sai has a debatable origin. Some speculate they may have origins in India and the middle east. However, they have seen wide usage in the countries of the Orient. Some believe countries of orient like China and Japan are responsible for their now known popularity.
Expand to see more
Octagonal Shape
The shaft of both sai is octagonal. The benefits of this shape are most notably in a duel or combat situation. The sai, being designed to catch enemy weapons and lock them into place, has a better grip when the shaft has flat sides. A round sai makes it easier for something caught in its lock to escape. However, octagonal can be uncomfortable to grip without a proper handle or hand wrapping.

Great Youth Alternative
These solid steel set of sai are a little on the lighter side. Those with a smaller frame or a youth in ninjutsu training can properly train with these. The weight of them is more attuned to that demographic of the fighter. Spending a little extra can get you a larger sized sai and may better suit your needs, should you be of a heavier weight class.

Cost and Value
Getting a pair of solid steel sai for a low cost can only be a good thing. These are great for beginners on a budget, as well as the young ninja in training. Having the option to get a size difference for a cost adjustment is an added benefit and does not make the price leave the affordable range.
Set of 2
Solid Steel
Octagonal Shaft
Wrapped Handle
7. Etrading Kendo Shinai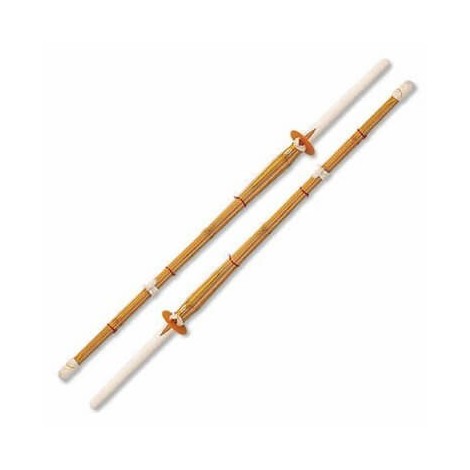 Etrading offers a variety of training weapons. Among their varied training selection, they offer a shinai. Shinai, Japanese for "to bend", is a training sword made out of bamboo. As its name suggests, the sword is made to be less rigid than an oaken Bokken, made possible by the flexible bamboo. The shinai is used most notably in Kendo, and is a requirement as Kendo means "The Way of the Sword."
Expand to see more
Strong and Durable
A key component of Kendo is the shinai. Most are made of bamboo, and this set of shinai is no exception. The Bamboo construction is flexible, which helps its resilience to heavy training. The thick plastic hand guard keeps your hand from sling up the weapon and is rather sturdy as well. The inclusion of a second shinai can grant you a replacement, should one of them break.

Set of Two
Getting this shinai in a set can grant certain benefits. For starters, the additional can be used if you're without an equipped training partner. Additionally, the second can serve as a replacement should the first one break. Lastly, getting the second one for basically free is a benefit all on its own.

Cost and Value
The cost falls on the midpoint of our buyer's guide. Despite this, these swords are still extremely affordable for trainers on a tight budget. Getting an extra sword for the price of one always makes for a good value. If you're just starting out in Kendo or Kenjutsu, these shinais are a great place to start.
Set of two
Bamboo
Great for Beginners
Stable Hand Guard
8. Pro Force Foam Escrima Sticks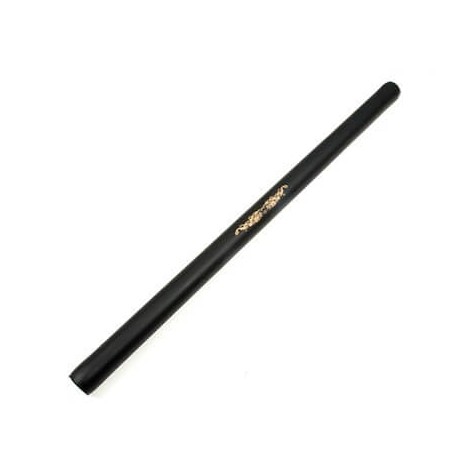 Pro Force is a known manufacturer of a vast selection of fighting weapons and apparel. Founded in 1972, they have a decent amount of knowledge in the world of gear. In addition to their weaponry, they also offer a selection of training weapons. The training variations are of actual weapons that employ the use of foam. Among them are foam escrima sticks. Escrima is a form of Arnis, a martial art of the Philippines. In this specific form is a focus on the use of short sticks in both hands. Since actual escrima sticks are solid wood or metal, they are intended to disarm and do some damage to an aggressor. However, simple training is typically done with nonlethal sticks that rely on foam padding for protection.
Expand to see more
Foam Padding
This escrima stick is a hollow plastic tube covered in foam padding. The 1/4 inch thick padding keeps your sparring partner safe when practicing strikes that would otherwise be quite damaging. Being made mostly of foam, the sticks are intended primarily for light sparring and are likely to break if used for heavy striking.

Quiet
Actual escrima sticks are often made of a solid, singular material like wood or metal. This can make for a noisy training session, as the training sessions require hitting the other opponents' sticks. The training stick, having its thick padding, does not produce the noise made by solid sticks. As a result, this can become a convenience for those practicing at home with paper-thin walls.

Cost and Value
Also falling in the mid-range cost section of our buyer's guide, alongside the previous entry, this set of Escrima sticks are not only affordable but effective training weapons. Providing safe sparring sessions without sacrificing effectiveness all at a low cost is what makes a training escrima stick valuable. Items such as this are always a great choice for beginners or anyone on a budget. It is always wise to start small when trying new things.
Dragon Target Print
Thick Foam Padding
Set of Two
Affordable
9. Tiger Claw Foam Bo Staff
Tiger Claw is a group of companies all with the same vision. The group was established and organized in 1985 by Thomas Oh. Their vision is focused on furthering the improvement of martial arts. They believe to achieve this by the distribution of their products, which promote that end. Among their diverse selection of gear is a bo staff dedicated to training. The Bo Staff is a simple stick of longer length, extending around sixty inches. It's used as both an offensive and defensive weapon. Many different martial arts employ the use of the bo staff, such as Aikido, Budo, and Bojutsu. It is very common for these schools to practice the bo staff with a sparring partner, and when it comes to training with a live opponent, care must be taken not to injure one another. Protective armor works well, but it never hurts to train with padded weaponry.
Expand to see more
Light Practice Stick
Bo Staffs are light by nature, as they are typically made of lightweight wood. This practice staff is made of a hollow plastic tube, covered in a thin foam padding. The foam padding is 1/8 inch thick and covers the entirety of the staff. Consequently making a safe training weapon for yourself and your training partner. It is not recommended for the heavy striking of any kind, as it is intended primarily for training.

Great Beginner Staff
This staff is great for the beginner. Since it is lightweight and intended for safe training and sparring, an inexperienced novice and their belongings are relatively safe from damage and injury. It's unwise for a beginner to spend a large amount of money on a staff they are not skilled with or might not even want. The low cost is another valid reason for a beginner to start here.

Cost and Value
The Tiger Claw Foam Bo Staff falls on the low end of pricing on our buyer's guide. Low cost for a decent product is an excellent place for a beginner or even an unsure practitioner to start out. The Staff will not break your bank. You do get what you pay for here, as its light training focus additionally serves to lower its cost which can also limit its quality.
Lightweight
Foam Padding
Great for Beginners
Affordable Quality
Limited to Light Training
10. Fury Martial Arts Hook
Fury Martial Arts is a vendor of various martial arts supplies. Many known shopping areas have their products in their inventory. Having a varied and numbered stock, they have a little bit of everything in matters of fight gear. For the aspiring ninja, there is the grappling hook. A grappling hook is a grapnel device; a system consisting of a simple rope attached to a hook for the purpose of grabbing objects. The grappling hook serves many functions. It can drag far away and unreachable objects to you, meanwhile others grant you climbing capabilities, allowing one to reach otherwise unreachable areas. For those looking to train in military or ninjutsu may want to invest in one.
Expand to see more
Folding Hook
This grappling hook has a collapsible hook. The points of the hook are sharp and can cause injury if used recklessly. A collapsible hook can serve many functions, such as easier and safer carrying when not in use or in transit. Despite not being safe for children, the folding hook is an added safety feature of this item.

Nylon Rope
The Grappling Hook comes standard with a nylon rope attached to the metal hook. The rope measures to 33 feet in total, making out of reach places and things reachable. Nylon is a material used often in ropes, as it is cheaper to produce and it's durable despite its lower quality. This rope will assuredly offer safe ascension and descent.

Cost and Value
Fury Martial Arts Grappling Hook comes in on the mid to low range on our buyer's guide. Considering the quality of product you get, the already low cost becomes justified. Anyone on a budget can tap into their inner ninja and walk alongside the greatest, without risking money for eating. Definitely a great place to start if you have to need climbing gear.
Sufficient Rope Length
Collapsible Hook
Stainless Steel
Nylon Rope
The world of martial arts  is an extremely varied one. The martial arts that focus primarily on the use of weapons are no different. After choosing which one you would like to try, the subject of what training weapon you will use comes next. Even the topic of which to choose is an extremely varied one. Options can be overwhelming, but fortunately enough, we have tried and analyzed some features of some of these, hopefully enriching anyones understanding of the basics. In the next section we will go further in depth about these basic properties of martial arts and its weapons.
Criteria for Evaluating the Best Martial Arts Weapons
In the journey of finding what martial arts weapon might be best for you, it may help you to learn some other deeper aspects of the subject. If you are at the stage of choosing a specific weapon, it is likely you have already discovered for yourself which martial art to train under. Knowing which martial art uses what weapon is key and will point you in the right direction. You must always take not just your intended training purpose for the weapon, but how much you are able or willing to spend on such an item. Here we go over the varied elements that make a weapon what it is, what schools employ that weapons use, as well as some information in the martial art itself.
The Weapons
The key component of martial art that uses weapons…is the weapon. Without a Bokken or a Shinai, you will find yourself completely unable to train, as some of these martial arts rely solely on them in both training and competing.
Bokken-
The Bokken is traditionally a wooden sword, as its name is Japanese for "Wooden Sword." The wood is normally a type of oak and can be rather pricey, but is particularly rigid; unbendable, which is great for training. This may sound redundant, but some stores offer a plastic version. The Plastic Bokken is a cheaper alternative to its oaken counterpart. Made out of a plastic which is intended to resemble rubber, the bokken is made sturdy and stiff much like the wooden bokken. Kendo, Iaido, Kenjutsu, and Iaijutsu and many more schools of martial arts make use of the Bokken.
Shinai-


The Shinai is a training sword of bamboo design. Used in Kendo and Kenjutsu, which are martial arts with strict sword use. The Shinai translates to "flexible" or "bendable", a characteristic quite opposite of the bokken.

Bo Staff-


The Bo Staff is a stick, not unlike a simple walking or hiking stick. It is designed to be of longer lengths, often around 60 inches. It is used in many martial arts. The art of wielding the bo staff is known as Bojutsu. Karate is known for its use of Bojutsu.

Nunchucks-


Also known as nunchaku, these are traditionally two short wooden club-like sticks attached at one end by a chain or a cord. They are weapons that require a lot of training as they are actually very dangerous weapons. They are to be swung around in constant motion, timing when you land a strike, and the strikes are typically devastating. Karate is known for its use of the nunchucks, among its use of other weapons. Also, nunchaku is believed to be a farming tool before it was utilized as a weapon.

Throwing Knives-


Throwing knives are not normally found in martial arts and are considered by martial artists as a risky idea. Throwing your weapon can leave you weaponless while additionally arming your opponent. However, throwing knives are more commonly found in sport. It is as simple as throwing knives at a target, always trying to improve aim by always aiming for the bull's eye.
Escrima Sticks-
Escrima Sticks are found in a martial art known as Arnis. They are simple sticks; one for each hand, like a pair of nunchucks without the chain. In training you do drills with a partner, performing synchronized techniques, hitting the sticks off of one another. Not normally used in training, there are foam options for safer training.
Knife-
Unlike throwing knives, certain martial arts of the Philippines train with knives in close quarters combat. Training with real knives is extremely dangerous. Therefore, it makes sense to use rubber training knives to prevent cutting up your opponent or having the same happen to you. Knives are a multi-tool of sorts, as knives have been used all throughout history as a tool for various functions.
Hand Axe-
The Hand Axe is a multi-use weapon much like the Knife. Used mostly by the American military and the SWAT team, it has been used in other martial arts, but less for throwing and more for close-quarter combat.
Sai-
The sai is mostly known for being the famous weapon preferred by Raphael, the red-banded Teenage Mutant Ninja Turtle. Like the nunchuck, the sai has origins as a tool of agriculture, the sai became utilized as a defense weapon. They are a three-pronged weapon, comprised of the main shaft and two shorter prongs on each side. They are used as blunt striking weapons in combat, and also have the ability to block an opponent's weapon, rendering the weapon from the attacker useless.
Grappling Hook-
The grappling hook is a very useful tool used in the military and also in Ninjutsu. It has a variety of functions, despite being a simple rope and hooks construction. In ninjutsu, it's used as a wall-scaling device. The military uses it for several purposes like safe item retrieving, bomb removing, or pulling oneself to an otherwise unreachable place.
Frequently Asked Questions
Q: Are there safe solutions for weapons training?
A:  Yes. There are a number of safe options for almost all weapons training. A lot of vendors have foam covered versions of the real thing. additionally, other options come in the form of plastic or rubber. A lot of martial arts schools use safe variants of the actual weapon. In Kendo, they use the bokken and shinai, wooden sword replicas. in both training and in competition. Lastly, there are dull metal sword variants for other schools like Iaido. You have a lot of options in matters of safety.
Q: What weapon should I choose?
A: That is entirely up to you. If you're not already in a gym and training under a martial art, do that. Your gym may already train with a weapon. Do you prefer the sword, or maybe something showier like the nunchucks?  It's really all a matter of what you think is most interesting. There are a lot of options available to you. Check around your area for a local gym to see with they teach.
Q: Are there weapons that are safe for my children to use?
A:  Yes. Many stores sell training weapons specifically for kids. They are normally lighter or small than the average weapon whether it is a bo staff or sai.  Optionally, their adult weapons with foam padding are still a safe option for a child, as the foam is a soft construction that reduces physical damage significantly.
Q: Is there a cheaper Bokken alternative?
A: Wooden Bokkens can be on the pricier side of the options. Wooden oak Bokkens are the traditional type of practice sword, but the craftsmanship and quality wood can really drive up its cost. There are plastic alternatives, as well as rubber alternatives.  They tend to hold up against strikes and last longer than wood. Additionally, they are much cheaper than their wooden counterpart. Plastic or rubber bokkens can even serve as a safer alternative.
Q: Are these weapons affordable?
A: Yes. There are very affordable options for those who wish to endeavor in martial art and have a tight budget. Most of the items in our buyer's guide are cheap options that are still of quality. You will find that none of our options will break your bank.
Q: Do any of these options come with extra weapons for my training partner?
A: Of Course.  There are a few vendors who have a variety of deals and sets for the very reason of effective partner training. Getting an extra weapon for free means your sparring partner will be properly equipped, maximizing your skill improvement. Also, its never a bad thing to get two for the price of one.
Sources
Subscribe to our Newsletter