Best Medicine Balls Reviewed and Rated
last updated:
Apr 28, 2020
Medicine balls might seem a little New Age, but they are quite possibly one of the oldest pieces of exercise equipment in use today. Hippocrates, an ancient Greek scholar who is widely regarded as the father of modern medicine, is said to have used animal skins to create weighted balls that his patients were told to throw for medicinal purposes. This is likely where we get the name from, but they have far evolved beyond Hippocrates' original model. Some are still made of animal skins, though today's leather is rarely produced with the same methods used in 375 BCE when Hippocrates was prescribing workouts for some of his patients.
Most medicine balls today are produced with rubber or synthetic leather shells, both materials lending unique properties to the equipment and the best medicine balls are available in a range of carefully controlled weights instead of simple stuffing.
In a Hurry? The test winner after 4 hrs of research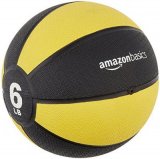 AmazonBasics Medicine Ball
Why is it better?
Affordable

Durable Rubber Construction

Textured Exterior
In a
Hurry? Editors choice: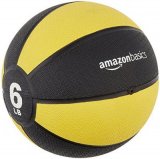 Test Winner: AmazonBasics Medicine Ball
Materials
Durability
Weight
By Default
10 Top Rated Medicine Balls Reviews
Criteria Used for Evaluation
Materials
None of the medicine balls on our list are made from genuine leather, but the material's history earned it a mention in the criteria.
Leather
Leather was once the only material that they were made of. It is naturally water-resistant, although continued exposure can ruin the leather, and the material offers a level of durability that many fabrics do not. The oldest known mention of medicine balls dates back to around 375 BCE when "animal skins" were stuffed with a variety of materials to create weighted balls that were used to help Hippocrates' patients deal with various ailments. Today's leather is a far cry from ancient Greek animal skins, but the durability and versatility of the material have kept it relevant to this day. It is still possible to buy medicine balls made in genuine leather but they do require a little bit more care than either rubber or synthetic leather medicine balls.
Faux leather
Leather may be the most traditional material for exteriors, but over the years it has slowly been replaced with faux leather. Faux leather has something of a bad reputation but the material has developed quite a bit in the last decade or so. Several items on this list are constructed with faux leather exteriors and the seams or weight distribution give out long before the faux leather does. It is a material with nearly as much durability as real leather but without most of the necessary upkeep. Real leather requires cleaning and conditioning but faux leather only needs to be wiped down and occasionally cleaned depending on what kind of use it sees.
Rubber
Textured rubber is by far the most popular exterior material on the market today. The majority of the products on this list are constructed with a textured rubber exterior and for good reason. Rubber is the perfect material for any exercise equipment that will need to stand up to a fair amount of abuse. And though most of these balls are not intended for use as slam balls, they will still be thrown back and forth or against a wall, resulting in a lot of wear and tear. Textured rubber also gives the user a little bit more traction when they take a grip on the ball. A better grip is particularly helpful when using medicine balls as aides in bodyweight exercises because it allows the user to focus less on their grip and more on the exercise itself.
Durability
The first thing any company should do to increase the durability of their exercise equipment is to reinforce any and all seams. Multiple companies on this list chose to do exactly that and designed their medicine balls with double or triple reinforced seams. This added layer of durability strengthens one of the weakest points on a fabric or leather medicine ball. It also lengthens the life of the ball as it reduces the risk that the ball will split along the seams.
Medicine balls will often deform over time, even with proper use. Several companies on this list took steps to avoid deformation and ensure that their products would retain its shape. Some companies chose to go with a more rigid exterior substance that does not have enough slack in it to allow the ball's internal contents to shift. Other companies put their designs through intense testing prior to producing their product to make certain that the ball would not deform over time.
Weight
Medicine balls are weighted in a variety of ways. A few popular methods concentrate the weight in one or a few spots but these methods can lead to the weight becoming off-balance. Off-balance products can be a serious issue and lead to injury if the ball does not behave as the user expects. Quality producers either test their product to ensure that the weights will not become unbalanced or weight their balls in such a way as to avoid this issue entirely. Several companies on this list have taken such precautions and they are noted in the pros and cons section of each relevant product.
Expert Interviews & Opinions
Most Important Criteria
(According to our experts opinion)
Experts Opinion
Editors Opinion
Users Opinion
By Default
Benefits of Medicine Balls
If you are looking to build excellent strength and amazing speed, medicine balls are the answer. Medicine balls allow you to do many different workouts and work muscles that you normally wouldn't work.
Other Factors to Consider
Size
Medicine balls come in many shapes and sizes. Depending upon what you are using the ball for, the type of workout that you are doing, or your overall preference, there is a size ball for everyone. One thing to keep in mind, just because it is small, does not mean that it is light. Smaller balls could be used for speed training, making them lighter. Some smaller balls may be used for weight and strength training so it is not right to assume that the smaller the ball, the lighter. It all depends on the workout you are trying to achieve.
Frequently Asked Questions
q:

Are medicine balls and slam balls different?

a:

Medicine balls and slam balls are very different. Some medicine balls may hold up to being used as slam balls, but they will fall apart much quicker. Most of the negative reviews for medicine balls mention the products splitting during slam ball use because the medicine balls end up splitting when they hit the ground. Slam balls, on the other hand, are designed to take the kind of pressure that comes with being slammed into the ground and will hold up to the strain.
q:

How can I use a medicine ball?

a:

There are many ways to use medicine balls. The most common use is to hold the ball in both hands while during twists, crunches, squats, or other similar exercises. This uses additional muscle groups for each exercise as well as adds resistance and weight to the motion. Another use is to throw the medicine ball to a partner or against a wall or net. This allows users to train something called explosive power, meaning it allows them to put all of their power behind throwing the medicine ball instead of forcing them to stop short at the end of the motion like they have to when using weights or machines. Additional uses include using the medicine ball the same way you would use a foam roller, using it to help keep your foot placement during squats, to help you go low enough during a squat, or for adding additional weight to jumps.
q:

How do I choose the right weight?

a:

The best medicine ball weight will be roughly equivalent to whatever your ideal free weight number is. Machine weights are not an accurate comparison tool, however, because weight machines use muscle groups differently and may give an inaccurate representation of what weight would be needed.
Subscribe to our Newsletter