Best Medicine Balls Reviewed and Rated
last updated:
Apr 28, 2020
Medicine balls might seem a little New Age, but they are quite possibly one of the oldest pieces of exercise equipment in use today. Hippocrates, an ancient Greek scholar who is widely regarded as the father of modern medicine, is said to have used animal skins to create weighted balls that his patients were told to throw for medicinal purposes. This is likely where we get the name from, but they have far evolved beyond Hippocrates' original model. Some are still made of animal skins, though today's leather is rarely produced with the same methods used in 375 BCE when Hippocrates was prescribing workouts for some of his patients.
Most medicine balls today are produced with rubber or synthetic leather shells, both materials lending unique properties to the equipment and the best medicine balls are available in a range of carefully controlled weights instead of simple stuffing.
In a Hurry? The test winner after 4 hrs of research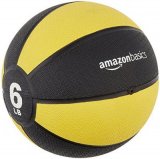 AmazonBasics Medicine Ball
Why is it better?
Affordable

Durable Rubber Construction

Textured Exterior
In a
Hurry? Editors choice: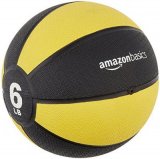 Test Winner: AmazonBasics Medicine Ball
Materials
Durability
Weight
By Default
10 Top Rated Medicine Balls Reviews
1

. AmazonBasics Medicine Ball
Affordable

Durable Rubber Construction

Textured Exterior
Not Intended For Slam Use
At first, we were a little wary of Amazon's in-house exercise brand. Once we read the reviews, however, we were completely on board. AmazonBasics' line of medicine balls is the most rated on Amazon and the entire line has a great rating. The medicine balls are constructed from durable rubber with a textured exterior and are some of the most affordable medicine balls on this list. Amazon may be a company that dabbles in just about every market, but that has not held them back from producing a quality piece of exercise equipment.
Read more
Durable Rubber Construction
Medicine balls have traditionally been constructed from leather and cloth. These materials required seams, however, and seams create weak points where a medicine ball is almost guaranteed to split after intense use. Rubber has slowly taken over the medicine ball market both because of its durability and its tendency to lend the medicine ball some bounce. Rubber also makes the medicine balls easier to clean which is an important factor to keep in mind with any exercise equipment.
Textured Exterior
Many people associate medicine balls with such practices as yoga and pilates. This causes them to shy away from medicine balls constructed from textured rubber because they tend to resemble basketballs. Textured rubber exteriors have their benefits, however. Rubber tends to be more durable and easier to clean than cloth or leather exteriors so long as the ball is not used for slam ball work. Texturized rubber also allows the user to get a better grip on the medicine ball to either aim throws better or to assist them in keeping a good grip when using the balls during bodyweight exercises.
Cost and Value
AmazonBasics is, in general, a very affordable line and their medicine ball selection is no exception. With a textured exterior and durable rubber construction, their medicine ball should last for years so long as the ball is not used for slam work.
Same Sizes for Different Weights

Water Safe

Textured Gri

p
Valeo is predominantly an exercise equipment company, though they do dabble in a few other markets. Their products all have generally high reviews, most of them with several hundred reviews. The Valeo medicine ball is one such product. It has numerous reviews and high average rating, proving that the textured exterior and consistent size across the product line has struck a chord with consumers.
Read more
Textured Exterior
Medicine balls are typically used in one of two ways. They are either held in specific positions during isometric exercises or they are thrown. In both these situations, it is a good idea to have a secure grip on the medicine ball and Valeo's textured exterior makes that easy. Whether you need to keep a good grip and avoid dropping the ball or you need to have a little more control during a throw, their textured rubber exterior provides traction for your fingers without getting you tangled up in laces.
Water Safe
This particular strong point is based on user reviews and not the company's literature, but it is unique enough that it merited a mention all the same. Multiple users have mentioned that the Valeo medicine ball line holds up to use in water aerobics and as part of a wet/dry swim conditioning routine. This means that the medicine ball can be used to condition arms while swimming with just the legs or vice verse in much the same way foam blocks are currently used. The medicine ball would just have the added benefit of bringing weight and extra drag to the exercise.
Cost and Value
Valeo's medicine balls come in several sizes, each size bearing their own price tag. There is a good chance that the most expensive ball is only sold through third-party vendors and has limited availability, thus driving up the price. It is for this reason that the lower weights are more recommended from the Valeo line than the higher weights. There are several other similar companies on this list that the heavier weights can be purchased from without the sky-high price tag. Those other companies do not have water aerobics-based reviews, however, so you may need to ask around on that point prior to purchasing from another brand.
Triple Stitched Shell

All Weights Are the Same Size

Designed to Keep its Shape over Time
Not Intended For Slam Use
j/fit is a relatively small company but that has let them focus closely on producing quality exercise equipment, some of which is unique to this company. From a balance ball chair to weights with a rack included, j/fit's products all seem well-made and popular among their customers. Their medicine ball if one of their most popular products and for good reason. With triple stitched seams, shape retention testing, and a consistent ball size across the entire product line, it is a quality product at a reasonable price.
Read more
Triple-Stitched Shell
If one design trait could be said to add value to any product with seams, that trait would be reinforced stitches. There are a few companies on our list who chose to reinforce the stitching on the seams of their medicine balls. J/fit, however, is the only company that triple-reinforced their seams. This gives the stitches of their seams two additional layers of protection in case some of them break which, in turn, extends the overall life of the medicine ball.
Designed to Hold Its Shape
One of the most comment complaints among medicine ball users is that the balls lose their shape over time. J/fit's medicine ball is designed to hold its shape and to prevent the weight inside from shifting and causing problems or injury. The company tests its products prior to the sale for added security and, based on the reviews, the extra work is worth it.
Cost and Value
J/fit has packed a lot of value into a relatively low price range. Their prices run from the lower end of this lists' price spectrum to right around the middle. All of their balls are the same size as the change in weight affecting the density instead of the circumference of the ball. This will allow users of all skills and sizes to find the weight that best suits their needs without having to worry about whether or not the ball is too cumbersome. That versatility, combined with the reinforced stitching and shape-holding design, earned this line of medicine balls a place in our top three.
Textured Exterior

30-Day Warranty

Many Sizes Bounce
Not Intended For Slam Use
CAP Barbell is a company focused on the kind of gym equipment that serious weightlifters and fitness fiends are on the hunt for. They have pull-up frames, weight racks, and unique items such as hex bars. All of their products are popular among users and seem to carry a high average rating across the entire line, including their medicine balls. Their medicine balls carry a 30-day warranty, feature a textured rubber exterior, and can even bounce a little towards the lower end of the weight spectrum for a unique perspective on the product.
Read more
30-Day Warranty
It might surprise some buyers to find that warranties are not common with medicine balls. This is likely due to the common practice of using medicine balls as slam balls despite the difference in those two products. Most companies likely do not want to have to worry about dealing with potential damage from that kind of use, but Cap Barbell decided to take a different route. They offer a thirty-day warranty and are very clear that the balls are not intended for slam use. So long as the medicine balls are used appropriately, however, 30 days should be enough to determine if they are the right fit for your exercise or physical therapy needs.
Textured Exterior
Traditional medicine balls were made of leather, giving them a somewhat slick exterior that could make them hard to hold onto. Today's medicine balls have been engineered with a wider range of uses in mind than their historical counterparts. The additional uses often require the user to keep a firm grip on the ball and, to that end, textured rubber had become a popular choice for medicine ball construction.
Cost and Value
Cap Barbell offers the best value for the dollar with their medicine ball. The thirty-day warranty is one of only two warranties to be found on this list and the ball's textured rubber exterior will make it easier to use in a wider range of exercises. many of the medicine ball sizes have some bounce to them, but not all, and it must be noted again that they are not intended for slam use.
5

. Champion Sports Leather
Synthetic Leather Exterior

Stands Up to Slam Work

Quality Company Reputation
Champion is one of the oldest and best-known names in American sports equipment. Their most iconic product, hand down, is their basketball and they've carried that design choice over to their medicine ball. Everything from the color choices to the font on their medicine ball evokes the vintage presence that Champion has had in the industry for decades.
Read more
Synthetic Leather Exterior
Synthetic leather has become a go-to material for exercise and martial arts equipment. There are several reasons for this but two of the most influential is the material's ability to withstand harsh use as well as how easy it is to care for. Genuine leather must be washed and conditioned to retain its durability over time, but synthetic leather just needs to be wiped down and that is often enough to keep the equipment in use.
Holds Up to Slam Work
A common misconception about medicine balls is that they are the same as slam balls. Or, barring that, people believe that medicine balls can hold up to slam work. Champion is the only company on our list that has managed to bridge the gap between slam balls and medicine balls by creating a medicine ball that can hold up to slam work.
Cost and Value
Champion's price range is one of the largest on our list. This places them towards the more affordable end of the price spectrum for the medicine balls on this list but there are a few caveats to that. The balls do tend to hold up to slam work, but they become misshapen and might have to be reshaped. When they do break, they are usually filled with a white powder that can cause a mess once it begins to leak. With durable construction and faux-leather exterior, this medicine ball puts Champion's quality reputation on display.
Built-in Handles

Solid Weighted Core

Thick Textured Rubber Material
Only One Size Has Handles
Most of the companies on this list are dedicated to sports or fitness equipment companies. Milliard, however, keeps a more varied line of products in their inventory. From raclette grills to pool cleaner heads, Milliard seems to have the inside track on quality products. The Milliard double-grip medicine ball is one of those quality products, earning a rating of 4.5 with over one hundred ratings. A unique design with built-in handles, a solid weighted core, and a textured rubber exterior set this medicine ball apart without the price tag jumping into extreme territories.
Read more
Built-In Handles
Medicine balls can be incorporated into nearly any workout. That being said, some people avoid working with medicine balls for fear of dropping them during an exercise or of injuring their shoulders by handling the ball incorrectly and causing strain. Milliard's medicine ball is an excellent solution to this issue. With its built-in handles, this medicine ball is easy to hold on to and use as a weighted aide in bodyweight or isometric exercises.
Solid Weighted Core
There are few issues with medicine balls, but one that seems to crop up from time to time is the inner material of the ball shifting until the weight is unevenly distributed. Milliard took this issue in hand with its solid weighted core that ensures all the weight will remain in one location. Even the negative reviews for this ball, few as there are, do not take any issue with the movement of weight within the ball.
Cost and Value
Milliard is one of two companies on our list that offers a medicine ball with built-in handles. They are the more affordable of the two companies and are rated along the same lines, giving them a little bit of a boost to their comparative value. Their downside is that only one size of Milliard's medicine balls has built-in handles. Most of the company's medicine balls are either perfectly rounded or have a rope attachment. If you are in the market for an easy-to-handle ten-pound medicine ball, this may be the best option on our list. If you want a different weight with handles, however, you may want to take a look at the SPRI medicine balls listed further along on our list.
Good for Wall Ball Work

Synthetic Leather Exterior

Double-Stitched Seams
Will Often Become Misshapen
Titan Fitness has a strong reputation to match their namesake. Most of their products have a rating between four and five stars. They carry products from weight plates and fitness frames to desks that can move from sitting to standing heights for those who want to burn a few more calories during their workday. Their medicine balls are one of their most popular products and the design specifics make it easy to see why. A faux leather exterior and reinforced seam stitches make for a durable and attractive medicine ball at a good price.
Read more
Double-Stiched Seams
Even if a medicine ball is never once used for slam work, there is still a risk of a seam popping. Titan sidesteps this issue with double stitched seams. These are reinforced against popping or tearing because even if the stitches in one layer pop or snap, there is another set of stitches to hold the ball together. It is a precaution that will keep the ball in active rotation for your workouts long past when other balls would have, literally, fallen apart at the seams.
Synthetic Leather Exterior
Truly traditional medicine balls are predominantly made of leather which lends them a particularly pleasing texture and a high level of durability. Synthetic leather is slowly replacing authentic leather, however. Some synthetic leathers are more durable than authentic leather and all synthetic leathers are easier to care for. This is likely the reason that Titan chose a synthetic leather for the exterior of their medicine ball, allowing it to take more use before it has to be cared for.
Cost and Value
Titan's medicine ball line is relatively inexpensive, though the most affordable of their medicine balls is still a bit more than some other brands. The low cost is certainly a positive factor, but there are some drawbacks. Titan's products tend to become misshapen over a relatively short period of time. It is possible to reshape them, but that is still an important factor to keep in mind if you're considering the Titan line.
8

. SPRI Dual Grip Xerball
Built-in Handles

Made of Synthetic Rubber

Includes Brief Exercise Guide
SPRI may not be a well-known company. In spite of this, it is a company that has dedicated itself to the sale of quality exercise equipment. They cover all the bases from floor mats to hand weights to jump ropes and medicine balls. SPRI is only one of two companies on our list that have designed their medicine balls with built-in handles to aid users in keeping a good grip during bodyweight exercises. Their medicine ball is made of durable textured rubber and includes a brief exercise guide perfect for new users.
Read more
Built-In Handles
The most well-known medicine ball exercises involve throwing the ball, but that is not the only way this piece of equipment can be used. Most isometric and bodyweight exercises, such as squats or sit-ups, can be improved upon by holding a medicine ball as the exercise is performed. Traditional round balls can make this difficult, however. SPRI fixes this issue with its sturdy built-in handles. Their medicine ball is intended for non-release work only, meaning that it is not designed to be thrown. This makes its usability as a bodyweight exercise aide even more important and the company seems to take that point very seriously.
Includes Brief Exercise Guide
SPRI includes a brief instruction guide with every medicine ball purchase. This is an add-on entirely unique to this company. The guide may seem unnecessary to some people since there are countless videos on YouTube and other similar sites that detail entire workout routines centered around a medicine ball. But this brief guide will be a handy reference for any new medicine ball users who may want to get an immediate feel for their product prior to beginning a consistent routine with an unfamiliar piece of equipment.
Cost and Value
SPRI's price range puts its entire line of medicine balls at the more expensive end of this list's price spectrum. The cost may be justifiable, however, if built-in handles are a must-have feature, especially since the ball is intended for non-release work only.
9

. Wacces Weighted Fitness
Color-Coded Weights

Textured Rubber Exterior

Has Some Bounce
Not Intended For Slam Use
Wacces is a company that wants to get their customers up and moving as much as possible. They sell just about anything that will make this happen whether that is camping equipment or fitness products. Whether you're in the market for a football pump, stabilizing foam mats, or medicine balls, Wacces has you covered. Their prices are generally affordable and their product ratings are all in the four to the five-star range. They color-code their medicine balls by weight which is unusual among medicine ball companies, making these balls a great option for gyms, trainers, and fitness enthusiasts.
Read more
Color-Coded Weights
Color coding is a common theme throughout the fitness world. These codes allow users to know what weight they're grabbing at a glance, whether it be tension bands, hand weights, or medicine balls. The color code may vary from company to company, but once a user is familiar with a company's code it can dramatically shorten delays in their workouts as they figure out which weights they need for which exercises.
Textured Rubber Exterior
A textured exterior might seem unnecessary for a medicine ball since most medicine ball workouts involve throwing it against a wall or to a partner. Not all medicine ball exercises involve throwing, however. And even those that do can benefit from the controlled release that a textured exterior can provide.
Cost and Value
Wacces' price range is along the more reasonable end of the price spectrum for medicine balls. These prices become even more reasonable when the textured grip and color-coding are taken into account as well as the mild bounce that some of the lighter weight balls are capable of.
Evenly Weighted

1-Year Warranty

Double Stitched Seams
Rep Fitness is quite possibly the most intense fitness company on this list. They carry everything from weightlifting bars to weight machine benches and beyond. Their products carry a uniformly high rating, adding to the impression that they take fitness seriously. Rep's medicine balls have a unique design that is one of the most aesthetically pleasing on this list, but it is not the product's only positive quality. Rep's medicine balls also feature double-stitched seams, a one-year conditional warranty, and the promise that the balls were tested to ensure that their weight distribution will remain consistent over time.
Read more
Evenly Weighted
Most medicine ball exercises center around throwing the ball or holding it while performing bodyweight exercises such as squats or lunges. Such exercises might sound easy and if the medicine ball is balanced, they can be. But when the weight inside a medicine ball shifts it can make the exercises harder and, in some instances, even dangerous. Rep took this issue seriously when designing their product and the result is a medicine ball that is tested by the company to ensure that it remains balanced no matter how much you throw it around.
One Year Warranty
Exercise equipment takes more abuse than almost any other product on the market today. This fact tends to make people wary of buying expensive equipment that is intended to be tossed around, particularly if the product has stitched seams in it. The risk of popped seams is just too great. Rep's one year warranty should help alleviate some buyers' fears of wasting their money on a product that may break before they feel they have gotten their money's worth out of it. There is a catch, however. If Rep's medicine ball is used for slam work or as a slam ball, the warranty is void because they are not intended for slam ball use.
Cost and Value
Rep's medicine balls have some wonderful features. They are designed to remain evenly weight even during heavy use and keep their shape very well over time. The design is aesthetically pleasing, and the company's one year warranty would catch just about anyone's eye. They are, unfortunately, also some of the most expensive medicine balls on our list. The warranty also comes with a catch and since most people think that all medicine balls can be used as slam balls, an unaware buyer might find themselves in for an unpleasant situation should they slam the ball and it tears. If the buyer keeps the warranty conditions in mind, the extra reassurance should make up for the additional bump in price.
Criteria Used for Evaluation
Materials
None of the medicine balls on our list are made from genuine leather, but the material's history earned it a mention in the criteria.
Leather
Leather was once the only material that they were made of. It is naturally water-resistant, although continued exposure can ruin the leather, and the material offers a level of durability that many fabrics do not. The oldest known mention of medicine balls dates back to around 375 BCE when "animal skins" were stuffed with a variety of materials to create weighted balls that were used to help Hippocrates' patients deal with various ailments. Today's leather is a far cry from ancient Greek animal skins, but the durability and versatility of the material have kept it relevant to this day. It is still possible to buy medicine balls made in genuine leather but they do require a little bit more care than either rubber or synthetic leather medicine balls.
Faux leather
Leather may be the most traditional material for exteriors, but over the years it has slowly been replaced with faux leather. Faux leather has something of a bad reputation but the material has developed quite a bit in the last decade or so. Several items on this list are constructed with faux leather exteriors and the seams or weight distribution give out long before the faux leather does. It is a material with nearly as much durability as real leather but without most of the necessary upkeep. Real leather requires cleaning and conditioning but faux leather only needs to be wiped down and occasionally cleaned depending on what kind of use it sees.
Rubber
Textured rubber is by far the most popular exterior material on the market today. The majority of the products on this list are constructed with a textured rubber exterior and for good reason. Rubber is the perfect material for any exercise equipment that will need to stand up to a fair amount of abuse. And though most of these balls are not intended for use as slam balls, they will still be thrown back and forth or against a wall, resulting in a lot of wear and tear. Textured rubber also gives the user a little bit more traction when they take a grip on the ball. A better grip is particularly helpful when using medicine balls as aides in bodyweight exercises because it allows the user to focus less on their grip and more on the exercise itself.
Durability
The first thing any company should do to increase the durability of their exercise equipment is to reinforce any and all seams. Multiple companies on this list chose to do exactly that and designed their medicine balls with double or triple reinforced seams. This added layer of durability strengthens one of the weakest points on a fabric or leather medicine ball. It also lengthens the life of the ball as it reduces the risk that the ball will split along the seams.
Medicine balls will often deform over time, even with proper use. Several companies on this list took steps to avoid deformation and ensure that their products would retain its shape. Some companies chose to go with a more rigid exterior substance that does not have enough slack in it to allow the ball's internal contents to shift. Other companies put their designs through intense testing prior to producing their product to make certain that the ball would not deform over time.
Weight
Medicine balls are weighted in a variety of ways. A few popular methods concentrate the weight in one or a few spots but these methods can lead to the weight becoming off-balance. Off-balance products can be a serious issue and lead to injury if the ball does not behave as the user expects. Quality producers either test their product to ensure that the weights will not become unbalanced or weight their balls in such a way as to avoid this issue entirely. Several companies on this list have taken such precautions and they are noted in the pros and cons section of each relevant product.
Expert Interviews & Opinions
Most Important Criteria
(According to our experts opinion)
Experts Opinion
Editors Opinion
Users Opinion
By Default
Benefits of Medicine Balls
If you are looking to build excellent strength and amazing speed, medicine balls are the answer. Medicine balls allow you to do many different workouts and work muscles that you normally wouldn't work.
Other Factors to Consider
Size
Medicine balls come in many shapes and sizes. Depending upon what you are using the ball for, the type of workout that you are doing, or your overall preference, there is a size ball for everyone. One thing to keep in mind, just because it is small, does not mean that it is light. Smaller balls could be used for speed training, making them lighter. Some smaller balls may be used for weight and strength training so it is not right to assume that the smaller the ball, the lighter. It all depends on the workout you are trying to achieve.
Frequently Asked Questions
q:

Are medicine balls and slam balls different?

a:

Medicine balls and slam balls are very different. Some medicine balls may hold up to being used as slam balls, but they will fall apart much quicker. Most of the negative reviews for medicine balls mention the products splitting during slam ball use because the medicine balls end up splitting when they hit the ground. Slam balls, on the other hand, are designed to take the kind of pressure that comes with being slammed into the ground and will hold up to the strain.
q:

How can I use a medicine ball?

a:

There are many ways to use medicine balls. The most common use is to hold the ball in both hands while during twists, crunches, squats, or other similar exercises. This uses additional muscle groups for each exercise as well as adds resistance and weight to the motion. Another use is to throw the medicine ball to a partner or against a wall or net. This allows users to train something called explosive power, meaning it allows them to put all of their power behind throwing the medicine ball instead of forcing them to stop short at the end of the motion like they have to when using weights or machines. Additional uses include using the medicine ball the same way you would use a foam roller, using it to help keep your foot placement during squats, to help you go low enough during a squat, or for adding additional weight to jumps.
q:

How do I choose the right weight?

a:

The best medicine ball weight will be roughly equivalent to whatever your ideal free weight number is. Machine weights are not an accurate comparison tool, however, because weight machines use muscle groups differently and may give an inaccurate representation of what weight would be needed.
Subscribe to our Newsletter