Best Men's Watches Reviewed
Time flies. That will remain constant. The only option left is to keep track of it. Gone are the days that humanity depended on sundials and the chimes from steeples to know what time it is. A variety of gadgets can tell you the time. Many even argue that mobile phones negate the necessity of having to wear a watch. Nonetheless, there are very many advantages of charm and class attained from sporting a nice watch.
Top 3 Watches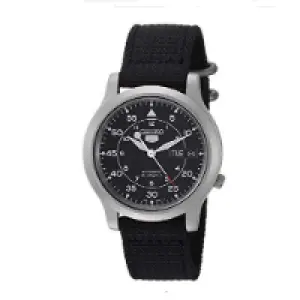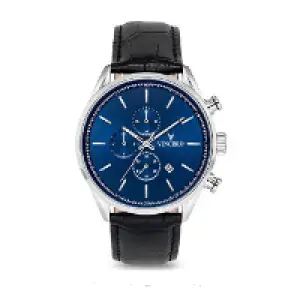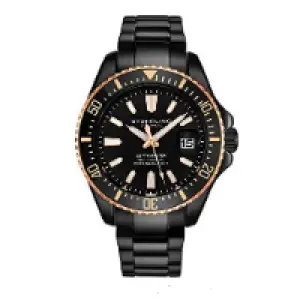 Stuhrling Original Watch
Price:
Aesthetically, matching clothes or costumes to a watch reflects on the quality of life. A watch is the perfect status symbol; it reveals not only what you are doing but also how well you are doing in life. There is a galaxy of watch brands. Thus, we have compiled this fine selection, saving you some time in finding just the type of watch that is fitting to your wrist.
SEIKO 5 SNK809
You may have come across a Seiko watch at least once. They are
fashionable, dependable, and very durable
. Definitely worth more than the asking price. Perhaps the price is lower than in other watches of its caliber because of the huge demand. With their vast market, the price lowers, since they buy the required material in bulk. This saving trickles down to the end user.
Expand to see more
Aesthetics
The SNK809 is not what you would call stunning when compared to many other watches that fall in its category. Nonetheless, you will still find it eye-catching. The SNK809 is flat and simple in shape. The hour and minute markers are small white bumps. It is simple yet not minimal, making the dial appear very flat. The height of the hour markers can be hard to perceive. Nonetheless, the Seiko 5 logo and markings are deep to fix the issue. Changing the strap is easy thanks to its 18mm lugs.
Design
It has a dial with simple baton markers, a lively red second hand that ticks almost rhythmically, A 21-jewel movement with tough mineral crystal, day and date with black dials. Even though it has a very casual look, it is just one of those watches suited for formal meetings. Do not be surprised when called out wearing on your wrist. It is also Water resistant to 99 feet, withstanding rain and splashes of water
Value

This watch is very affordable. Seiko is a trusted brand with more than 50years of producing great products. SEIKO 5 SNK809 comes with a 3-year warranty
Movement and Power
This is an automatic mechanical watch. Therefore, it does not require batteries. The swing of the wearer's arm powers the clock automatically. You only have to swing your arm for 30 seconds it to come out of a complete halt.
To maintain accuracy, wear the watch at least 8 hours a day. Alternatively, you can turn the crown manually to wind the mainspring. When you do not want to wear it, the watch can be stored or charged with an automatic watch winder. For this, you can consider buying a watch storage unit.
Reasonably priced
Comfortable to wear
Requires no batteries to operate
Straps are easy to switch up
Many counterfeits in the market
Vincero Chrono S
Vincero craft luxury watches for the modern man. They believe that you deserve the best so that you look and
feel unstoppable
. Each watch has a genuine piece of historic Italian marble on the back case. Vincero hopes that the marble serves as a reminder of what is possible with persistence. This watch also fits in with most settings even though it's very conspicuous.
Expand to see more
Aesthetic and Design
This Luxury watch works well in either casual or formal settings. Vincero delivers exceptional Italian artisanship into their watches. The interchangeable straps are of genuine Italian calf leather. It also has an easy to release button on the back of the straps. The casting, made from surgical grade stainless steel, has a diameter of 43-mm, which is humongous. This size makes the watch conspicuous. The sapphire coated mineral crystal glass is scratch and scrape resistant. To add to these cool features, you can use it in any weather, since it is water resistant. You can choose one of the 17 different color combinations to fit your profile.
Value
This watch is fine Italian craftsmanship at its best. The quality of the material makes this watch not only durable but also very classy and stylish. This watch will live through generations and considering how well it is overall; it will likely appreciate in price. In the future, it could sell for more than the initial cost. After all, the marble used will run out.
Movement and Power
This is a quartz movement type of watch. The battery also powers three chronographs to show you a wide range of information, like the timer. It never lacks in anything. However, it uses lots of power, especially if you decide to push its functions to the limits. Therefore, you will find yourself changing the battery much more often than in other basic watches.
Water resistant
Stunning design
Long battery life
Comes with a warranty
Batteries will require replacement after some time
Stuhrling Original
Imagine a watch that gives you resolute class even if you are in tatters. A watch you can wear to a club, beach,
game
, or office, without seeming out of sorts. It takes a lot to fit into all of these places without changing a lot. For example, the hands illuminate in the dark. It is also water resistant up to 100 m/ 330 ft., making it a badass watch for all seasons and occasions. Many have found this watch to be as reliable as they come, and there is no reason for you not to join in the fold.
Expand to see more
Aesthetic and Design
There is a push button to open its triple row stainless steel bracelet. It also shows you the date, and to make it easier, the small section of glass magnifies the digit. Additionally, the indices and hands are easy to read, since they are bigger than usual and illuminate in the dark. Hands down, this is the watch for people who switch up locations frequently. One time you'd be in pitch darkness, the next snorkeling, and still be able to tell the time.
Value for Money
It has a 2-year warranty, which you will barely need. However, if you ever need it, Stuhrling's customer service is responsive. This is a signature watch, built to last through many generations. To top it all off, the screw has a crown signature.
Movement and Power
It has the reliable Japanese Miyota movement for precision timekeeping. Even though it is very accurate, it uses lots of power. Meaning, you will have to replace the battery more often than usual.
Comes with a 2-year warranty
Very accurate because of Japanese Miyota movement
Hands and indices illuminate in the dark
Multiple color combinations to choose from available
You have to replace the battery frequently
Invicta Pro Diver
This is yet another innovative watch from a reputable company. They offer consistency in quality of all watches they make. This watch is best suited for those who engage in lots of
water sports
and similar activities. It is water resistant to a whopping 660 ft, depth.
Expand to see more
Aesthetic and Design
This Invicta watch craves for attention with its size and masculinity. For example, the stainless steel casing is 40 mm wide. It also has many features, under its stunning looks. The face is black, contrasting well with the white numeral markings. The hands are luminous, thus allowing you to see the time in pitch darkness. Furthermore, it is water resistant up to 200 meters deep and has a date display. To secure it to your arm is the polished stainless steel band locked in with a fold over clasp mechanism.
Value for Money
As one of the greatest watchmakers in the world, for over a century has been making state of the art timepieces. The price is more than fair, looking at the heritage of reliability and overall quality.
Movement and Power
Automatic Japanese movement with analog display requires a Rotary speed of 30rmp. Meaning your wrist movements are more than enough to wind it. Moreover, if you want it to run for long, then turn the dial to add tension to the spring inside. To adjust the date display, you only have to open the crown, which screws down to make it watertight too.
Comes with a warranty
Water resistant up to 200 meters depth
Automatic Japanese movements
Shows date.
Has unidirectional rotating bezel
Extreme Water resistance feature only useful for a diver, otherwise, unnecessary for ordinary guys
Timex Expedition
Whether work or play, the Timex watch fits right in. All credit to the classic design of a metal case and leather strap on it. Everything about this American timepiece symbolizes
convenience
. To find a watch ideal enough for swimming and the price was next to impossible. Luckily, Timex broke the ceiling. Also, for the price, you can choose one of eight different color options for every day of the week and not feel a pinch.
Expand to see more
Aesthetic and Design
Take advantage of the old school type of design with a bezel and leather strap on this watch. You will hardly go a foot wrong. The rugged construction shows some assurance and confidence in self. Considering its durability and water resistance feature, take this watch everywhere with you, and it will remain dependable throughout.
Value for Money
Timex revolutionized the market, by offering quality at an affordable price. Timex showed you could still provide quality without it costing the end user too much. That is all true for this watch.
Movement and Power
It uses quartz Movement with Analog Display. Moreover, this watch has the backlight light, which first came on Timex watches. Therefore, you do not require a torch to view it at night.
Many color options available
Has a warranty
Classic design
Water resistant
Affordable
Uses a battery that you'll have to replace in due time
Casio EF305-1AV Edifice
This Casio men's watch is just another one of the iconic three dials display. This design first came up with Casio, who have reaped huge benefits because of it. The different dials show the hour (AM or PM), the day, and date. It's all tucked in nicely for easy viewing. Unfortunately, due to the popularity in the design, you have to be cautions of many imitations to it, just like many other
excellent products
.
Expand to see more
Aesthetic and Design
The black dials, contrast well to the face of the watch. Even the luminous hands are quite easy to see during the day and night as well, since they are luminous. It has a resin band strap, which people find comfortable to wear. However, the bands are not as durable as say steel, and you have to replace them more frequently. Luckily, replacing the bands could never be easier with the unique eject feature. Moreover, its water resistant to a depth of 100 meters, thus good for all occasions.
Value for Money
Casio is an enduring brand that builds not only watches but also many other measuring and calibration devise. Casio watches are probably the most widely available name brand watch.
Casio's wide availability makes servicing them and finding parts easy.
Movement and Power
Quartz movement with analog display requires batteries.
Minimalistic design
Affordable for a watch in its class
Designed by a reputable manufacturer
Water resistant up to 100 meters
Many counterfeits in the market
Bulova Lunar
Everything you would want in a watch is within this beast. It is water resistant (up to 50 meters), made of the
finest materials
, has an overall good design and all the dials to show different parameters like AM or PM work correctly, as they should. In addition, its precision is unparalleled. In case you are still skeptical, it comes with a 3-year warranty.
Expand to see more
Aesthetic and Design
This is actually a better version of its predecessor, which has glaring reviews. The black dial, luminous hands, and high-quality stainless steel straps provide stunning looks to the wearer. Whereas most other manufacturers place the date on the 3 O' clock point, this one is uniquely between the 4 and 5 hour marks. The straps have a double push-button release mechanism.
Value for Money
You will not just wear another watch with this American made timepiece; you will also be wearing a piece of history. Bulova, establish even before the 19 century, continues to pick up accolades, like it being the watches for the Apollo XI mission. Furthermore, it is not expensive to be out of reach to most people, but it looks like it at a glance. It also comes with a 3-year warranty, if you are still skeptical.
Movement and Power
It has a reliable quartz movement, precise to seconds within a year. In addition, its engine powers a lot more elements like the 12-hour chronograph without error.
Designed by a reputable manufacturer
Very precise
Comes with a long warranty
Highly priced for many
Has a clunky sound when loose on your wrist
Diesel Chief
Diesel is a
trendsetter
rather than a follower. They continuously push boundaries to make sure you get unique devices, and that's why they are so successful. You probably have a pair of their jeans in your wardrobe. Why not match it with their luxury watch. This watch has a stunning design, taking inspiration from cockpit gauges. not just in term of aesthetics, but also functionality.
Expand to see more
Aesthetic and Design
This very tough watch can stay on your wrist wherever you go. The colors on the glass change up depending on which angle you're looking at it from. This striking change of colors makes the dials appear larger than they are.
Value for Money
As far as brands go, Diesel has been there from the advent of jeans. The chief guarantees to be as sturdy for ware, just like your favorite pair of jeans.
Movement and Power
quartz movement, which requires batterie. Nonetheless, it uses a lot of power to show even the dates
Stunning looks
Water resistant up to 200 m depth
BUREI
BUREI has focused on putting high quality yet reasonably priced watches in the market. BUREI endeavors to make every clock a work of art. This watch is so elegant that the manufacturer gives you a 30-day money back guarantee. Whatever reasons you have, it won't matter. Maybe you did not like how
affordable
it is or how magnificent it looks.
Expand to see more
Aesthetic and Design
This watch exudes class right from the box, it is elegant full of features, dials, and jewels, yet it still manages not to look and feel tacky. This is the type of watch to wear in a formal setting.
Value for Money
They offer a 30-day money back guarantee, 24 months maintenance for quality issues and a 12 months replacement and even full refund for quality issues.
Movement and Power
Uses precise Japanese-quartz movement
30-day money back guarantee
Free maintenance for two years, just in case
Scratch resistant case
Tissot Visodate
This is a watch designed for the ages. The design looks basic with its leather straps and strong metallic buckle. However, all the wonderful features under the hood will surprise you. A scratch resistant sapphire crystal on the glass protects it. Which of course you will not see, until you compare the drop test to other watches. Also, it has automatic movement, which then again, you won't notice until you realize how
quiet
it is and never seems to take a break. And of course, it has the day and date display. This is a collector's item, primed to cost even more in future.
Expand to see more
Aesthetic and Design
The Tissot Visodate is a minimalistic yet classy watch. It's one of those watches worn in the office or formal events. How but you could get away with sporting it at a casual setting
This watch has 25 jewels, a comfortable leather strap, a durable domed sapphire crystal face cover (which protects watch from scratches), stainless steel case (see-through case back also available), it is water resistant for up to 99 feet (30 M), formidable against rain and water splash. With all those attributes, it is hard to fault it in any way.
Value for Money
Even though they say you can never buy class, wearing this watch will defiantly make anyone stand out. With over 150 years of great products, Tissot stands out as more than a brand. When you buy any of their watches, you can hand it down to future generations.
This Tissot watch comes with a 2-year warranty.


Movement and Power
This is a Swiss automatic watch; therefore, batteries are unnecessary. The swing of the wearer's arm powers the watch automatically. You can wind the mainspring to ensure the clock is accurate and has enough power.
To maintain accuracy, wear the watch at least 8 hours or more each day, or turn the crown manually to wind the mainspring. When you do not want to wear it, the watch can also charge with an automatic watch winder.
It Keeps good time once calibrated
Projected to appreciate if well maintained
Comes with a warranty
With the leaps that the global manufacturing industry has taken, nearly everything has become cheaper. Watches, just like everything else are mass produced. Therefore, it is easier to find a knock-off version than it is to see a genuine product. Time is a resource that should never be wasted. You should cherish time in every aspect of life whether during work or play. This distinction can be challenging and at times impossible if we do not have quality and reliable watches.
It is the conceded opinion of many, that mobile phones have relegated wristwatches and all manner of timekeeping devices unto antiquity. A valid counterpoint to this assumption is the fact that watchmakers still produce some high-quality watches (like the ones in this list), for people of all walks of life wear to wear. The world will always value jewelry. A watch will forever enrich the wearer, compliment their attire and portray the wearer as someone who is conscientious and valuable.
There have been very many brands, trusted through the decades and new brands coming out every other day. Gone are the days one had to wear a cheap knock-off version since there is a watch in each price range. When looking for a watch one has to consider the materials used to make it, for the sake of safety and health. With a trusted brand, that is always an assurance.
There are dependable watches, and there are fake watches. Suffice to say, you still do not want to waste your money just because something is inexpensive, do you? You should get a watch to compliment your lifestyle, dream, and outfit.
Criteria Used in Choosing the Best Men's Watches
Movement and Power
This is the heart of a watch; the mechanism that moves the clock hand on a watch face and powers other complicated functions (like the calendar or chronograph). Many buy watches based on how they look on the outside, but the more discerning appreciate the mechanism that makes the watch run; what makes it tick. There are three types of movement;
Quartz– movement causes the second hand to move in individual ticks. A battery powers it.
Mechanical– the movement will cause the second hand to move in a smooth sweeping motion. The watch requires manual winding to operate.
Automatic– kinetic energy from the wearer's wrist transfers automatically to drive the mechanism inside the watch.
Movement is an important factor when looking at a watch. It determines how effectively the clock tells time and uses its batteries. With quartz movement, a watch solely depends on a battery for power. Only when the battery runs out, most watches with quartz movement will not lose even a second in their precision. With mechanical watches, there must be a sufficient rewinding of the clock; otherwise; there will be a margin of error in telling the time. As far as kinetic watches are concerned, the arm movements and body heat keep it running. Some even have a reserve battery. You can also buy storage cases with charging capabilities, to keep the watch tuned and powered.
Aesthetic and Design
Watches are not merely to be adorned and forgotten about; they call unto everyone who looks at the wearer. Having a nasty looking watch is worse than not owning one; it just leaves a bad impression. In that breath, there are very many watches in a barrage of styles, for every conceivable occasion, from various brands. When shopping for one, always consider the materials used to make the watch. Your timepiece needs to be comfortable because you will wear it for very long periods or daily. With cheap watches, come health risks since some of the material used can be dangerous like lead paint or leaking lithium ions from the battery.
The design is fundamental since it has to have a certain appeal to the wearer and their adoring public. Get something that makes you feel good about yourself, elevates you, and increases your prominence.
Battery life
There are three types of power sources in most of the watches available in the market. When buying a watch, you can consider the kind of movement that suits your lifestyle. If you are hands-on and like taking care of your property a mechanical watch can be a jewel you can pass down the generations. However, if you are a bit lax in doing your daily chores, it's a guarantee that the spring of the watch will degrade. Typically, watches have a long battery life, ranging from one year to a much as over eight years of use before the battery diminishes. Some don't even need batteries just proper maintenance will do.
Brand
A brand is more than just a logo and a name. It is a benchmark: a standard upon which we can judge the quality and durability of a product. Every product sold by a brand, endeavors association with a certain crowd, scene, or lifestyle. As far as watches go, you will find one for everything. Whether you want to go scuba diving or work in a dark and dusty mine, there is a watch that will cater to your needs.
Value for Money
It would be amazing if every outcome in life had satisfaction as a guarantee, worse off is when a product does not function as was advertised. At least with watches (quality brands), there is minimal risk associated. What you need is to understand your nature and needs. Every aspect of a watch must compliment you and your lifestyle.
Extra features
Watches can do more than tell the time. Some come loaded with many distractive and sometimes helpful features. When buying a watch, the most prudent thing you need to do is have narrowly set your mind on the features that you need then insist on those.
Frequently Asked Questions
Q: Why Are Some Watches Good For Swimming And Snorkeling But Not Scuba Diving?
Even though many watches are said to be water resistant, it does not mean that you should go diving in them. Watches are built in factories and tested in labs, under very controlled conditions. However, it is difficult to simulate real-life situations with lab tests and experiments.
Two primary conditions work against your watch when you dive. First, the intense air pressure that is in the deep-sea forces water into it. Secondly, elements found in the deep like salt water and sand are detrimental to watches.
Q: What Is The Difference Between A Manual And An Automatic Watch?
In the past, there were no batteries to power up a watch. With some engineering and ingenuity, some smart people came up with what we call a mechanical watch. A set of gears, screws and other components turn the dials to show you the time. To get the energy required, you can wind the crown. With this action, the mainspring inside the set tightens and forms some tension. Gears are, in turn, revolved by the force of the spring. To ensure a smooth and consistent ticking flow, the pressure in the spring is released incrementally.
Then came the automatic watch. In it, is a weighted rotor that moves when you flick your wrist. The rotor typically has a semi-circle shape, naturally following the laws of physics in gravity. With a swing of your arm, the rotor connected to an axle winds the mainspring, providing energy to your watch. The mechanisms are almost the same in both types.
Q: What Special Care Should I Give My Watch?
Shocks:
Do not drop a watch. It is a fragile device.
Water resistance:
Even if your watch might be water resistant, don't be naive, and test it out for kicks. Sometimes, the crown comes out a little bit, which might allow water to get into the watch. Besides, water with high pressure, like from a faucet might force itself in through the slightest of openings. A little moisture is all takes to destroy this fantastic device.
After some time, the watches materials deteriorate. Consequently, it may lose some of its properties of water resistance (Like when parts of the rubber in the crown wane). Therefore, it's a good idea to have it checked regularly. A good practice is to wipe off moisture that comes into contact, no matter the fail-safes in your watch.
Swimming in the sea:
After using a water-resistant watch in seawater, wash it in fresh water and dry it with a soft cloth.
Remember not to clean it with the crown pulled out.
Don't clean it with running water. Instead, take a small container and wipe gently.
Bath or sauna:
Avoid using your watch close to a bathroom. Soap catalyzes the erosion of iron: a key component in many watches. Furthermore, hot water loosens the rubber in dials, reducing the water resistance property.
Temperature Extremes:
A drastic change in weather affects watches negatively. The ticking of gears is best suited to average temperature. Metal expands with the increase of temperature and vice versa. Therefore, you might find different time indication with mechanical watches, under different temperatures. Most manufacturers openly say which conditions are best to use your brand new watch for an accurate reading.
Chemicals:
Never use chemicals like benzene, thinner, or bleach to clean your watch. These elements may cause a chemical reaction and result in deterioration of the watch or a change in the color of the case, band, or strap.
Crown:
Turn the crown from time to time to prevent corrosion and maintain the flexibility of the gasket.
Q: Which are the watches that increase in value after some time?
Most watches depreciate, just like cars. Similarly, some vehicles are gems and yet sold at throwaway prices in their prime. For a watch to appreciate in value, it must have some qualities like only 10 of its kind manufactured. For a recent example, when Tag Heuer replaced their first Monaco version with a new one, all of a sudden the Original type increased in its price. This has happened so many times before. You might even have a timepiece of value your granddad left you which increased in value.
Some extra questions to ask would be -Which materials are used? Are they now more expensive? How has it stood up to the time? Does it still work well without disintegrating? These are but a few of the tough questions to ask. Sometimes it all boils down to pure luck.